Toto Wolff joked he is closer to putting George Russell in the Renault Clio Cup than a Mercedes Formula 1 car after his crash with Valtteri Bottas, but his disapproval was completely serious.
The Mercedes Formula 1 boss was left unimpressed by Williams driver Russell's massive accident with Bottas, whose seat Russell is in contention to take next year.
Russell and Bottas blamed one another for the crash while the stewards opted to take no further action, deeming it a racing incident.
Wolff's not one to point the finger so it was no surprise he said there is never an occasion where one party is "100% to blame and the other zero" and that the "whole situation should have never happened".
Bottas's weekend-long tyre warm-up struggles left him bizarrely low down the order, hence him being left to race with a Williams to begin with, but it was clear that in the incident itself Wolff felt stern disapproval of Russell's decision to attack Bottas on the outside towards Tamburello, only to drop his right-rear slick tyre onto the wet grass and spear left into the Mercedes.
"I keep teasing him, I said if he does a good job he can be in a Mercedes, if not we are doing Renault Clio Cup," Wolff said to Sky Sports F1 after the race. "And today we are closer to the Renault Clio Cup."
Russell, who is managed by Mercedes, isn't going to be turfed out of a promising grand prix career and into tin-top racing any time soon. But while that particular dig was light-hearted, Wolff didn't find the incident a laughing matter at all.
At the heart of Wolff's disapproval was that Russell took what Wolff saw as a needless risk against a Mercedes. That is Russell's backer, a team he aspires to drive for, a team with world championship ambitions, a team that is also Williams's engine supplier.
Russell felt he was taking no big risk – "the move was absolutely on," he said – but Wolff saw it differently. And Wolff's opinion is a huge factor for Russell to consider.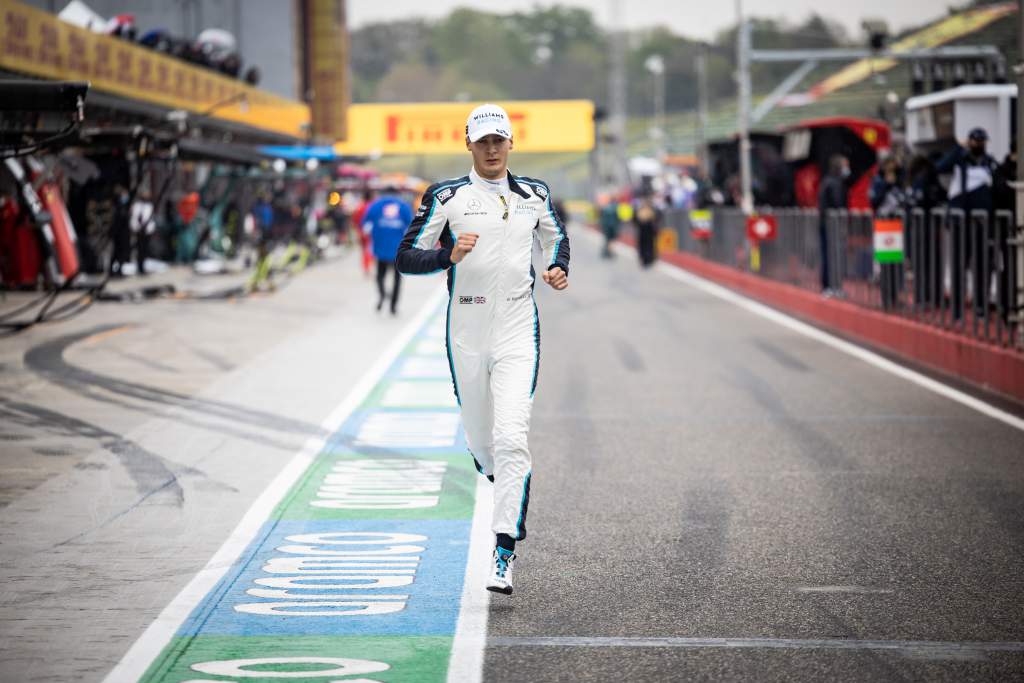 "George should have never launched into this manoeuvre considering that the track was drying up," he said.
"It meant taking risks, and the other car is a Mercedes in front of him. And in any driver's development, for a young driver, you must never lose this global perspective.
"So, yeah. Lots to learn for him, I guess."
"I don't want him to try to prove anything to us. Valtteri is not trying to prove anything" :: Toto Wolff
Wolff planned to speak to Russell "and make my point", which will likely be to ram home the disappointment that Russell played such a key role in destroying one of Mercedes' cars and costing it points in the world championship.
It may seem unrealistic to expect Russell to drive differently against a Mercedes. He saw this as his personal fight to take on in the moment.
But that is where Wolff's call for a "global perspective" comes in. He believes it was wrong that Russell lost himself in the short-term focus of seeing a place up for grabs in his own race.
Asked if Russell should have handled the situation differently given he was up against a Mercedes, Wolff said: "Yes. You need to see that there is a Mercedes and it's wet. There is a certain risk to overtake. And the odds are against him anyway when the track is drying up.
"Now, I don't want him to try to prove anything to us, because one thing I can say knowing Valtteri since five years [at Mercedes], he is not trying to prove anything."
Mercedes needs to trust Russell completely to pick him over Bottas
It would be premature to think the crash will have a lasting impact on Russell's reputation at Mercedes, or significantly impact his chance of landing a 2022 seat. Russell himself insists it's "not going to harm my relationship with Mercedes at all".
But it would be naïve to think he hasn't given himself a bit of damage to repair, especially if he resists ceding to Wolff's belief that he should fight a Mercedes differently to other cars.
"I've already spoken with them and there's understanding from both sides," Russell claimed.
"When you're looking forward, you're not really taking the consideration which car it is. But at the end of the day the move was absolutely on.
"We were only three quarters of the way down the straight. That would have just been a clear, easy, simple overtake had it not be a little bit damp at that point. The point I pulled out, it wasn't damp.
"It was just the track was going to the left, I was squeezed slightly to the right. And that's where the dampness was."
That position, which Russell first expressed post-race and stuck to a little while later, indicates Russell emphatically believes he was in the right. Though he slightly softened his stance on Bottas – initially suggesting Valtteri may have treated another driver differently – he was still clearly of the opinion Bottas could and should have given him more room.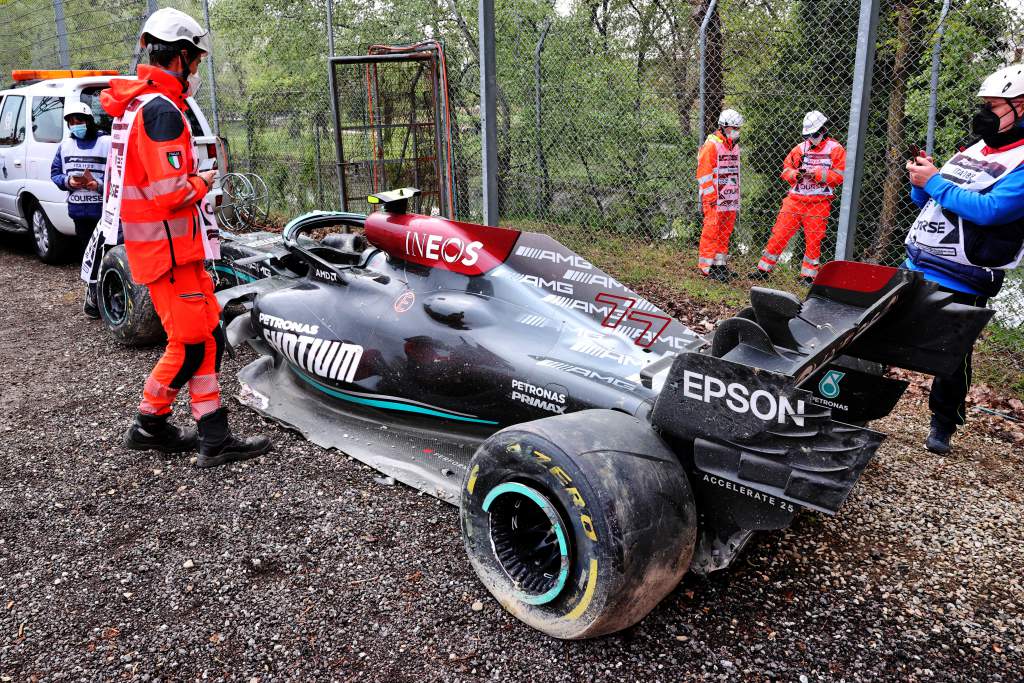 Until that changes, Wolff might feel justified in believing Russell's not learned his lesson. And Mercedes needs to trust him completely to pick him over Bottas.
So just as last year's Sakhir Grand Prix – when Russell deserved to win on a stunning stand-in performance for Mercedes in place of Hamilton – was a huge tick in Russell's column, this is a blot on his copybook.
Wolff's comments indicated he appeared to have sided more with Bottas in this incident, a suggestion that Bottas supported by claiming after his own chat with Wolff that "the overall feeling is I'm not the one to blame for that crash".
So, Russell doubling down on his insistence he was right to make a move that Wolff condemned is unwise, especially as his theory about how Bottas chose to race him drew short shrift from Wolff, who called it "bullshit".
Russell's a smart young man who knows the value of getting his point across in the media, but he may have overplayed his hand with his comments beyond simply blaming Bottas for the crash.
It's not going to get him sent to the Renault Clio Cup. But it will have left him a little further from nailing a Mercedes drive than if he'd thought twice about the move in the first place, and banked his first points finish for Williams.