Mercedes Formula 1 boss Toto Wolff says George Russell's hint that Valtteri Bottas might have avoided their huge Emilia Romagna Grand Prix accident if it was another driver is "bullshit".
Williams driver and Mercedes protege Russell speared into the side of Bottas when he tried to pass him around the outside on the approach to Imola's first corner, having seemed to dip his outside rear wheel on the wet grass and caused his car to snap left.
Both drivers were furious after the high-speed crash, with Russell insisting that Bottas had squeezed him unnecessarily.
"Our car is a write-off, in a cost cap environment that is certainly not what we needed and it's probably going to limit upgrades" :: Toto Wolff
No action has been taken on the accident, as the stewards found that "at no time did either car manoeuvre erratically", that Russell's spin was the result of the conditions and Russell having the DRS activated, and that it was a racing incident.
Russell is a serious candidate for a Mercedes drive next season, potentially in place of Bottas, and appeared to insinuate that Bottas raced him differently because of that, saying "perhaps if it was another driver he [Bottas] wouldn't have done that."
But Wolff said "that's bullshit" when told of Russell's comment, and said the crash has serious implications for Mercedes as it means an extensive rebuild job at a time the team has worked very hard to cut costs to meet the new-for-2021 budget cap.
"The whole situation is absolutely not amusing for us to be honest," said Wolff.
"It's quite a big shunt. Our car is a write-off, in a cost cap environment that is certainly not what we needed and it's probably going to limit upgrades that we are going to be able to do.
"Simply the fact that we ended there, by losing it on the wet, because there was no contact, and making both cars crash out is not what I expect to see."
"Sorry, I lost my aluminium foil hat somewhere. It's quite a theory" :: Valtteri Bottas
He would not apportion "100% blame" to one party or "zero" to the other but it was clear when he spoke to media after the race that he felt Russell was mainly responsible.
Bottas indicated that Wolff had told him as much when they spoke briefly, just before Bottas also addressed written media.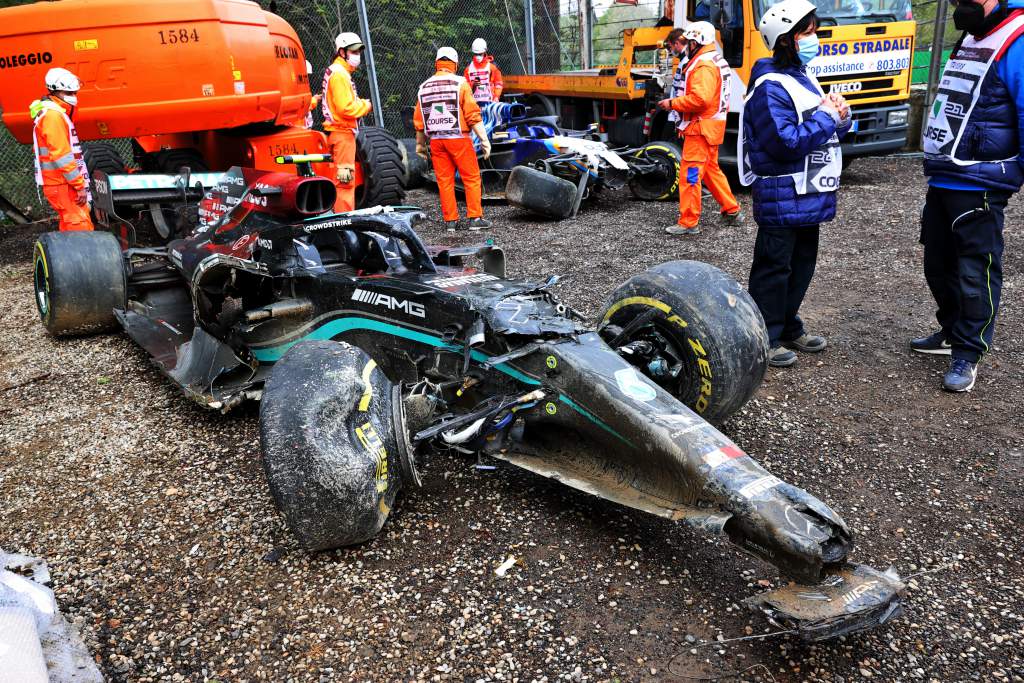 When Russell's comments were put to Bottas, the Finn briefly looked confused and joked: "Sorry, I lost my aluminium foil hat somewhere.
"It's quite a theory. No, I'm always going to defend, to any driver I'm not keen to lose any positions and that was normal defending, it could have been a lot more aggressive.
"I don't agree with that at all. I was doing my thing, no matter who I would have been defending against it would have been exactly the same.
The incident that brought out red flags in Imola 🚩#ImolaGP 🇮🇹 #F1 pic.twitter.com/Z18dCPXwOZ

— Formula 1 (@F1) April 18, 2021
"He knew exactly that it was going to be damp there because we've gone through lap after lap and I knew as well, and it's just not the place to go in those conditions on slicks.
"But he still went there and it was his choice to go there and I was doing my job, trying to defend and I'm not going to move away and give him the dry patch of track."
Asked to explain what he'd meant by his comment, and if there was tension between him and Bottas over the Mercedes seat, Russell said: "No tension at all between being Valtteri and I. You can take that comment as you wish, really.
"I think it was pretty clear how it was intended. But maybe I'm wrong. Maybe he is just fighting for absolutely every position. It's his right to do so."
Bottas also disputed Russell's claim he was unfairly squeezed onto the grass.
"No, I don't see it that way. I didn't make any sudden moves," he said.
"I think it's quite clear from his onboard as well, and [he was] always left the space, so no from my side it was clean, and of course I'm defending, I'm not going to make any room for him.
"But also when I race I have respect. I see it differently."
Part of Wolff's frustration was born from the belief that Russell should have handled the situation differently up against a Mercedes, especially as it was a risky move.
"It was not a reckless move. The move was totally on" :: George Russell
But Russell insisted the move was "totally on" and that Bottas should have had "a bit more respect for the speed and conditions".
In response to whether he changes his approach when racing a Mercedes, Russell said: "I've never been in a position where I'm fighting against Mercedes and Williams has not been fighting against Mercedes in probably five years so it's not even crossed my mind how I would fight against the Mercedes.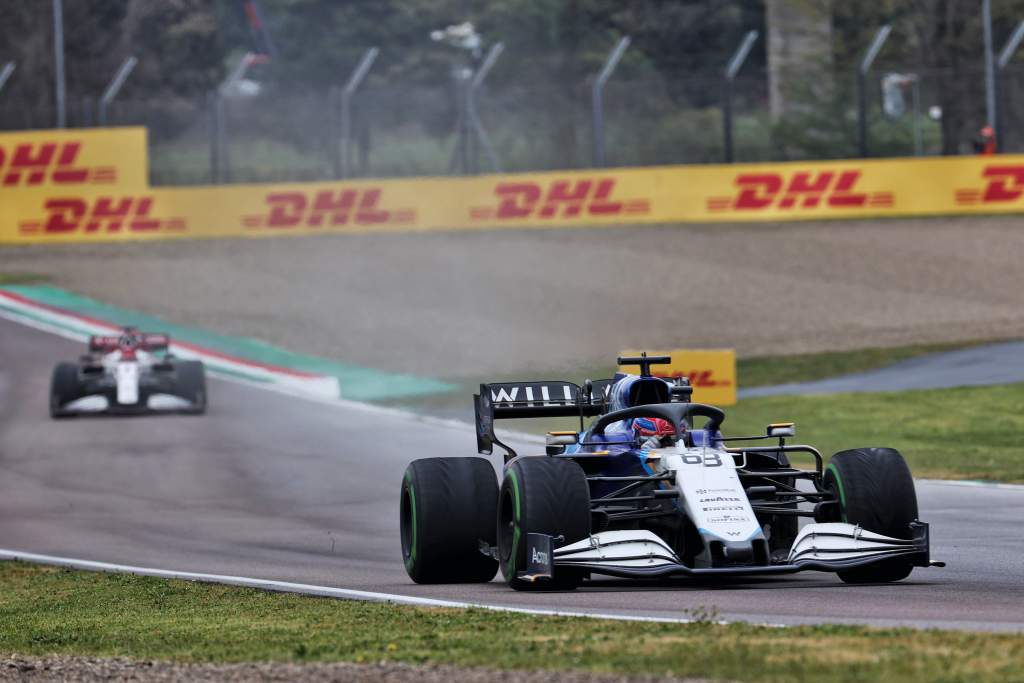 "It was not a reckless move. The move was totally on. Valtteri defended hard and it was fair to do so but we were three quarters of the way down the so-called straight, it wasn't like I lunged him from 20 metres back and crashed into the side of him.
"An unfortunate incident that would not have happened if it wasn't damp. It was just an unfortunate set of circumstances, which could have been avoided.
"Was Valtteri in the wrong? Probably not. Could he have done something slightly more? Maybe.
"Was I in the wrong? I caused the crash by spinning but was I wrong to go for the overtake? Absolutely not.
"You would have been foolish to lift at that position."
Russell expects the crash to eventually be dismissed as a racing incident and says he and Bottas will clear the air.
"In the heat of the moment there are a lot of emotions but I've got no intentions to hold any grudges or have any bad relationship with any driver on the grid," said Russell.
"It's in my intentions to clear the air with him and I'm sure we'll probably have a phone call this week just to put it behind us and move on.
"We're all racers, we're all battling for position. In the moment it's incredibly disappointing, sore for all of us.
"And your heart stops for a moment when you crash at over 200mph. You just don't know what's going to happen.
"My anger towards him at the time was more that I thought he put us both in harm's way and it was an incredibly scary incident to be honest at that speed.
"Fortunately we both walked away with no battle scars but obviously, it could have been very different."