Mercedes bringing in George Russell for the 2021 Formula 1 season is not currently "realistic", according to team boss Toto Wolff.
In his stand-in appearance at Mercedes deputising for Lewis Hamilton following the world's champion positive COVID-19 diagnosis, Russell outperformed team-mate Valtteri Bottas and was on course for victory in the Sakhir Grand Prix before having the wrong tyres fitted at a pitstop and later getting a puncture.
Bottas has already been given a one-year contract extension for 2021. While Hamilton and Mercedes have still not agreed a new deal, both parties intend to continue their relationship.
But Russell's and Bottas's comparative performances this weekend immediately prompted debate over whether Mercedes should get Russell on board at Bottas's expense sooner rather than later.
Asked if that was a possibility, Wolff played down the prospect.
"He's a Williams driver, and is signed up to Williams," he said of Russell. "And our driver line-up is Valtteri and Lewis.
"So I don't see this as a realistic situation at that moment of time [2021].
"But I can understand that it would be an interesting situation, both in the team and maybe a bit of a wild ride for all of us.
"Maybe we'll have that in the future."
Russell has a long-term Mercedes contract and is effectively on loan to Williams at present.
Wolff made clear before this weekend that the decision to call him up in Hamilton's absence was with the team's "long term" in mind so it could see how Russell would perform at the front.
But Wolff declined to comment directly when asked if he'd sign Russell for 2022.
"George has always been a Mercedes driver," he replied.
"He's a Williams driver now and they can be proud of what he's done today. And they will know that his lap times in a Williams are probably the benchmark.
"And now we need to see what the future holds. I haven't made up my mind now what that means for us."
HAMILTON NEGOTIATIONS
There has been speculation throughout this weekend that Russell's strong performances might be a factor Mercedes could bring into its contract negotiations with Hamilton – particularly if it wanted to bring Hamilton's asking price down by demonstrating it has alternatives.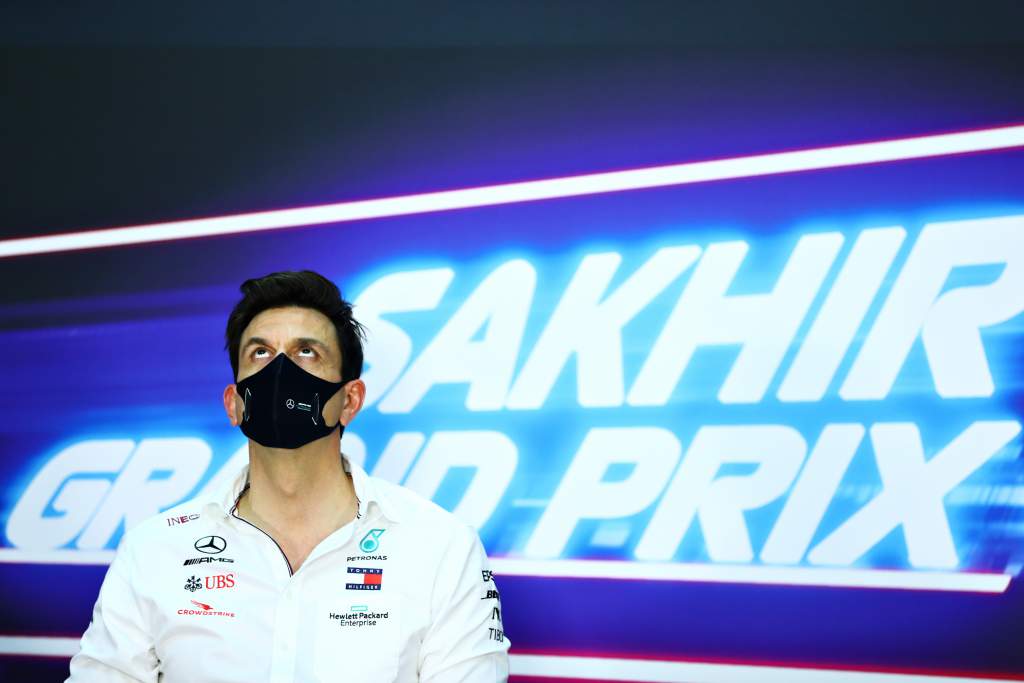 "They are two different things. Lewis has been with the team eight years, we have had great success in the past. He's a team member," said Wolff.
"And I said it already before the weekend: none of the events this weekend will interfere with or change any of our negotiations.
"That wouldn't be fair against him. It wouldn't be fair against us.
"Because it could have gone the other way around, a race weekend where George wouldn't have been on pace and I don't think that he [Hamilton] would say 'well hold on a minute now this is an advantage for me'. Our relationship goes much beyond that."
'A NEW STAR IS BORN'
Russell was fastest in both Friday practice sessions and qualified second to Bottas.
He then took the lead at the start and established a three-second cushion through the first half of the race.
That became an eight-second lead when Bottas's strategy of staying out longer before his pitstop proved counterproductive.
But when Mercedes made precautionary pitstops under a late safety car, it accidentally fitted two of Bottas's tyres to Russell's car, meaning he had to pit again on the next lap.
That dropped Russell to fifth for the restart, and he then had to pit again with a puncture having quickly charged back to second – overtaking Bottas along the way.
He ultimately came back through the field from 15th to ninth after his fourth pit visit.
Wolff admitted speaking to Russell on the slowing-down lap was "very emotional" and "there's not a lot" that could be said in the circumstances.
But he emphasised that Russell's future now looks extremely bright.
A picture paints a thousand words#SakhirGP 🇧🇭 #F1 pic.twitter.com/oJlCTldCAX

— Formula 1 (@F1) December 6, 2020
"It's not going to be his last attempt to win a race; it's just the beginning of a fairytale that didn't work out today and I would say that a new star is born," Wolff told Sky Sports F1.
Wolff had told Russell going into the race that a top-five finish would be sufficient.
"We didn't want to set expectations high and he overdelivered, overdelivered, overdelivered," said Wolff.
"He overdelivered on Friday. He overdelivered yesterday in qualifying just a few hundredths away from Valtteri.
"And he overdelivered today. His racing was unbelievable. He got off the starting line with the best reaction time in a car that is too small, with paddles that didn't fit his hands, and he got into lead and drove a brilliant race and could have won twice.
"So, this is not a sad day, this is a day where we learn as a team.
"When we are in a tough fight about the championship I wouldn't want the radio to fail.
"And we learn that George Russell is somebody to count on in the future. He has all the potential and all the ingredients that a future star needs.
"And in that respect I'm sad for the result that he could have had in his first race for Mercedes but on the other side I'm happy about his performance."
Mercedes does not yet know if it will be Hamilton or Russell in the car for Abu Dhabi next weekend.
"We need to see how well Lewis recovers, that's the most important – that he's well," said Wolff.
"He says he's a bit better today, feels he made a big step and if the test is negative, then it's his car and then he will drive a brilliant race."