George Russell's first day as a Mercedes Formula 1 driver was dazzling in terms of lap times but more impressive in the areas that matter beyond that.
Topping both Friday practice sessions for the Sakhir Grand Prix meant Russell took the first steps towards justifying Mercedes' decision and effort to put him in its Formula 1 car in place of the absent Lewis Hamilton.
While those times, he admitted, were deceiving thanks to team-mate Valtteri Bottas having a quicker lap deleted and Red Bull's Max Verstappen looking very strong on longer runs, the leaderboard was not what mattered most in Russell's day either.
He completed 97 laps of the Bahrain Outer circuit, with each one observed by The Race as it happened. Here's what we learned.
Lots of practice starts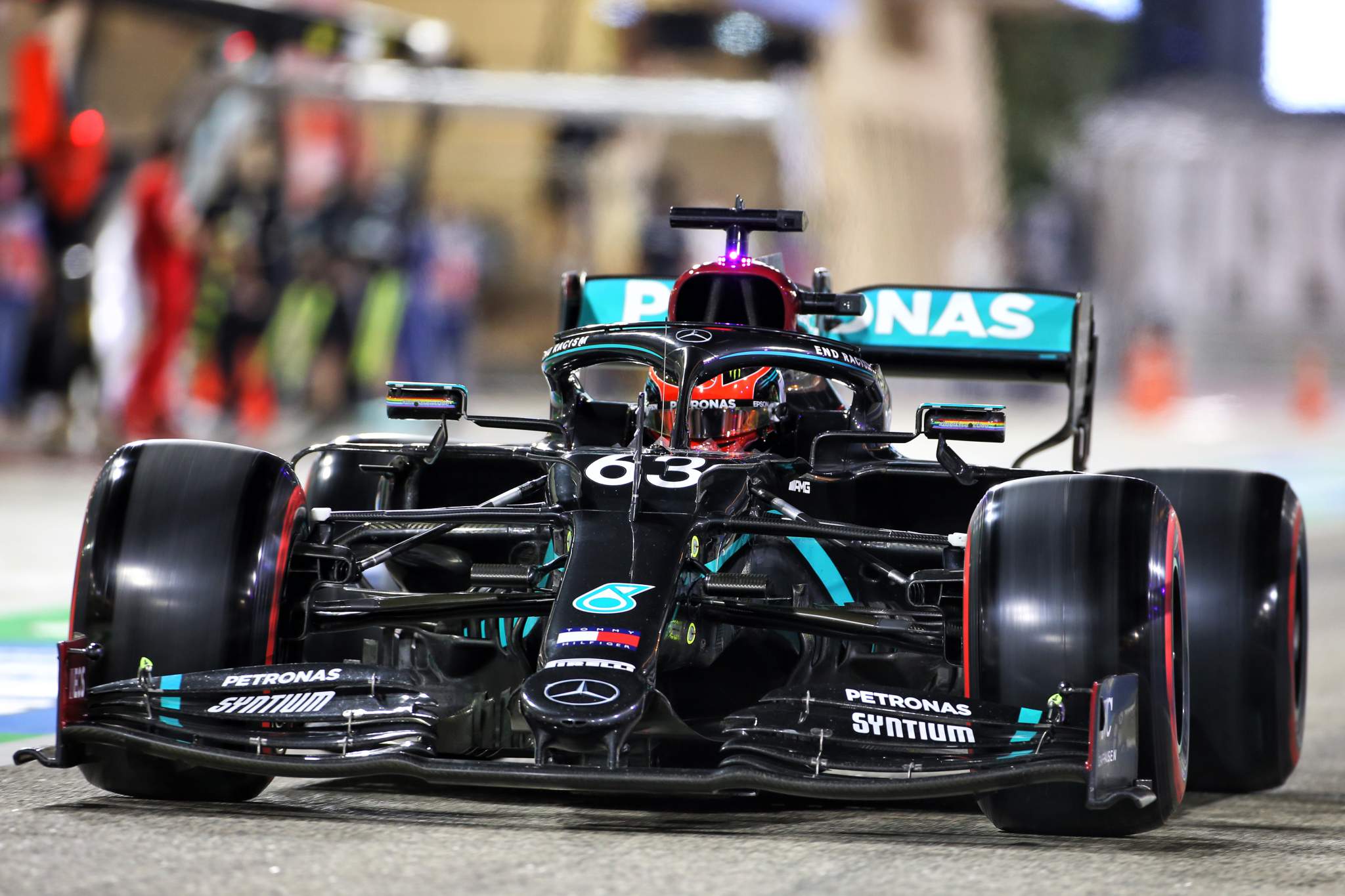 If Russell converts his impressive Friday pace into a good qualifying result, chances are his race will be defined by maintaining that hard-earned track position.
To that end, from the start of first practice to the conclusion of the second, Russell completed 10 practice starts at the end of the pitlane. It was a more focused start programme than usual in order to help him get as familiar as possible.
Most times Russell had a double cool-down lap between push laps he rolled through the pitlane and performed a practice start.
Early in FP2 he even questioned it, asking "is it going to compromise our high-fuel if we keep doing starts?", and was reassured that "practice is good".
It's not that Russell was against the impressive attention to detail though, far from it.
Russell was either on target or only a few percent out on clutch engagement and bought into the significance of the process, asking repeatedly for guidance on the quality of the previous launch.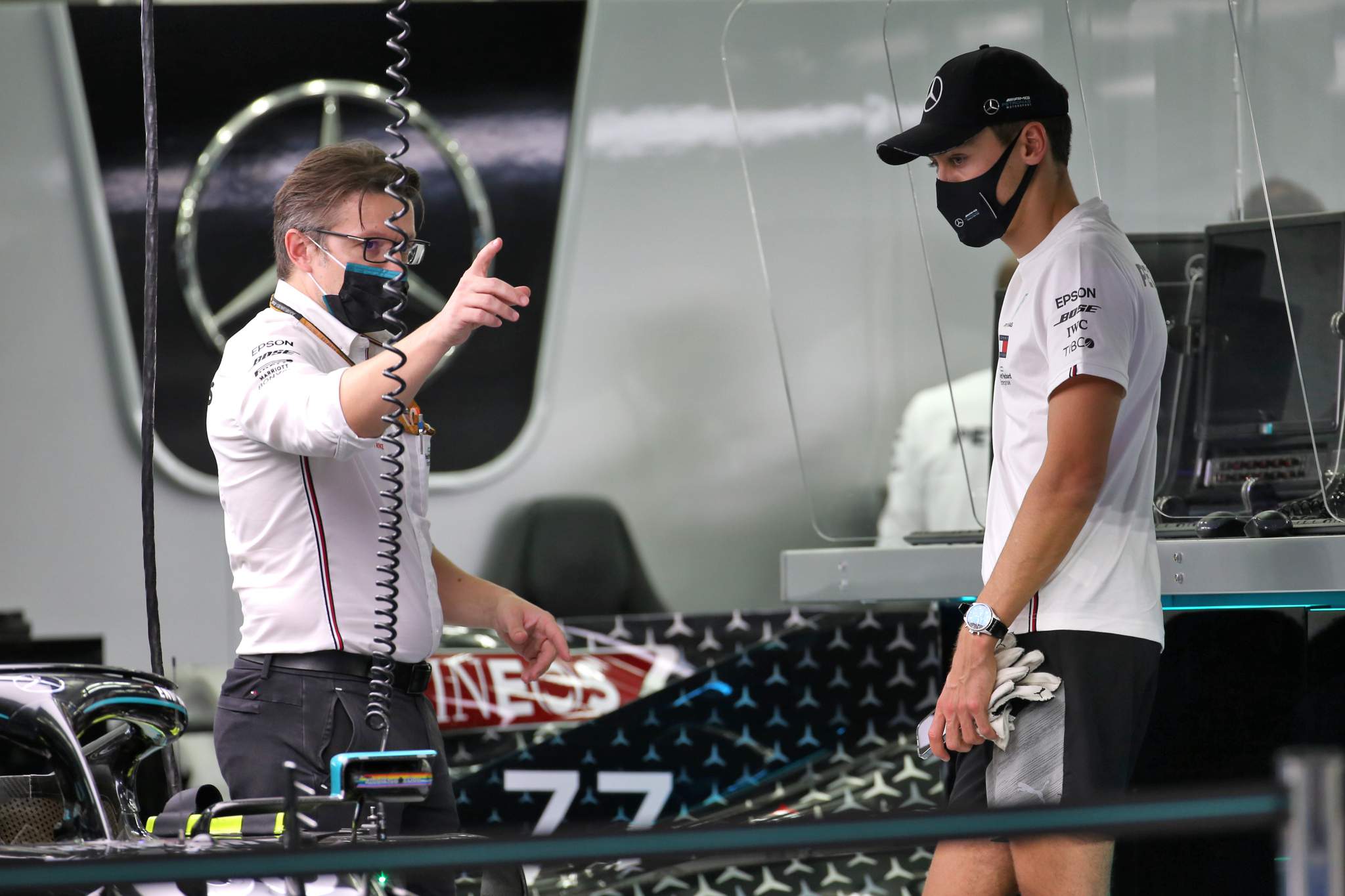 In first practice he was told to try a slightly slower second release and in second practice asked: "How is the rate of the drop looking? Improved vs FP1 or still a bit messy?"
He was told it's "improving slowly", a sentiment he shared after practice finished.
"They're not Lewis Hamilton level to say the least but they're getting better," he said.
"Again, a load of practice tonight, sat in the car, just trying to modify clutch paddles to try and suit my fingers a bit more.
"There's so much I do need to get on top of and we've got such a short period of time to do that, so I think we're in for a long night."
Focused on small details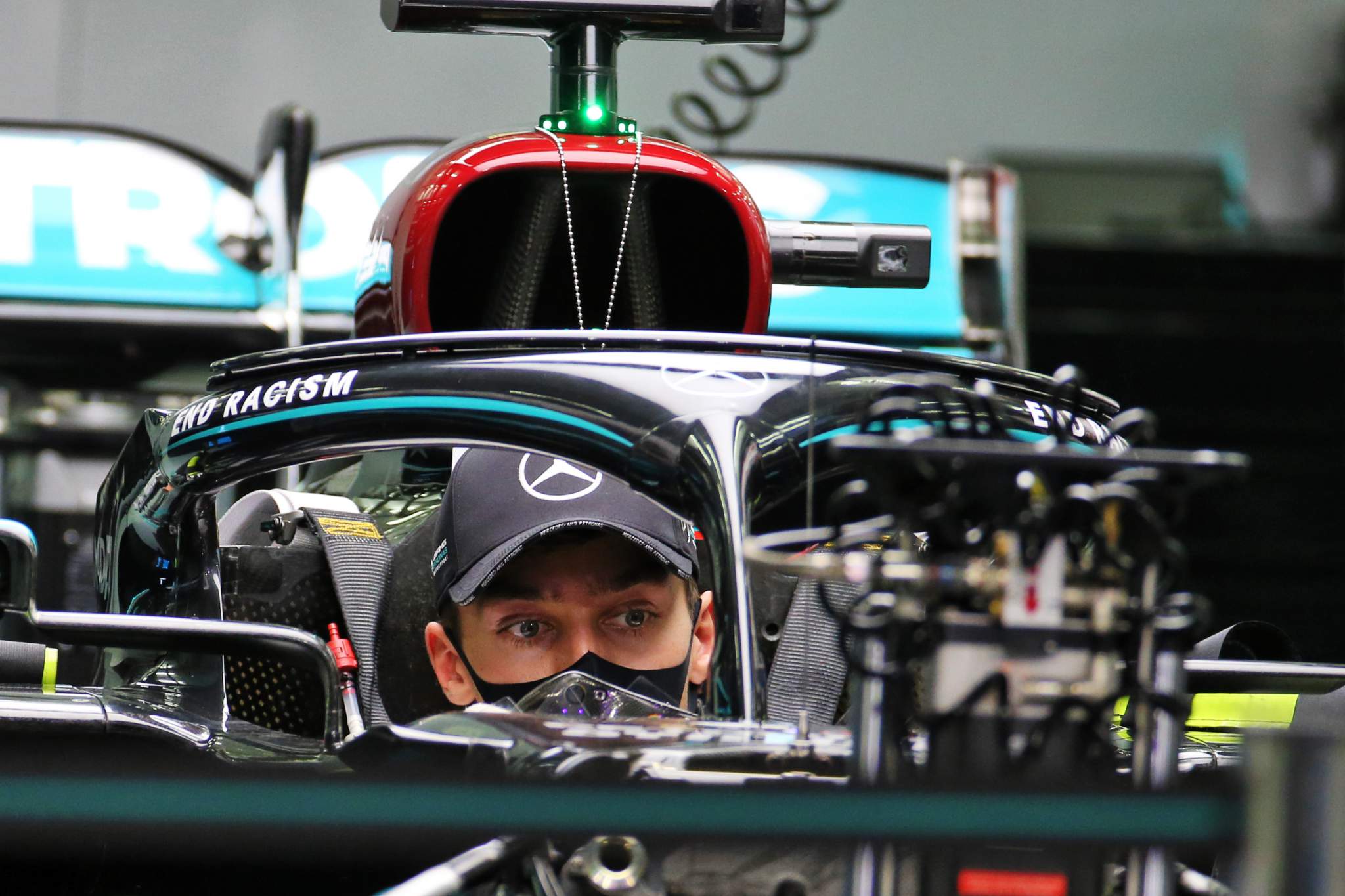 Russell's homework will mostly be defined by the circumstances of being parachuted into a completely different team with different processes, but he also makes work for himself. Not by being difficult or making mistakes, but because he is naturally inquisitive and likes leaving little to chance.
"I'm working with the best in the business and I'm learning so much every single lap" :: George Russell
There were so many areas in which Russell sought marginal gains through Friday practice, from comfort to practicality to performance.
During FP1 he asked race engineer Peter Bonnington to "please remind me to talk to you" about two things: the direction of the brake balance rotary, which he wanted to invert, and the pitlane speed limiter display, which he wanted to show speed on entry.
These are small and easy changes but show Russell understands the value of making operational elements as easy to use as possible.
Rather than work with what Mercedes had, he was confident enough to ask if it could be shaped to suit his needs better.
"I'm working with the best in the business and I'm learning so much every single lap I'm in the car," he said.
He was, as ever, very aware of things on-track – identifying "a lot of sand blowing through Turn 6 from the right-hand side", for example – though sometimes he might be guilty of overthinking things, his is a situation in which asking too much is far better than asking too little.
It was not a flawless performance as he got up to speed, with a few reminders to reset the DAS (dual-axis steering) system that he was running to get acclimatised to while Bottas ran without it. There were minor things like needing to ask for a dash menu position instruction repeat.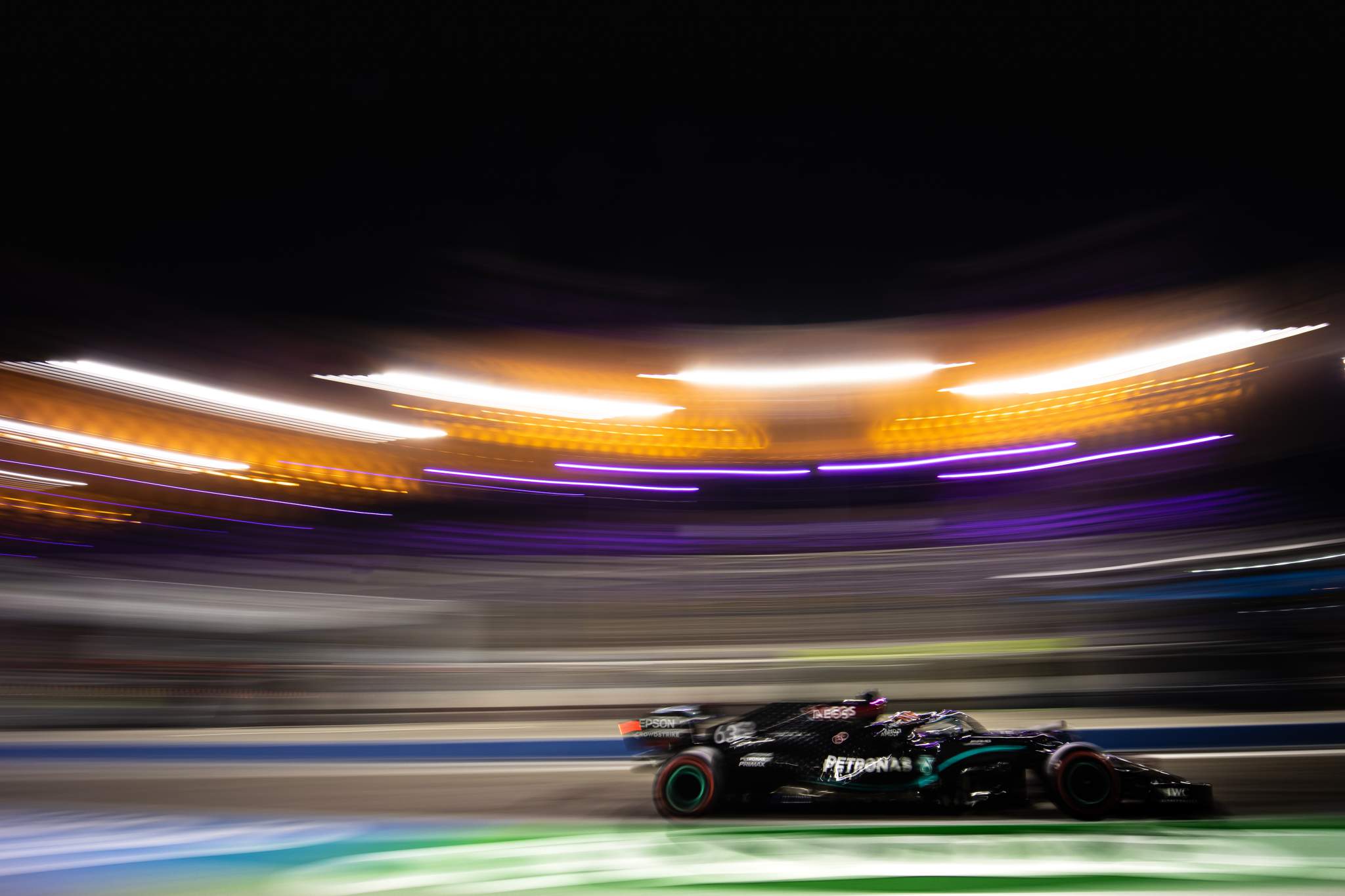 He apologised over the radio at the end of FP1 for "a few things" in a session he felt "wasn't the smoothest".
And he probably sacrificed a bit too much of his long run on softs in FP2, sticking behind the Williams of his usual team-mate Nicholas Latifi instead of dropping back into the very limited space behind him to try to get an extra lap or two of relevant running.
Asked if he felt on top of everything afterwards, Russell said: "Absolutely not to be honest, there's so much to take in to learn and lap after lap I'm just learning more and more.
"I'm doing my absolute best to be as prepared as possible but jumping in the car with a day and half, two days' notice; it's tricky."
But it was an impressive and swift adaptation to Mercedes' operations, flecked with a few examples of Russell's usual precision.
The only significant downside appeared to be his lingering struggle with his belts, which was causing shoulder discomfort.
"I'm pretty battered and bruised already to be honest so we've already gone through what needs to change, it's not the work of a moment," said Russell, who revealed earlier this weekend he is using a three-year-old seat.
Difficulty at Turn 1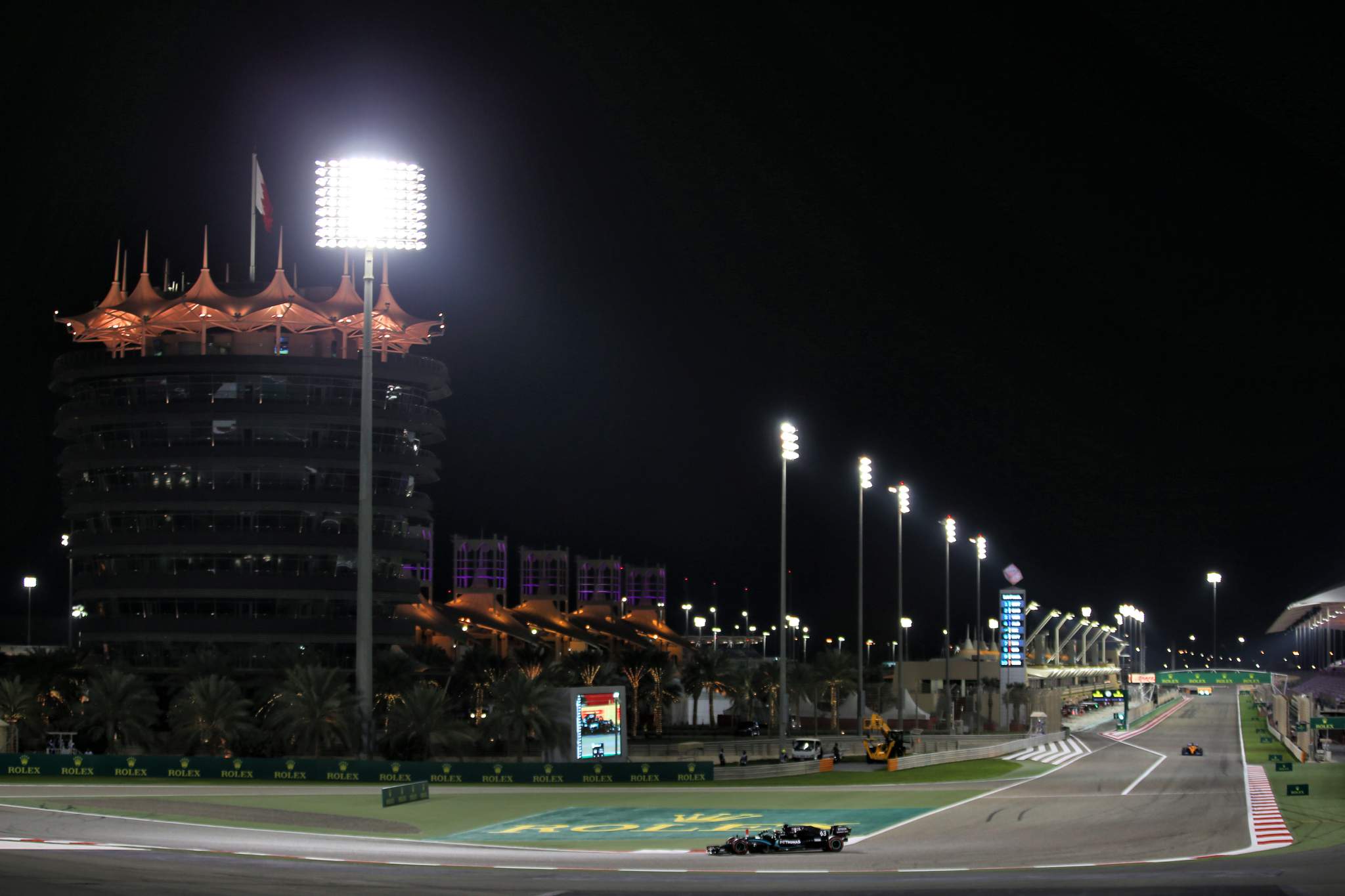 Topping both Friday sessions would have you think that Russell found the limit of his W11 very quickly. But it was a work in progress and remained that way by the end of FP2.
During FP1, it was no surprise to see his deficit fluctuating throughout the lap. Initially braking into Turn 4 and the run through Turn 6 were identified as the initial losses, but soon he reported a bit of trouble braking for Turn 1.
After the initial runs on softs in FP1 he was a second slower than Bottas, with 0.6s of that coming in a sub-20s first sector. "Struggling a lot end of braking at Turn 1," Russell reported. "Mid-corner understeer."
He complained after going quickest he was "still struggling a bit into Turn 1 to be honest", though he was told there's "nothing much to comment on it".
But as the tyres aged, he was informed he was losing time to Bottas on initial braking, as well as his minimum speed into the first part of the fast chicane on the Outer section.
That was also the scene of his main loss to Verstappen on a longer run on softs, during which Russell said he felt like he was struggling, though he was "in the ballpark" of Bottas's pace.
While Russell would go on to improve there through practice it is fair to say he never got fully on top of it. Which is probably no great surprise given it is such a heavy and difficult braking zone, with an apex that's easy to over or undershoot.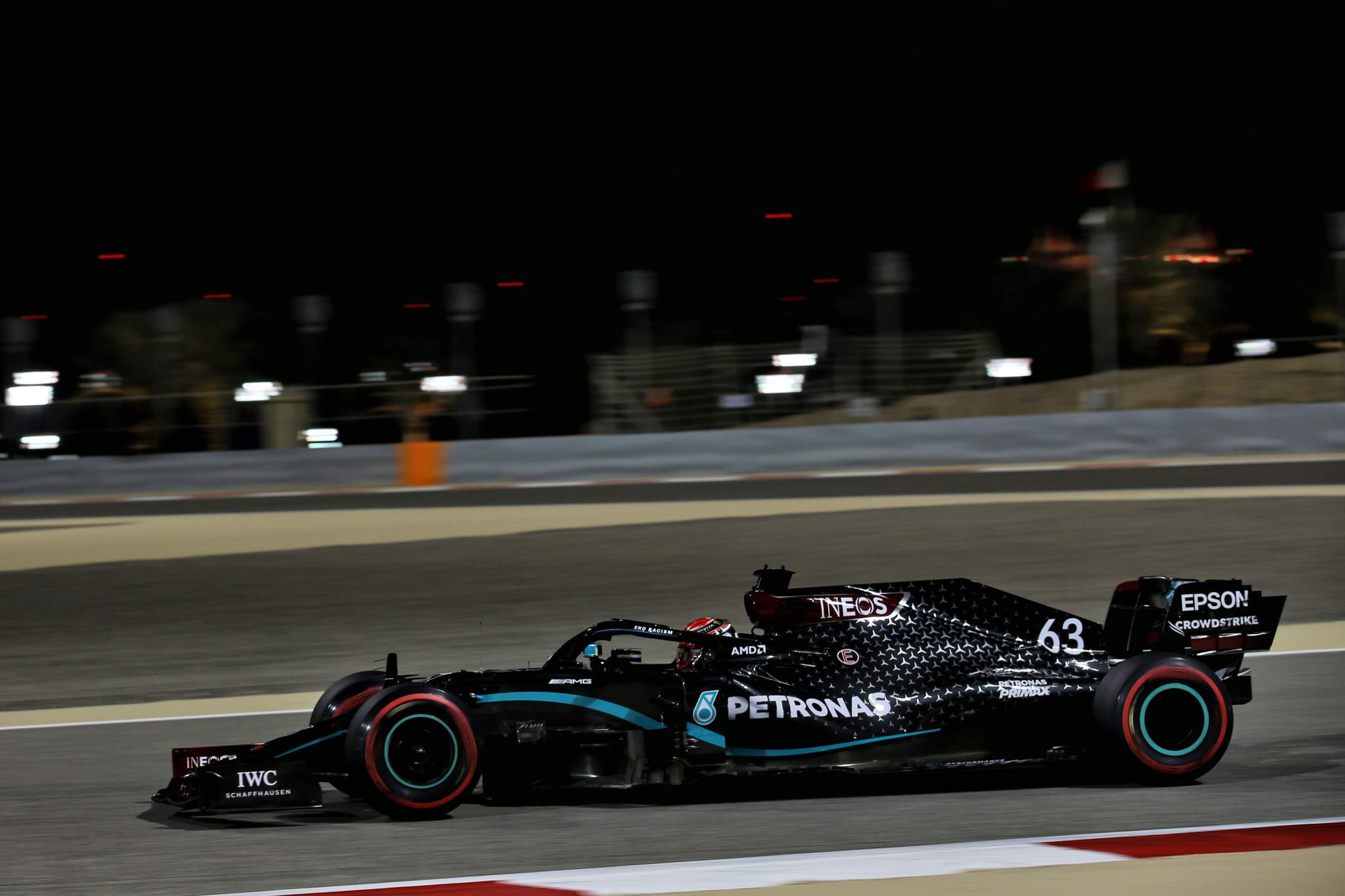 The minor hesitancy into Turn 1 continued in FP2 on his qualifying sims and long runs. Most of his 0.3s deficit in sector to Bottas was braking for the first corner, although Bottas running in a superior engine mode also contributed.
Russell initially complained of poor traction and under-rotation of the car, and Turn 1 continued to be the "main loss", although it was on exit as well as entry.
"What do you reckon at Turn 1, anything we can do? BBAL [brake balance] forward?," he asked, but was warned of undershooting the apex and told to try a bit more initial brake pressure.
The relentless bid to improve at this trouble spot paid off in the end as Russell ended up just a tenth slower than Bottas in their personal best first sectors. Though in the long run he registered a "consistent loss" to Bottas at Turn 1 and had a big lock-up there on his final push lap.
Very few errors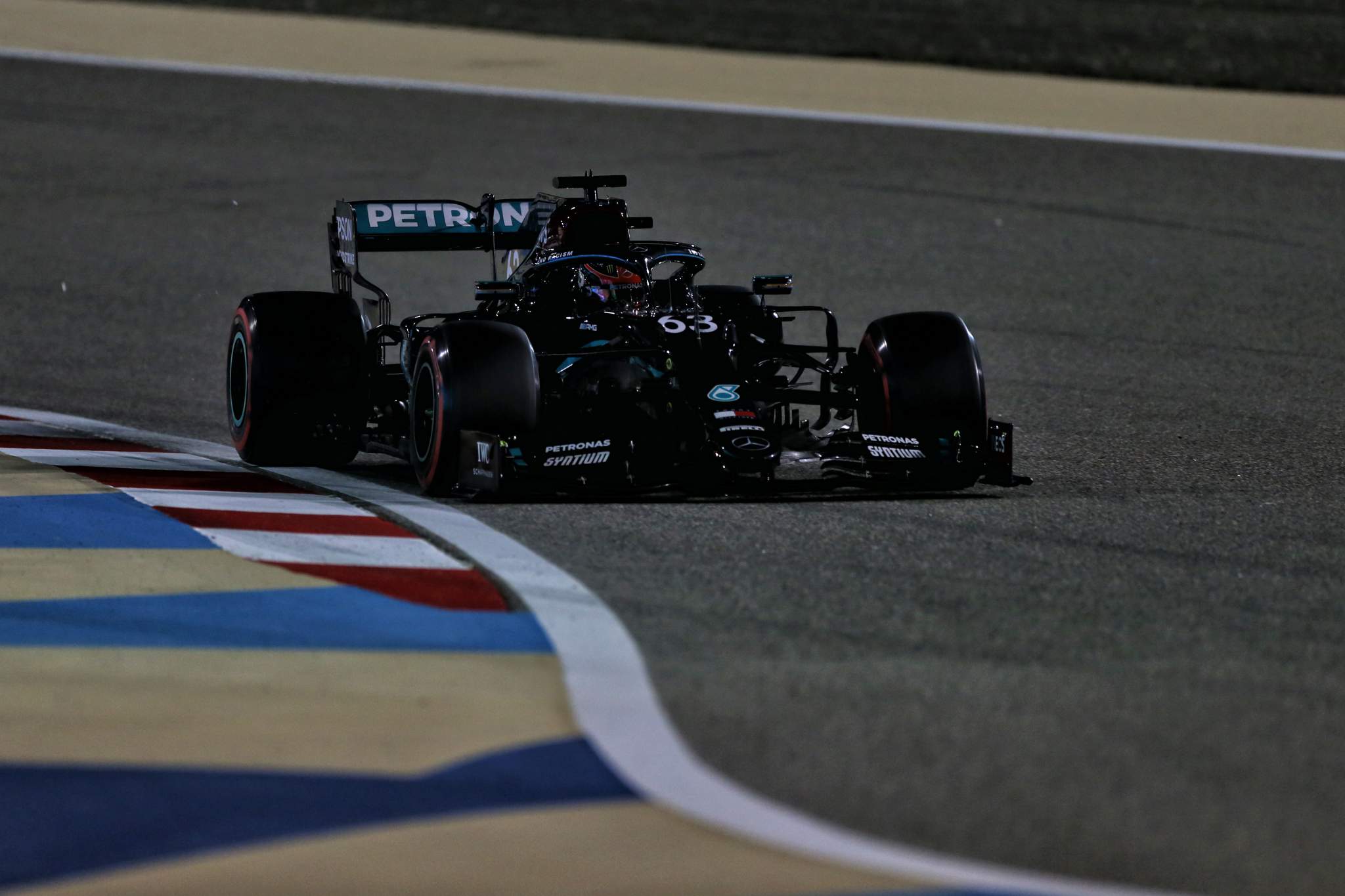 It has to be said that for a driver adapting to a new team, with the pressure of expectation (even though publicly there are no targets) and the end result of two P1s suggesting he was not holding back, Russell made impressively few errors.
Yes there was the odd moment he needed reminding about a steering wheel button or to reset DAS and yes he had the odd misstep on-track, taking to the run-off at the chicane a couple of times and having that late lock-up.
"I do think the lap times are a little bit deceiving at the moment. I thought FP2 was not a great session for me" :: George Russell
But his one-lap pace was a reward for a calculated build-up in which he did not try to take on too much, too soon. Which is perhaps why at times it did not feel like his feedback matched what we could see, as he was identifying problem areas before they caught him out with a big, visible mistake.
The only time the car looked out of his control on a push lap was a big snap exiting Turn 4, although he caught it and went on to set the fastest time of the session!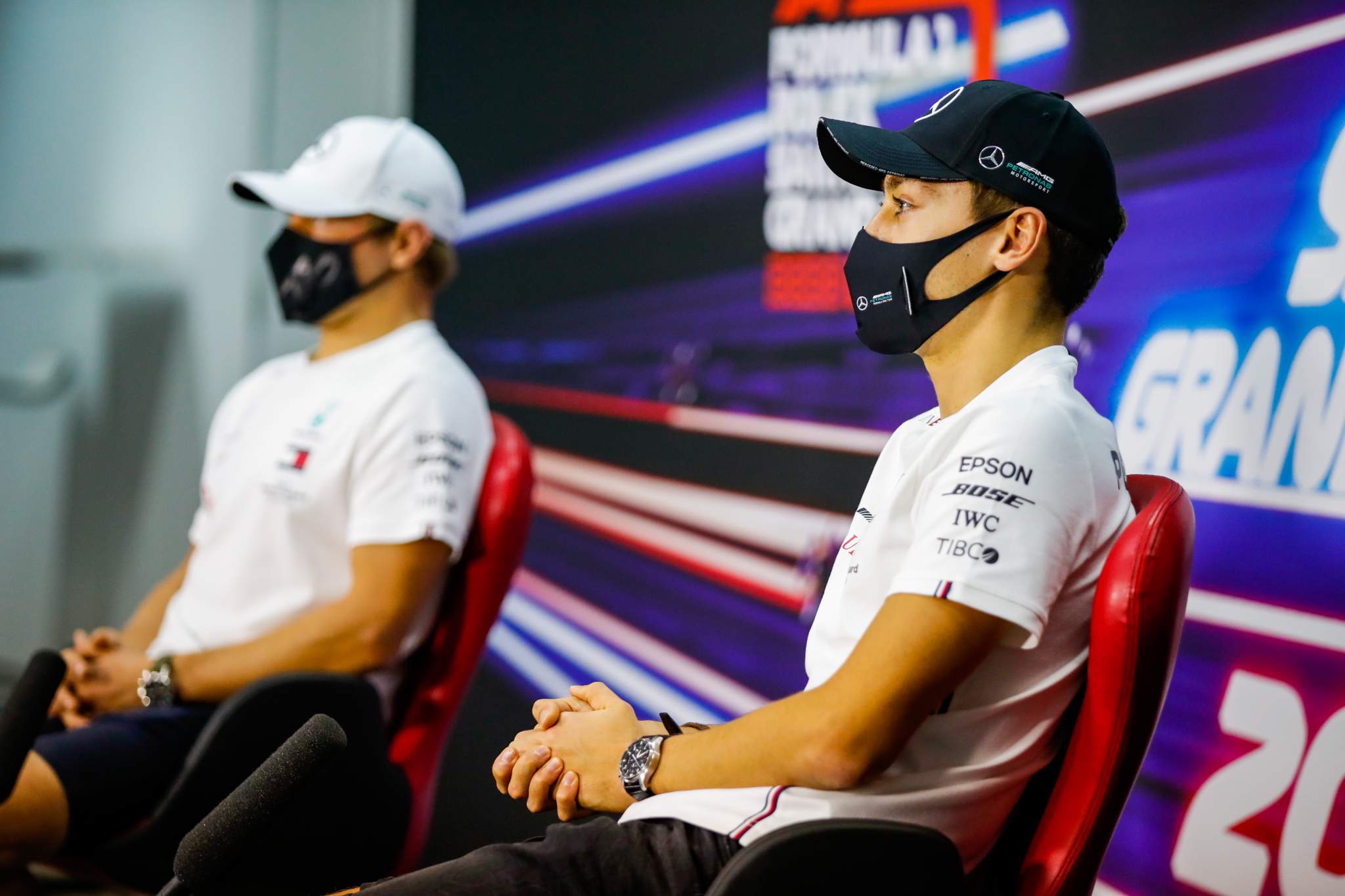 And there were some small mistakes, once in traffic and once on his own, and some deleted lap times on the longer runs but that was to be expected as he learned the car on high fuel.
Still, Russell was not entirely satisfied with his performance.
He said: "I do think the lap times are a little bit deceiving at the moment and aren't a true representation of the pace.
"I thought FP2 was not a great session for me, I struggled, especially in the high fuel and ultimately that's going to be key on Sunday.
"So I've still got a lot of work to do to get comfortable in the car, get comfortable with the set-up, make some improvements, pick it up.
"I think tomorrow's going to be a different story."
Slower but not by much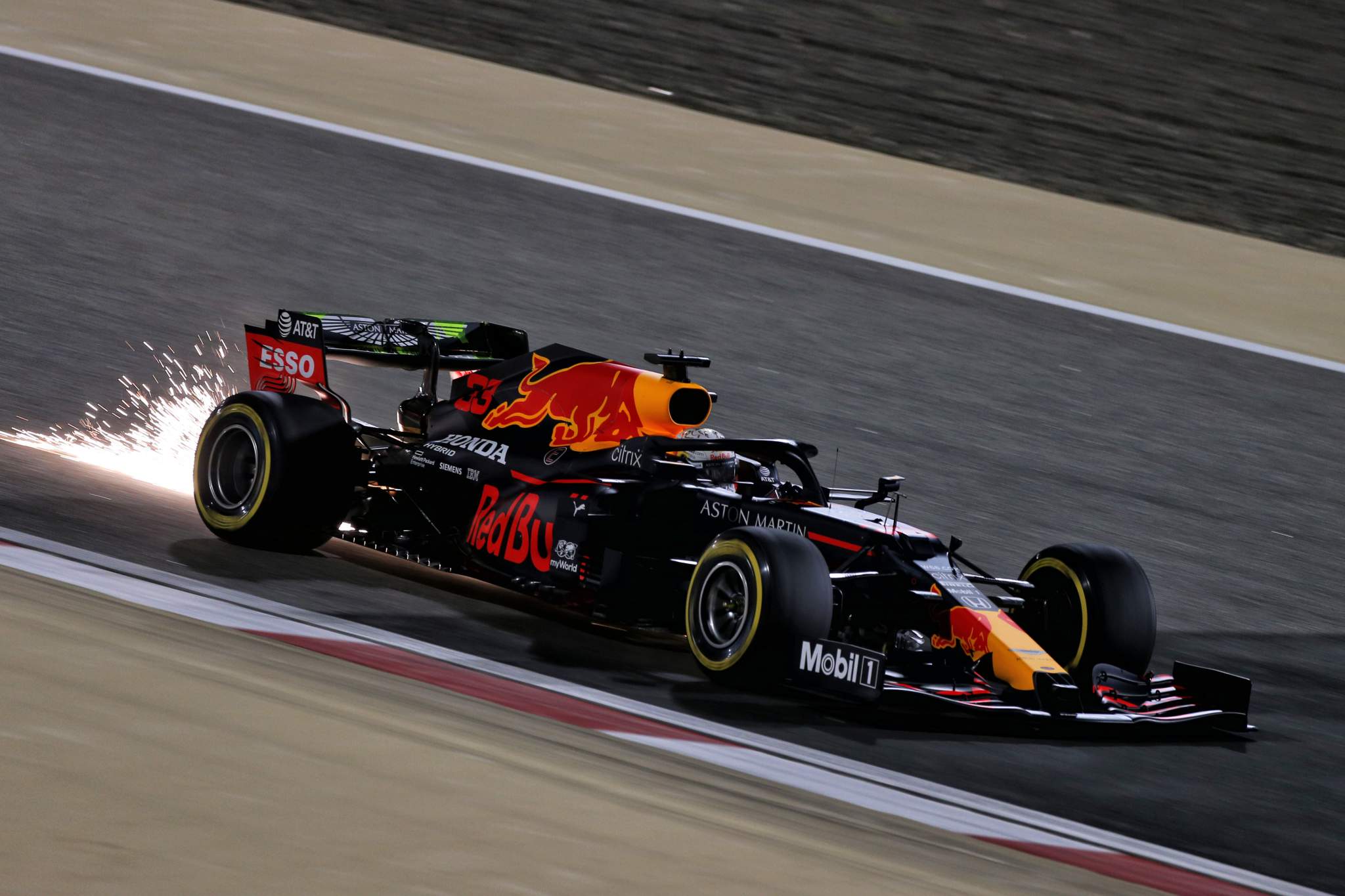 In all likelihood that story will end with Russell being a couple of tenths slower than Bottas, because Mercedes' regular driver really should have ended Friday on top.
The theoretical times had Russell posting a +0.1s deficit in sector one, +0.04s in sector two, and +0.14s in sector three. But a deficit of between 0.1-0.3s is hardly a bad place to be after one day in the car.
It would be a big surprise, and a disappointment for Bottas, if Russell has the upper-hand in qualifying. His one-lap superiority on Friday was a result of hooking up his laps while Bottas had the fastest time deleted for a track limits offence.
But, Russell can also take a lot of pleasure in being the driver who did hook it up.
The longer runs were harder to judge. Russell's time in traffic on the soft tyre renders that comparison largely futile, though on the hard he seemed quite close to Bottas – especially once the stint got going. Bottas, and Verstappen, seemed to get initial pace out of the tyre that Russell couldn't.
Perhaps it was the biggest manifestation of his unfamiliarity with the car, or just him being overly cautious at the beginning of the stint. Either way the initial burst of pace was slightly lacking but the further into the stint, the closer a match for Bottas Russell looked.
He tried a few things as he started to struggle at Turns 1 and 4, including brake balance and differential adjustments. Overall, he knows he goes into the rest of the weekend with a pace deficit not reflected in the timesheets – but it is still a stronger position than most would expect him to be.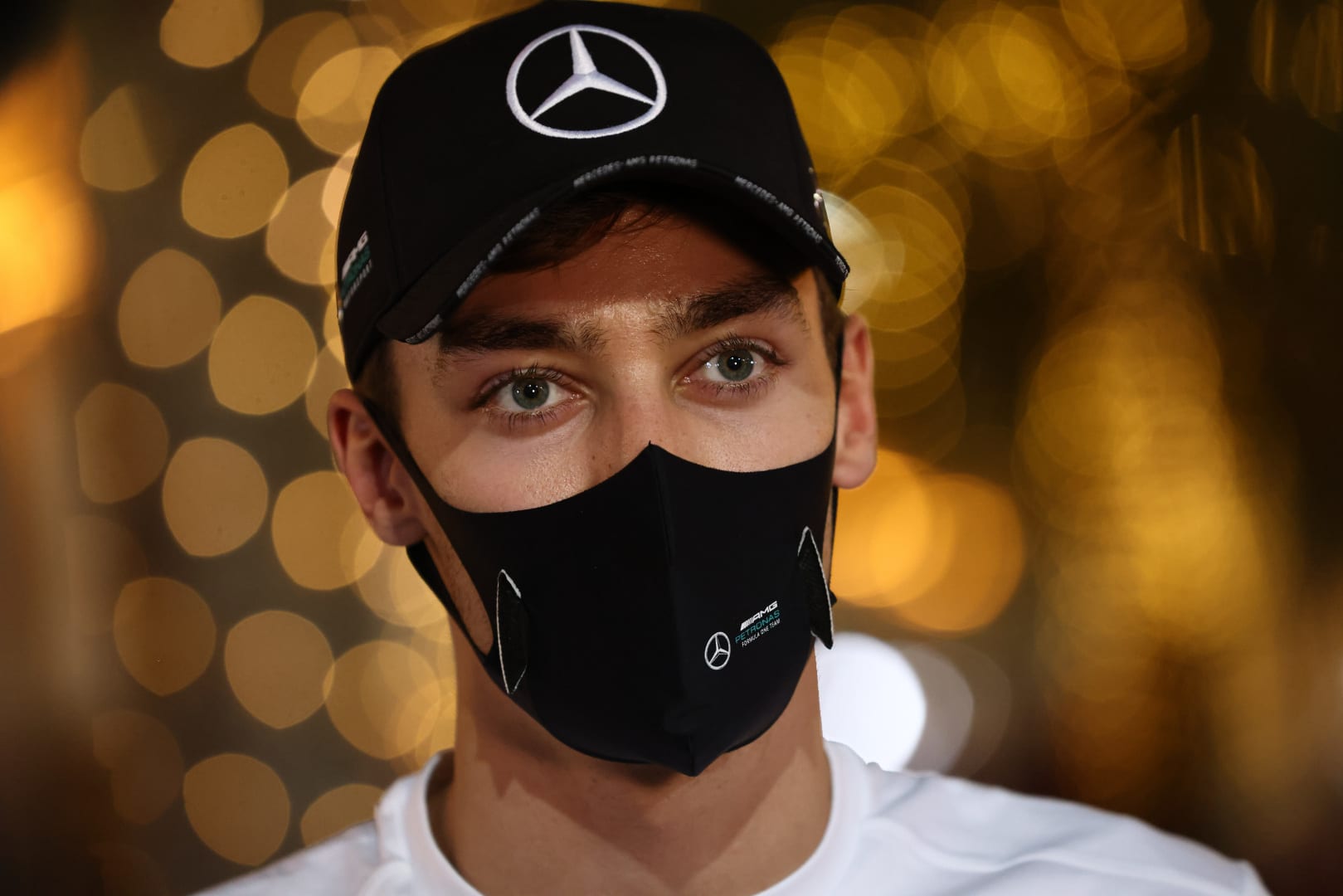 "Just because I was quickest today, doesn't mean that's where I'm going to be tomorrow," Russell admitted.
"Verstappen was incredibly quick in the long runs, Valtteri was quickest in FP2 but he got his lap deleted and he probably only gained half a tenth in all honesty.
"So I'm probably a good tenth and half behind Valtteri in the low fuel. But we'll see, we're getting better."
The final point to remember is Russell never set the goal of toppling Bottas as F1's Friday world champion. This was the starting point in a complicated and difficult journey this weekend. And there is still a long way to go for Russell's encouraging, dazzling-on-the-surface start to translate into a tangible result.
However, he deserves credit for just how accomplished a start he has made. In many ways, it's the professionalism of his Friday that's more impressive than the headline-grabbing lap times.