The gap between Red Bull team-mates Max Verstappen and Sergio Perez at Zandvoort – and the overall chasm in their performances so far as of late – is hard to understand, according to rival Formula 1 team boss Toto Wolff.
Perez had won two of the first four races with this year's Red Bull RB19 but has been a distinct second-best since. And while Dutch GP qualifying didn't add to his list of absences from the final qualifying segment, he did trail Verstappen by 1.033s and 1.000s in the first two segments respectively – before ending up 1.313s off in Q3.
That was only good enough for seventh on the grid (and he was aided by crashes for Charles Leclerc and Logan Sargeant), meaning the seventh time in eight F1 weekends that Perez didn't qualify on the first three rows for Sunday's race.
Mercedes boss Wolff, who had one of his drivers – George Russell – outqualify Perez by six tenths – described the current gap at Red Bull as "odd" and "bizarre".
"I mean, Checo is not an idiot," he said. We have seen in all these years. Checo is a grand prix winner, a multiple grand prix winner. And he was [already a winner] at Racing Point.
"So I cannot comprehend.
"I mean, we've seen Max has destroyed every single team-mate that was with him, whether it's his ability to create a car around himself that is just very tricky to control – but fast if you can [control it] – and that makes those gaps.
"The 1.3s. I haven't heard any obvious explanations. But… odd."
In searching for an explanation, Perez himself lamented a "probably not ideal" Q3 run plan with regards to the number of planned push laps.
Red Bull team principal Christian Horner told Sky Sports that he had no doubt Perez was pushing as hard as he could.
"It's the same for everybody – you've just got to go out there and feel the grip and put a lap in, and for whatever reason he hasn't quite had the confidence that. you know, certainly Max has.
"I don't think anybody has had the confidence that Max has.
"So a harder session for him [Perez] but there's others around him that have struggled. I didn't expect Oscar [Piastri], for example, to be behind him."
The Race Says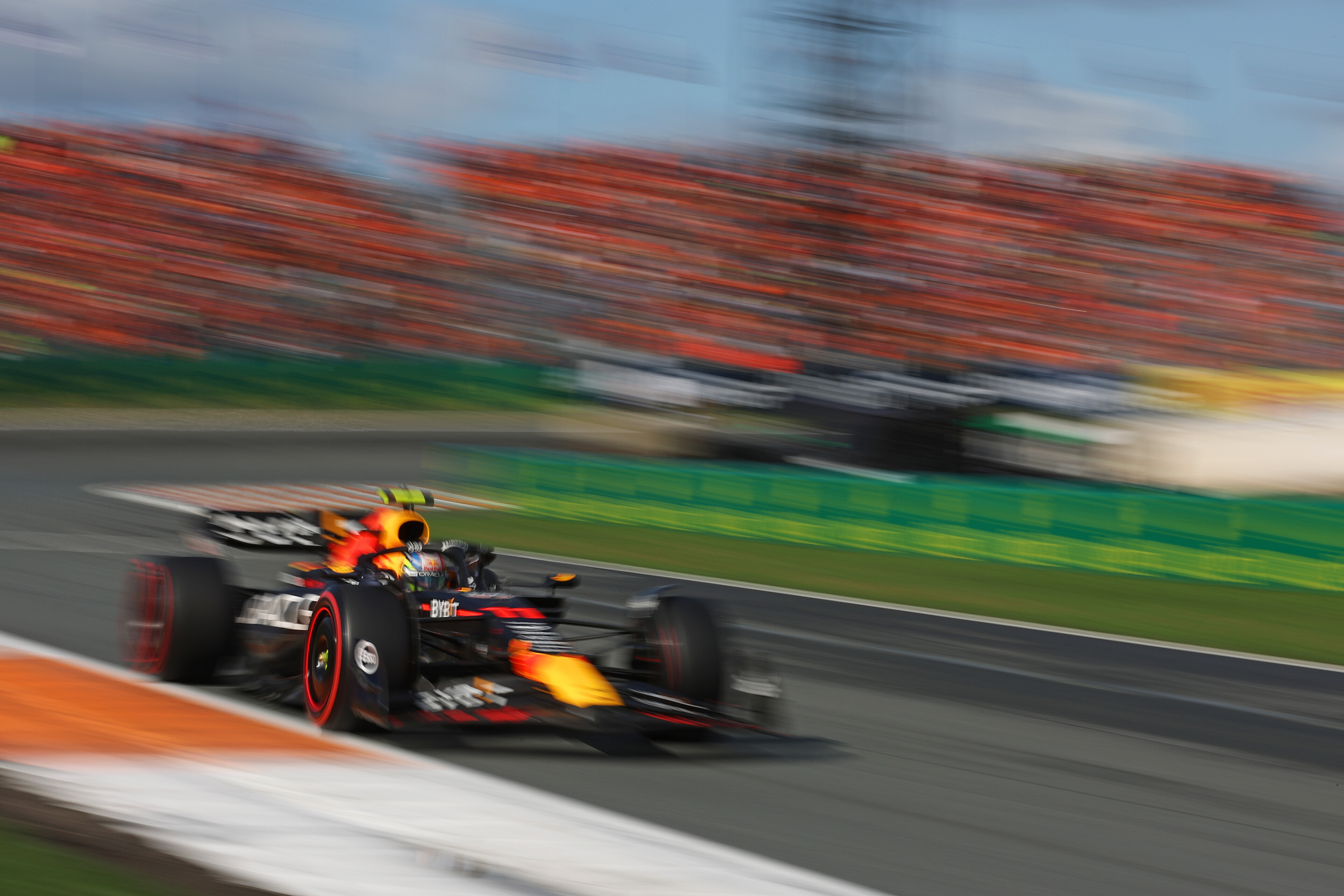 It is actually fairly damning, isn't it, that Horner can openly admit that he was actually surprised to see Perez outqualify one of the McLarens, and for that to be an extremely reasonable position to take (if maybe overly honest).
But though 1.3s is a brutal figure, Zandvoort qualifying didn't feel massively out of step with Perez's overall season, because of the conditions it presented.
Time and time again Perez has been caught out by changeable conditions (of which there seem to have been an above-average amount) in qualifying this season. It is clear that, in the RB19 as it is right now, Perez badly needs straightforward weekends in which he gets maximum mileage to slowly but surely eke into his deficit to Verstappen.
He was around half a second off Verstappen in both Friday practice sessions – not good, but something you'd expect Perez to reduce with a dry FP3 and a dry Q1-Q2-Q3. Instead, all of those sessions except for Q3 were wet, and Q3 wasn't long enough or grippy enough for Perez to find his footing.
Maybe the wider balance of play in the season between the two RB19s is surprising, yes. But ultimately it has been that way for a fair few weekends now. And, clearly, it is a pattern that keeps alarm bells ringing over at Red Bull.
After Helmut Marko acknowledged going into the weekend that Perez wasn't totally secure in his seat for 2024, a mixed-weather qualifying like this will have been the perfect opportunity to allay Red Bull's doubts – or, unfortunately, to reinforce them.