Even when Lando Norris snuck ahead of Max Verstappen by a hundredth or so in FP2, even when he was on a provisional pole with Verstappen down in third after the second red flag of Q3, it always seemed inevitable that this was going to be another comfortable Verstappen Red Bull pole.
And so it turned out, Verstappen's eventual 0.537s margin over second-fastest (Norris) was one of the biggest of the season. That it was the McLaren which was the Red Bull's closest challenger wasn't even all that surprising given the MCL60's form since its Austria upgrade; this merely confirmed what we'd seen in Silverstone and Hungary, a car that can edge out a Mercedes in qualifying, just as it did here.
What was not at all predictable on a high-downforce track like Zandvoort was that Williams, and in particular Alex Albon, should play such a starring role, with both cars through to Q3 – the first time that's happened since 2017 – and with Albon lining up fourth on the grid, having headed Q1 and gone third-quickest in Q2.
This was not a fluke; the car has been fast over one lap all weekend. How the hell did that happen?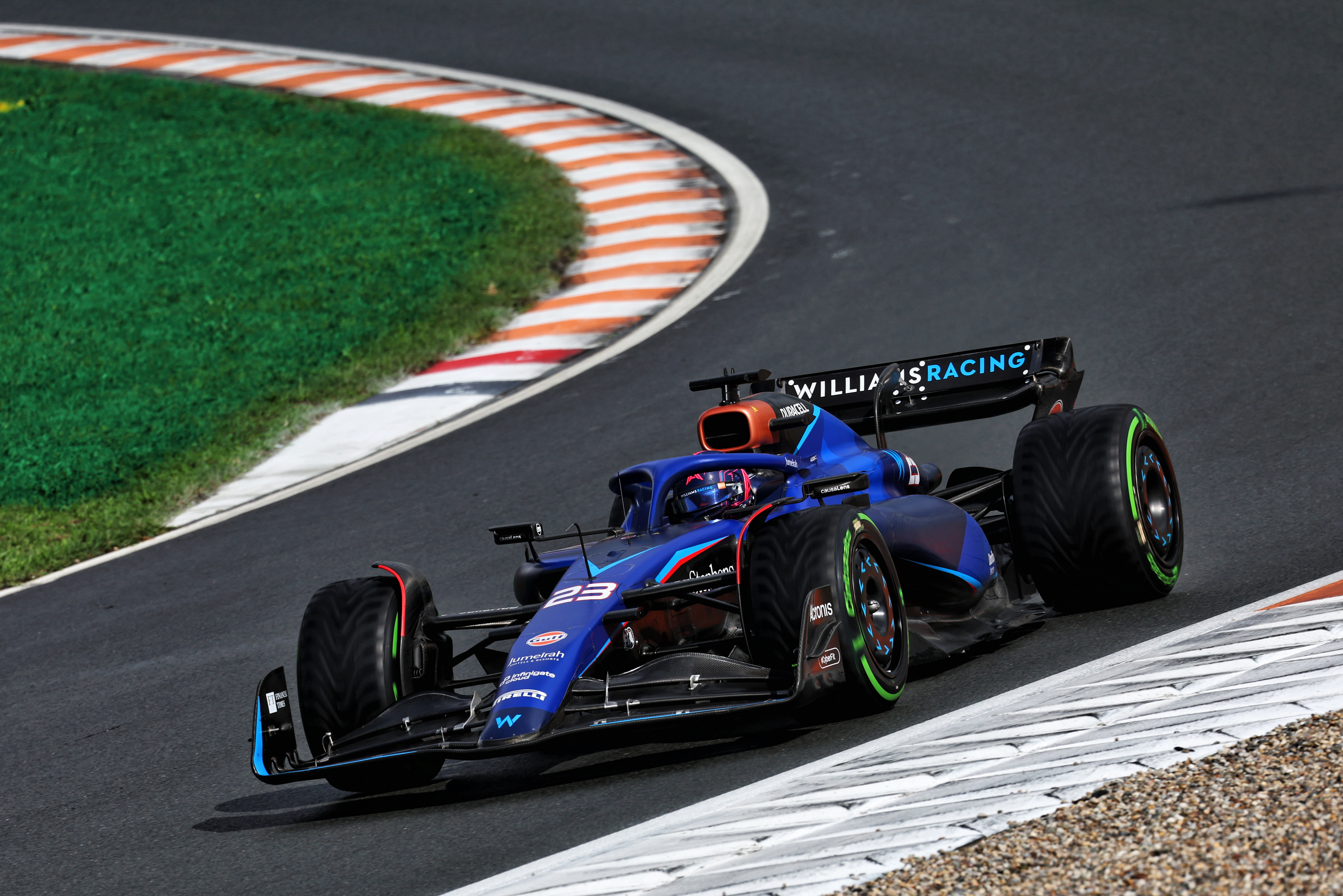 Compared to the cars from the top teams the Williams cars of the last few years have been aerodynamically simple without anything like the sophistication the deeper resources of the top four or five teams bring. That lack of downforce combined with good balance, a good race team and a very good driver (previously George Russell, now Albon) has allowed them to shine occasionally on low-downforce tracks.
So much so that it's almost expected of them now. But this is the first time in many years that a Williams has qualified well on a downforce track. Zandvoort sits at number three on the seasonal list of downforce-demanding layouts.
So has Williams suddenly found a whole chunk of downforce, some underbody tweak that has lifted the downforce-to-drag number into a different league? Some silver bullet breakthrough? No. Not according to team principal James Vowles, at least.
"I can promise you it's not downforce," he says smiling when asked why they are so quick here. "I know what's good and bad about the car. We'll still be quick in Monza next week; it's not like we've got a lot of downforce and drag all of a sudden. If this was a properly dry qualifying do you think we'd be fourth? No, we'd be just about in top 10 at a push."
Although the Q3 track was dry enough for slicks and pretty much everyone went quicker than their best laps in the full-dry of Friday, it was one of those wet-to-dry transition sessions. The two red flags (the first for Logan Sargeant's off as he got his left-rear wheel out of the dry groove, the next for Charles Leclerc's off) allowed the track to dry further as the sun shone. But it was still a track just slowly moving from wet to dry, damp patches still there to be avoided, no build-up of rubber on the line etc. These scratchy conditions played well for a car in which the driver could be confident.
Driver Confidence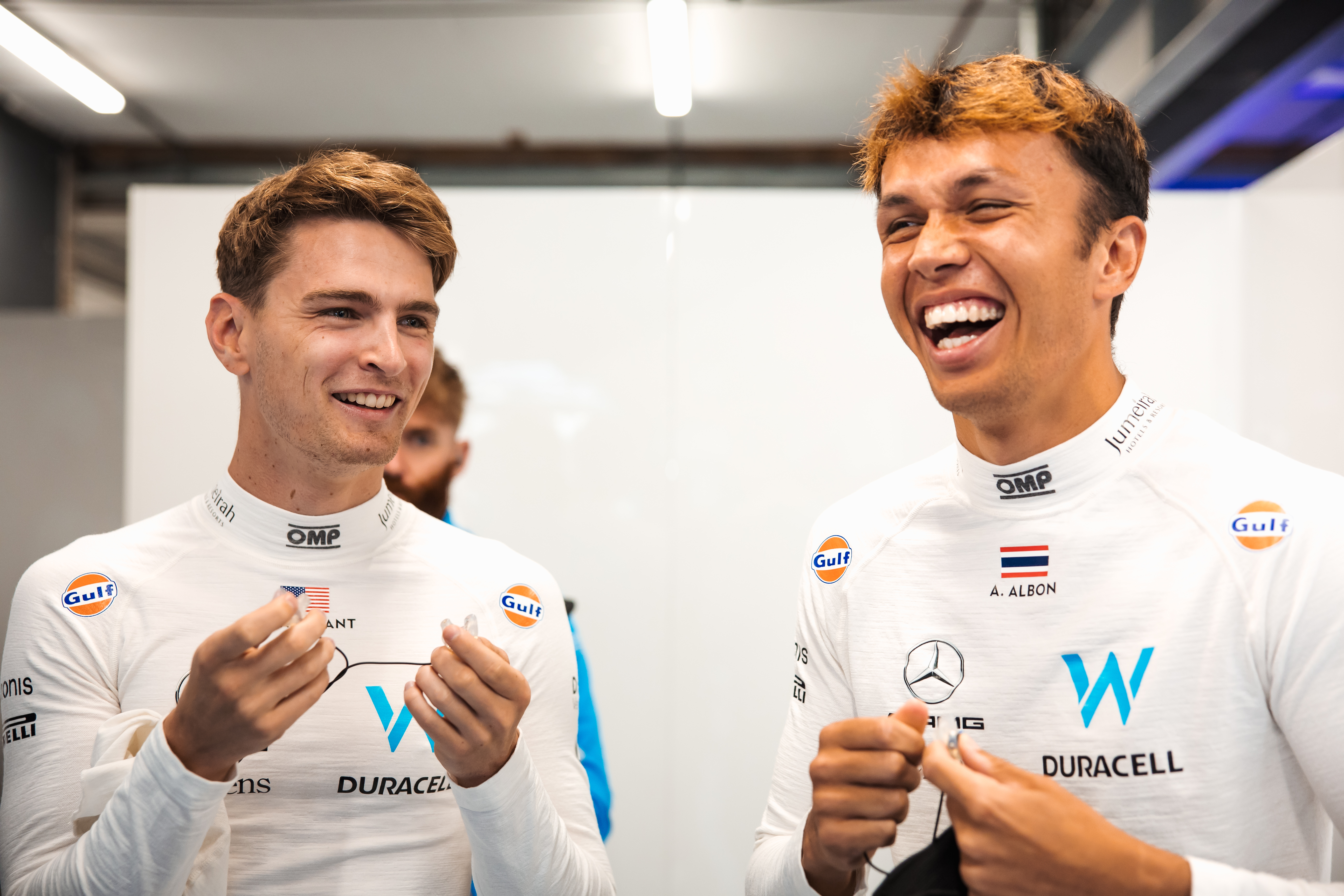 "The car felt good from the first lap we drove," says Albon. "Normally when that happens the others chip away and you fall back, but here we kept it going. We hit our sweet spot really early and that made me feel confident. That means so much when you are at a narrow, uncompromising track like this which has been switching from wet to dry all weekend. You just feel at one with the car, it's driveable at the limit and in these situations that's worth a lot of lap time."
There were plenty of theoretically faster cars that simply did not give their drivers that feeling of security which allows them to access their best stuff. The Williams doesn't have a lot of downforce, but what it has is being delivered – in the braking areas and through the corners – in a way that allows a good driver to get creative and express himself.
Sargeant was feeling it too, even if he could thank his place in Q3 to Hamilton's mis-queued Q2 run. Although his Q3 accident suggests it perhaps slipped into over-confidence, this was still by far the most competitive showing of the rookie's season to date.
Vowles was full of praise for Albon's personal performance. "Like any top driver, if you can get their head into a good place they can do extraordinary things and Alex pulled everything from it today."
Team Preparation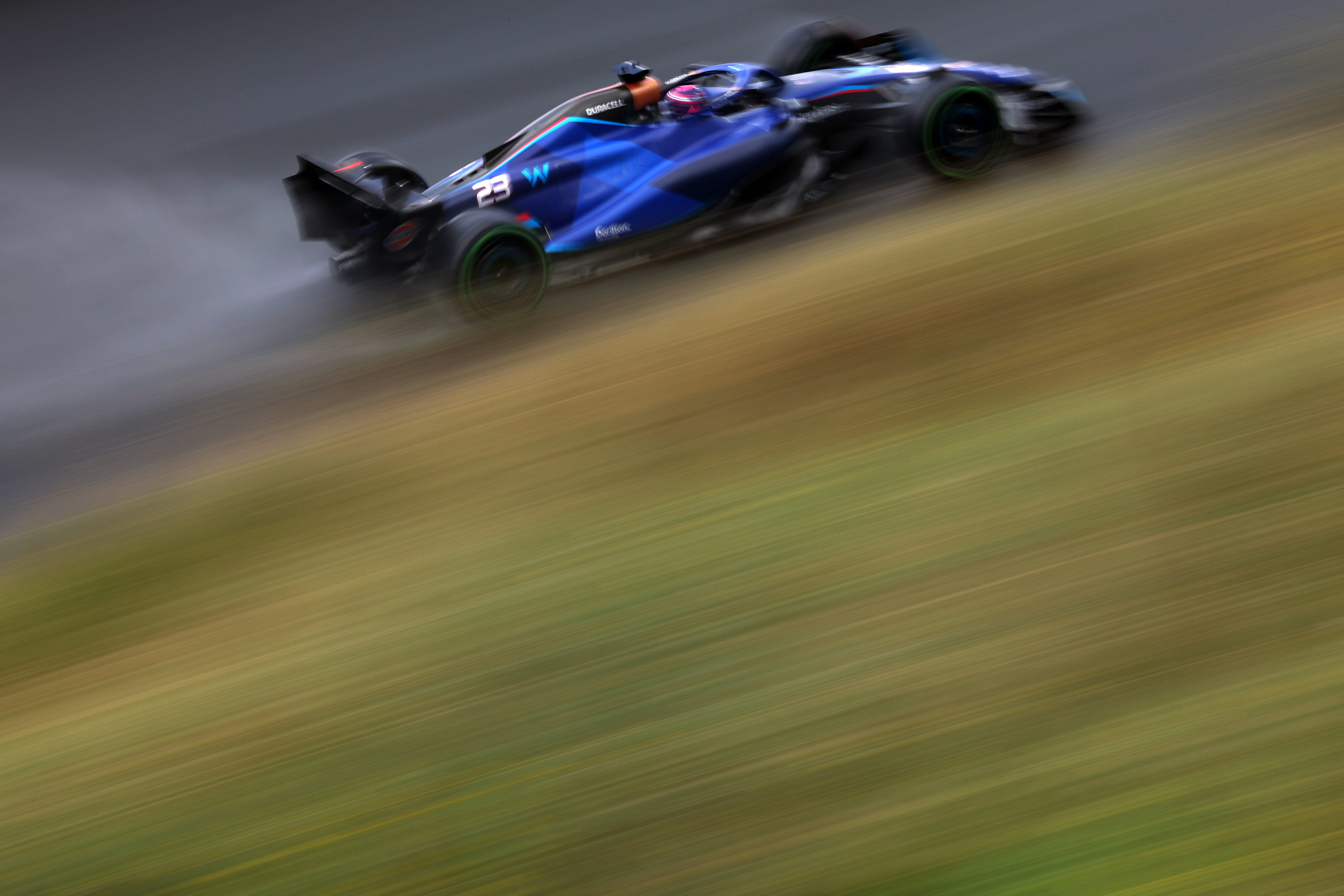 Everyone had the same weather data. It was always going to rain on Saturday, probably during qualifying. Not everyone swerved their practice runs plans around that in the same way. Because the perspective which informs those decisions is not the same for Williams as for, say, Red Bull, McLaren or Mercedes.
Being realistically aware of their weaknesses allowed Williams to form a shrewd run plan around the forecast. Basically it skewed its practice running very much towards qualifying in terms of set-up and preparation.
"In FP2 we were doing a lot more qualifying work than other people," admits Vowles. "You can always tweak what you're doing on PU and fuel and we did that in FP2."
Running lighter and with a higher power map than most, Albon was fifth-quickest in FP1, third in FP2 and sixth in the wet FP3. It flattered the team a little in those sessions, but it also gave both team and drivers a fuller picture of how the car would actually be in qualifying. The downside of course was less preparation work for the race.
But Williams knows it's not be fast in the race anyway. Far more than finessing the last bit of tyre deg work for the race, the gains were there to be had from an artificially boosted grid position and a defensive race day drive – something at which Albon in particular has shown himself to be extremely adept at. It's just that it usually plays out on low-downforce tracks.
"I remember last year, we were thrown off by how different the car felt when you really strip out the fuel," explained Albon. "Because the energy load and the way that the tyre can hold on a little bit longer with less fuel, it can make a big difference." Particularly on a car which is a little light on downforce…
"So we didn't want to run into the same issue again this weekend. We didn't run it dripping, but we ran it light."
There was something else too. Getting the inters used in Q1 and Q2 and the slicks of Q3 into the right temperature window on a cool track was no simple matter. It made Verstappen's qualifying more complex than usual, for example – it took him many laps to get properly into shape in Q1, wasn't quick on his first Q3 lap – it played into the McLaren's unerring ability to switch on its tyres quickly, it played against the Merc's reluctance to do the same.
Here, Williams somehow got into a McLaren-like window with that particular aspect. "How you got your tyres into the right window was very difficult today," confirms Vowles, "and the team did a really good job on it. On the inters we were there even more."
"We knew what we had to do with tyre prep," Albon said. "We did a build lap which for our car was necessary. We wouldn't have known [how to hit it right] if we didn't nail it in FP2 [on the low fuel]."
In terms of set-up, Williams learned from Spa that it can go too far in grabbing all the car's available straightline speed. "It was counter-productive there because it just killed our tyres," says Albon. "So for here we've had to put on a bit of wing. You'll see we are not top of the speed traps, we need to be quick on pure pace." That will certainly have helped with the confidence too.
Wind Direction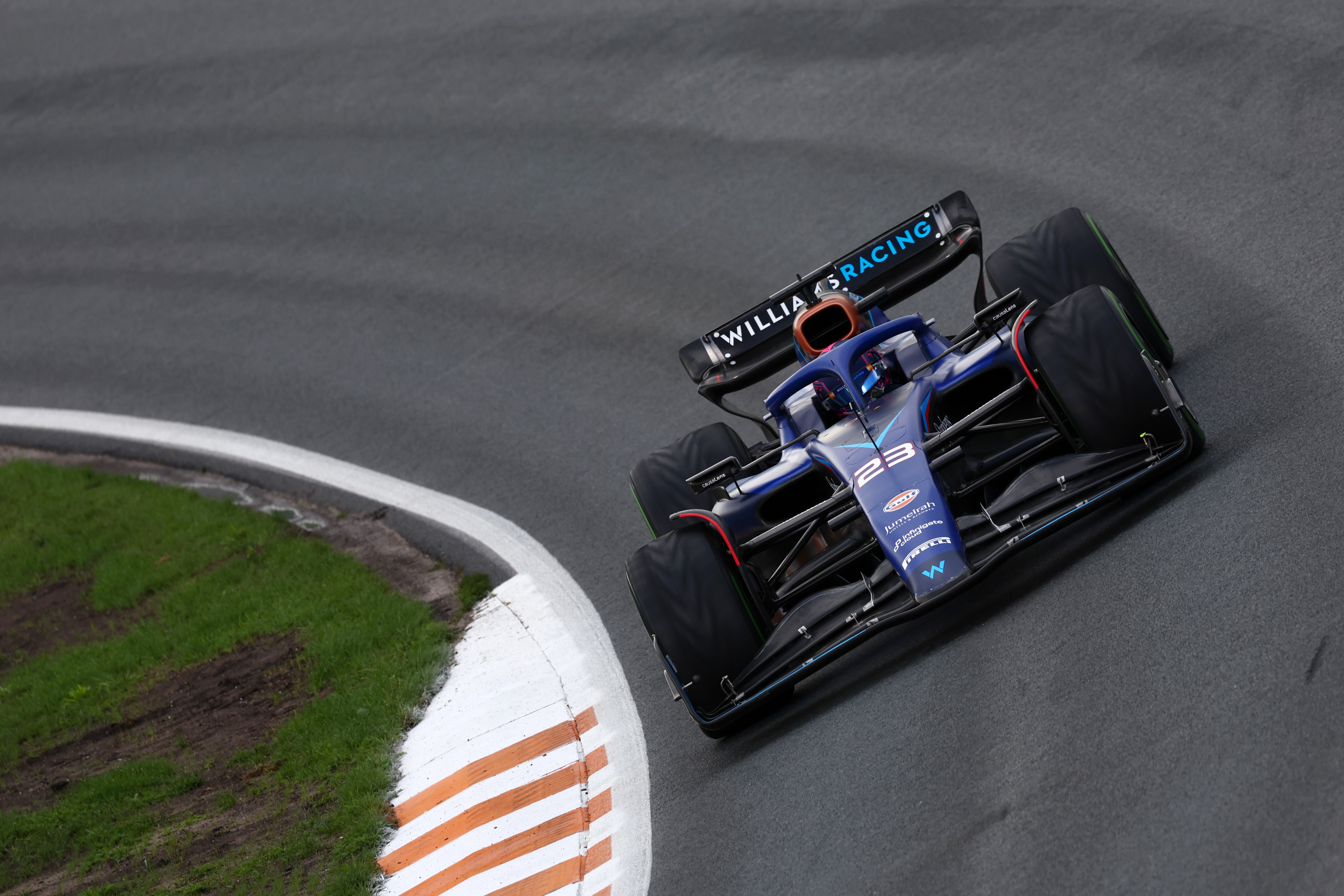 Talking with Albon on Thursday, we asked where Zandvoort stacked up on the league table of circuits to which the FW45 was suited. "In the bottom fifth," he replied. "There are worse ones. It's strange, though, because last year we didn't have such a bad weekend here. The wind for us makes so much difference. There's a wind which is a tailwind into Turn 9 which is a no-go for us – and that's the prevailing wind here. But if it flips 180-degrees to give us a headwind into Turn 9, that improves the car quite a lot." As it will with a car light on downforce.
Magically, Williams got the full-on headwind on Friday, against the prevailing norm. It changed a little for Saturday but not to the extent of being a full-on tailwind.
"The wind has been really nice into T9 and T11, corners where we normally lose 0.2s on each corner. With a headwind it's only about half a tenth and that's helped us a lot. We actually drove this wind on the simulator and knew it was good for us and we got it. It's hidden some of the normal problems that we have in our car. The tailwind corners here have been the high-speed corners where our car has never been that bad. So I think there is an element of that going on. That's my own theory…"
Failure of Others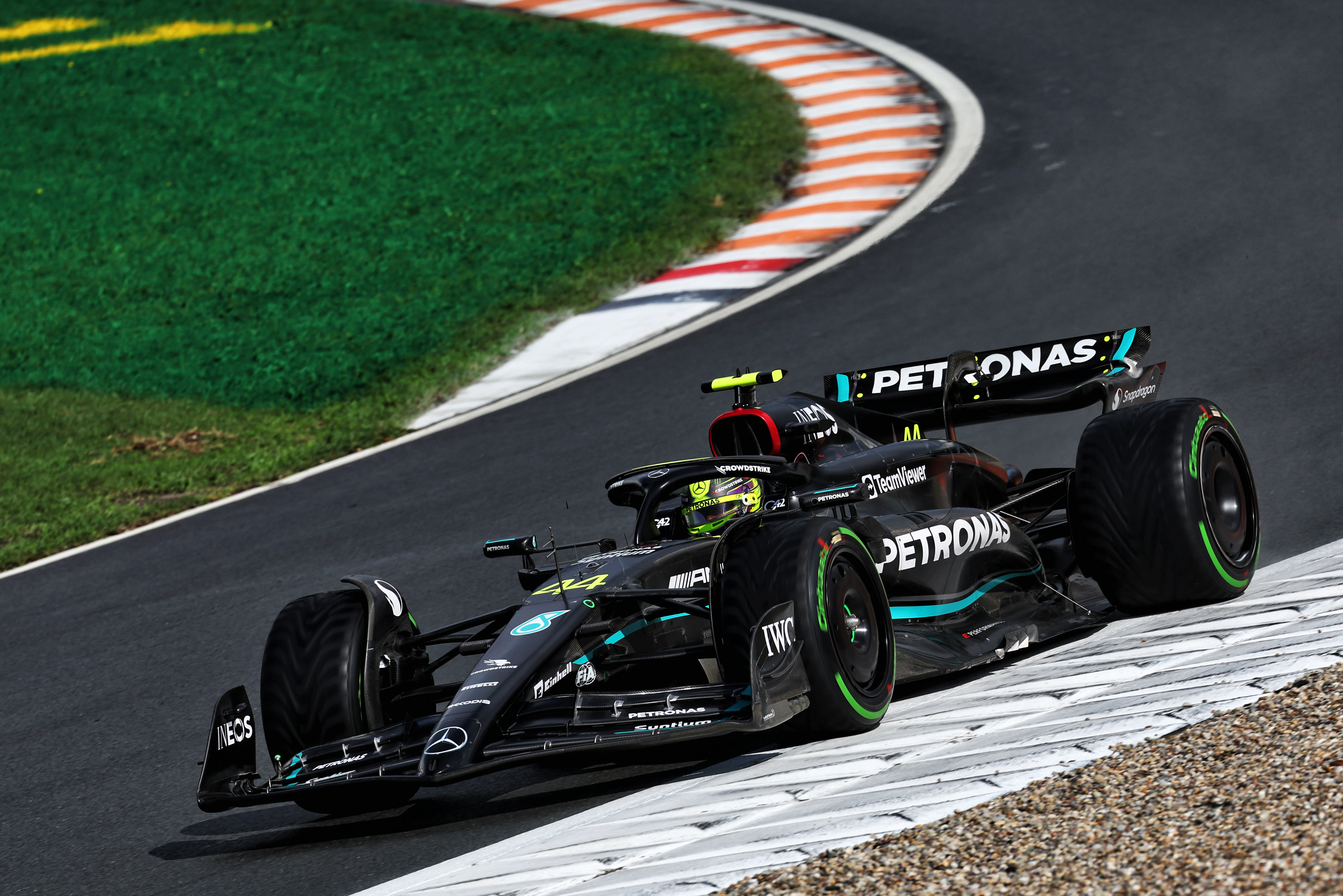 This outcome isn't just about Williams. It's about how poor the Ferrari was in these specific conditions, about how Lewis Hamilton's Q2 went so badly wrong, about Sergio Perez's continuing struggles in a Red Bull with traits that Verstappen exploits so brilliantly.
Because if we actually look at how far Williams is off Verstappen's pole, it's not so different to normal. Albon's time was 1.2% adrift. The seasonal average for the car prior to this race has been 1.56%. It was closer to the pace at Silverstone, Maimi and Melbourne but at those tracks qualified only eighth, 11th and eighth respectively.
In other words, if the others had performed to their usual level Albon would be on the cusp of Q2/Q3, nothing more.
Race day reality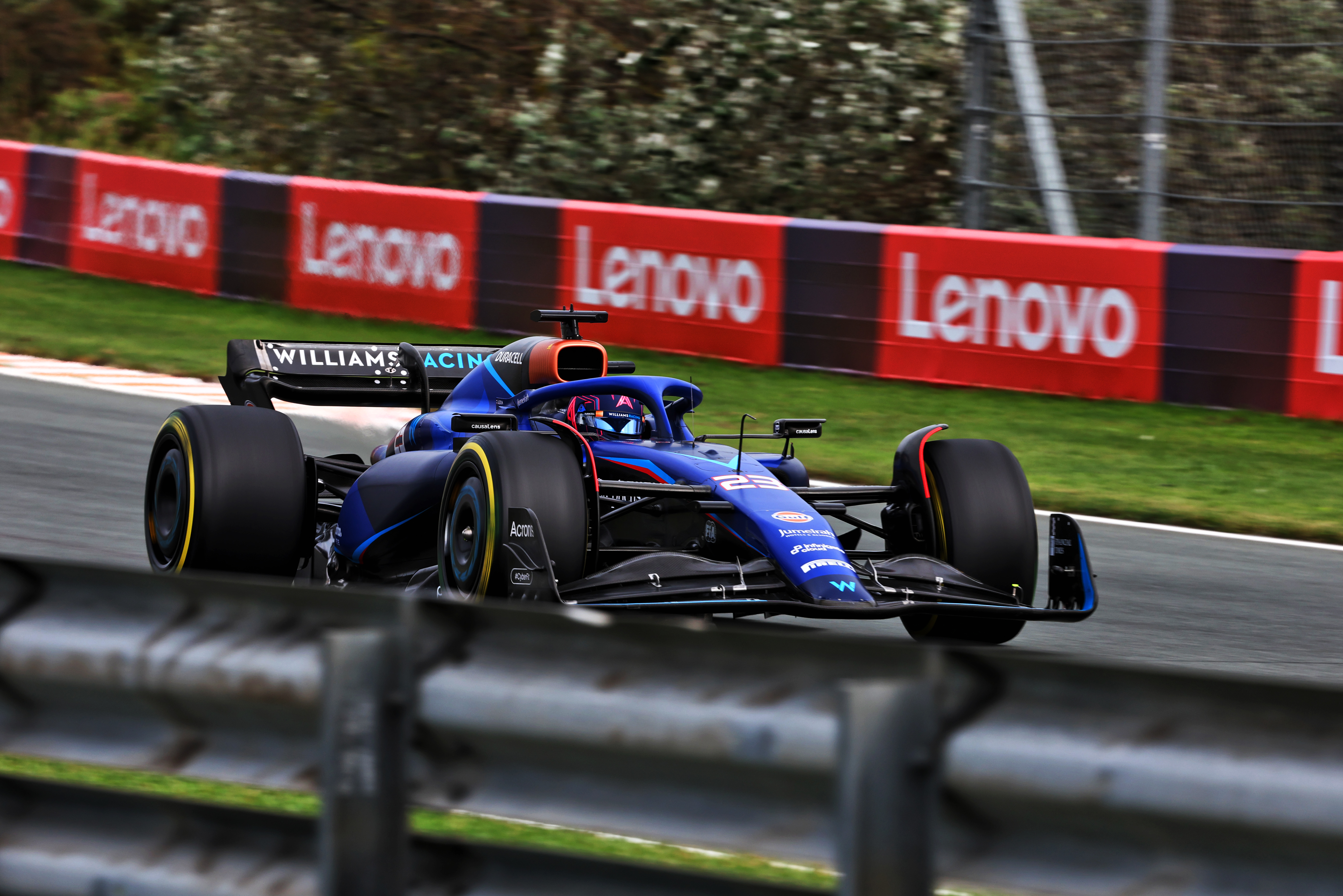 Albon's long run on Friday suggested the car is going to be thick end of one second per lap off the pace on Sunday. It is nowhere near the pace of the cars it has qualified with. "We are not even top-10 on race pace," assessed Albon. "It's gonna be a tough race."
But he's had them before – and has shone brilliantly in them. He's probably not going to finish where he's qualified, but if all goes right he should finish way higher than the car's raw aero numbers would suggest. Albon and Williams together are punching above their weight.