There was an easy escape route for McLaren Formula 1 team principal Andrea Stella when asked about the Italian Grand Prix clash between Oscar Piastri and Lando Norris, but it says much about his leadership style that he chose not to take it.
He could have chosen the 'all's well that ends well' approach and shrugged it off, but instead chose to draw a clear line in the sand: "This is not acceptable".
When team-mates clash, there's inevitably a scramble to apportion blame and demands for action to be taken. Different teams deal with this in different ways, and must do given the dynamic between team-mates varies and a good team boss will understand there's no one-size-fits-all approach. Ferrari team principal Fred Vasseur, for example, was phlegmatic about the risky dice between Charles Leclerc and Carlos Sainz because "at the end, both drivers finished the race".
But while that approach was entirely appropriate for his and the team's situation that day at Monza, it would have been a risky approach for Stella and McLaren.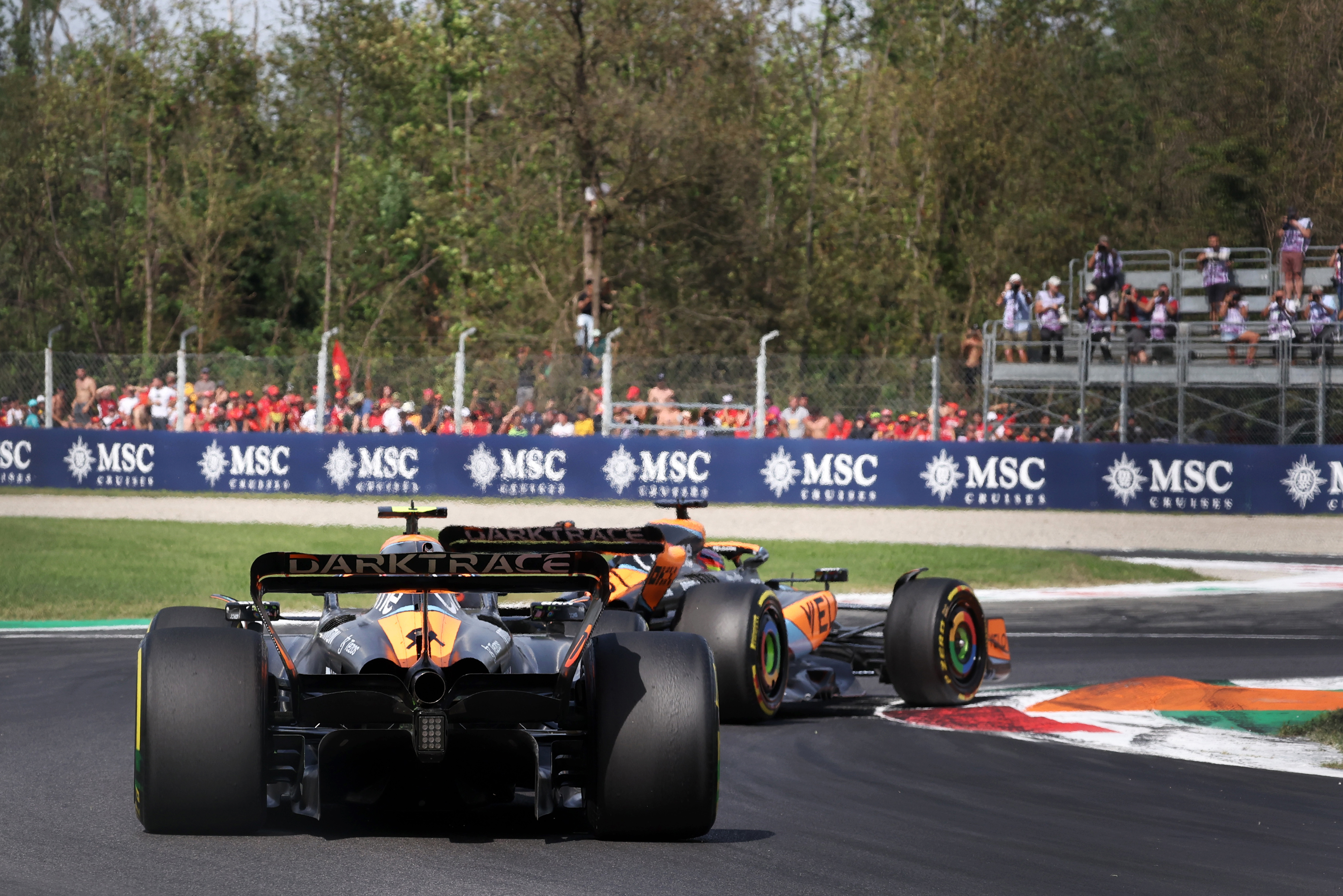 Stella chose to make an emphatic, very public point. The McLaren line-up comprises a pair of young drivers – Piastri is 21 and Norris, despite being in his fifth season, is still only 23 – who are both determined to assert themselves over the other. That's the nature of racing drivers, so there's nothing wrong with that, but when it comes to the inevitable tension between the team and individual causes there are necessarily moments when objectives conflict.
Stella was having none of it.
What was impressive was how he chose to communicate his position. He was clearly unhappy with what happened, but there was no trace of anger. The messaging was clear, concise and unquestionable: "There should never, ever, be contact between two McLaren cars."
Granted, it was hardly Suzuka 1989, but that was to Stella's advantage. He recognised the opportunity to lay down a marker in a low-stakes situation, in doing so ensuring that the next time Norris and Piastri are competing for the same piece of asphalt, they will both have in the back of the mind that they will not get away with it if the worst happens. Stella made it about the wider culture of the team, saying "there was a contact which doesn't fit the way we go racing at McLaren".
That reflects the fundamental truth that teams, generally, don't care a great deal which way round their cars finish if they are together on track. There are situation-specific times when it might be relevant to privilege one over the other, but F1 teams comprise many hundreds of people working incredibly hard for a collective objective. As a rule, they don't take kindly to drivers who put results at risk.
That cultural, team perspective was very clear in what Stella said but it was laid out matter-of-factly in a way that was inarguable and avoided escalating any conflict.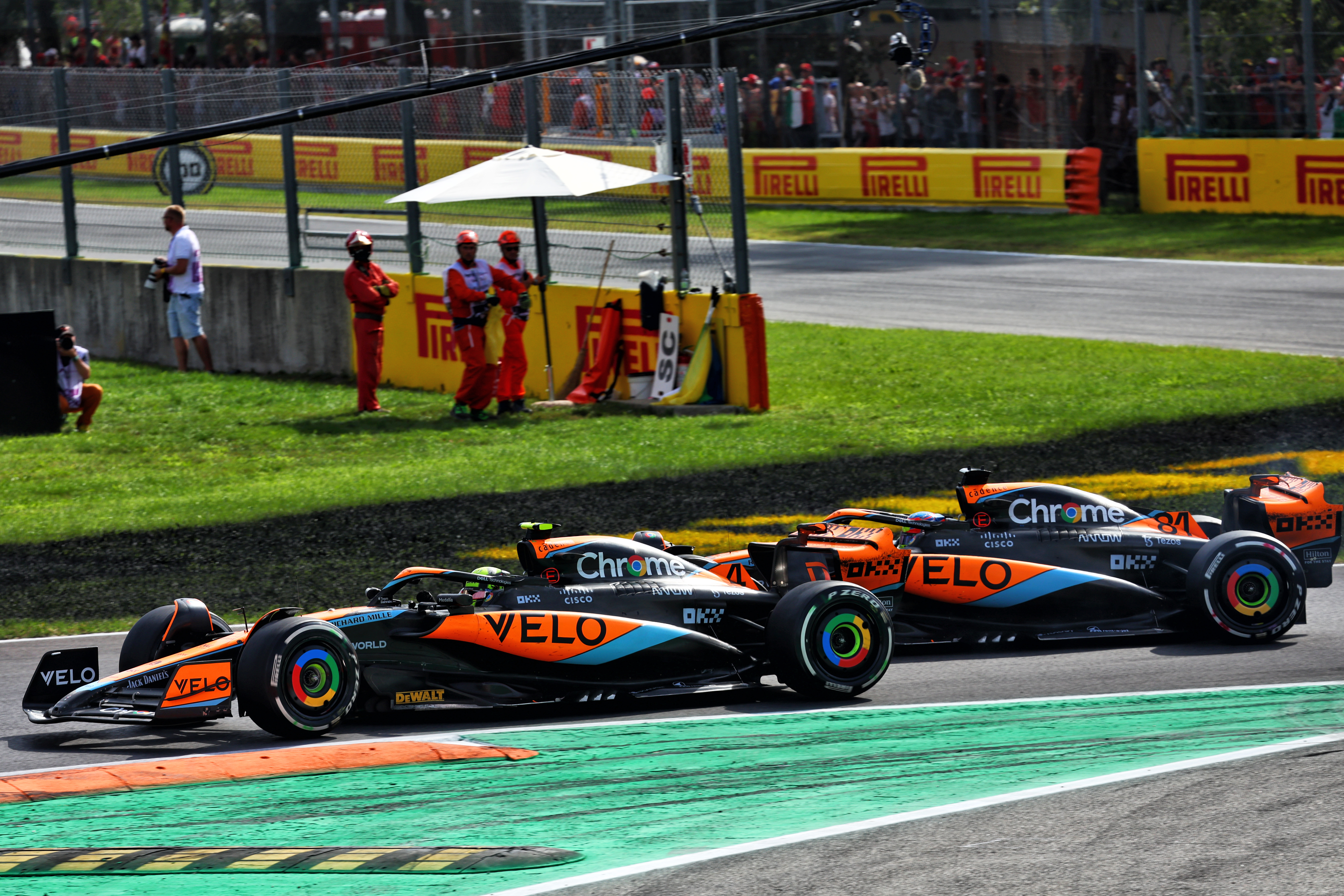 "It's OK," he said when asked if there needed to be stern words with the pair. "You just review things like you do with anything that is technical, operational, racing.
"What is important is to have a clear perimeter as to what you deem acceptable and what you deem not acceptable. It's not an emotional thing, it's just like you did with other things, you deal with racing in a similar way. And this is very clear that for any driver, there's something bigger than them – it's the team."
Then there was the question of McLaren's role in creating the situation, something Stella didn't shy away from. The pair ran together in the first stint with Piastri ahead of Norris, but the team defied convention by calling Norris in first. He dived into the pits with the last gap registered by the timing mini-sectors just 0.9s – well within undercut territory even on a day when that wasn't as powerful as at some tracks. The decision was made because Fernando Alonso had pitted a lap earlier and there was a risk he could be a passing threat thanks to that undercut, so it made sense to pit the more vulnerable car first.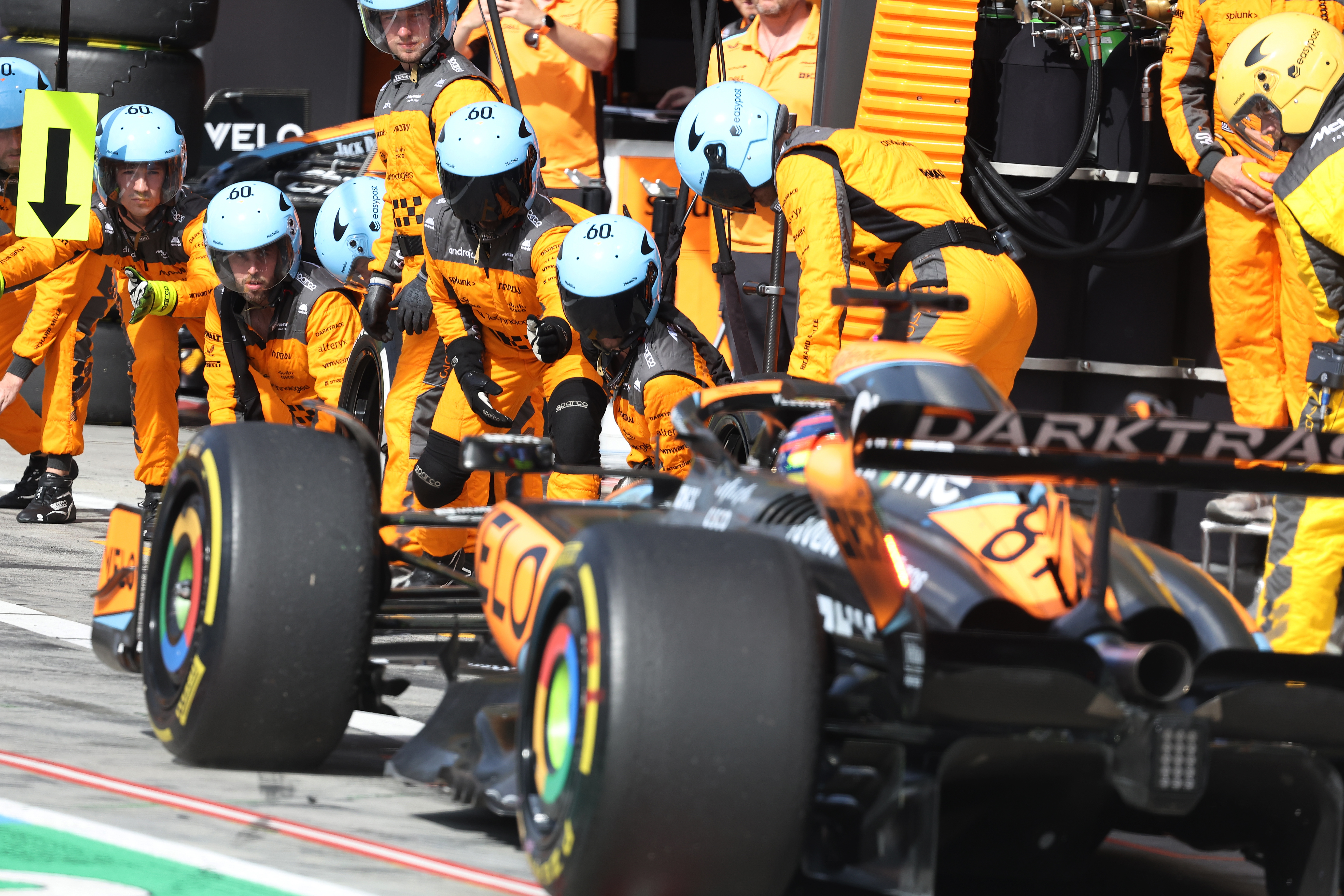 The pair had similar pitstop times, with Piastri spending just over four tenths longer in the pitlane than his team-mate. That meant he came out as Norris was bearing down on him and pulled ahead into the first chicane. Piastri contested the position, the contact happened and, fortunately for McLaren, both continued in the race.
"If the contact is due to the fact that there was pressure because of the undercut, then we have something to review because it means drivers put the team at risk because of affirming themselves," said Stella. "This is not acceptable."
As for the incident itself, Stella avoided issuing an emphatic verdict. However, he did hint that Piastri was the one who ultimately caused the clash through his understandable desire to regain an advantage he held throughout the first stint. But it was framed, rightly, as a small misjudgement and it was made clear that Norris was also part of the equation.
"I need to review," said Stella. "Like all things, we'll do it calmly, there's nothing that we need to do urgently. So we will review, we take the adjustments that we need to take. I'm sure even the drivers will calibrate themselves for a similar situation.
"It's always a little tricky when you leave the pit, especially on hard tyres. Certainly, Oscar was trying to keep the position but on cold, hard tyres this could be slightly more difficult than he might have anticipated. We could absolutely conclude that this is just a little misjudgement.
"Both drivers were aware that there must be no contact between two McLarens and it was just an issue with the execution."
Stella confirmed Piastri and Norris continue to be free to race each other, but underlined the need to ensure that there's no repeat. After all, a team needs to run the race with both cars to achieve the best possible result and any actions by individuals that run counter to that is to the detriment of its operations.
"My role is to give them principles and a clear perimeter within which they can race," said Stella of his drivers.
"This is what we want to see, it's exciting to see. Even the Ferraris, I'm sure on the Ferrari pitwall they were nervous but it was a good spectacle. We want to see racing but our role is to give the drivers a clear perimeter within which racing should happen.
"In terms of how you stay within the perimeter, it's not for us to say because we are not the drivers.
"It's having the skillset to say 'the tyres are a bit cold, maybe I need to take more margin'.
"It's not for me to say, I'm not in the car, and even if I were in the car I would have not been any safer than that! It's just the need to appreciate that there's no way the line should be crossed."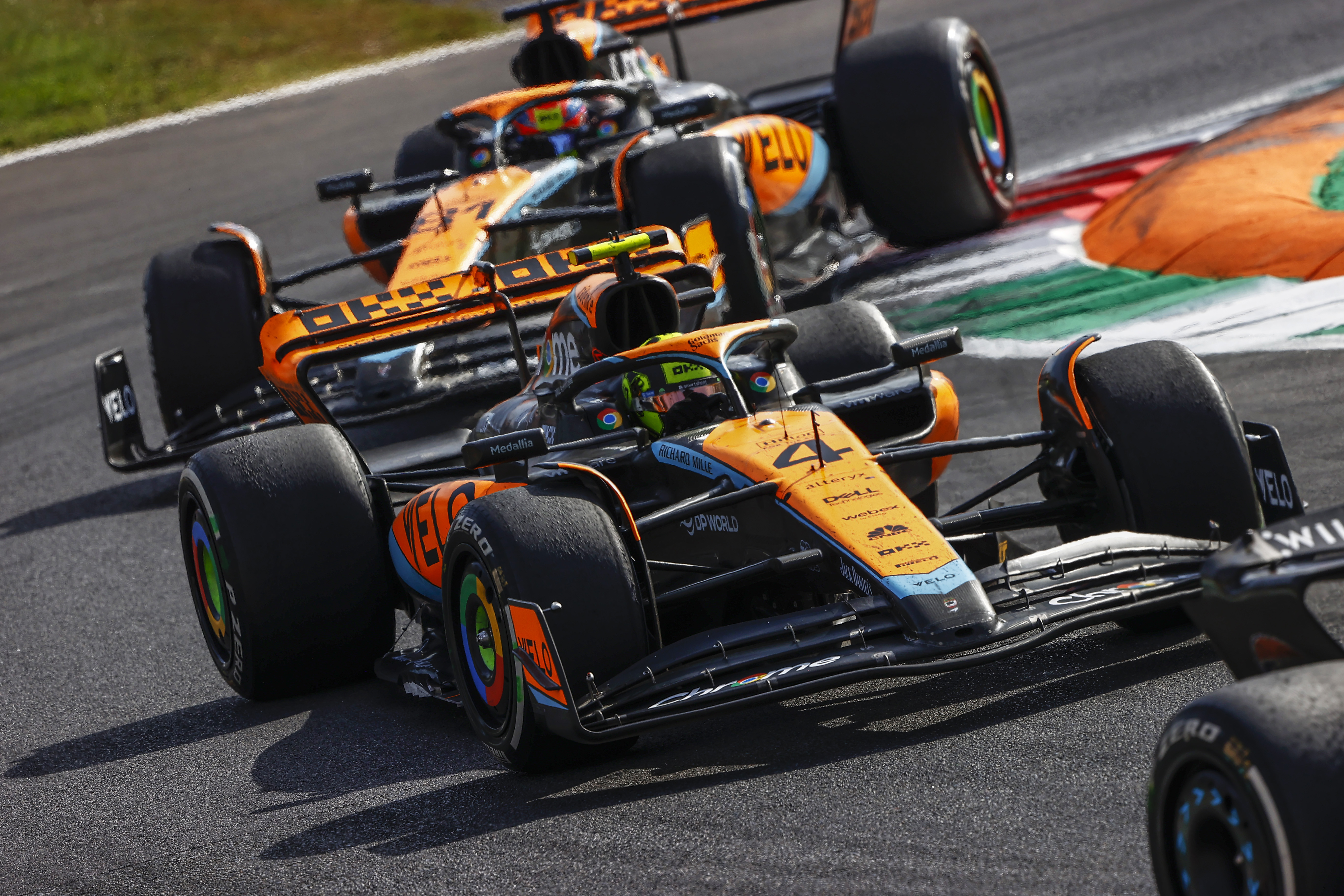 This situation was a test for Stella and assuming his approach behind the scenes reflects his public statements, he passed it with flying colours.
While it might seem trivial, this was all about ensuring that next time similar circumstances arise there's no feeling that either or both drivers will get away with it. Taking a long-term view, that could one day even be significant in a world championship fight.
"I'm definitely a believer that there's a learning curve that never stops," he said when asked about the fact this was the first public flashpoint between drivers he's had to deal with in the role of team principal. "So there's a learning point for everyone.
"But in terms of stipulating that there's a clear perimeter. It was true yesterday, it is true today, it will be tomorrow."
And avoiding more serious problems tomorrow is what Stella's comments are all about.