Lando Norris's Belgian Grand Prix quickly descended into a disaster, his worst fears over how slow his McLaren Formula 1 car would be on the straights instantly and painfully realised.
McLaren knew its rear wing choice at Spa, providing more downforce and therefore more drag, would come at a cost. But it underestimated how high the price would really be.
Norris was briefly sixth on lap one but by lap five he had fallen out of the points completely. His pained radio messages were laced with frustration and borderline desperation for McLaren to do something, anything, to help.
"When we were in the mix of the other cars, it was starting to spiral negatively, quite rapidly," team principal Andrea Stella admits.
"We have to very frankly admit that while this configuration gave us an advantage in the previous days, it was starting to be a significant issue."
WHY NORRIS TUMBLED BACKWARDS
The first attempt at a solution backfired. Norris pleaded to be put into clear air, the thinking being that at least that way he could utilise his pace in the middle sector instead of being bottled up behind cars that were slower through the corners, then destroying him on the straights.
"All struggles," he said of that first stint. "It was terrible, is the honest answer."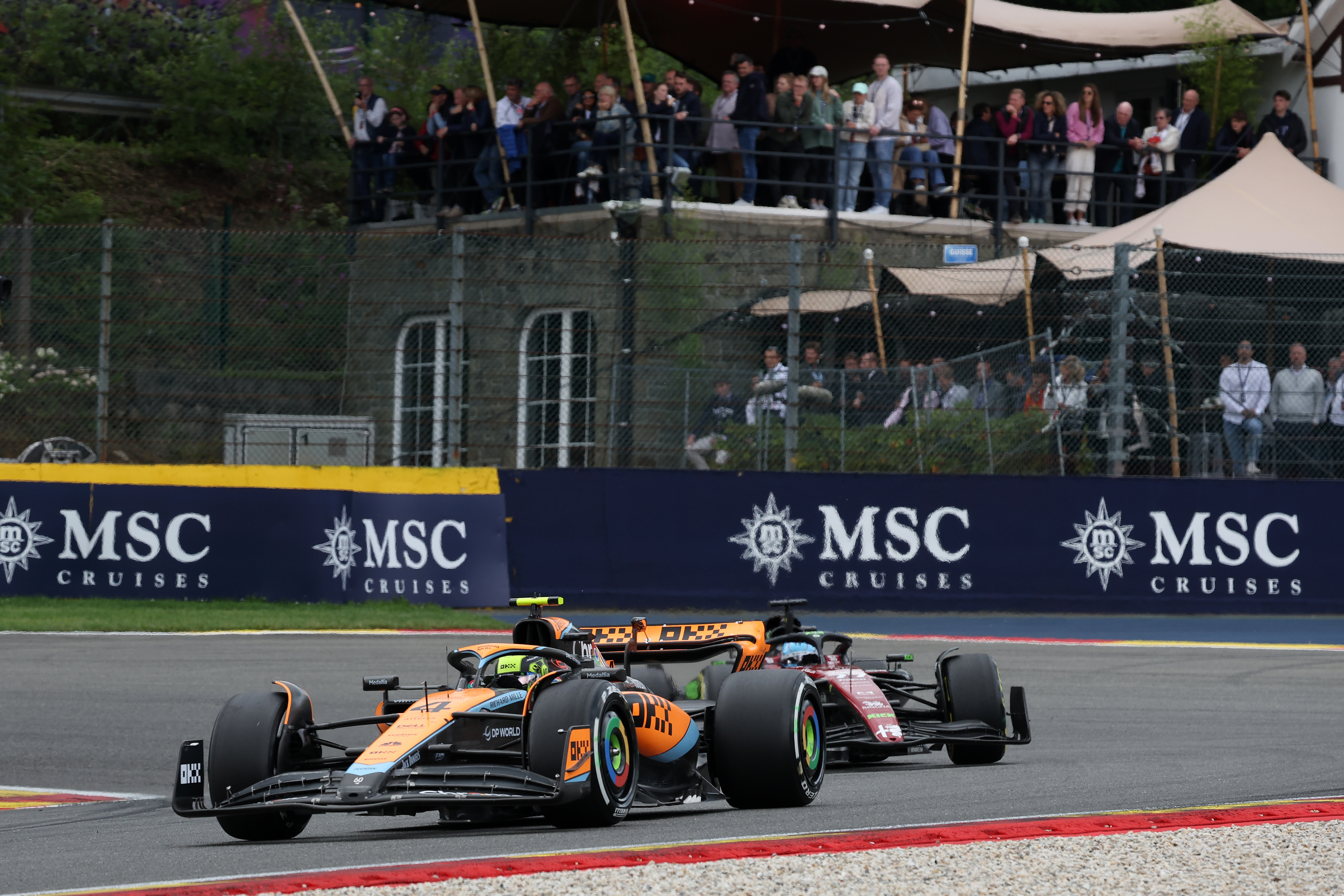 So, McLaren switched strategies, moving Norris onto the hard tyre with the intention of giving him a long middle stint before switching to softs at the end. Except he toiled on the hard tyre. And his rivals dived into the pits soon after anyway. Norris was back in a pack again, only this time he was struggling through the corners too.
"This was even worse," Norris said. "But nobody has used the hard all weekend.
"Normally it kind of suits us, so it was the right decision to try. But that was still terrible."
NORRIS'S RADIO MISERY
At this point, Norris was driving perfectly well but growing increasingly disconsolate.
His radio messages in the first stint had already been snappy, and rather unhelpful.
In the second stint he sounded almost defeatist, and at one point the "we are trying our best here as well" message he triggered from his race engineer in response to one complaint made it quite clear his attitude was not being well received.
Stella had some sympathy: "Initially, it was very tough. It was very tough even from [a perspective] like…how do we stay in the race?
"Psychologically it was very challenging. But we talked about this before the race, about let's not get dragged into being frustrated, let's only think about how we get out of this situation."
Fortunately for Norris, he was about to be freed from his negative spiral. McLaren, like all teams, knew rain was on the way. But it was unlikely to be a dramatic amount, it should be manageable on slicks. And Norris was, once again, stuck.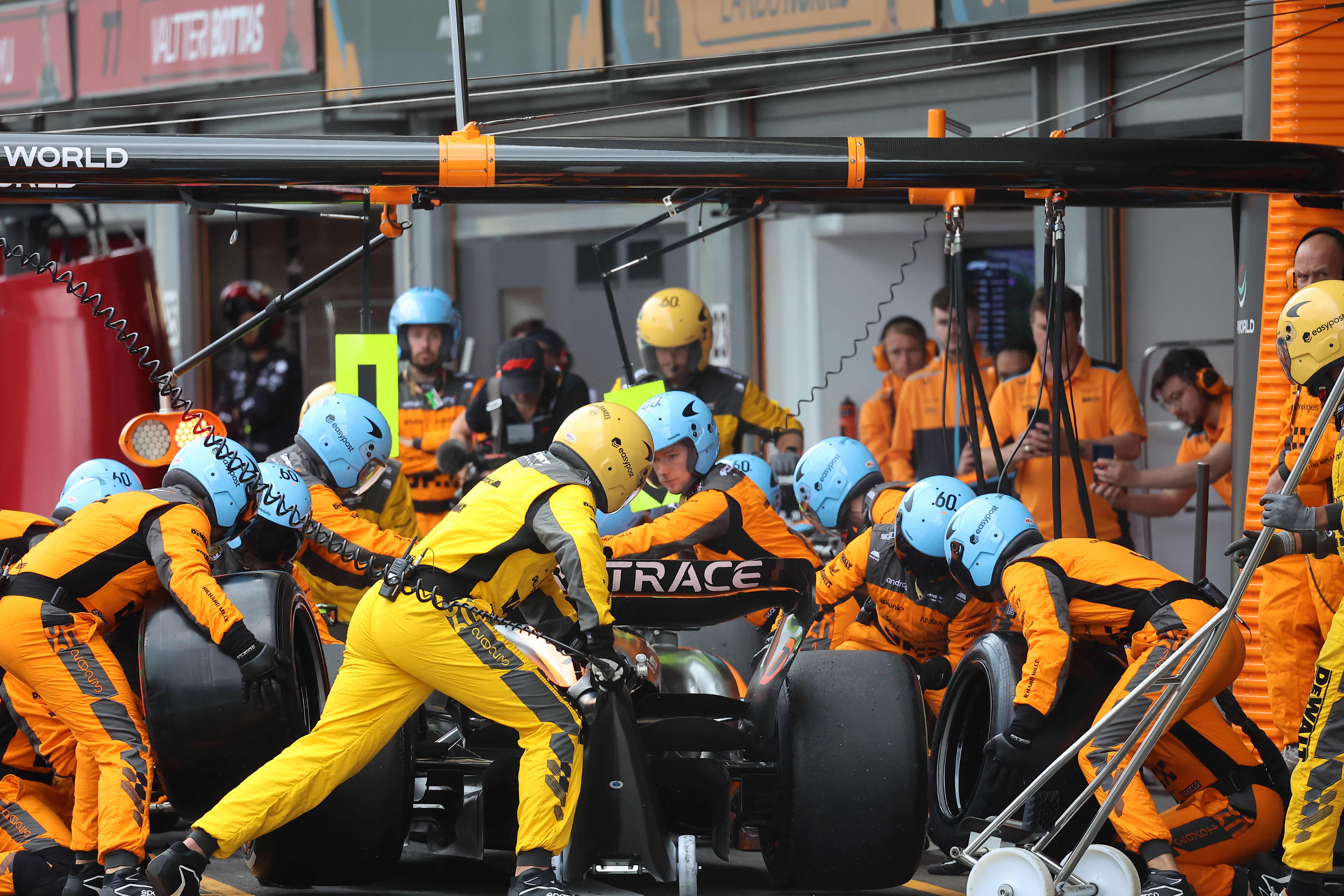 Another pitstop, cutting the hard tyre stint extremely short for a long run to the end on softs, was McLaren's roll of the dice. It banked on the rear wing that was causing so much grief paying dividends by sliding the tyres left and protecting them enough to enable Norris to stretch their life to the flag.
"Once we realised the rain was coming we thought, that's another opportunity," said Stella.
"And I think there we got it perfectly right."
RAIN SAVES EVERYTHING
It's hard to argue. A second stop on lay 17 of 44 gave Norris a tall task but it completely transformed his race. Light-to-medium rain started shortly after he emerged from the pits and his fresh set of softs were much more compliant as the track got slippery than the used tyres everyone else was on.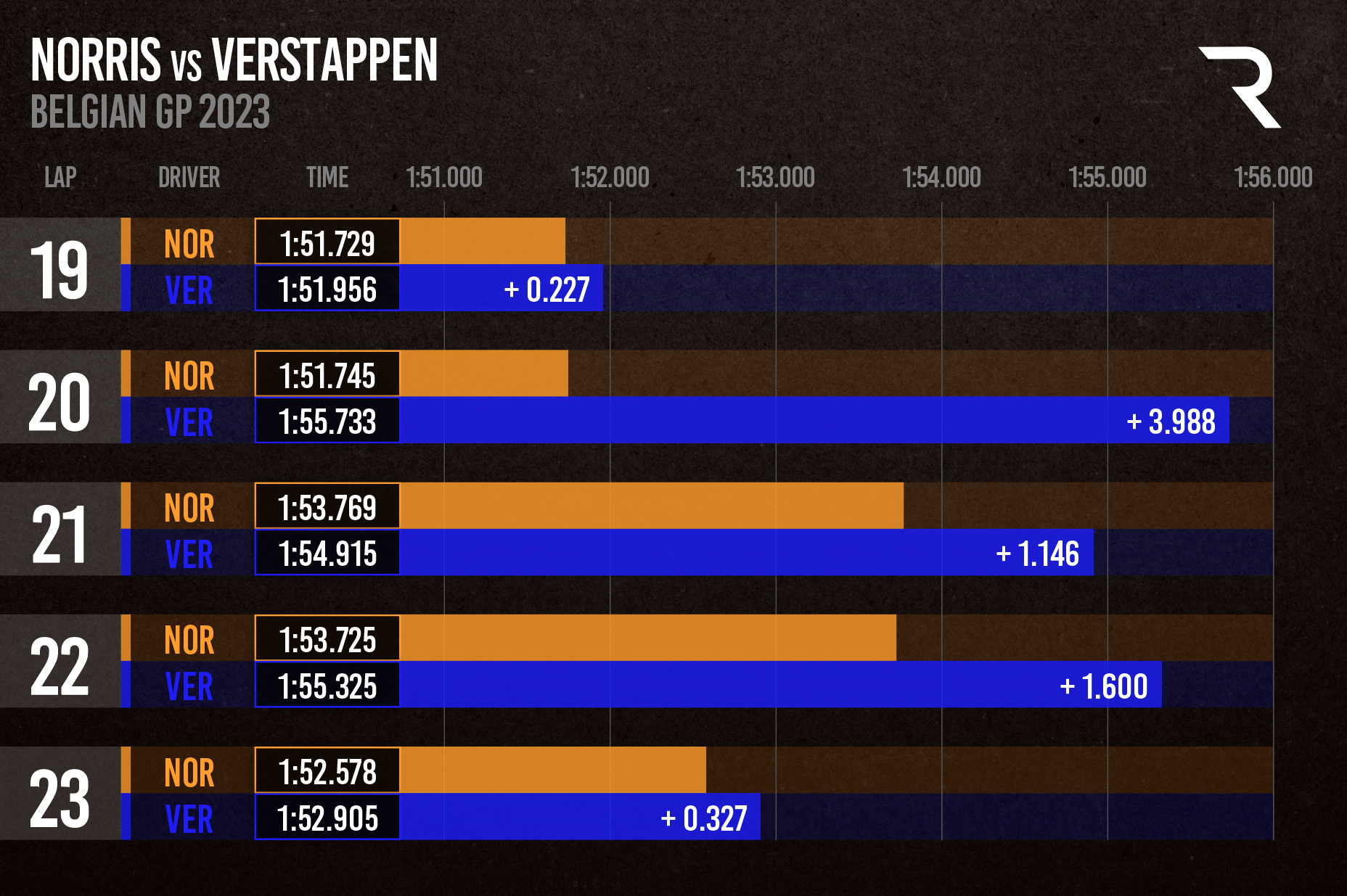 Norris slashed the gaps that had opened up to his competitors in the midfield so rapidly he was back on the tail of some cars extremely quickly. He wiped out a full pitstop's deficit in the space of just five laps – even dominant race winner Max Verstappen was over seven seconds slower in total than Norris through that phase – which launched him from 16th at the time of his second stop to seventh once everything played out.
"It [the rain] was lighter than I was hoping," Norris said. "But it still helped us, everyone got a bit scared."
Norris was back in the points with clear air and a four-second margin to Lance Stroll behind.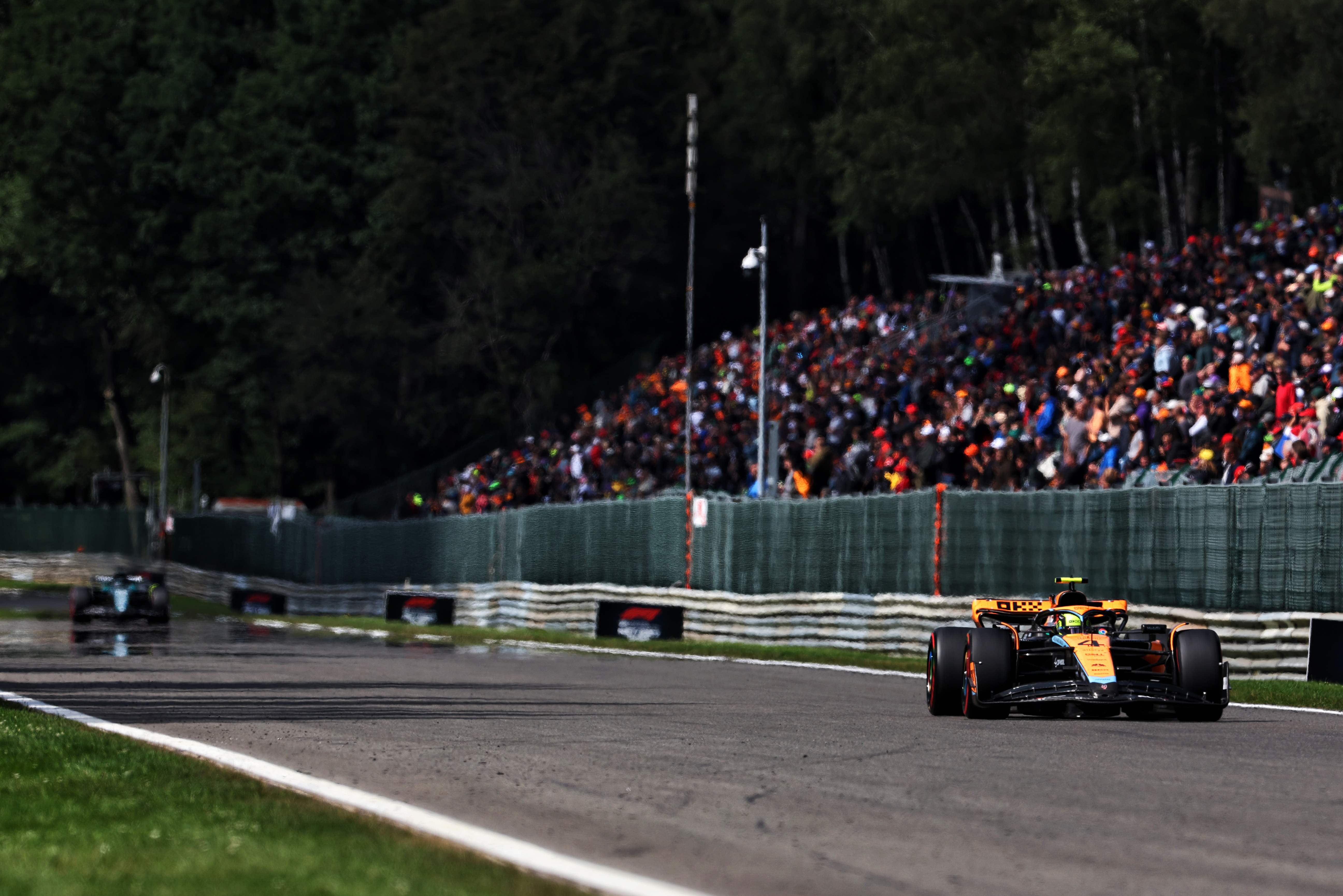 It allowed him to maximise the car's performance in the middle sector and gave him enough of a buffer not to fear the chasing car getting into his slipstream and gobbling him up on a straight.
Stella hailed it as an "amazing" stint to get into that position and still manage the tyres to the end.
"Everything came back towards us," Norris said.
"I don't know how I ended up P7, honestly. A bit surprised."
It salvaged an acceptable result in the circumstances but this was nonetheless a disappointing grand prix for McLaren, given Oscar Piastri was eliminated on the opening lap after hitting the wall on the inside of La Source in an incident with Carlos Sainz.
And compared to the lofty heights of two consecutive podiums in Britain and Hungary for Norris, this was a bump back down to earth.
That there is a specific reason – the rear wing, which McLaren only had because its massive upgrade push has been the main development priority of late rather than a low-drag special – will numb the pain somewhat.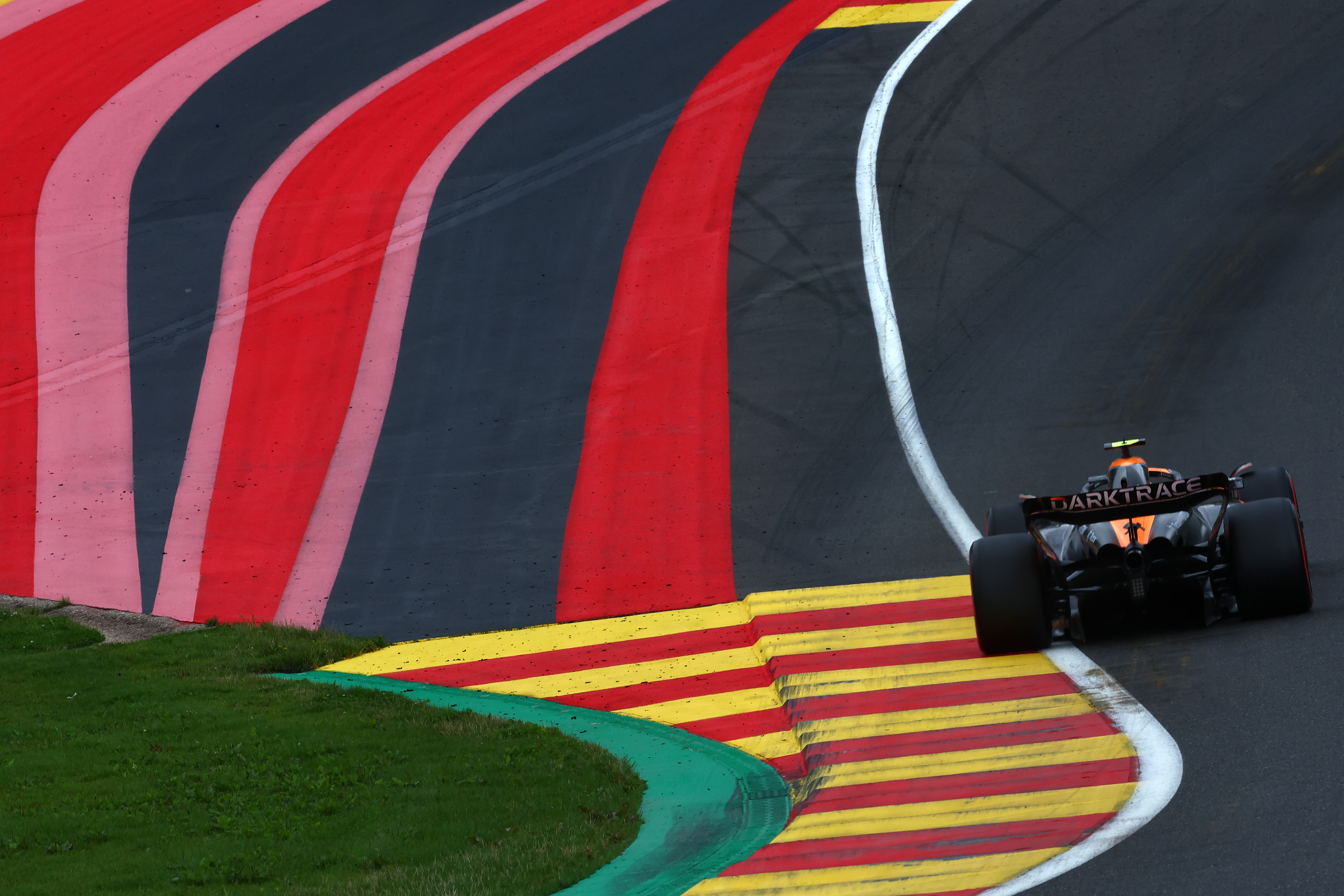 Stella said "it's not like we wanted to target this configuration" for Spa and Norris agreed that overall it was "the correct thing to do because there's only three or four races that are as low downforce as this".
"Maybe we'll put a bit more focus on it [now] but all our focus was on delivering the new car we had a few weeks ago and that's clearly delivered us two podiums," Norris said.
"So, I'd much rather take that and a couple of bad weekends than just be below par the whole time."
But overall there were flashes of weaknesses across the car and even Norris, which means this weekend contains some lessons for McLaren.
Norris said tyre degradation was "pretty shocking" having been noticeably better in recent races, and Stella admitted the team got it wrong judging what level of drag it would get away with and with its choice in using the hard tyre in the grand prix.
NORRIS WAS JUST TOO SURLY
As for Norris, no driver should be crucified for their emotions over the radio during a race that's going badly, and we've heard many a driver grumble when things quickly go away from them in the moment – but it would probably serve him well to try to avoid being quite so surly in the future.
It's right to demand high standards and understandably be disappointed when things go badly, but getting on the radio just to sigh or complain or be a bit dismissive in response to race engineer questions and suggestions felt a tad excessive.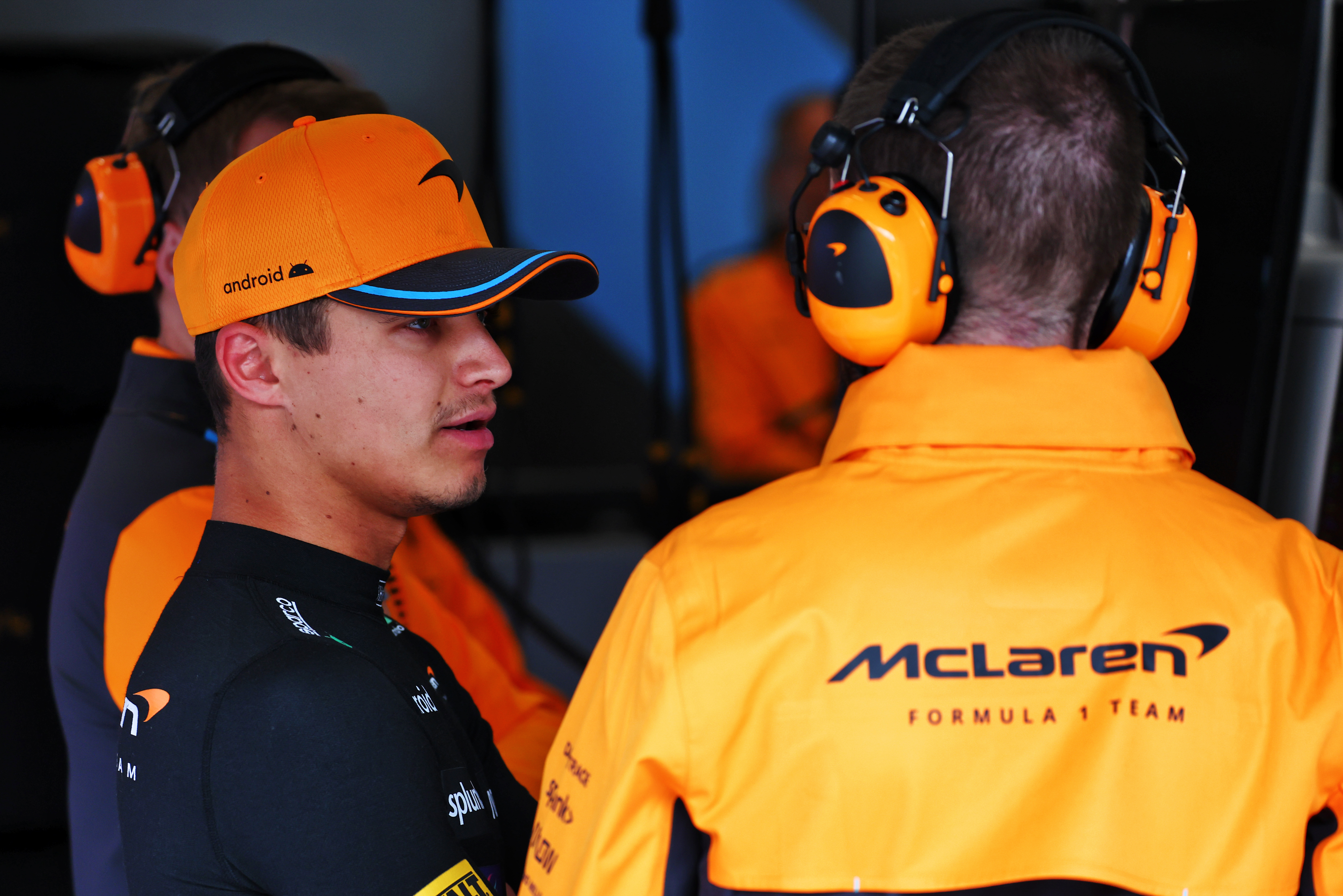 Stella felt Norris handled it in the manner discussed pre-race, by not getting dragged into being frustrated. That didn't come across so well at the worst of the spiral, and instead seemed to reflect what is quite often Norris's mode of communication when things are going badly.
It does nothing to help the situation and risks creating unnecessary tension or pressure for those trying to find solutions.
But that might just be his method, and McLaren might be fine with it. Especially as while Norris was clearly venting, he was still in the right mindset to capitalise on the opportunity that followed – which may really be all that matters.
And above all else, the main lesson for McLaren was to prepare a low-drag rear wing for the Italian Grand Prix at Monza after the summer break. Getting that right will go a long way to solving a lot of the issues that emerged in this race, and is now a high priority unlike before.
"This weekend confirmed that the areas that we haven't addressed yet, give us a reality check that there's more work to do, and to some extent confirm that those areas need to be addressed quite urgently," said Stella.
"And this urgency comes from the fact that the second race after the shutdown is Monza and you can't go racing the Monza like this.
"There's urgent work that needs to happen at McLaren to fix the situation."