McLaren knows its rear wing choice leaves it vulnerable in Formula 1's Belgian Grand Prix because it does not have a better low-drag option due to prioritising recent upgrades.
Oscar Piastri was a star of F1's 'sprint Saturday', qualifying second in a rain-affected shootout and finishing the race in the same place behind Red Bull's Max Verstappen.
He led briefly by virtue of switching from full wets to intermediate tyres before Verstappen but was inevitably overhauled at a safety car restart, and when Piastri addressed that moment of losing the lead he noted: "I probably wasn't expecting him to catch me literally at the top of Eau Rouge off the safety car restart, but such is our straightline speed".
McLaren is slightly less competitive than it has been at the last three events, with Piastri qualifying sixth and Lando Norris seventh for the main grand prix – Piastri was second quickest in the middle sector where a bigger rear wing pays off, but six tenths of a second slower than Verstappen in the first sector and three tenths in the final sector.
The slightly weaker qualifying performance in drying conditions on Friday, Piastri's strong Saturday, and the ease with which Verstappen passed him in the sprint all have a shared reason – McLaren is running a bigger rear wing at Spa.
Norris claimed McLaren would have changed its set-up choice had it been a normal weekend with more practice sessions "and we saw we were 20km/h [12mph] down on every straight".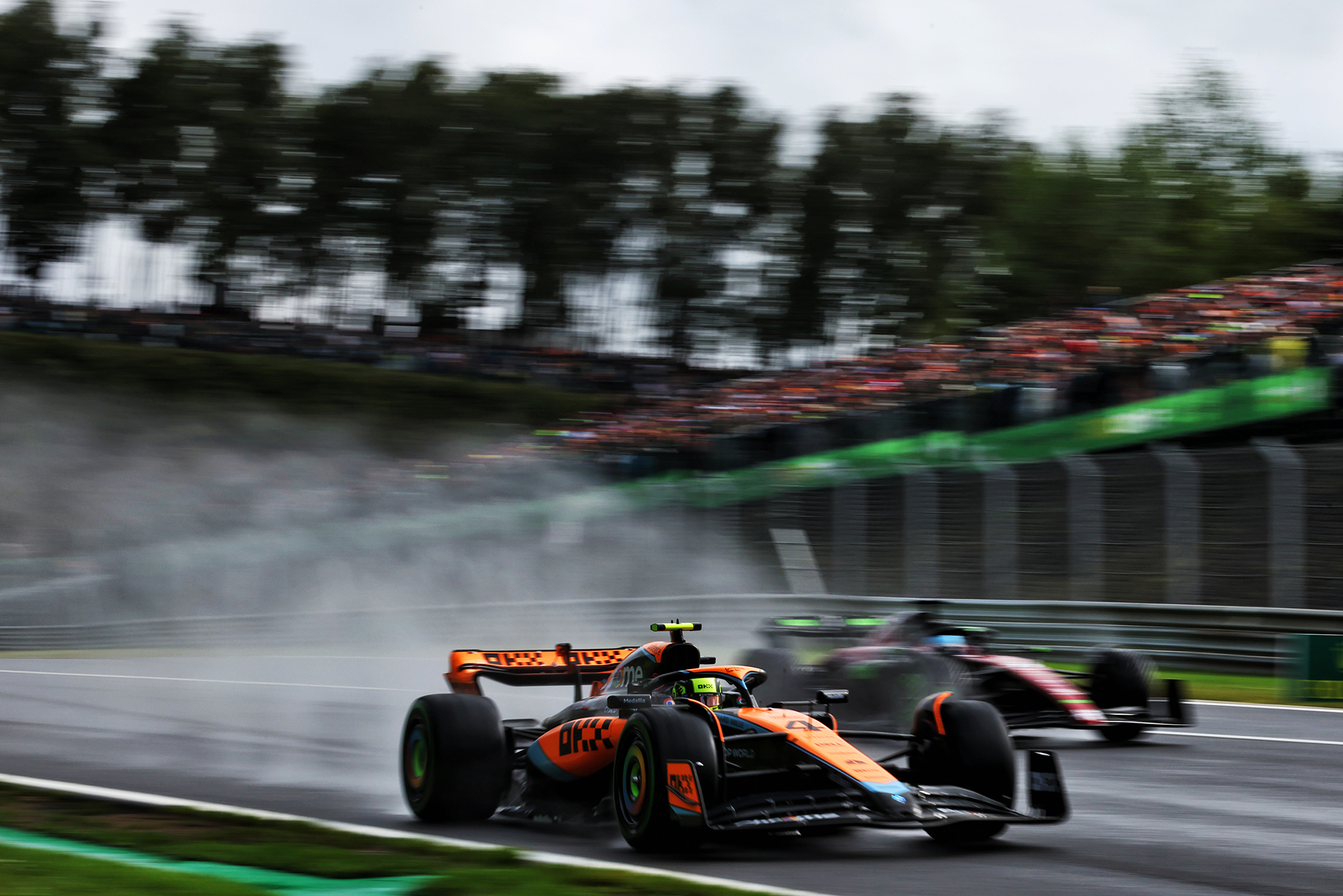 "We've probably struggled a little bit more with the pace compared to the leaders, compared to where we were [at previous races]," Norris said.
"We're just not in the optimal range of downforce, I think we went for a bit too high and that's costing us probably close to six, seven, eight tenths just on the straights alone.
"Adding in [power unit] clipping and battery harvesting and it can easily be up to almost a second in the straights during a race.
"Obviously we gain a decent bit back in the corners, there's always this little to and fro, maybe just not in the optimal place – which is I guess the penalty of only having FP1 and qualifying on Friday.
"We just weren't able to set up the car in the right window."
However, McLaren does not have much to choose from, as its family of rear wings does not include the kind of low-drag special that would make a big difference at Spa.
Team principal Andrea Stella said that McLaren does have a smaller rear wing it could use but indicated it is not that aerodynamically efficient, so the gain in straightline speed would come at a cost in cornering performance that would not necessarily be worthwhile.
The reason for this is that McLaren has been prioritising the development and production of major upgrades, which have transformed the car's overall performance, over isolated developments like a low-drag wing.
"We have done quite a lot of work redesigning the car from the start to the season," said Stella.
"One thing that we haven't attacked yet is actually the car at low drag level. So, there wasn't much efficiency to gain by going on a small rear wing and we decided to stay at the point in which the car is most efficient.
"There's not only a tactical choice based on you wanting to be quick in the corners and you are set to be slow in the straights, it's more what the car has to offer as a function of the rear wing level.
"And this [choice] is where the car performs the best."
Norris believes McLaren's Spa set-up means the race is going to be a "struggle" at points, which Stella agreed with.
Stella specified the race start and safety car restarts as the main areas "it leaves us vulnerable" although hopes there will be a gain in tyre management with the extra cornering grip.
And McLaren does intend to address this weakness for the future, especially with the Italian Grand Prix at Monza coming quickly after the summer break, because it knows in this form "the car is not necessarily very easy to race…and you are exposed to other cars coming past".
"What our aerodynamic group has been able to achieve in terms of adding pure downforce on the car is a more difficult problem than improving drag at a specific level," said Stella.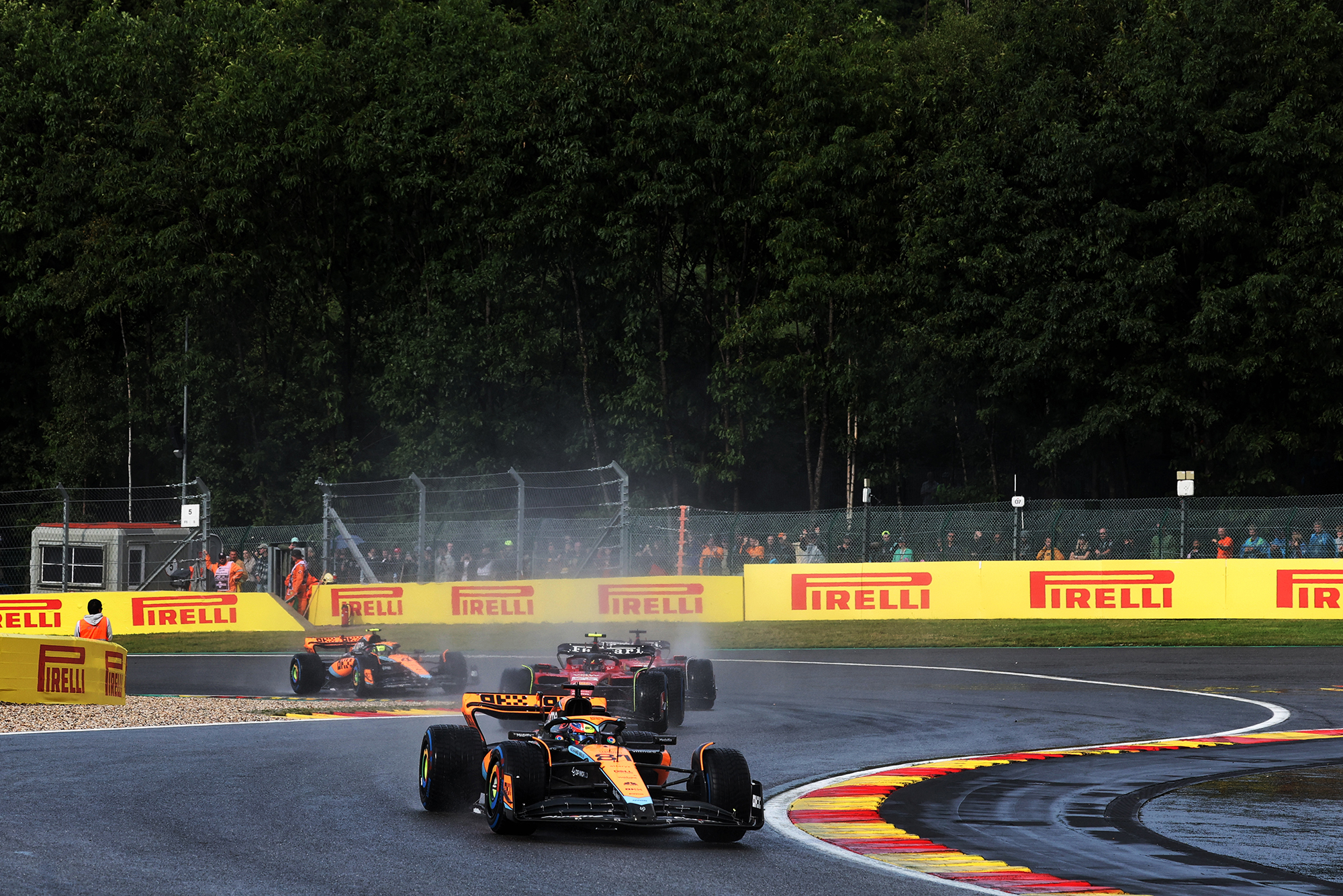 "The reason why this hasn't been done yet is because it was just in the list of priorities, after the other priorities that our technical department has been able to address so successfully.
"It's not more complicated, just a matter of time.
"For Monza, we are working on some mitigations that we couldn't deliver in time for here, so we expect to be in better shape for Monza.
"And then, if there's further trimming to be done for Vegas [another high-speed track at the end of the season], we have a little bit more time."