Red Bull heads into Formula 1's 2023 summer break unbeaten and having secured its first 1-2 in three months thanks to Max Verstappen coming from sixth on the grid to win the Belgian Grand Prix ahead of team-mate Sergio Perez.
Throughout the weekend Verstappen never gave the impression that his five-place grid penalty for taking additional gearbox components was going to be any particular impediment to him taking an eighth-straight GP win, and his confidence was unsurprisingly well-founded.
Up to fourth on lap one, he went down the inside of Lewis Hamilton's Mercedes to take third into Les Combes on lap five and then soon claimed second from Charles Leclerc's Ferrari at the same corner.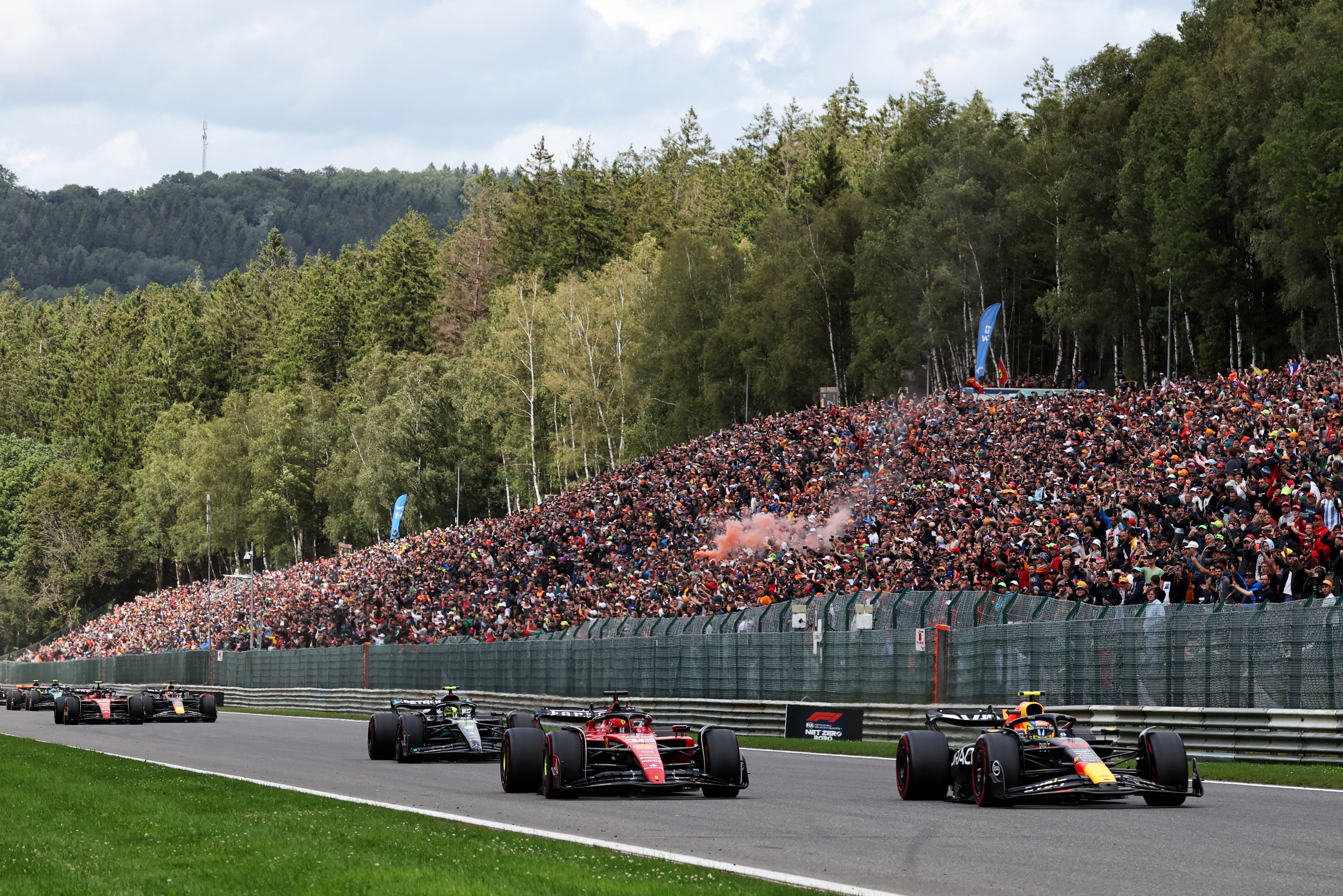 Perez was 3.5 seconds clear at that point, having taken the lead from polesitter Leclerc on the Kemmel Straight on lap one, and the gap initially came down quite slowly.
But in the middle sector of Verstappen's out-lap from his first pitstop alone he tore a second from his team-mate's advantage as he easily demolished Perez's lead then cruised past using DRS.
Verstappen continued to pull away for the rest of the race, through a brief rain shower that was surviveable on slicks, to win by 22s.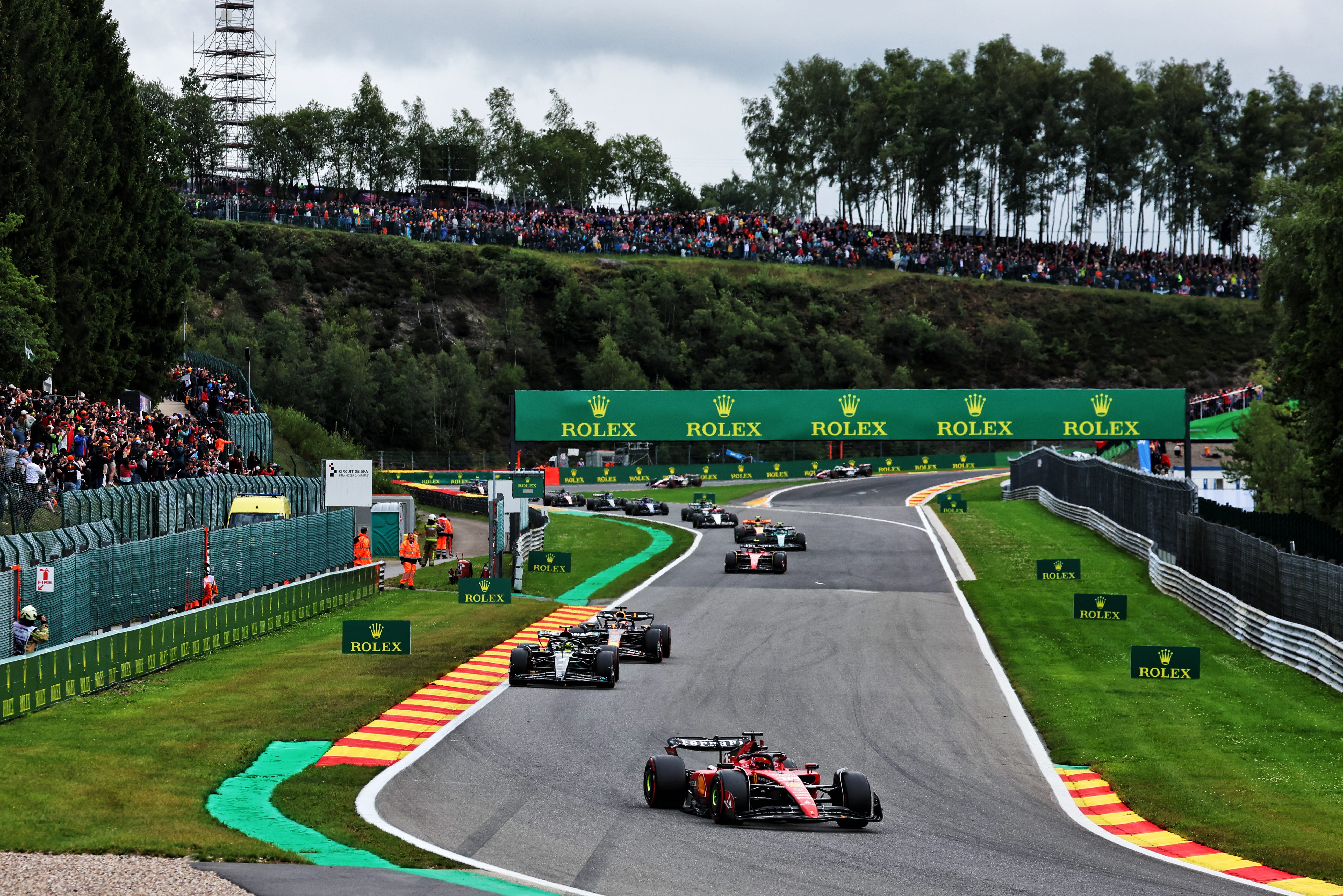 Polesitter Leclerc kept Hamilton at a safe distance to complete the podium. The gap between them was extended by Hamilton making a last-minute pitstop in a successful bid for fastest lap.
Fernando Alonso ended Aston Martin's messy weekend on a high with fifth, team-mate Lance Stroll taking ninth.
George Russell ran long on his first set of tyres to guard against the rain threat and it set him up for sixth on a one-stop strategy.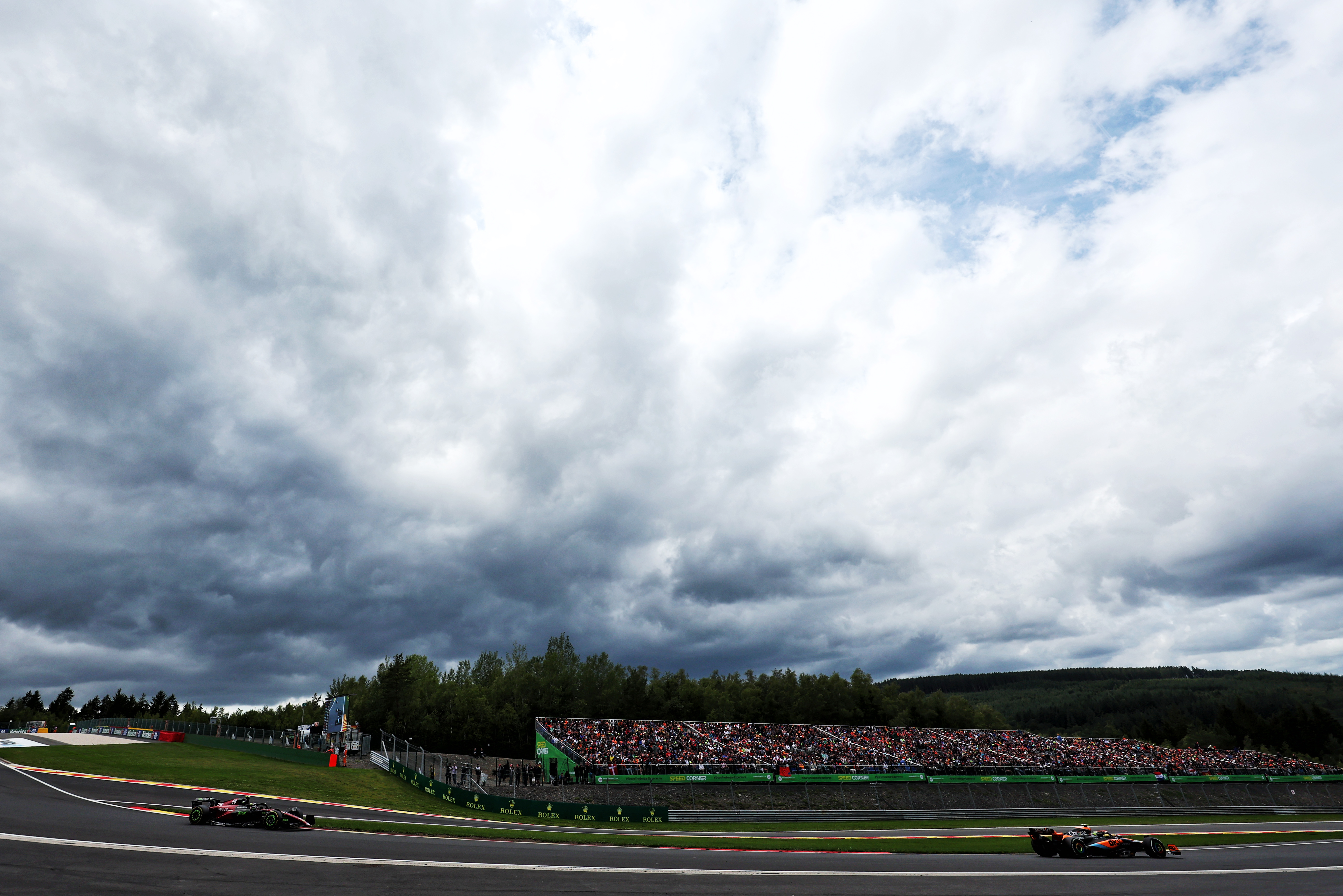 Seventh for Lando Norris was a comedown for McLaren after recent podiums but far better than its race looked like it might be early on.
His team-mate Oscar Piastri was out almost immediately due to first corner contact with Carlos Sainz's Ferrari, which limped around with a damaged sidepod for half the race before being retired having fallen to last.
LAP 2/44

Agony for Piastri who picked up damage at the start getting squeezed at Turn 1

The Aussie quickly dropped down the field and has been forced to retire ❌#BelgianGP #F1 pic.twitter.com/pZtXCklA7n

— Formula 1 (@F1) July 30, 2023
Norris was also going backwards down the order at first, with reports of steering problems, before rallying after a mid-race switch to soft tyres and strong pace in the damp laps that got him back into points contention.
Esteban Ocon mounted a late-race charge past Alex Albon, Yuki Tsunoda and Stroll to take eighth for Alpine ahead of Stroll.
Albon got as high as seventh with a great first stint for Williams but it was the only team that needed to three-stop and he ended up 14th.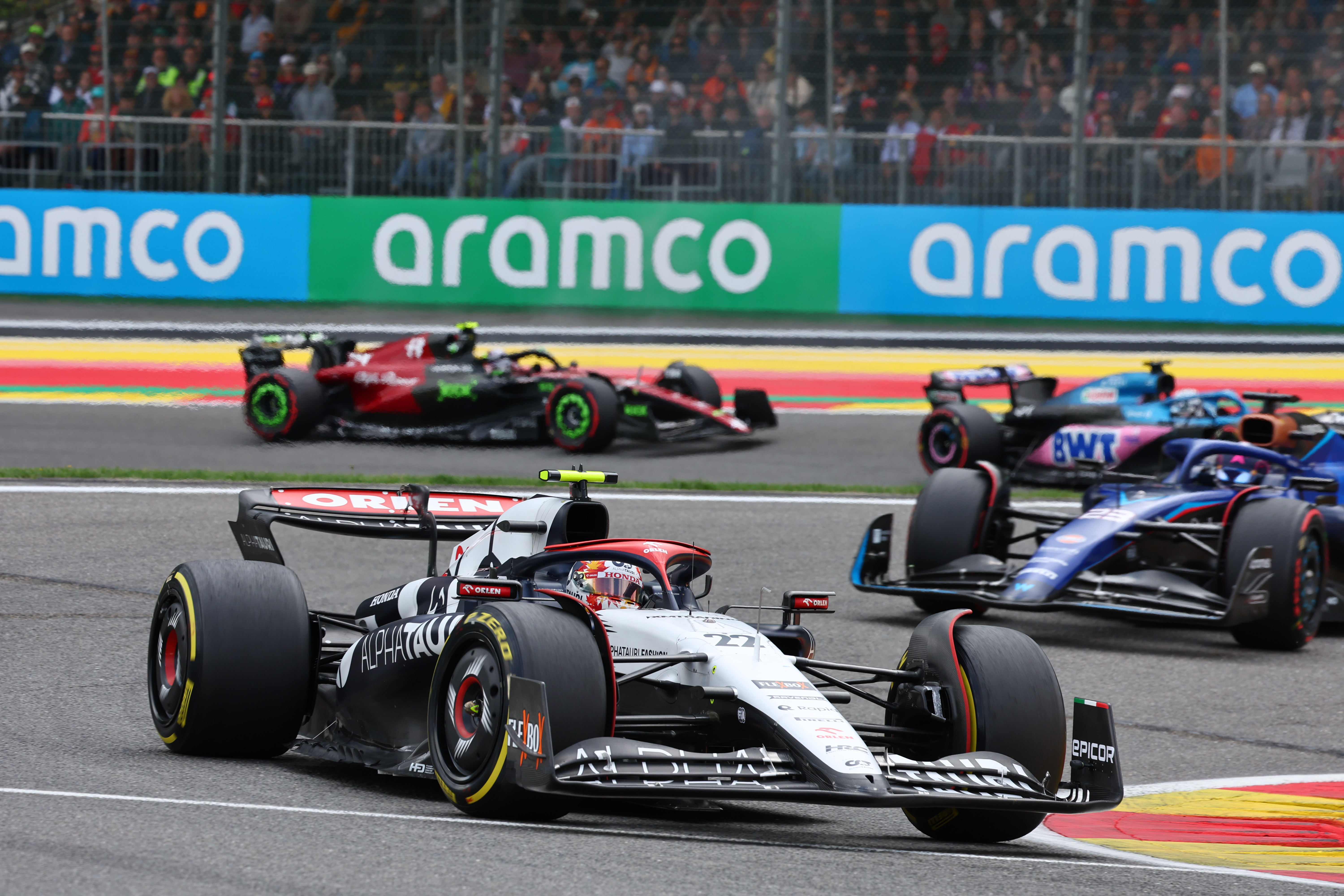 AlphaTauri looked like it might achieve more than Tsunoda's sole point as he spent a spell in sixth in a very strong initial performance before losing ground later on.
Team-mate Daniel Ricciardo also made great progress from his 19th-place start, leaping up the midfield with an undercut from a very early first pitstop, but couldn't maintain it and finished 16th, 23s behind Tsunoda.
Race Results
| Pos | Name | Car | Laps | Laps Led | Total Time | Fastest Lap | Pitstops | Pts |
| --- | --- | --- | --- | --- | --- | --- | --- | --- |
| 1 | Max Verstappen | Red Bull | 44 | 0 | 1h22m30.45s | 1m48.922s | 2 | 33 |
| 2 | Sergio Pérez | Red Bull | 44 | 0 | +22.305s | 1m50.308s | 2 | 18 |
| 3 | Charles Leclerc | Ferrari | 44 | 0 | +32.259s | 1m50.436s | 2 | 19 |
| 4 | Lewis Hamilton | Mercedes | 44 | 0 | +49.671s | 1m47.305s | 3 | 15 |
| 5 | Fernando Alonso | Aston Martin-Mercedes | 44 | 0 | +56.184s | 1m50.938s | 2 | 10 |
| 6 | George Russell | Mercedes | 44 | 0 | +1m03.101s | 1m50.603s | 1 | 9 |
| 7 | Lando Norris | McLaren-Mercedes | 44 | 0 | +1m13.719s | 1m51.682s | 2 | 9 |
| 8 | Esteban Ocon | Alpine-Renault | 44 | 0 | +1m14.719s | 1m50.439s | 2 | 4 |
| 9 | Lance Stroll | Aston Martin-Mercedes | 44 | 0 | +1m19.34s | 1m51.297s | 1 | 2 |
| 10 | Yuki Tsunoda | AlphaTauri-Honda RBPT | 44 | 0 | +1m20.221s | 1m51.394s | 2 | 1 |
| 11 | Pierre Gasly | Alpine-Renault | 44 | 0 | +1m23.084s | 1m50.911s | 1 | 6 |
| 12 | Valtteri Bottas | Alfa Romeo-Ferrari | 44 | 0 | +1m25.191s | 1m50.515s | 2 | 0 |
| 13 | Guanyu Zhou | Alfa Romeo-Ferrari | 44 | 0 | +1m35.441s | 1m50.188s | 2 | 0 |
| 14 | Alex Albon | Williams-Mercedes | 44 | 0 | +1m36.184s | 1m49.841s | 3 | 0 |
| 15 | Kevin Magnussen | Haas-Ferrari | 44 | 0 | +1m41.754s | 1m50.993s | 2 | 0 |
| 16 | Daniel Ricciardo | AlphaTauri-Honda RBPT | 44 | 0 | +1m43.071s | 1m50.994s | 2 | 0 |
| 17 | Logan Sargeant | Williams-Mercedes | 44 | 0 | +1m44.476s | 1m50.486s | 3 | 0 |
| 18 | Nico Hülkenberg | Haas-Ferrari | 44 | 0 | +1m50.45s | 1m49.907s | 2 | 0 |
| | Carlos Sainz | Ferrari | 23 | 0 | DNF | 0s | 2 | 5 |
| | Oscar Piastri | McLaren-Mercedes | 0 | 0 | DNF | 0s | 0 | 7 |
Driver Standings
| Pos | Driver | Team | Points | R1 | R2 | R3 | R4 | R5 | R6 | R7 | R8 | R9 | R10 | R11 | R12 | R13 | R14 | R15 | R16 | R17 | R18 | R19 | R20 | R21 | R22 | R23 |
| --- | --- | --- | --- | --- | --- | --- | --- | --- | --- | --- | --- | --- | --- | --- | --- | --- | --- | --- | --- | --- | --- | --- | --- | --- | --- | --- |
| 1 | Max Verstappen | Oracle Red Bull Racing | 364 | 25 | 19 | 25 | 24 | 26 | 0 | 25 | 26 | 25 | 34 | 26 | 26 | 33 | 25 | 25 | 0 | 0 | 0 | 0 | 0 | 0 | 0 | 0 |
| 2 | Sergio Pérez | Oracle Red Bull Racing | 219 | 18 | 25 | 11 | 33 | 18 | 0 | 0 | 12 | 9 | 22 | 8 | 15 | 18 | 12 | 18 | 0 | 0 | 0 | 0 | 0 | 0 | 0 | 0 |
| 3 | Fernando Alonso | Aston Martin Aramco Cognizant Formula One Team | 170 | 15 | 15 | 15 | 15 | 15 | 0 | 18 | 6 | 18 | 14 | 6 | 2 | 10 | 19 | 2 | 0 | 0 | 0 | 0 | 0 | 0 | 0 | 0 |
| 4 | Lewis Hamilton | Mercedes-AMG Petronas Formula One Team | 164 | 10 | 10 | 18 | 10 | 8 | 0 | 13 | 18 | 15 | 4 | 15 | 12 | 15 | 8 | 8 | 0 | 0 | 0 | 0 | 0 | 0 | 0 | 0 |
| 5 | Carlos Sainz | Scuderia Ferrari | 117 | 12 | 8 | 0 | 14 | 10 | 0 | 4 | 10 | 10 | 14 | 1 | 4 | 5 | 10 | 15 | 0 | 0 | 0 | 0 | 0 | 0 | 0 | 0 |
| 6 | Charles Leclerc | Scuderia Ferrari | 111 | 0 | 6 | 0 | 22 | 6 | 0 | 8 | 0 | 12 | 18 | 2 | 6 | 19 | 0 | 12 | 0 | 0 | 0 | 0 | 0 | 0 | 0 | 0 |
| 7 | George Russell | Mercedes-AMG Petronas Formula One Team | 109 | 6 | 12 | 0 | 10 | 12 | 0 | 10 | 15 | 0 | 7 | 10 | 8 | 9 | 0 | 10 | 0 | 0 | 0 | 0 | 0 | 0 | 0 | 0 |
| 8 | Lando Norris | McLaren Formula 1 Team | 79 | 0 | 0 | 8 | 2 | 0 | 0 | 2 | 0 | 0 | 12 | 18 | 18 | 9 | 6 | 4 | 0 | 0 | 0 | 0 | 0 | 0 | 0 | 0 |
| 9 | Lance Stroll | Aston Martin Aramco Cognizant Formula One Team | 47 | 8 | 0 | 12 | 7 | 0 | 0 | 0 | 8 | 2 | 7 | 0 | 1 | 2 | 0 | 0 | 0 | 0 | 0 | 0 | 0 | 0 | 0 | 0 |
| 10 | Pierre Gasly | BWT Alpine F1 Team | 37 | 2 | 2 | 0 | 0 | 4 | 0 | 6 | 1 | 0 | 1 | 0 | 0 | 6 | 15 | 0 | 0 | 0 | 0 | 0 | 0 | 0 | 0 | 0 |
| 11 | Oscar Piastri | McLaren Formula 1 Team | 36 | 0 | 0 | 4 | 0 | 0 | 0 | 1 | 0 | 0 | 0 | 12 | 10 | 7 | 2 | 0 | 0 | 0 | 0 | 0 | 0 | 0 | 0 | 0 |
| 12 | Esteban Ocon | BWT Alpine F1 Team | 36 | 0 | 4 | 0 | 0 | 2 | 0 | 15 | 4 | 4 | 2 | 0 | 0 | 4 | 1 | 0 | 0 | 0 | 0 | 0 | 0 | 0 | 0 | 0 |
| 13 | Alex Albon | Williams Racing | 21 | 1 | 0 | 0 | 0 | 0 | 0 | 0 | 0 | 6 | 0 | 4 | 0 | 0 | 4 | 6 | 0 | 0 | 0 | 0 | 0 | 0 | 0 | 0 |
| 14 | Nico Hülkenberg | MoneyGram Haas F1 Team | 9 | 0 | 0 | 6 | 0 | 0 | 0 | 0 | 0 | 0 | 3 | 0 | 0 | 0 | 0 | 0 | 0 | 0 | 0 | 0 | 0 | 0 | 0 | 0 |
| 15 | Valtteri Bottas | Alfa Romeo F1 Team Orlen | 6 | 4 | 0 | 0 | 0 | 0 | 0 | 0 | 0 | 1 | 0 | 0 | 0 | 0 | 0 | 1 | 0 | 0 | 0 | 0 | 0 | 0 | 0 | 0 |
| 16 | Guanyu Zhou | Alfa Romeo F1 Team Orlen | 4 | 0 | 0 | 2 | 0 | 0 | 0 | 0 | 2 | 0 | 0 | 0 | 0 | 0 | 0 | 0 | 0 | 0 | 0 | 0 | 0 | 0 | 0 | 0 |
| 17 | Yuki Tsunoda | Scuderia AlphaTauri | 3 | 0 | 0 | 1 | 1 | 0 | 0 | 0 | 0 | 0 | 0 | 0 | 0 | 1 | 0 | 0 | 0 | 0 | 0 | 0 | 0 | 0 | 0 | 0 |
| 18 | Kevin Magnussen | MoneyGram Haas F1 Team | 2 | 0 | 1 | 0 | 0 | 1 | 0 | 0 | 0 | 0 | 0 | 0 | 0 | 0 | 0 | 0 | 0 | 0 | 0 | 0 | 0 | 0 | 0 | 0 |
| 19 | Logan Sargeant | Williams Racing | 0 | 0 | 0 | 0 | 0 | 0 | 0 | 0 | 0 | 0 | 0 | 0 | 0 | 0 | 0 | 0 | 0 | 0 | 0 | 0 | 0 | 0 | 0 | 0 |
| 20 | Nyck de Vries | Scuderia AlphaTauri | 0 | 0 | 0 | 0 | 0 | 0 | 0 | 0 | 0 | 0 | 0 | 0 | 0 | 0 | 0 | 0 | 0 | 0 | 0 | 0 | 0 | 0 | 0 | 0 |
| 21 | Daniel Ricciardo | Scuderia AlphaTauri | 0 | 0 | 0 | 0 | 0 | 0 | 0 | 0 | 0 | 0 | 0 | 0 | 0 | 0 | 0 | 0 | 0 | 0 | 0 | 0 | 0 | 0 | 0 | 0 |
| 22 | Liam Lawson | Scuderia AlphaTauri | 0 | 0 | 0 | 0 | 0 | 0 | 0 | 0 | 0 | 0 | 0 | 0 | 0 | 0 | 0 | 0 | 0 | 0 | 0 | 0 | 0 | 0 | 0 | 0 |
Team Standings
| Pos | Team | Points | R1 | R2 | R3 | R4 | R5 | R6 | R7 | R8 | R9 | R10 | R11 | R12 | R13 | R14 | R15 | R16 | R17 | R18 | R19 | R20 | R21 | R22 | R23 |
| --- | --- | --- | --- | --- | --- | --- | --- | --- | --- | --- | --- | --- | --- | --- | --- | --- | --- | --- | --- | --- | --- | --- | --- | --- | --- |
| 1 | Red Bull | 583 | 43 | 44 | 36 | 57 | 44 | 0 | 25 | 38 | 34 | 56 | 34 | 41 | 51 | 37 | 43 | 0 | 0 | 0 | 0 | 0 | 0 | 0 | 0 |
| 2 | Mercedes | 273 | 16 | 22 | 18 | 20 | 20 | 0 | 23 | 33 | 15 | 11 | 25 | 20 | 24 | 8 | 18 | 0 | 0 | 0 | 0 | 0 | 0 | 0 | 0 |
| 3 | Ferrari | 228 | 12 | 14 | 0 | 36 | 16 | 0 | 12 | 10 | 22 | 32 | 3 | 10 | 24 | 10 | 27 | 0 | 0 | 0 | 0 | 0 | 0 | 0 | 0 |
| 4 | Aston Martin | 217 | 23 | 15 | 27 | 22 | 15 | 0 | 18 | 14 | 20 | 21 | 6 | 3 | 12 | 19 | 2 | 0 | 0 | 0 | 0 | 0 | 0 | 0 | 0 |
| 5 | McLaren | 115 | 0 | 0 | 12 | 2 | 0 | 0 | 3 | 0 | 0 | 12 | 30 | 28 | 16 | 8 | 4 | 0 | 0 | 0 | 0 | 0 | 0 | 0 | 0 |
| 6 | Alpine | 73 | 2 | 6 | 0 | 0 | 6 | 0 | 21 | 5 | 4 | 3 | 0 | 0 | 10 | 16 | 0 | 0 | 0 | 0 | 0 | 0 | 0 | 0 | 0 |
| 7 | Williams | 21 | 1 | 0 | 0 | 0 | 0 | 0 | 0 | 0 | 6 | 0 | 4 | 0 | 0 | 4 | 6 | 0 | 0 | 0 | 0 | 0 | 0 | 0 | 0 |
| 8 | Haas | 11 | 0 | 1 | 6 | 0 | 1 | 0 | 0 | 0 | 0 | 3 | 0 | 0 | 0 | 0 | 0 | 0 | 0 | 0 | 0 | 0 | 0 | 0 | 0 |
| 9 | Alfa Romeo | 10 | 4 | 0 | 2 | 0 | 0 | 0 | 0 | 2 | 1 | 0 | 0 | 0 | 0 | 0 | 1 | 0 | 0 | 0 | 0 | 0 | 0 | 0 | 0 |
| 10 | AlphaTauri | 3 | 0 | 0 | 1 | 1 | 0 | 0 | 0 | 0 | 0 | 0 | 0 | 0 | 1 | 0 | 0 | 0 | 0 | 0 | 0 | 0 | 0 | 0 | 0 |