Red Bull will make a decision on Alex Albon's Formula 1 future in "the coming days" after its driver signed off a difficult season with his "strongest race weekend" of the year.
Albon finished fourth in the Abu Dhabi Grand Prix, 19.9s behind his race-winning team-mate Max Verstappen but only 1.5s behind the second Mercedes of world champion Lewis Hamilton.
He had qualified fifth, behind a McLaren, but also posted his smallest deficit to Verstappen of the year at the same time and said afterwards something has "clicked" on his side of the garage this weekend.
The 24-year-old has had a disappointing first full season with Red Bull and finished seventh in the championship with two podiums, while Verstappen won two grands prix and scored nine other podiums on his way to third in the standings.
Albon's Abu Dhabi GP drive was the first time he has influenced Verstappen's race positively.
He recovered from a slow start to his second stint after a safety car to keep the Mercedes drivers under pressure and prevent them from either trying an alternate strategy, or easing off at the end when struggling with their tyres.
Red Bull's chief concern with Albon this season has been the lack of sustained progress
Red Bull team boss Christian Horner said: "We've always said that we'll go to the end of the year, and then make our decision at the end of the season.
"Alex had probably his strongest race weekend actually this weekend, which is encouraging for him.
"But we now have a full picture of the season. And we'll make that decision in the coming days."
Red Bull's chief concern with Albon this season has been the lack of sustained progress.
While he has shown glimpses of potential he has not combined a clean qualifying with a clean race performance, and each time he has appeared to make a step forward he has suffered a setback at the next race.
Until Abu Dhabi he had also made no major progress against his average performance deficit to Verstappen and was even criticised by his team-mate after the Bahrain GP for falling too far behind.
Asked by The Race if Albon's better rear-gunner showing in Abu Dhabi was what Red Bull wanted from him all season, Horner replied "it's certainly what we were expecting to see" and that it is "the only way that you could put Mercedes under pressure".
"If they'd have split their strategy, we could have been very exposed," Horner added.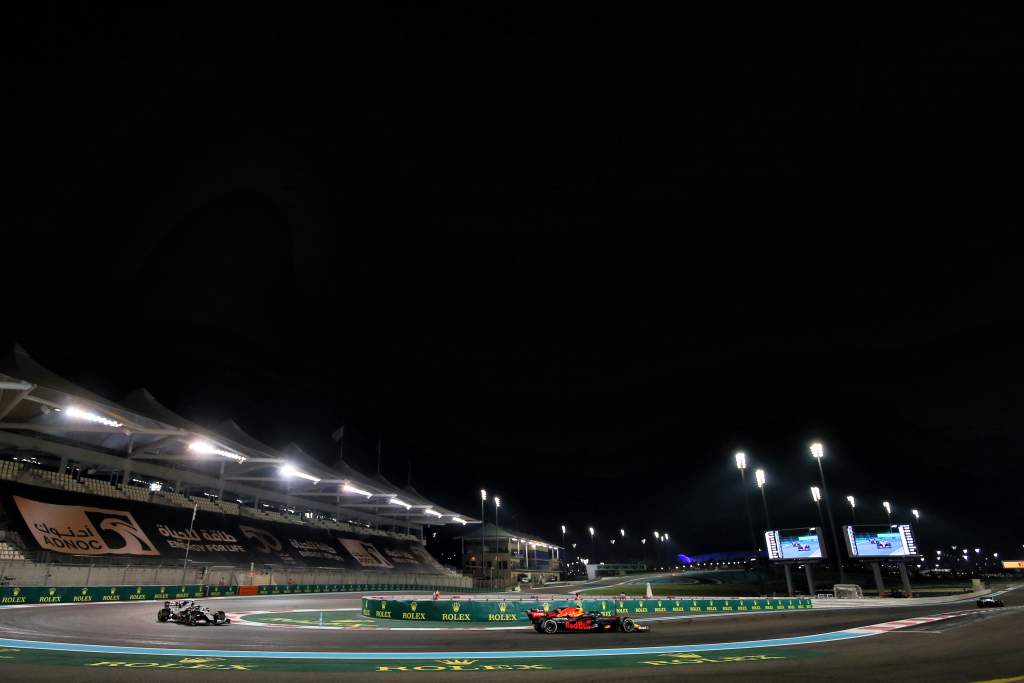 "Certainly at the end of the race Alex was able to close on them, he obviously lost a bit of ground at the beginning of the stint after the safety car once they all changed onto the same strategy to the end of the race.
"But I think Alex has driven a good race, and he's had a solid weekend."
Horner did not lavish praise on Albon's performance so much as highlight that it was an acceptable level for Red Bull's second car to operate at. Which is all Red Bull has expected of him this season.
So the key is not whether this outweighs the negative performances that came before but whether it hints at a more sustainable level of satisfactory performance in the future.
And while it seems unlikely that one race will have saved Albon's seat, with Red Bull seriously considering out-of-contract Sergio Perez as his replacement, Red Bull now has evidence of the job Albon can do as a support act to Verstappen for the first time in this partnership's 18-month history.
If this performance is to influence Albon's fate positively it will be because Red Bull is convinced enough by the possibility of Albon sustaining his progress into 2021, or at least considers that a justifiable reason to keep him in the car and satisfy the Thai part of the energy drinks company's ownership.
"Obviously we have a huge amount of data now," said Horner.
"We have all the knowledge across the various circuits that we've done.
"We'll sit down and go through that and come to the come to the right conclusion."