Red Bull team principal Christian Horner hopes Alex Albon's first Formula 1 podium in the Tuscan Grand Prix will be transformative for his self-belief.
Albon had come under increasing pressure as he struggled to match team-mate Max Verstappen in the first part of the 2020 season, having initially largely impressed since being brought into the team in place of Pierre Gasly last summer.
As he celebrated his Mugello podium, Albon's radio message to the team included the phrase "thanks for sticking with me", and in a column for the Red Bull website Horner said the difference the breakthrough result could make to Albon should not be underestimated.
"The podium will be good for Alex," Horner wrote.
"A big thing for all drivers is thinking you can do it but it is only when you actually achieve a podium or a win that you think 'OK I can do this'.
"It is the realisation and I really hope this opens the doors for him confidence wise and that he walks tall as he deserves his seat and his place in F1."
Albon's previous struggles have primarily been in qualifying, giving him too much ground to make up in the races. Even on the way to the Mugello podium, he had to twice recover from dropping behind slower cars, and secured the spot with an outside-line pass on former Red Bull driver Daniel Ricciardo's Renault.
What a moment for @alex_albon and his @redbullracing team! 🥳

He passes Daniel Ricciardo in the closing stages at Mugello to take P3 – and claim his first podium finish in F1 🙌#TuscanGP 🇮🇹 #F1 pic.twitter.com/OO0Bc7hed6

— Formula 1 (@F1) September 14, 2020
"He is also a gritty racer and knows how to get his elbows out, which is one of the reasons he is a Red Bull driver," added Horner of Albon.
"He has that never give up mentality and he keeps coming back even when the chips are down which we expect from our drivers."
Though Red Bull has a reputation for changing driver line-ups mid-season if it feels one of its racers is failing to perform, it has so far been outspoken in its support of Albon.
"He is very popular in the team, he has gelled very well with everyone and we all want him to succeed," Horner added.
The Race says
– Edd Straw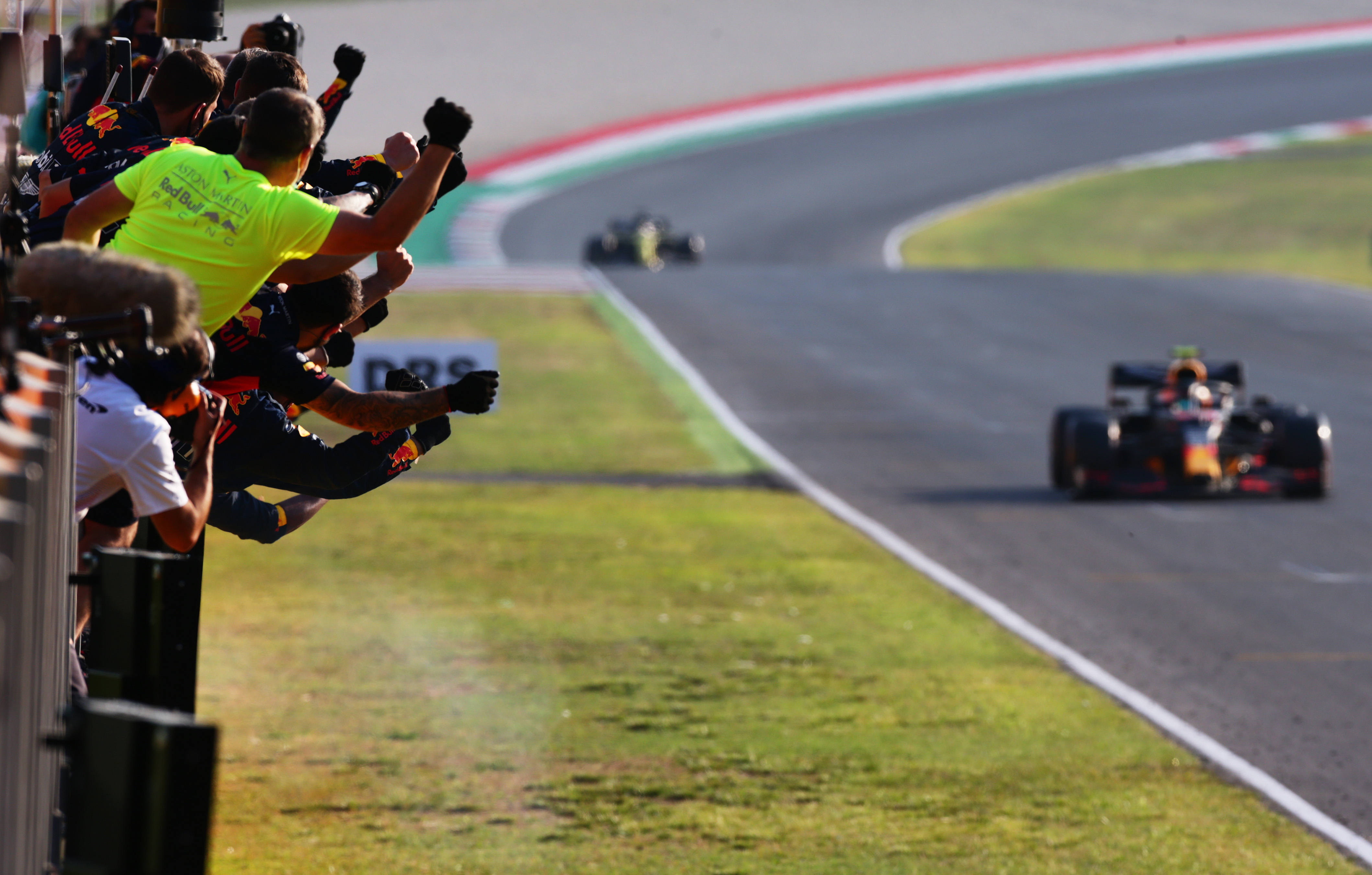 The style of Red Bull's robust support of Alex Albon, with Horner's latest comments referencing his analytical approach and elbows-out racing style, reveals much about why the team is so determined for him to succeed.
Despite referencing external pressure "especially from the media", the history of Red Bull's own – and justified – high demands of drivers and the demotion of Gasly last season in particular inevitably create question marks against the name of a driver who isn't getting results.
Red Bull's enthusiastic support proves that Albon's seen as the right fit as the long-term support act to Verstappen
But there have been no signs of that support wavering.
Albon himself said "thanks for sticking with me" over the radio after taking that breakthrough podium at Mugello, proof even he recognises it was far from guaranteed.
But Red Bull's enthusiastic support of him proves that he's seen as the right fit for the team as the long-term support act to Verstappen.
He still has to build on that result, as right now Red Bull has yet to confirm Albon will be in the car in 2021.
But by giving him unstinting support expressed more convincingly than the public backing Gasly received last year, Red Bull is showing how keen it is for him to succeed.
The progress has been there on recent race weekends even if Albon still hasn't managed to execute a weekend as well as he needs to do consistently in the future.
He's still got work to do and the gap to Verstappen must be narrowed when it really matters, but Red Bull's stall is firmly set out.
The support won't last forever, but if Albon can show the podium represents a breakthrough and build on it, his future will be set with a team that clearly holds him in high regard.