Alex Albon had a bumpy road to Formula 1 so it should probably be no surprise that scoring his first podium was a trial by fire.
The Red Bull driver has not enjoyed a simple race all season and, at times, his chances of scoring a breakthrough result have looked very slim. He and his team were waiting for a "boring" weekend to string everything together.
After qualifying fourth, it looked like the Tuscan Grand Prix might finally be that weekend.
Then he was mugged by Charles Leclerc's Ferrari at the start. Fell to seventh at the first standing restart. Fought back to fifth, then fourth. Almost fell to fifth again at the second restart. Fended off Sergio Perez, then hunted and passed Daniel Ricciardo to finally secure third.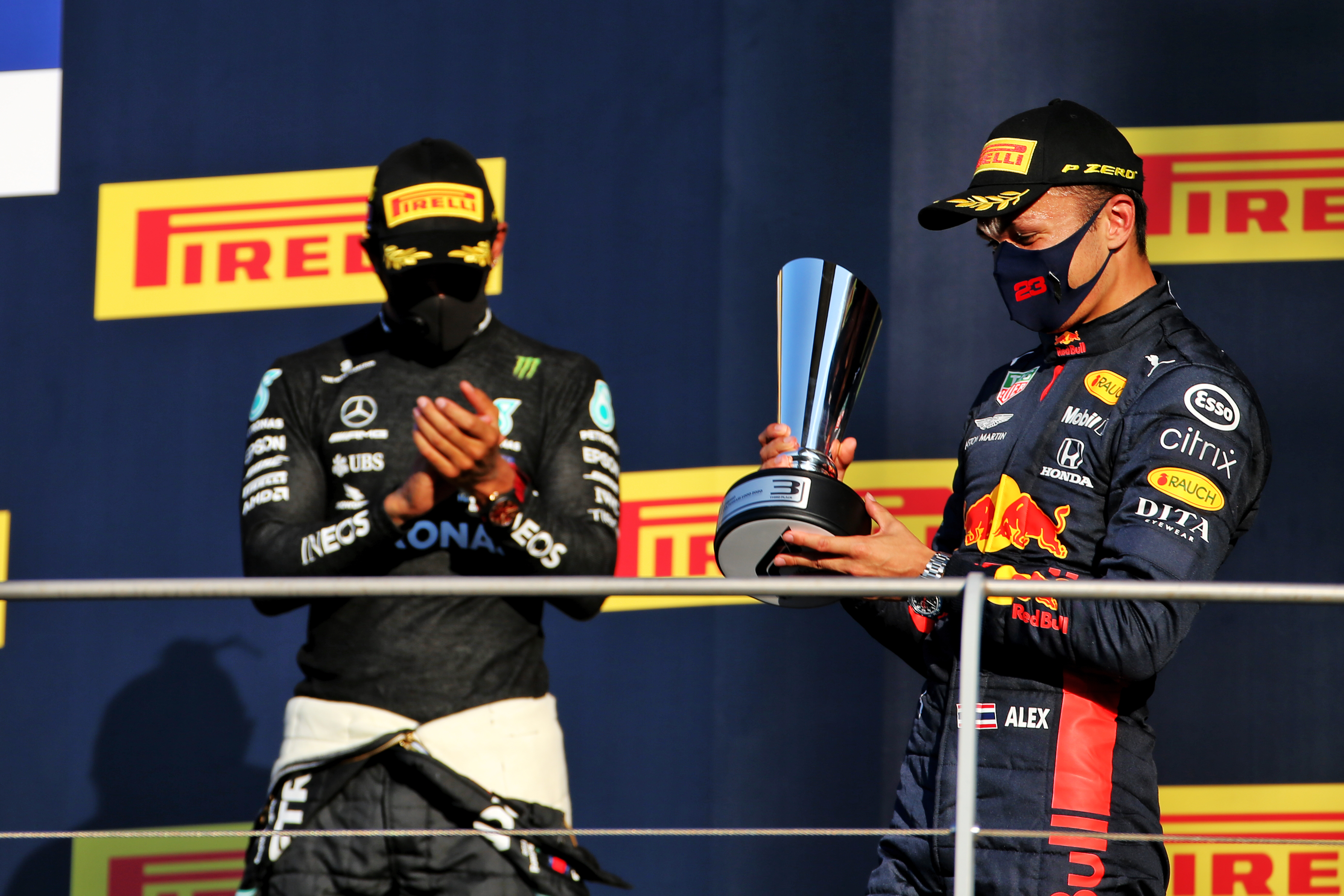 "We had to work for it," Albon said. "I'm really happy. I feel I can breathe. It feels nice to be here."
It was not boring or straightforward but it should release a huge amount of pressure for Albon, especially because of the manner he earned it.
Team-mate Max Verstappen's early elimination created an opportunity but rather than inherit a simple third place Albon had to dig deep to recover, pass cars on track and avoid over-using his tyres – something he has been guilty of at other times this season in traffic.
Albon made life harder than he needed to but his impassioned plea to the team to review its launch procedure when returning to the pitlane during the second red-flag period hinted that it may not have been all his own doing. He had noticed other cars doing more burnouts on the way to grid and felt he was just being outgunned off the line.
"It wasn't easy," said Albon. "When you lose positions at the start you always feel like it's going to be more hard work, but you never doubt that you can get back up there."
Sitting in fourth place at the first red-flag period was a blow but it wasn't a full-scale setback. Albon was still in a good position because Leclerc was expected to slip down the order (and did).
The first major threat to his podium challenge came at the full grid restart when Albon was swallowed up by Lance Stroll, Sergio Perez and Ricciardo.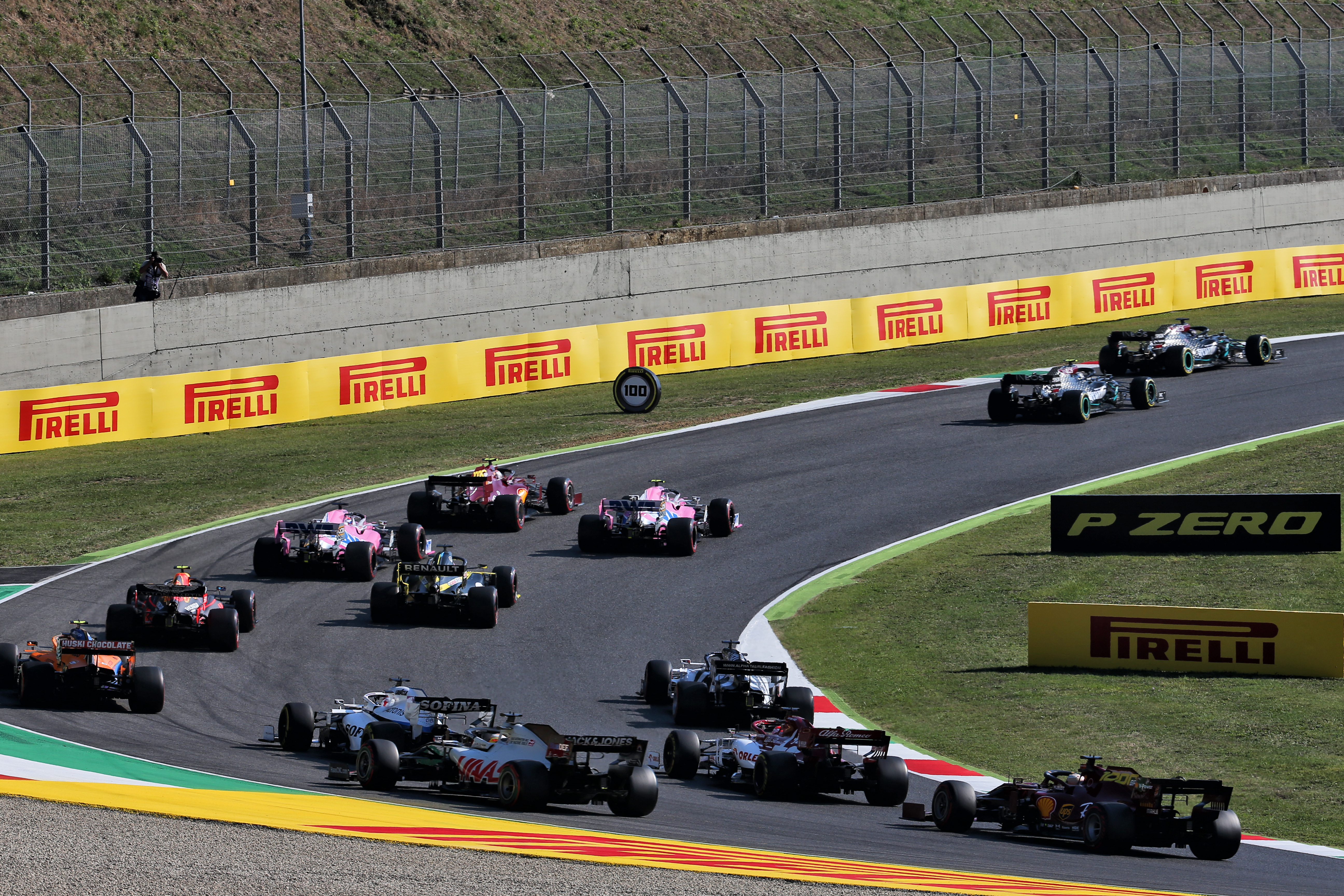 Mugello only presents one clear overtaking opportunity, the run to first corner San Donato, which requires drivers to be within one second into final bend Bucine and then keeping close enough through that medium-speed left-hander to make use of the tow and the DRS down the main straight.
Armed with a Red Bull that was back to being a clear second-best to Mercedes, though, Albon had the machinery to do that. He was particularly quick in the final sector – the RB16s were all weekend – which meant he could follow through the last corner and clear Perez and Leclerc to move into fifth place.
That took the life out of his soft tyres, but Albon had kept himself within three seconds of third-placed Stroll and then Ricciardo once Stroll made his pitstop.
"And on the mediums we were actually strong," said Albon, who was making inroads to the Renault and Racing Point before Stroll crashed heavily with a suspected puncture.
Stroll's crash promoted Albon to fourth and brought out another red flag, setting the field up for a second full restart. Albon admitted this made him "a bit afraid".
"I would have been happy just to maintain position," he said. "But the Renaults seemed to be very strong at starts and the Racing Point was also strong."
He was right to be worried, because the second restart was OK – he pretty much matched Valtteri Bottas ahead – but it prompted a second major knockback nonetheless.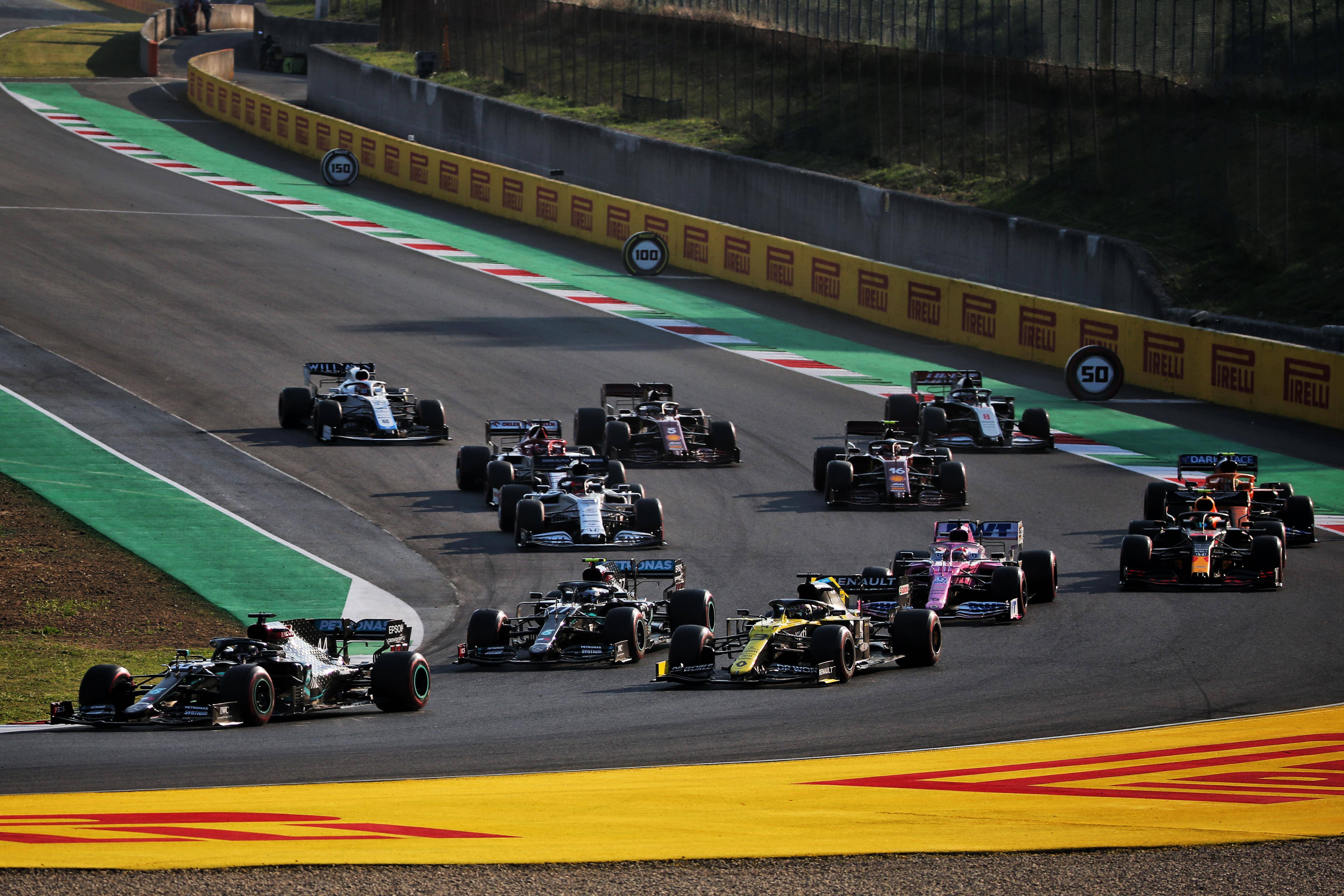 Albon had no tow as he headed down to the first corner, allowing Perez to draft past on the inside and bringing Norris into play on the outside as well.
Albon was perhaps fortunate not to make contact as he maintained position – perhaps inadvertently – by edging left to brake as late as possible on the outside into San Donato, squeezing the McLaren in the process.
He had to cede the place to Perez, but was "fired up" and opportunistically grabbed fourth back around the outside of the right-hand second part of the chicane that follows.
"I knew also that we had the pace. It was more about patience during the race and making sure you don't overdrive the car too early, the tyres too early, so you had something left for the overtaking later on," Albon said.
"In the back of my mind I was like, 'OK, the kid's never been on the podium before, maybe something can happen'" :: Daniel Ricciardo
Before he could focus on attacking Ricciardo he had to fend off Perez into the first corner, but with the Racing Point finally rebuffed Albon quickly reeled in the Renault, which had briefly got ahead of Bottas into second.
"I knew if I could hold on to him for a few laps maybe it would hurt his tyres," said Ricciardo afterwards. But Red Bull's strength in the final corner would prove too powerful.
Ricciardo's strong straightline speed meant Albon took a few laps to get properly on terms, but once finally in the tow and with the DRS activated he got a great run down to the first corner, pulled to the outside and used the profile of the bend to sweep past into third despite Ricciardo's best defence.
The last two times Albon has found himself in a podium position, he has been on the receiving end of a hit from a car on his inside. But in Brazil and Austria he had a role to play in the contact that ended those respective podium challenges. Not in Italy.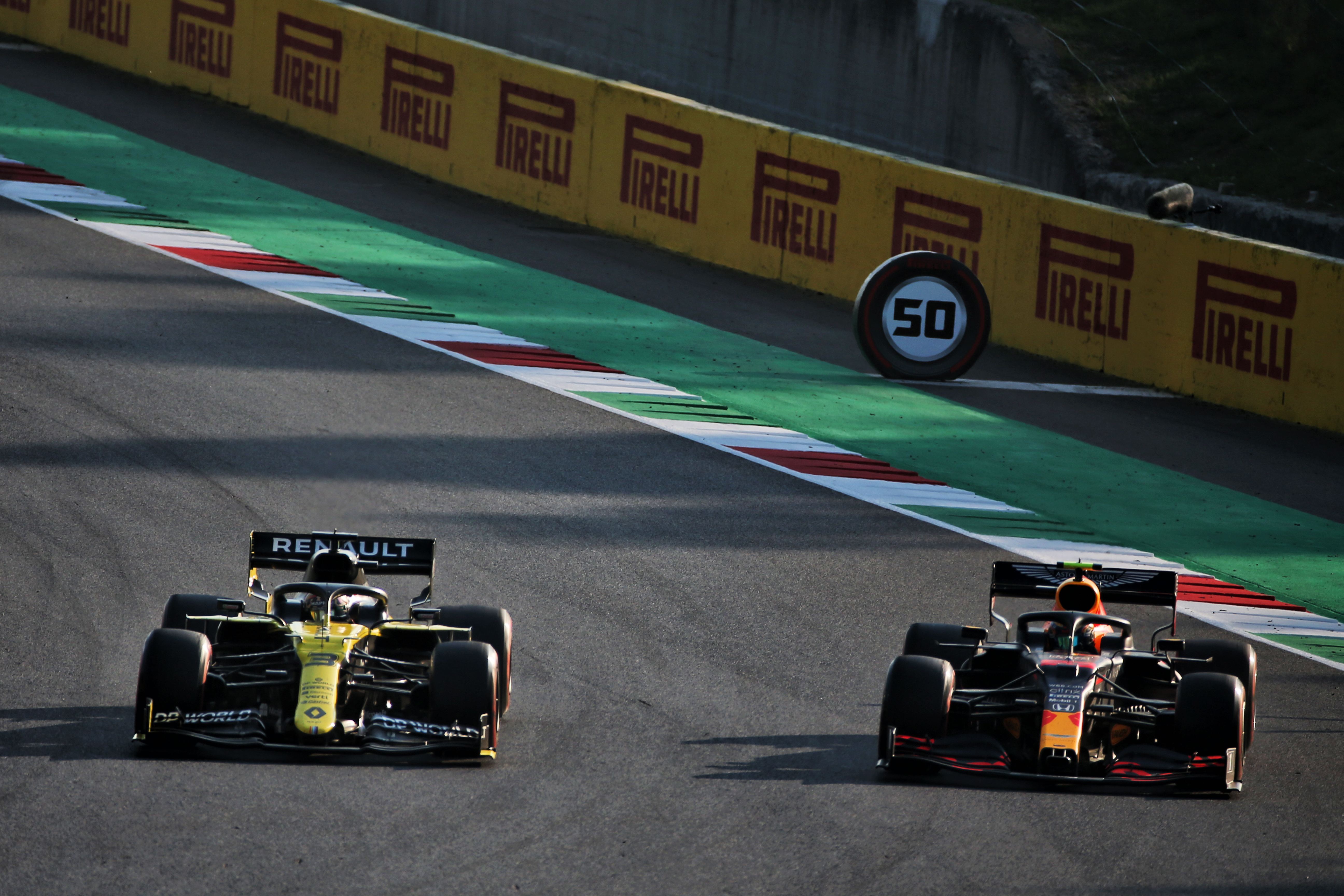 "It was kind of like a last-minute dive on the outside," Albon said. "Of course, I was a little worried, but I left enough space, Daniel gave me enough room and I went past."
The laps that followed were crucial as Albon immediately moved more than a second clear and stopped Ricciardo getting the DRS to try to fight back. The ex-Red Bull driver admitted that as soon as Albon quickly caught him, he thought "that's probably done".
But Ricciardo didn't give up completely and was able to peg Albon at just over two seconds.
"In the back of my mind I was like, 'OK, the kid's never been on the podium before, you know, if I can try to do anything I can to keep some pressure on him and to force him to keep driving at a high pace, maybe something can happen,'" said Ricciardo.
"I saw a few times he put a wheel a little bit in the gravel out of [Turn] 5 [Borgo San Lorenzo]. So I was like, 'maybe he's overdriving or getting nervous'.
"But the first five laps he had too much pace for me to do anything. I think I was able to match him a couple of laps later but even then I didn't feel I was closing too much."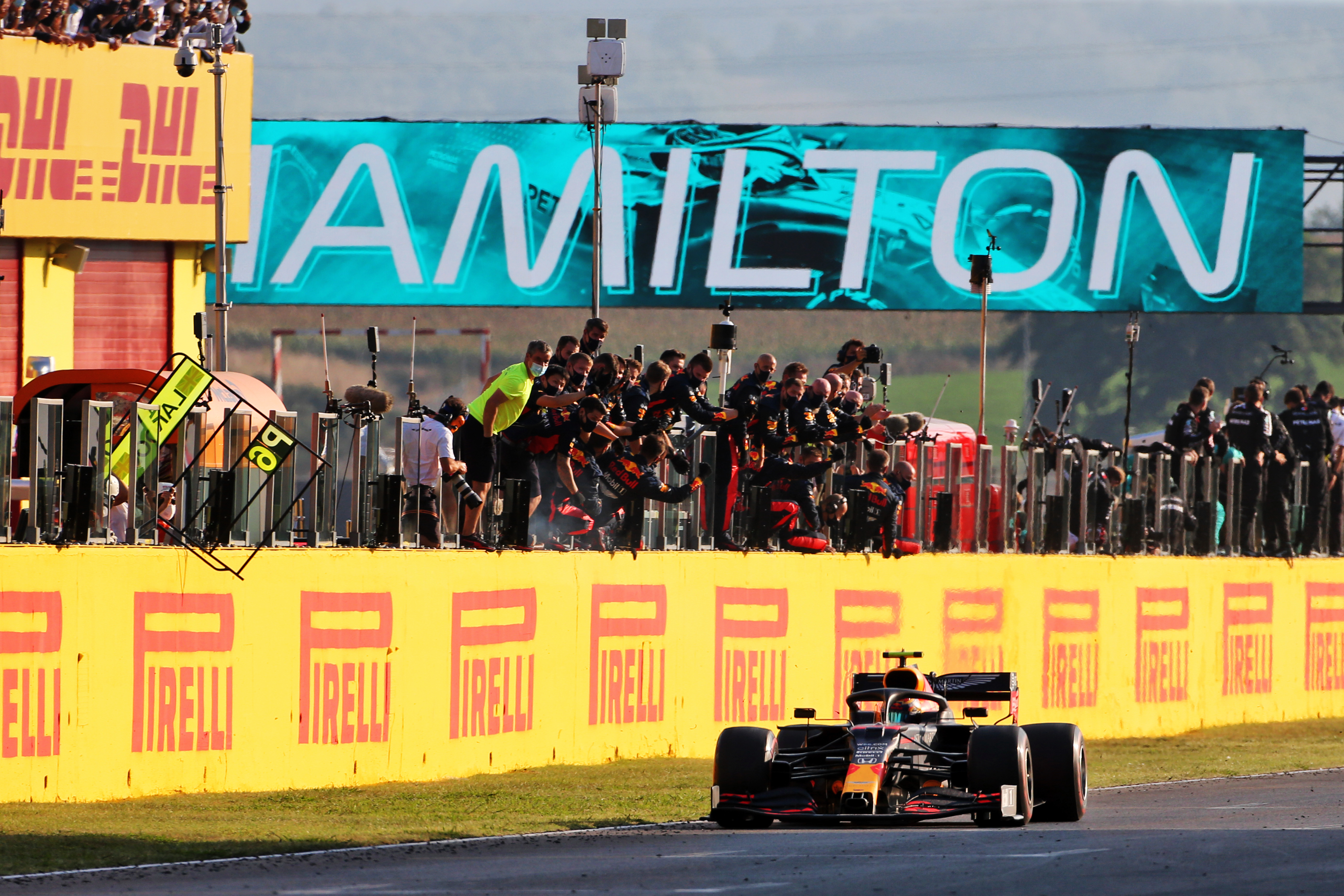 Having potentially lost the podium twice in one race, Albon was not about to do so a third time. Once he finally had it under his control, rather than nearly-but-not-quite, he was exemplary in seeing the job to its conclusion.
Albon's improvement in recent races hasn't been obvious in terms of results but it has existed under the surface and this podium is testament to that. It may prove the turning point for a driver who has come under intense scrutiny and not had anything tangible to present in his defence.
Now he does.
"All credit to him because he hasn't let the negativity or external criticism get him down, he's picked himself up and put in a first class performance," said his team boss Christian Horner.
"I think this podium will give him a boost of confidence and self-belief and I'm sure he will only get stronger from here."