Reigning Formula 1 world champion Max Verstappen believes "race wins are definitely on the table" for Fernando Alonso and Aston Martin on the evidence of the AMR23's performance in the 2023 season-opening Bahrain Grand Prix.
Alonso recovered from losing two places at the start of the race to join a dominant Verstappen and his Red Bull team-mate Sergio Perez on the podium, passing four drivers while also benefiting from Charles Leclerc's Ferrari retiring with an engine problem.
The Aston Martin, the pace of which had been talked up ahead of the Bahrain weekend, ended up 38 seconds down on Verstappen's race-winning RB19 with Alonso estimating that around 10-15 seconds was lost making his way back through the field.
Verstappen, citing his own experience in previous iterations of Red Bulls, said that kind of ballpark was one that would allow Alonso and Aston Martin to fight for victories at tracks "which really suit your car".
"I hope so, for Fernando as well, because he has had a few years where there was not really a possibility to fight up the front," said Verstappen, asked if he thought Alonso could be a title contender in 2023.
"So I'm happy to see him sitting here already in race one.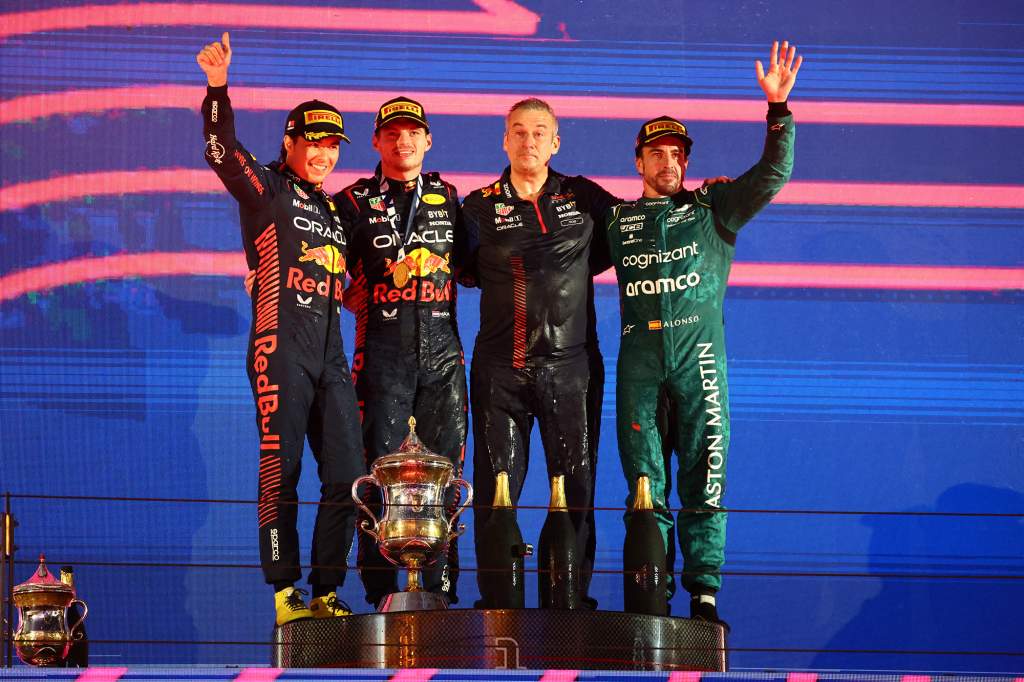 "I mentioned it before, but at Aston I think they really have the spirit and drive, they want to win, and they've hired a lot of good people. I guess it can only get better for them.
"For this year, it's difficult to say if they're going to challenge for the championship, but race wins are definitely on the table.
"I've been in the same position where some races I'm finishing 20-40 seconds behind the winners and you still win two or three races a year, because sometimes there are some tracks which really suit your car and everything just comes together and you can win a race with, maybe sometimes a bit of help or luck.
"But for sure they have a really strong package and now of course it's all about developing it further."
The gap Verstappen referenced was likely a citation of Alonso's estimation of where he would have ended up relative to the front had he not dropped back at the start – a consequence mostly of contact from his team-mate Lance Stroll.
In that answer Alonso played down the suggestion that he would have been close enough to the Red Bulls with a clean start to challenge them, saying there is no "real fight yet" to them in the context of his pace at the end of the race, when he was setting similar laptimes to Verstappen and Perez.
But he was optimistic there would be opportunities, possibly aided by circumstances, to repeat or better his Bahrain result.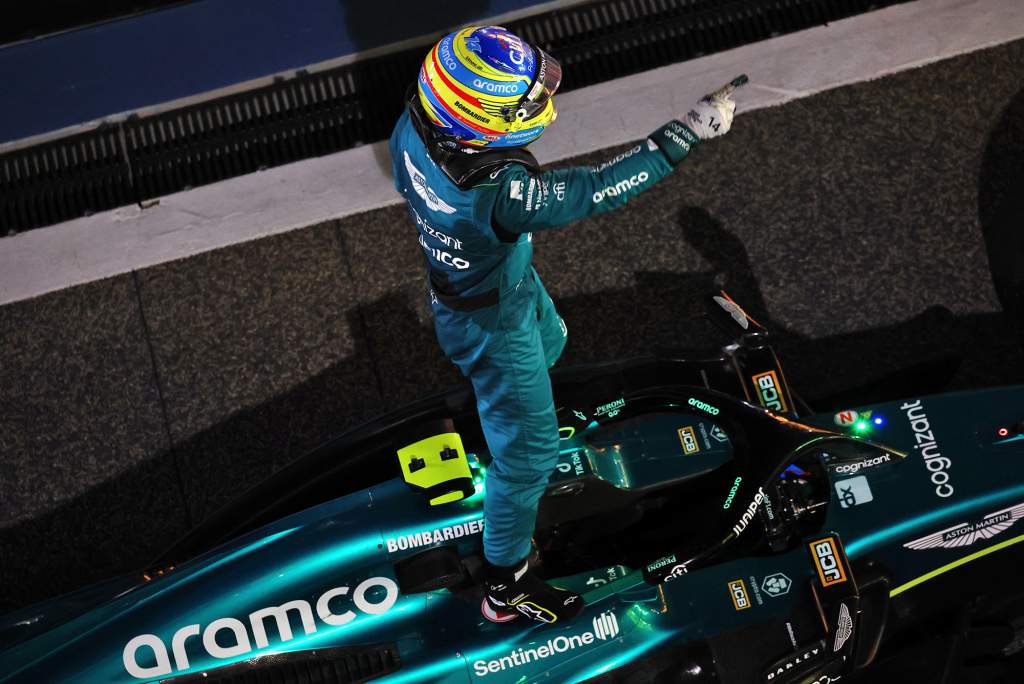 "I would say yes, because when you are third in race one, there are 22 opportunities this season," said Alonso, who noted that this was "just the beginning" for Aston Martin with a new design philosophy, on his prospects of winning a 33rd F1 race.
"And even last year, I remember in Canada, wet qualifying, we were on the first row of the grid.
"Anything can happen in 22 races with different conditions, and I will try my best to have the opportunity.
"Maybe we need some help; last year we needed some help from the top teams just to get a podium, maybe this year if there is this help or there is some retirements in front of us or some problems, maybe it's more than a podium.
"So let's hope for that."
He added that the last time he felt this positive about his start to a season was a decade ago when he won the 2013 Spanish Grand Prix – his most recent F1 victory.
"We had a contender package [then]," said Alonso. "But yeah, after that I think I didn't feel as good as now."
Perez, who drove for Aston Martin in its Racing Point guise, said Aston's 2023 car was a "tremendous effort" and that "it's great to see Fernando in his first race for the team on the podium".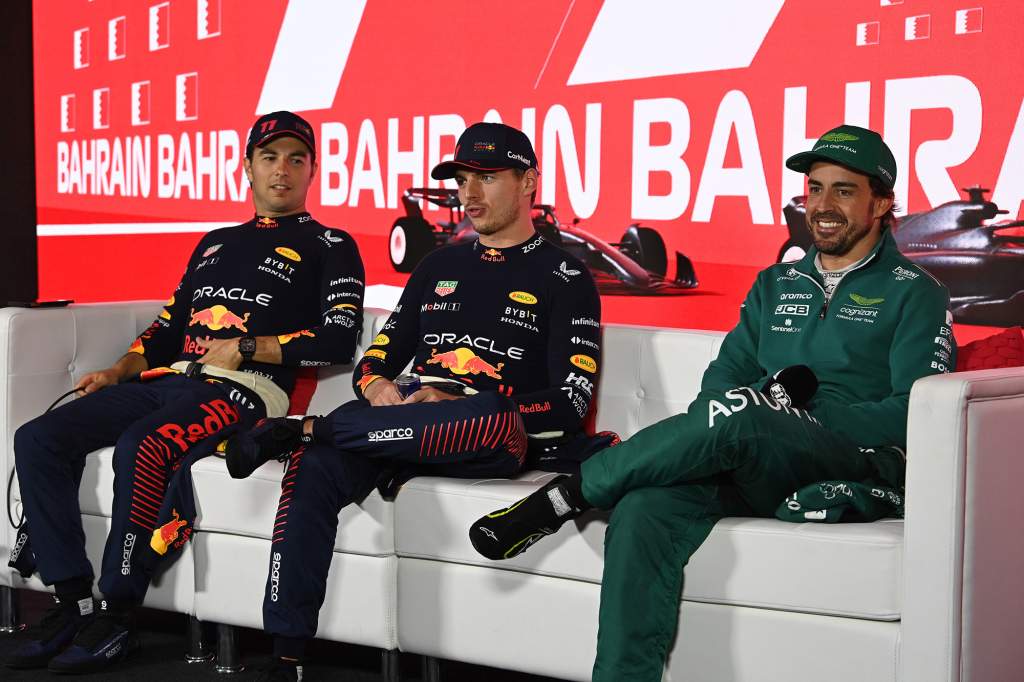 "I think they certainly have a very good car, they will be a contender for sure in a few tracks," said Perez, who had joked in the press conference he was happy to see 'three Red Bulls' on the podium – a reference to design similarities between the Red Bulls and Aston Martins this year and last.
"You know that these seasons in F1 are extremely long so anything can happen. So yeah, it's just nice to see Fernando and Aston [up there]."