This year has featured the rise of the feel-good Formula 1 story, like Valtteri Bottas's new lease of life at Alfa Romeo or Kevin Magnussen and his viking comeback at Haas.
Here's another. The driver who, a decade or so from the "heartbreaking" realisation her career would stall, is now employed by an F1 team, driving two full-season programmes in very different disciplines, and able to reflect on a happy ending to the "f*****g tough" process of trying to make something from nothing.
Aston Martin driver ambassador Jessica Hawkins kicked off her 2022 with a race-winning start to the TCR UK Championship and a podium in the W Series opener in Miami. She's poised to begin a new simulator programme with her F1 team, too, in an expansion of her off-track programme.
This is roughly where a driver who starts off scoring podiums, wins and even a British Open Championship title as a kid might one day hope to aspire to. It is, however, so far from where Hawkins looked to be heading when she changed course entirely and took a job as a stunt driver, believing her racing dreams to be over.
"I don't even know how to even explain or where to start, really," Hawkins says when The Race asks about the second wind her career is now enjoying.
"But it's really nice that you notice, firstly. It was really annoying that at the time, I couldn't make the transition because of budget. It was really frustrating and heartbreaking.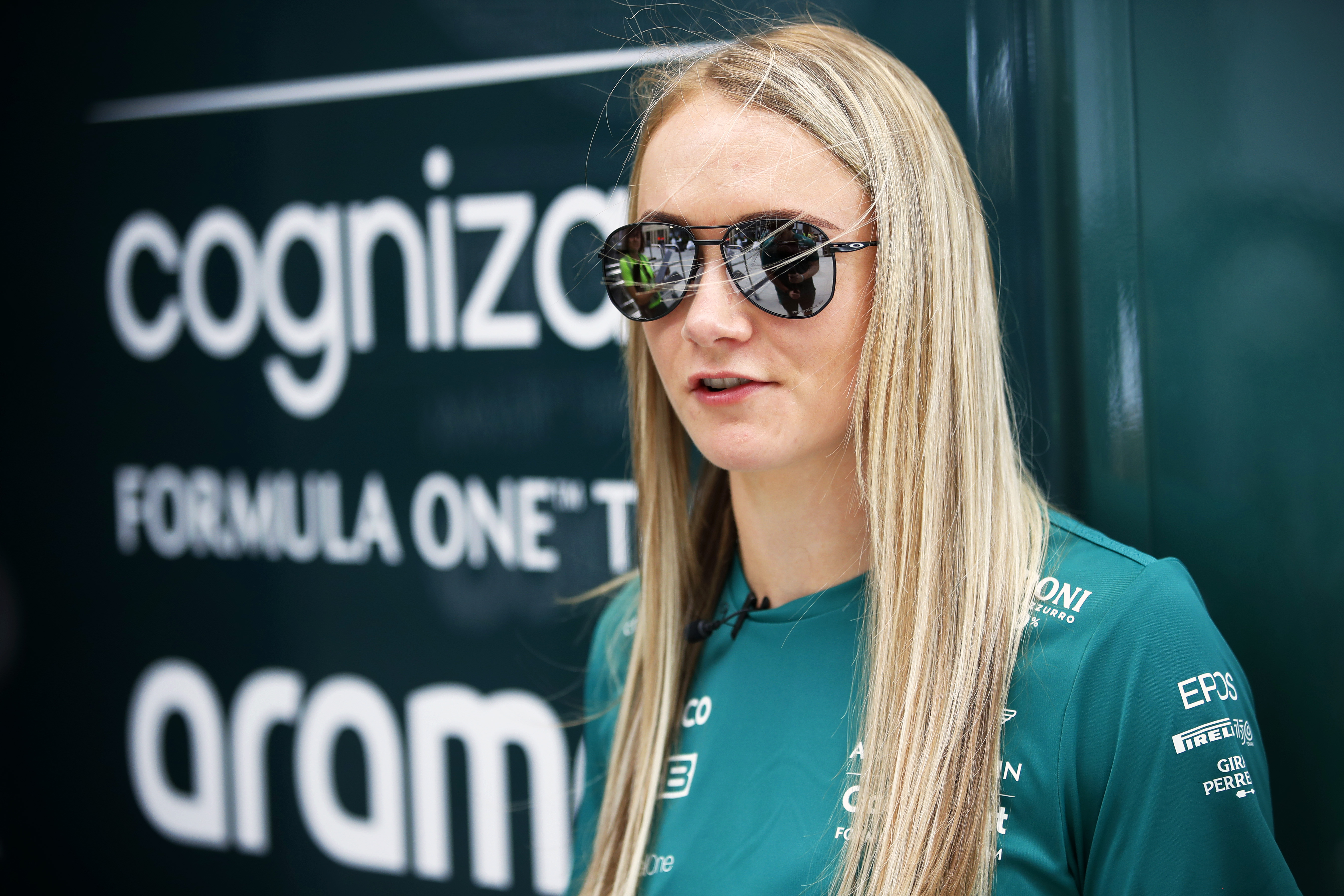 "After karting, I won the opportunity for a test day in a Clio, that was the only reason I had my first go in a car. And because that test in the Clio went really well, Renault helped me out to do the next race of the season, which went really well. But then after that, there was another six months before my next race.
"My second wind came about me taking an opportunity in the stunt driving world because I've run out of money to go racing.
"It was a closed-door that led to a different door opening, which then led to a whole load of different doors opening.
"What was really frustrating at the time actually probably turned out to be one of the best things that ever happened to me in a weird and wonderful way."
Hawkins has one of the more eclectic driver CVs. An impressive range of experiences goes: Renault Clio Cup Road Series, British Formula Ford/MSA Formula, Volkswagen Cup, MRF Challenge, Mini Challenge, W Series, the British Touring Car Championship, the Jaguar I-Pace eTrophy and TCR UK.
The basic numbers will tell you she's been racing cars since 2014 but if you expect to find any kind of regular programme within the above list you are mistaken.
"I was only able to race through opportunities that externally would present themselves," she says.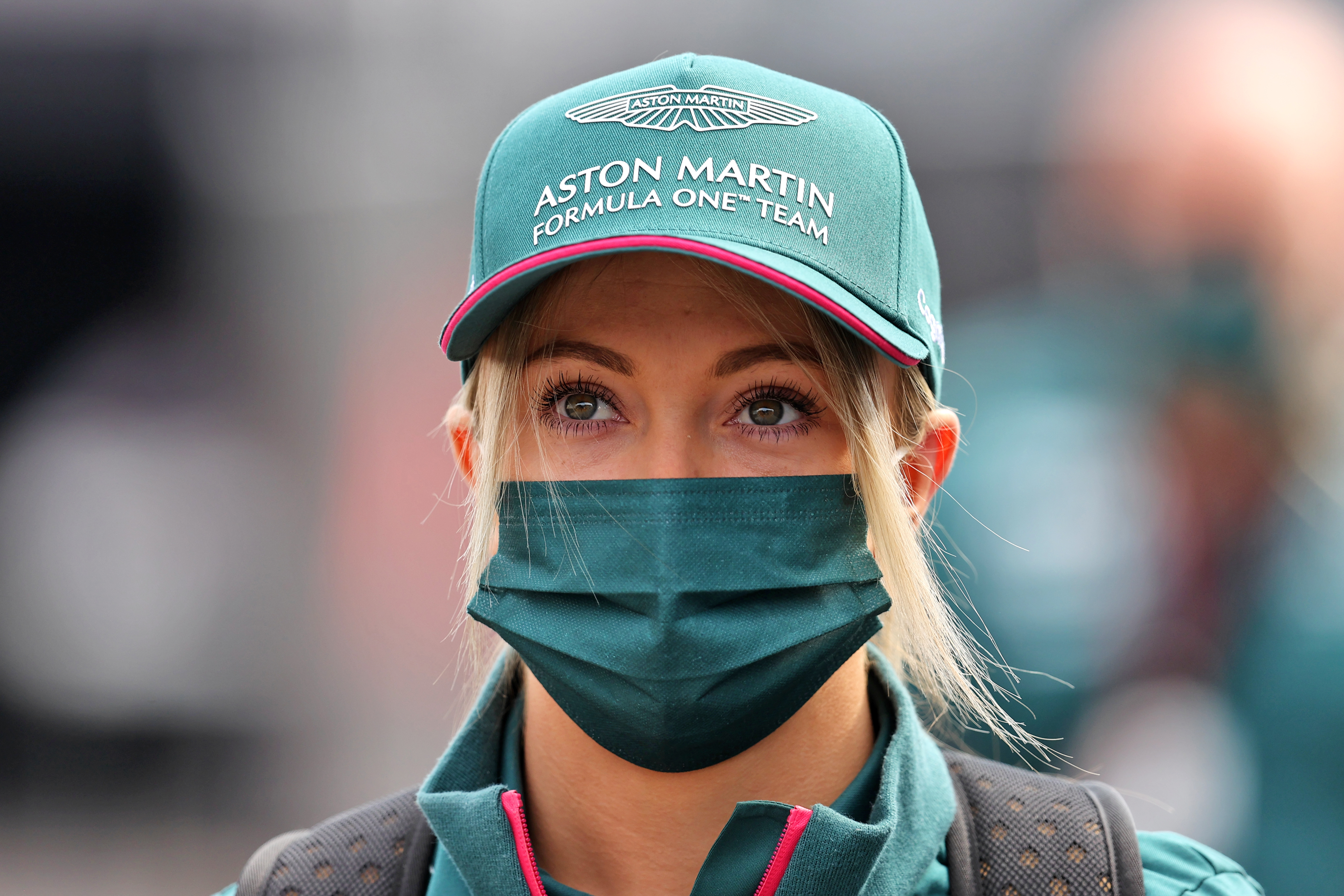 "I didn't have the money to go and race in what I wanted to go and race in.
"I was really dependent on opportunities coming from wherever they came from, so if a drive came up in a Clio, I would drive the Clio. If a drive came up in the MSA Formula, I'd drive MSA Formula.
"My first go in Formula Ford, I've never driven a single-seater before, and it was Oulton, I've never driven the circuit before. And I was thrown into qualifying.
"Like, you wouldn't do that in your right mind. But the opportunity was there. And it was the only one at the table at the time. So I had to take it.
"Whilst I say it was frustrating at the time, what I think it did teach me is how to learn quickly and how to adapt quickly. Annoying at the time, but probably actually give me the world of good."
What Hawkins lacks in terms of experience and refined technique – which is inevitable given she has not been driving consistently for many years – she can at least attempt to make up for with just a dash more versatility than most drivers. She sees adaptation as one of her fortes, likes learning new tracks, and is more than happy to consider any opportunity.
Perhaps the best example of that was accepting a one-off drive in the BTCC in each of the 2020 and 2021 seasons. A notoriously competitive category, in which some drivers have been racing for 20+ years, is not the sort that treats newcomers kindly.
Hawkins was never going to pull up trees. But she did better than most would have expected, especially in the second appearance, in 2021, when she qualified 17th of 29, ahead of two-time champion and 94-time race winner Jason Plato.
That's left her feeling "unfinished business" in a series "close to my heart" – which is why she's now in TCR UK full-time, alongside W Series.
There aren't a lot of people dovetailing touring cars and single-seaters.
"I wasn't sure I was going to be doing W Series again," she says.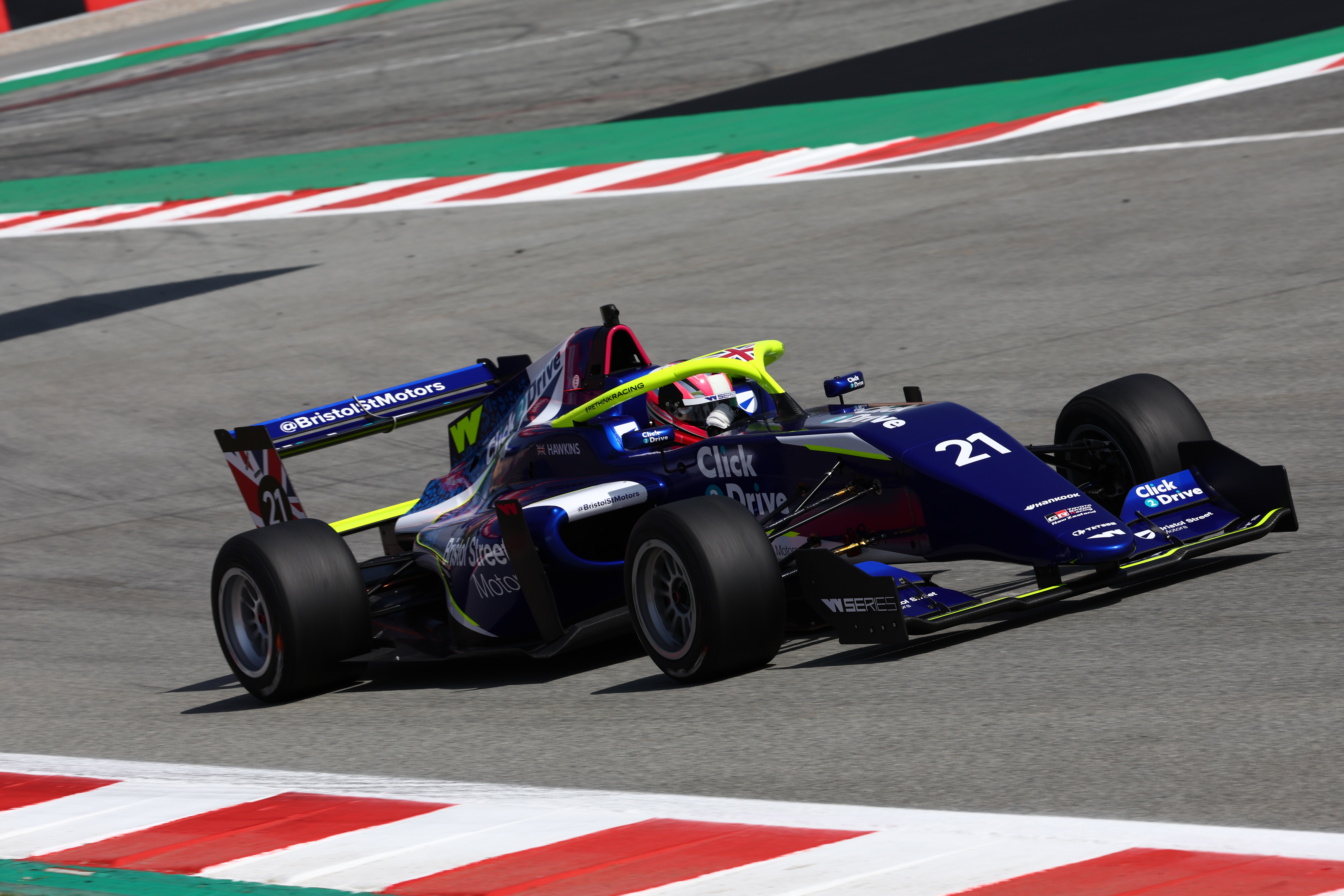 "And a high-level front-wheel drive championship has always been a dream of mine. Probably the BTCC is at the top of that. But I also know that it may take a while and a couple of different championships along the way.
"So, I'd set my sights on being able to make TCR happen, thinking in my head that I've already tried to make something for 10 years, so it probably won't. And then it actually came together really quickly.
"And then W Series was happening again. So honestly, it was never my intention to do them both together.
"But if there's one thing that I've struggled for in my career is track time. I'm getting a lot this year, which is fantastic.
"They probably don't help each other. But I don't think they are a hindrance because they're so different. I don't think it's easy to get them confused."
Things started well. She won on her first weekend in TCR UK although the two events since have been more in keeping with her initial expectations, which was to fight for the top 10 in a grid of almost 30 cars. In W Series, she qualified sixth for the Miami opener and finished on the podium. For a championship in which she expects to have a slow-burning season, this was an unexpectedly quick start.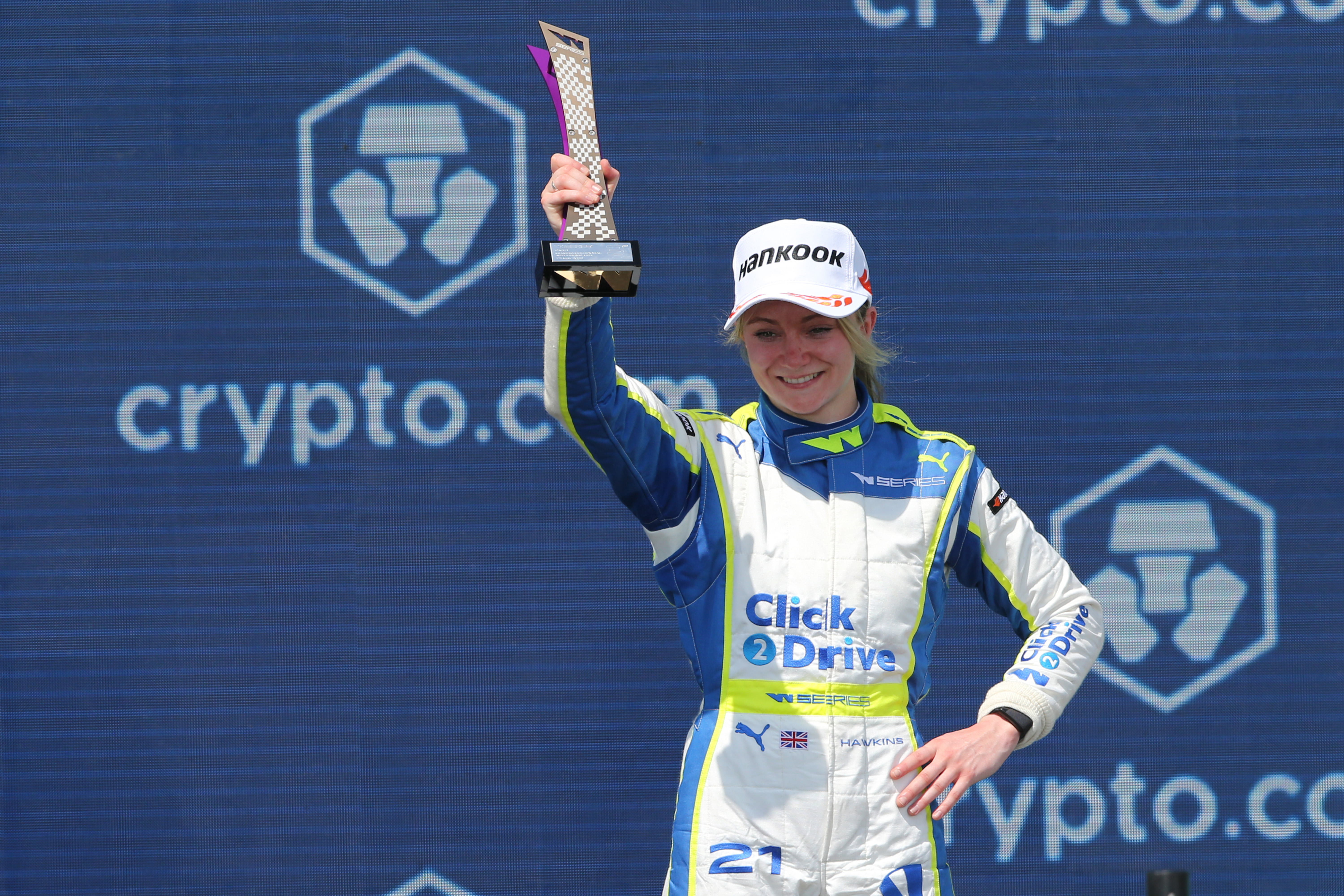 "W Series is really quite difficult, because I'm competing against people that have the facilities to do testing between season one and season two, quite a lot of testing actually," she says.
"So I always expect a steady start in W Series. And I always expect a rise throughout the season.
"But to start the season off with a race like that was incredible. Obviously, it was a massive anti-climax the next day, unfortunately breaking down.
"But if someone had said to me, look, you'll get on the podium in Miami, but you'll also break down in the next race, will you take it? I'd have probably taken it."
The next race in Spain was less successful, finishing outside the points on her first experience of Barcelona. And in general, Hawkins' W Series results are modest.
Miami equalled her best qualifying performance and was her first podium. That she is eighth in the championship after finishing 11th the first two seasons shows roughly where she is in the W Series crop – but that's not to be taken dismissively. It's just a reflection of reality.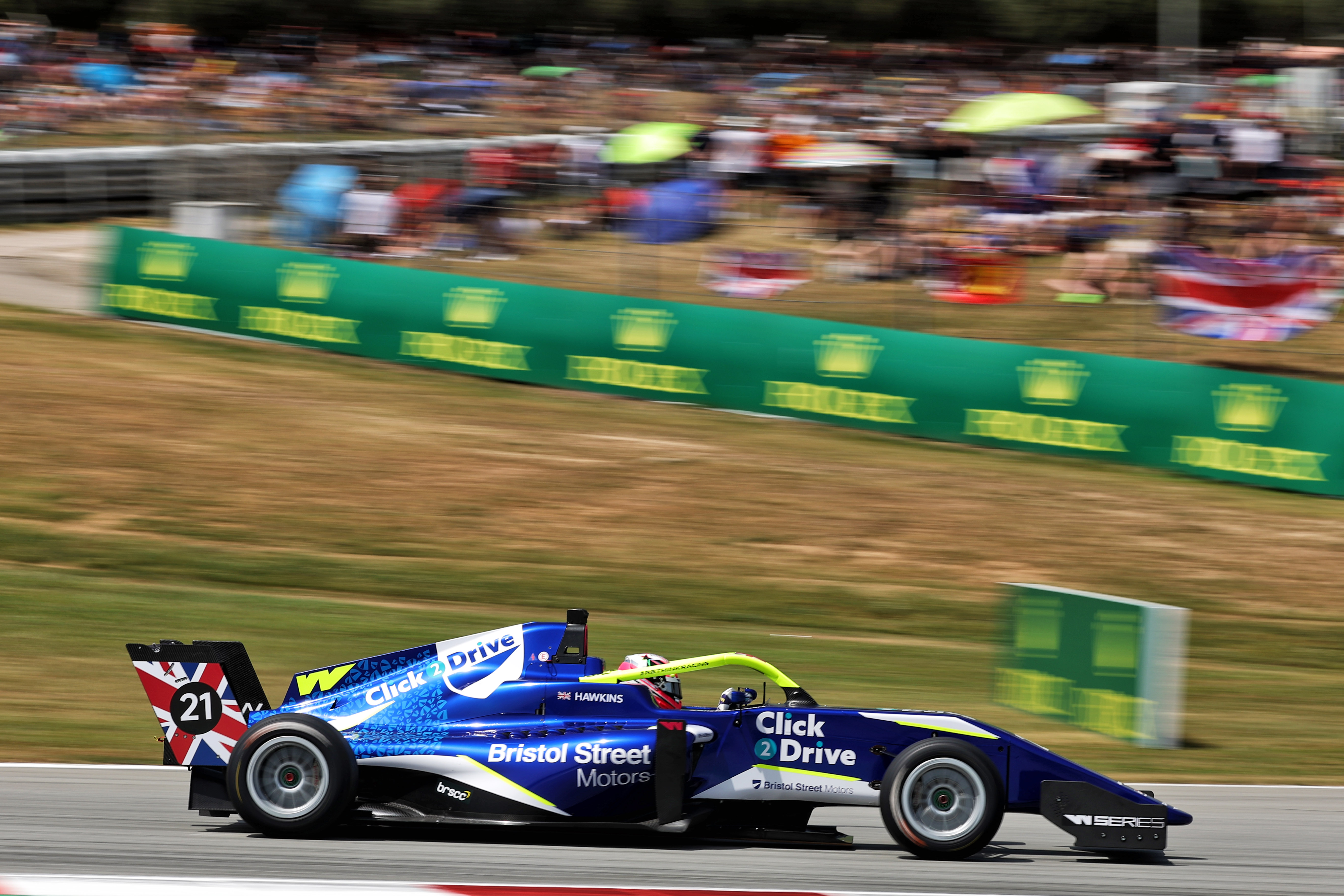 Hawkins is part of the crop of drivers for whom W Series represents an opportunity that would otherwise have never come along. But unlike many of the more obviously 'exciting' prospects, she is not returning to single-seaters, or adding another single-seater programme, or even stepping up the ladder into the championship.
Hawkins makes her views on W Series very clear: "It's a great championship, I love what they're trying to achieve."
However, she is also keen to point out that while two-time champion Jamie Chadwick acts as a very good benchmark to the other drivers in the series, a direct comparison is not fair.
Chadwick is the best of the bunch but has also been racing single-seaters since 2017. She completed two years of BRDC F3, won the 2018/2019 MRF Challenge, and had a few different single-seater outings in 2019 alongside winning the inaugural W Series, then F3 Asia, Formula Regional European and of course W Series again.
"Jamie has done five or six years or some sort of Formula 3 now, a wealth of testing, and she delivers," says Hawkins.
"You'd hope that she delivers from doing what she's done but she's obviously very talented. She wouldn't be winning if she wasn't.
"She has the legs on us. She is definitely a very good benchmark and also you've got drivers like Alice [Powell] who may not have recent single-seater experience but she's done GP3, and you don't forget how to do it."
No sour grapes there, just the reality of two different careers. And Hawkins has plenty going for her that's a world away from what was possible a few years ago.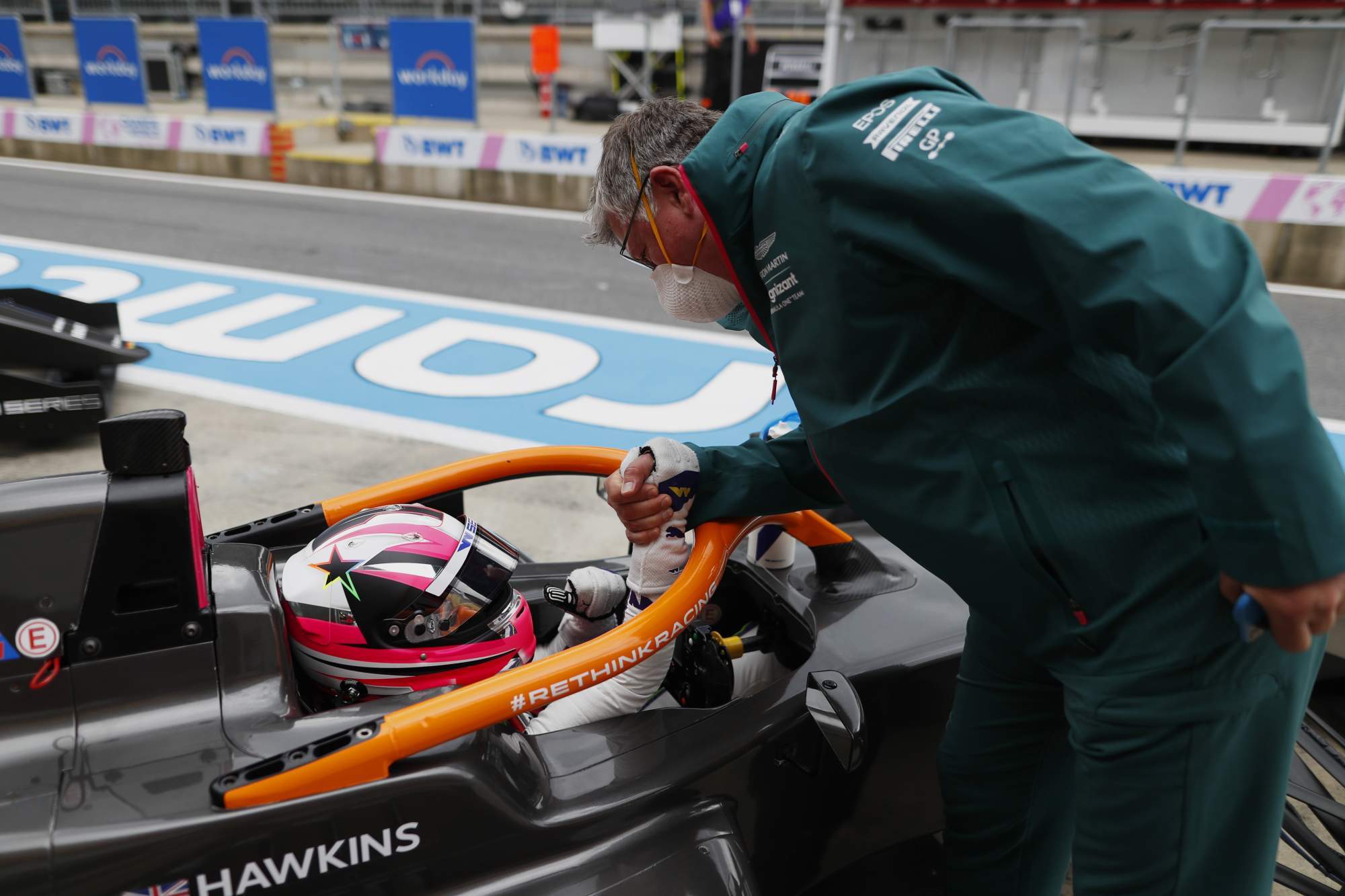 Aston Martin adding some simulator work might be seen as an extra degree of legitimacy to a position that critics usually scoff at, but Hawkins has thrived with her new-found responsibilities off-track.
"Role models in general is a subject that I've become quite passionate about, and maybe I took it for granted a few years ago," she says.
"But within this last year, I've really noticed and realised the impact that figureheads and ambassadors have to the next generation.
"Being able to showcase that and talk and help the younger generation is really, really rewarding.
"I didn't know what racing was when I was growing up. And if I never saw that kart track in the distance, when I was seven or eight years old, my dad never would have taken me there.
"He wouldn't just randomly said 'Jess, do you fancy going karting today?'. Because that's typically a boys' thing to do.
"If I'd have never seen it and I asked him to let me have a go, would I be here right now? No way.
"I really like the idea of opening people's minds. And it's not just the kids, I think it's led by the parents that anybody can be whoever they want to be, if they know it's possible."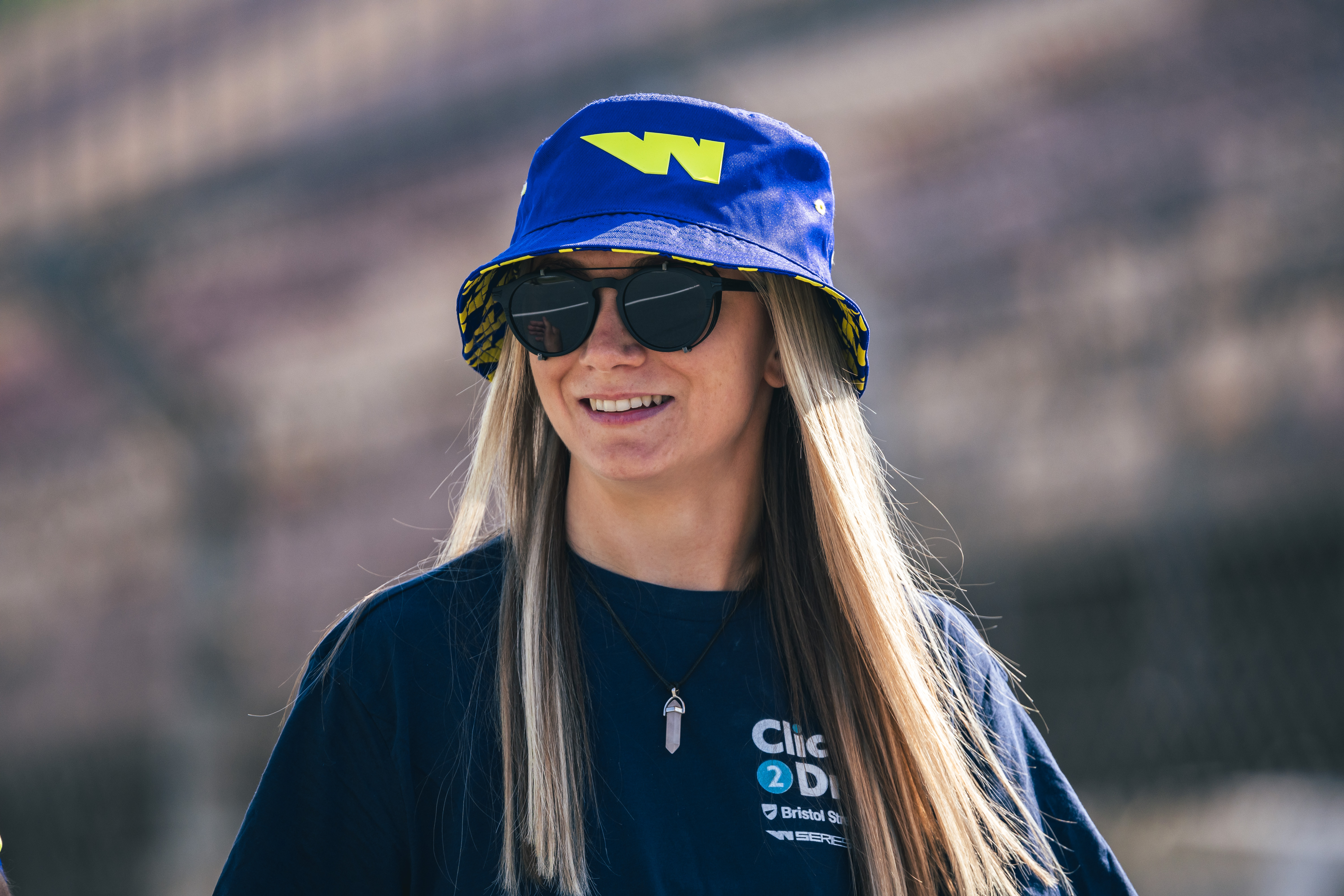 Hawkins describes herself as "no big feminist" but finds herself "completely baffled" by inequalities in the perception, as much as anything, of male and female athletes.
That's one of the reasons she loves W Series, which she believes is helping create an eco-system from which a legitimate female F1 prospect will emerge: "I don't think it's going to happen tomorrow. But then I also don't think we're a million miles away from it happening."
"W Series are giving opportunities to people like myself, who would never get that opportunity to do it – and quite a few more on the grid," she says.
"An opportunity to do that is unbelievable, and almost unheard of. So I don't have a bad word to say about them.
"What they're doing is amazing, creating opportunities, and not just me, it's jobs within motorsport for females, like female mechanics, to learn and have a base.
"They're not just helping drivers, they're helping motorsport essentially, helping raise awareness, they're helping young kids that look up to the championship that maybe want to go racing."
Representation is an increasingly important thing to Hawkins and other people in motorsport. Whether that's gender-related, race-related or – as has been seen during Pride month – a matter of sexuality.
Hawkins herself is in a relationship with fellow W Series driver Abbie Eaton. And her voice is a great addition in a month of F1 and the members of its paddock discussing LGBTQ+ matters.
"It was a little different for me, because it was not something that I was hiding," she says.
"I've previously had boyfriends. But I'm now in a relationship with a female and I'm very happy with my girlfriend, I'm in a happy relationship.
"It was just something I never in my head thought would ever be a possibility because I grew up thinking that being with a man is the right thing to do. So that's what I did.
"It was only when I met Abbie, that I was like, 'Oh, s**t, maybe this is…' and it took a while for me to accept. Not that long. But I was worried for quite a while: 'Oh, I can't be with a female, that would mean I'm gay'.
"But once I'd accepted it, I realised that, really, who cares? And we've got figureheads in the sport, like Seb [Vettel, Aston Martin's increasingly vocal ally], Lewis Hamilton [another supporter of all manner of social issues].
"Seb is married, three kids, he's not gay, and he's sticking up for everyone.
"I just think it needs to become a safe space. And it needs to get to the point where we don't need to have that plastered everywhere.
"At the moment we feel we have to do that, because it's obviously not as accepted as we want it to be."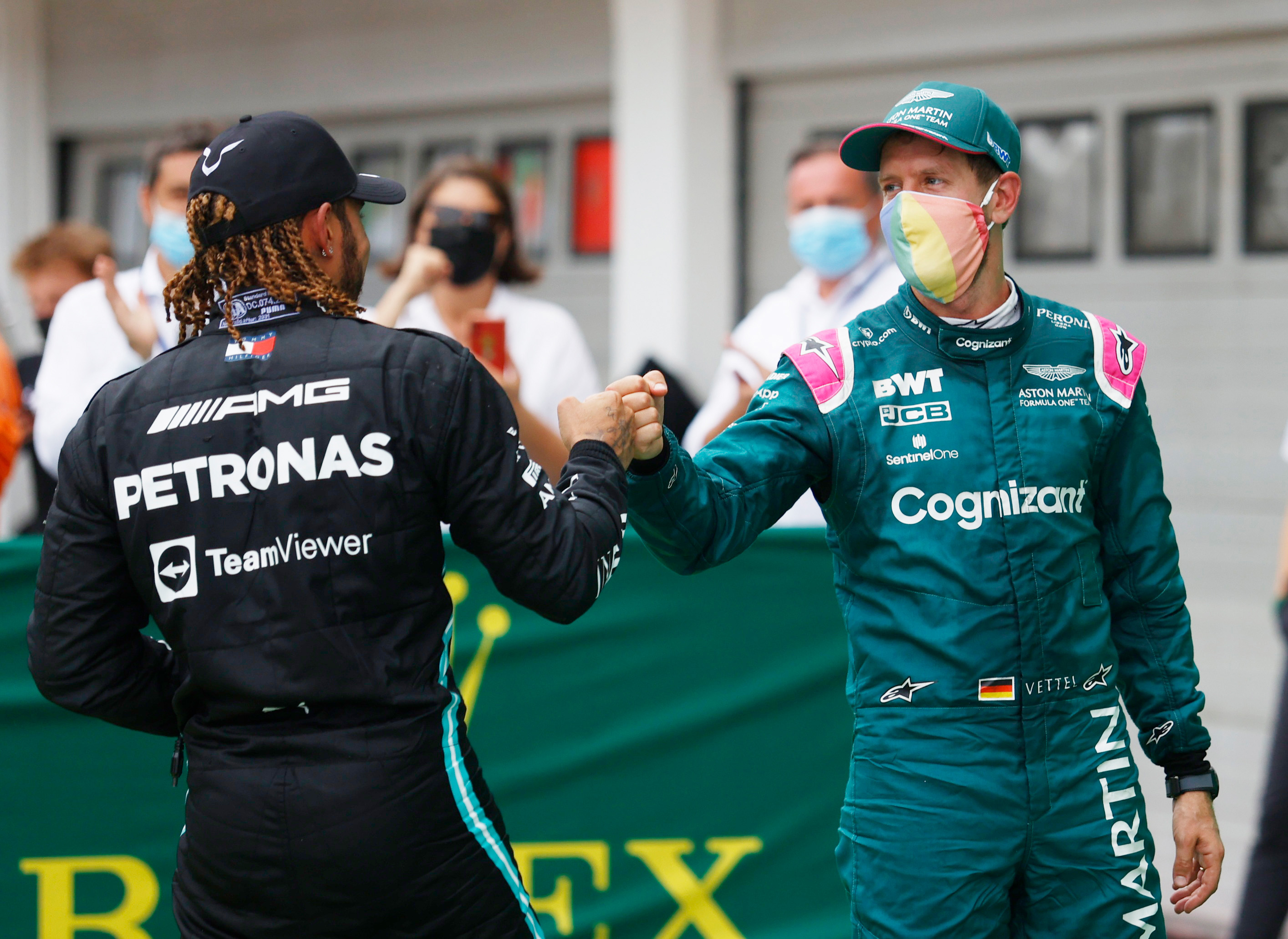 It's a testament to Hawkins' openness and the wide-ranging nature of her personal and professional story that our conversation arrives at her internal conflict over how her new relationship would be received when we began talking about conventional matters like 'running out of money to go car racing'.
That sort of stuff feels quite trivial when the conversation shifts to someone fearing their identity will be questioned or criticised. Perhaps, though, it is all linked in a way.
It's always risky to make assumptions about a person's happiness. How things seem from the outside aren't always a reflection of what they feel in private.
But, we suggest, it does at least now seem like a of things are coming together at the same time – the job with Aston Martin, the first full-time racing programmes of her career, and the contentment in her personal life?
"Maybe that's what I was missing in my younger career," she ponders.
"It was difficult to ever find a path and difficult to find a break. And things have aligned now.
"I'm more than happy here. I love what I do for Aston Martin and long may it continue.
"Things are going well. And I am very happy.
"Never did I ever expect it to be what it is or what it's turned out to be.
"Obviously I was hopeful that I'd have a career but really, I had absolutely no idea what I was doing. I was just doing what I enjoyed and hoping that something would maybe one day happen.
"And it did. Anything worth having doesn't come easy. And it's been f*****g tough at times.
"But we're here now. And it's worth all of the hard times."