Alpine has admitted its Formula 1 team has a "male-dominated" banter culture that it is trying to counter, alongside the launch of a partnership with LGBTQ+ initiative Racing Pride.
The Renault works entry joins Aston Martin's F1 team in being an industry partner of Racing Pride, which aims to promote LGBTQ+ inclusivity through motorsport.
Racing Pride has assisted with a consultation in Alpine to understand "challenges and prejudices" within the organisation and has reviewed the team's existing policies and recommended improvements in diversity and inclusion.
"An early indicator is found in an Alpine staff survey conducted at the end of 2021, which identified that while the majority of staff felt respected, valued and appreciated in their environment, a number identified a male-dominated legacy culture with a strong culture of banter," an Alpine statement read.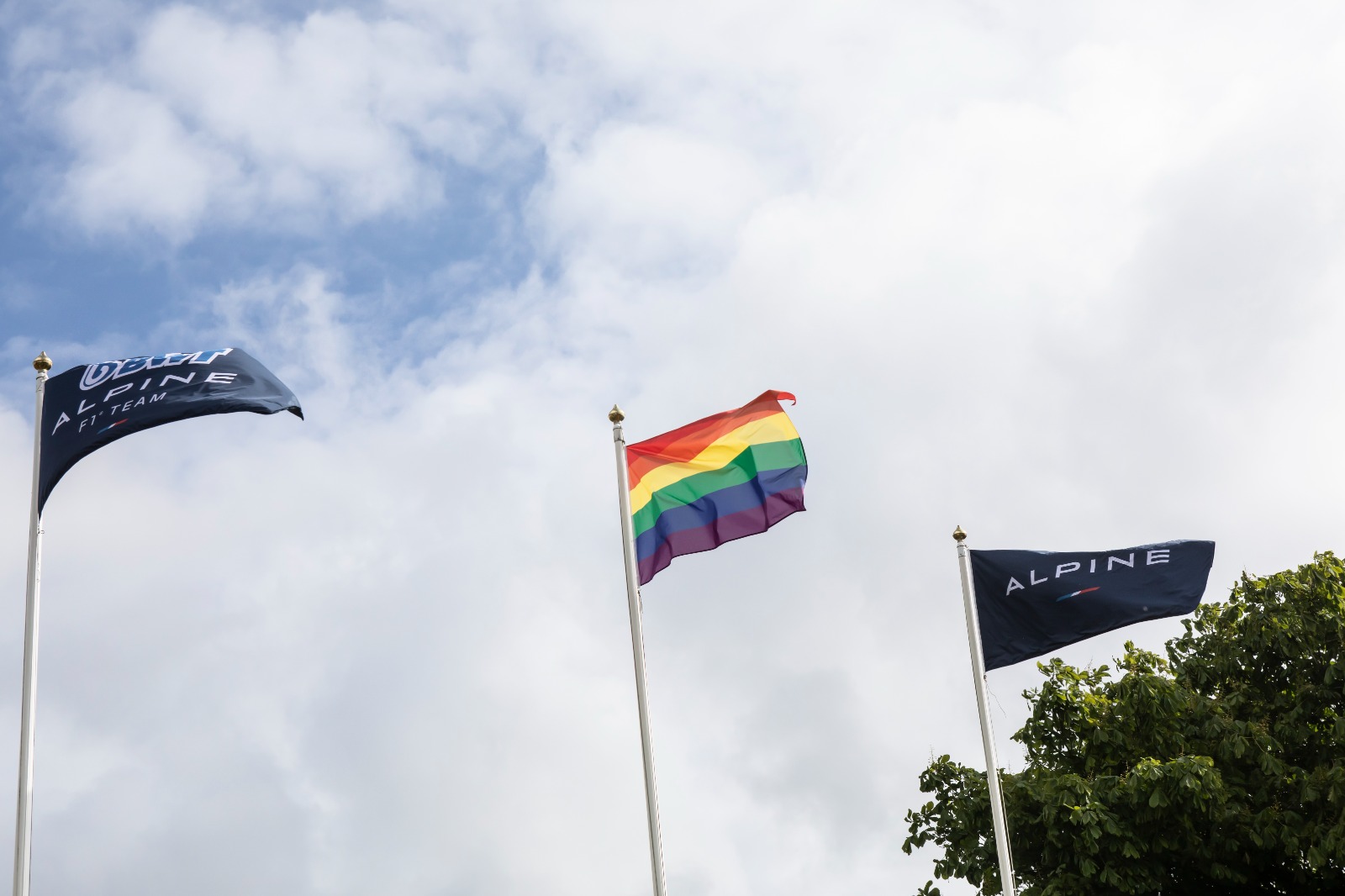 "Initiatives are now in place to start to counter this and encourage empathy by helping team members to understand and appreciate the experiences of different communities."
Alpine will run "symbols of allyship" through June, which is Pride Month, including the colours of the rainbow flag on its F1 cars in the Azerbaijan and Canadian Grands Prix.
Laurent Rossi, Alpine's CEO, said: "The LGBTQ+ community has lacked visible representation and support within our industry, and we need to change this."
Mercedes has also revealed the logo on the nose of its F1 cars will have rainbow colours.
Love conquers all 🌈❤️ pic.twitter.com/DsLoWUqW54

— Mercedes-AMG PETRONAS F1 Team (@MercedesAMGF1) June 9, 2022
It is significant that teams will run such branding in Baku this week as while homosexuality is legal in Azerbaijan, same-sex marriage remains outlawed and there is no legal protection against discrimination.
There are likely to be several other displays in supper of Pride month within the F1 paddock.
Earlier this week, it was revealed that Aston Martin driver Sebastian Vettel was the cover star on the July/August issue of Attitude magazine, which is now on sale.
Sebastian Vettel, four-time World Champion and ally to the LGBTQ+ community.

Today, in celebration of #Pride, Sebastian becomes the first #F1 driver to appear on the front cover of @AttitudeMag. 💚

Discover more. ➡️ https://t.co/zzQwmjR20J pic.twitter.com/CD1RpOpoYC

— Aston Martin Aramco Cognizant F1 Team (@AstonMartinF1) June 8, 2022
Last year Vettel vocally supported the LGBTQ+ community in Hungary and Saudi Arabia, where they face significant discrimination.
"I did it because I wanted to show that I didn't, and wouldn't, endorse the anti-LGBTQ legislation that had recently been enacted," Vettel told Attitude about his Hungary demonstration.
"I didn't do it to be popular, but if LGBTQ people who had been upset by the legislation were encouraged to see that I'd stood up against it, obviously that's pleasing to know.
"And perhaps more Formula 1 fans have begun to think about diversity and inclusivity because of the actions of some of us – and, if they have, I'm pleased. I'm happy and honoured to be your straight ally."
F1, like many major sports, has no openly gay competitors. Earlier this year, Blackpool football player Jake Daniels became the first active male professional in the UK to come out as gay since 1990.
Vettel said he felt a gay F1 driver would now be "welcomed" whereas he suspect it would not have been the case in the past.
"I guess it might be similar to the situation in a sport like football: the old image of a player or driver as a 'hero' who should match a certain set of criteria," said Vettel.
"But the judging criteria are just wrong. How are those stereotypes in any way related to performance? Who got to decide?
"It takes enormous courage to show your real self rather than hiding behind a facade based on what people expect."