Few moments in modern history are as 'stick to sport'-defying as Sebastian Vettel appearing on a British topical debate television programme to discuss the global climate emergency, the UK's cost of living crisis, Brexit, Germany's dependence on energy from Russia and the safety and protection of countries vulnerable in the wake of Vladimir Putin's war on Ukraine.
In doing so Vettel, the self-confessed environmental "hypocrite", willingly put himself in the firing line of naysayers. Some have gleefully accepted the invitation – not that Vettel will care in the slightest.
"You've talked a lot about energy…does that make you a hypocrite?"

"When I get out of the car, of course I'm thinking, is this something that we should do?"

On #bbcqt tonight, F1 driver Sebastian Vettel and the panel discuss the energy crisis.

Join us at 10.40pm on @BBCOne. pic.twitter.com/LVMMs4CuvY

— BBC Question Time (@bbcquestiontime) May 12, 2022
The four-time world champion has looked increasingly comfortable in a statesman role in recent years. Like his fellow Formula 1 star Lewis Hamilton, he has invested more and more time in important off-track issues and tried to raise awareness of worthy causes.
Appearing on a show like Question Time, knowing you're an easy target to be labelled a hypocrite, is part of that. Vettel has already received a warm amount of applause for how he took on such a task. But he's had an unfair share of cheap shots, too.
The primary ones are that questioning his future is a very convenient position to take for a driver at the end of his career, and the bog-standard accusation of virtue signalling about the environment while happily pocketing a load of cash from the organisations destroying his supposedly beloved Earth.
Two things here. First, it's so unreasonable to think Vettel should have thought and acted as a 25-year-old the way he does now. His evolution into a campaigner hasn't happened to boost his public profile or to re-invent his image.
It's a reflection of his growing interest in topics beyond F1 and understanding of big problems, and a desire to use his platform to do what he can to contribute to solutions.
Yet some lie in wait to kick the legs out from under him, seemingly oblivious to the fact that Vettel's own growth mirrors the reality that humanity is awakening to these issues far later than it should have but it is better to address them later than never.
Second, to suggest Vettel's happy in some supposedly two-faced position is the same accusation that is always lobbed at Hamilton: 'He doesn't really mean any of this, it's all a front, if he cared so much why not give his salary to X, Y or Z.'
Vettel is trying to reconcile a conflict between his concerns as an adult and his long-held passion for the job he dreamed of having as a child. It clashes with an awful lot of what he now knows is vulnerable and important.
He doesn't need to be held up as some hero for confronting that conflict but he certainly doesn't merit scorn or mockery. Vettel's setting a fine example, with a disarming charm, that the world is a complicated place but it's better to try to work towards understanding problems than it is to take the easy way out and live in your own bubble.
In his Question Time appearance, two potentially awkward moments could have left Vettel floundering. Being confronted with his apparent hypocrisy was one. Admitting to it was a brilliant way to cut through the awkwardness of the question. No justification, simply an acceptance that, yeah, the optics around this really are not good at all.
The other moment was an interruption to get to the point of a question about Brexit when he initially appeared to be going off on a tangent about energy – for the umpteenth time.
But Vettel was not to be put off his stride as, he said, the attitude towards energy was entirely analogous. These are big-picture problems, he said. And when you try to drill it down into very basic, short-term things, and take a selfish view, you must deal with the consequences.
As Vettel accepts, it is entirely justified to challenge how serious he is on certain topics given the big clash between what he says and what he does for a living. So how big is that clash?
Quite big.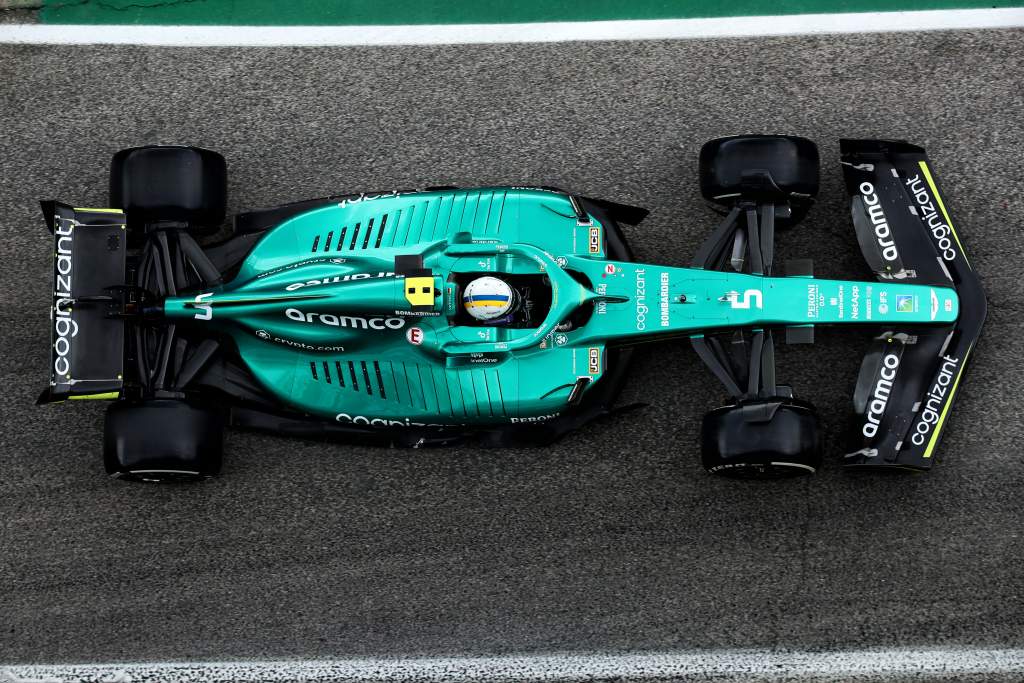 What makes F1 such a "gas-guzzling" sport, to use Question Time host Fiona Bruce's phrase, is not really the cars themselves. It's the global travel, the factories, and the infrastructure that facilitates the racing.
It should be easy to see that the cars are not F1's biggest problem in reality, but only when you have the numbers that show they contribute around 1% of F1's actual carbon footprint. Optics, as hinted at before, matter.
Most people don't see Vettel getting on a plane 40 or 50 times a year, when 'he' does the real environmental damage. So, when he's considered a hypocrite, it's for the 23 weekends (give or take) he's in his F1 car. To paraphrase one of Vettel's main points from last night's TV appearance: those people are missing the bigger picture.
Vettel willingly put himself in the firing line of that fundamental misunderstanding because he thought of the benefits of contributing to a discussion, getting people to pay attention to it, and learning something himself, were a worthy payback.
He also took on a range of topics that many would consider him totally out of his depth in, and – at the very least – held his own.
The safer option for Vettel was to listen to so many of the critics and 'stick to sport'.
Not for the first time, he has shown what a massive waste that would be.