After every grand prix, The Race Members' Club is invited to send in questions for our pundits to answer on the post-race episode on The Race F1 Podcast.
George Russell's dramatic last-minute crash out of the Singapore Grand Prix prompted member Jeremy Hustead to get in touch with this question:
"Does George Russell throwing away a probable win further call into question his status as a dead-set future world champion? Edd's comments on a recent podcast about being more sceptical about Russell's status and his performance in Singapore spawned this question!"
As Jeremy mentioned it seemed only fair that presenter Edd Straw, having sounded more uncertain about Russell lately, was the first to tackle the topic of Russell's error rate, progress and whether fans or even his team should be having any doubts about the man Mercedes has put its faith in to be its eventual post-Lewis Hamilton lead driver.
"I don't want to sound too sceptical about George Russell," Straw said.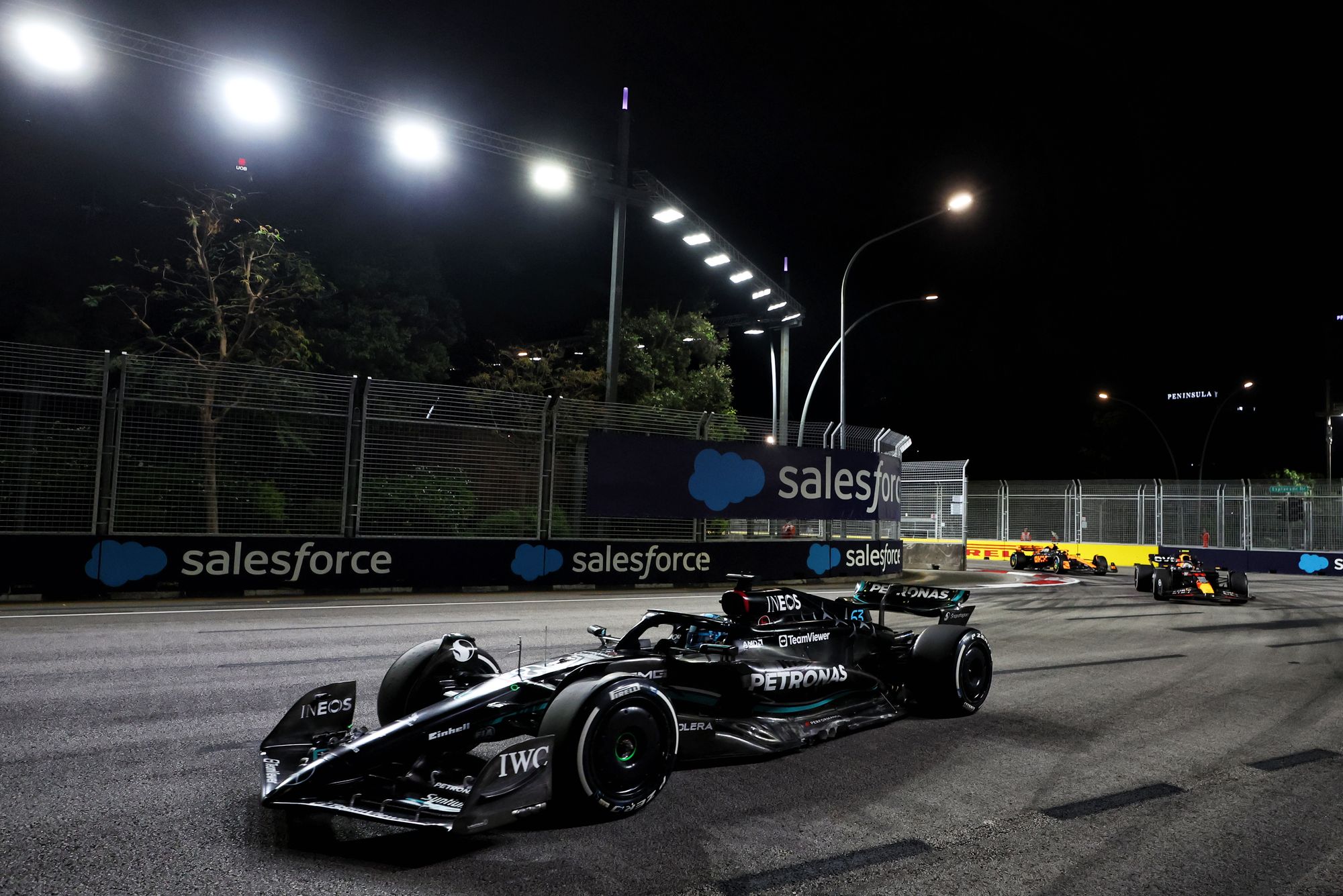 "There are a few things I want him to tick off, shall we say.
"I don't think at the point where he went off there was a win on the cards anymore. He needed to get past Lando Norris earlier.
"But ultimately you can think back and all of the great drivers have had incidents like this.
"I can remember Lewis Hamilton even after he'd won his first world championship sticking his McLaren in the wall at Lesmo on the last lap of the 2009 Italian Grand Prix trying to chase a second place that perhaps wasn't there.
"It's all about learning from it. I think Russell's got a lot of the qualities needed to be a world champion. We know he's going to be with Mercedes for at least a few more years.
"But I do just want to see those little errors being eliminated. This is a learning experience.
"Is he a dead-set future world champion? I wouldn't necessarily say dead-set. But he's definitely trending that way.
"And I would be more surprised if he didn't win a world championship than if he did. Let's put it that way.
"He's a very high-quality driver."
Scott Mitchell-Malm also tackled the topic of Russell's error rate elsewhere in the episode while discussing Russell's anger at himself over the incident.
"He even said he's made a couple of "stupid" mistakes in his F1 career now - for instance with Williams at Imola in 2020 under the safety car - so he knows that for some reason it's possible for him to have this tiny lapse of concentration that's a silly error that has huge consequences," said Mitchell-Malm.
"And that has to be a takeaway from this race for him. If it's not, he won't improve on it.
"One thing that Russell is very good at is that when he has a scrappy weekend or a silly mistake like this one, he does learn from them and he does come back stronger for it.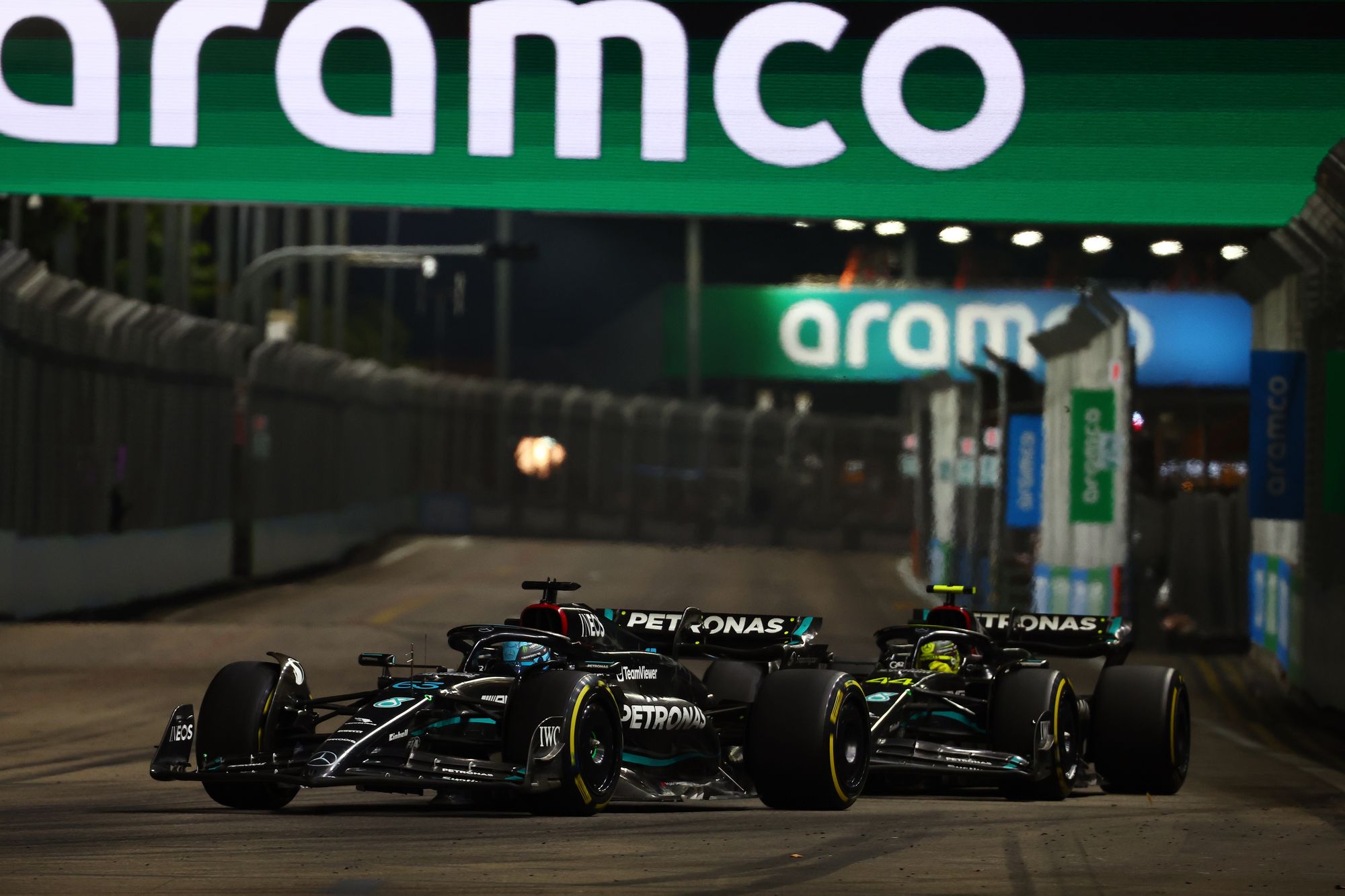 "And this is a painful way of finding that out because he was quicker than Lewis Hamilton this weekend over one lap. I think Hamilton looked like he was stronger in that final stint but Russell was the one that had track position.
"Despite an overall better weekend, Russell's come out of it having put the car in the wall and Hamilton's come out of it with another podium, he's third in the drivers' championship and the gap between them in the championship is massive now.
"I know Russell has had a couple of issues completely out of his control contribute to that but those weekends add up when Hamilton's constantly cashing-in great weekends and mitigating bad ones and Russell's just a bit more hit-and-miss."
---
For your chance to ask questions for our podcast panels to answer, to comment on articles and discuss them with our writers, get ad-free access to the website, early access to every episode of Bring Back V10s and much more, join The Race Members' Club.