Don't expect George Russell to feel too aggrieved about losing the Saudi Arabian Grand Prix podium he got to enjoy for a couple of hours while Formula 1 rival Fernando Alonso's post-race penalty was being hashed out.
A video doing the rounds of Russell finding out he'd originally inherited the podium showed he was happy but sympathetic towards Alonso and Aston Martin. He all but rolled his eyes when told of the reasoning for the penalty, and made a point in speaking both to TV crews and print media to point out he saw Alonso as the "deserving" third-place finisher.
Full respect. 🤝

The moment @GeorgeRussell63 learned he'd inherited P3 in Saudi Arabia. 👏pic.twitter.com/wki8C9dfQj

— Mercedes-AMG PETRONAS F1 Team (@MercedesAMGF1) March 19, 2023
But though seeing Alonso reinstated in that place should therefore be easier to take, there was a wider dissatisfaction from Russell about the "too extreme" sanctions throughout the Jeddah weekend.
An initial Alonso penalty, served in-race, had come because "at the time of the start signal, the contact patch of the [Aston Martin] car's left front tyre was outside of the starting box", as per the stewards. The following 10-second sanction, later overturned, was due to the rear jack coming into contact with the AMR23 while it was in the process of serving the initial penalty.
"I think it was very harsh what happened to Fernando," said Russell in the post-race press conference, invited there as a podium finisher while Aston was still in the process of lodging its ultimately successful 'right of review' request to get the penalty rescinded.
"In all honesty, I feel like some of these penalties have been a little bit too extreme. What we've seen this weekend, for some drivers that we saw in qualifying yesterday, and for what happened to Fernando."
Russell is the sole director of the F1 driver union Grand Prix Drivers' Association actively on the grid right now, following the retirement of Sebastian Vettel last year.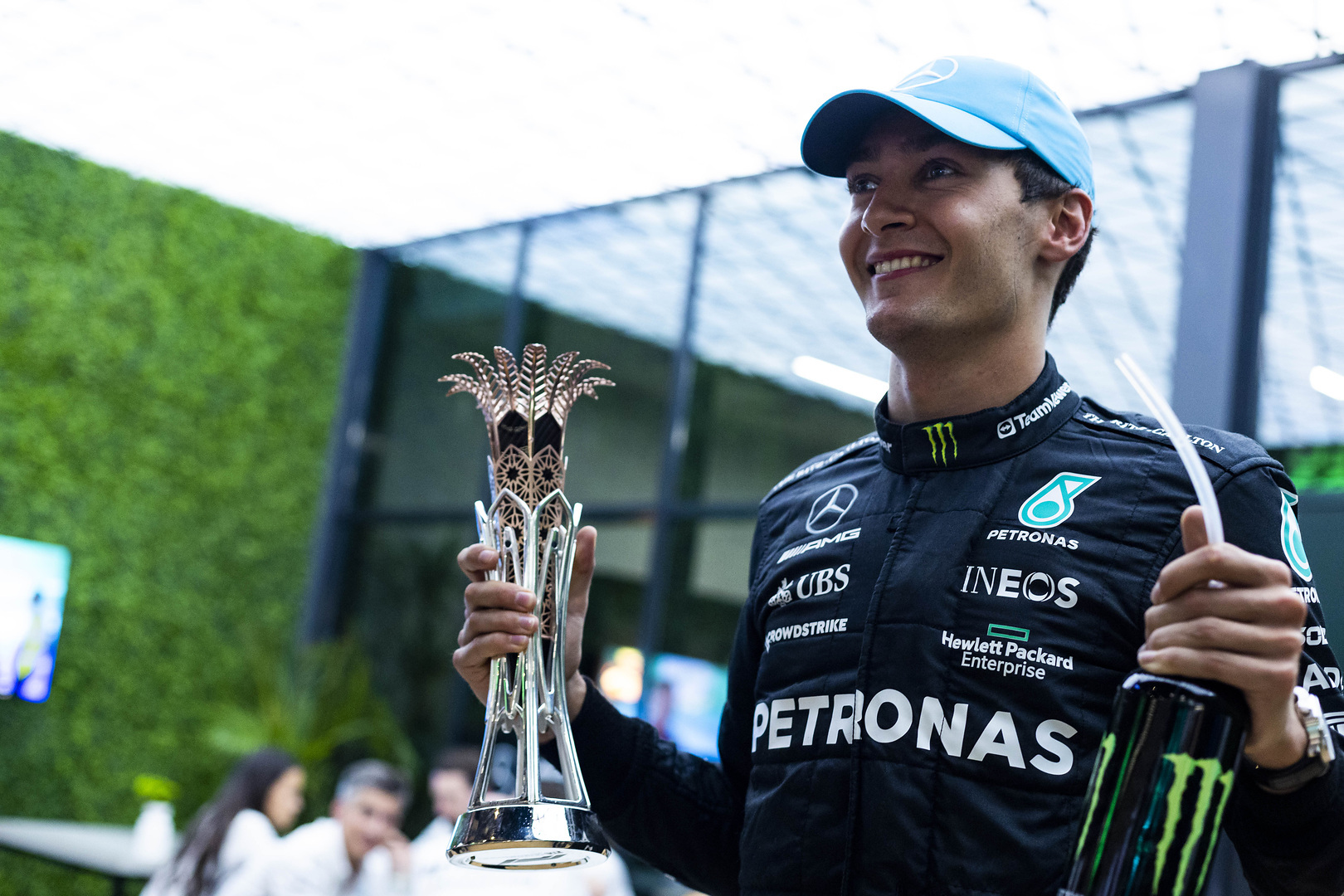 He went on to reference the fact that drivers had an extra guideline related to the painted area between the pit entry and the track this weekend in the race director's notes – prohibiting "the crossing by any part of the tyre, in any direction" of said area.
Four drivers fell foul of that on their flying laps in qualifying, and for Williams rookie Logan Sargeant it proved the difference between making it to the second qualifying segment and placing last on the grid.
"I understand why these rules are there. At the end of the day, we've got to stick within the guidelines. I think a little bit of common sense needs to be shown," Russell said when prodded further on Alonso's penalties.
"I think he was a bit to the left [at the start]? Was that right? You know, he gained nothing from this. Perhaps five seconds is too much.
"And then with regards to his pitstop again, I don't know what happened and why he received a further penalty exactly – but 10 seconds is too extreme in that case, again. So, yeah, not soo sure. It's just making it a little bit, I guess, frustrating for everybody.
"There's a lot of conversations going on this weekend about which lines you could touch, which lines you couldn't touch, especially at the pit exit and on the pit entry, and in qualifying yesterday we saw a number of cars get their laps deleted for touching a bit of the red paint [near pit entry].
"I just thought that was… a little bit senseless, really. So I think we all need to come together and just find a common sense ground."
Grid positioning 'really, really tough'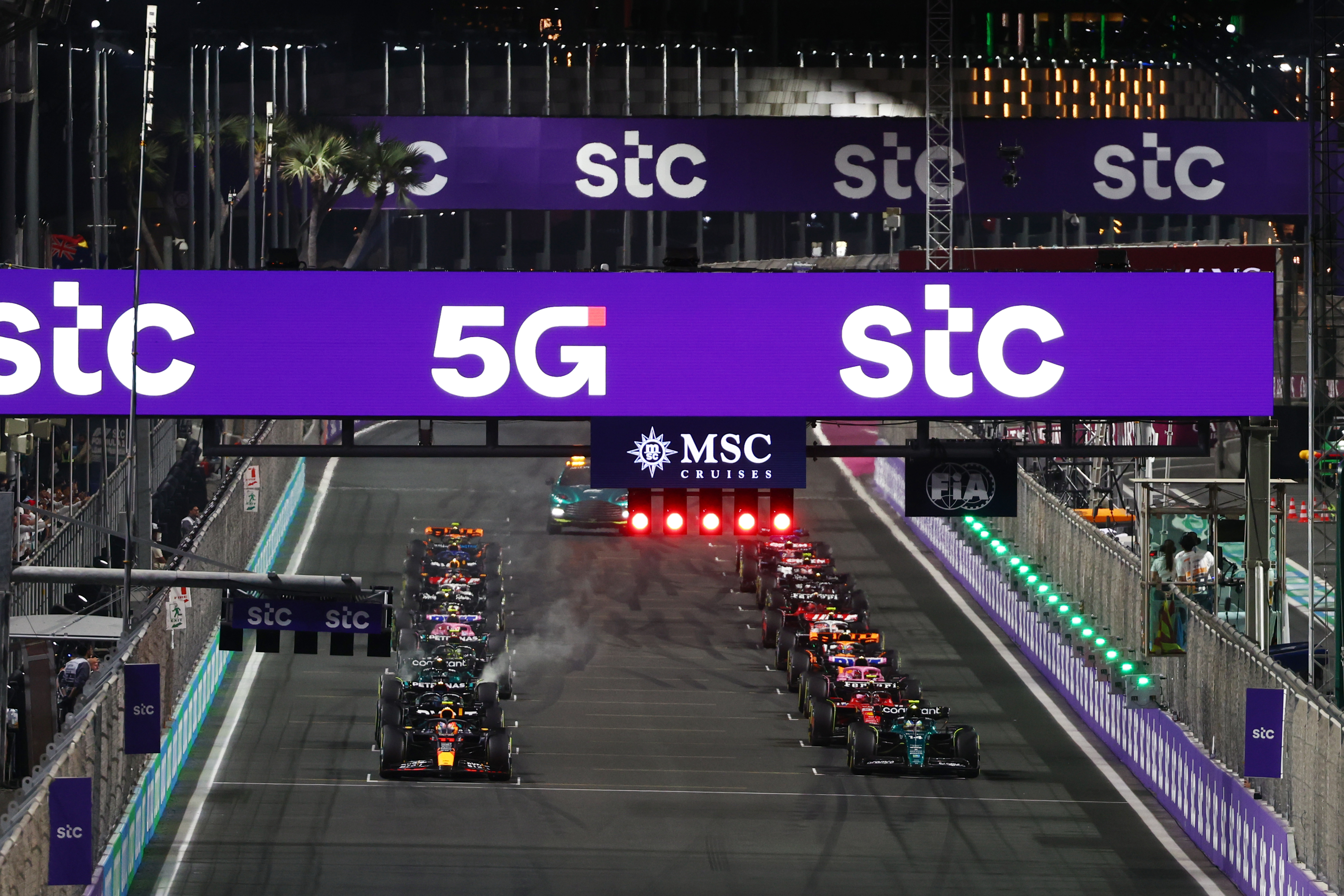 In elaborating on his desire for more lenience in terms of grid position in particular, Russell pointed out that visibility in modern F1 cars is still such that drivers struggle to see the white lines demarcating the grid box and the yellow line used as a point of reference for front tyre placement.
"It's incredibly difficult. We're sat so low, and we only see probably the top four or five inches of the tyre," he said.
"So you can't actually see the ground itself. We've got these big, long yellow lines pointing out [where to stop] – I can't even see the yellow line, let alone the white lines determining your lateral position.
"It's really really tough. So, that's why I think in this regard we need to show a bit more common sense."
The Red Bull pair of Max Verstappen and Sergio Perez, joining Russell in the post-race press conference, had some sympathy for the argument.
Verstappen said it would look "really silly if people start to take advantage of going really left and right [on the grid], I don't know what we can do better" but conceded "the visiblity is really poor in the car".
"We need better visibility, or come up with a better idea than we currently have," said Perez. "It's good that there is a rule in place – but at the same time, sometimes it's by luck, to be honest, where you position yourself."
Alonso, for his part, took responsibility for the mistake and acknowledged "I need to pay more attention" – but also said it was curious that two drivers have fallen foul of grid position rules in two races in 2023, with former team-mate Esteban Ocon of Alpine having been penalised in Bahrain.