Racing Pride has announced it is launching in North America with new ambassadors from NASCAR, GTs, drifting and drag racing.
The initiative – which aims to encourage inclusion for LGBTQ+ communities in motorsport – has already partnered with the Aston Martin Formula 1 team on its journey to making racing more accessible and welcoming in every sense.
In his own words below and exclusive to The Race, Racing Pride founder Richard Morris explains its new venture Stateside, the reasons for it and what it hopes to achieve.
Racing Pride has grown enormously since we first launched the idea in June 2019. From a few ambassadors and a couple of key partners on launch day, soon we had relationships with the three largest organising clubs in UK circuit racing (representing over 90 different series) and across student motorsport through initiatives such as the British Universities Karting Championship and Formula Student.
Of course, a really pivotal moment in taking the idea to a global audience was when we started to work in and around Formula 1. We announced our partnership with the Aston Martin F1 team on 1st June 2021.
At the time I said: "It's the first time that a world championship level team has said to LGBTQ+ people everywhere that you're welcome in this sport. You belong in this sport. We respect who you are. We value who you are."
Then team principal Otmar Szafnauer said he hoped it would "act as a beacon to the rest of the motorsport world". Since then, Racing Pride has worked extensively with Aston Martin and others in F1.
Racing Pride's entry into F1 arguably shifted the landscape by breaking the silence around this issue and instead putting it at the top of the agenda at key moments and on the international stage.
The 2021 F1 season saw high impact displays of solidarity with the LGBTQ+ community at multiple grand prix events around the world.
Aston Martin's cars ran rainbow halos in France and Austria. Sebastian Vettel wore a rainbow t-shirt saying 'Same Love' and a rainbow design helmet at the Hungarian GP in the midst of a referendum there.
Lewis Hamilton wore a Pride helmet with the slogan "We Stand Together" at the season-ending Middle East and North Africa region triple-header, with Sebastian Vettel, Mick Schumacher, and others also variously displaying rainbows around those events.
Vettel said at the time: "Racing Pride…I'm going to push as hard as I can and use my voice wherever I can to support you, because we should all be the same and we should all be allowed to love who we love." A simple, powerful message.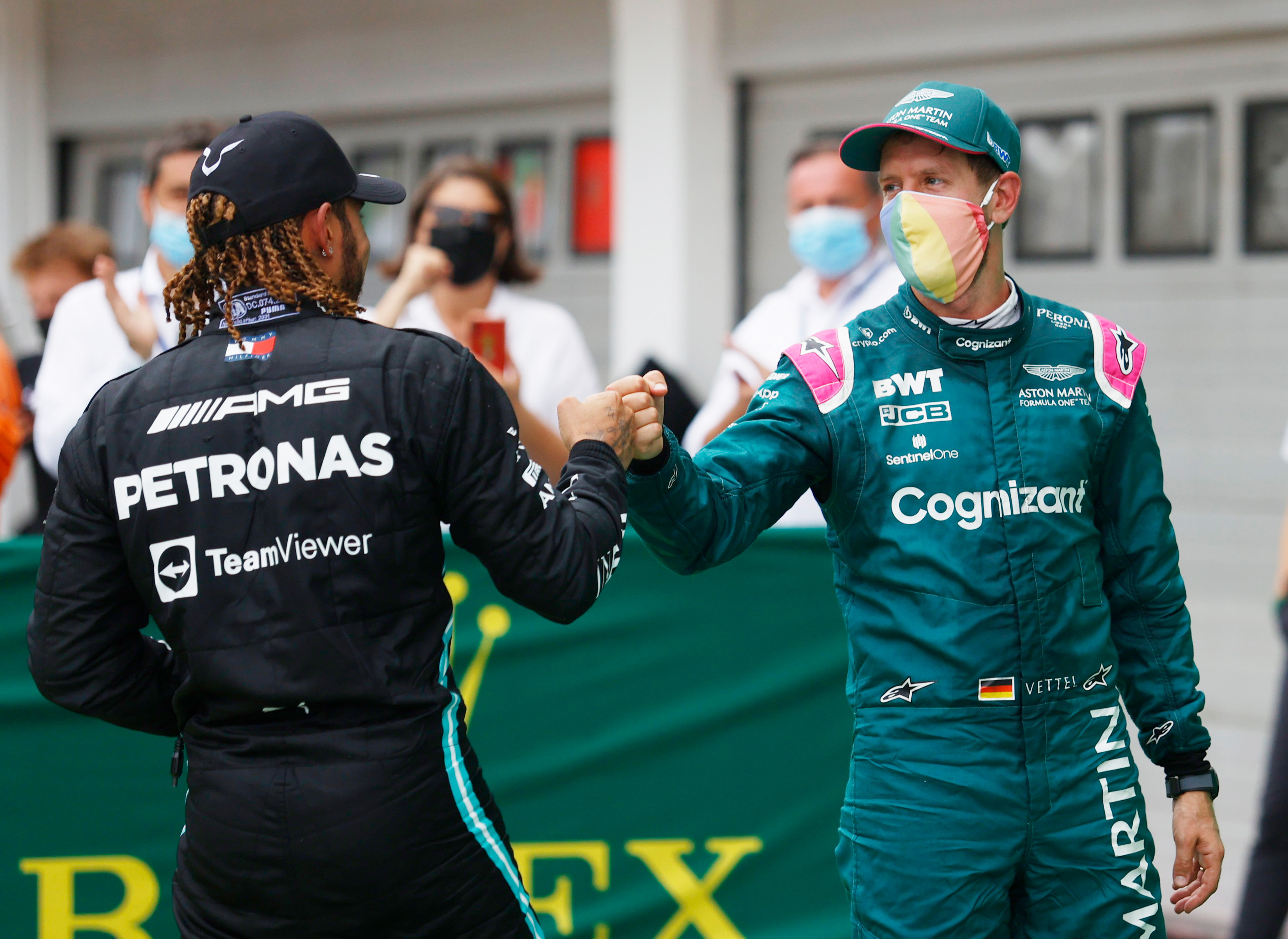 Even as we launched Racing Pride we were very aware of being the first concerted, dedicated, organised movement anywhere in the world to promote LGBTQ+ inclusion through motorsport and it was always our intention to embrace motorsport internationally.
Equally, from the very first day we have had interest and support from people in North America. Mostly LGBTQ+ fans of the sport who had never seen the sport representing them before. We have had individuals and organisations in North American motorsport reach out to us periodically since 2019, too.
By mid-to-late 2021 we were finally in a position to start to put this together. Our work in F1 had given us an international platform and reputation, and a legitimacy to start to lead the conversation and to be the hub connecting those who want to champion LGBTQ+ inclusion through motorsport across countries. We had been contacted by enough key people and organisations, too, to be able to create something meaningful.
Motorsport LGBTQ+ movement @RacingPrideHQ now has ambassadors at 3 #F1 teams.

Latest addition Kerrie Sparling at Alpine joins Alfa Romeo CFD development engineer Krystina Emmanouilides and Aston Martin communications chief @TheBishF1 in the line-up 🏳️‍🌈 https://t.co/KJ5JAN2o5b

— The Race (@wearetherace) January 20, 2022
It is also the perfect moment to bring Racing Pride to the North American motorsport scene. The sport is growing quickly there and gaining a larger profile, thanks in part to the 'Netflix effect' from which F1's profile in the region has benefited.
NASCAR has had a Drive for Diversity initiative for a number of years but it has really ramped up public expressions of its desire to engage with the LGBTQ+ community over the last 18 months – including announcing partnerships with You Can Play (now a Racing Pride partner too) and very recently joining with the Carolinas LGBT+ Chamber of Commerce.
On top of this, some drivers have been beginning to talk about their experiences of being LGBTQ+ in different strands of motorsport in North America.
Last year Devon Rouse (below, #33) became the first openly gay driver to compete on the NASCAR package, when he raced in the ARCA Menards series.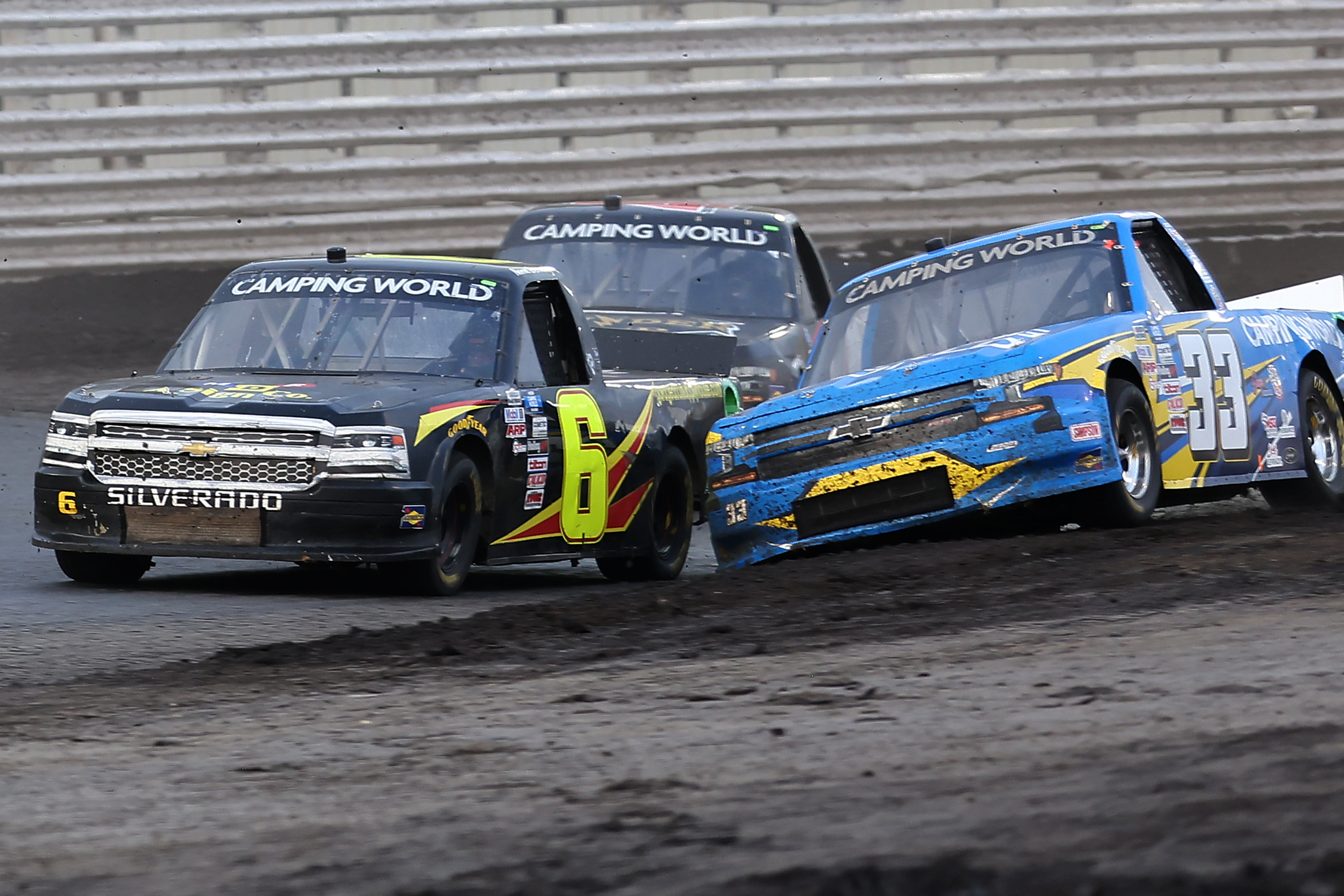 Zach Herrin, who drove Daytona for the first time as part of a NASCAR event this month, has recently told his story of being closeted while racing on the SKUSA Pro Tour – America's premier kart series – and how he now wants to come back into motorsport as his authentic self.
In drag racing, Travis Shumake has spoken publicly about wanting to lead the way for LGBTQ+ people. All of these drivers are now Racing Pride ambassadors with our move into the USA.
Among our new ambassadors is drift racer Zandara Kennedy (below) – someone I have been speaking with for over a year now but who has not previously spoken publicly about being LGBTQ+.  She feels that with a movement like Racing Pride we can all make a collective difference.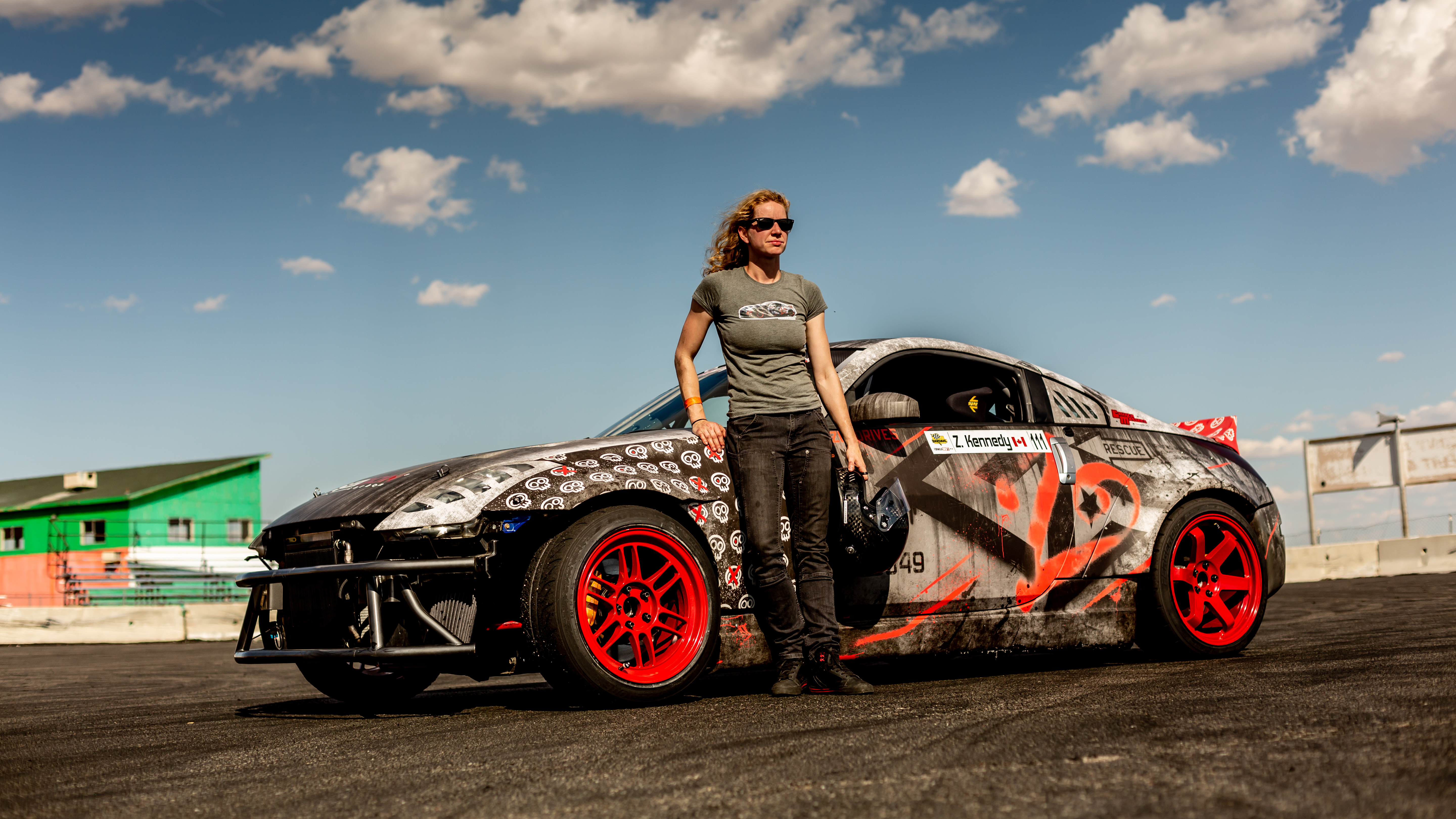 Similarly, while Tom O'Gorman, a hugely successful driver who is a double Pirelli World Challenge Champion, has been doing some pieces around this with GRIDLIFE and Out Motorsports (also both joining Racing Pride), he sees Racing Pride as an opportunity to be part of something bigger as well.
For me that idea of the power of the collective has always been central to Racing Pride and will always be crucial for its success. That collective extends beyond just drivers, of course, which is why I'm thrilled we have Ryan Hines (Public Relations for NASCAR team David Gilliland Racing) and Jameson Jones (marshal) on board, too.
Another part of creating a powerful collective is linking up with You Can Play and Athlete Ally – both movements which go beyond motorsport and connect our efforts with parallel ones in other sports.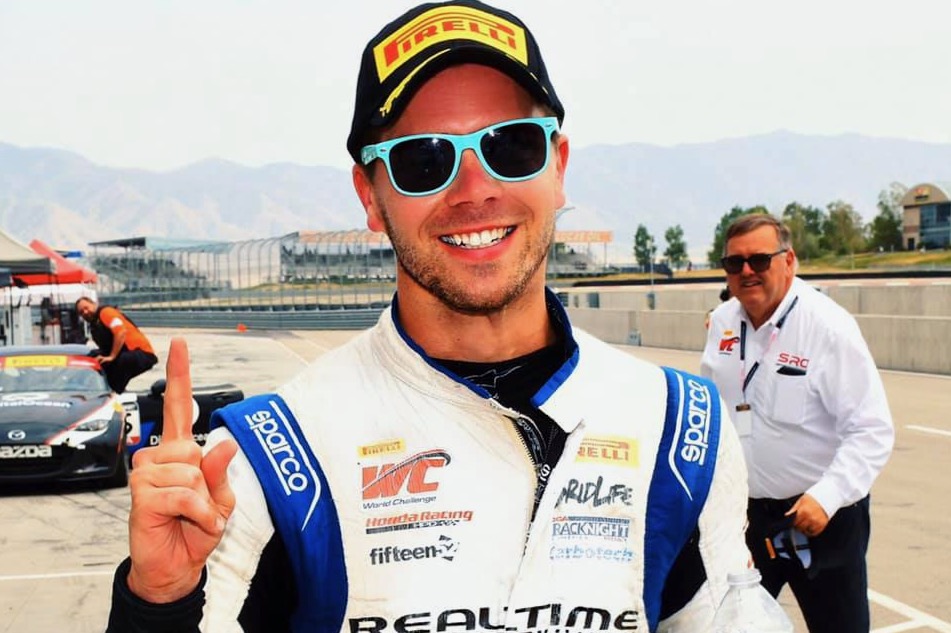 Meanwhile, we've had really important backing from FCP Euro – a company which has both an auto parts business and a rich involvement in the motorsport scene, having contested the IMSA Michelin Pilot Challenge series in a Mercedes AMG GT4 last season.
FCP Euro reached out to us in June last year, shortly after the Aston Martin announcement. They've given us great connections, for instance with GRIDLIFE, and will be supporting us a lot with events in North America.
I've actually had this ambition of making a difference in both Europe and North America in mind while planning my own career moves and partnerships for 2022 and brought some of my personal connections into the project as well.
I've had support from an American sponsor – GayRealEstate.com – since late 2020. The Founding CEO, Jeff Hammerberg, feels passionately about supporting my vision in motorsport and the company is not only continuing to support my career in Europe but will also help fund Racing Pride events in North America.
Watch and listen as our Co-Founder & Driver Ambassador @RichardMRacing explains why becoming a works driver for @RevolutionRace1 and competing across Europe in the 2022 @CupPrototype is a huge opportunity not just for him but also for Racing Pride! 🏳️‍🌈🏳️‍⚧️

We're so proud of him!🙌 pic.twitter.com/D3o7MGxdwm

— Racing Pride (@RacingPrideHQ) January 21, 2022
I've recently been announced as a works driver for Revolution Race Cars. Revolution is a perfect manufacturer for me to be partnered with as I develop Racing Pride's international connections. I will be racing in Europe at grand prix circuits across 5 different countries in the 2022 Sports Prototype Cup and I have plans to link with local LGBTQ+ people and groups as I do so.
Revolution is also building a significant presence in North America. I met several key members of the dealer network from across America when I tested for Revolution at Portimao last November, including Esses Racing in Texas, Classic Car Club Manhattan, and Revolution RSR from Thermal Motorsport Park, and there are plans for a US race series.
A key element of my relationship with Revolution, and a major reason I signed with them, is that they fully believe in my work with Racing Pride and intend to facilitate activities around the European Sports Prototype Cup series as well as attend and support Racing Pride events involving me in both the UK and North America – watch this space!
🚨2022 Announcement!🚨

I'm beyond excited to share that I've signed as a works driver with @RevolutionRace1 and will compete in the European @CupPrototype! 🏆

A great step in my career & an amazing chance to promote @RacingPrideHQ 🏳️‍🌈🏳️‍⚧️ internationally!https://t.co/AxYzIBfToz pic.twitter.com/HqHvnM5J6c

— Richard Morris (@RichardMRacing) January 21, 2022
For all of these reasons, I really feel like it is the perfect time for Racing Pride to be launching in North America.
Racing Pride itself is in the right position, North American motorsport is in the right position, and we have a fantastic network of ambassadors, partners, and supporters.
I'm excited for what is to come!