The 2023 Formula 1 drivers' and constructors' world championships are sealed.
But we knew who they were going to from pretty much the first competitive laps of the year. The interest in F1 2023 has always been seeing just how statistically dominant Max Verstappen and Red Bull could be, and relying on everyone else for closer-fought intrigue.
There's still a lot to fight for in the remaining five grand prix weekends (seven races including sprints).
Some of those fights are for minor championship positions that drivers will insist mean nothing to them and teams will say the absolute opposite about given the prize money sums involved. Other fights are more about self-respect, bragging rights, or 2024 momentum.
Here's our pick of what's still to be settled in F1 2023, and our writers' predictions for how those battles will unfold.
1 MERCEDES VS FERRARI FOR SECOND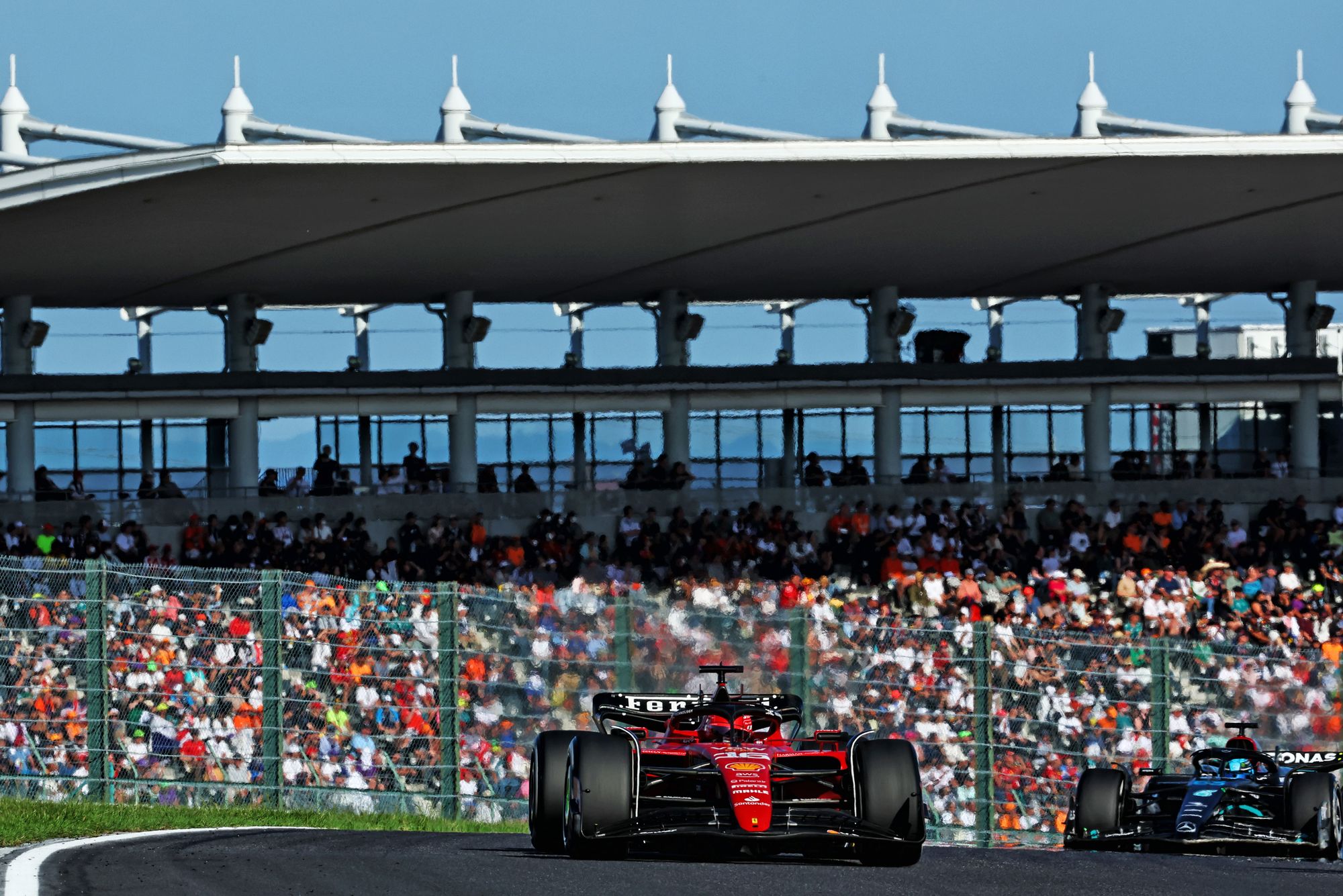 Ferrari is the only team that's denied Red Bull a grand prix victory in 2023, but Mercedes holds a 28-point advantage in the battle for second in the constructors' championship - a best of the rest spot that both are very, very keen to salvage.
Josh Suttill: Mercedes still feels like the better all-round package to me and with George Russell's mid-season dip in form seemingly behind him I suspect that 28-point advantage will increase over the next five weekends rather than decrease.
Edd Straw: Mercedes should have this one sewn up given the combination of a healthy points advantage and a team that has a decent strike rate in terms of securing the results the car pace will allow. However, any slips could let Ferrari in given it has looked more consistent of late, albeit with the odd dropped ball such as Carlos Sainz's Qatar DNS.
Glenn Freeman: Mercedes could end up regretting that collision between its drivers in Qatar. The Sainz DNS was an open goal for it to effectively secure second and, while Mercedes still came away with more points from that weekend, it was the first time since Hungary back in July that Mercedes has outscored Ferrari. So don't write Ferrari off just yet.
2 ASTON VS MCLAREN FOR FOURTH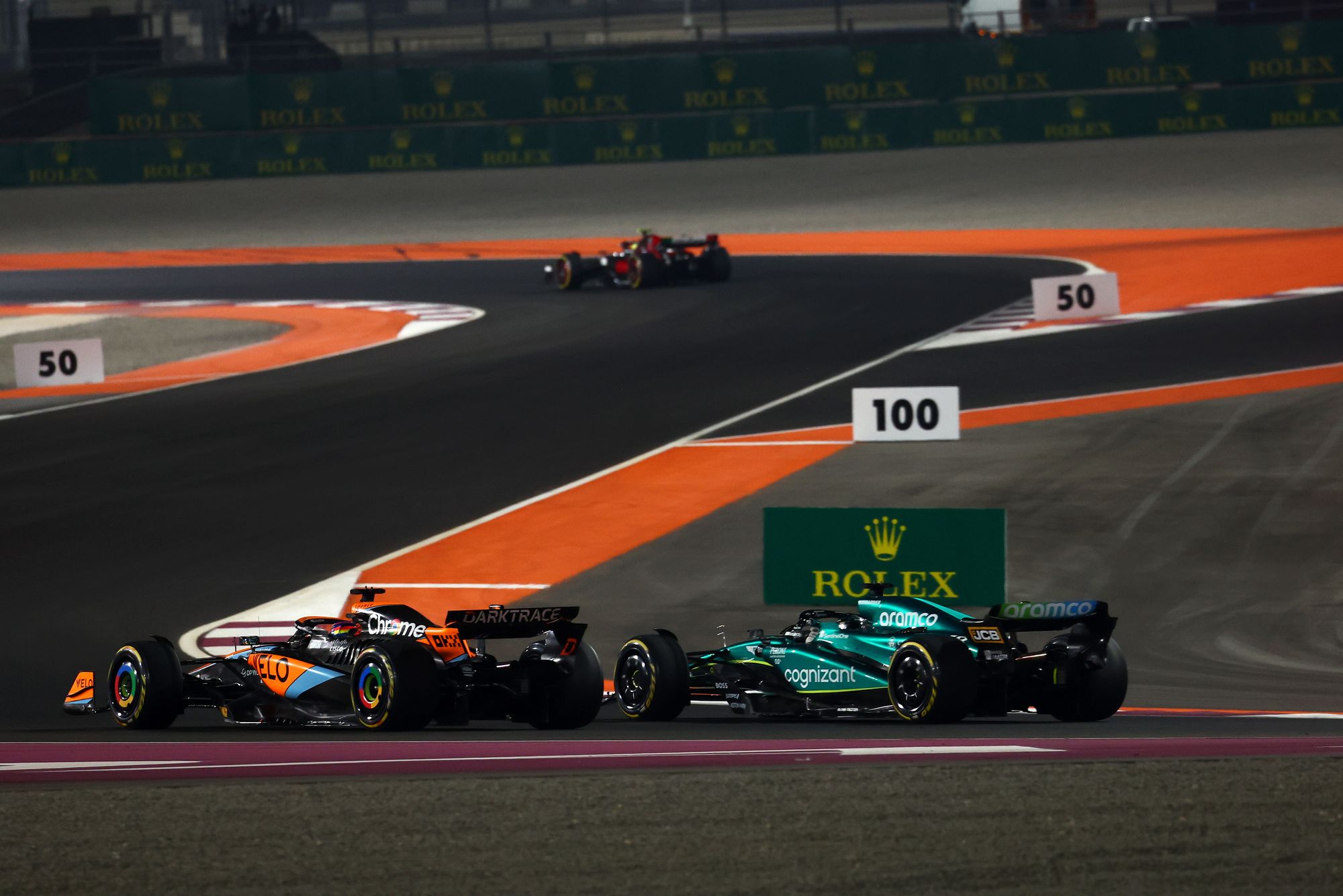 Aston Martin started the year second only to Red Bull. McLaren started the year last in the constructors' and on zero points after two rounds. The gap between them was 146 points after Austria in early July. Now it's down to just 11 as McLaren looks to complete a remarkable turnaround. Could it even catch Ferrari (currently 79 points ahead) for third?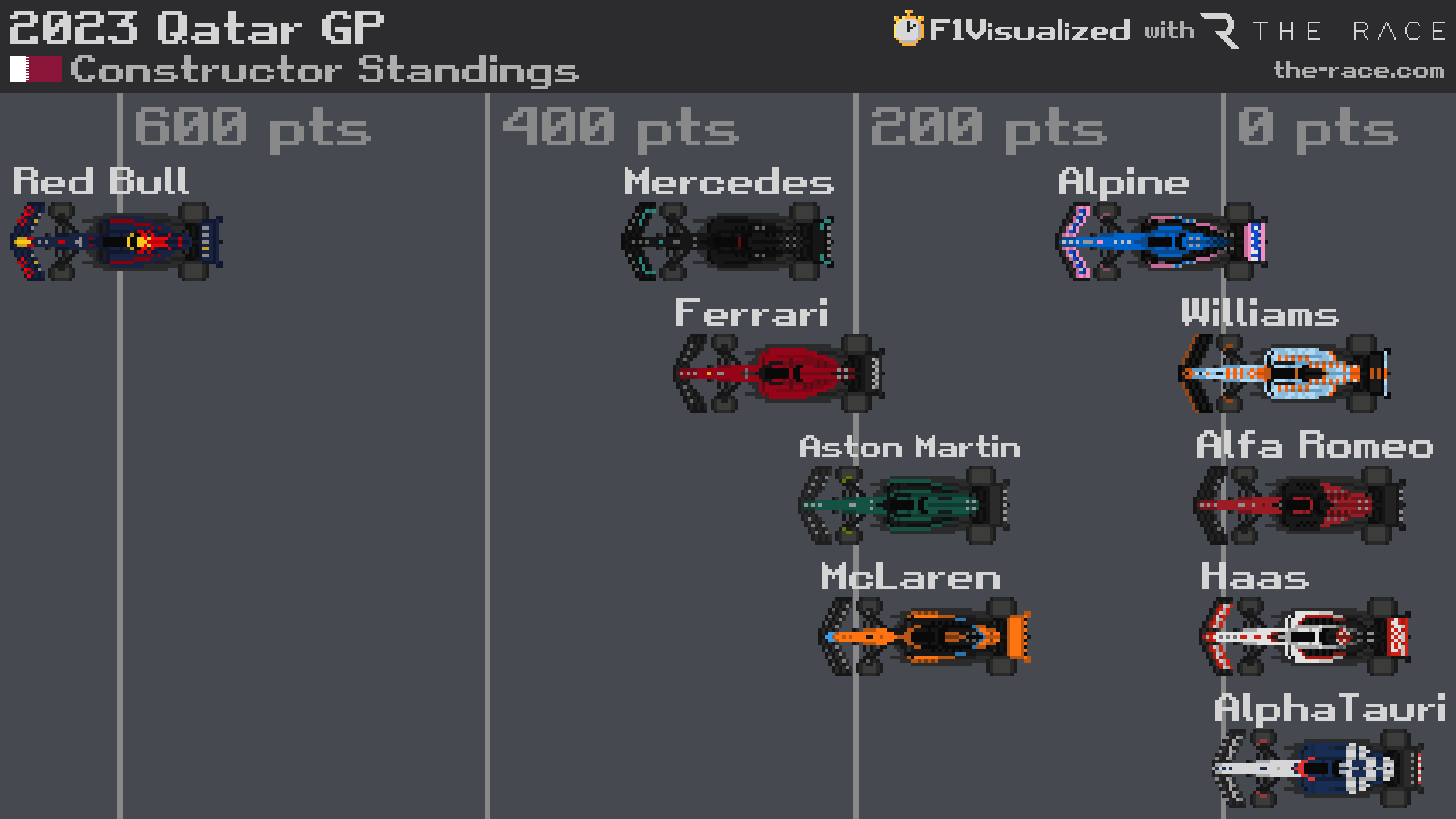 Matt Beer: McLaren has pace, momentum and two competitive drivers. Aston Martin just has Fernando Alonso. This will go decisively McLaren's way before the imminent triple-header's over.
Andre Harrison: Beating Aston Martin might now be considered an underachievement for McLaren, which is firing on all cylinders after one of the great in-season turnarounds in modern F1 history. Ferrari IS a feasible target if McLaren can keep forcing its cars in that gap between Verstappen's Red Bull and Sergio Perez's shortcomings. If McLaren has three weekends out of five like Qatar, it's got a chance at taking third over Ferrari.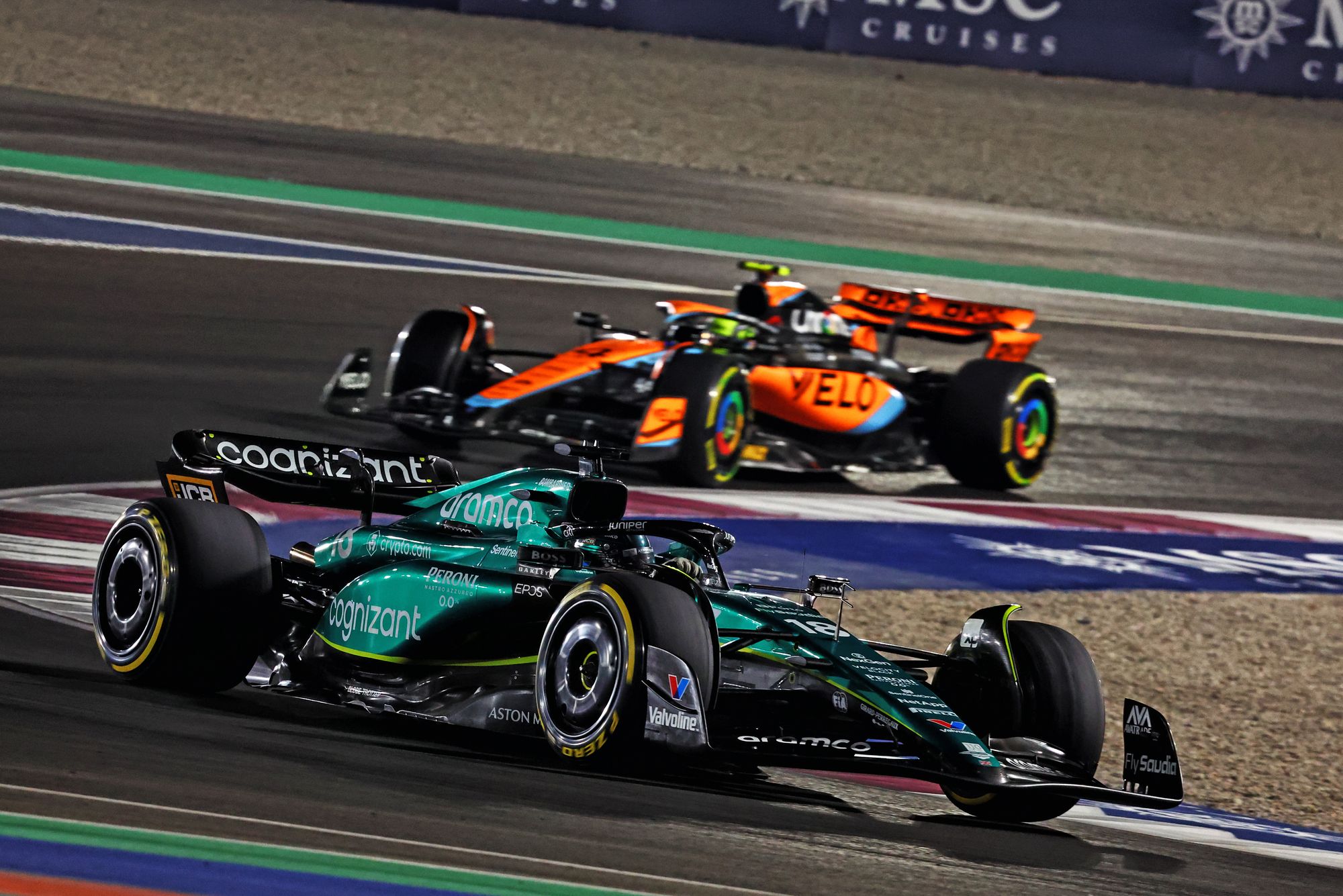 Gary Anderson: McLaren has the momentum and the drivers to achieve this. If Aston Martin is to hold on, it needs to come up with some performance developments and quickly. On top of that, Lance Stroll needs to get his act together.
JS: McLaren will be ahead after Austin and then proceed to bolt clear. No contest.
Sam Smith: This isn't even a contest really, is it? McLaren has by far the superior and more consistent package now and if that were not enough, Aston Martin is a one-car team in all but name.
ES: If I were a bookie, I would long since have stopped taking odds on McLaren catching Aston Martin as it's as close to a dead cert as you could imagine. As for catching Ferrari, that is optimistic given the closing rate in the second half of the season has been well off what it would need to be.
GF: No contest. If you'd said in the first three months of the season that Aston Martin would end up being shuffled down to fifth in the standings without putting up much of a fight, you'd have been laughed at.
3 WHO'LL LOOK LIKE RED BULL'S MAIN 2024 RIVAL?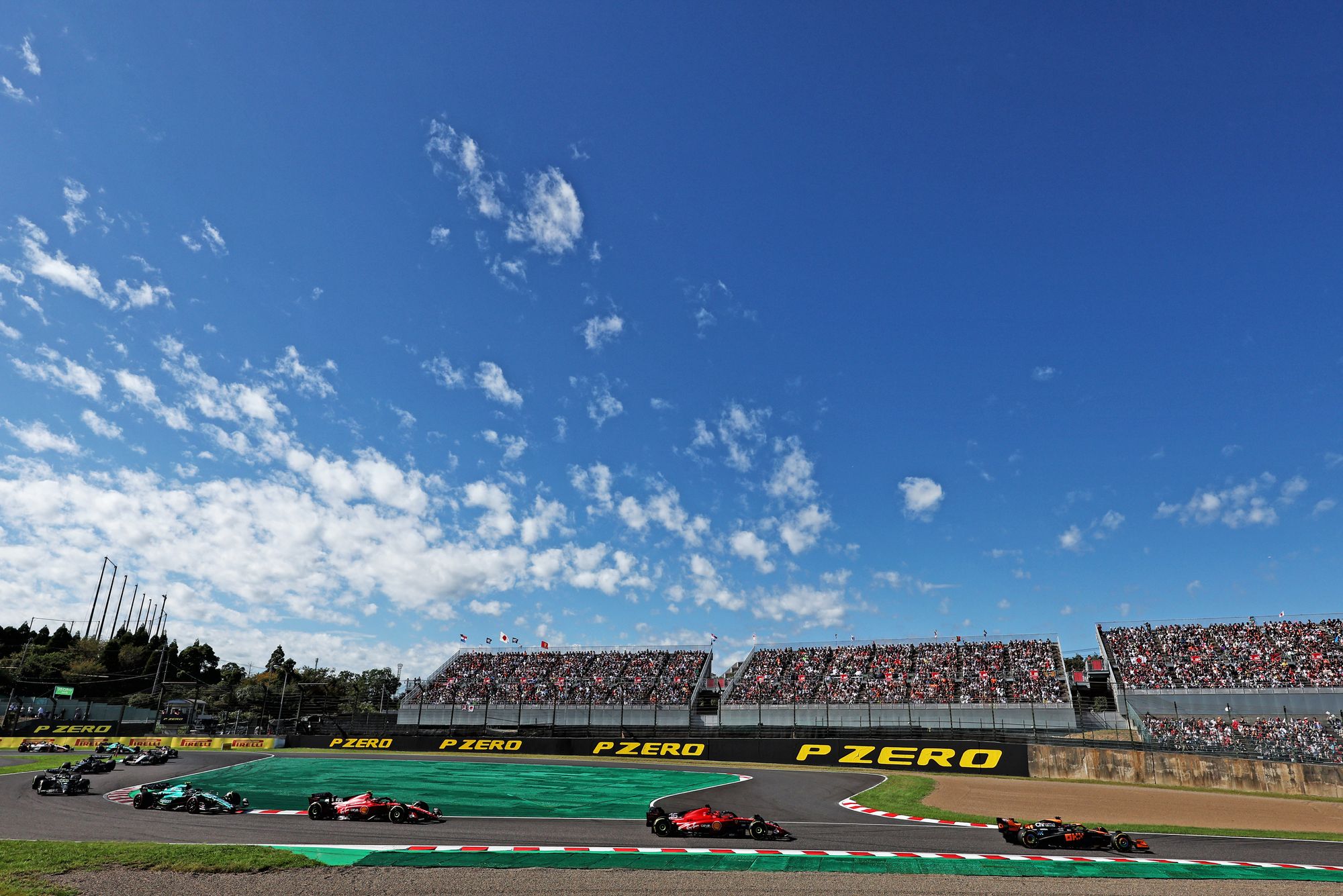 Forget what the constructors' championship points actually say after Abu Dhabi. McLaren may well peak at fourth there but in recent weeks it's made a good case for having a shot at being Red Bull's 2024 opposition given its trajectory. Mercedes and Ferrari will want to go into the winter with both competitive momentum and showing they have solved some problems so they can start 2024 believing they're Red Bull's big threat too. Aston Martin would love to still be in this conversation.
Which of the quartet will give Red Bull most sleepless nights this winter?
AH: When Verstappen himself admits that McLaren has the best driver line-up in F1 outside of Red Bull's, it's an acknowledgement he's looking over his shoulder at the potential Team Papaya has. The car is exceptionally fast in the right circumstances, and Oscar Piastri is proving he already has similar raw speed to the established Lando Norris. If they don't get in their own way, McLaren looks set to be leader of the chase in 2024.
GA: I'm pretty sure McLaren will be added to the list of teams gunning at Red Bull's heels. It would be a very different championship if Ferrari, Mercedes, McLaren and Aston Martin can all close down that gap to Red Bull.
SS: Relative to its dominance between 2014 and 2020/21 time, I just can't see Mercedes continuing to be a bit-part player. Russell will learn from an often stinging 2023 and Lewis Hamilton just has the look of someone who has one more big season in him.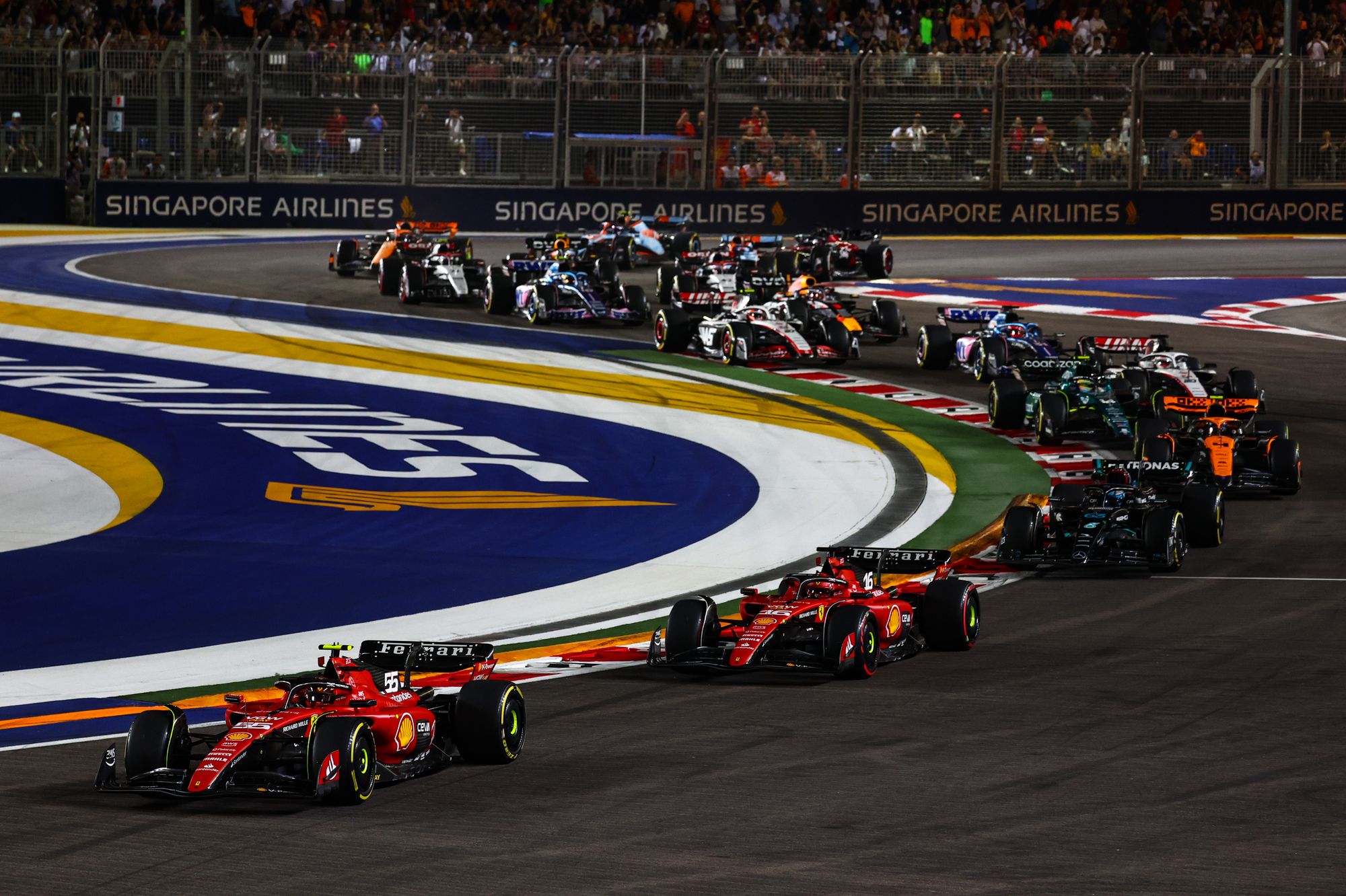 ES: The problem is that none of the teams in the chasing pack will stand head and shoulders above the rest as the best-placed to challenge Red Bull. All have positives - McLaren's recent progress, Mercedes's track record, and Ferrari seemingly starting to get a handle on its car, but none tick all the boxes. As for Aston Martin, it more often now seems to have its hands full keeping ahead of Alpine, which is not a good sign.
GF: McLaren will end the year looking the most convincing of the chasing pack. The question is if it can do what Aston Martin has failed to do this year and kick on from this opportunity that's been created by Mercedes and Ferrari underperforming. And those two teams will be expecting to have their renaissance moment over the winter to get back ahead.
4 PEREZ VS HAMILTON FOR SECOND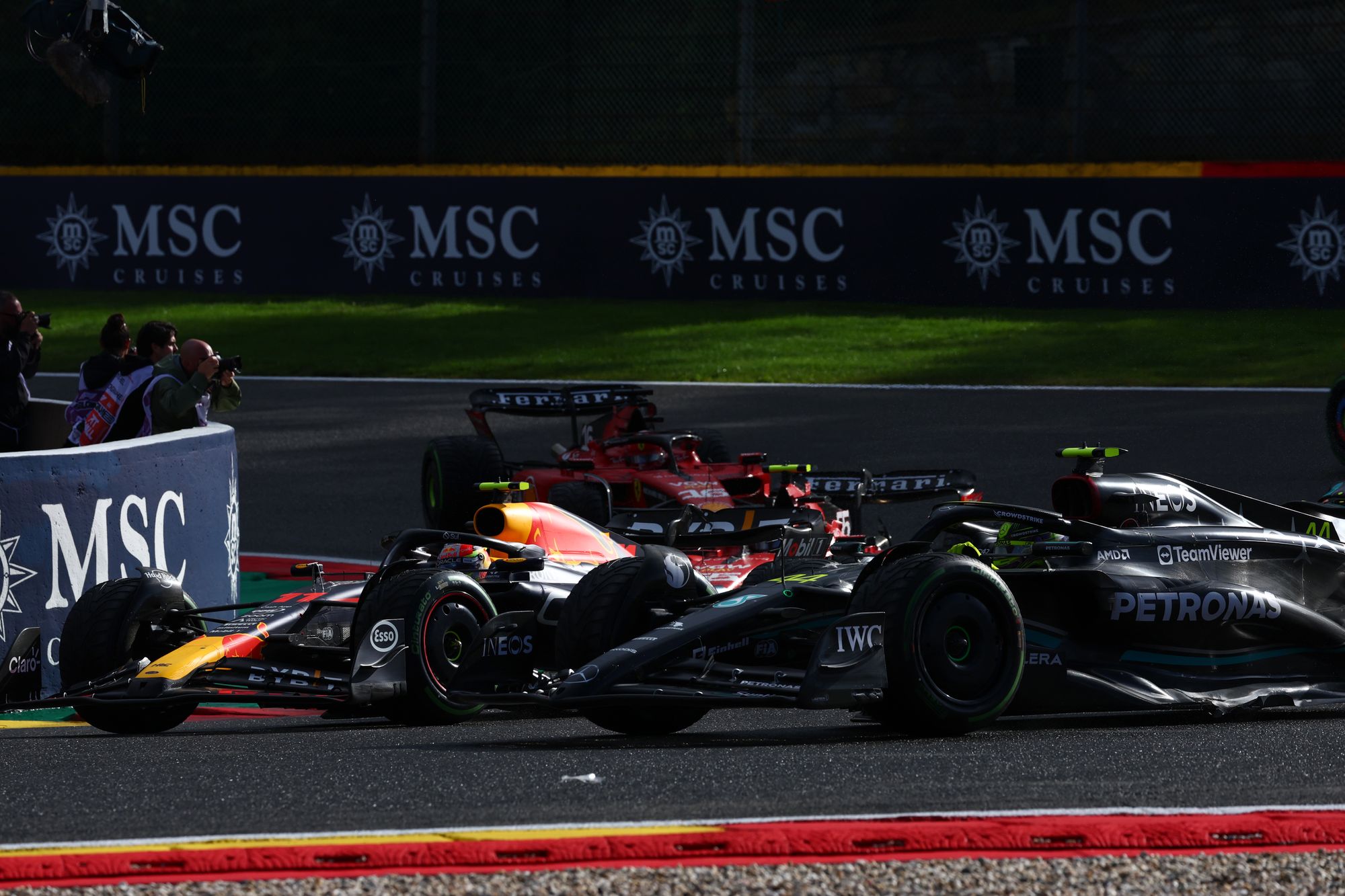 Surely given Red Bull has been so dominant in 2023, it'll finally score its first ever drivers' championship 1-2 this year? Sergio Perez's shaky form makes that far from a foregone conclusion - Lewis Hamilton is a tantalising 30 points behind him.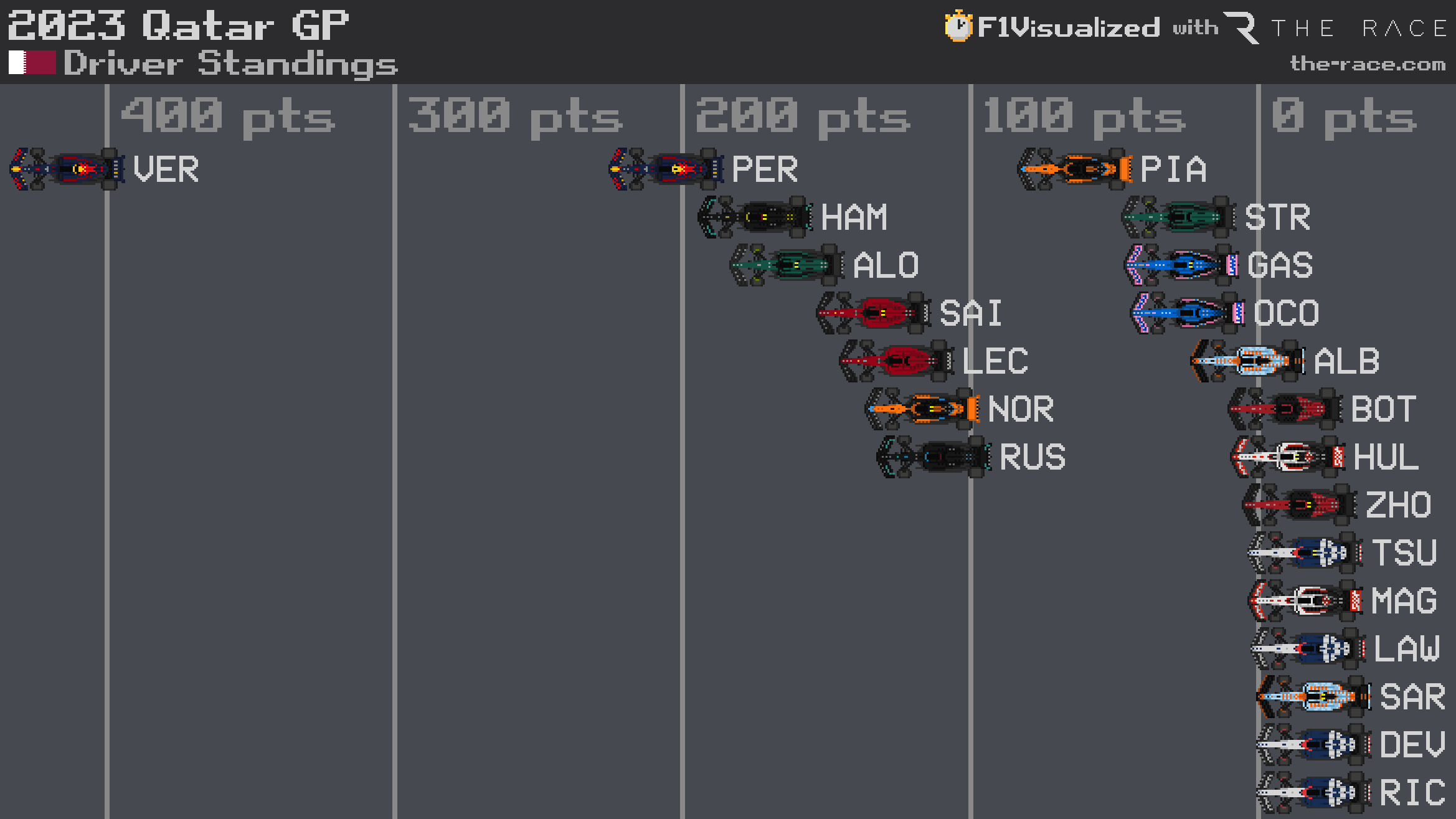 ES: Perez can, should and must close out second place. Red Bull has never had a 1-2 in the drivers' championship and Perez desperately needs to get his performances onto an even keel to build a platform for a better 2024. There's no reason why he can't hit the form Red Bull requires of him and rack up a series of second places - provided, that is, he focuses on his own driving rather than grasping to match Verstappen.
MB: As much as I'm underwhelmed by Perez's form, he'll surely still scrape second. It's unprecedented for a single team to steamroller the season to this extent and its number two driver to fail to be second in the championship. Plus the McLarens and Ferraris will take points off Hamilton.
JS: The gap has only changed by 10 points (in Hamilton's favour) since the summer break despite a few dire weekends for Perez. He should hold on but it might feel like the most limp completing of a 1-2 in the drivers' championship ever.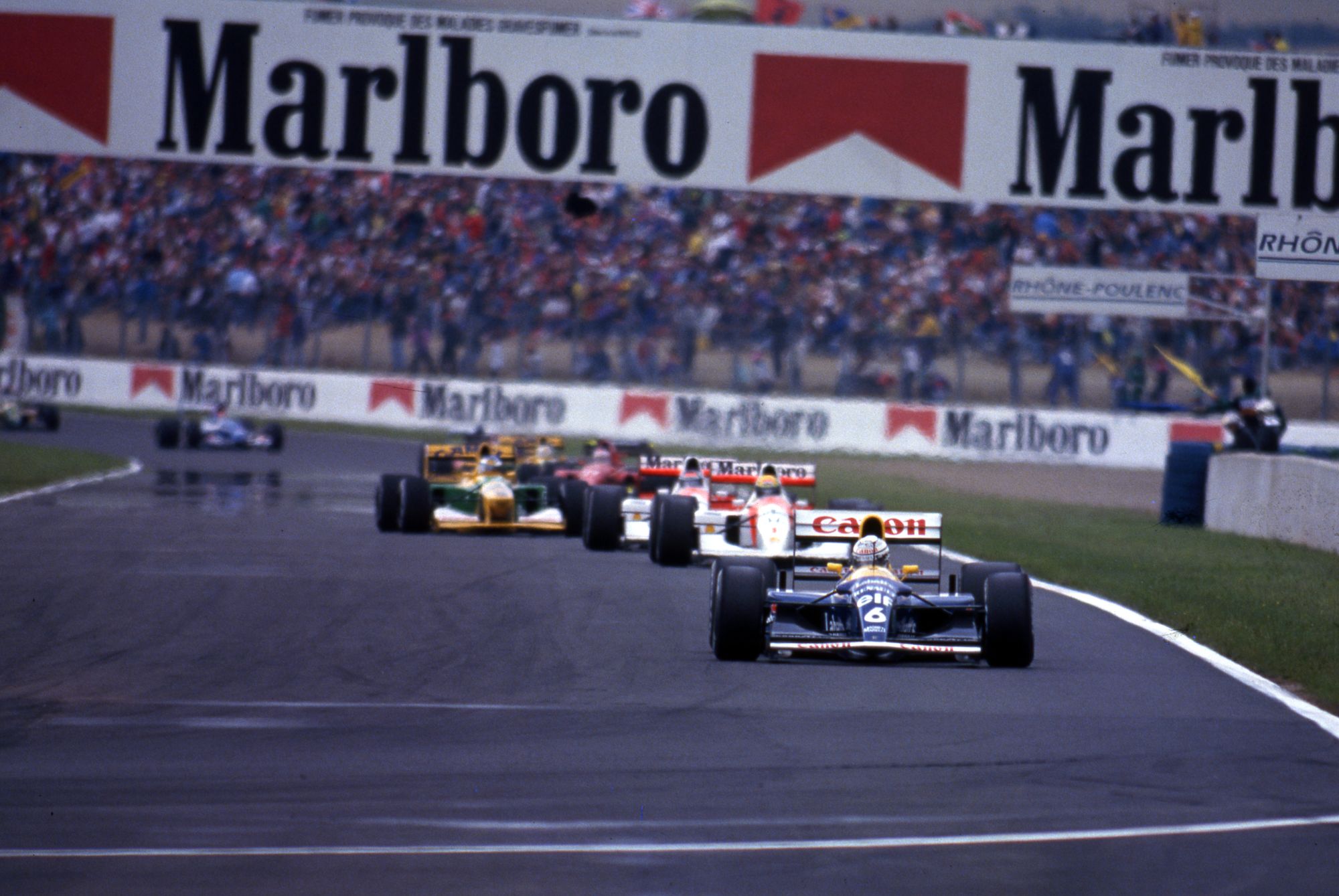 SS: Frankly it will be embarrassing if Perez doesn't grab second. Even Riccardo Patrese managed it in 1992, beating Michael Schumacher and Ayrton Senna, when Williams had a similar performance advantage.
Perez could do with another win this season in the next two races. He is capable on his day and should he get it then he could frustratingly end the season as he started it: on the up.
GF: Even if Perez can't rediscover his mojo over the final races, he will have enough OK days to hang onto this one. The Hamilton-Mercedes package isn't relentless enough to chase him down.
5 PEREZ VS RICCIARDO FOR A RED BULL FUTURE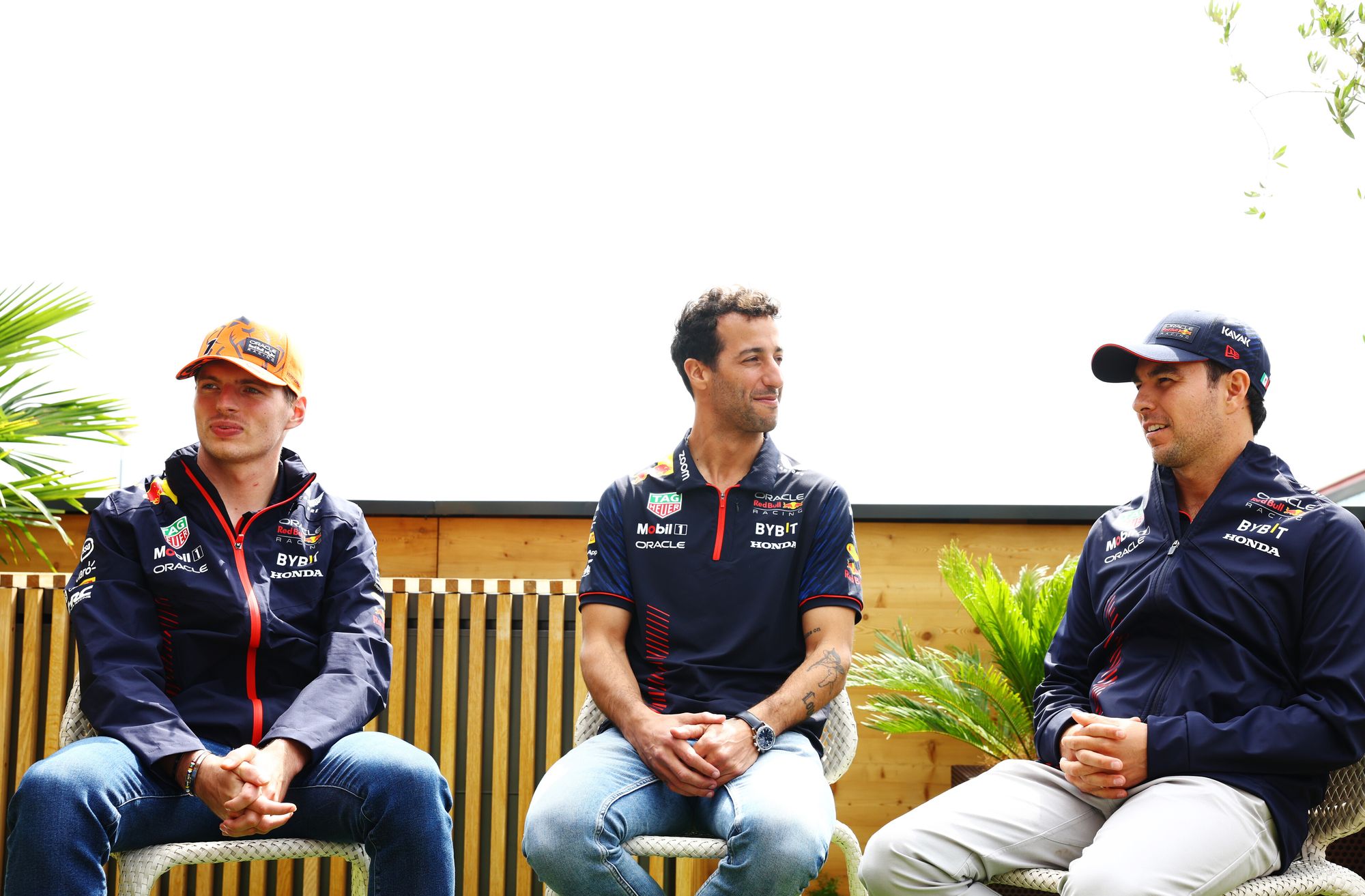 They probably won't often be on the same piece of track in the rest of 2023, but post-injury returnee Daniel Ricciardo has to resume his interrupted quest to prove with his performances for AlphaTauri that he's a better long-term bet in the second Red Bull than Perez - and Perez has to deliver sufficiently to end that debate. Or will the remaining races show that actually Red Bull should cast both these veterans aside and look elsewhere for Verstappen's 2025 team-mate?
MB: I can see this being totally inconclusive and Red Bull ending up either accelerating Liam Lawson past them both for 2025 or going totally rogue with an external signing.
SS: As aforementioned, I think Perez will do enough to convince Red Bull to get another season. You can be sure that Verstappen will feel comfortable with that, not that he'll be particularly fazed by a young charger like Lawson anyway should he come in. Perez is a safe pair of hands over a season and, as this year has proved, even without Perez's points Red Bull is still in a good position in the constructors' championship anyway.
ES: Ricciardo will be determined to make a big impression after the wind was taken out of his sails by the hand injury. Consider the next five races a staging post for his bid for a Red Bull seat given that's a decision the team will not want to make too late in 2024 and if Ricciardo wants it, he has to take it. Equally, Perez needs to stabilise his season. Most likely, the next five races might highlight to Red Bull the need to cast the net wider.
GF: Ricciardo's biggest short-term challenge is to come in and do a better job than Lawson did. The AlphaTauri improved a lot while Ricciardo was on the sidelines, and he can't come back and claim to be ring-rusty when a total novice has just been in the car and looked like he belongs. It's not time for Daniel to have his eyes on Perez or 2025 yet.
6 THE FOUR-TEAM FIGHT FOR SEVENTH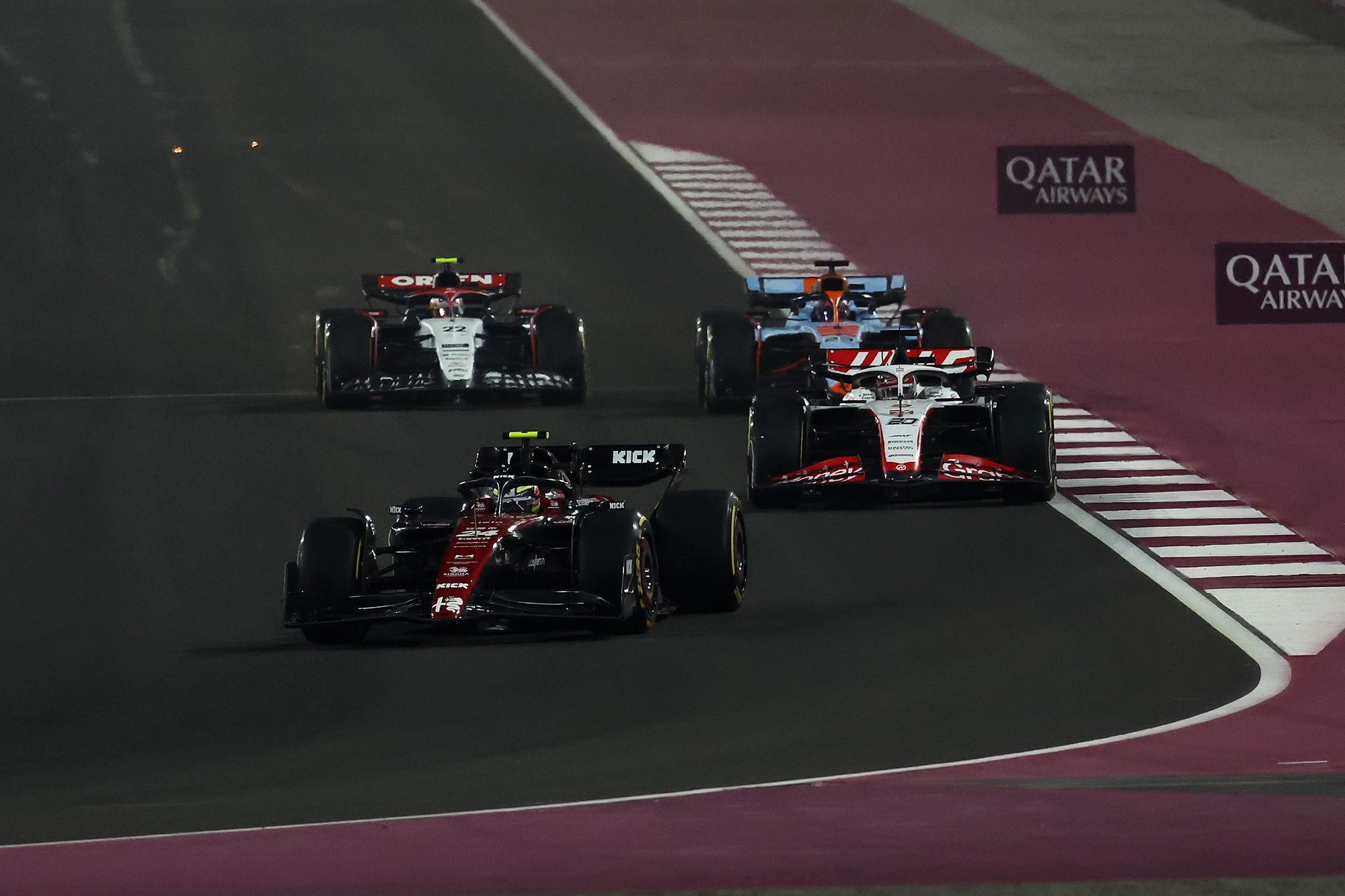 Many millions of pounds of prize money are at stake as Williams, Alfa Romeo, Haas and AlphaTauri fight for seventh through 10th in the constructors', with just 18 points covering them right now.
MB: This has got such potential to be totally swung by a midfield team pulling off a double top-six finish via Brazilian rain or a crazy Las Vegas safety car scenario and turning the points upside down. I'll take a punt on Haas being the team that does just that.
ES: This is a massively high-stakes battle given how big the financial gains are for each place. It's not an overstatement to say that the difference between seventh and 10th could have a transformative impact for any of these teams, particularly with the recent increase in CapEx spending. Williams is well-placed, but Alfa Romeo appears to have the all-round performance to pose a big threat if it can actually produce some consistency, which has been sadly lacking so far.
JS: This is all going to depend on how potent Haas's Austin upgrade is. Williams has weathered a couple of tracks that don't suit it and I suspect it will be firmly back on song shortly so it's the logical choice to hold onto seventh. AlphaTauri is surely destined to finish last with Alfa Romeo perhaps just having enough with its own improved car to hold off Haas.
GF: Williams should be out of sight here. If it had a second driver backing Alex Albon up even with a handful of points by now, it would be job done already.
7 SARGEANT VS THE EXIT DOOR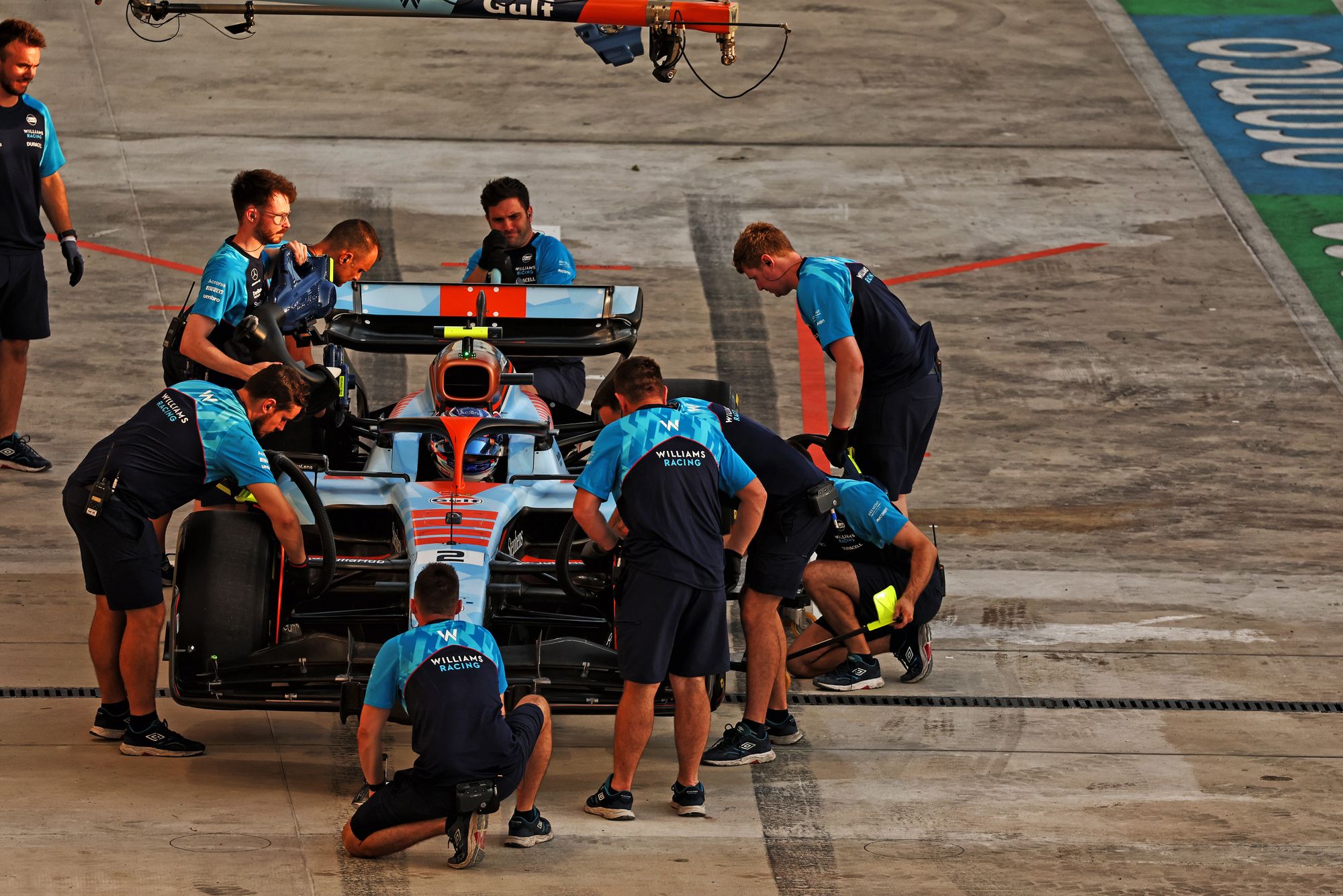 Williams is giving rookie Logan Sargeant every chance to prove he deserves a second season in F1. Can he justify that faith?
MB: As the pressure increases on Sargeant, his performances are getting messier and messier. The only thing that'll keep him in the car for 2024 would be Williams being unable to recruit a sufficiently appealing alternative.
AH: Sargeant''s saving grace here is that the market for 2024 looks tame. Mick Schumacher's probably the best free agent on the board but he doesn't seem to have moved the needle enough for Williams team principal James Vowles. Formula 2 title favourite Theo Pourchaire seems stuck on Alfa's sidelines, and does Williams really want to gamble with another raw prospect from the series it just got Sargeant from? Sticking with Logan for a second year might be the safest play.
JS: He's just made too many mistakes and hasn't got close enough to Albon when it's actually mattered. Williams will give him every chance all the way to Abu Dhabi but I don't have faith he'll save his seat.
ES: Sargeant is hanging onto his drive by the fingertips. However, he still has a team that wants him to prove himself and he has shown flashes of the pace needed. It might only take a few well-executed, 'complete' race weekends in the last five to haul himself back up onto safe ground. But as it hasn't happened yet, Williams will be asking itself if it's all promise and no end result.
GF: Williams has nothing to lose by waiting until the end of the year. Its available options now will be the same after Abu Dhabi. I can't see Sargeant suddenly turning things around, so if Williams can borrow Lawson from Red Bull, it should do it. Schumacher is a less-convincing alternative, but surely he'd have backed Albon up with at least a couple of points finishes if he'd been in that car this year.
8 SAINZ VS LECLERC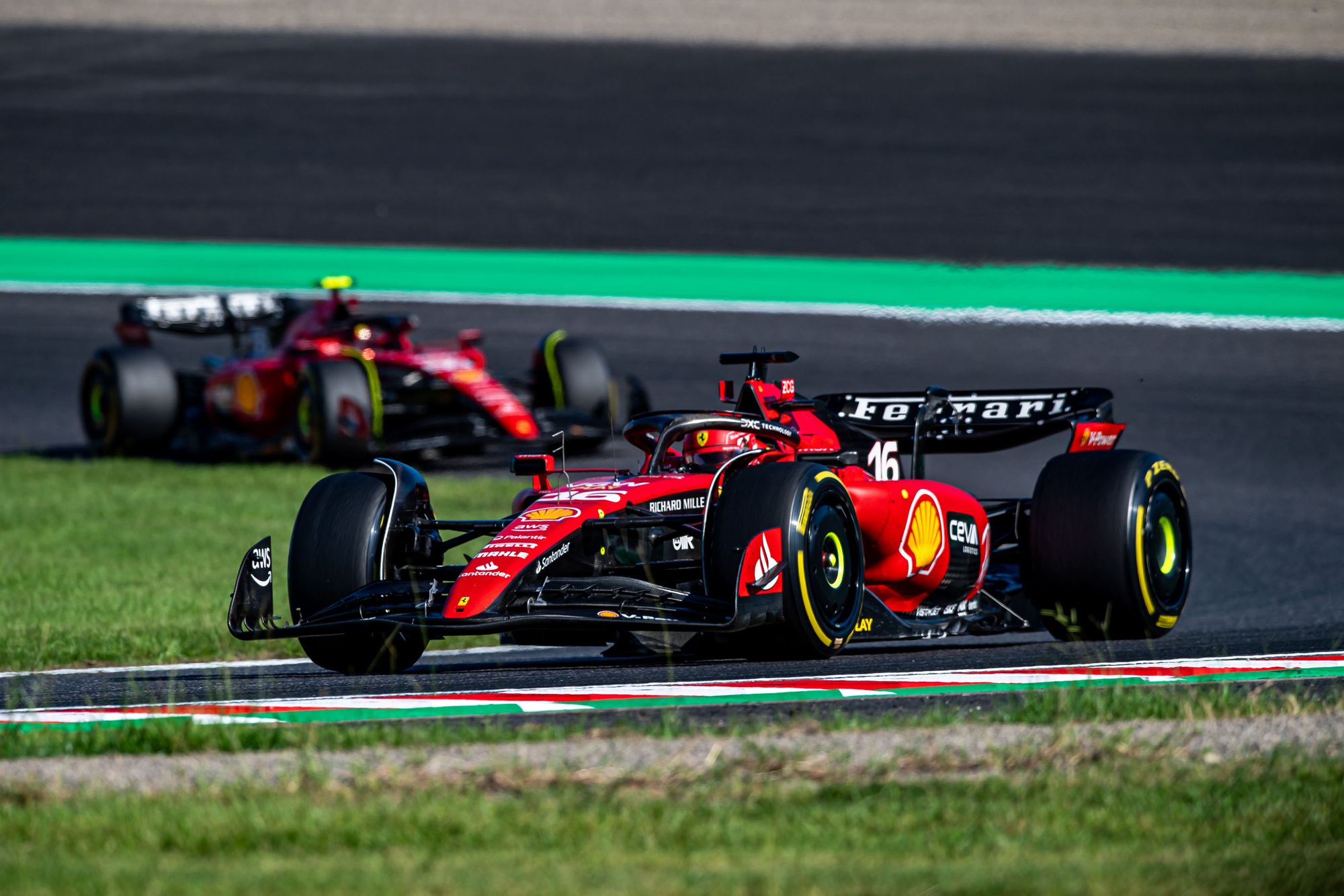 Fifth place in the drivers' championship is of little interest to Ferrari pair Carlos Sainz and Charles Leclerc. But they'll surely have an eye on which of them ends this tough year as Ferrari's top scorer, especially as the winner will go 2-1 up in the intra-team fight after their third season together. Sainz is eight points ahead right now.
GF: As soon as Ferrari paired these two together, I had a feeling that, in a bad year, Sainz's consistency and work ethic would give him a shot at beating Leclerc over a season. If Ferrari ever produces a championship-calibre car for these two, I'd still expect Leclerc to have the higher peaks with it.
JS: Leclerc appears to be back on song so I'd suspect he'll maintain his usual marginal advantage over Sainz and jump ahead of him in the standings.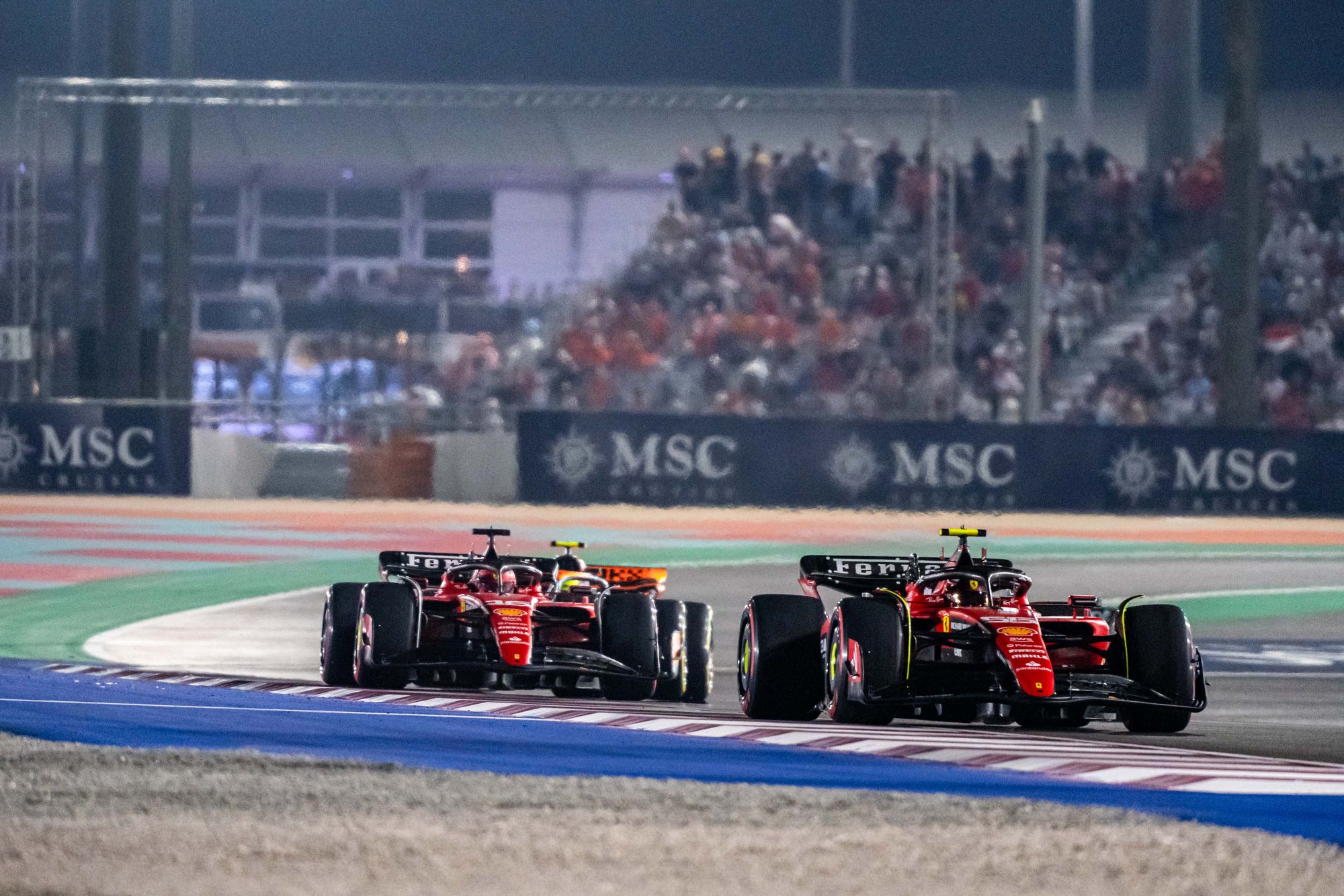 SS: This has been Sainz's biggest season to date but frankly he needed it. The silly mistakes have been reduced, so now he needs to get that 2-1 advantage to get further into Leclerc's head - which should reap dividends over the winter and into next season.
ES: This one could go either way and be swung by misfortune, but it's a fascinating dynamic. It's 50/50 who will end up ahead but the team will hope the desire to be on top will ensure points aren't left on the table and give it a shot at overhauling Mercedes.
AH: This almost seems like a role-reversal of their respective careers as Leclerc, someone who has an eye for the spectacular, has quietly knuckled down and made the most of his Ferrari at rounds where it's ill-suited, while Sainz has stolen the headlines with his Singapore win and Monza podium. Sainz has surely done enough to warrant another long-term contract, but is he doing enough for #1 status?
9 STROLL VS THE POINTS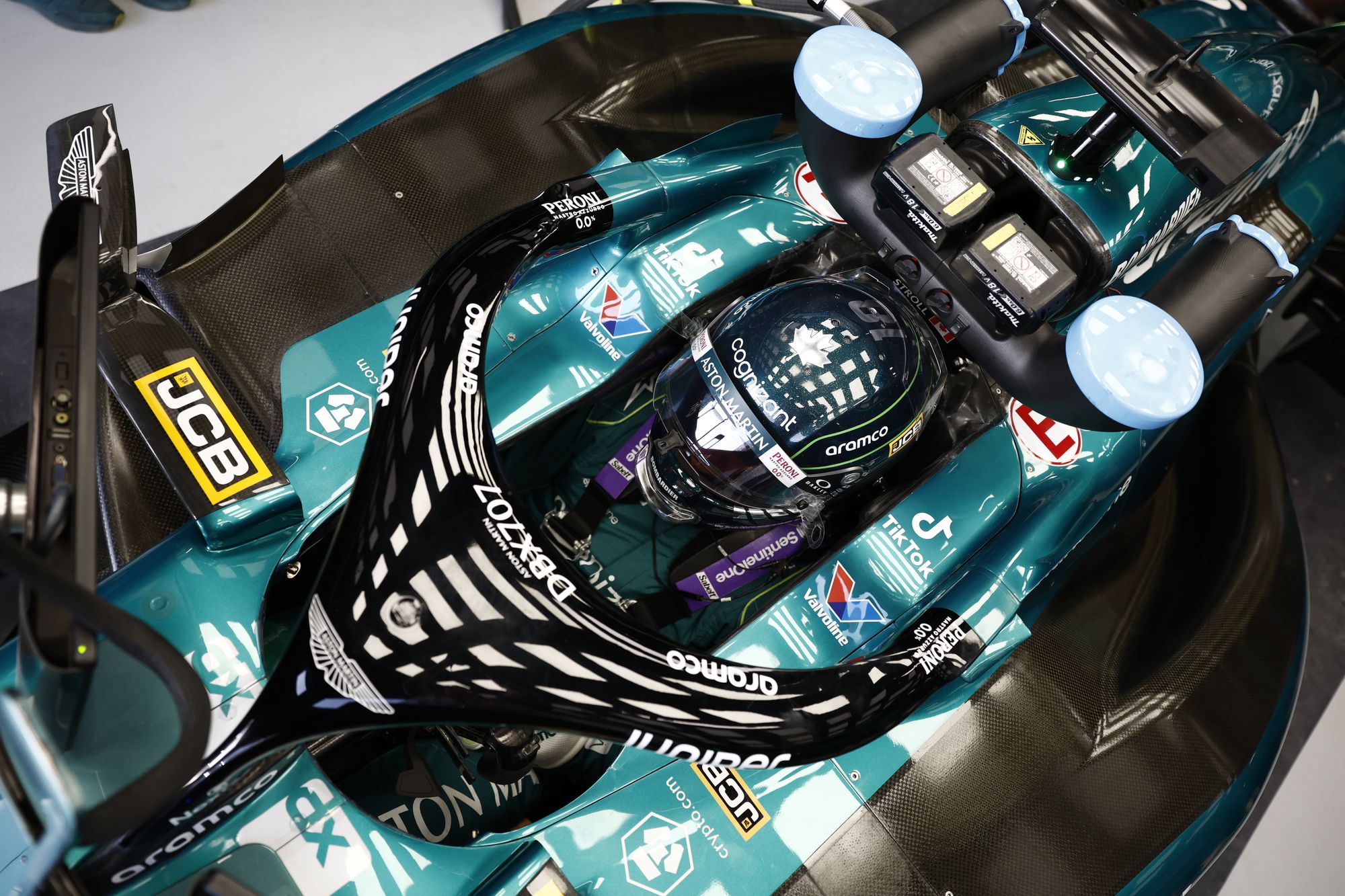 In a car that Fernando Alonso has taken to points finishes in 16 of the 17 grand prix weekends so far, Aston Martin's second driver Lance Stroll last scored at the end of July. Can he rediscover some form in the final races?
MB: There's surely no way he'll get to the end of the season without bagging a couple more points. But I can't see his performances changing enough to alter the narrative around him.
ES: There's no reason why Stroll can't pick up a few more points. He's a perfectly capable grand prix driver and hopefully his season has bottomed out. The main problem is that even at his best against Alonso he's still usually a step behind and if Alonso is more often than not fighting for minor points, that's going to mean Stroll might be a bit stuck in the midfield.
DH: Under the radar, Stroll was ninth on the road in Qatar before the track-limits penalties kicked in. It wasn't a terrible day by Stroll's 2023 standards, so I think he might still nick a point or two between now and season's end. As Matt said, though, the damage has already been done in his worst season to date.
GF: He should be able to sneak into the lower reaches of the top 10 at some point over the final races. But the questions over his position aren't going to go away.
10 GASLY VS OCON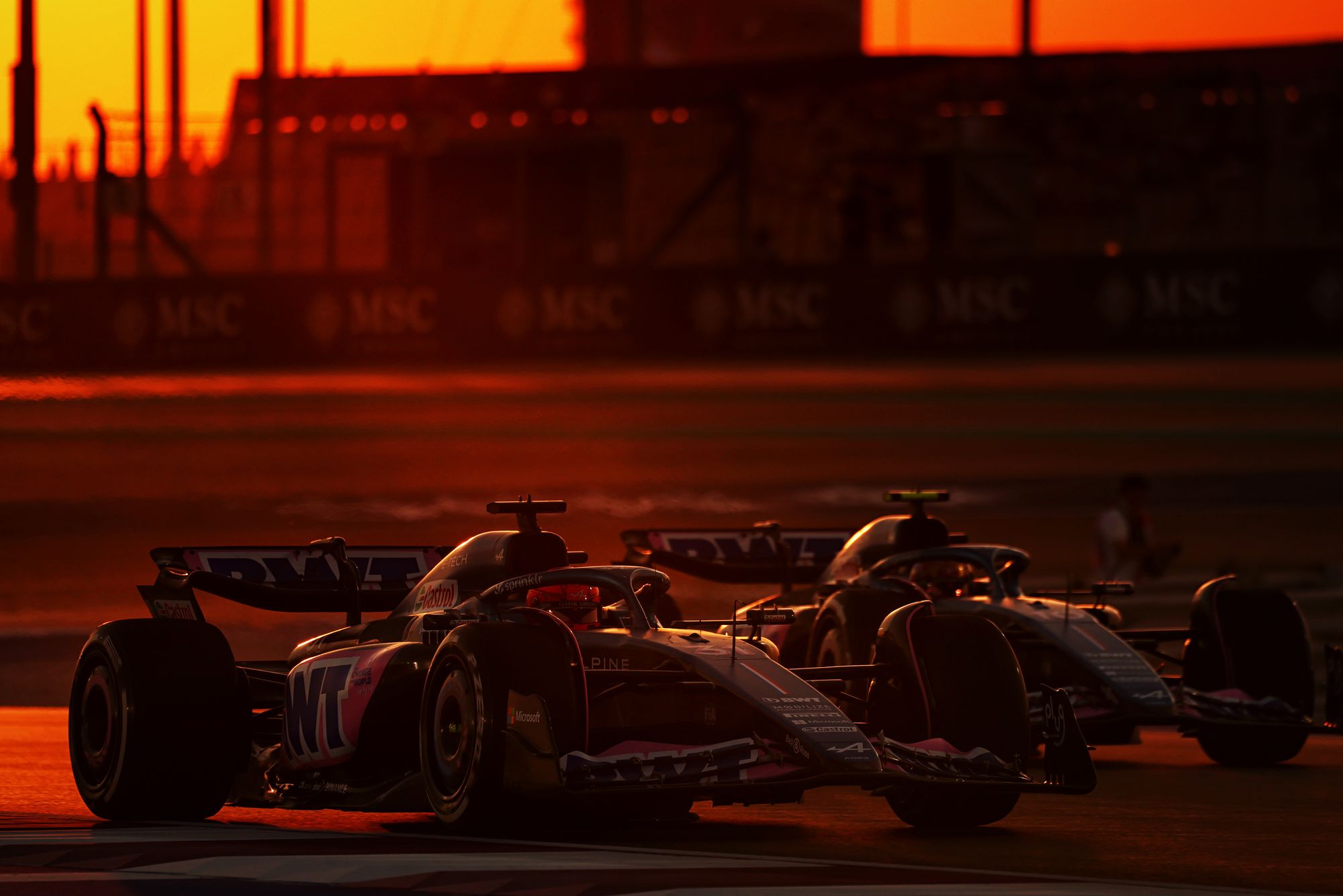 Just outside the drivers' championship top 10 right now, only two points separate Alpine team-mates Pierre Gasly and Esteban Ocon.
Neither will particularly care or remember where they end up in the final standings given Alpine's disappointing and turbulent year, but considering the history between them and the fact Gasly's only just arrived in a team Ocon was well established in, they'll surely notice who outscores the other come the end of the season.
JS: Ocon's been the slightly better Alpine driver this year even if the points don't reflect that. He lost a couple of big paydays this year due to no fault of his own. He'll reclaim at least one of them - watch out for Alpine at Las Vegas in particular - and end up rounding out the top 10 in the drivers' championship ahead of Gasly.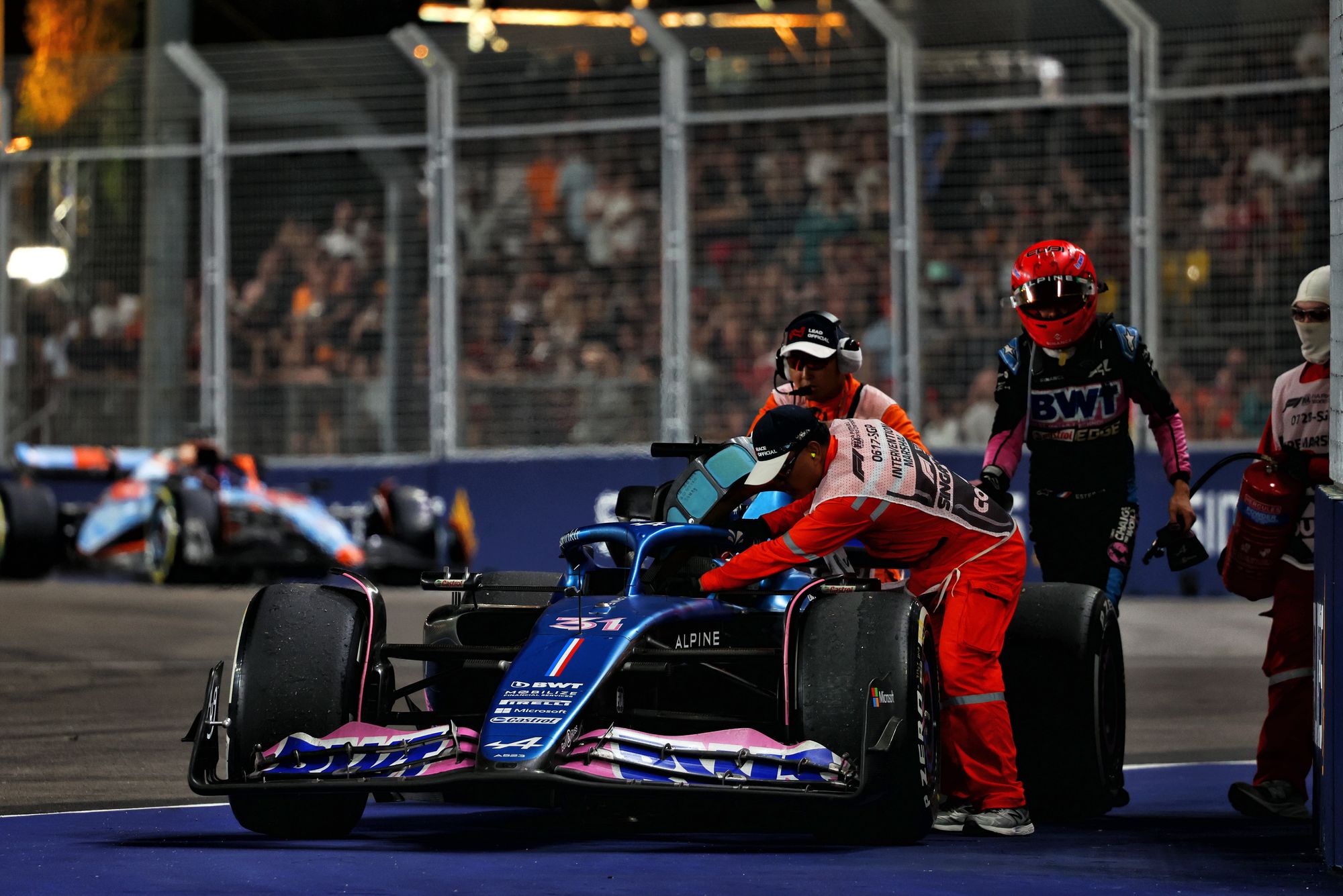 ES: This is a coin toss, meaning whoever prevails won't necessarily have proved themselves to be Alpine's main man no matter what the points table says. As it always looked, this is a decent driver line-up but neither has quite had the edge to step up and assert themselves.
SS: Fighting for pride only is sometimes quite interesting. But the bigger picture here is where do these two great French hopes now go in their career? Neither is particularly desirable to any bigger team and they are essentially treading water in a team that doesn't appear to have a definite direction. They are like the beaten cup finalists hunting for a late consolation goal. I feel sorry for both because they are in the wrong team just at the wrong time. I'm going Ocon ending 2023 ahead because he seems just that little bit tougher.
GF: I arrived here wanting to say "Flip a coin", but Edd has already claimed that!