Aston Martin F1 team boss Mike Krack has acknowledged the team's own analysis suggests it could've taken a late Monaco Grand Prix lead – but is not interested in re-assessing strategy priorities as a result.
Aston had brought in second-placed Fernando Alonso for a hards-to-mediums swap just as rain was picking up in Monaco, in what was effectively a wasted pitstop as it then drenched the second sector enough to require an immediate follow-up stop for intermediate tyres.
There has been much debate over whether committing to the intermediate tyres right away would've given Alonso the lead – and therefore the likely race win – over Max Verstappen, whose first stop followed a lap after Alonso's and whether Aston therefore fumbled a rare opportunity to deny the dominant Red Bull RB19 a win.
That scrutiny and reaction emphasised the increased attention Aston finds itself in as a now-frontrunning team – for the first time in around two decades – that carries the weight of the hopes of genuine competition out front in 2023 on its shoulders.
Both Alonso and Krack were defensive of the calls made in the aftermath – even if Alonso acknowledged the strategy may have been on the "conservative" side – and neither has changed rhetoric coming into the following weekend at the Spanish Grand Prix.
The justification for the way Aston had played the strategy at the time was that its weather radars did not show enough rainfall to commit to a definite switch to intermediates – but that Alonso was in a precarious situation in tricky conditions on well-worn hards, with a 'free' stop available relative to the cars behind but staying out longer to see how the conditions develop undesirable.
Asked in Barcelona whether the events of Monaco will lead to him pushing Aston's strategists to be more aggressive, Krack said: "If 'aggressive' means 'gambling', the answer is clearly no.
"We are not gamblers. We are a data-driven team. We look at all the information we're having.
"So… if that is what you mean, then the answer is clear."
Asked subsequently whether its own post-race analysis suggested Alonso would've taken the lead over Verstappen by picking inters instead of mediums in that first stop, Krack said: "The computer system says that if we had gone to inters, we would've probably come [through] in front of Max. But that does not mean we would've won the race.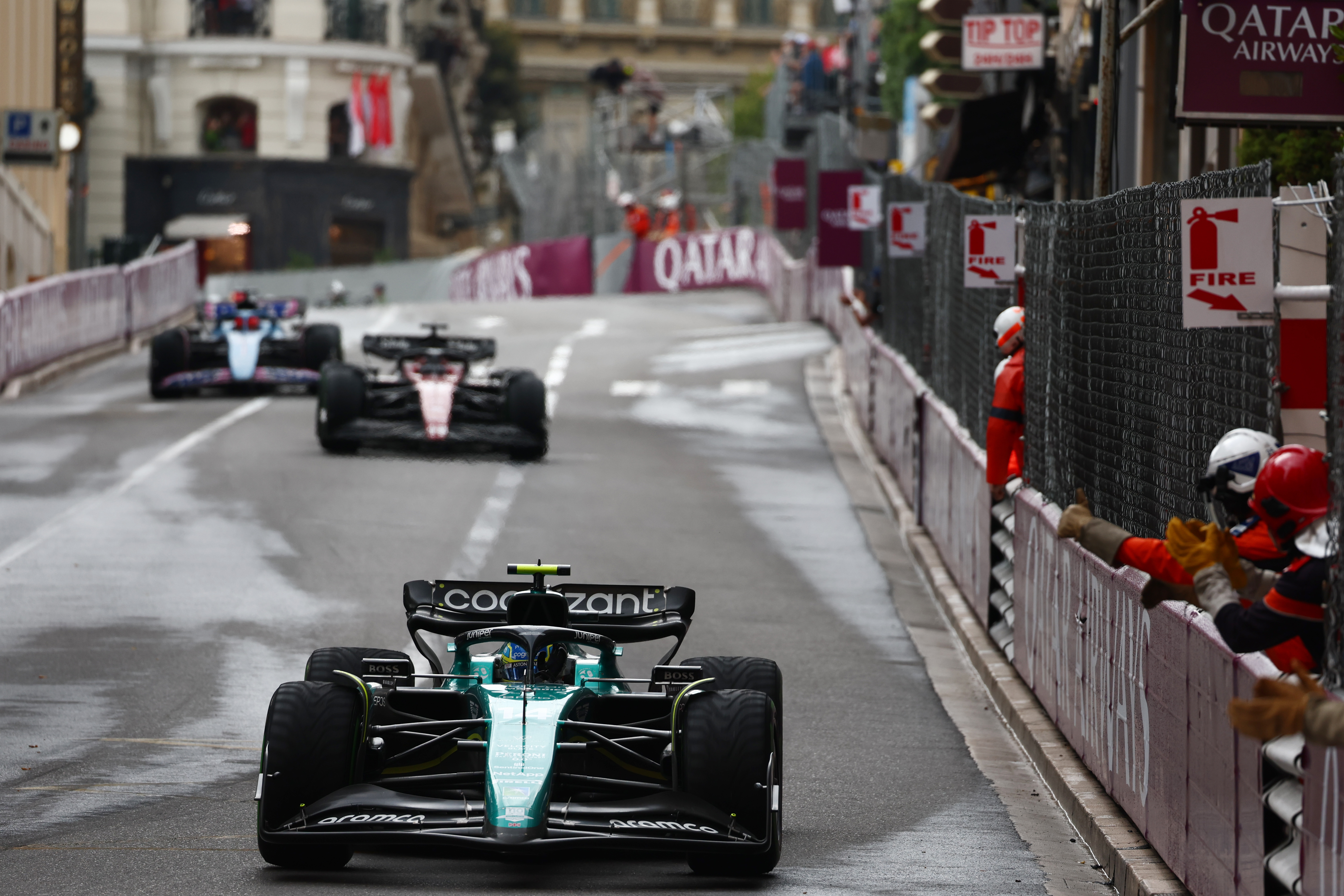 "So, yes, in the full benefit of hindsight, [taking the lead] would've been the case, but when you make the decisions you have to rely on the data that you have.
"And that is also what I said before. We are not gambling. From that point of view, everything was working as you should have it work.
"And it's clear that with the benefit of hindsight you might sometimes do things different."
It's unclear whether Aston's simulations factored in Verstappen taking it easy once Alonso and Aston pitted for more slicks and handed Verstappen and Red Bull a larger safety net.
"We had enough margin with the nine or 10 seconds that Max had when he pitted that even being five or six seconds off the pace, we'd have still been three or four up the road," Red Bull team boss Christian Horner said after the race.
"We had the time and it wasn't like the circuit was flooding with rain. So that gave us the ability to lose four, five, six seconds on an in-lap and still come out ahead of Fernando. And basically when we saw him leave the pits on slicks, it was a question of 'OK, don't even try'."'
Red Bull's own simulations had Verstappen marginally ahead even if Alonso would have pitted for inters rather than more slicks.
Alonso had admitted on Thursday that he was irked by the rhetoric over Aston's strategy, saying it was something he "doesn't like in Formula 1" – "that we always see the negatives".
"We always spot the one thing they [teams] do wrong and then we go hard on them."
Asked about his driver's comments, Krack said: "Yeah, but that is the nature of Formula 1. So, it's something we have to live with.
"We are exposed. And we want to be reported [on] when everything runs well, and then we have also to accept if reports are coming out if things could be better. It's not really a drama. I understand Fernando, that he points this out, because it is a fact. But we know that.
"And if the sport is so public and so under scrutiny, it is clear that these things are also being discussed. For me it's not a problem."