Aston Martin thought Fernando Alonso would "get away" with being on slicks in the wet because it misjudged the extent of the downpour that hit Formula 1's Monaco Grand Prix.
Alonso finished second in Monaco, earning his and Aston Martin's best result of the season, but could potentially have won the race had he switched to intermediates before race leader and eventual race winner Max Verstappen.
Aston Martin and Alonso did not know what to do in the half-a-lap before their crucial first pitstop in Monaco, when Alonso was set to pit before Verstappen after both drivers persevered with long-opening stints.
It would have been the only pitstop in a dry race but this was complicated by increasingly heavy rain in a specific part of a track, getting more wet from Casino through to Portier as the rest of the circuit remained dry.
Alonso was ready to make his first stop but the conditions made tyre choice tricky. Some drivers had already switched to intermediates, but they had a lot less to lose.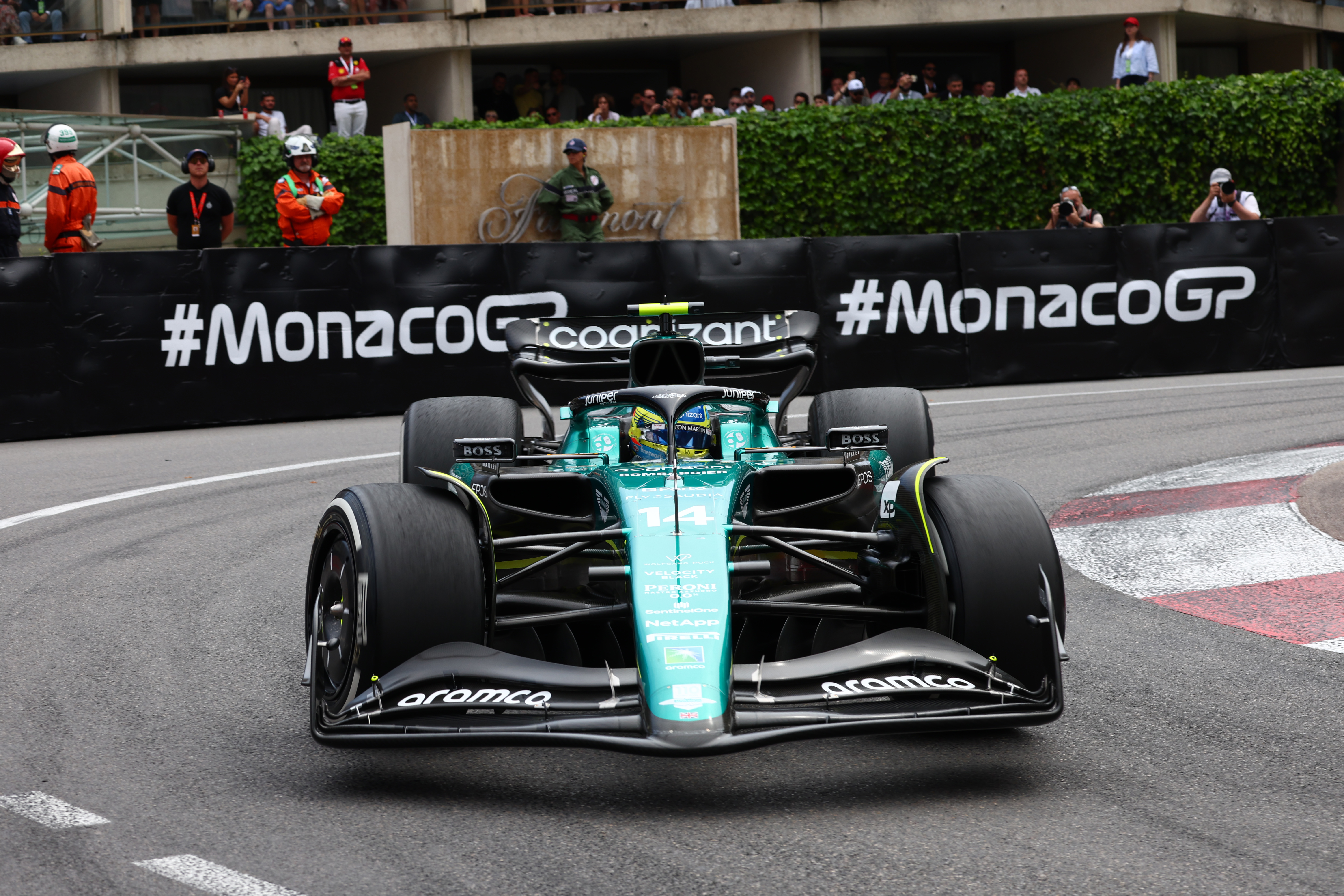 Alonso's report was that he needed intermediates for a few corners but the rest of the track was dry so he did not know what to suggest. Aston Martin's reply was to pit and that "it will be for mediums", which Alonso accepted.
There were several factors in this decision including Aston Martin being wary of Alonso's aged hard tyres losing temperature, thus believing fresh mediums would handle the conditions better, and crucially a belief that the rain would fall harder, for longer.
"We did not anticipate so much rain to be honest," Aston Martin team principal Mike Krack said.
"So we thought that it would just be a short shower and dry quickly because the track was very hot.
"Honestly, we thought we could go to the end with the mediums.
"But we misjudged a bit that it was raining, because in part of the track it took very long before it started to rain and it rained the least.
"Probably that was a bit of a misjudgment, because we also thought that the inters would wear down massively in this part of the track.
"At the end of the day, it was a conscious decision to go on the mediums. And we saw then a lap later that it was not going to work."
With the belief that the track would dry, Aston Martin's logic makes more sense – whether it was a bid for the win, or just what the team felt was the best decision for Alonso's race.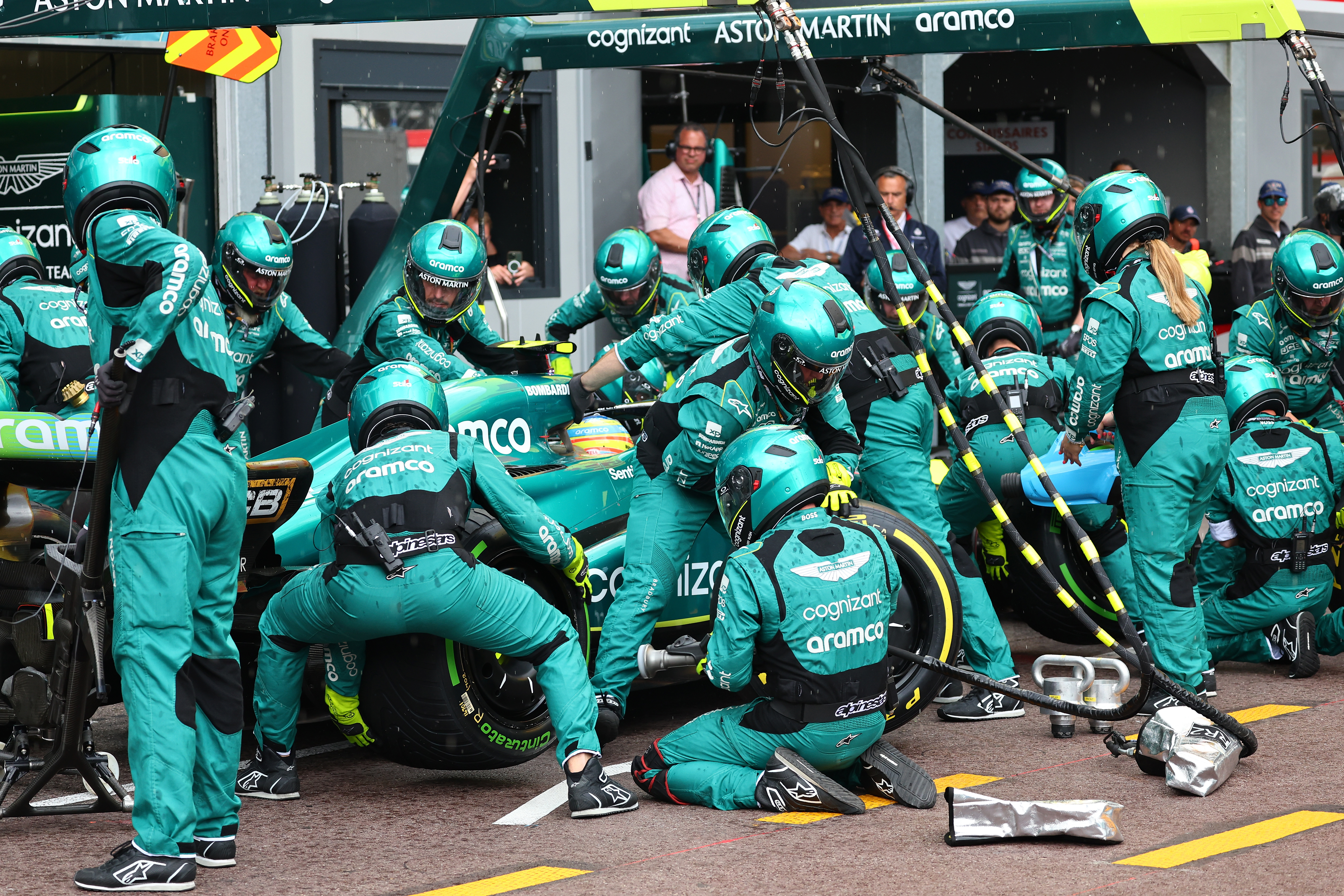 Had it not rained as much as it did there was an opportunity for the new set of mediums to get Alonso ahead of Verstappen, whose pace in the wet part of the track in the couple of laps before the pitstops was weaker than Alonso's, as he was struggling with his grained mediums.
That meant he was vulnerable. It was possible that switching to a fresh set of mediums would give Alonso a big advantage, either enough to undercut Verstappen in one lap or if not then enough to put pressure on.
That pressure could have forced Verstappen to delay the switch to intermediates by another lap, or even pit and go to slicks as well.
And if the slicks were the tyre to be on for the rest of the race then Alonso would have potentially been in a better position than Verstappen (who would have needed hards or a risky long stint on softs) to manage the interim laps with conditions at their worst and have more performance in the run to the end.
Red Bull team boss Christian Horner was surprised by the call and thought it did alleviate some of the pressure on Red Bull.
"We had enough margin with the nine or 10 seconds that Max had when he pitted that even being five or six seconds off the pace, we'd have still been three or four up the road," Horner said.
"I was surprised they took the medium tyre and that totally let us off the hook and then it was a question of 'OK Max, just get it to the pits and let us get the car turned around'."
Whatever Aston Martin was hoping would be the end result with a fresh set of mediums, it insists that reports of a "miscommunication" – that Aston Martin actually wanted to put Alonso on intermediates – were incorrect. The team simply felt that slicks were the right choice.
It tallies with Alonso's inlap coinciding with the tipping point for the conditions. He realised almost immediately that in the space of a lap the ongoing rainfall had made conditions a step worse.
"Raining heavy in Turn 3, it will be inters I think – yeah, raining very heavy in 5. Inters, next lap," he said.
Verstappen had already told Red Bull the same thing, so they both headed into the pits on the same lap, only now Alonso was closer to half a minute adrift.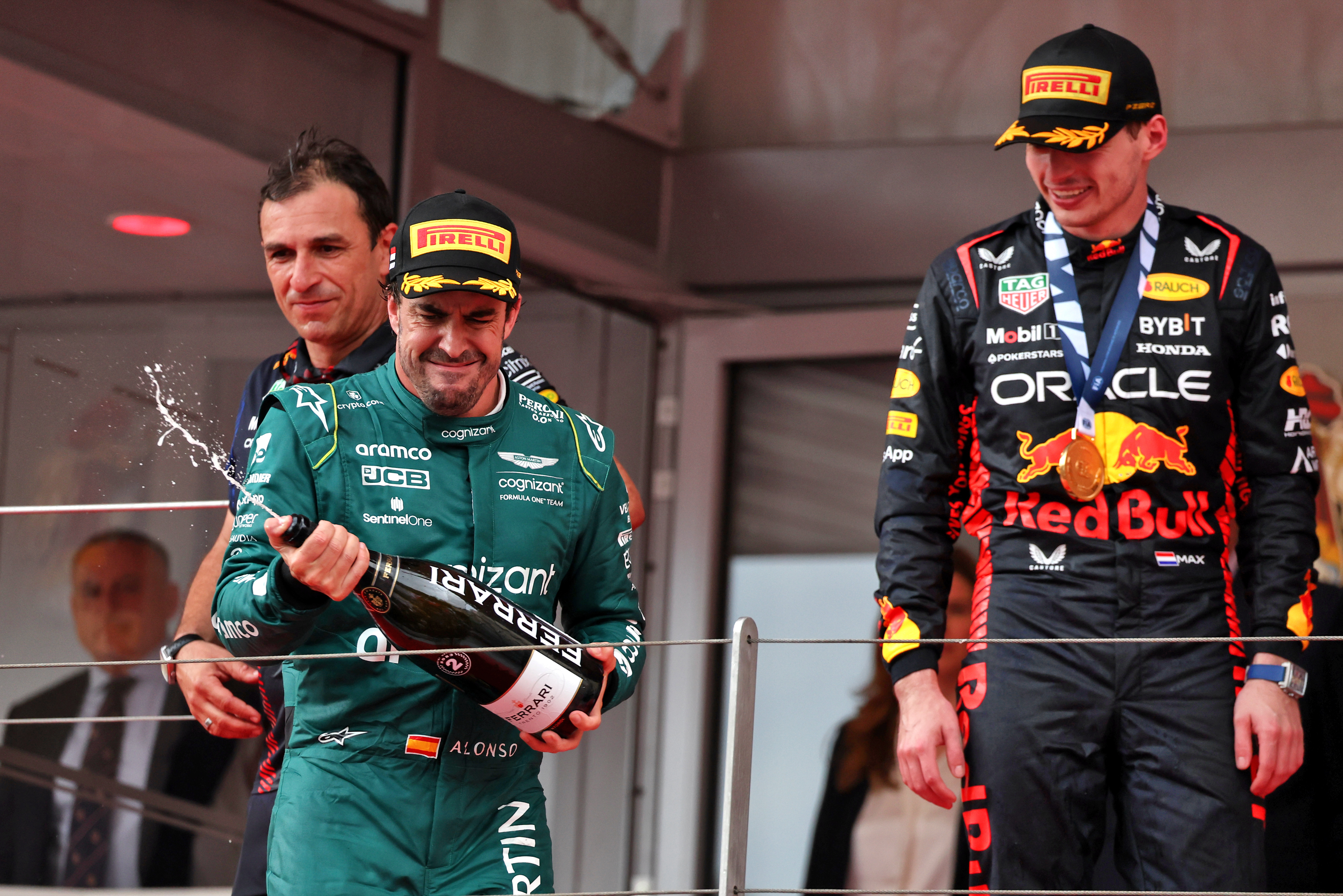 After the race, Alonso argued it would have been nonsensical to advise a switch to intermediates sooner.
"For me it was very clear that the track on that lap we stopped was completely dry, apart from Turns 7 and 8," he said.
"So, how will I put the inters? It was completely dry, 99% of the track.
"I stopped for dries, the weather forecast was a small shower, a small quantity of rain as well, what we had [on the monitors] as a team. And we had a lot of margin behind us, to put the dry tyres and if necessary the inter tyres.
"Maybe it was extra safe, I don't know. That minute and a half that it took to go through Turns 5-6-7-8 again, it changed completely."
Alonso is exaggerating when he says "the lap that we stopped, it was completely dry", because it evidently wasn't. But the key point – which Krack reiterated – is that had Aston Martin better anticipated the weather and judged the conditions slightly better too, a different decision would have been made.
"Where we could have been better was with the information about the weather," Krack said.
"For a long time in the race, we thought it was not even going to rain. And then we were surprised by the intensity."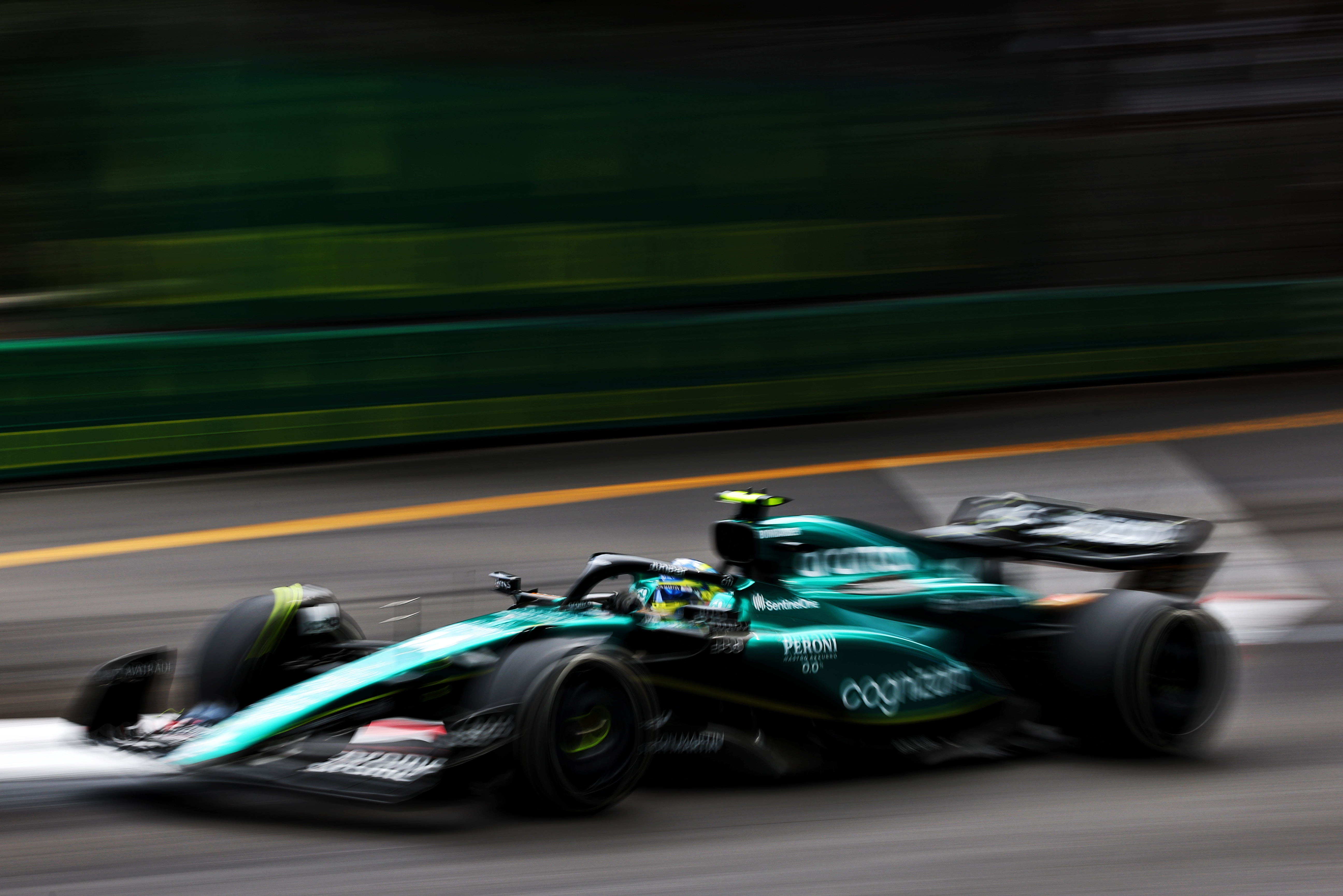 So, in hindsight, that switch to mediums was a wasted pitstop, and intermediates would have been the right choice.
The inevitable follow-up to that is whether Aston Martin committing to intermediates at that first stop could have won Alonso the grand prix.
In hindsight, very possibly. Judging by the pace of others, it would have potentially been enough to grab track position from Verstappen.
It's hard to make a like-for-like comparison because Verstappen's inlap was conducted with Red Bull knowing he now had an enormous advantage, that Alonso was on slicks, and that both would be pitting for intermediates anyway.
Verstappen's pace was much more cautious, so it's not fair to say 'the intermediate runners gained this many seconds on him and Alonso would have done the same'.
"We had so much margin, we didn't need to pressure it and get that decision wrong," Horner added.
"We had the time and it wasn't like the circuit was flooding with rain. So that gave us the ability to lose four or five seconds on an in-lap and still come out ahead of Fernando. When we saw him leave the pits on slicks, it was a question of 'OK, don't even try'."
If that straight sum was a fair comparison, then the likelihood is Alonso would have got ahead. But it is also possible that Verstappen, faced with a more critical inlap, would have held on.
"I don't think it was lost," Krack said.
"Because if we had fitted intermediates Max would have fitted intermediates as well and he had the gap.
"So, I don't think it would have changed much."
Alonso also resolutely defended his team, again rebuffing suggestions it threw something away and insisting the right call was made based on what they expected.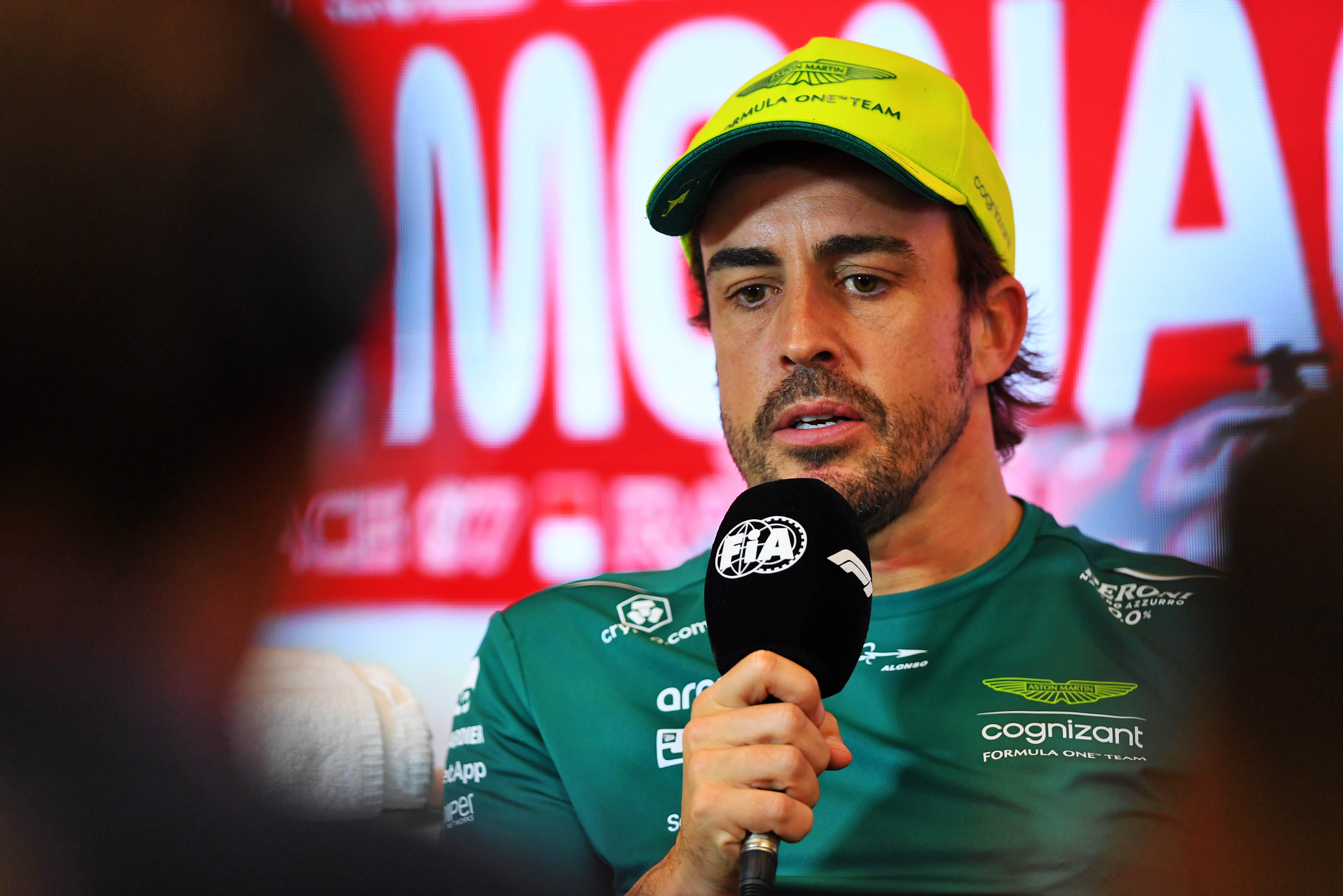 "It was a complex race to read, to execute, and we are P2," said Alonso.
"I know there were a lot of questions in the TV pen as well, about fitting the inters and trying to win the race, but honestly this is a different race than what we saw in the team.
"And we are P2. We are very happy. Very, very happy with the race. Because P1 was very fast today.
"In any tyre, in any condition, Max was always 15 or 20 seconds in front of us.
"There was no chance to win today."