As a bag of potato chips (that's crisps, to the English reader) goes flying up in the air, and two men barely out of their teens laugh and giggle. It doesn't cut the stereotypical image of serious racing drivers. But then, that's not a new thing for McLaren, is it?
The fact of the matter is, McLaren's Formula 1 renaissance in 2019 was spurred on by two unlikely stars. In one corner was Lando Norris, a young rookie gambled on by McLaren to get up to speed quickly. Alongside him, Carlos Sainz Jr fell into McLaren's lap as his Red Bull and Renault hopes faded, but he led the team excellently with good rear-gunning from Norris. The spoils? Head of the midfield, something McLaren could only have dreamed of in 2018.
While Sainz was highly-rated coming into the team, perhaps what was unexpected of him was how he opened up, showing a fun side brought out by Norris. The latter will be well-known to those who watched him through his junior single-seater career, his love of memes and a penchant for always smiling giving a hint of what he'd be like if he ever made it to the top tier. Worries of that fun-loving side fading when he got to the corporate world of F1 were unfounded.
Sainz took longer to come out of his shell in his F1 career, but the pair used 2019 – even if not quite on purpose – to show that team-mates can get on and also achieve results, getting the serious work done alongside the goofing around when the sessions were concluded.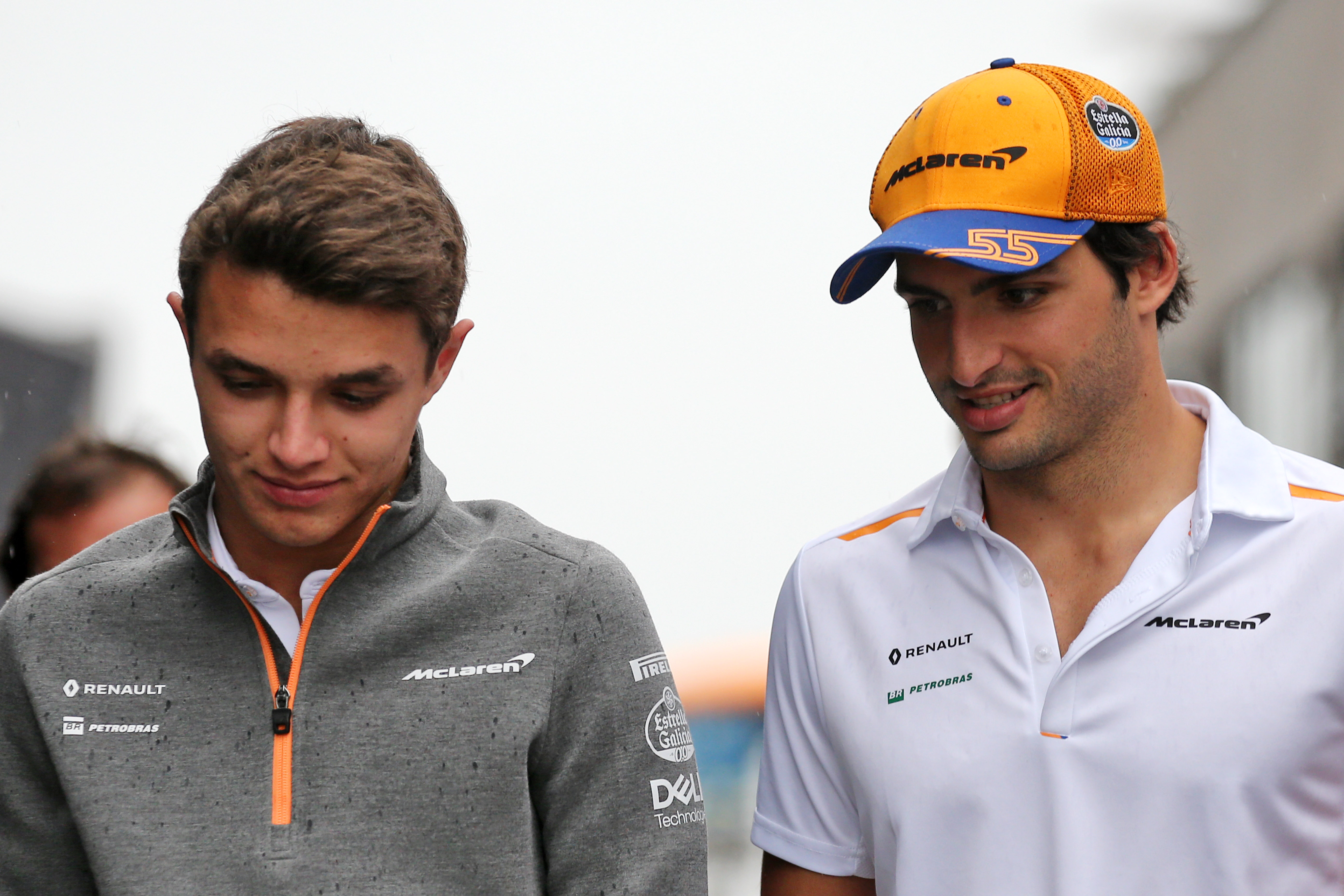 The biggest change moving into 2020 for McLaren was not in F1, though. In 2020 it has tied up with Arrow Schmidt Peterson Motorsports in IndyCar to launch a bid to take on more than just the Indianapolis 500 – as it had done in twice before in the 2010s, with very mixed methods and outcomes. The creation of what is now Arrow McLaren SP was and is a concerted effort to establish McLaren at the top tier of American motorsports.
To do that, why not take on a driver model that delivered so much success in F1 in 2019?
We can already tell it's going to be a fun year with these two.@Oliver_Askew // @PatricioOWard pic.twitter.com/t8XMB89B8C

— Arrow McLaren SP (@ArrowMcLarenSP) November 2, 2019
Patricio O'Ward has had a rollercoaster 12 months. The Mexican driver flirted with Europe at the beginning of his career in 2013 and 2014 in Formula Renault and French F4, but soon returned to work his way up the Road to Indy ladder.
In 2018 he won the Indy Lights title and impressed with a spectacular IndyCar debut at Laguna Seca at the end of that season, qualifying fifth before finishing ninth. The money from winning Indy Lights was welcome, but a misunderstanding of what equipment he would get with that money meant a late switch to Carlin, where he spent the first half of the season before Red Bull came calling.
"Obviously it's a business and you have to be focused but there is some time to enjoy it and have some fun as well – if you are getting your job done" :: Patricio O'Ward
Red Bull was in some trouble with a lack of juniors to fill a void, and O'Ward had impressed its chief Helmut Marko. But a misunderstanding of how many superlicence points he had didn't help things, and a mid-season baptism of fire in F2 and then Super Formula tested O'Ward's adaptability. The two parted ways at the end of the year and O'Ward salvaged an Indy return with McLaren.
Alongside him in 2020 will be Oliver Askew. A late starter in motorsport, he has less experience than maybe a normal 23-year-old on the racing ladder would. But Askew is an old head on young shoulders, methodically working his way through every championship or event thrown at him until he won Indy Lights last year and got the nod to join McLaren in a dream IndyCar move.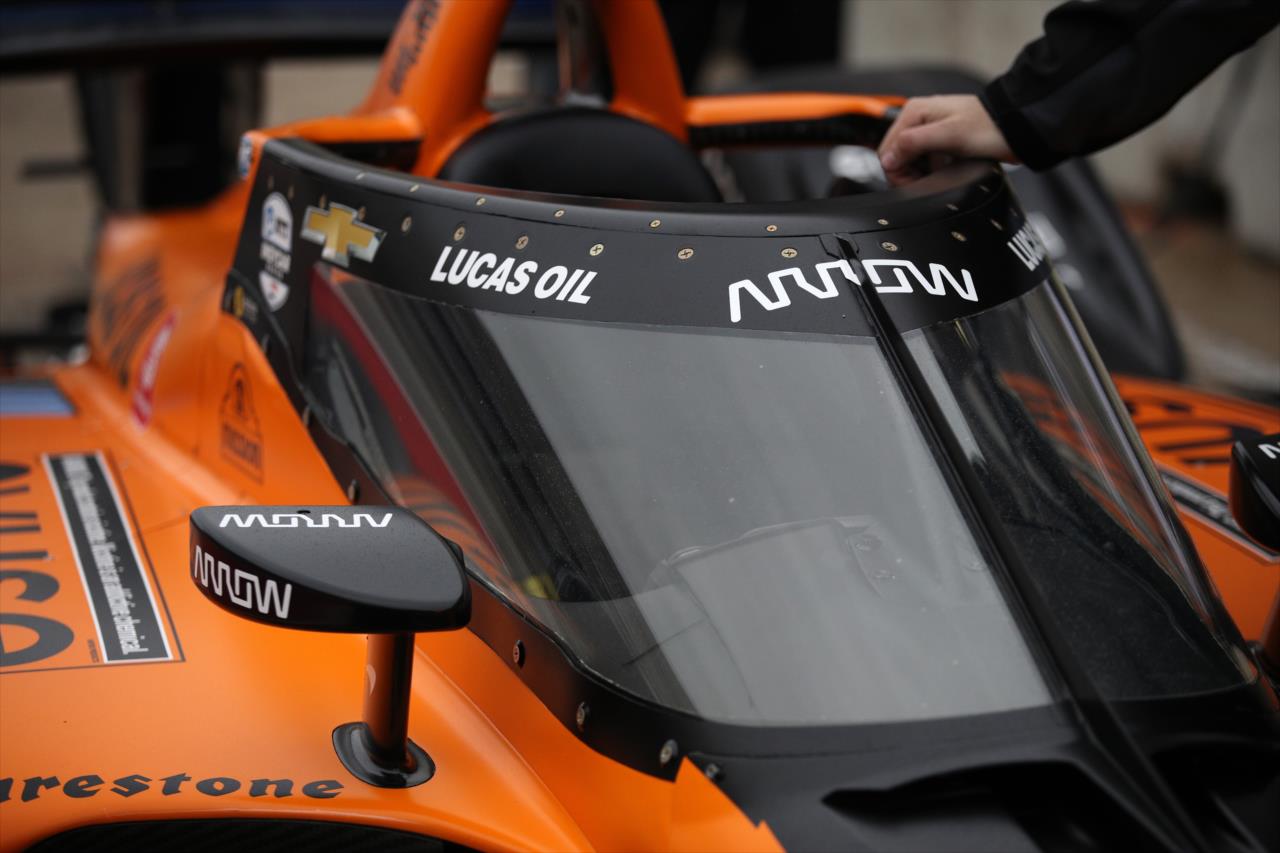 O'Ward is the likeable, outgoing character, bringing the fun side out of a slightly more serious but still energetic and likeable Askew. O'Ward is Norris, Askew is Sainz. And that's exactly what McLaren was going for.
"I think that's what we're going for right now," O'Ward tells The Race. "Obviously it's a business and you have to be focused but there is some time to enjoy it and have some fun as well – if you are getting your job done.
"Every time we have some stuff, me and Oliver are completely different. I feel like him having me around has loosened him up a bit at least. He's a super-fun guy, it's just not a lot of people know that side of him. I want people to see that because it's super-fun and I laugh all the time whenever I'm around him.
"What's most important is that having a good environment is just going to help."
The business point is an interesting one brought up by O'Ward, unprompted. While Sainz and Norris have proved that freedom to have fun away from on-track sessions can deliver results just as well as a more restrictive approach, it has also opened up McLaren – which relies on sponsorship – to a younger audience. That makes it more attractive to many of potential-sponsor companies looking to activate a younger audience – an audience that doesn't always associate itself with motorsport, which has a generally older fanbase.
⚫️ What is @PatricioOWard's favorite food?
🟠 Where was @Oliver_Askew born?

Find out as Pato and Oliver go head-to-head in Teammate Trivia. #TriviaTuesday

Full Video ➡️: https://t.co/uwS7JZdOiA@ArrowGlobal // #McLaren // #IndyCar pic.twitter.com/6hc6fg18ud

— Arrow McLaren SP (@ArrowMcLarenSP) January 28, 2020
Norris is regarded by many as the most important Formula 1 driver in the paddock for his future ability to attract fans in the gaming world as well as traditional F1 fans. He can to bridge the gap to a YouTube generation that sponsors want to attract. In that sense, Norris is proving that from being such a draw during the coronavirus-induced simracing boom currently going on.
So it's a win-win for McLaren. A fun approach appears to be delivering results on track in F1, and also making it much more attractive as a proposition to sponsors by improving its social media and online reach to a younger audience. Don't forget, while Norris is much more active on things like Twitch, Sainz has created his own niche with his activity on Twitter and Instagram, in particular embracing radio messages in a comedic fashion.
Askew is really interesting in that he's a late-comer to a top-line motorsport series in terms of his age. From the outside, he doesn't appear to fit into the Norris/O'Ward mold. But the same could have been said for Sainz before he arrived at McLaren, and Askew already has a headstart on that with a strong social media reach thanks to a brilliant if small team behind his certainly IndyCar-worthy talents.
On whether McLaren had signed him and O'Ward to replicate that Sainz/Norris relationship, Askew says: "I think naturally Pato and I will be a similar pairing, I think that's what McLaren is looking for picking us to be on their IndyCar programme.
"We're both pretty young and we get along so well. At the same time we're very different too, but I guess opposites attract is what they say!"
Showing up to the rodeo like…@Oliver_Askew // @PatricioOWard // @IndyCar // @COTA pic.twitter.com/Iub6kkVDaR

— Arrow McLaren SP (@ArrowMcLarenSP) January 9, 2020
The big question mark – as it has been for Sainz and Norris in F1 – is what happens when they collide on-track, or one of them does something specific to upset the other.
The IndyCar roles are slightly different in that sense as O'Ward appears to be the number-one driver while Askew gets up to speed at this level.
"I think so far our roles in the team have been different,"  says Askew. "That plays a big part in how we get along on track and in the engineering room.
"But at the end of the day we are both hired to drive for this team, the team will come first no matter what. We're always going to obey team orders and that's just how it's going to be.
"My relationship is pretty open with Pato, if I have a problem with anything I'll be vocal about it and I'm sure he'll be the same way. So I think that's going to be really important moving forward.
"We've been working really well together. We're both very competitive, but we both know what is best for ourselves at this point in our career, moving forward. That's to do the best for the team."
It's definitely not a prerequisite that it will work out how Askew hints at, though, in terms of O'Ward being the apparent number one in the team. Askew could take a look at Sainz and Norris for that too, in the sense that Sainz looked like the de-facto number one ahead of 2019 before Norris proved his capabilities and the pairing ended the season pretty much on an even keel.
O'Ward has a difficult career to unpick. While he has more experience than Askew generally, the Mexican driver is two years younger than Askew, and has actually only started eight IndyCar races – despite having made his debut in 2018.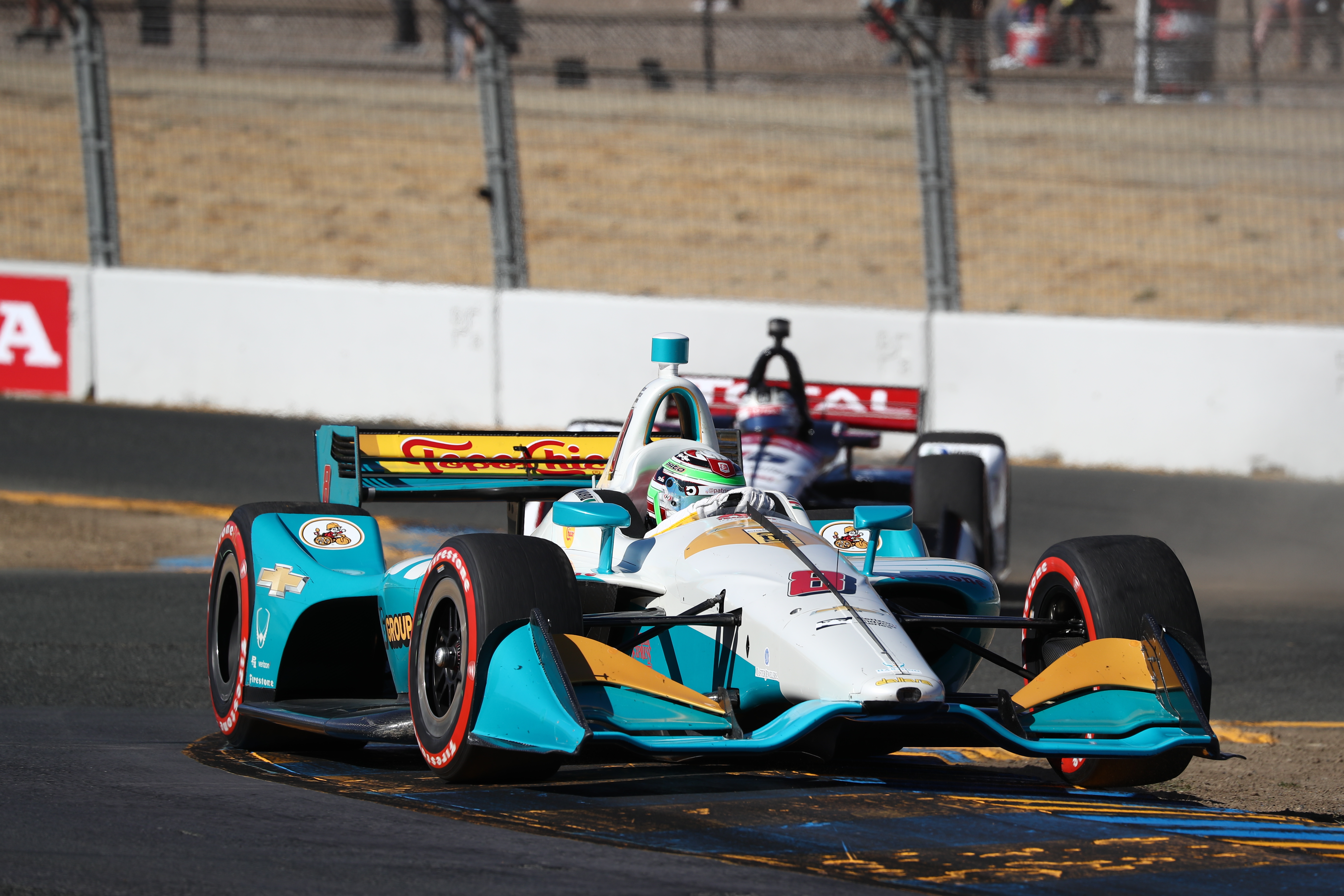 However, O'Ward doesn't feel like a rookie, or like he's inexperienced.
"I feel good, to be honest," he adds. "I know I'm going to get up to speed quick. The last day of testing that we had, it was really, really good. I'm not worried.
"I just wanted to get down to racing, and then boom, all this crap [with the coronavirus] happens.
"There's some things we won't learn before we race, as much as we want to prepare. But any extra time is good, especially with very experienced people like McLaren, and the SP guys as well. I feel that every team is going to improve wherever they can. But I feel like the only thing that will help now is testing and being in the car."
That is one thing that O'Ward, Askew and the team can't do while the world remains in a pandemic-induced lockdown.
Despite not having his own simulator rig set-up (until this week), Askew has impressed with his form in the IndyCar iRacing Challenge. But he is one of the drivers most hurt by this delay. Not only does he not get his IndyCar debut underway, he misses races he excelled at in Indy Lights last year.
He won both Lights races at the Austin, for example – a track kind to rookies, where IndyCar newcomer Colton Herta won last year – and now that round has been cancelled. He'd performed well at some of the other tracks that have had events postponed as well, but whether their 2020 races will go ahead is yet to be seen as IndyCar continues to reschedule rounds despite not knowing how this pandemic will continue to unfold.
"As far as speed goes, I think it's there," said Askew, speaking after pre-season testing. "I know that I need to work a little bit on getting the most out of new tyres. The Cooper [Indy Lights tyre] comes in a little bit later than the Firestone so I think adapting to the softer, higher performance on those first few laps on the Firestone is something I'll be focused on."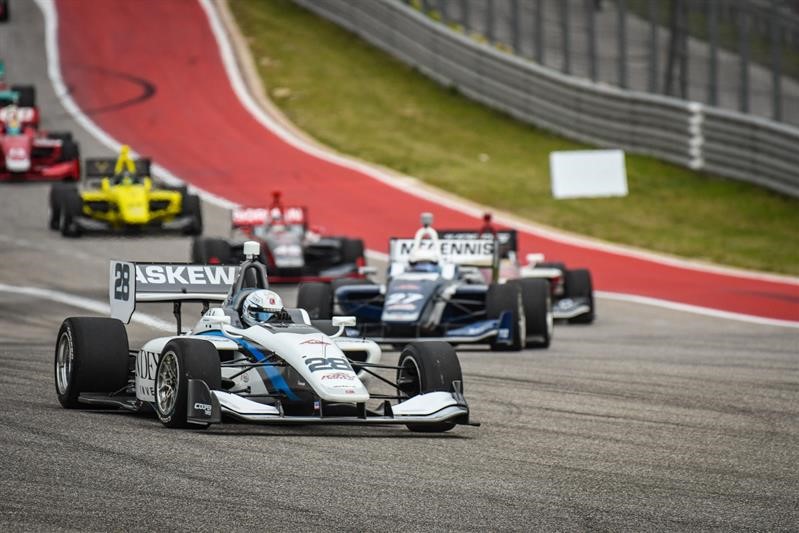 There's no doubt that McLaren have chosen well with its drivers. O'Ward is motivated to have some consistency after a year where he was dragged around the world, given hope and then had it taken away, with good and bad experiences and a rollercoaster of emotions. Askew is keen to prove – which he no doubt will – that despite his late entry to IndyCar compared to most rookies, that he has what it takes.
The question mark around that is whether the Arrow McLaren SP tie-up can provide machinery capable of letting its drivers produce the goods.
Expertise and personnel from the F1 side have been integrated into the new squad as it bids to improve – particularly on its road course form – for 2020. If it can do that, it has the drivers to entertain on and off the track, just like Sainz and Norris.