Max Verstappen won the Hungarian Grand Prix with ridiculous ease. "Sometimes you have those days where you could put any tyre on and you'd win," he later admitted.
As soon as he'd beaten polesitter Lewis Hamilton into Turn 1, he was gone. But even if he'd not got ahead there, and Hamilton had led initially, he'd have found a way – because the RB19's superiority was vast here on race day. It even had Verstappen comparing it to his imperious victory of Spa last year, as the most dominant of his Formula 1 career.
So what was behind the contrast with qualifying?
"That was so enjoyable to drive, especially in that last stint," said Verstappen to Red Bull over the radio as he took the team's historic 12th consecutive race victory. The words contrasted starkly with those he chose to describe the car in which he lost pole position to Hamilton's Mercedes the day before. That car just wouldn't load up at the apex, he'd complained – and explained how that was the worst possible balance for him.
The two things – a Sunday car he described as one of the best he's ever had and the dissatisfaction he felt with it in qualifying – were linked. This was not just a reflection of the contrasting emotions of losing pole but winning the race. It genuinely was not great in qualifying. It was so good in the race because it was understeery in qualifying. That 'worst possible balance for me' on Saturday was to protect the rear tyres on the circuit which imposes the highest thermal stress on them all season.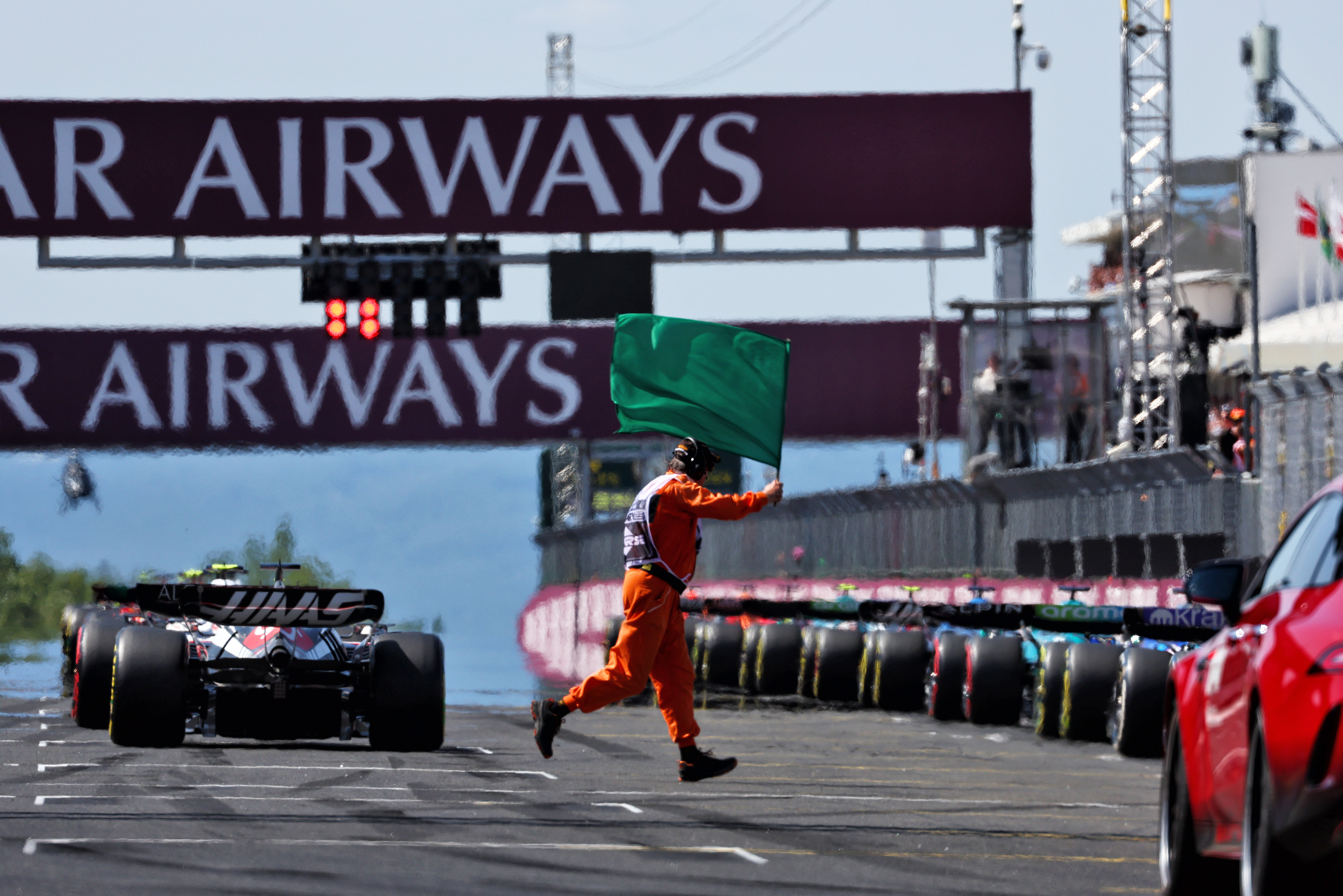 Exacerbating that challenge, it was known on Saturday that race day was going to be even hotter. Track temperature at 3pm as the cars sat on the grid was 48°C. The ambient was 28°C. These numbers represent very serious workouts for tyres, engines and brakes around a relatively slow track with not much straightline running to give things a chance to cool. A perfect balance around here for qualifying would give you a rear tyre-eating monster of a car on Sunday.
On Saturday the competition, along with the rest of us, was pondering whether Red Bull had just not found the sweet spot, as sometimes happens. Or whether the extreme way it'd had to open up the bodywork for the heat had impacted disproportionately on its aero compared to everyone else. But the engineers within the team knew better, had very hard metrics on rear tyre temperature they would not budge from.
Within that constraint they of course tried to give Verstappen a balance with which he could take pole. But they were only prepared to go so far. "We tried a few different things on the set-up," explained Verstappen after the race. "Which probably worked very well for today.
"We tried so many things but it never worked on one lap. It might have been we didn't make our tyres work well over one lap. Because in the race everything heats up, runs hotter for a long time. You need a very different balance for that. Then we had warmer ambient and track and it all came to me and that's probably why I had such a nice balance today."
But that compromise in balance between qualifying and race was always going to be greater here than anywhere else. This car is always less competitive in qualifying than in the race, for reasons which have been explained here many times. Because the Hungaroring doesn't much reward the Red Bull's superior aero efficiency, the usual offset between its qualifying and race competitiveness was enough to open a window of opportunity of a few thousandths of a second for someone – and Hamilton slotted straight into it to take his first pole since 2021.
But apply the usual Red Bull step-up from qualifying to race, where the pace is defined not so much by the fine-honed balance which allows a great driver to do his best stuff but by the much blunter demands of rear tyre temperature control, and the RB19 was always going to be the fastest. Even Mercedes realised that and planned Hamilton's race accordingly.
What was a surprise was the size of the Red Bull's margin. It was enormous. Why?
The Red Bull upgrade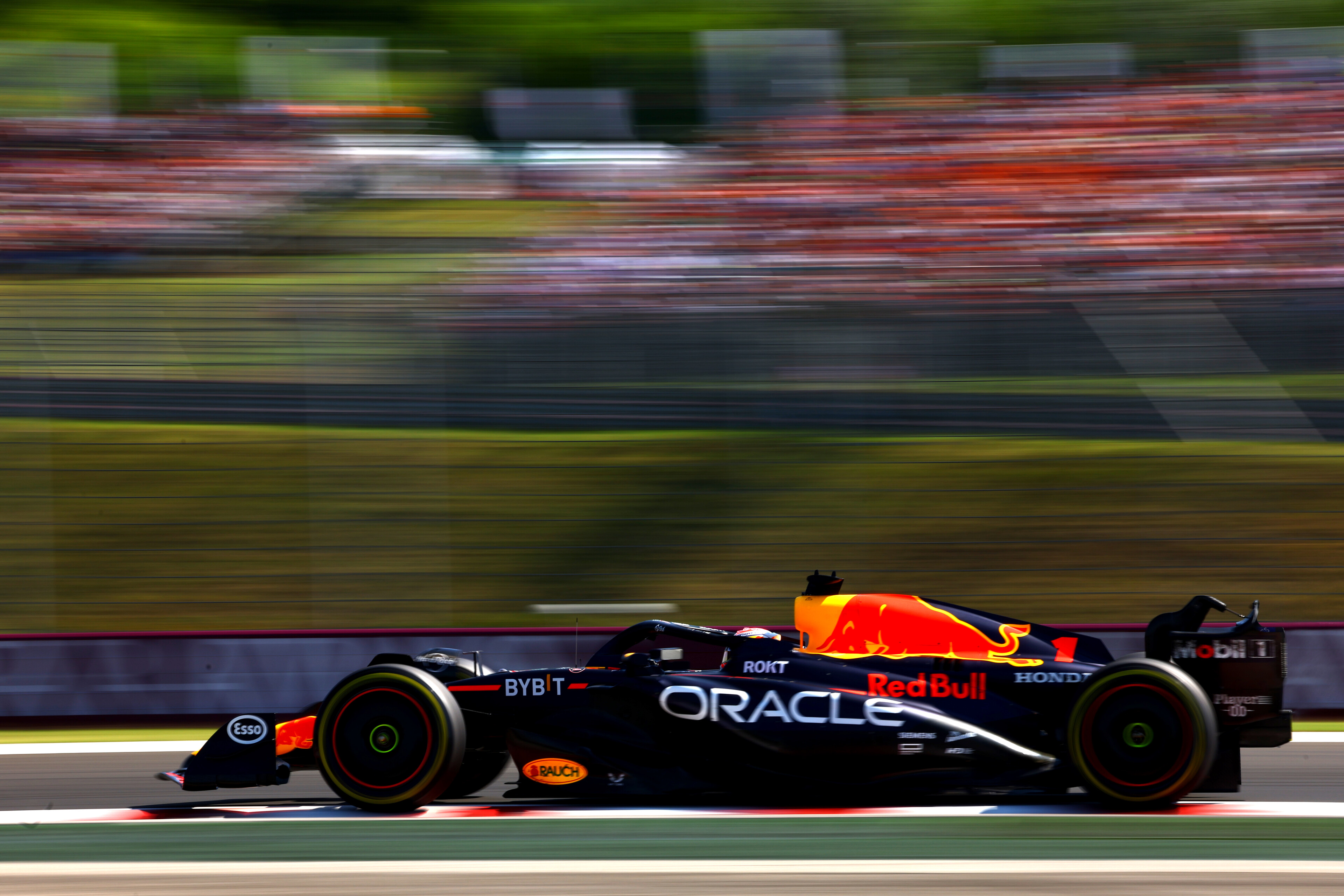 The new bodywork based around the squashed and widened radiator inlet induces higher air pressure at the inlet, speeding up the cooling flow through the radiators, theoretically requiring less air volume for an equivalent cooling effect. This in turn makes more of the oncoming air available for downforce creation. According to team simulation it was worth around 0.2s.
It looks like that 0.2s was fully realised, merely disguised in qualifying. Generically, the car is faster than the others because it has greater aero efficiency. Which gives it more flexibility in set-up from track-to-track. But at a high-downforce track the advantage of that is reduced.
Here Red Bull ran a bigger than usual beam wing and rear wing to generate the downforce required (and to protect the rear tyres), losing it not only its one-lap balance, but also aero efficiency and its usual DRS advantage. That DRS advantage is part of what usually allows it to squeak pole despite front tyres which are a little reluctant to be up to temperature at the start of the lap. Maybe without the upgrade, it would have been 0.2s off pole here rather than 0.003s.
Cooling levels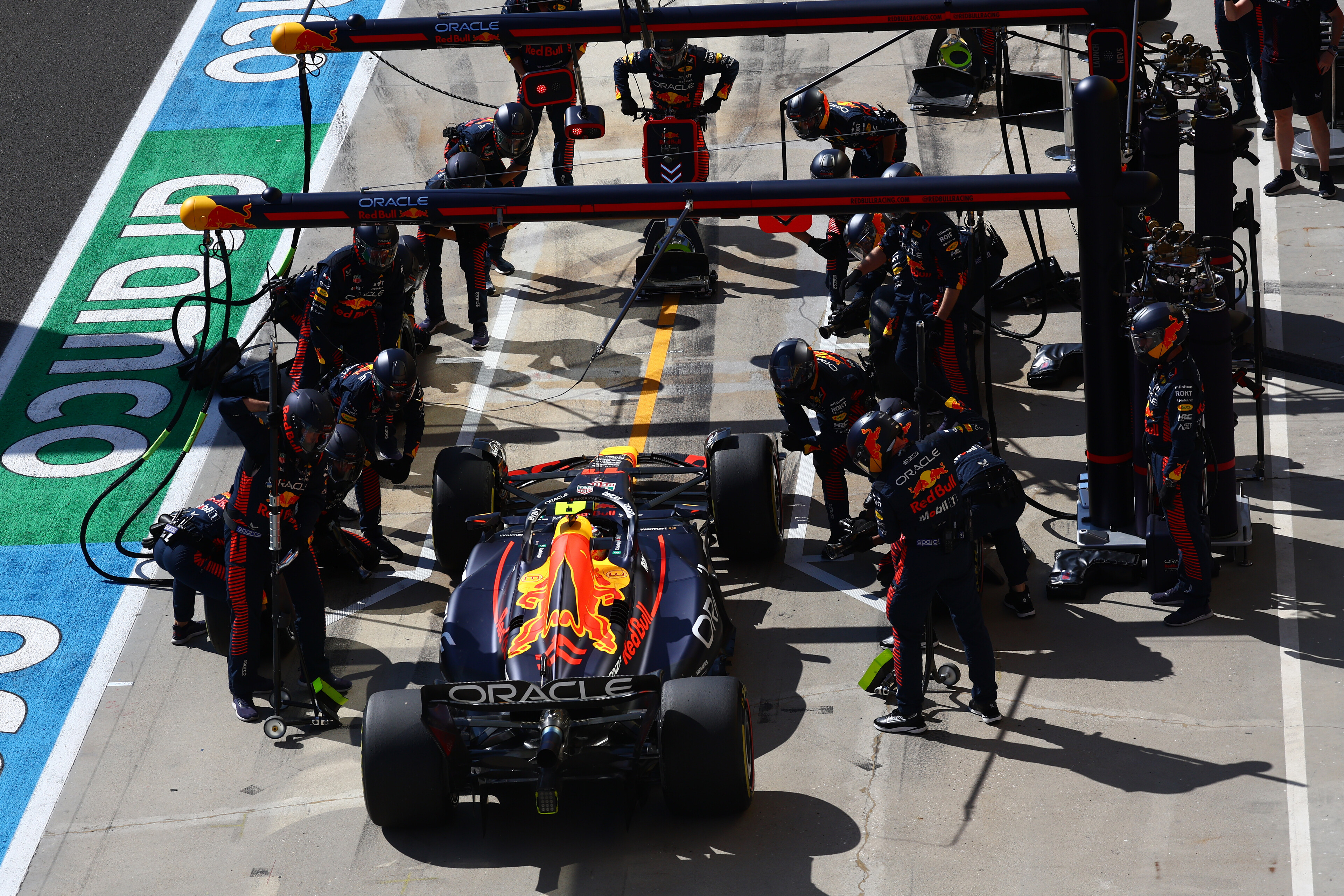 Then there was the power unit cooling levels. At the base of the Red Bull's new engine cover there are five cooling gills. Every one of them was open. They inflict a very significant performance penalty as the hot extracted air compromises the downforce-generating airflow to the rear of the car.
The Mercedes gills are sited further forward, atop the sidepods. At some hot races earlier in the year, it had up to four of them opened up. Here, it had only two.
Did Mercedes go a little over-ambitious with its cooling package? That would for sure help it in qualifying and without that choice Hamilton would not have been on pole. But it seems as if it did hurt Mercedes in the race.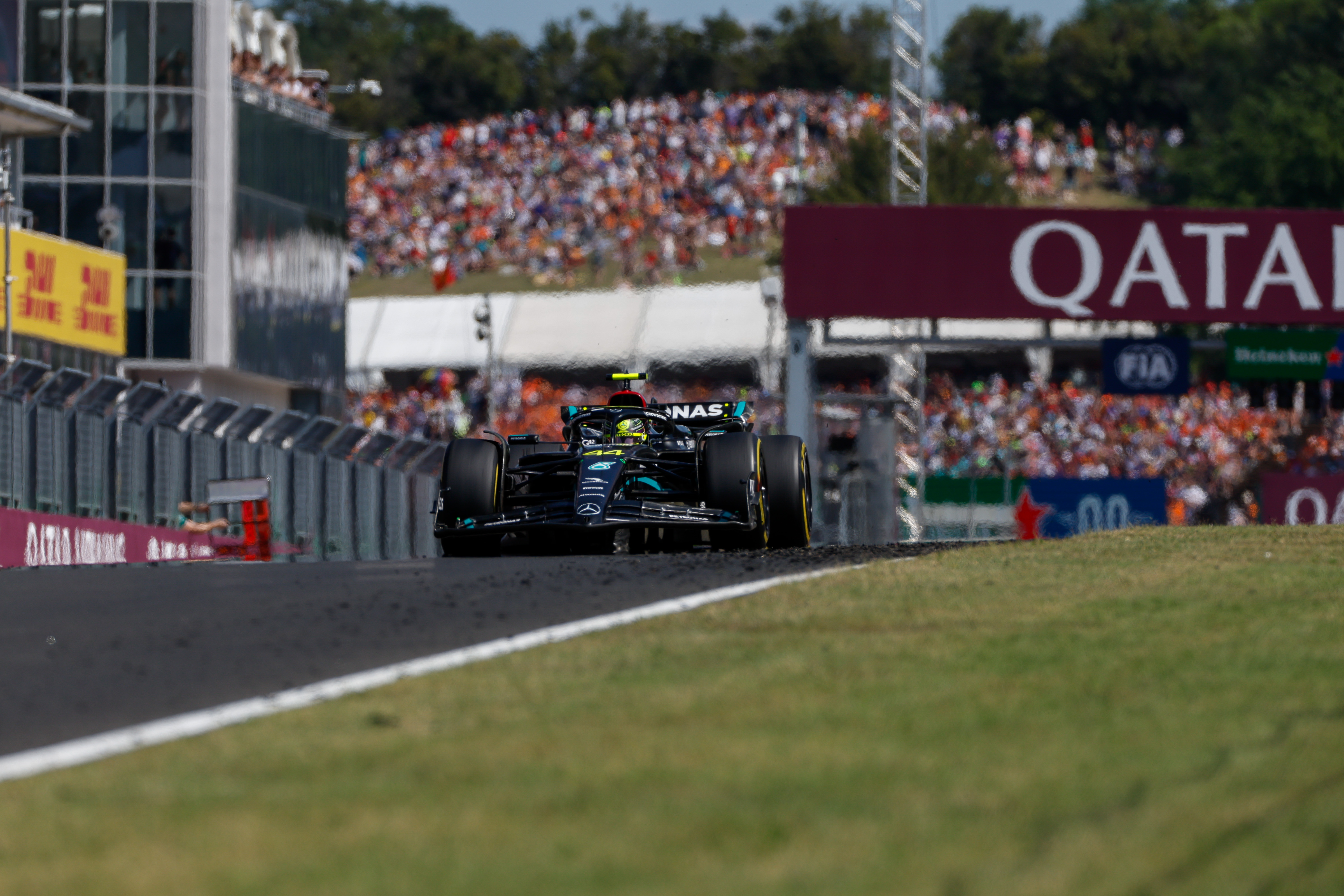 You may have heard Hamilton questioning whether the power unit had been turned down. And the ambiguous answer he received from race engineer Pete Bonnington.
The PU was indeed being run more conservatively. Because of the aerodynamically aggressive cooling levels chosen. That cooling level may have been fine had he been running in clear air at the front. But he ran the first stint in fourth. His initial getaway was good, albeit not as good as Verstappen's. This had enabled Max to instantly aim his car between Hamilton and the pitwall. "Once I was inside, I knew the corner was mine," said Verstappen.
Hamilton ran his wheels super close trying to dissuade him but that was never going to happen. Max braked late, took the lead into Turn 1, and Hamilton tried hanging on around his outside. As Max ran him out wide, so Hamilton's lost momentum allowed Oscar Piastri to shoot past up to second. Lando Norris on the outside into Turn 1 had been prevented from turning in by the Verstappen/Hamilton late-braking contest and so had lost out to Piastri there, but now he had better momentum than Hamilton and nailed a beautiful move around the Mercedes' outside through Turn 2 to grab third.
The M
c

Laren effect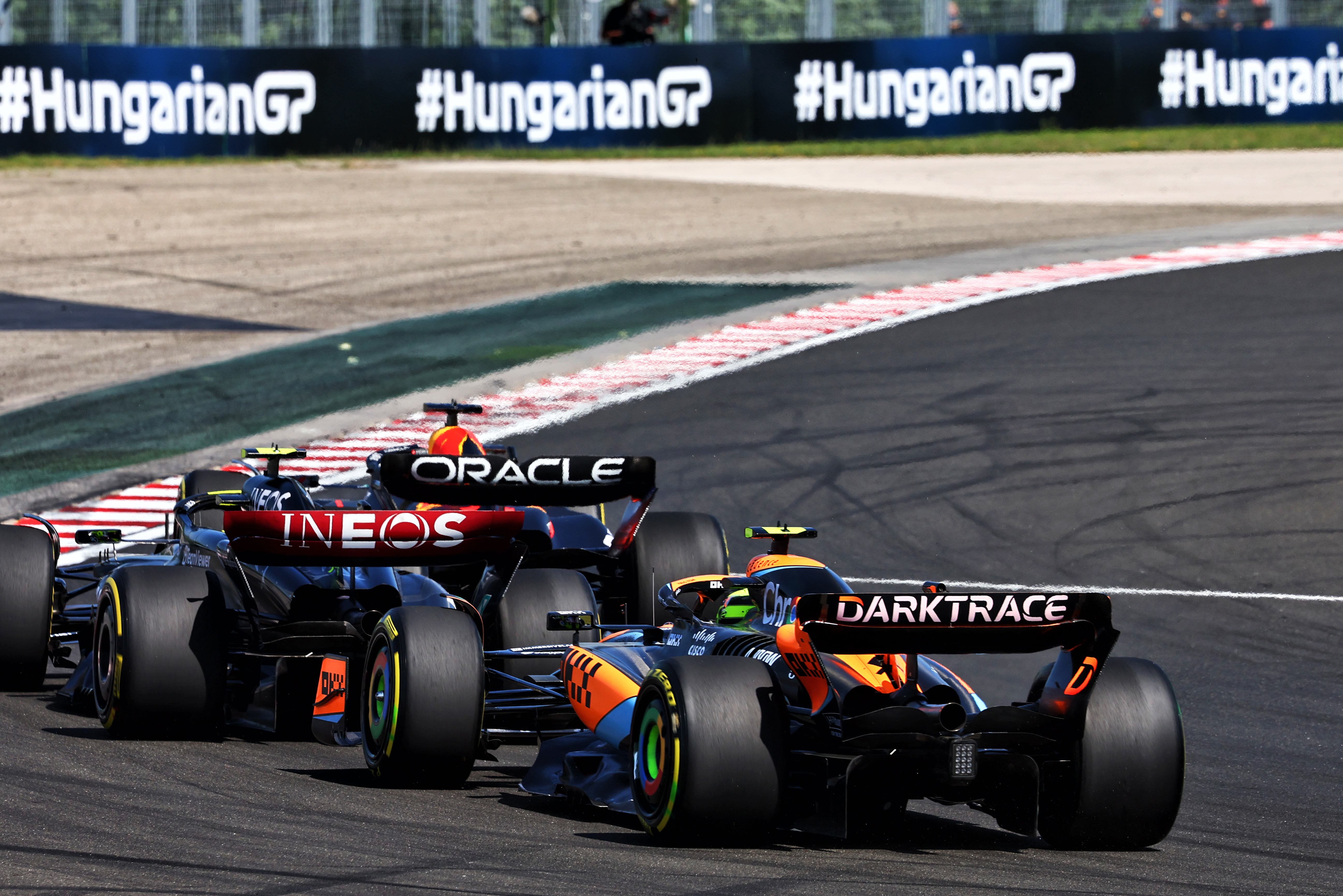 Hamilton's race didn't fully recover from that Turn 1-2 McLaren attack. "If he'd stayed ahead of us in Turn 2, he'd have beaten us," said Norris. The two cars were very evenly matched over a lap. The Mercedes had better tyre deg, but the McLarens had track position.
Hamilton spent his first stint of what was always going to be a two-stop race for everyone running in the dirty air of the McLarens. "I don't have the pace to pass them," he confirmed quite early. Especially with his conservative engine settings and the occasional demands to lift and coast to help control the brake temperatures.
Meanwhile, Verstappen eased himself clear, around 3.5s ahead of Norris by the 10th lap, the car beautifully balanced on the medium tyre on which the top eight had all started. As soon as the tyre temperatures are aligned with the car's aero balance, in a way that's not usually possible in qualifying, the RB19 becomes the speed monster that's now won all 11 races of 2023 and taken Red Bull to a McLaren 1988-busting 12 victories on the bounce. Like that, Verstappen checked out for the day. "They're not massively quicker over a lap," observed Norris. "It's just tyre degradation."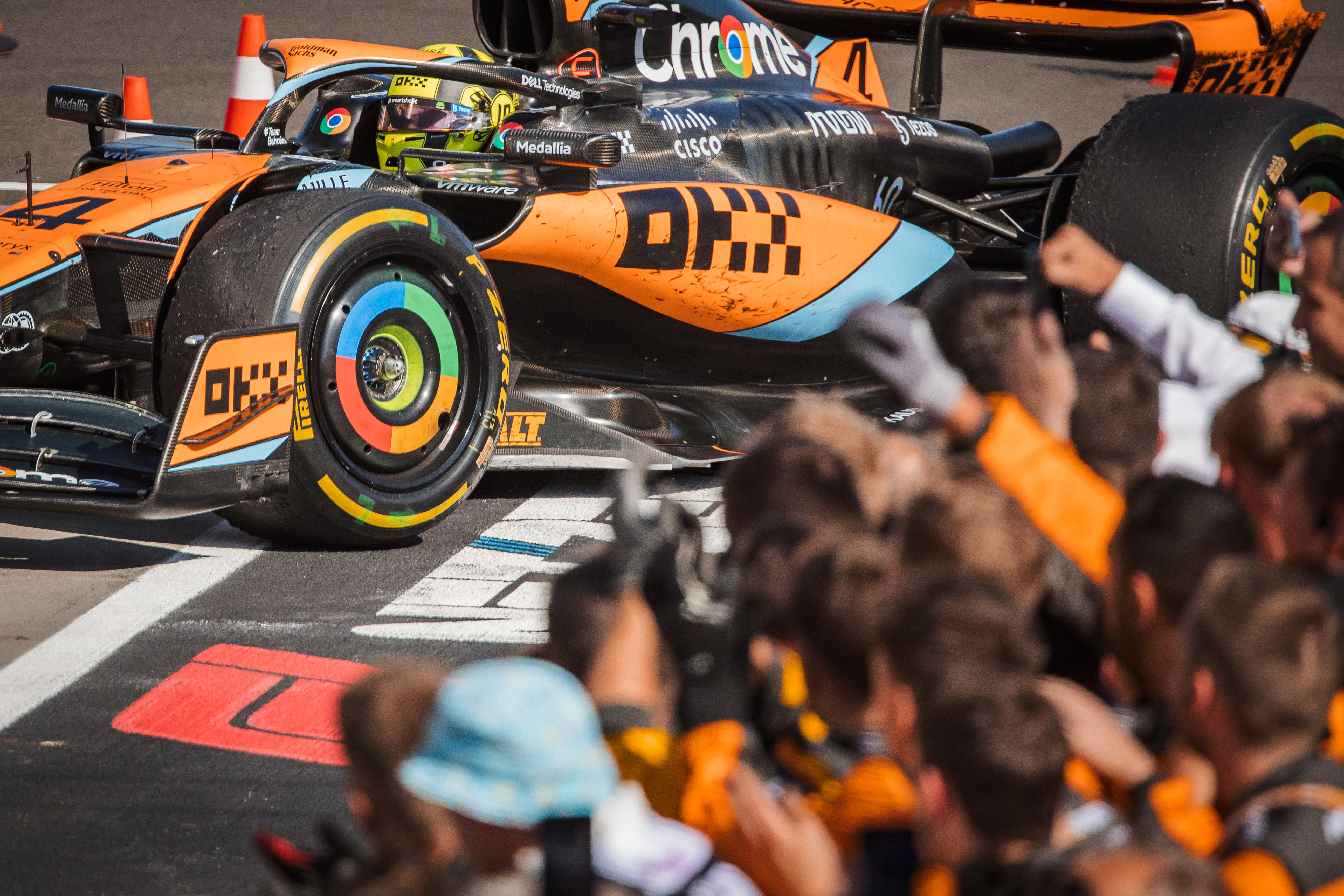 Norris drove a beautiful race to a half-a-minute distant second place. Despite running a place behind Piastri in the first stint, as the first pitstop window opened and the pitting Hamilton was an undercut threat, Norris was brought in first in response. This had the effect of undercutting him past Piastri.
He then pulled away from his team-mate, whose pace was compromised by floor damage incurred running over a kerb. "Coming out behind him wasn't ideal," accepted Piastri. "But when he then finishes 27s in front of you, I can't complain. It's down to me. I struggled with the hard tyres in the second stint. I have to learn what I can do better to protect the tyres. In these multiple-pitstop races with lot of deg I need to do a better job."
Conservative tyre usage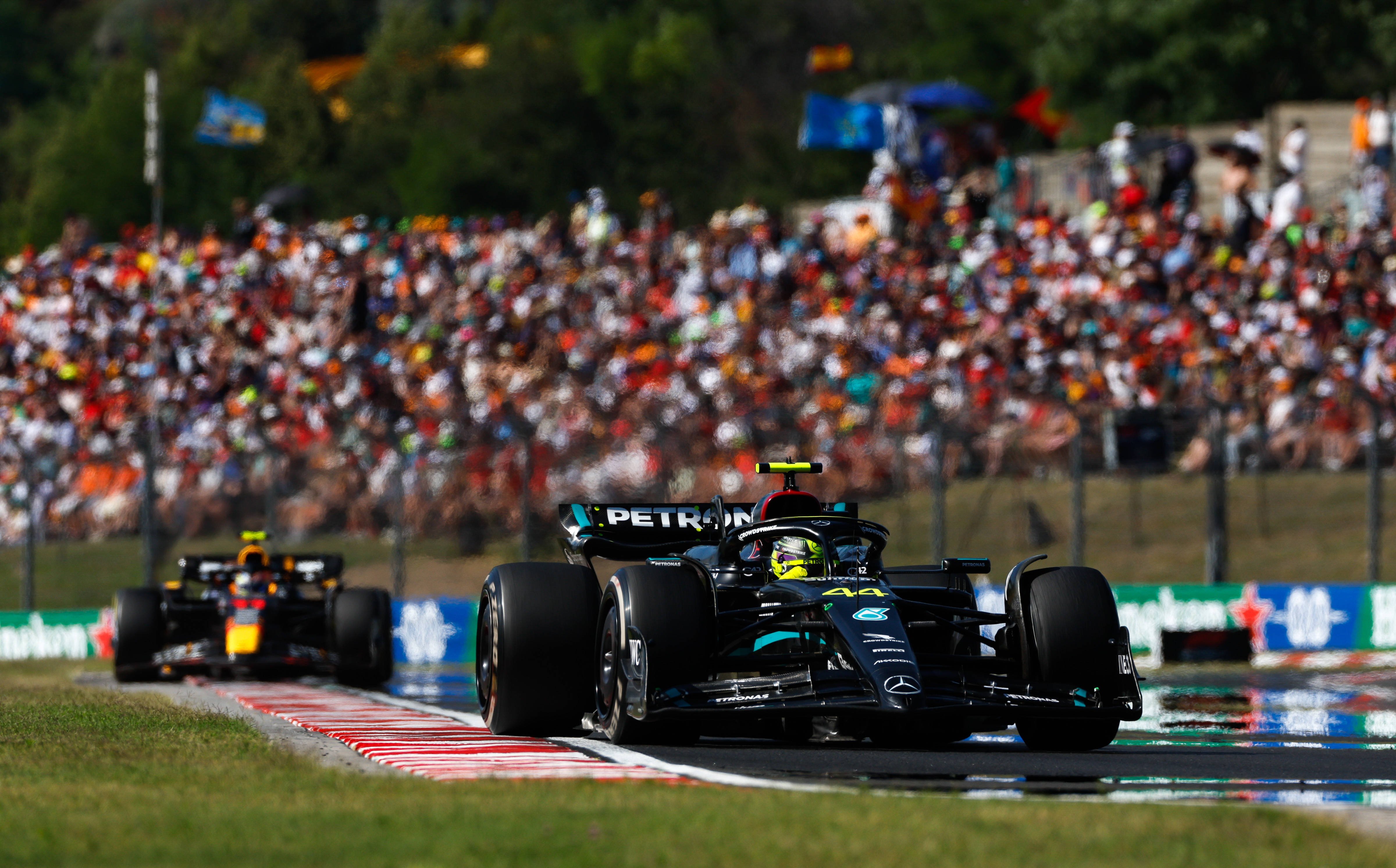 It's not an easy skill. Even the vastly experienced Hamilton didn't get it right here. Guided by the team, he ran the first five-six laps of his second stint way too conservatively. The hard was actually much more robust than they'd initially realised. He pitted from around three seconds behind the second McLaren. Three laps later, after they'd stopped too, he was nine seconds behind.
That left Hamilton far too much to do to recover. Norris was long-gone and although he'd later catch and pass the compromised Piastri, the recovering Sergio Perez was coming to get him before that happened. Just like Verstappen, Perez had struggled with the Red Bull's balance in qualifying, only ninth-fastest, 0.6s adrift of Max. But he found the car came alive on race day in just the same way and some of his on-track passing moves were super-aggressive.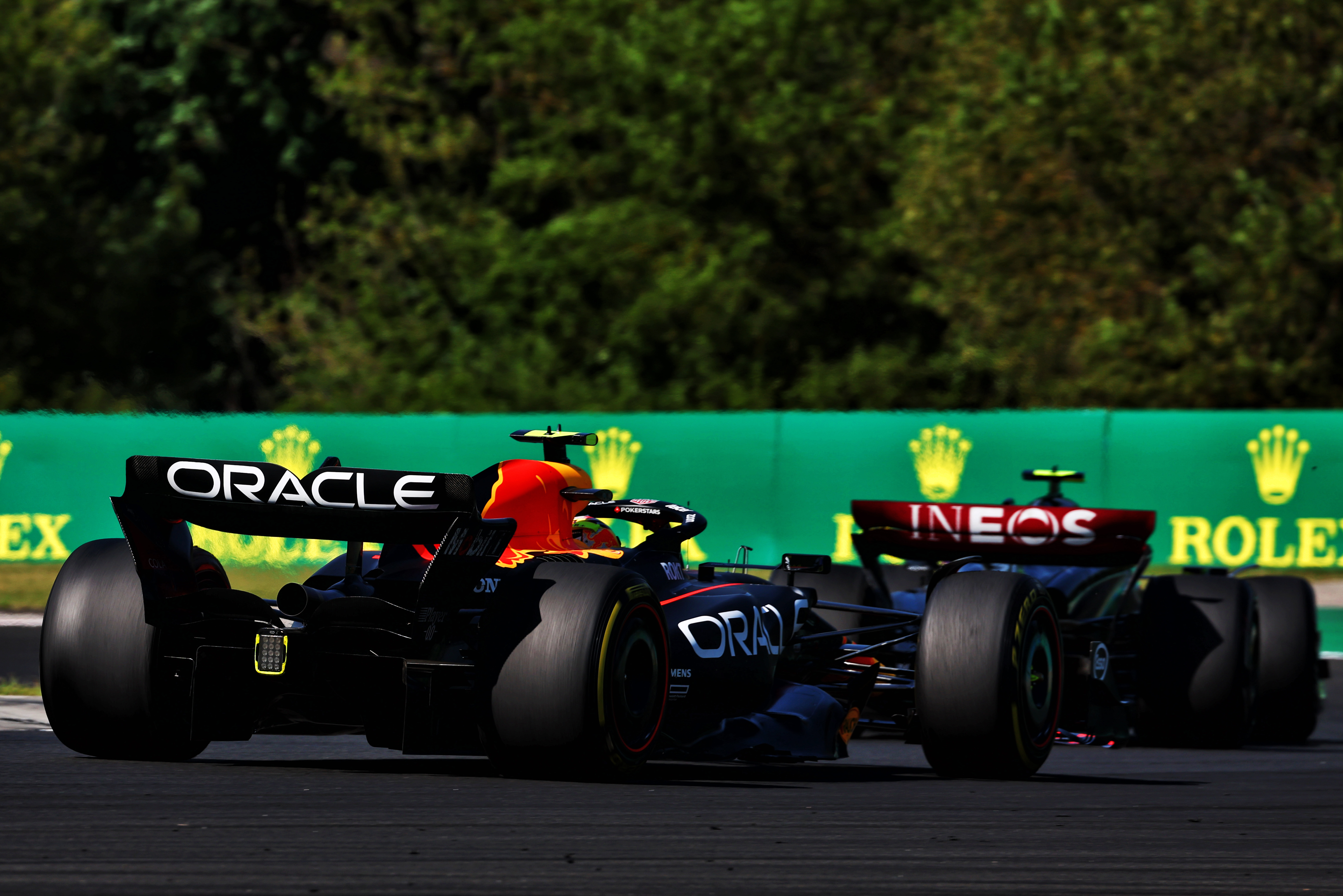 He made his second stop from just behind Hamilton on lap 42, switching to hards for his final stint. Hamilton stopped seven laps later and switched to mediums. In those seven laps when Perez was on new tyres and Hamilton on old, Checo pulled out 14s on the Mercedes. Game over, with Checo then passing Piastri in impressive style around Turns 1-3. He was even on course to catch Norris for second until having to get off line to pass backmarkers and dirtying his tyres. Once on those marbles it would take a lap to get them working again. So Norris was saved.
If there was a saving grace for Hamilton finishing only fourth having started from pole, it was that it was a way better weekend performance than either Ferrari or Aston Martin managed. Even George Russell starting the other Mercedes from 18th after the team's qualifying faux-pas was able to catch and pass both Astons and Carlos Sainz's Ferrari. He was close to the sixth-across-the-line Ferrari of Charles Leclerc at the flag and took the position officially on account of Leclerc's five-second penalty for pitlane speeding. Fernando Alonso and Lance Stroll took ninth and 10th, behind Sainz.
"Today is a reality check," said Aston's Mike Krack. "We need to keep our heads down, keep working hard, and push through the developments to get back to where we were in earlier in the season."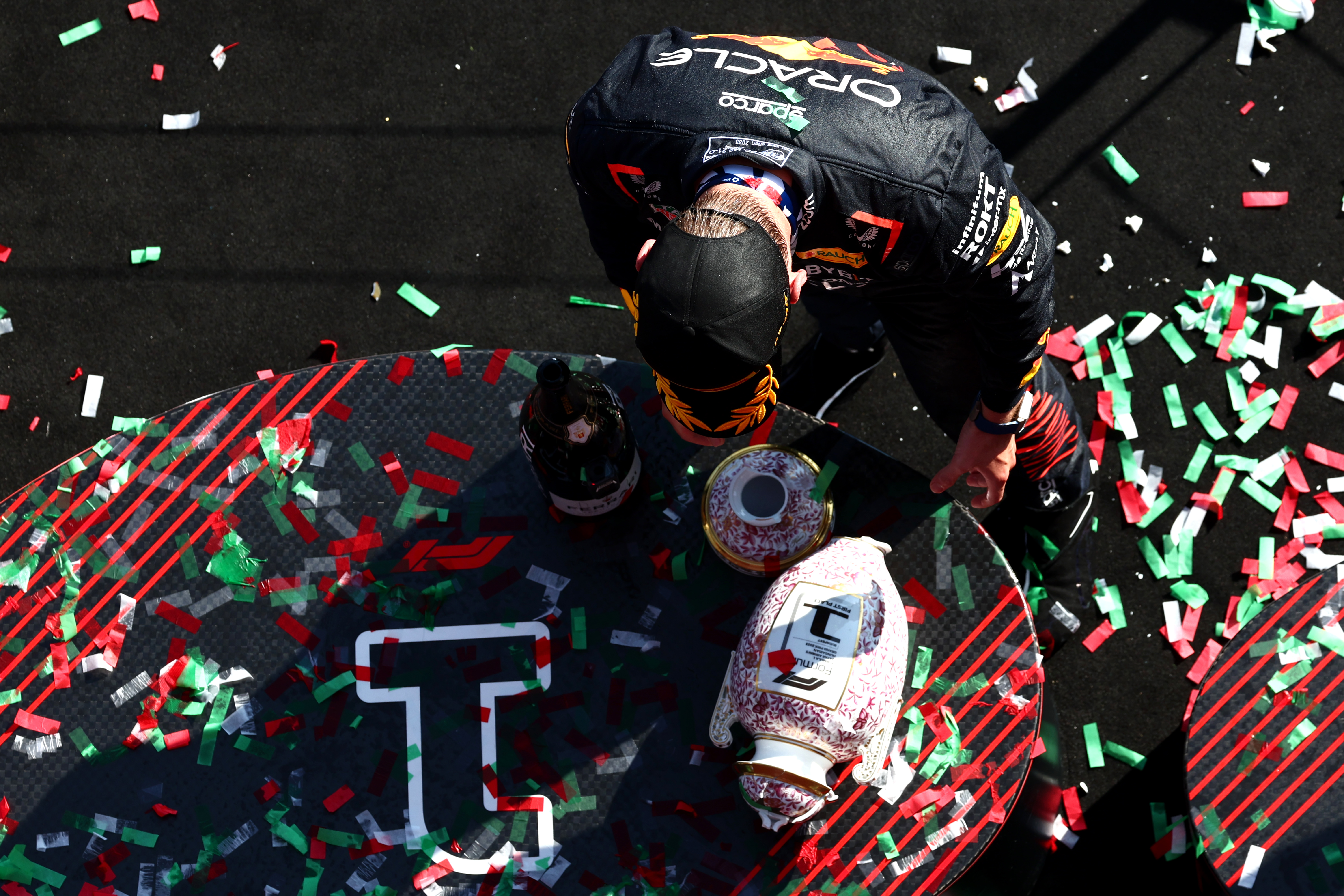 Where they were. Best of the rest. Where McLaren was on race day here. Where Mercedes could have been. Half a lap behind the history-making Verstappen. "I hope I don't stay on win 44 for too long," he joked in reference to it being Hamilton's race number. "That would be terrible."
It's almost certainly only a matter of a few days…