Back after the Formula 1 break and the picture looks largely familiar, with one or two exceptions.
There was only one McLaren out there for most of the second Dutch Grand Prix practice session after Oscar Piastri put his in the Turn 3 wall, but that of Lando Norris set the fastest single lap a few hundredths ahead of overwhelming favourite of the Zandvoort crowd and of the bookmakers, Max Verstappen. The long runs revealed the usual Verstappen advantage but McLaren's strong form since its Austria update continues unabated.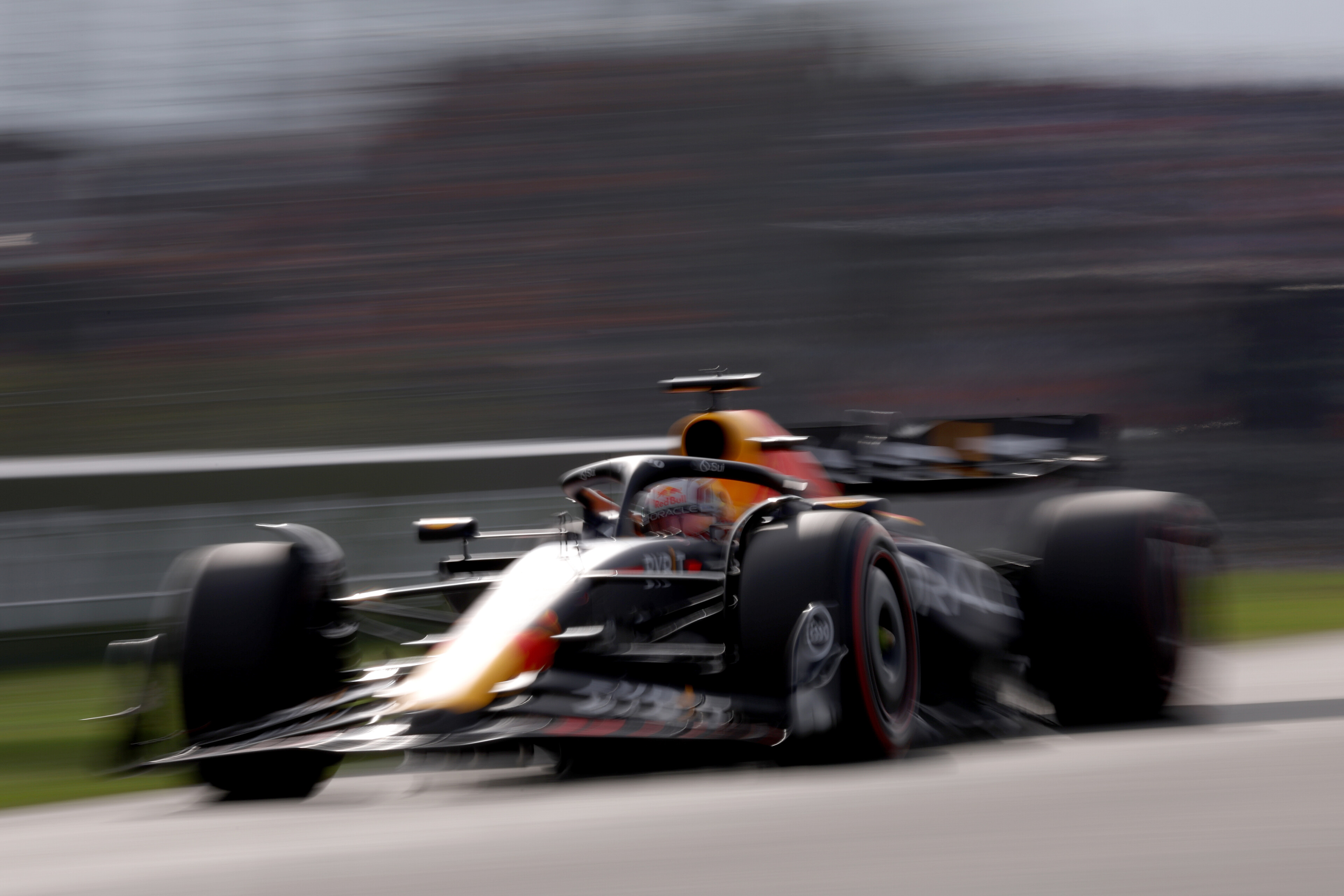 Verstappen felt that the RB19's balance was not quite there, with a "little too much rallycross" for his taste, but even so the underlying advantage was revealed by the long runs. Sergio Perez – around 0.5s off Verstappen with the car liked this – believes he will close that gap once the set-up has been further refined.
On the long runs, Norris was around 0.4s a lap adrift of Verstappen's average over a comparable length run on the same soft tyres. He also conducted a shorter run on the medium tyre but this average is flattered by the lower fuel load he will have been carrying by then and by the shortness of the run.
Nonetheless on Friday form the McLaren looks on a similar pace to Mercedes – and with Ferrari and Aston Martin both apparently struggling, a podium is surely a realistic possibility for the papaya cars, even if Piastri has some homework to catch up on following his crash early in FP2. He'd lapped even faster than Norris up to that time.
His accident also triggered Daniel Ricciardo into hitting the barrier front-on in the AlphaTauri and breaking his hand, to be replaced on Saturday by F1 debutant Liam Lawson.
"I think we got in a good rhythm and found a reasonable balance with the car," said Norris. "We're looking good on low fuel, but we've got a bit of work to do on high fuel, so that's our target tonight."
Long-run averages
| | | | |
| --- | --- | --- | --- |
| | Soft | Medium | Hard |
| Verstappen | 1m16.161s (10 laps) | | |
| Norris | | 1m16.250s (4) | |
| Perez | | 1m16.367s (6) | |
| Norris | 1m16.524s (9) | | |
| Hamilton | | 1m16.525s (10) | |
| Russell | | 1m16.579s (8) | |
| Gasly | 1m16.640s (11) | | |
| Ocon | | | 1m16.610s (10) |
| Sainz | 1m16.762s (8) | | |
| Alonso | | | 1m16.740s (8) |
| Stroll | | 1m16.787s (8) | |
| Leclerc | 1m16.824s (10) | | |
| Albon | | 1m16.900s (12) | |
The McLaren was carrying a little less wing than the Mercedes and consequently a little faster through the speed traps (though still significantly slower than the Red Bull). Through the Turn 8 Mastersbocht right-hander it was quicker but the Mercedes appeared to have the edge in the slower corners.
Hamilton was buoyed up by the feel of the Mercedes here, saying, "From the first lap it felt like we had a good starting point to work from.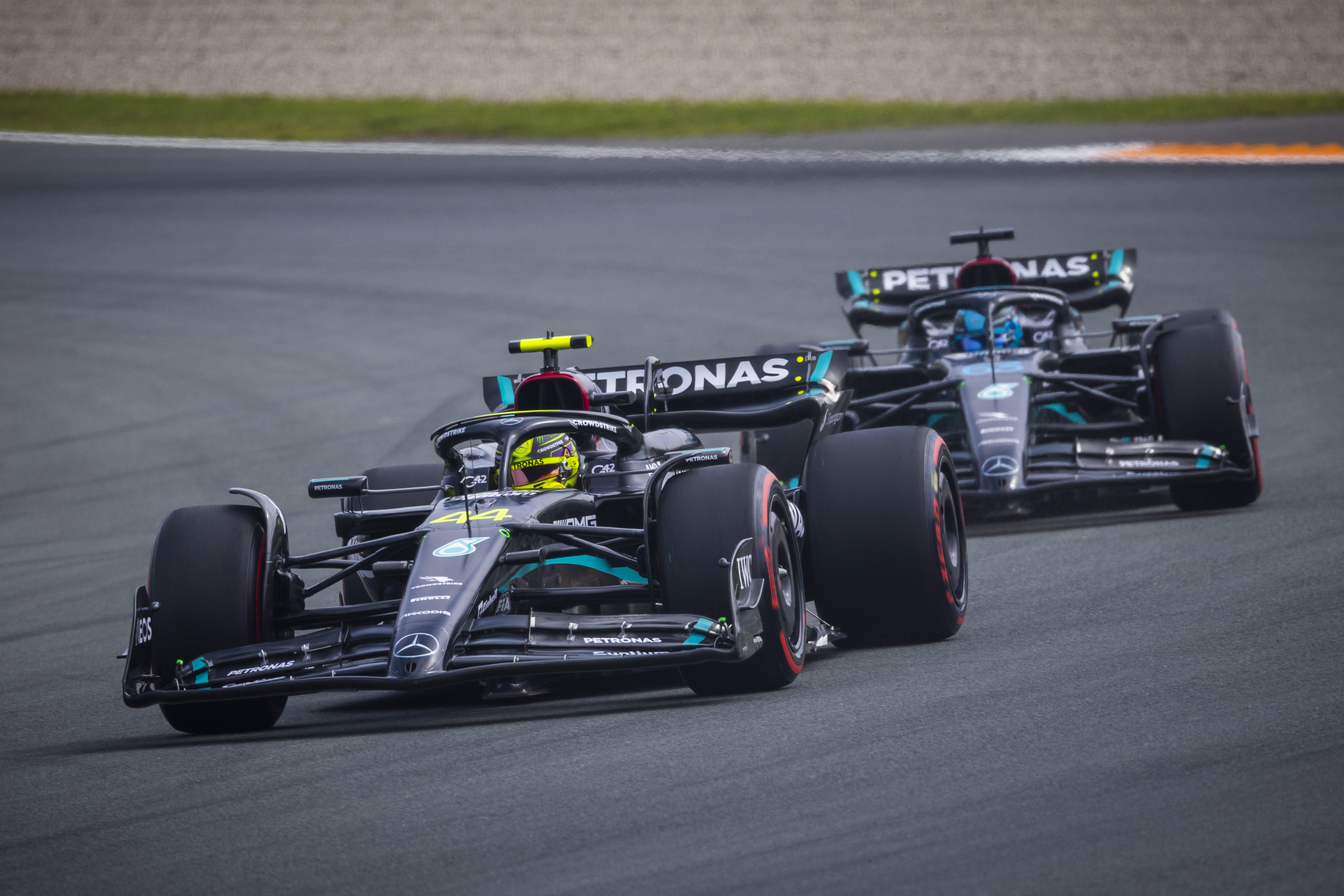 "The first practice session was generally good; we made some changes for FP2, and I'm not sure if we progressed or not from them, so we will deep-dive tonight to investigate. Overall, the car is feeling more competitive here, so we want to hold onto that and see if we can extract more for tomorrow."
On a front-limited circuit the Mercedes was looking a much more convincing car than the Ferrari. Robert Shwartzman found the Carlos Sainz car to be a difficult drive around here in FP1 and certainly it failed to show any form over a single lap or in the long-run stakes, with Charles Leclerc around 0.7s off Verstappen's average.
There's probably more to come from power unit settings into Saturday, but the deficit is unusually large. The fact that Leclerc's times were still improving a long way into his soft-tyred long run suggests its tyres may not have been in the temperature window early in the run.
Fernando Alonso was second only to Verstappen in FP1, using the Aston's all-new floor. But switching to the old floor in FP2 in order to conduct a back-to-back test (with Lance Stroll this time using the new floor) strongly suggested the new floor is a significant improvement. With the old floor Alonso was generally around half a second off the pace and no match for Mercedes or McLaren. With the new floor back on the car, could we see the Aston's early-season form return?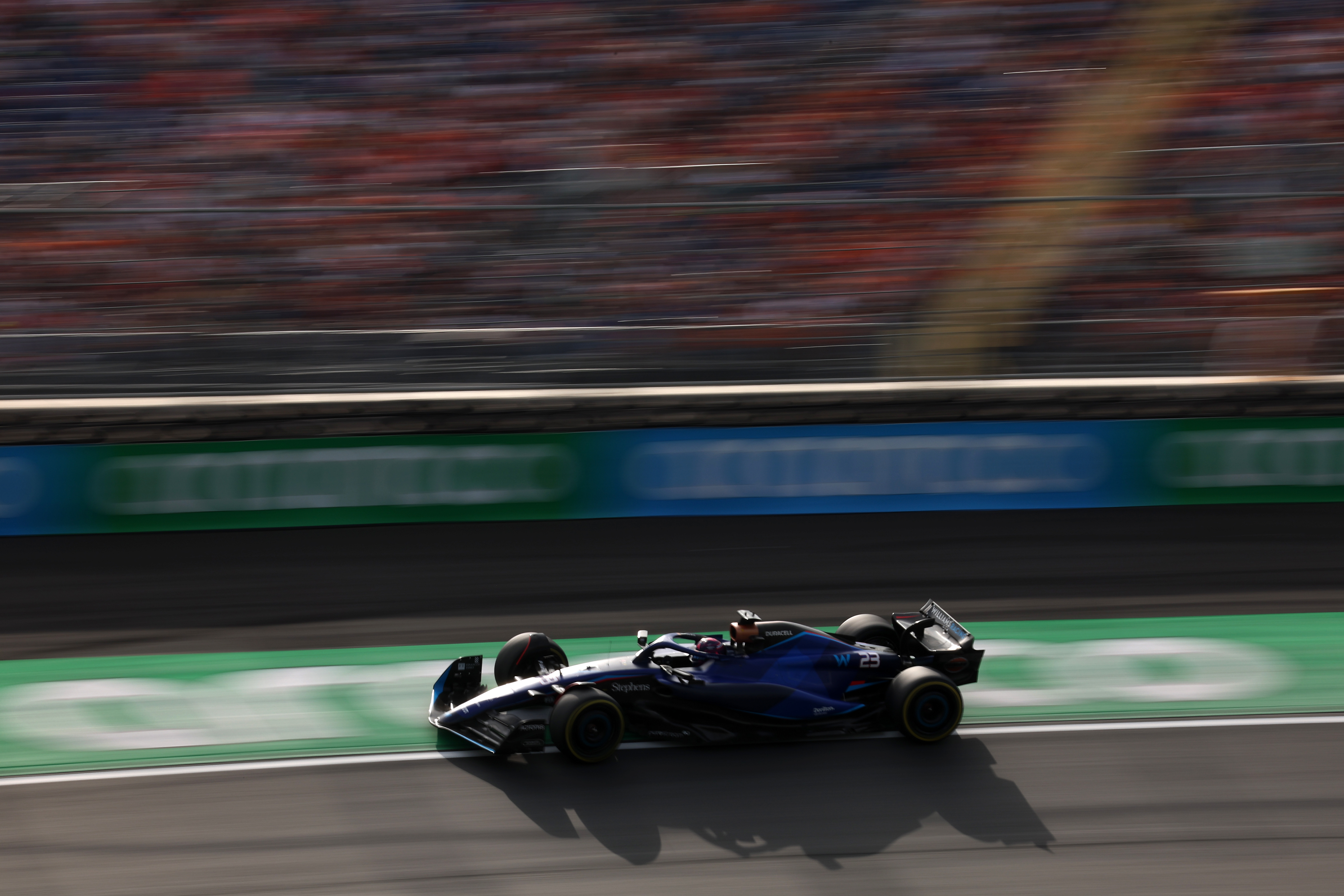 Other standouts – and with the usual caveats – were that Williams was fast on a single lap but slow over a race run. on Thursday Alex Albon had spoken about how the very wind-sensitive car would be a difficult drive if there was the usual prevailing tailwind into the long Turn 9 right-hander, but that it could be vastly better if that crucial corner had a headwind. Today it had a headwind.
It may have been further flattered in single-lap comparison by fuel loads but its tyre deg on the long runs suggested another typical Albon defensive race could be on the cards.
Practice 2 Results
| Pos | Name | Car | Best Time | Gap Leader |
| --- | --- | --- | --- | --- |
| 1 | Lando Norris | McLaren-Mercedes | 1m11.33s | |
| 2 | Max Verstappen | Red Bull | 1m11.353s | +0.023s |
| 3 | Alex Albon | Williams-Mercedes | 1m11.599s | +0.269s |
| 4 | Lewis Hamilton | Mercedes | 1m11.638s | +0.308s |
| 5 | Yuki Tsunoda | AlphaTauri-Honda RBPT | 1m11.72s | +0.39s |
| 6 | Pierre Gasly | Alpine-Renault | 1m11.766s | +0.436s |
| 7 | Sergio Pérez | Red Bull | 1m11.817s | +0.487s |
| 8 | Lance Stroll | Aston Martin-Mercedes | 1m11.835s | +0.505s |
| 9 | Valtteri Bottas | Alfa Romeo-Ferrari | 1m11.857s | +0.527s |
| 10 | Fernando Alonso | Aston Martin-Mercedes | 1m11.863s | +0.533s |
| 11 | Charles Leclerc | Ferrari | 1m11.915s | +0.585s |
| 12 | Logan Sargeant | Williams-Mercedes | 1m11.934s | +0.604s |
| 13 | Esteban Ocon | Alpine-Renault | 1m12.001s | +0.671s |
| 14 | George Russell | Mercedes | 1m12.009s | +0.679s |
| 15 | Guanyu Zhou | Alfa Romeo-Ferrari | 1m12.074s | +0.744s |
| 16 | Carlos Sainz | Ferrari | 1m12.093s | +0.763s |
| 17 | Kevin Magnussen | Haas-Ferrari | 1m12.404s | +1.074s |
| 18 | Nico Hülkenberg | Haas-Ferrari | 1m12.693s | +1.363s |
| 19 | Oscar Piastri | McLaren-Mercedes | 1m12.901s | +1.571s |
| 20 | Daniel Ricciardo | AlphaTauri-Honda RBPT | 1m13.096s | +1.766s |