"Very lovely, that," radioed in Max Verstappen after cruising to a serene victory to kick off his campaign for a third straight Formula 1 world title.
On the form shown in Bahrain there's no one looking like stopping him. He was utterly imperious, the Red Bull-Honda clearly the fastest car in the place once the team had unlocked its set-up into Saturday and good enough on the tyres that both its drivers were able to use the soft tyre for two of the three stints, unlike any of the other top-10 starters.
Sergio Perez backed Verstappen up for the perfect team result, but his was a busier race than Verstappen's, complicated by being out-accelerated off the grid on his used rubber by Charles Leclerc's new-tyred Ferrari despite Perez's best tyre-rubbing efforts at keeping it behind.
But even a Ferrari driven brilliantly by Leclerc was fighting a losing battle against the second Red Bull. Utilising a longer stint than was feasible for the Ferrari and then getting onto another set of softs, as the Ferrari was obliged to take hards, gave Perez the grip advantage he needed to pass on track early into the second stint and pull comfortably away. Even before the Ferrari stopped with a worrying power unit failure.
Which further begs the question of whether we are in for a season of total Red Bull domination even more extreme than last year. There is reason to believe Bahrain may turn out to be at the extreme end of that domination. But let's see.
The Ferrari actually wasn't the second-fastest car in the race. That was the Aston Martin in which Fernando Alonso scored a fairytale podium on his first race for the team, this after losing a lot of time stuck behind two much slower Mercedes.
As their rear tyres surrendered just like those of the Ferraris would, so Alonso was able to overtake George Russell, Lewis Hamilton and the Ferrari of Carlos Sainz purely on pace and in typically bold Alonso style.
He was half a minute and more behind Verstappen at the end but with a simpler race – not being hit by team-mate Lance Stroll at Turn 4 on the opening lap, for example – it would have been less than that. But not to a race-changing degree.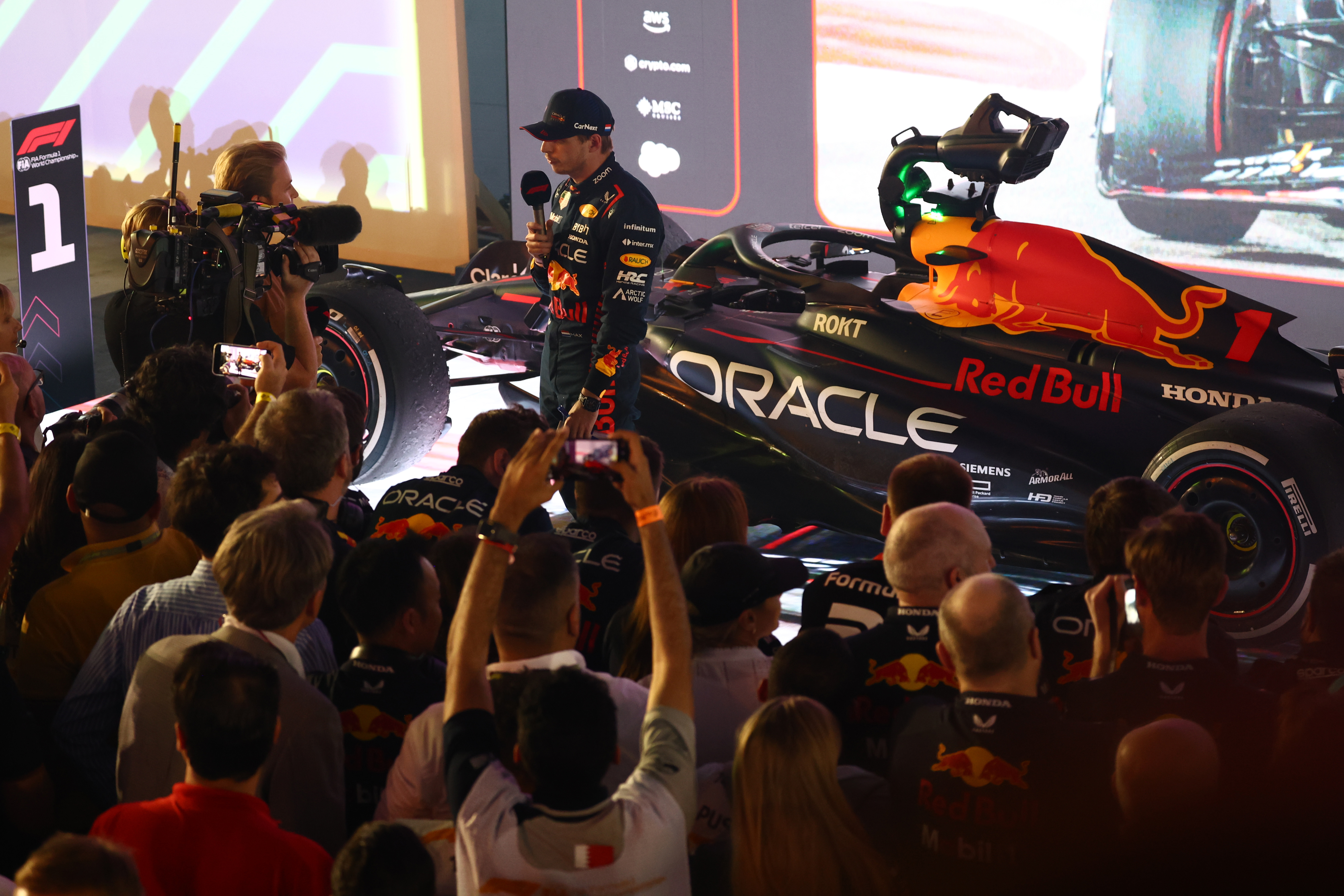 Verstappen was playing down the significance of his dominance, and there is something in his reasoning.
"This is a track where the one-lap performance compared to the race is very different in terms of the balance requirement. So even though I was unhappy with the one-lap performance on Friday, for example, the long runs were still OK. Happy that it worked out [with the big advantage], but…"
As recounted in Saturday's piece, the Sakhir track demands you protect the rear tyres at all costs, which gives a less than great understeery balance over one lap. But the Red Bull's great spread of downforce throughout the speed range means it's less disadvantaged than the others by that conflict of demands. At tracks where that conflict is not so great – ie all of them – then logically the extent of the Red Bull's advantage derived from that should lessen.
The great aero efficiency of last year's Red Bull made it very difficult for Ferrari to race against even though it had greater peak downforce. Which is why Ferrari has focused this year on improving straightline speed, even at the expense of some downforce (as confirmed last week by Leclerc). But without the Red Bull's aero efficiency, that matching of Red Bull's straightline speed this year has come at a greater cost in downforce than can comfortably be afforded around here.
It turned the Ferrari into a heavy user of its rear tyres. Which because this place extracts such high tyre degradation anyway is a heavy penalty. Bahrain did not show the Ferrari in its best light. It should in theory be closer at more conventional tracks.
"The problem is we've only got one data set – which is at this track," said Christian Horner of whether his Red Bull team's advantage in Bahrain will be representative, "so we are not taking anything for granted.
"Jeddah in two weeks, Melbourne after that; once we've got two or three circuits under our belt we will get a much better picture of the strengths and weaknesses of our car and our opposition."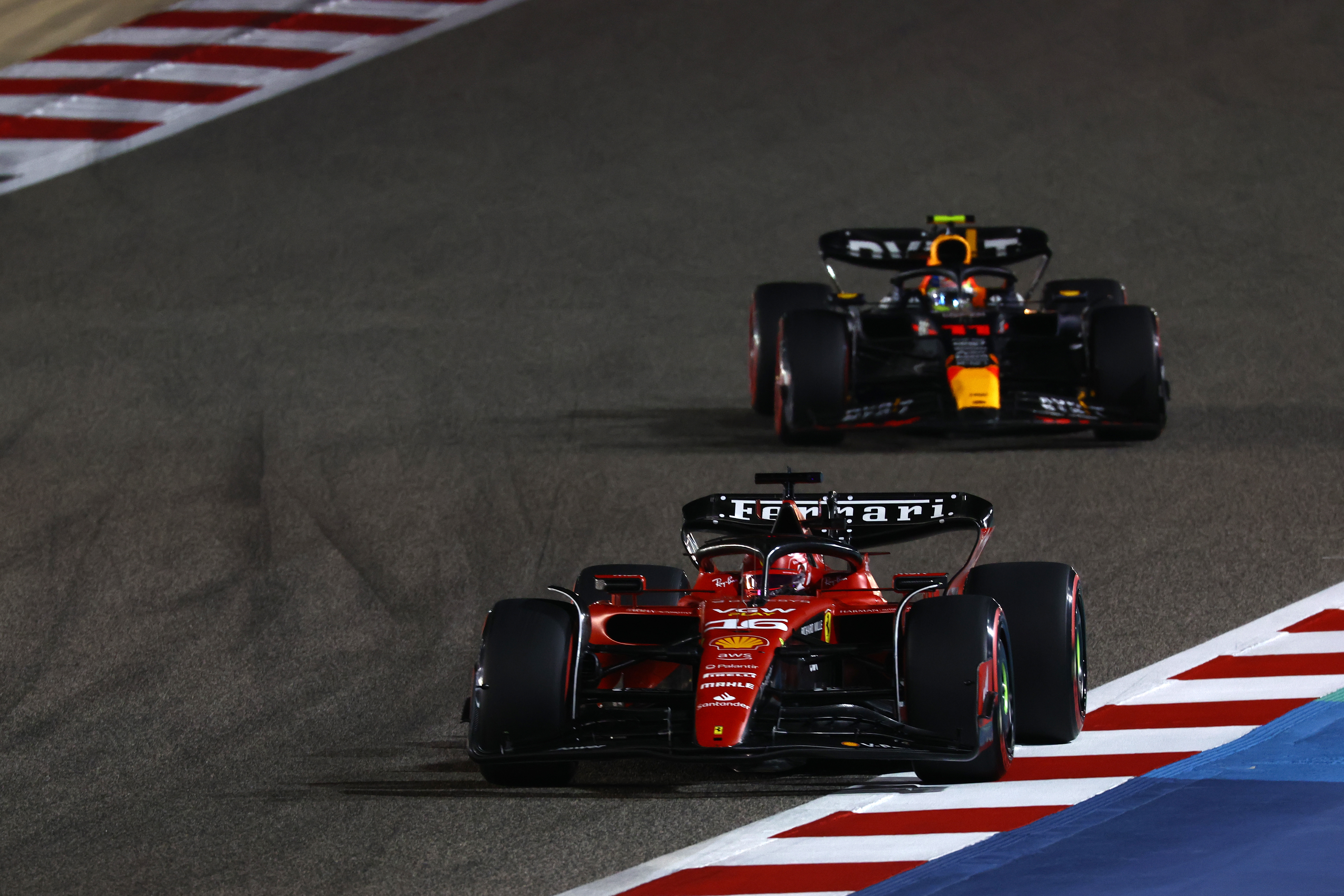 "Red Bull seems to have found something really big in the race pace," said Leclerc. "In terms of quali pace they are actually pretty similar to us so at least we managed to extract the laptime but then we come to the race and we are a second every lap off the pace, which is huge. So we really need to work on that plus the reliability."
Mercedes is in worse shape than that. Its deficit of high-speed downforce is greater than the Ferrari's (which was particularly costly through the downhill sweeps of Turns 6/7/8) and hence its rear tyres suffered accordingly. But it's not particularly quick on single lap pace either – almost 0.350s adrift of Leclerc on Saturday and 100.7% of Verstappen's pole time. Even last year's troublesome car qualified within 100.5% of pole here.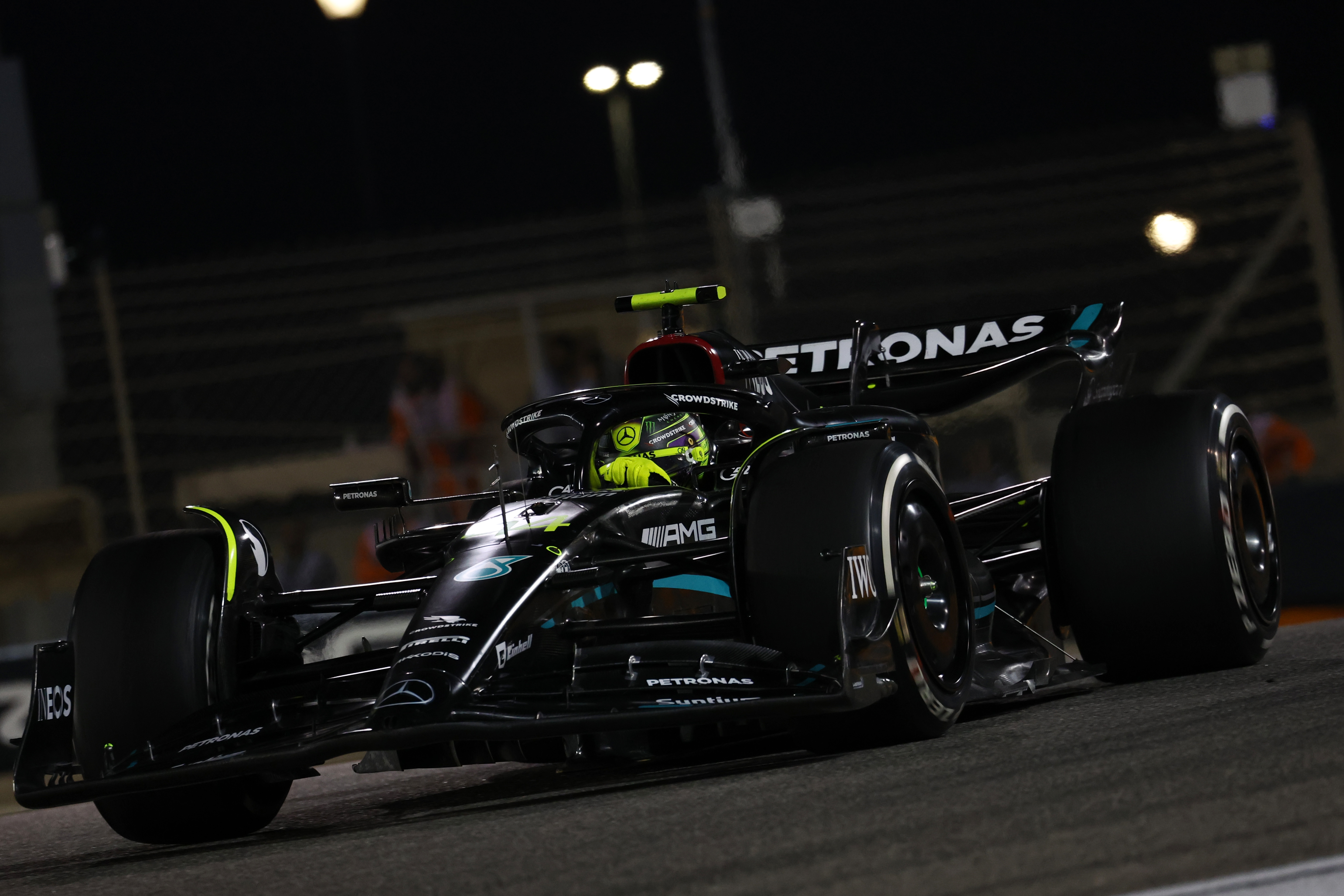 Hamilton pulled a performance out of the W14 – beating Russell off the line, passing Alonso into Turn 4 on the opening lap (though he was later repassed, as recounted) and putting Sainz's fourth place under some pressure in the late stages. But he was over 50 seconds behind the winner. Maybe its lower downforce rear wing hurt its tyre deg even more, but without it, it would have been even slower in qualifying. That Sakhir contrast of demands again…
Stroll, despite the delay caused by the places he lost after hitting Alonso, came back through to sixth, injured wrist and all, picking off Russell along the way and catching Hamilton. That's where the Mercedes is at relative to the identically powered and rear-suspended Aston Martin.
Valtteri Bottas in the Alfa Romeo and Pierre Gasly in an Alpine which started from the back were within striking range of Russell at the flag. Even Alex Albon in his superbly-driven 10th-place Williams wasn't far back.
Toto Wolff was pulling no punches afterwards in acknowledging Mercedes has followed the wrong direction with the car: "In order to catch up you need to make big steps, not the conventional ones by adding a few points every week because everybody else will do that.
"The starting base is very different where we are today. We have lost a year in development and in order to have a steeper development curve you just need to take these decisions. Aston Matin took that decision and they came back strong.
"If we start from our base, maybe we can come back strong and chase the Red Bulls. That's the ambition."
Yes, the performance of Aston Martin seemed to be bringing everyone cheer and hope. But while it was clearly the second-fastest car in the race, much better on its tyres than the Ferrari or Mercedes, it was still no Red Bull. It qualified 0.628s off pole (though a couple of tenths of that was through not having a second set of softs and so doing only a single Q3 run) and its straightline speed was not a match for Red Bull, Ferrari or Mercedes (which were quite equally-matched).
But the way it punches itself out of corners (and the attacking Alonso's speed difference to Russell's Mercedes mid-corner Turn 4 was astonishing, and caught Alonso so much by surprise he nudged the Mercedes' wheel) and how it looks after its rear tyres suggests it has a lot of downforce.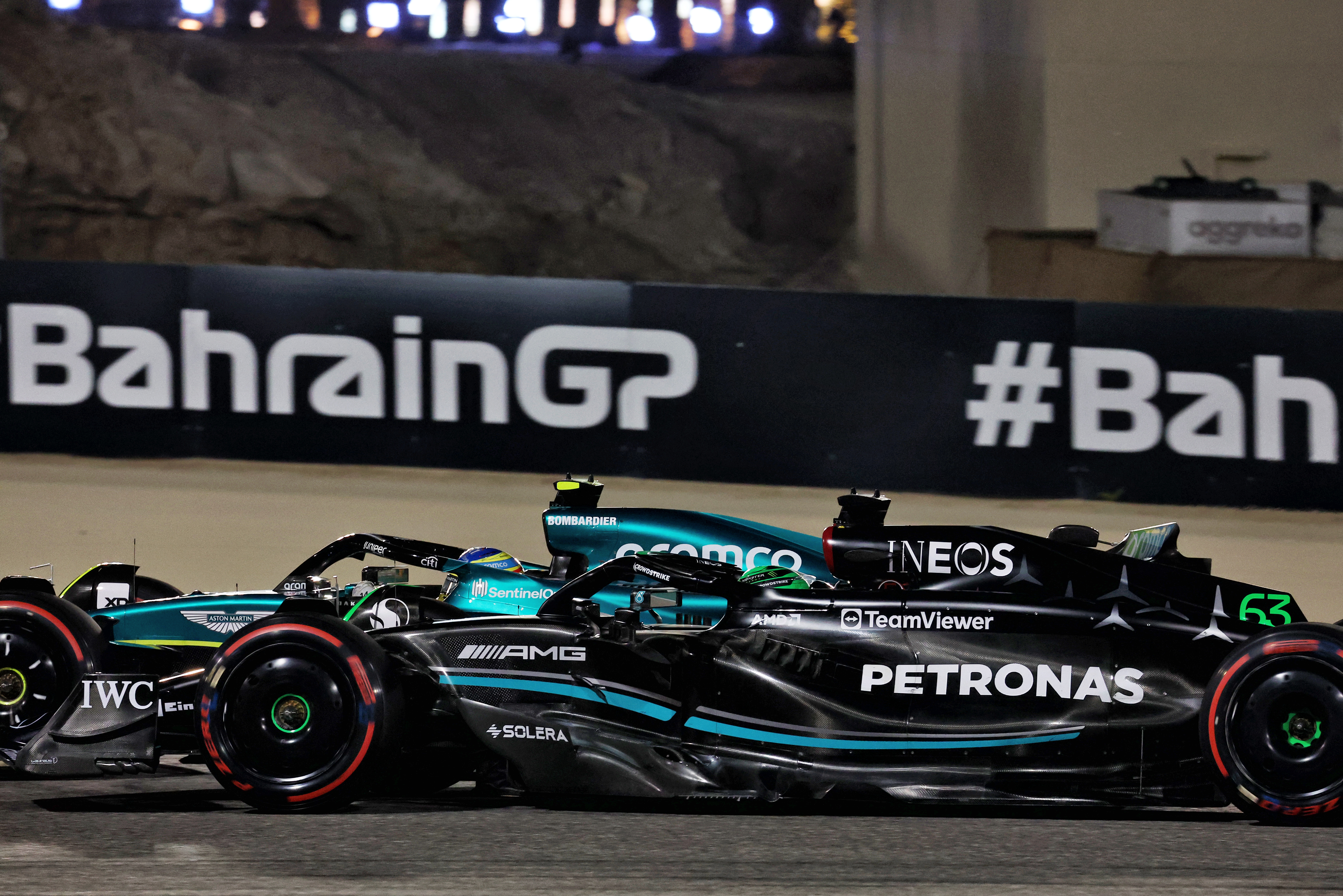 "But we weren't very fast on the straights," Alonso confirmed. Which meant the conventional passing places of Turns 1 and 4 were out of bounds for him. So he had to get creative, and his pass into Turn 10 on Hamilton caught the Mercedes driver completely off guard.
"Turn 10 and Turn 11 where I passed Carlos are not the normal places and we had to make some moves and change trajectory," Alonso added. "We need to improve that straightline because we'd like to be able to pass into Turns 1 and 4 like everyone else."
Alonso was mighty in it, but the fact that despite such an attacking drive the Aston Martin still had more rear tyre left than the Ferraris or Mercedes tells its own story – one which suggests that it, like the Red Bull, might have been flattered by the extreme conflicts presented by the Sakhir circuit.
"I think we were strong in things which maybe we don't find in Jeddah or Australia," Alonso cautioned. "But if we are strong in those races then I think we will have a very good 2023."
Good enough for him to win races? "Yes, I think so," smiled the 42-year-old, who has been waiting for over a decade to make his point.
As Alonso also pointed out, there could be more development potential in it than in the others, which are all evolutions of their predecessors. "This is just the beginning. It's a new project, just the starting point of a concept which we changed over the winter. There's more for us to learn, I think."
That includes learning in how to drive it. Twice as Alonso was super-early on the power out of Turn 4 he suffered big snappy moments. "They were coming more from me, getting used to the car, the driving input, the feedback from the wheel, which are not 100% tailor-made yet."
It would be great to imagine the reinvigorated Alonso taking it to the great Verstappen and Red Bull in future races this season. It sounds a stretch. But imagine how describing Sunday's Alonso performance would have sounded back in 2020 when it was announced he was coming back.