If only Max Verstappen had not chosen to continue attacking into the last corner of his qualifying lap when already almost 0.3s up, Formula 1's first Saudi Arabian Grand Prix might have been a straightforward victory for him instead of a desperate, ill-fated and ill-natured attempt at holding off Lewis Hamilton.
Straining every competitive sinew to stay in this battle against the recent uplift in Mercedes performance, Verstappen's approach is the same as ever, perhaps even more extreme.
The attitude that led to him ending what was shaping up into one of the all-time great qualifying laps in the wall was the same binary, take-no-prisoners approach he used in the race, one which made for a contest, the ferocity of which mentally exhausted Hamilton.
Staying as calm and collected as he did against an onslaught of startling intensity from Verstappen, amid a race punctuated by red flags and multiple VSCs, in addition to all the usual race management tasks at these crazy speeds on the narrow ribbon between the unyielding walls, took a toll.
After celebrating the victory with the team in the collecting area, Hamilton found a corner of a pit building to sit in, head in his hands, as he tried to take it all in.
Verstappen was as aggressive in defence as attack and left the race director struggling to keep up with the emotion-driven ferocity of the battle, the number of incidents and the lobbying in live time from the two fighting camps. This was F1 on the edge of control.
But Hamilton could reflect that with one round to go, he is level on points.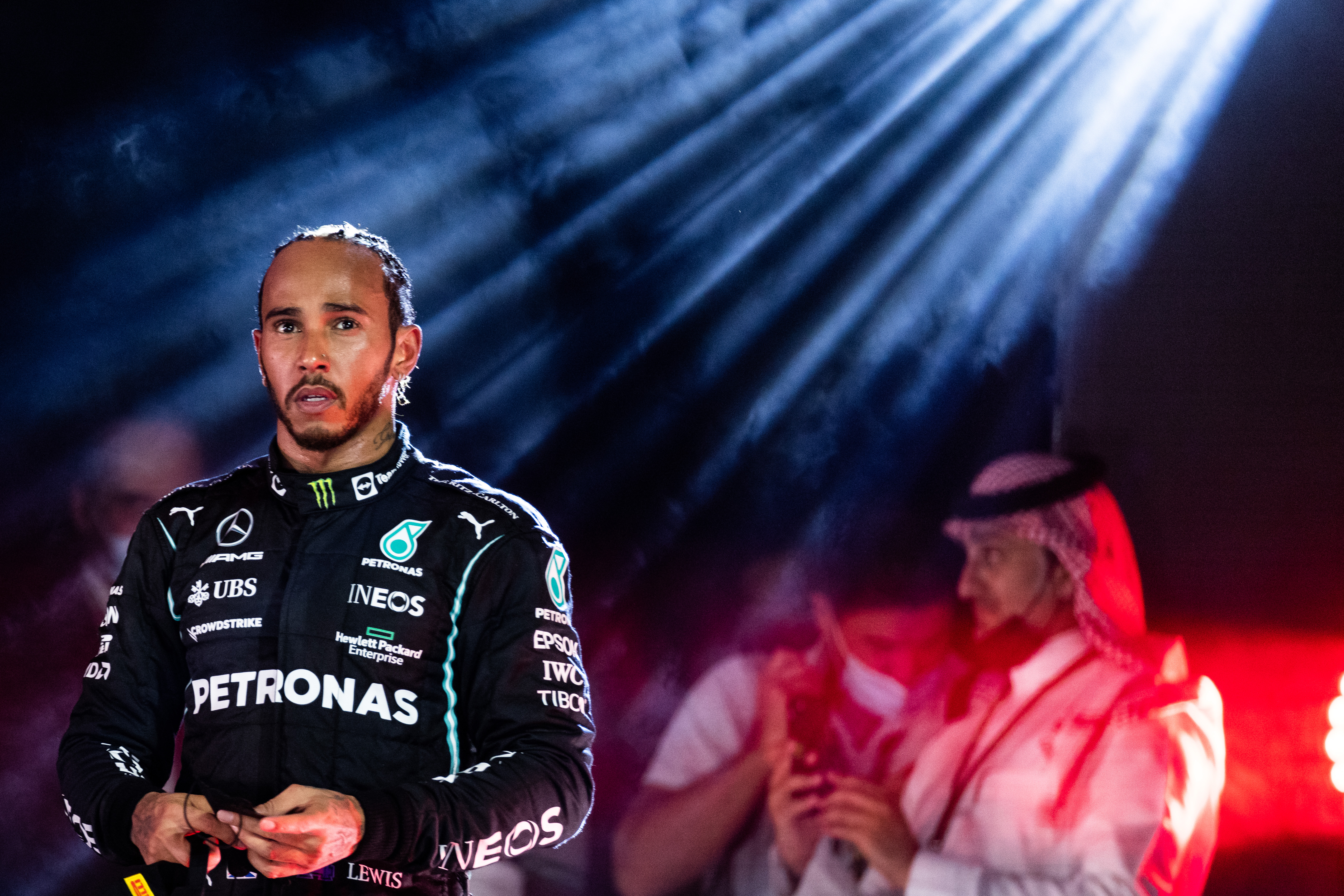 The advantage between the title contenders swung too many times to count throughout the weekend. Into this combustible mix, we had the challenge of the new Jeddah Corniche circuit, a Silverstone with walls as someone put it, but those walls were tricky to see around and easy to hit on a track at which the average speed of Hamilton's pole position was 155mph.
The whole weekend – and the race in particular – was thrilling and dramatic, but perhaps a little too much so. As George Russell remarked, some changes are probably needed before F1 races here again.
The first 10 laps were relatively tame, as Verstappen had been unable to pierce the Mercedes front row defence into the first corner.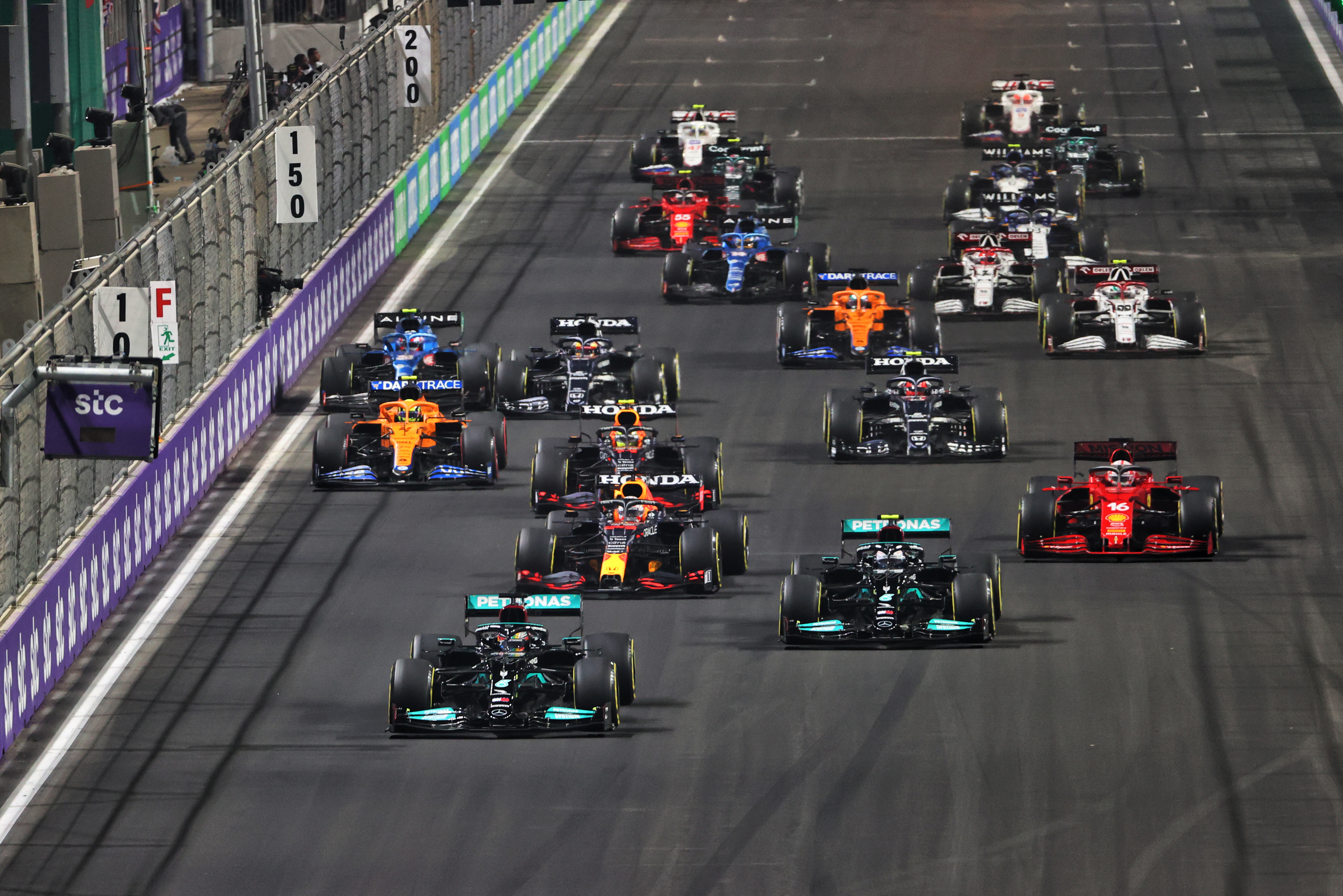 Hamilton had eased away, Valtteri Bottas watching his back, Verstappen unable at that stage to do anything but follow.
Verstappen had almost been rear-ended at the first turn by Red Bull team-mate Sergio Perez, but he knew nothing of that. That's just one other way the race could have been very different.
It was difficult to call which was the quicker car at any given moment this weekend. The constants were that the Red Bull was annihilating the Mercedes through the high-speed bends of the first sector and through the fast-but-not-flat Turn 22.
On the qualifying lap which ended in the wall, Verstappen was flat from the exit of turn 4 to the approach of Turn 10, a sequence in which the Mercedes drivers were having to lift four times.
The power of Hamilton's PU5 engine (the Brazil unit) was pulling most of that back on the rest of the track, but not in qualifying when the Mercedes could not generate tyre temperatures.
But the Red Bull could, the team having spent an inordinate amount of time through the practices experimenting with preparation lap methods on the soft tyre, even surrendering race and qualifying simulation time to do it. It was about to pay off massively until that last corner crash.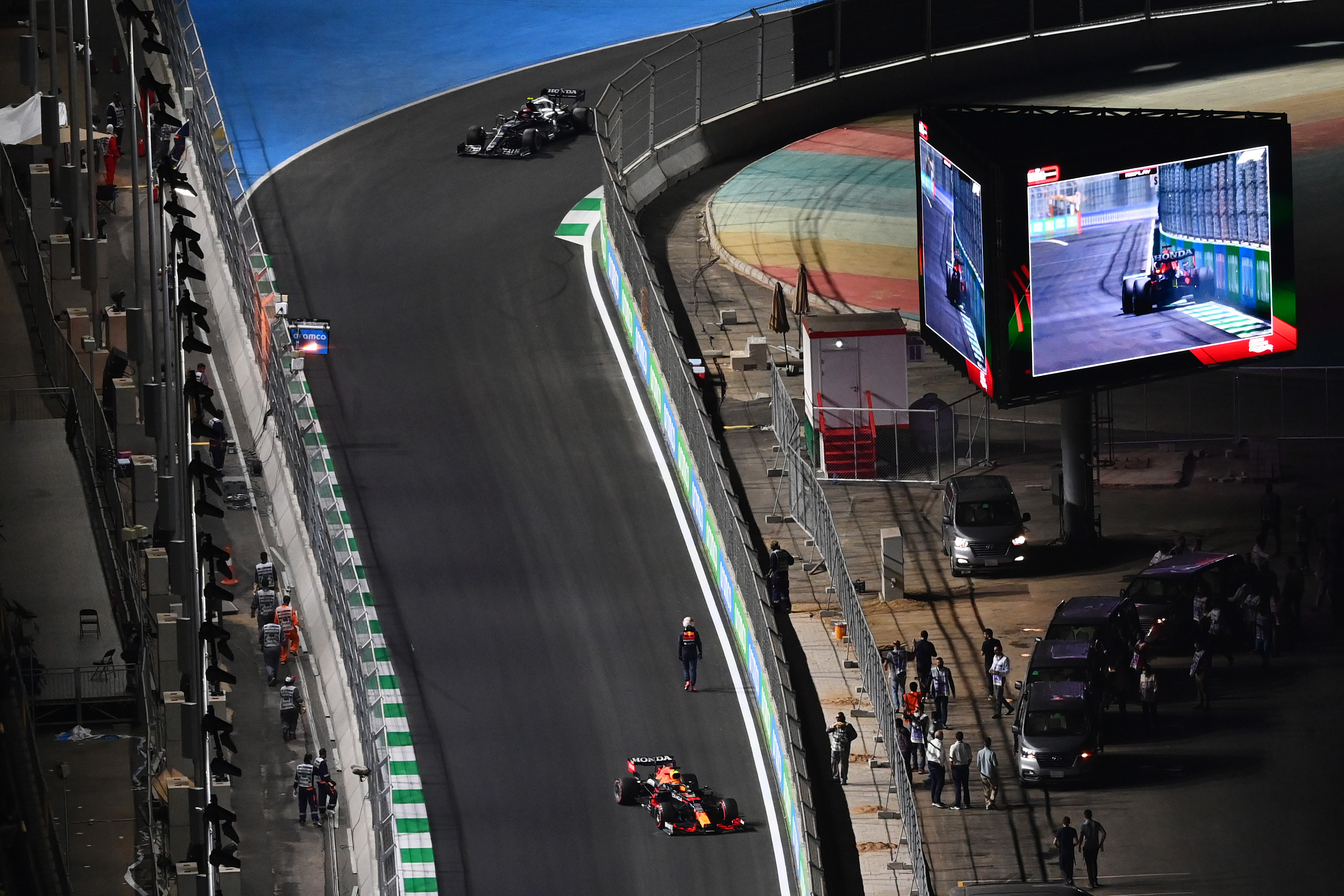 But on race day, it wasn't about how quickly the tyres came up to temperature, but of how much pace you dare use without wearing out the front-left medium on which almost everyone started. That's more Mercedes territory and the Red Bull pace advantage of qualifying wasn't there on race day. Which wouldn't have mattered so much to Verstappen had he started from pole, of course.
As it was, Verstappen was two places and 4s behind Hamilton after 10 laps. Maybe he could have applied some undercut pressure to Bottas when the pitstop window opened from around lap 20 of the 50-lap distance, using his car's ability to get new tyres straight up to temperature. But he'd have been well distant from Hamilton by then.
Then Mick Schumacher gave Verstappen another bite at the cherry by crashing his Haas hard into the fast Turn 22 barriers.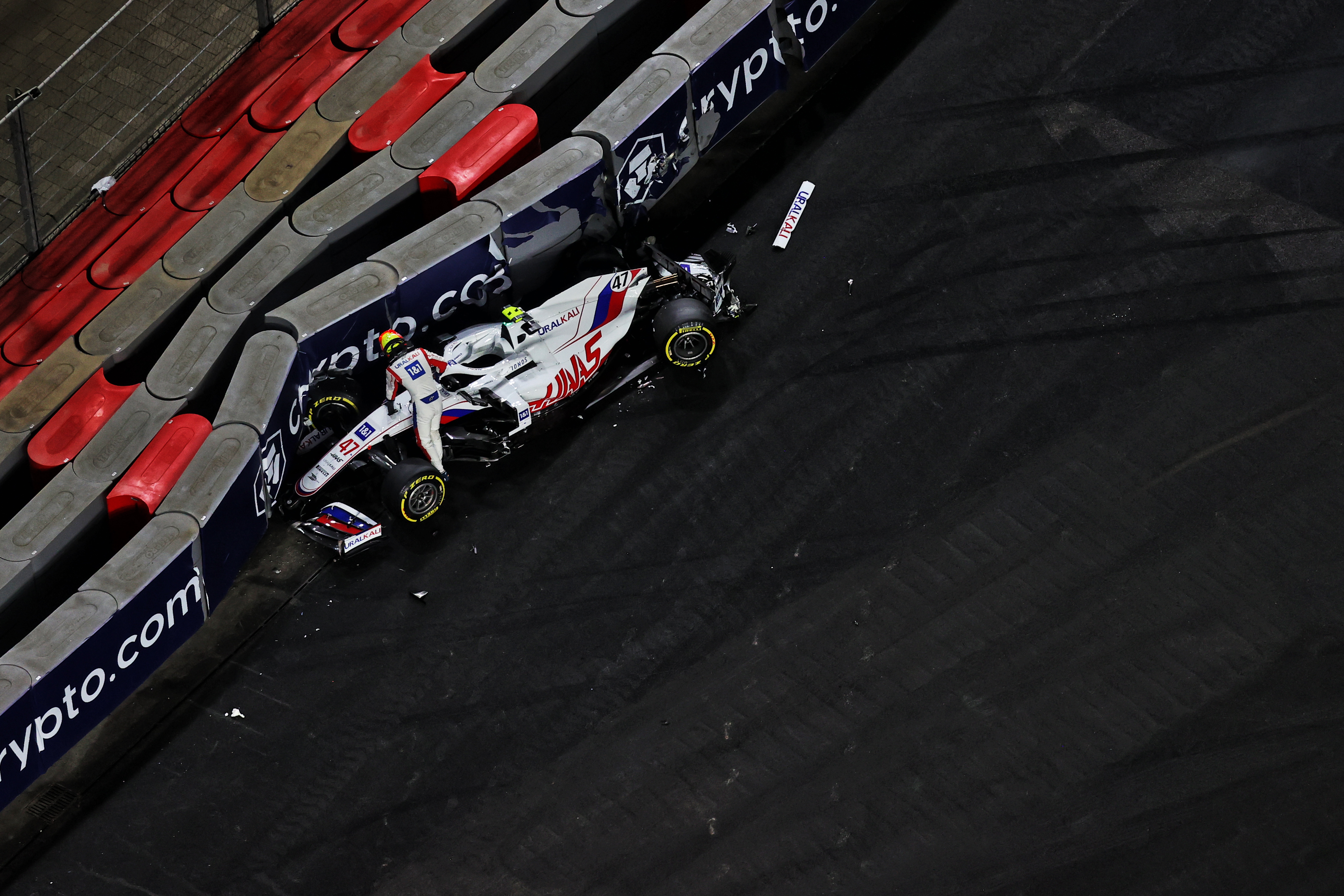 The accident created a safety car and some jeopardy on the Mercedes pitwall.
There was 11s of time gain to be had pitting under a safety car compared to a conventional stop, but pitting both cars might have Red Bull leave Verstappen out, leading and with a possible red flag coming, depending upon what needed to be done with the wall hit by the Haas. Mercedes judged the wall looked OK, that it probably just needed to be moved back in place rather than rebuilt. So it pitted both cars. Bottas backed the pack up, losing Verstappen time.
Red Bull indeed left Verstappen out there and now he led the race. After four laps behind the safety car, Mercedes' worst fears were realised as the reds came out. Meaning of course that Verstappen got to change his tyres without having to do a pitstop and would start from pole.
Others who'd stayed out vaulted up the order – Esteban Ocon's Alpine from seventh to fourth, Daniel Ricciardo's McLaren from ninth to fifth and Pierre Gasly's AlphaTauri from eighth to seventh. They'd all get to keep those positions and still get their fresh restart tyres.
Losing out like Mercedes were the fellow pitters: Charles Leclerc's Ferrari from fourth to sixth, Perez's Red Bull from fifth to eighth, Lando Norris's McLaren from sixth to a disastrous 14th.
Schumacher's accident turned the race from normal to crazy.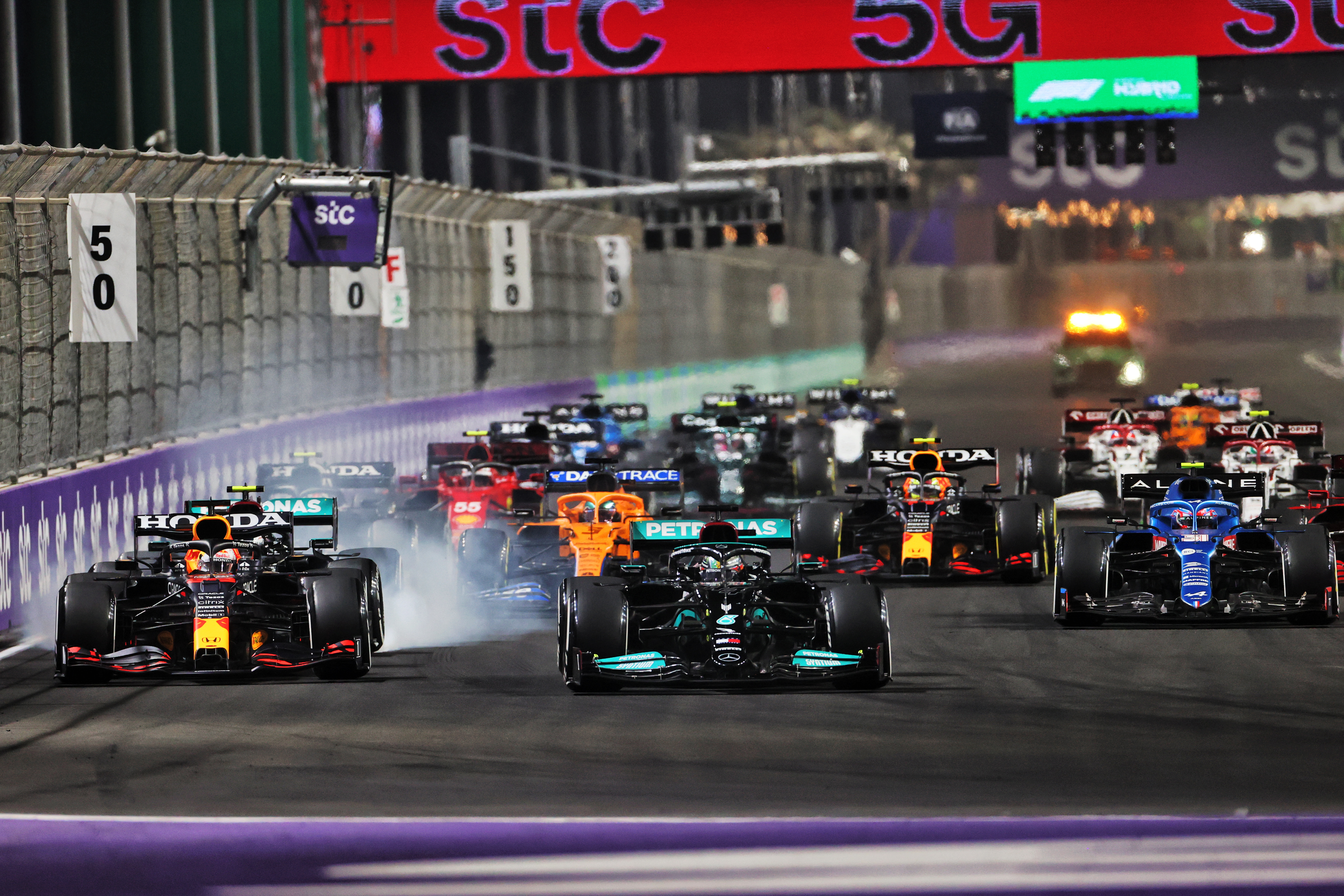 The second standing start of the evening was lap 15 of the race, with almost everyone now on hard tyres, with which to get to the end. Hamilton was again faster off the line than the Red Bull, Verstappen almost instantly losing the advantage of pole.
But Verstappen, in the lead of the championship, had far less to lose than Hamilton and had no compunction in sitting around the Mercedes' outside through the left-right switchback and just using all four wheels on the run-off to stay there and then chopping across its nose to rejoin the track just as Hamilton was trying to turn right.
Verstappen looked absolutely prepared to have the contact, Hamilton avoided it by steering hard left – his compromised line and checked momentum allowing Ocon to accelerate past into second.
Ordinarily the race director would have ordered Verstappen to hand the place back to Hamilton (even though that would have involved allowing Ocon past too) or for the matter to go to the stewards. But we didn't get that far – because Leclerc and Perez had touched through Turn 3, spinning the Red Bull broadside across the track and causing a concertina effect crash at the back of the field as Nikita Mazepin's Haas heavily rear-ended Russell's Williams. Red flag number two.
Race director Michael Masi gave Red Bull the option of surrendering 'pole' and starting third, behind Ocon and Hamilton – or for it to go to the stewards.
Red Bull accepted the penalised place, but took the precaution of fitting Verstappen with a new set of mediums with which to try out-accelerating the others.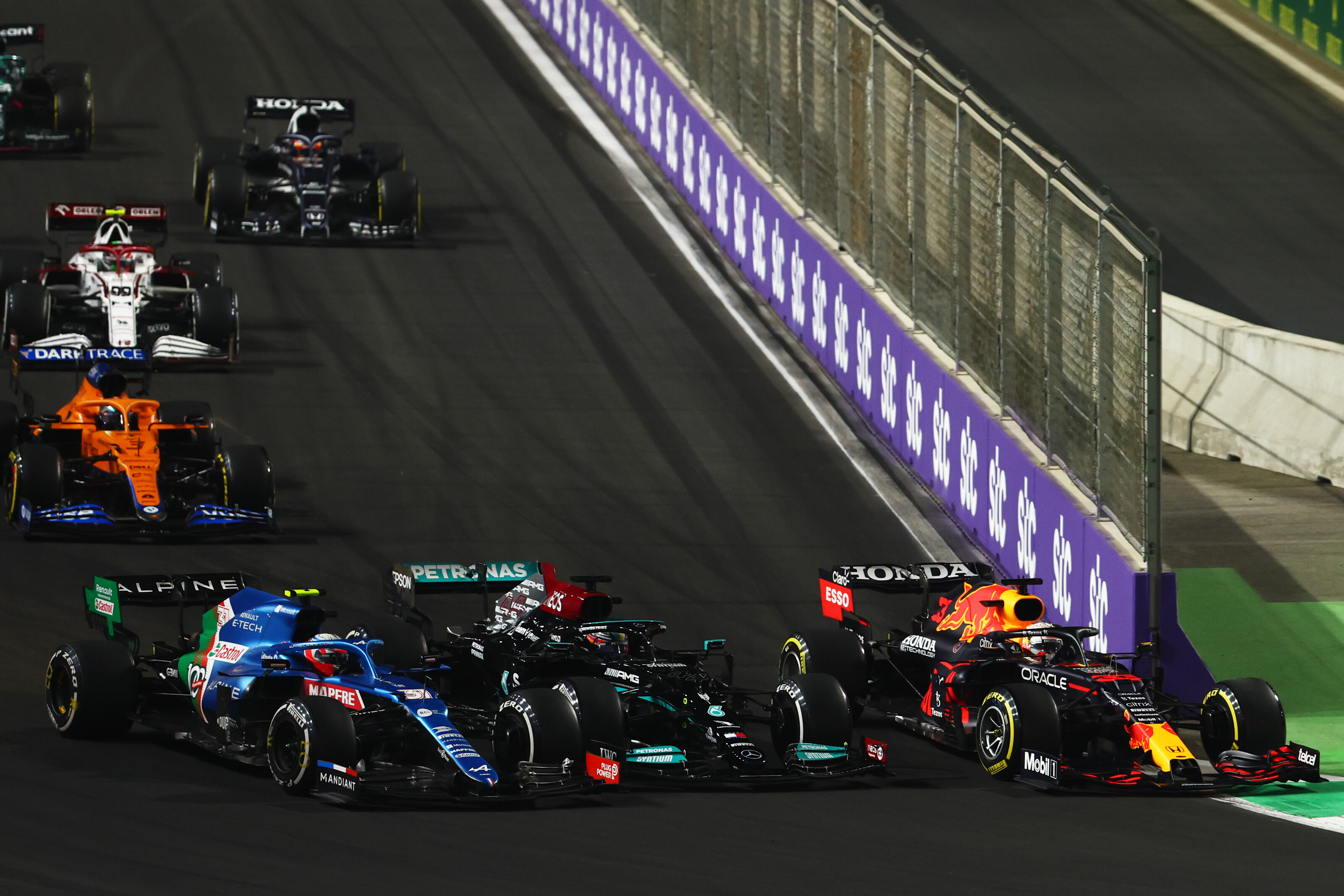 He did so beautifully, shimmying from the right to the gap on Hamilton's left, squeezing the Mercedes into Ocon's Alpine as he again cut across Hamilton's bows. The squeeze put the Mercedes' right-front wing endplate into Alpine's floor, doing damage to both.
"I thought they'd be aggressive with each other," joked Ocon afterwards. "I didn't think they'd be aggressive with me!"
Forced to take the run-off short cut to avoid further contact, he came out of there leading but immediately surrendered the place to Verstappen, with Hamilton then DRS-ing past at the end of the lap. Game back on: Verstappen vs Hamilton, leaving the others far behind.
With 34 laps to go, the game was going to be whether Verstappen on his higher-wearing medium tyres could keep Hamilton on his tougher hards at bay. On these tyres the Mercedes was soon faster and Hamilton was on the hunt.
But how to pass (which from a points perspective he badly needed to do) – without contact (which he badly needed to avoid)?
Verstappen didn't look like he was driving with tyre conservation in mind, as Lewis continued to push and probe, forcing him to run hard.
But every time he got within DRS range, there would be a virtual safety car for yet-more debris on the track as various bits of damaged bodywork fell off cars.
This was great for Verstappen, allowing him to give that left-front a breather, bad for Hamilton, obliging him to wait a couple of post-VSC laps to bring the hards up to temperature. Three or four times it happened like this and the tension ratcheted up. What's more, twice the DRS facility wasn't switched back on after the VSCs, restricting Hamilton even further.
But the drama had barely begun yet! On the 37th lap Verstappen's left-front wasn't great and as they exited the final turn Hamilton was already gaining, ready to slipstream him even before they reached the DRS activation point (which was working now).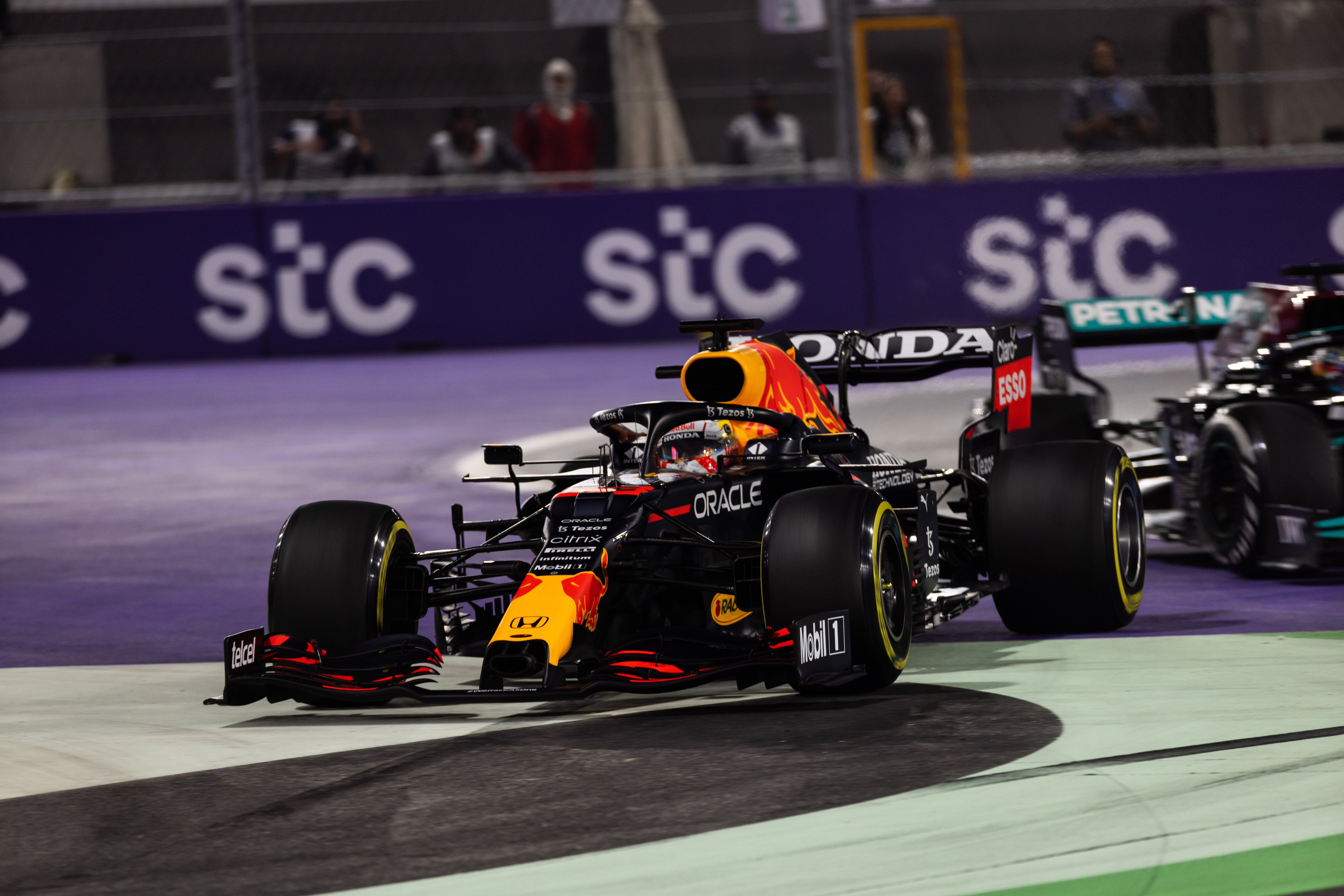 He got ahead on the straight but Verstappen had a big oversteer moment onto the Turn 1 run-off short cut – forcing Hamilton off track to avoid contact – and took the place back. Instructions to surrender it – 'but to do it strategically' – quickly followed.
Red Bull confirmed with Masi that Max would surrender the place. But Hamilton had not been informed of this, because his pitwall had only just been told as Hamilton was catching the Red Bull fast between Turns 21-22. This is just where the DRS detection point is.
Verstappen clearly understood this and was reckoning on getting DRS for the pit straight by allowing Hamilton by at a point where Max could be less than 1s behind at the detection point.
Hamilton – realising Verstappen was probably attempting to give the place back but without having yet been informed of this – was momentarily confused but quickly realised that Verstappen was tying to do it in an advantageous way and was reluctant to pass him there.
Verstappen then braked at 2.4g, just as Hamilton was moving to the left and the right-front corner of the Mercedes made contact with the back of the Red Bull, damaging Hamilton's wing endplate yet further and taking a chunk from Verstappen's floor.
Remarkably Hamilton's wing was still structurally intact despite its second significant hit. A lap later he set the fastest lap of the race so far as he chased Verstappen back down.
After the contact Verstappen had sprinted off, as it was assumed the matter would be going to the stewards and that he'd get a 5s penalty.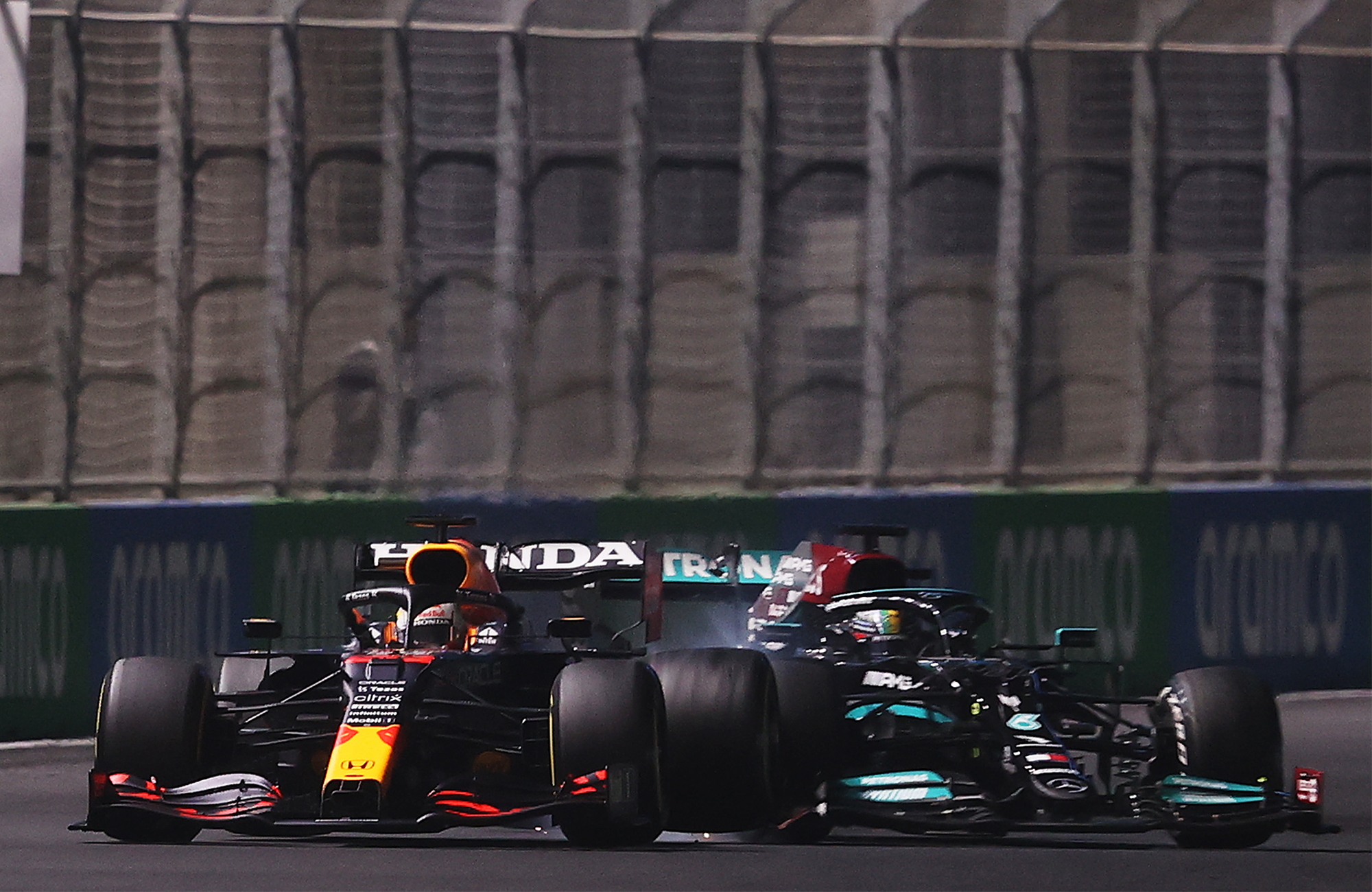 For three laps or so he was pushing hard with the idea of getting more than 5s clear. That was a plan scuppered by the left-front not co-operating and by Hamilton's continuing strong pace on his harder tyres.
As Hamilton closed back up so Verstappen was instructed once again to allow him past. On lap 42 he did so at the exit of Turn 23 but immediately repassed into 24. This is not usually considered a legitimate surrendering of the position – as Hamilton could attest from Spa 2008.
A lap later and Verstappen finally let him through in a more clear-cut manner into the Turn 27, at which time he was being informed that he had received a 5s penalty for the earlier off-track repass on Hamilton.
An irritated Hamilton drove him off the circuit as he went by, which Masi later related to Mercedes was 'borderline black & white warning flag'. Verstappen would later be awarded an additional 10s penalty for his 'erratic' driving in the lap 38 contact.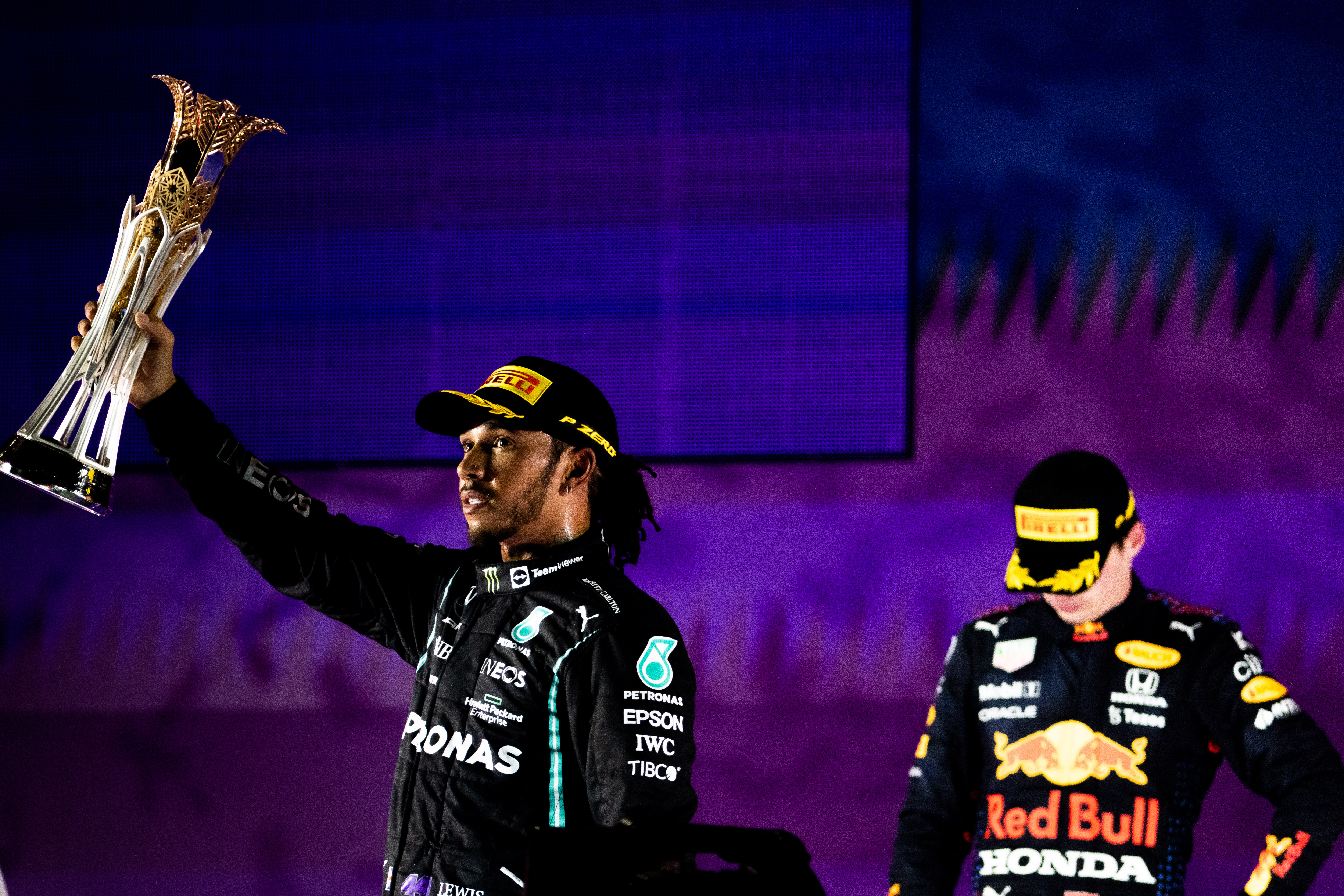 The race was won for Hamilton on track anyway now, as Verstappen's rubber had nothing left in the remaining few laps.
Bottas had been jumped by Ricciardo at the restart and would spend many laps stuck there before nailing him with DRS. That gave him just enough time to catch Ocon's third place, with Esteban badly compromised on the last two laps as a chunk of floor damaged in the Hamilton hit had finally broken away. Using his battery store to defend from the attacking Bottas was only going to last so long and he lost the podium to the Mercedes literally on the line.
Ricciardo, Gasly, the dicing Ferraris of Leclerc and Sainz were next, the latter two having passed Antonio Giovinazzi, with Norris making a good recovery back into the points in 10th.
"I tried to be sensible but tough out there," said the winner of quite the most confusing grand prix in a long time.