"No, that was a proper race," said Red Bull Formula 1 team boss Christian Horner of how Max Verstappen was made to work by Lando Norris's McLaren in the Brazilian Grand Prix.
"He wasn't saving anything. They pushed us."
Not that the outcome was ever really in doubt, not once Verstappen had got to Turn 1 in the lead of the restart.
But Norris was able to push into Verstappen's comfort zone and the pair left the field well behind in a tough, grinding contest. One which was ultimately decided by the Red Bull's better pace on old tyres.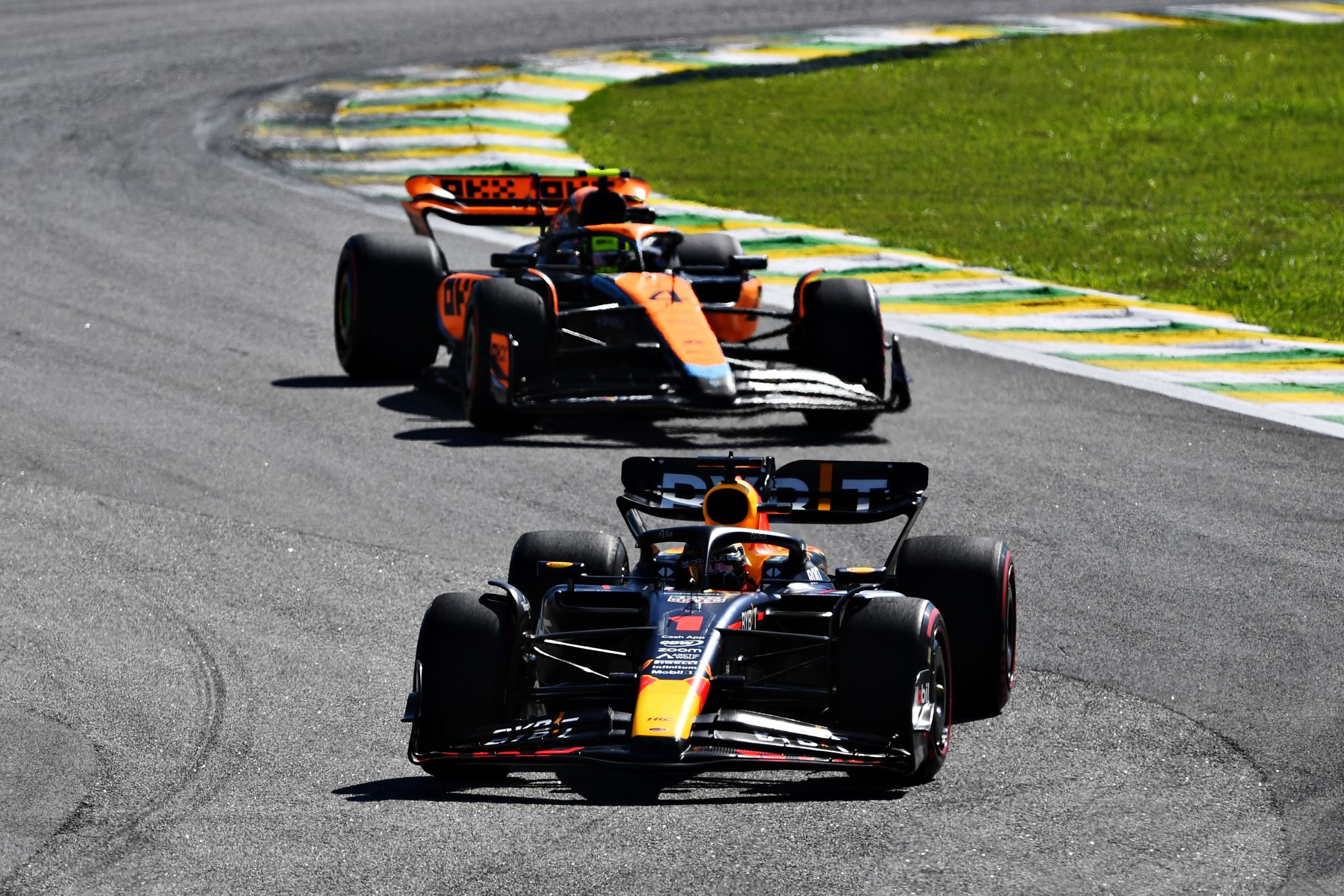 But now that the McLaren is good enough to push the Red Bull, and the rest of the field is being left behind, a truer competitive picture is emerging.
Aston Martin here returned to respectability, comfortably eclipsing a troubled Ferrari and a very troubled Mercedes. But even so, the Aston Martin was half-a-minute behind at the end. It took one of the best drives of Fernando Alonso's long F1 career to secure that third place over Sergio Perez's Red Bull.
The race was a two-stopper, such was the high degradation rate imposed by the contoured, long-corner Interlagos on a very hot weekend. Soft-medium-soft was the favoured sequence, with the hard simply too stiff to be anything other than slow.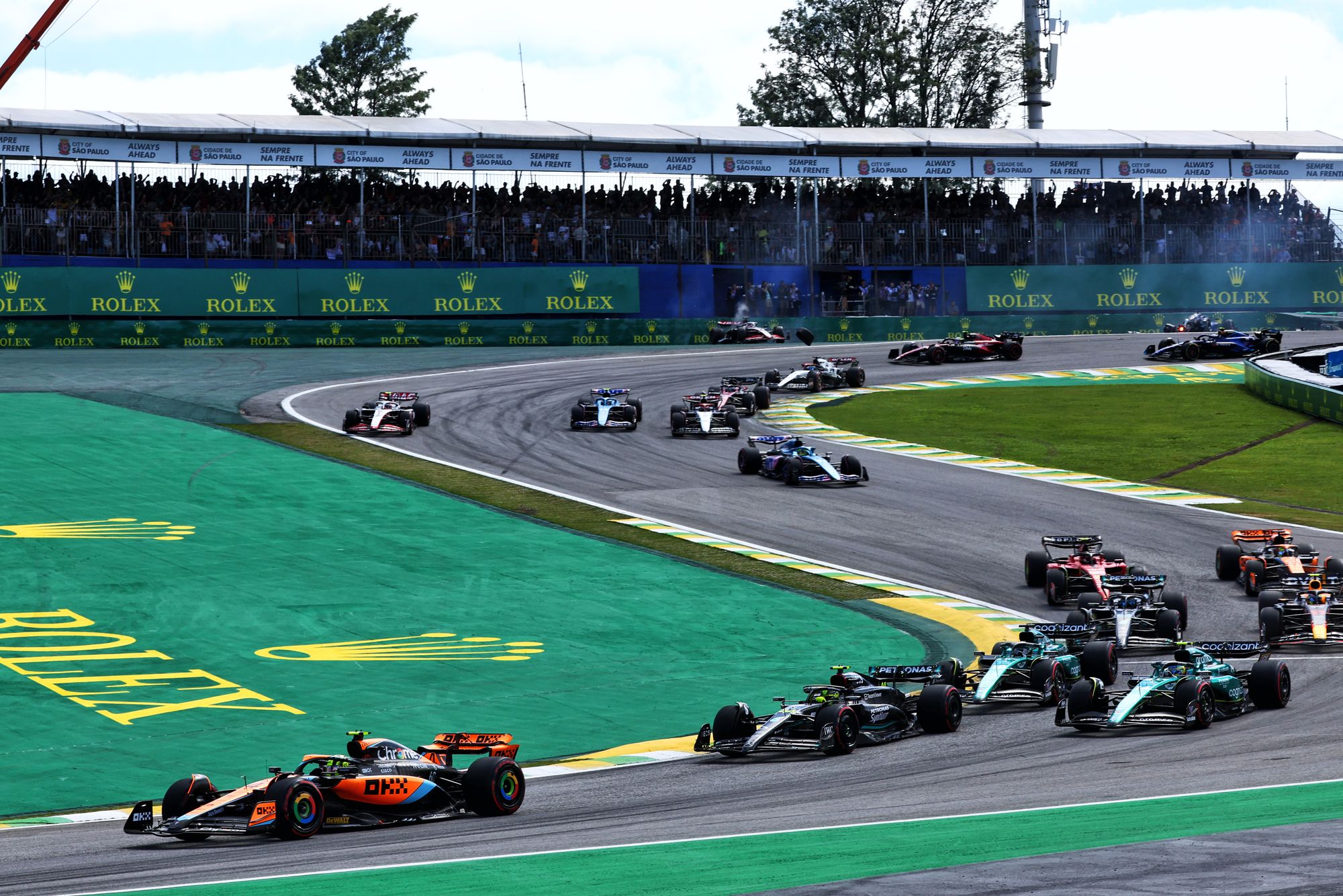 Norris's great initial start from sixth to second was important, even though the race was almost immediately red-flagged for the Haas team/Alex Albon collision into Turn 1 - because it meant he'd be taking the restart from second on the grid rather than sixth. Which changed McLaren's outlook completely.
With a car on the front row which had been quick enough for pole in the sprint shootout, McLaren could now think about trying to win the grand prix.
Norris had started the original race on used soft tyres, keeping his single set of new ones back. For the restart, the new ones were fitted. With Verstappen on used, Red Bull was nervous about the restart.
But Verstappen prevailed regardless - and that was really that. Norris would get close enough to get a side-by-side DRS run on the Red Bull a couple of laps in, prompting Verstappen into expending some energy - his own as well as his battery's - to pull out of DRS range.
But he could not at any stage get comfortable, as Norris was able to track him and a game of cat and mouse played out. Each of their three stints was very similar to the Saturday sprint race in that regard.
Norris stayed out a little longer than Verstappen for the second stops, hoping for a safety car to give him the cheap pitstop which, had it appeared, would have sprung him into the lead. On soft tyres three laps newer than Verstappen's he set a sensational fastest lap as he gave chase upon rejoining. He fell short by around eight seconds at the flag.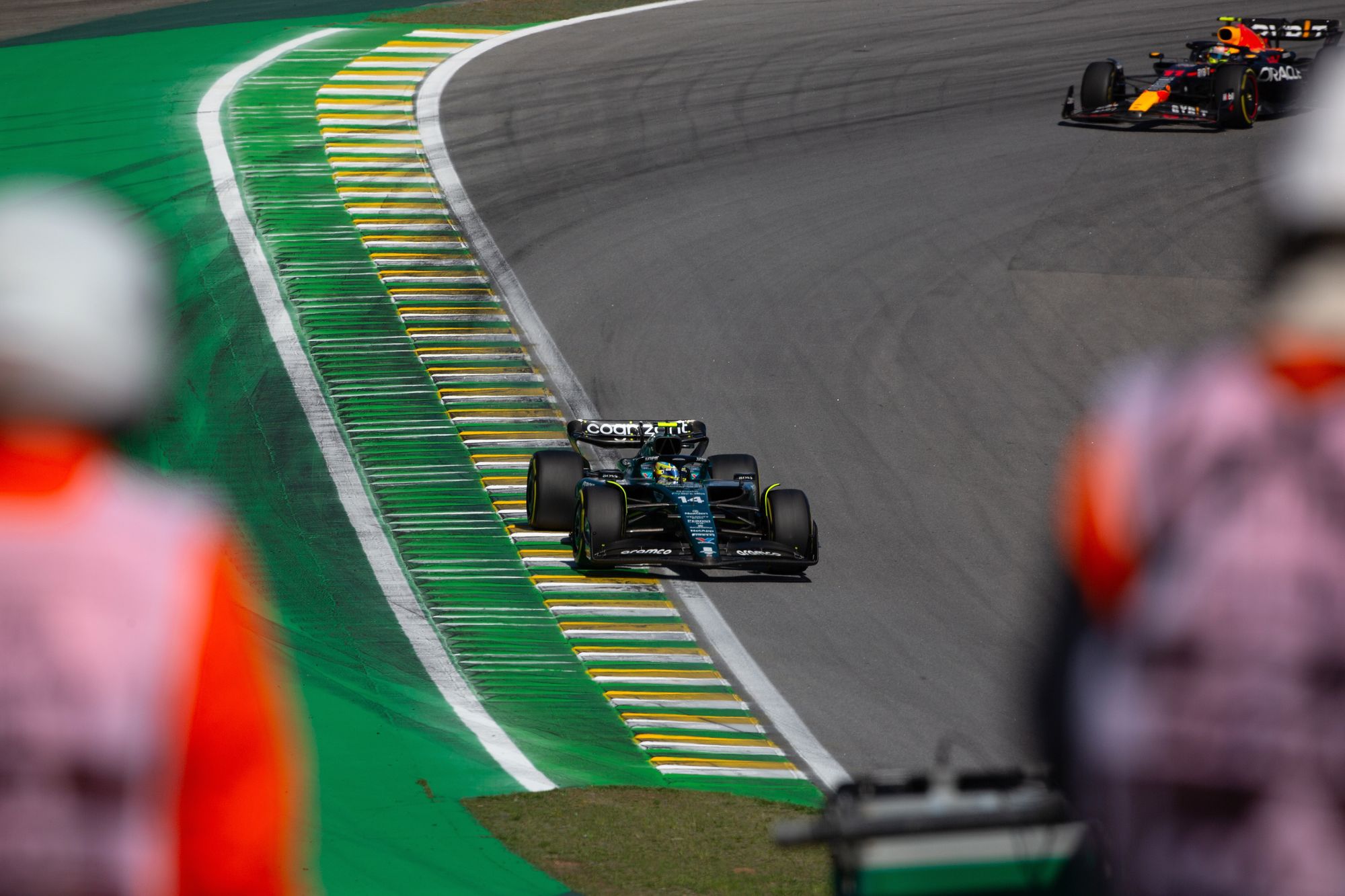 But Verstappen and Norris were no longer the focus of the crowd's attention. Alonso the matador was holding off a charging Red Bull. He and Perez had the crowd on its feet, screaming, chanting, shouting. It seemed impossible he could have kept a faster car behind for so long.
Perez had begun mounting his attack early in the second stint once he'd cleared the troubled Mercedes he'd qualified behind. He was within 1.5s of the Aston by the 33rd of the 71 laps, having shown himself to be as much as 0.5s per lap faster.
But he was on medium tyres five lap older than Alonso's, having stopped earlier than ideal through the gravitational pull of the Mercedes stops. He couldn't continue to gain like that on Alonso without shortening his second stint through abusing the tyres, so just had to bide his time, and take the battle into the final stint.
As Alonso saw in his mirrors Perez peel off into the pitlane, he asked his team if they needed him to stay out, as he felt he could run a while longer yet to get a bigger tyre offset into the last stint. He had over three seconds in hand over Perez, a gap which he'd gradually opened out over the previous 12 laps. "Negative," Alonso was told, and instructed to pit the next lap.
The stage for their final battle was thus set, Alonso ahead by 3s, Perez catching by half-a-second per lap, 24 laps still to go around the most overtaking-friendly track of the season. Alonso's podium place was surely doomed.
But that's to reckon without Alonso, his brilliance, his tenacity, his resourcefulness, his ferocious competitive will.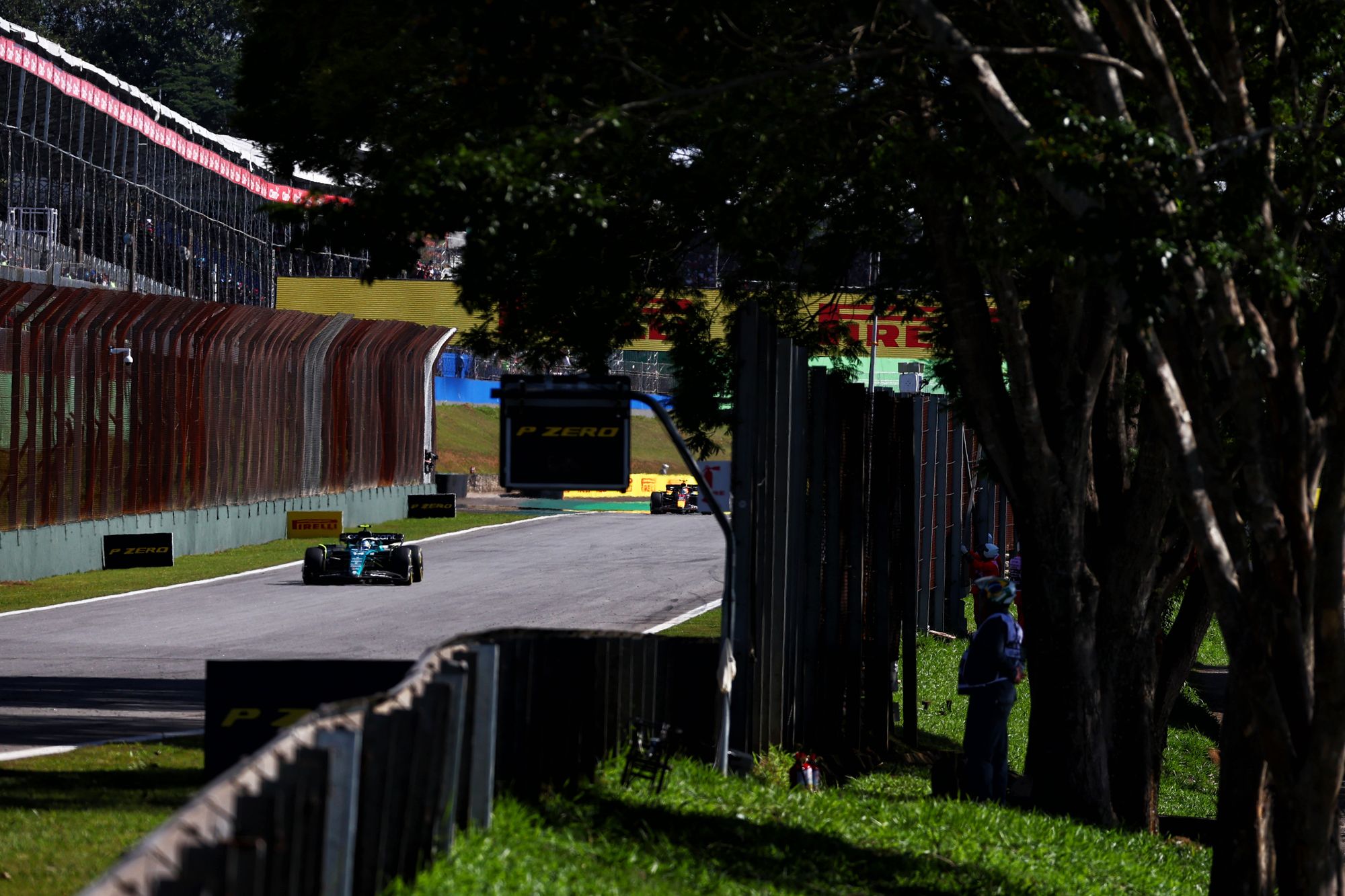 Knowing it was inevitable he'd be caught, he initially concentrated on ensuring he'd have plenty of tyre left by the time that happened. Which just hastened how quickly Perez caught him (in five laps) and ensured Checo had used up more tyre than him.
But as soon as the Red Bull was close, Alonso stepped up the pace by 0.5s, stretching to keep himself out of DRS reach.
He had to get cute in when and where to use his battery deployment, catching Perez off guard with that and his varying lines from one lap to the next.
"I didn't want him to see a clear direction to take an opportunity or to get clean air," Alonso explained.
It helped that the Aston Martin was running quite a low-downforce set-up, certainly lower than Red Bull which had come here determined not to run into the tyre-degradation problems it had encountered last year and thus was running a bigger wing to protect the rubber.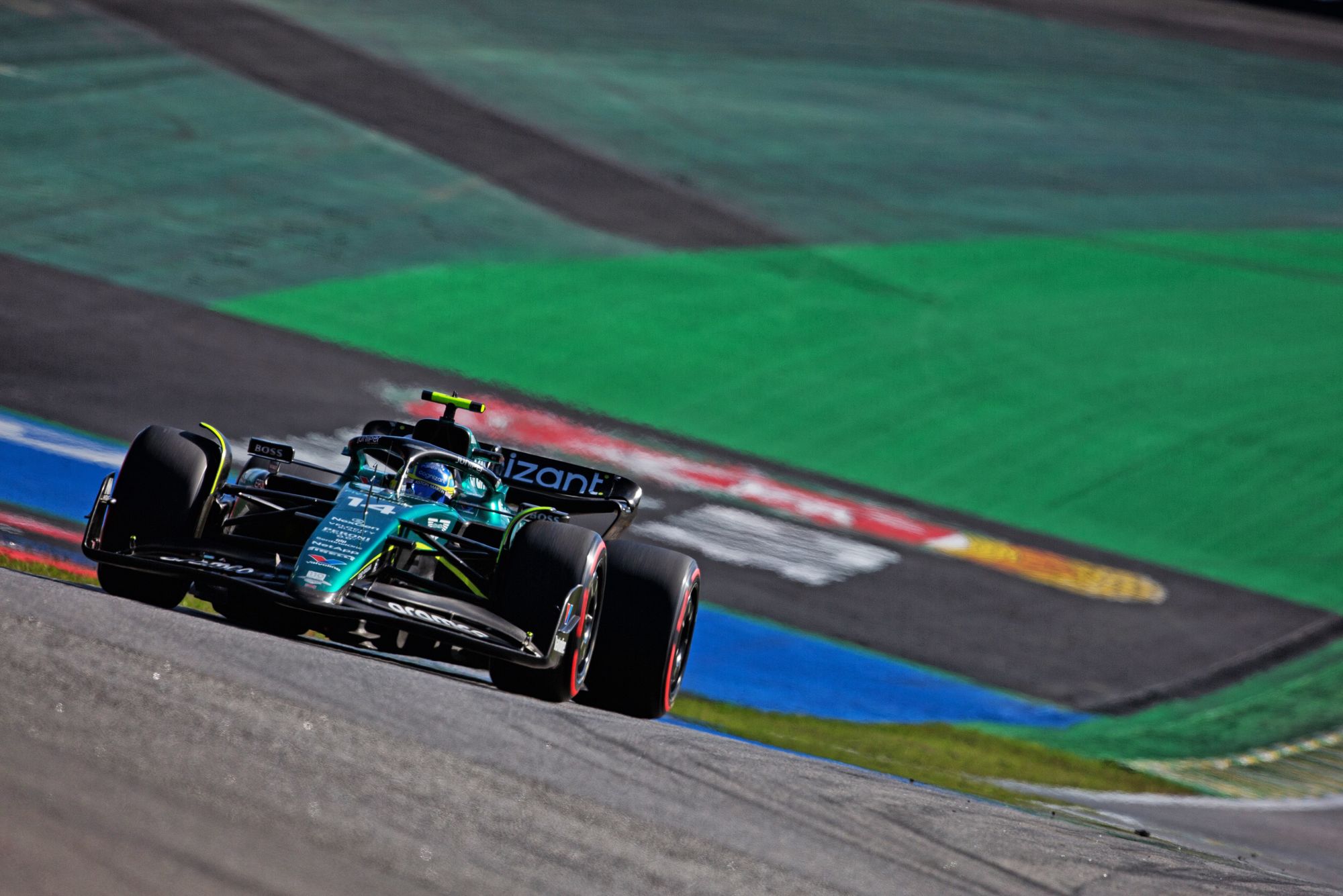 Alonso concentrated particularly in the last three proper corners - Turns 10-11-12 - which determine the speed up the long uphill flat-out drag and onto the pit straight.
Into the slow Turns 11 and 12 he would take a 'V' line, minimising the amount of time the tyres were under load and ensuring he got maximum traction.
"I knew I could not make a mistake in those three corners," he said. Had he done so Perez could have pounced.
Instead, with his great traction and strategic use of his battery, he was able to ensure that even when Perez got DRS it was only getting him back what he'd lost.
For lap after lap Alonso thwarted Perez like this. Inevitably, as his rear tyres degraded more each lap, he lost his ability to get out of Turn 12 better.
Perez timed it well, just before the penultimate lap; within a second at the DRS detection point, he was fully charged and exited the corner much closer to the back of the Aston Martin.
He duly passed into the Senna S to a roar of approval from a big portion of the crowd.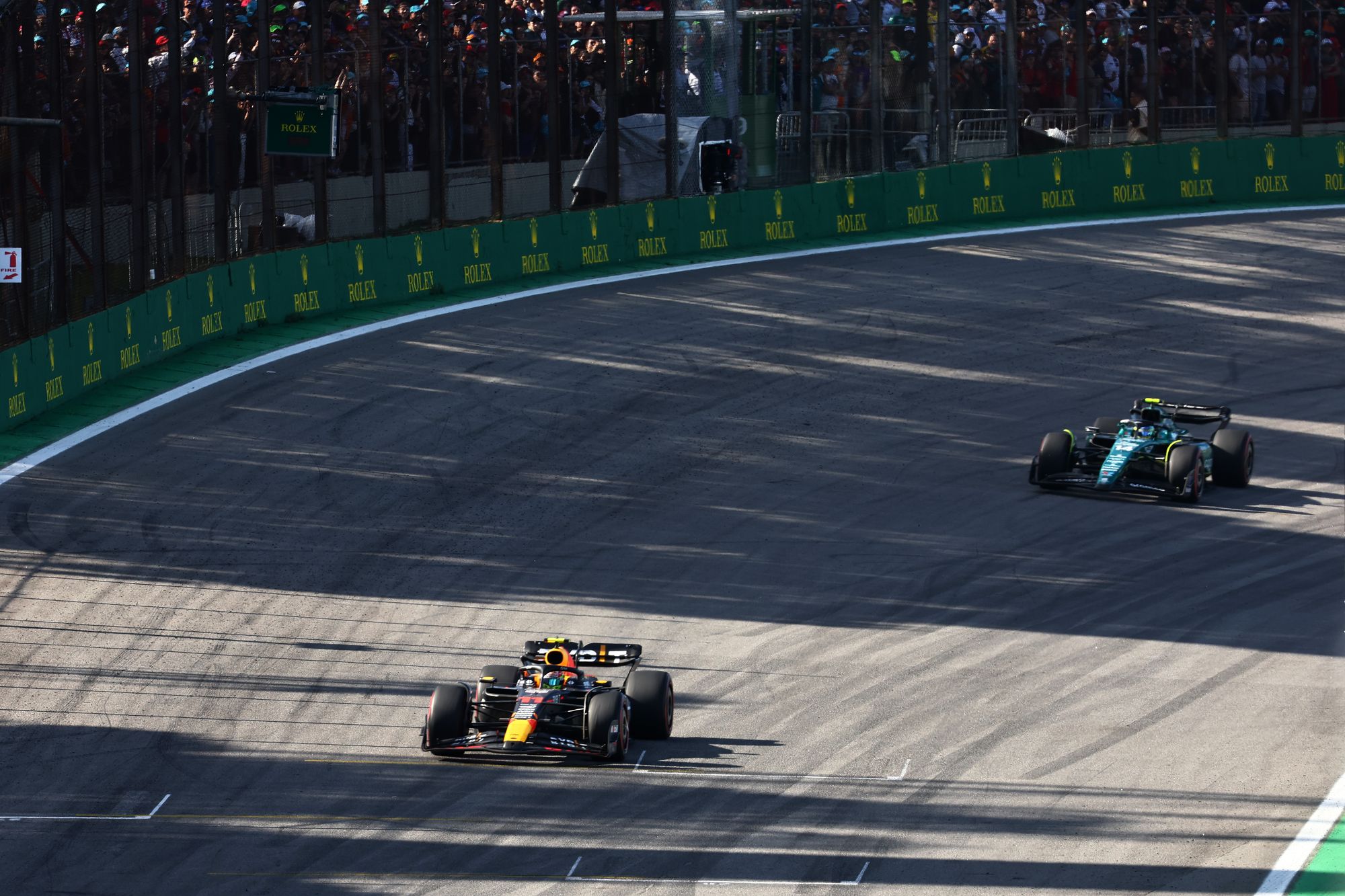 But Alonso stayed with the Red Bull and on the final lap Perez had to go in deep, a little too deep, into the first corner, compromising his exit out of Turn 2 and down the back straight.
Alonso tracked him like a guided missile, and now with DRS of his own (the detection point is in the middle of Senna S and he'd been sure not to fight out that corner for too long for that very reason) made the repass into Turn 4, around the outside. Another section of the crowd - or maybe it was the same section - roared its approval.
It wasn't quite over yet, for Perez would have the slipstream up the hill on the drag to the finish line. They crossed the line 0.053s apart, green ahead of blue.
Adding to Aston Martin's joy was the fact that just 6s behind and catching the duellists was Lance Stroll, who had therefore comfortably beaten Ferrari and Mercedes.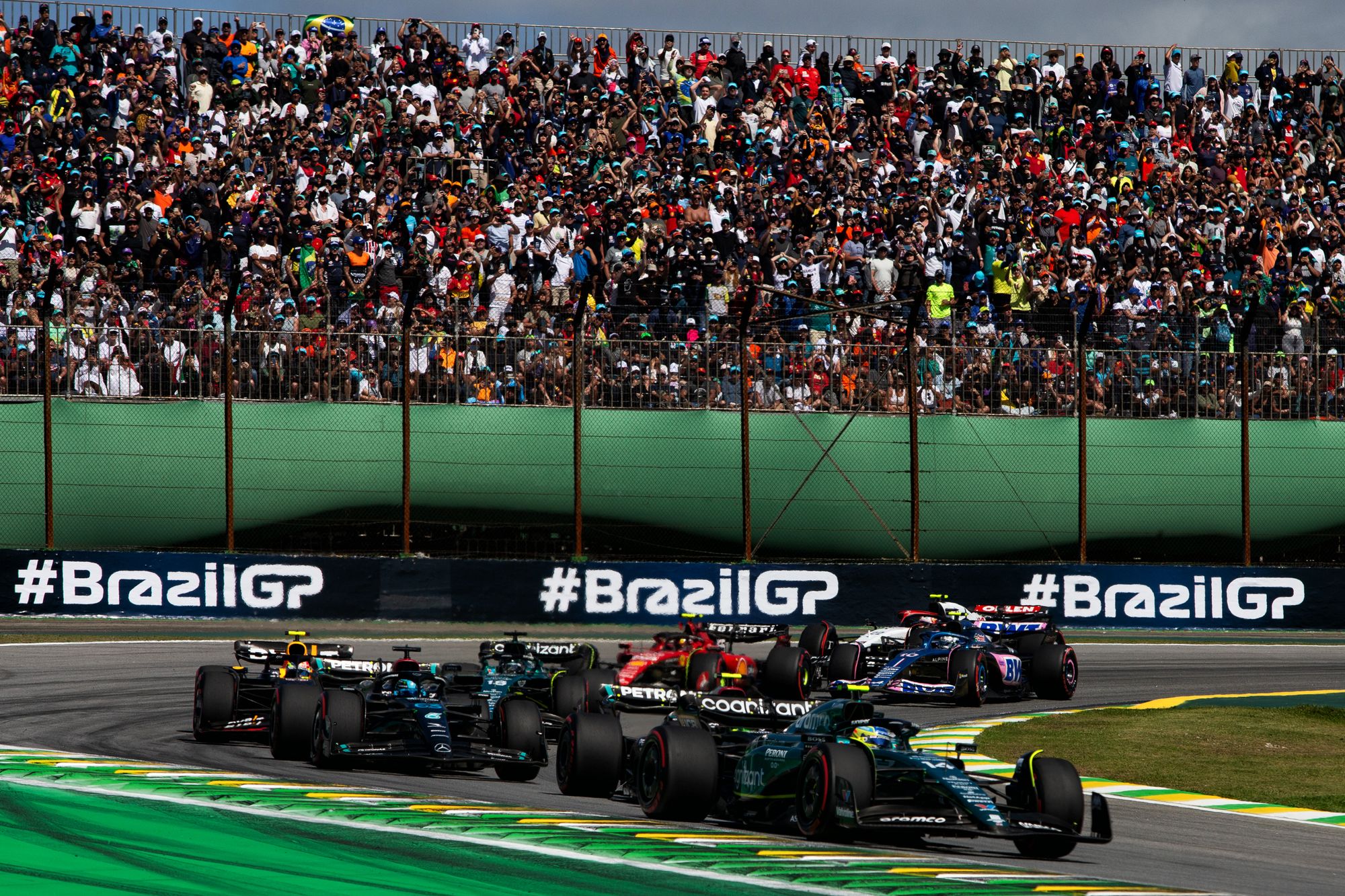 Alonso's pass of Lewis Hamilton on the opening lap - also at Turn 4 - was, he reckoned, the key to his race. Without that "my tyres will never be in a condition to extend the first stint and then have a tyre advantage to Checo", Alonso felt.
Asked how this compared to his defensive masterclass against Michael Schumacher at Imola 2005, Alonso replied: "That was probably easier." He then turned to Max Verstappen and asked, "How old were you then?"
"Seven," replied the 52-time grand prix winner.