At the scene of its last Formula 1 victory and after a run of more encouraging races, Mercedes had a painful Brazilian Grand Prix.
Its pace loss during the sprint was a precursor to an even more miserable Sunday as Lewis Hamilton tumbled to eighth and George Russell was faring even worse before retiring - and was pretty grumpy about the team's tactics and lack of team orders too.
Here are our writers' snap verdicts on Mercedes' woes:
IT HAD BETTER JUST BE A SET-UP MISTAKE
Scott Mitchell-Malm
This shows the reality of how bad this car is capable of being, how far Mercedes may still have to go in understanding things, but also how easy it is to get it wrong on a sprint weekend.
Mercedes needs the winter to make bigger car changes across the board. That was always going to put a hard limit on what it could achieve in the final races of 2023, and maybe Brazil was just a harsh example of how weak even an improved W14 can still be.
But this was such a dramatic backwards step that it must spark some concern about Mercedes, maybe even more than the optimism afforded by the last couple of races. As since the upgraded floor at Austin a fortnight ago, the car has seemed a bit better. And that would have given Mercedes confidence in its development direction for 2024.
The main thing you could argue it casts some doubt over is that Mercedes was trying to make sure that the extra aero performance it adds is consistent and usable, which didn't look to be the case in Brazil given how bad the balance seemed to be.
But that could just as easily be explained by a set-up misstep. And if that really was to blame here then, as the races in Austin and Mexico were genuinely decent (for Hamilton at least), there's a chance this could just be a dramatic outlier. Especially as getting the car in the wrong window is very easy to do on a sprint weekend - that's how Red Bull opened the door for Mercedes to win in Brazil last year, remember.
AT LEAST BRAZIL WON'T GIVE IT FALSE HOPE THIS YEAR
Glenn Freeman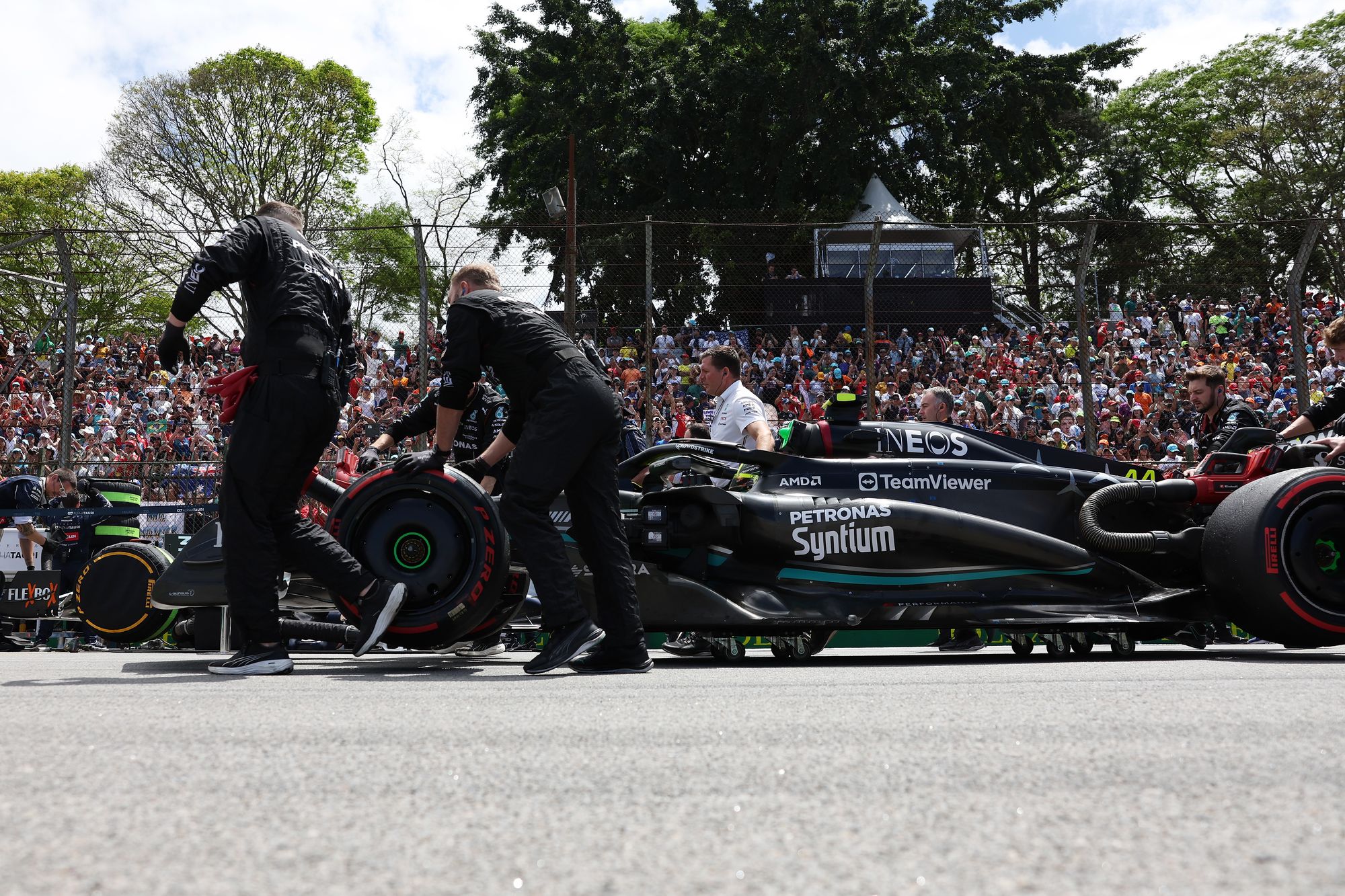 We heard quite a lot about how winning in Brazil a year ago gave Mercedes false hope that its unique car concept had more potential than turned out to be the case.
At least there's no danger of history repeating itself after an abject weekend at Interlagos this year.
I'm sure Mercedes didn't need a reminder of how far it still has to go. But you can be sure that Toto Wolff will be using this disastrous weekend to keep everybody's feet on the ground after the recent promise shown by its latest upgrade.
MERCEDES LOOKED ASLEEP
Gary Anderson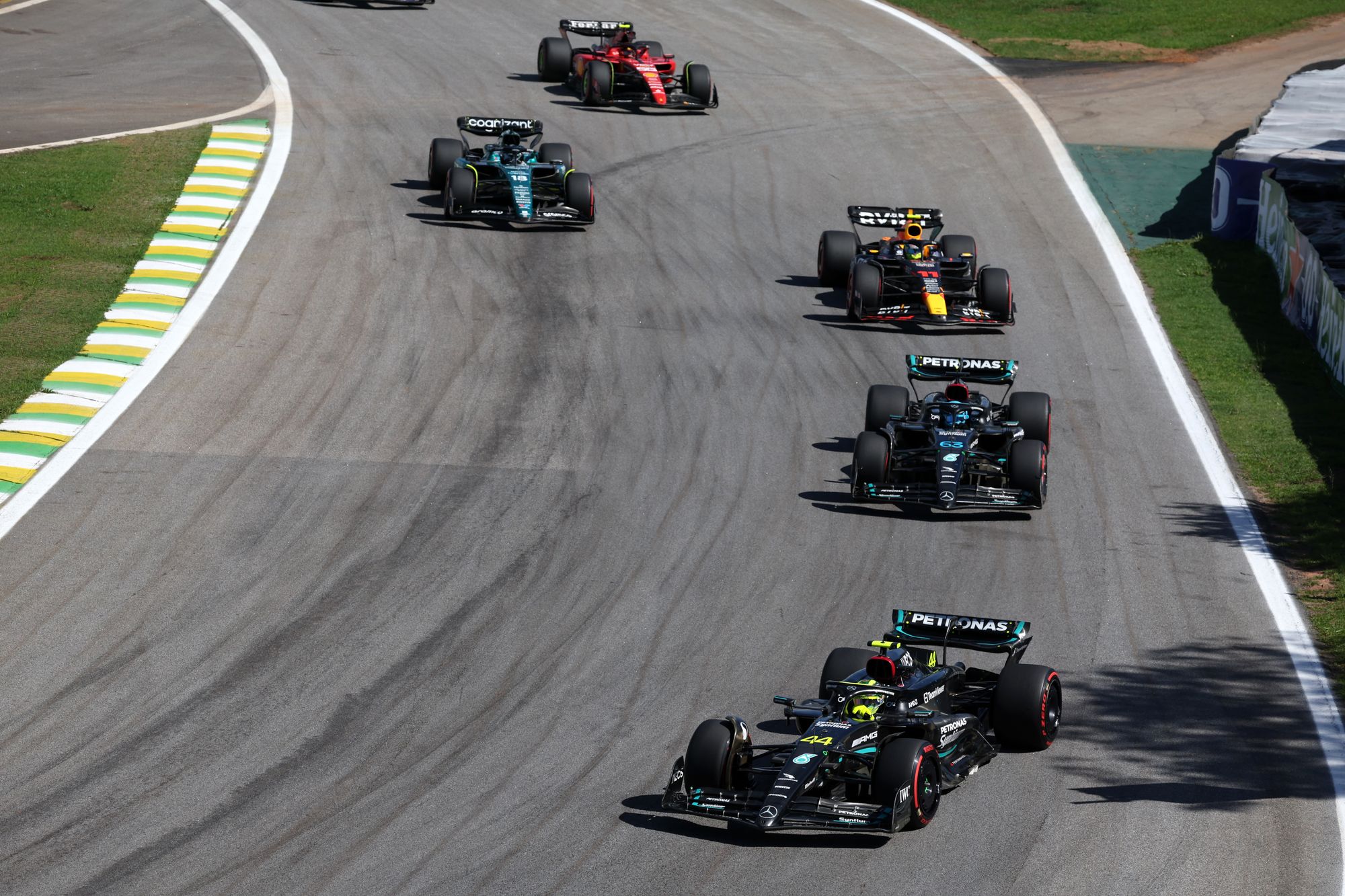 During The Race Live Hub's Brazilian GP coverage I asked: "is the Mercedes pit box asleep?"
That was after Carlos Sainz was allowed to steam past both Russell and Hamilton.
I stick by that comment. The car was not quick enough, it was using its tyres quicker than the others, and the team was not reacting to situations.
A team of Mercedes' standing should be able to pull something out on race day.
It was doing that in the earlier part of the season but the new floor introduced at Austin - which both drivers liked - seems to have hurt its race pace.
Today was a bad day in the office. But that's nothing compared to what it will be like in Brackley tomorrow morning. Glad I'm not there.
HAS THE UPGRADE INTRODUCED A PROBLEM?
Ben Anderson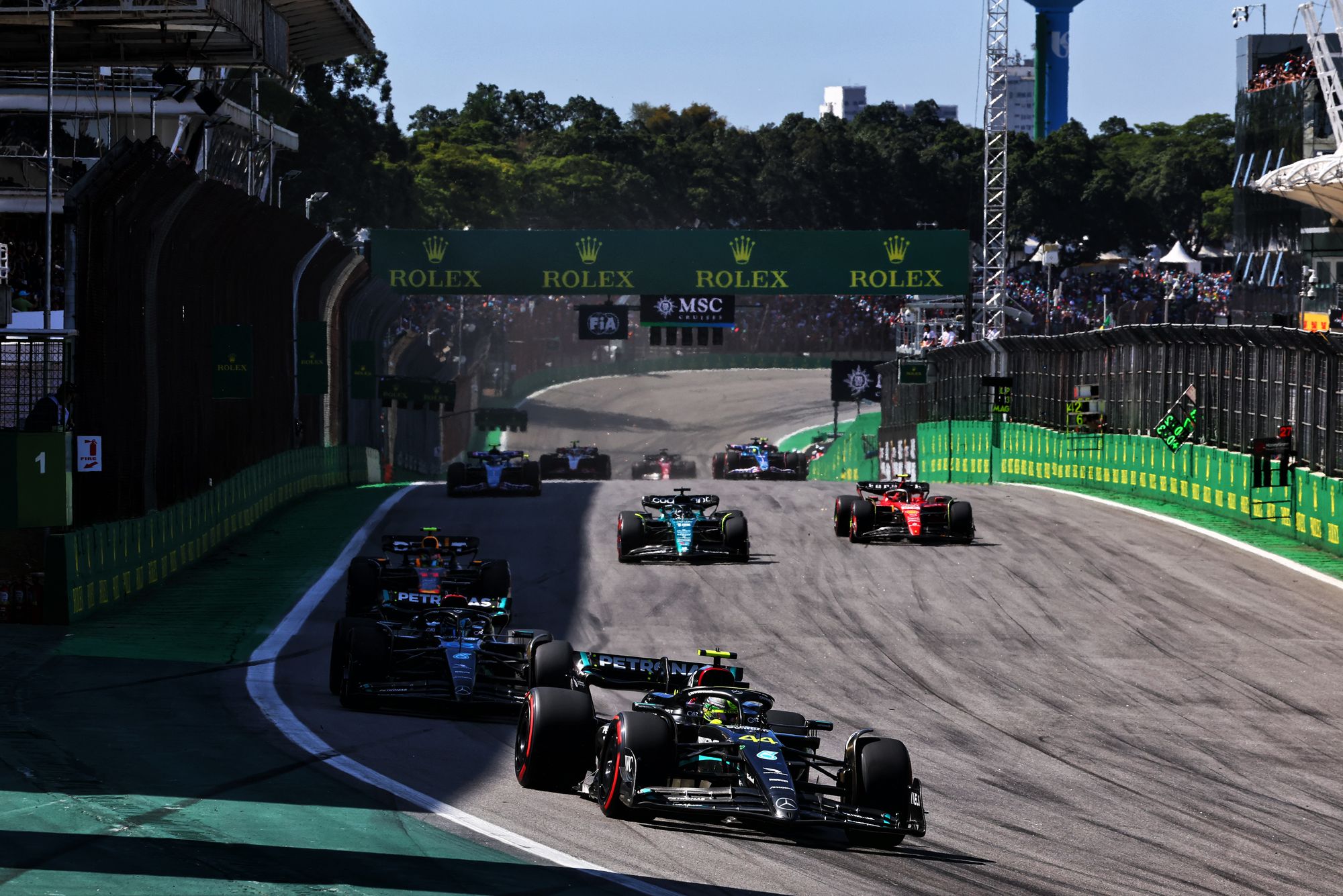 Whatever went so wrong this weekend must surely relate to a fundamental set-up miscalculation that the lack of free practice running imposed by the sprint format meant Mercedes couldn't figure out until it was way too late.
The W14 is obviously a difficult car even at the best of times, but as Hamilton pointed out it's been improving recently - and in fact tyre management is usually one of its major strengths compared to almost every other car on the grid.
Here it looked like the Ferrari often does in these high-deg races: a rear-tyre-destroying monster.
Maybe the Austin floor upgrade has had some unintended consequences; maybe Mercedes got the ride-height calculation wrong - spooked by getting caught out on the last bumpy surface F1 raced on in America.
Certainly it was something no amount of minor wing angle adjustment or carefully adjusted driving technique could compensate for, and no doubt there will be some intensive engineering meetings back in Brackley to try to make sure Mercedes hasn't inadvertently 'done an Aston Martin' and introduced some nasty new traits into its development path at an inopportune time.
MERCEDES WASN'T CAUGHT OUT LIKE THIS IN ITS GLORY DAYS
Edd Straw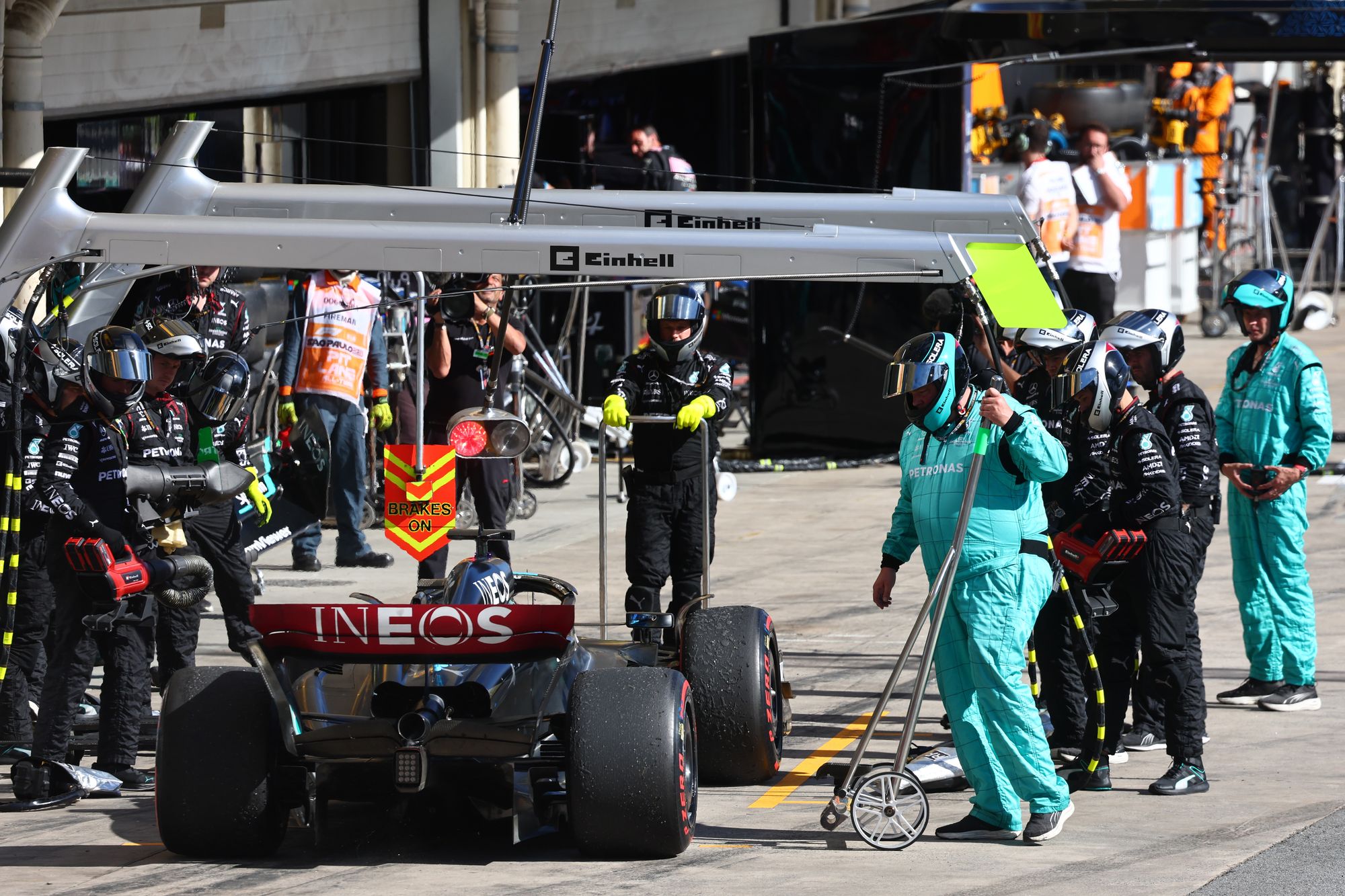 The biggest concern for Mercedes is not the poor performance in isolation, but the fact it doesn't appear to have been entirely expected.
Upgrades were never going to make the current car consistently a podium finisher but they are a test of understanding. The Brazil weekend, unless explainable by some leftfield set-up error, suggests a gap in the knowledge base that is feeding into the 2024 car.
And there is scope for it just being down to a combination of the hangover from the ride height mistake on the Austin sprint weekend and being too conservative leading to running a little too high. With just one practice session, that's perfectly possible and would be the most favourable explanation that cost performance.
But all in all it underlines how far Mercedes still needs to go to become the sure-footed unit it was in the glory years.