Max Verstappen blitzing past Charles Leclerc's Ferrari and Kevin Magnussen's Haas in one DRS-assisted sweep was the highlight of the Formula 1 championship leader's charge to Miami Grand Prix victory.
But Verstappen overtaking both those cars at once wasn't the most impressive thing happening in that moment.
Because the two cars he was passing were swapping positions too. Haas driver Magnussen was instantly repassing Leclerc's Ferrari down the outside towards Turn 1 having lost a position to it at the end of the back straight. It was a DRS pass, but the mere fact Magnussen felt it was worth bothering to do – rather than just acquiescing to the Ferrari and deciding there was no point in racing it anymore – was wonderful.
For an out-of-position midfielder, focusing on your 'actual' battle is pragmatic and sensible. What logic is there in a Haas costing itself time working hard to resist a Ferrari when it could let that Ferrari past with minimal time-consuming resistance and prioritise beating the likes of Alpine and Alfa Romeo?
But logic sometimes needs to step aside and let hope make the decisions.
For 38 of the Miami GP's 57 laps, Magnussen expertly resisted everything Leclerc could throw at him, showing zero deference to Ferrari as either a more competitive car or Haas's technical partner. If Leclerc got down the inside, Magnussen hung on around the outside. If Leclerc got him in a DRS zone, Magnussen made sure he got DRS back at the next one.
In the end, Leclerc did get ahead and finished seventh, with Magnussen fading to 10th having started a brilliant but slightly fortunate fourth.
Afterwards he sounded slightly rueful about how hard he'd raced Leclerc because of what it had taken out of his tyres in the second stint.
"I had a s**tty start and then had a long fight with Leclerc which was tough for my tyres and I probably should have looked after my tyres a little more in hindsight, but anyway… I think we had a strong day and scored one point," said Magnussen.
---
Did Magnussen cost himself a better result?
Edd Straw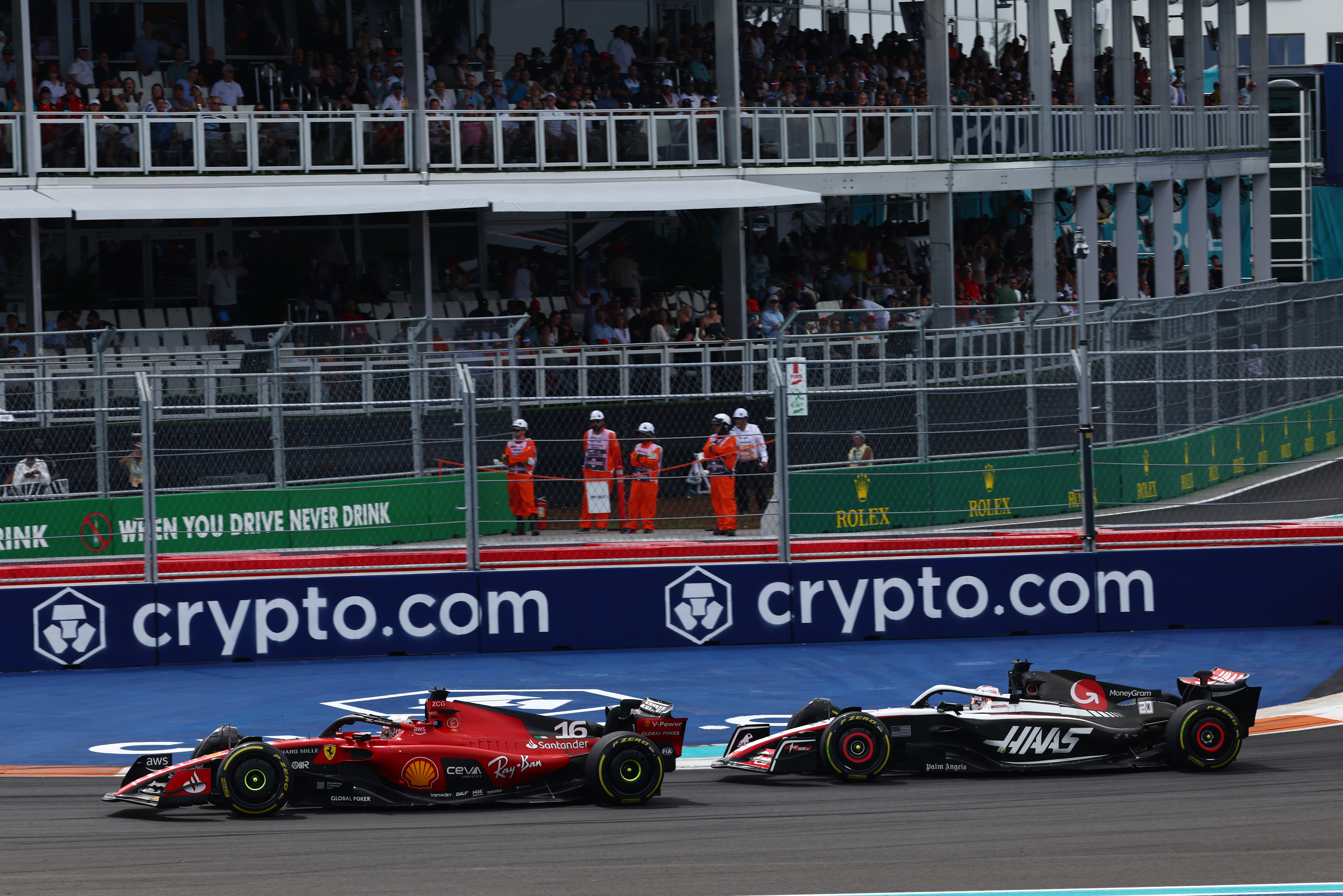 So did Magnussen's battle with Leclerc have a negative impact on his race result? To judge that, we have to consider its impact on his later battle with Esteban Ocon for ninth place.
They were on mirror strategies, with Magnussen on what was considered the preferred strategy pre-ace and starting on mediums before switching to hards. Ocon started on hards and therefore always destined for a longer first stint and switch to mediums.
During the first stint, while Leclerc was caught up behind Magnussen he had Ocon chasing him. While Magnussen scrapped with Leclerc, Ocon kept a watching brief behind, but in that first stint the Alpine driver was never more than two seconds behind.
As Magnussen kept Leclerc behind during the first stint and held the position by pitting first, there was no cost to staying ahead in that phase of the race. Indeed, he didn't appear to have to work too hard to do so.
Leclerc pitted three laps later to take hards and emerged around four seconds behind. He closed at a very sedate rate of around 0.125s a lap, but was within attacking range on lap 33. Realistically, the battle between the two lasted from then until Turn 1 on lap 38, where Leclerc eventually got past. Magnussen also had a brief off at the chicane during this phase of the race, but it cost him nothing.
Magnussen lost around four-tenths per lap to Ocon from lap 33-38, which was similar to the average loss of the previous 10 laps.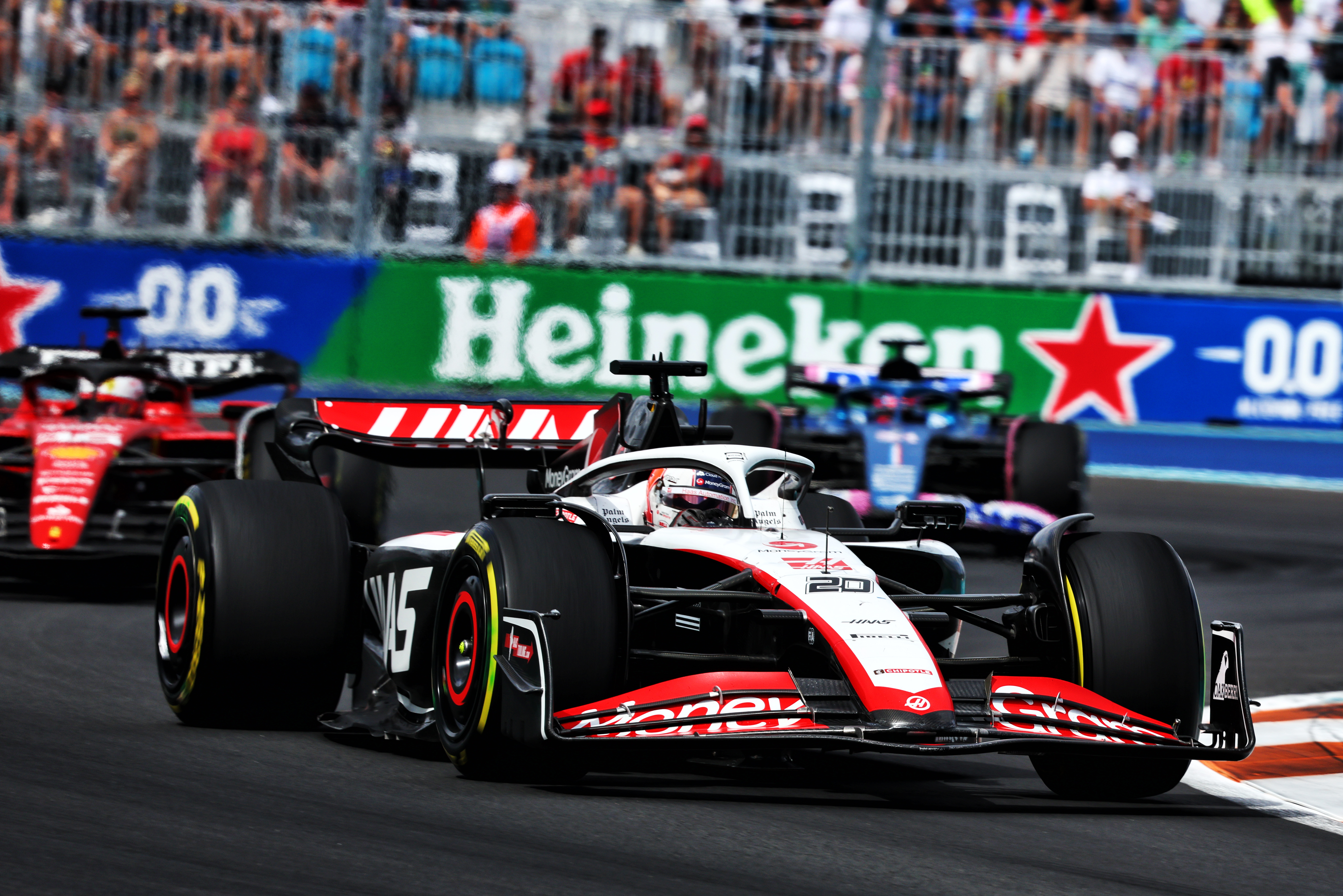 While the battle itself didn't have a huge impact on the fight between Magnussen and Ocon, it might have impacted what was to come.
Ocon pitted for mediums on lap 39 just after the Magnussen vs Leclerc battle was resolved. Magnussen did push his tyres in the battle with Lecelrc, not just in the wheel-to-wheel fighting but also as he tried to park himself within DRS range of Lance Stroll ahead – both to help his defence against Leclerc and because he aspired to pass the Aston Martin and close the gap to Pierre Gasly in front.
Once Ocon rejoined on mediums, he was on average six-tenths of a second per lap quicker than Magnussen. He closed him down quickly, made a decisive pass and then pulled away to finish 4.8s behind.
Might Magnussen have been quicker had there not been a compromise in terms of tyre management? Potentially. Would it have been enough to hold off Ocon? It seems unlikely given the Alpine was fundamentally a slightly quicker car and Ocon had the advantage of running mediums.
---
Magnussen has a reputation as one of F1's more dogged and uncompromising racers. But that doesn't mean he'd fight a lost cause just for the sake of it.
Remember another epic Magnussen drive that resulted in a 10th place for Haas – the 2020 Hungarian GP, when pitting for slicks at the end of the formation lap meant by lap five he found himself in third place, ahead of everyone bar Lewis Hamilton and Verstappen.
"I need some good info on who I'm racing realistically and who I'm not," he called to engineer Gary Gannon early in that race. He then picked his battles – which that day amounted to not fighting Stroll's Racing Point or Valtteri Bottas's Mercedes, but getting his elbows out for everyone else. He beat Leclerc to the final point that day by 11s.
On Sunday, the lap before Leclerc made what became his decisive move, Magnussen said to his 2023 engineer Mark Slade: "I can't hold Leclerc, he's so quick".
Slade replied: "If the right thing to do is to let him through then follow him through the two cars ahead, that's OK. You are quicker than those two cars ahead of you."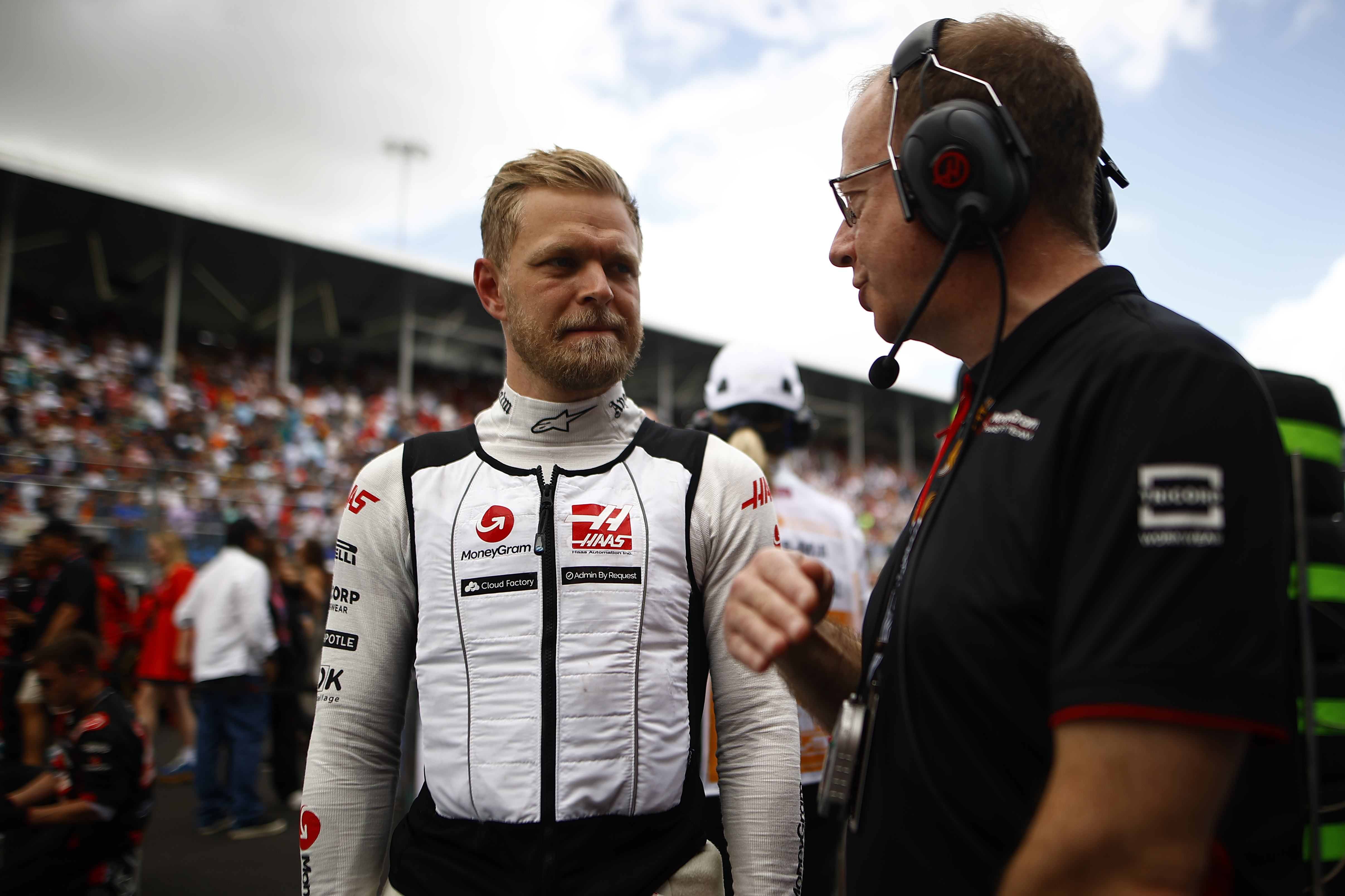 The difference to so many other top team vs underdog battles in recent F1 seasons is that in Miami Magnussen and Haas didn't give up against Leclerc until they were absolutely sure that this was not a winnable battle. And in a season when pretty much everyone behind Red Bull is within the same second much of the time, that's absolutely the right attitude to have.
"Obviously, I was dreaming of a little more than one point today," Magnussen admitted on Sunday night.
"But all the big teams finished the race and had no problems. So it was a pretty difficult race to score points. There were no gifts as such."
And there were definitely absolutely no gifts given away by Magnussen.