Lewis Hamilton's Miami Grand Prix weekend was difficult and frustrating until the last 15 laps of it, when a battling final stint gave the seven-time Formula 1 champion "what I live for".
Having run outside the points for the first part of the race, and needed pitstops for other cars to promote him into the top 10, a long opening stint then a series of overtakes lifted Hamilton a sixth-place finish that had looked very unlikely to begin with.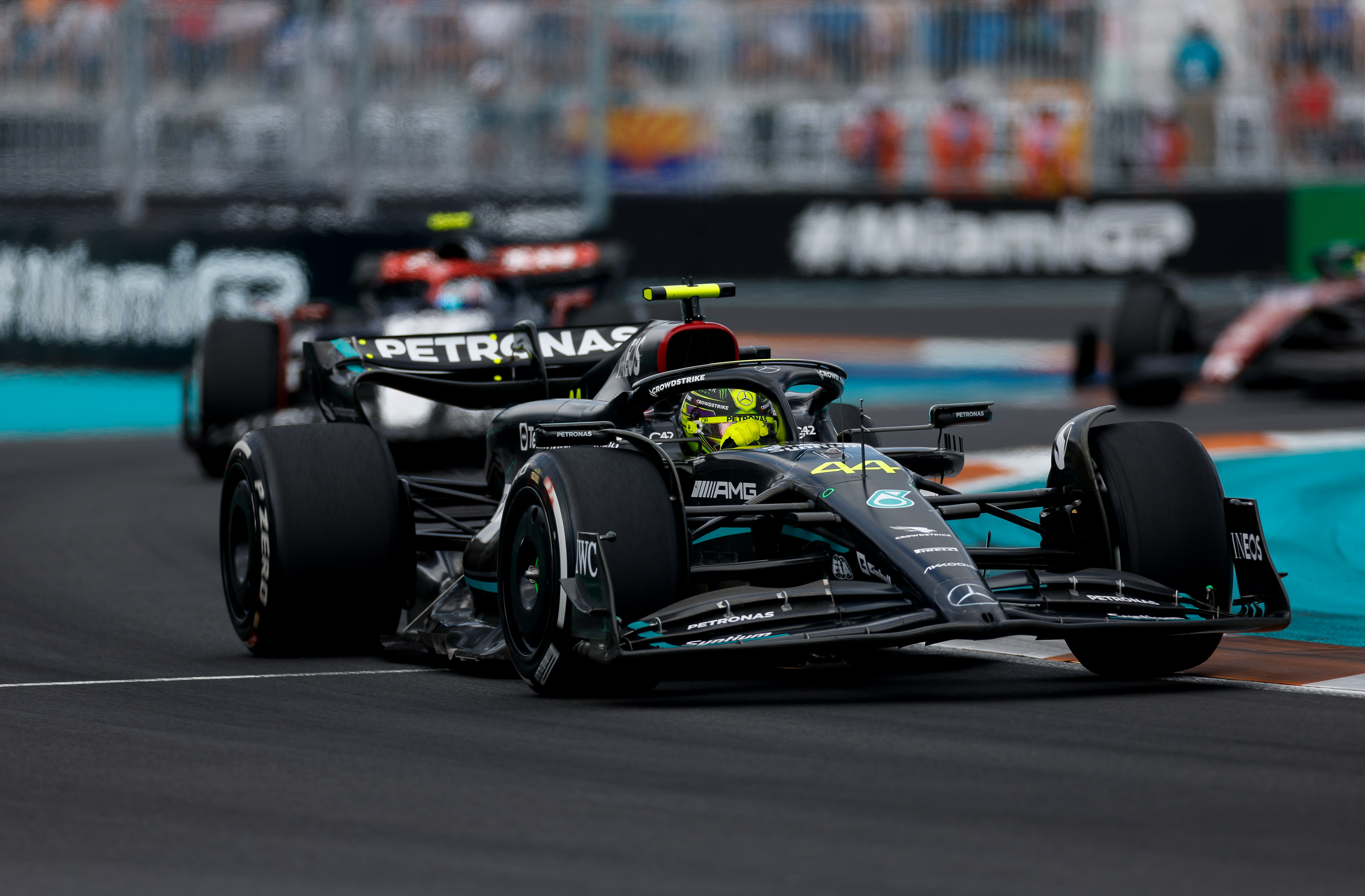 And when Hamilton emerged from his pitstop, his exasperated message when asking for a race update summed up how things had been going pretty much since Mercedes' performance nosedived in second practice on Friday.
"People ahead got to stop?" he asked. "Negative," was the reply. "Most people have stopped, so we're racing the cars ahead."
Hamilton was obviously baffled: "You said… how have I ended up 10th?"
He was actually ninth (although was initially told 10th) and instructed that decent progress would mean getting up to the Charles Leclerc/Pierre Gasly fight for sixth. The reality was Hamilton's long first stint on hards meant he was always setting himself up for a late charge on mediums, after falling back behind cars he was already behind right at the start of the race.
But while Hamilton was frustrated, he would soon find release. The tyre advantage meant he could go hunting – first Valtteri Bottas, with the switchback out of the final corner, then a simple DRS-assisted pass (after wiping out a six-second gap) on Kevin Magnussen. Leclerc and Gasly were a further five seconds ahead but Hamilton had them in his sights.
He caught them with five laps to go as they squabbled, and passed Gasly half a lap after Leclerc had done the same, diving down the inside at Turn 11 – then doing the same to a slightly more stubborn Leclerc one lap later.
LAP 55/57

Hamilton relieves Leclerc of P6 in the final few laps!#MiamiGP #F1 pic.twitter.com/u2quojJAW5

— Formula 1 (@F1) May 7, 2023
The adulation from his team at the flag was well deserved, and Hamilton celebrated a decent points haul for Mercedes in the circumstances. But there was a personal victory here as well.
That final stint was almost a detox of all that came before it – Hamilton's not here to finish sixth, but just to fight for something again was clearly a welcome psychological shift.
"Ah man, mega," he said when asked by The Race how satisfying that final stint had been after the way the weekend had gone.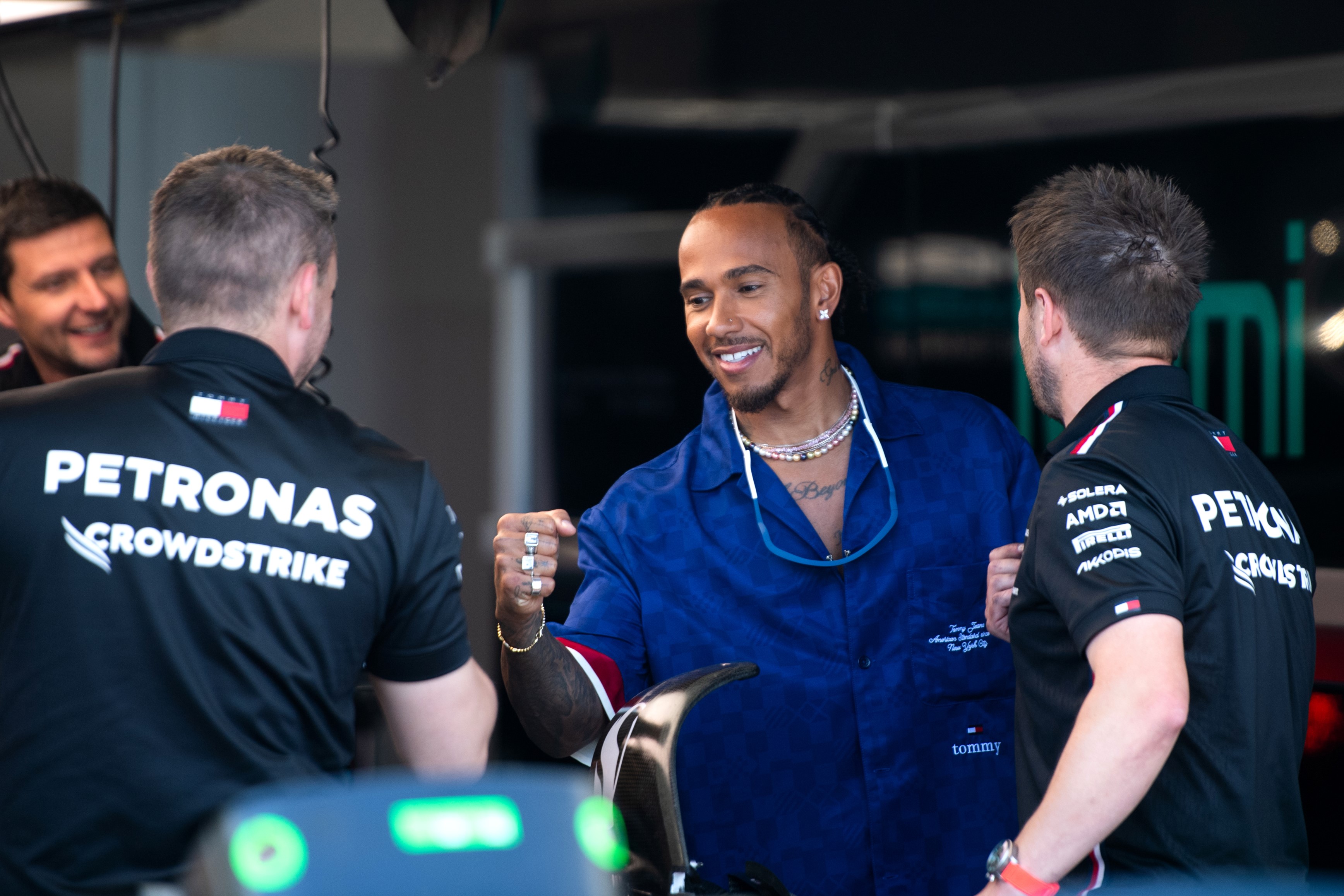 "Just to be in… the sprint race in the last race for example, I was going backwards.
"It's just demoralising when you're going backwards, it's really tough. So it was great to have pace, seeing the cars up ahead, seeing the progress and knowing that we were going to battle with people.
"I had a couple of great overtakes as well. That's what I live for."
Qualifying 13th at Mercedes' most perplexing event yet was a new low for Hamilton in a disappointing season. He or team-mate George Russell, maybe both, always could have been eliminated in Q2 – that was just the reality of the car over one lap in Miami.
Hamilton's irritation began with how that final run in Q2 was managed, as he felt getting on-track sooner would have made for a smoother and more effective preparation. But whatever the reason he did not get the lap in, Russell did, and Hamilton was staring down the barrel of an even worse weekend than it was already shaping up to be.
The race played out in a similarly frustrating tone to begin with. Starting on hard tyres and running long meant patience and perseverance were the name of the game but any prospects were threatened by lap one contact with Nico Hulkenberg that briefly left Hamilton convinced he had an issue.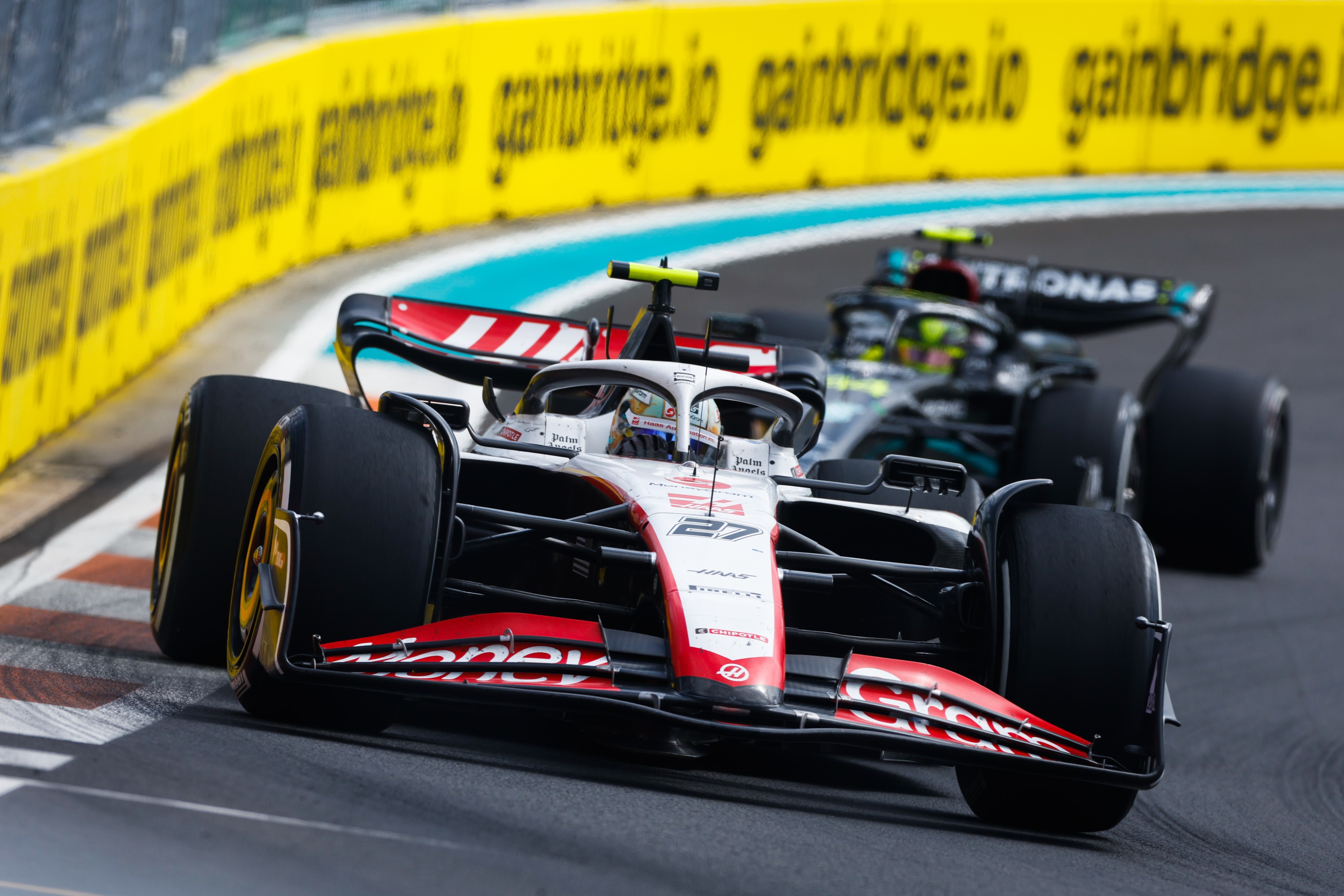 Once that was put aside, another hurdle emerged. Stuck in a DRS train and with no discernible speed advantage at this stage of the grand prix, Hamilton's progress was glacial. Even when it picked up, his race did not really get going until the pitstop.
Given the tyre advantage Hamilton had, it would be disingenuous to suggest that late rise up the order was the result of utterly prodigious pace. He did a good, effective job in favourable circumstances that he had done well to set up for himself.
The Mercedes just isn't that fast. He lapped just over three tenths a lap quicker than Ocon on average, who was on a near-identical strategy, and eight tenths a lap slower than race winner Max Verstappen's shorter final stint.
But Hamilton grasped the opportunity he had, aided by undeniably sharp racecraft, and that left an impression that has been rather rare in 2023 – that he really enjoyed himself.
"It felt great to see the Ferrari up ahead and be catching them bit by bit," he said. "It's really impressive that they're so quick on a single lap, but I don't know what was going on within their race.
"But to come from 13th and to get back into the hustle with them was great.
"If we had qualified where I probably should have qualified, we'd have had a much easier and smoother day.
"But I prefer days like this where there's a bit of adversity and you have to pull it all together and deliver. It's great fun to do that."