The most positive reviews of Formula 1's second Miami Grand Prix will come from those who were there. More specifically, those who were part of the inner circle.
There are already enough anecdotes to tell that the Miami sequel grated at least a portion of F1's hardcore audience about as much as the first, and that not all those who paid a premium to attend the event felt they got their money's worth.
These are not concerns that a lot of F1 personnel, including the media, experience.
Miami GP bosses deserve immense credit for investing heavily in improving the problems that beset last year's race off-track. The overcrowded paddock bordered on claustrophobic and major mistakes were made with the hospitality services. This was not repeated this year as a new, more open and more lavish offering spread out around the stadium – with the Miami Dolphins' field, housing a really nicely done U-shaped paddock, the centre-stage.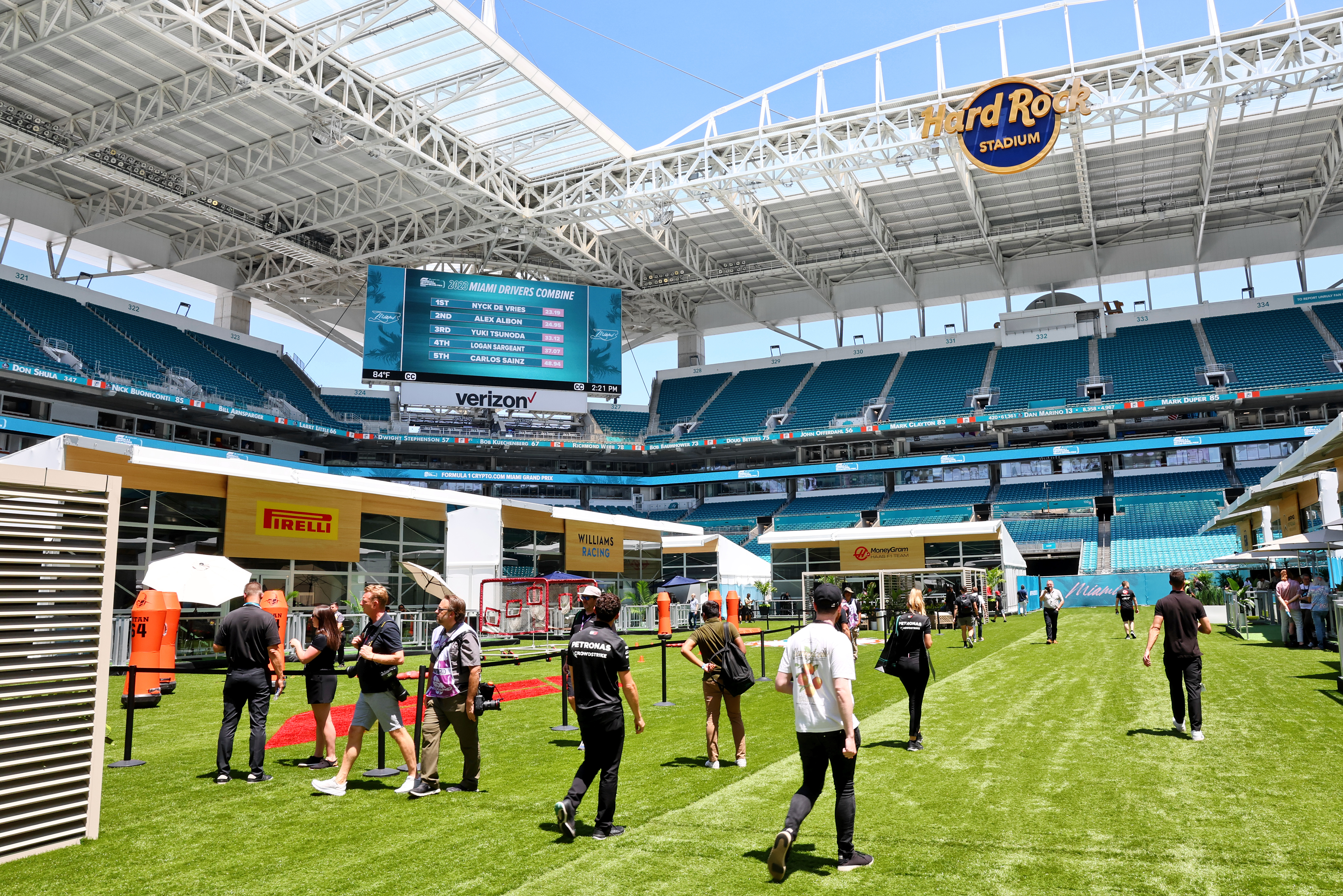 All of this was excellent. As someone who attended the event, F1 personnel were exceptionally well looked after and the organisation was slicker overall.
But we are extremely privileged, and it is a genuine concern that overlooking this will lead to blind praise rather than much scrutiny and mark a failure to see the event through the eyes of the people who matter: the fans.
The conveyor belt of celebrities, athlete crossovers and other high-profile personnel has not stopped. Pizzazz reigns supreme. Concessions and merchandise stand prices are extortionate – if you're not 'in F1', are you a fan or a customer? Sometimes it can be hard to tell.
Second-season syndrome is a challenge for any grand prix and it was perhaps inevitable, as the capacity was expanded, to see some empty grandstand seats from Friday practice onwards.
There's fatigue around the race already, born from negative experiences in year one, sustained high ticket prices in general (despite some cheaper options being available), and the fact that attention is being put elsewhere.
If some were, for lack of a better word, lured in by the hype last year then they are at risk of being lured elsewhere too. Attention is a fickle thing. And while a total weekend figure of around 270,000 would suggest this was an enormous success there is no way this many people actually turned up.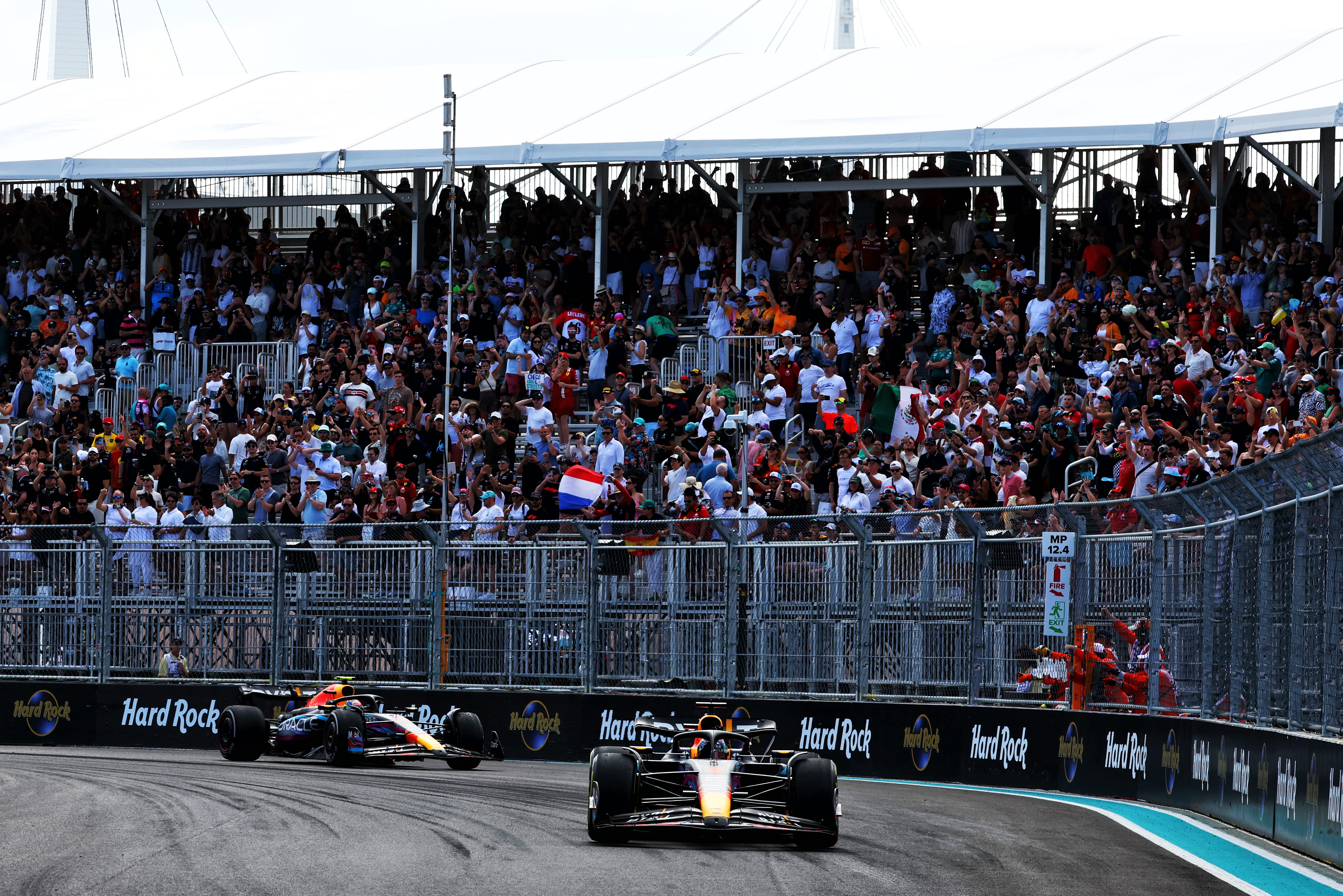 There are things that the Miami Grand Prix does extremely well. Undeniably, Miami has responded to the threat of Las Vegas with massive investment. Last year this was the big-ticket race but that's now 2,500 miles or so to the west. The organiser deserves a lot of credit for not letting that make this race a B-list event.
While the track remains a middling hit, it is far from a disaster. Actually, with this layout, the adjustments to the DRS zones – so heavily criticised by some drivers in the build-up – led to good racing rather than just drive-by overtakes. And though the new surface might have been mostly responsible for this, it's also challenging, as various offs (and a big Charles Leclerc qualifying crash) showed.
A better compromise between sport and spectacle is still needed. Miami is far from the first US race but last year it did feel like the prototype 'Liberty F1' event, so it was interesting to judge how that evolved in year two. The answer is obviously that leaning into some elements of US sporting culture (like hyped-up athlete introductions) and the high-life, celebrity Miami 'culture' is still a priority.
This will be fine to some people but feel like overkill to others. It's a good thing that F1 wants to build its drivers into heroes, though, and even if 'the Miami way' of doing that isn't perfect it might be an early blueprint for something that does serve a purpose longer-term.
But if you offered ticketholders the choice between LL Cool J introducing every driver before the race and a few more support events so that it's not just 'F1, Porsches, and big gaps of nothing' through the weekend, it would be surprising if they turned down the latter.
Obviously, it's not a case of one or the other. It's about balance. Miami just hasn't struck the right one yet. Premium sporting events come at premium prices, but it still feels like this race is prioritising what it offers to the high-rollers way beyond the masses.
It deserves time and opportunity to further improve because this is a grand prix with good value and plenty of potential. Off-track/field/pitch entertainment is a key part of any major modern sporting event, so we must not rush to harshly judge that element.
The best of it just shouldn't be reserved for a lucky few.