In delivering Red Bull its sixth constructors' world championship, Max Verstappen could not have been more emphatic in his domination. Around the sort of high-speed corner track where the RB19's ceiling is at its very highest, allowing Verstappen to access absolutely everything it has to give, we saw a demonstration of perfection as comprehensive as any he has ever delivered.
That it came just a week after the debacle of Singapore just added to the rightness of clinching it here. Everywhere there were moments of sweet synchronicity: Verstappen clinched the title in his Honda-powered rocketship around Honda's own track, and on the 75th anniversary of Sochiro Honda's founding of the Honda Motor Company. It was also one year on from Red Bull Racing's founding father Dietrich Mateschitz witnessing Verstappen sealing the drivers' title last year before passing away some days later.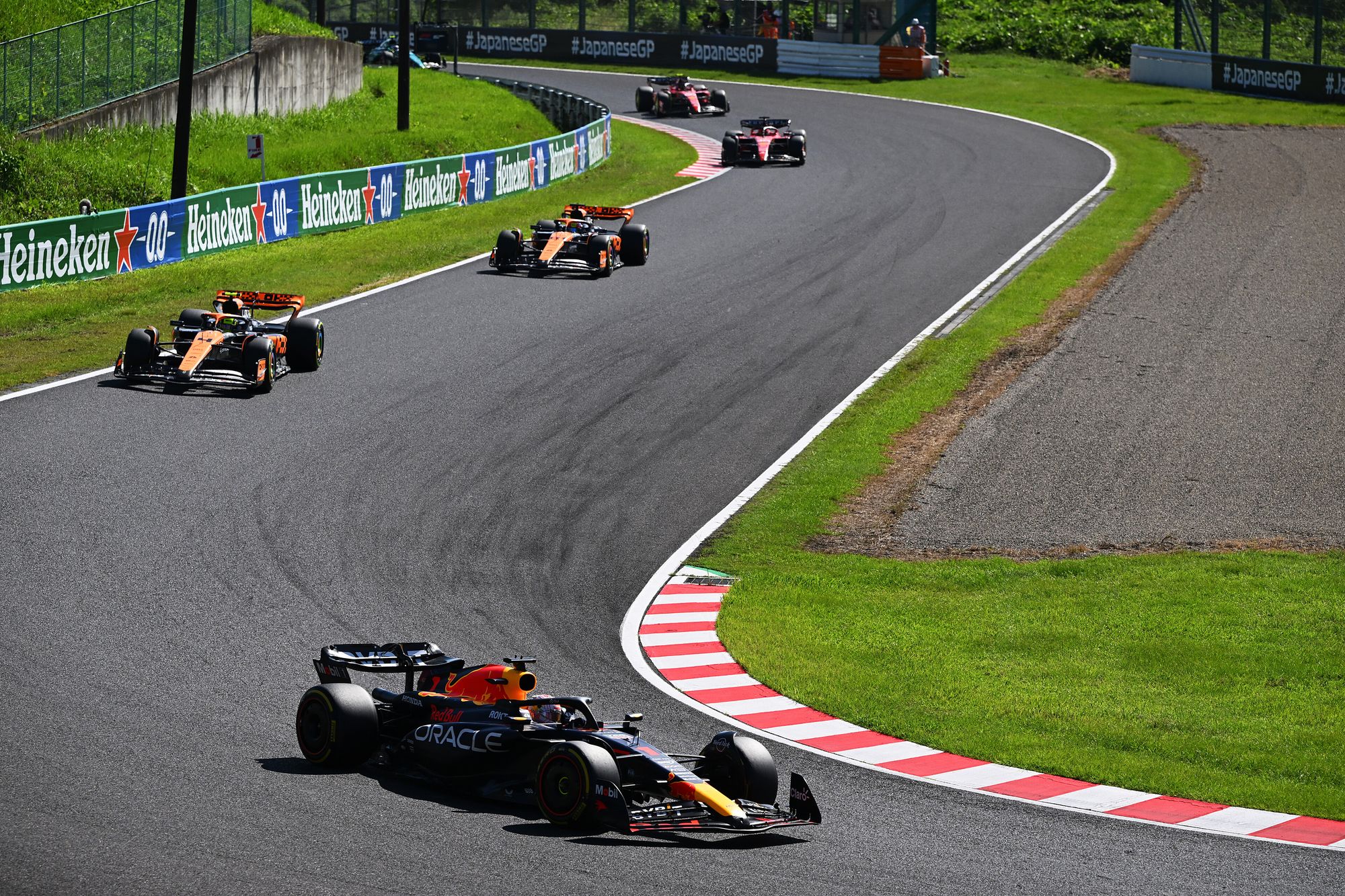 So Verstappen romped away from his dominant pole to his dominant victory, falling just 0.6s short of his stated pre-race ambition of winning the race by 20 seconds. But for the late showing of a blue flag to ease his passage he'd even have achieved that. Along the way, his fastest race lap was one second faster than the best of anyone else.
But it wasn't just the Red Bull's superiority which was written out so plainly on race day; the whole car performance hierarchy was unusually unambiguous. The McLarens were clearly best of the rest (albeit a long way behind), the upgrade the MCL60 received in Singapore really coming into its own around the high-speed corners and putting clear distance on Ferrari - which in turn always held a decisive edge over Mercedes. So Lando Norris and Oscar Piastri filled out the podium behind Verstappen.
Charles Leclerc was a lonely fourth for Ferrari and the only reason the sister car of Carlos Sainz finished behind Lewis Hamilton's fifth place Mercedes was that he'd been sacrificed as Leclerc's undercut shield. He probably only needed another lap to have clawed that place back, such was the Ferrari's edge over the Merc, with George Russell's almost unique one-stop strategy not having worked in taking on the Ferraris. There was another Red Bull in the race but Sergio Perez kept hitting things and wasn't around at the flag.
So the essence of battle wasn't really to be found between teams; it switched instead to within them. There were four particularly intense intra-team contests – at McLaren, Mercedes, Alpine and AlphaTauri – two of them featuring starring rookies. These are those stories.
McLaren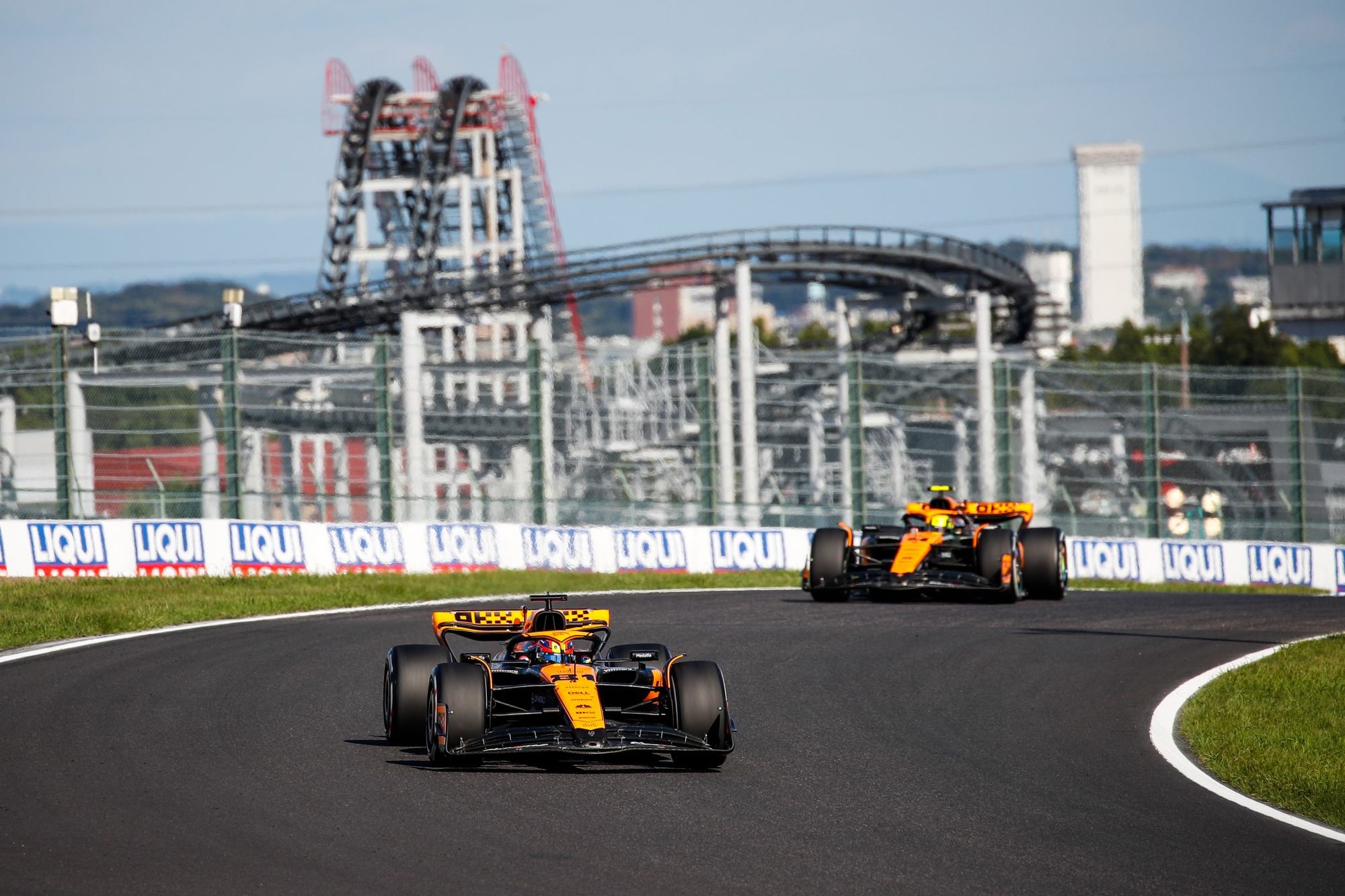 The MCL60 was in its element around the fast corners, Red Bull-fast. But it struggled, as usual through the two slow-speed turns – the hairpin and final chicane. That's where the 0.6s deficit to Verstappen's Red Bull came from but that combination was still comfortably faster than anything which could be conjured by Ferrari or Mercedes - which simply lack the McLaren's downforce.
It was Piastri's first visit to Suzuka and he played himself in gently on Friday, 0.5s off Norris. But he was impressively on Norris' pace immediately on Saturday and qualified on the front row 0.035s ahead of his team-mate.
Piastri made a better start than Verstappen, forcing Max to give him his full attention as they accelerated down to Turn 1, Verstappen leaning on Piastri to force him to concede. But doing this lost Verstappen momentum to Norris on the other side, Norris trying – and almost succeeding – to sweep around the Red Bull's outside. Verstappen wasn't to be dissuaded as they sat it out side-by-side, with Max on the inside and taking up the initiative prior to checking out for the day.
Norris had better race pace than Piastri, not by much but enough to see him edge steadily clear once the race was properly underway after a four-lap safety car to clear up the debris from various pieces of contact off the startline. Norris just had a better handle on looking after the tyres and by the 13th lap was almost 5s clear as Piastri's rear mediums began to give out.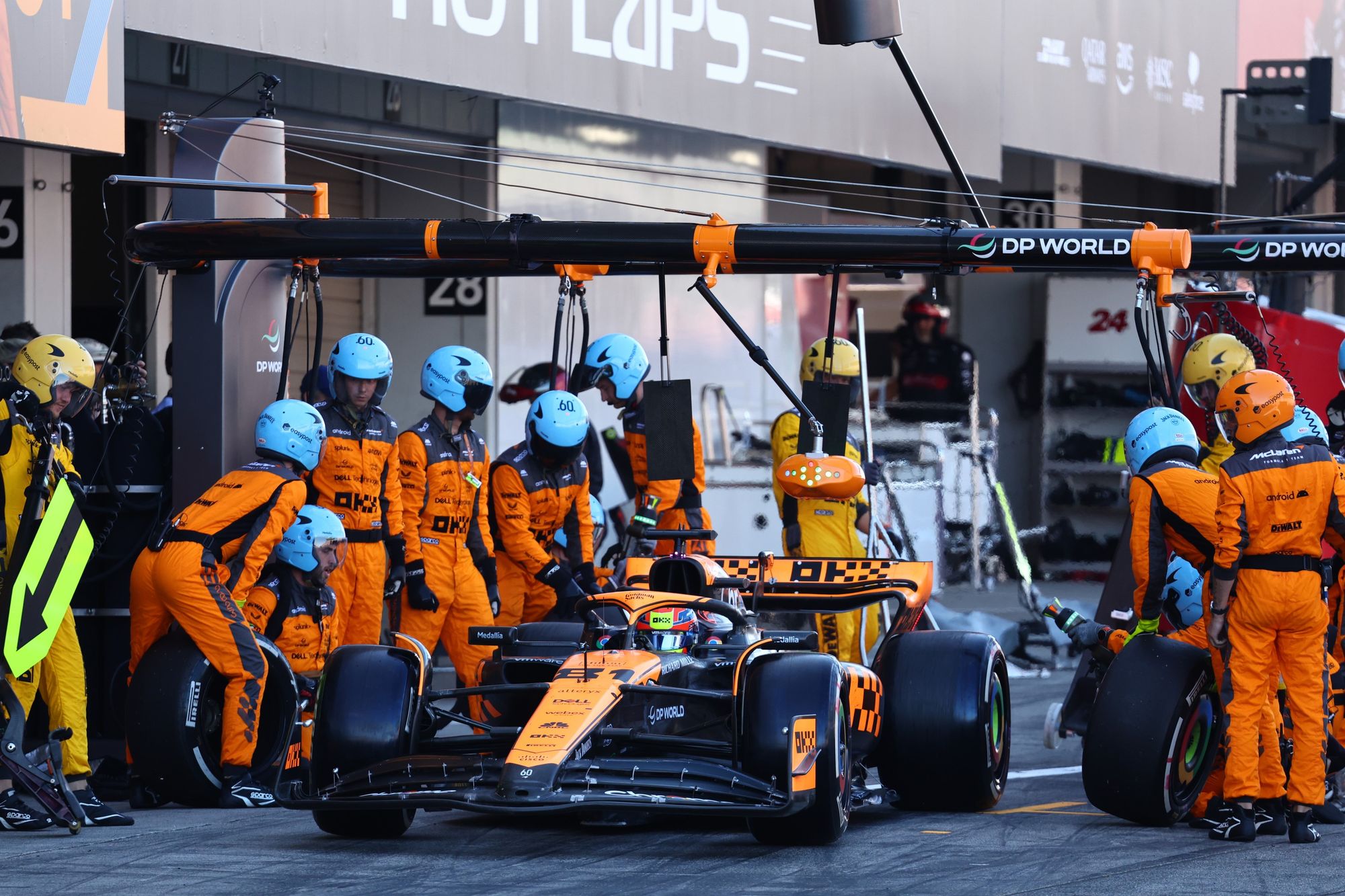 Piastri was called in for a switch to one of the two new sets of hards McLaren had kept for each car. This was lucky timing for Piastri because a VSC was thrown just as he was coming in. Perez had clumsily hit Kevin Magnussen's Haas into the hairpin, leaving chunks of front wing on track, this after having been forced to pit on lap two for a nose to replace the one he damaged against Hamilton at the start.
Now Perez was crawling back to the pits again with severe front wing damage and the VSC he'd created came just as Norris came up behind him. Uncertain about whether he was allowed to pass or not, Norris lost 5s following Perez. In combination with the saving Piastri had made by the VSC partly coinciding with his stop, it meant that Piastri was ahead after Norris made his stop four laps later. Norris rejoined now 6s behind his team-mate.
Even on the hard compound the degradation rate here was in the order of 0.1s per lap, so with tyres younger than Piastri's to the tune of 0.4s per lap and a better handle on them too, Norris was catching at between 0.6-0.7s per lap and was soon upon the tail of the other McLaren.
It had become apparent now that Mecedes was intending to one-stop Russell and if that strategy worked, it would threaten both McLarens. Turned out, the Russell strategy didn't work, but they weren't to know that at this time. Norris was now being held up by the older-tyred Piastri - so naturally he began firmly requesting to be allowed through. He lost around 3s while it was discussed, with Piastri pulling aside on lap 27. The McLarens were back in their natural order and all was well despite the tense three or four laps.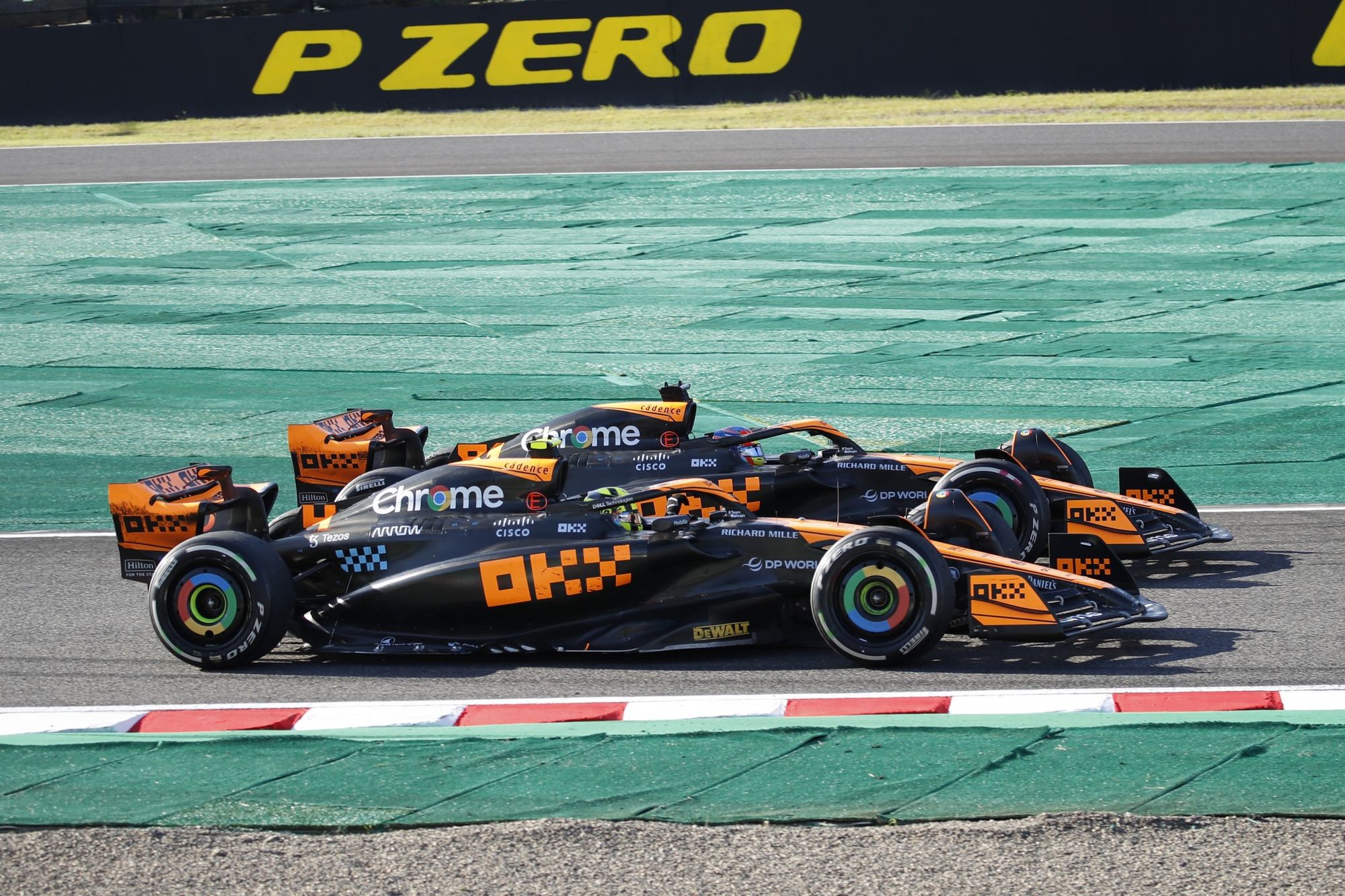 This had been a great weekend for the team and in particular for Piastri who was superb in qualifying and stood on the podium for the first time. "It wasn't my best race ever," he smiled, "but it was enough to get a trophy at the end.
"I just wasn't quick enough at certain points of the race, I think. You know, these high-deg races are probably the biggest thing I need to try and work on at the moment."
Norris continues to deliver consistent excellence day-in, day-out. It's a happy team right now and on a good trajectory. Keeping this driver pairing together is surely a high priority for the management even if it means there will be further tense days ahead.
Mercedes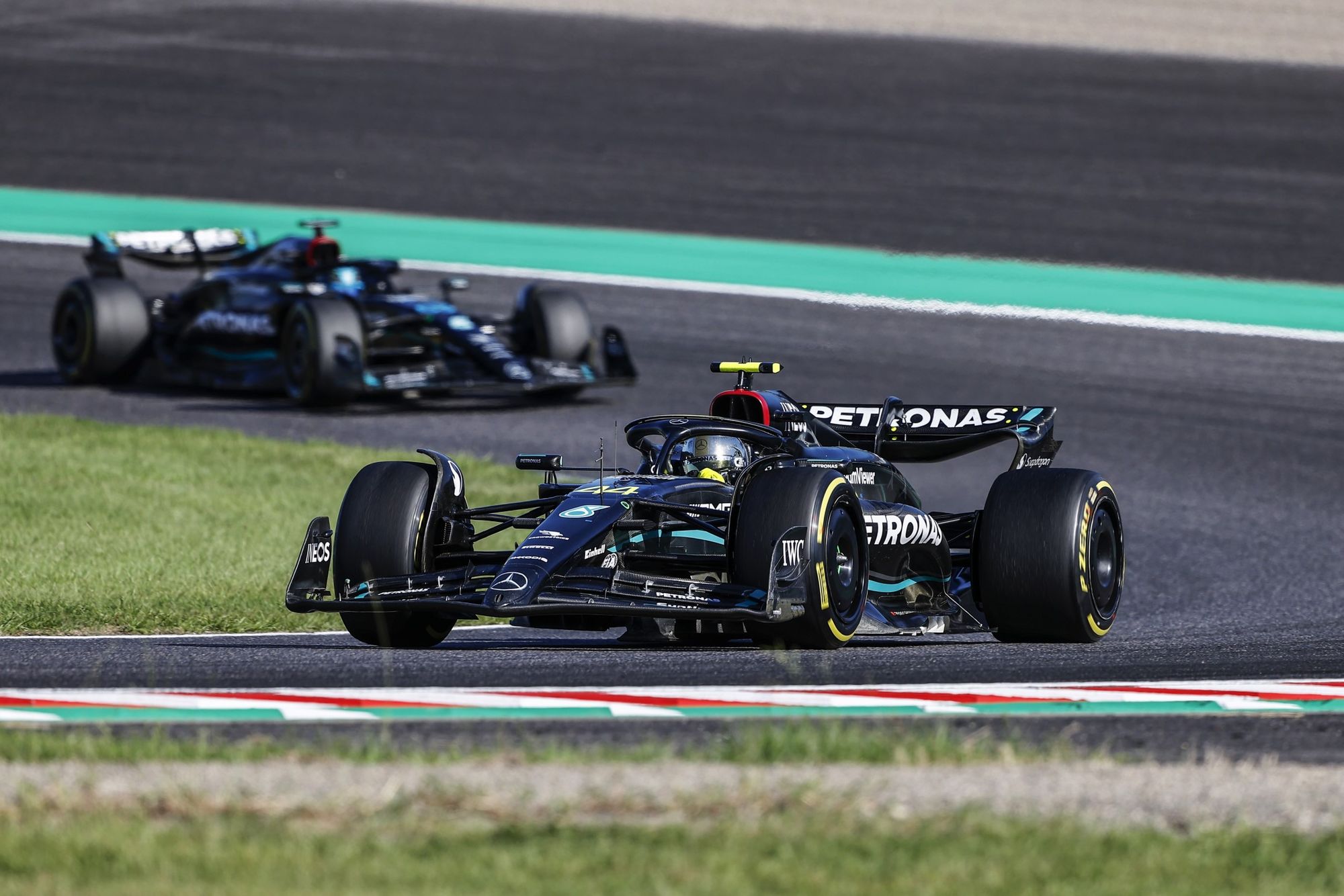 The Merc W14 was not in a happy place around Suzuka's fast corners. There was a certain speed range where it lacked rear end downforce, and it coincided with the inter-connected sweeps of the Esses. This is probably the most crucial part of the lap, not only because it goes on for so long, but because the performance through there largely determines tyre degradation.
If you lacked downforce the roughness of the asphalt and the unusually high track temperatures of the weekend ensured you'd be damaging the rears. So the Merc's usual tyre deg advantage over Ferrari completely disappeared. Meaning the Ferrari was faster in qualifying and race.
That trait was there all weekend and on Friday Hamilton, lagging significantly off Russell's pace, reported he had no confidence in the car and was struggling to commit to the corners. But he turned that around overnight and from Saturday onwards was the faster Merc driver, edging Russell out in qualifying by 0.3s for seventh (albeit up to 0.4s behind the Ferraris and Perez). Coming into the weekend Hamilton had seemed focussed upon his recent qualifying difficulties, insisting it wasn't good enough and that he was determined to reverse the trend. He did seem to be carrying a certain moody purpose and the steel was very evident once the race began. He was taking no prisoners, and that would include his own team-mate if need be.
Kicking things off for him though was a heavy hit off the startline from Perez, who had been very slow off the line. Hamilton jinked around the Red Bull to be alongside it as Perez in turn was trying to fend off the Ferraris.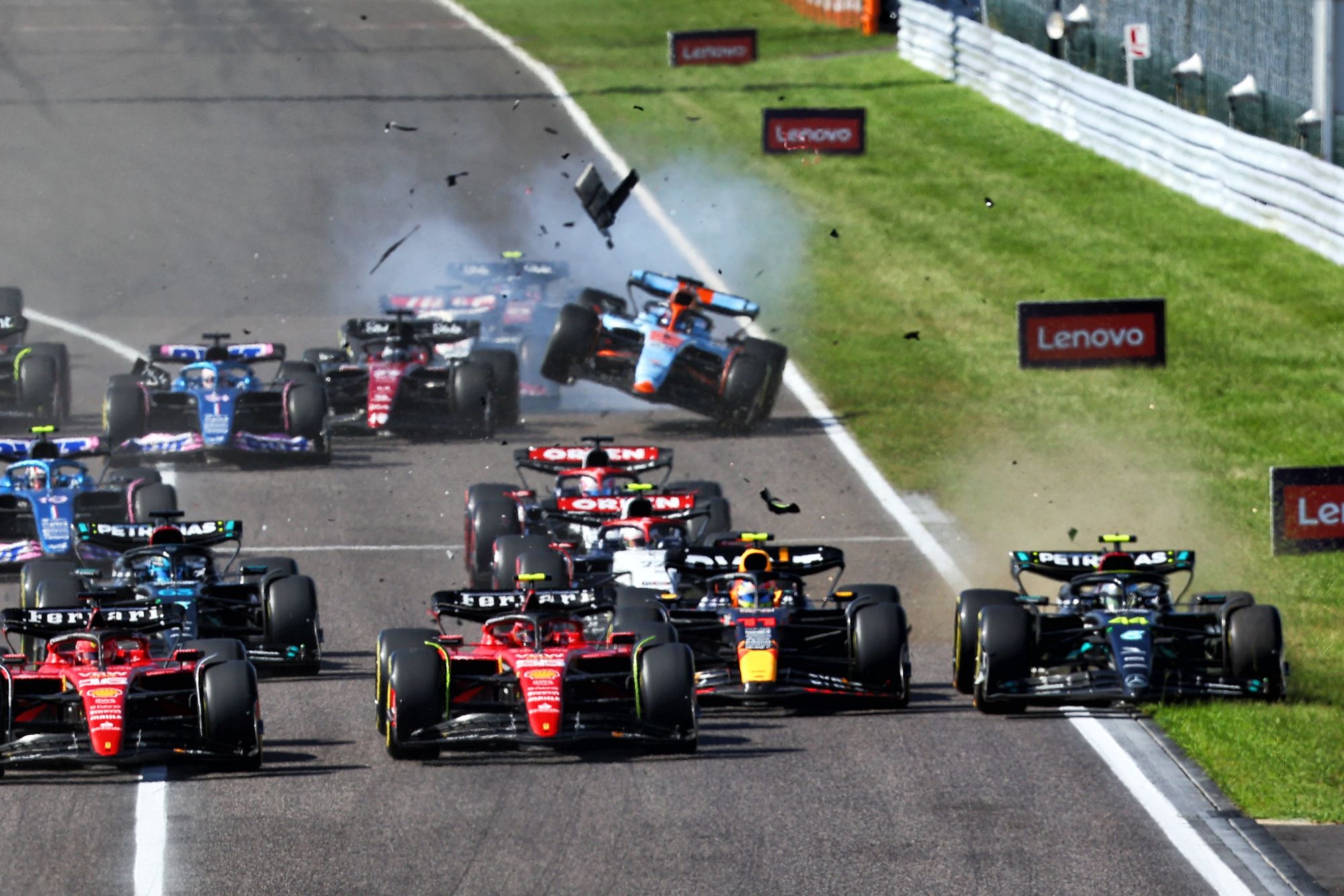 Four-into-one with Hamilton on the outside, he rescued a grassy moment, kept momentum, and then took another hit from Perez as they exited Turn 2. This had allowed the soft-tyred Fernando Alonso to pass them both.
Russell wasn't settling for position behind Hamilton and got a tow out of Spoon on the fifth lap, getting him out of 130R sufficiently faster that he was able to slip up Hamilton's inside into the chicane. Hamilton remained resolutely alongside so as to be on the inside for the left-handed part and in high-jeopardy fashion they exited side-by-side, with Lewis then slipstreaming and DRS-ing himself back ahead as they approached the first turn. Their battle carried the aggressive tone of one between drivers from opposing teams. It was never unfair but certainly had an edge to it.
Perez had pitted out the way soon enough, for his new wing, but Alonso remained a stubborn inconvenience, the Aston slower once the Merc's tyres had warmed up. Russell had watched all this happen and was still on Hamilton's tail, both constrained to an Aston pace as the McLarens and Ferraris ahead pulled away.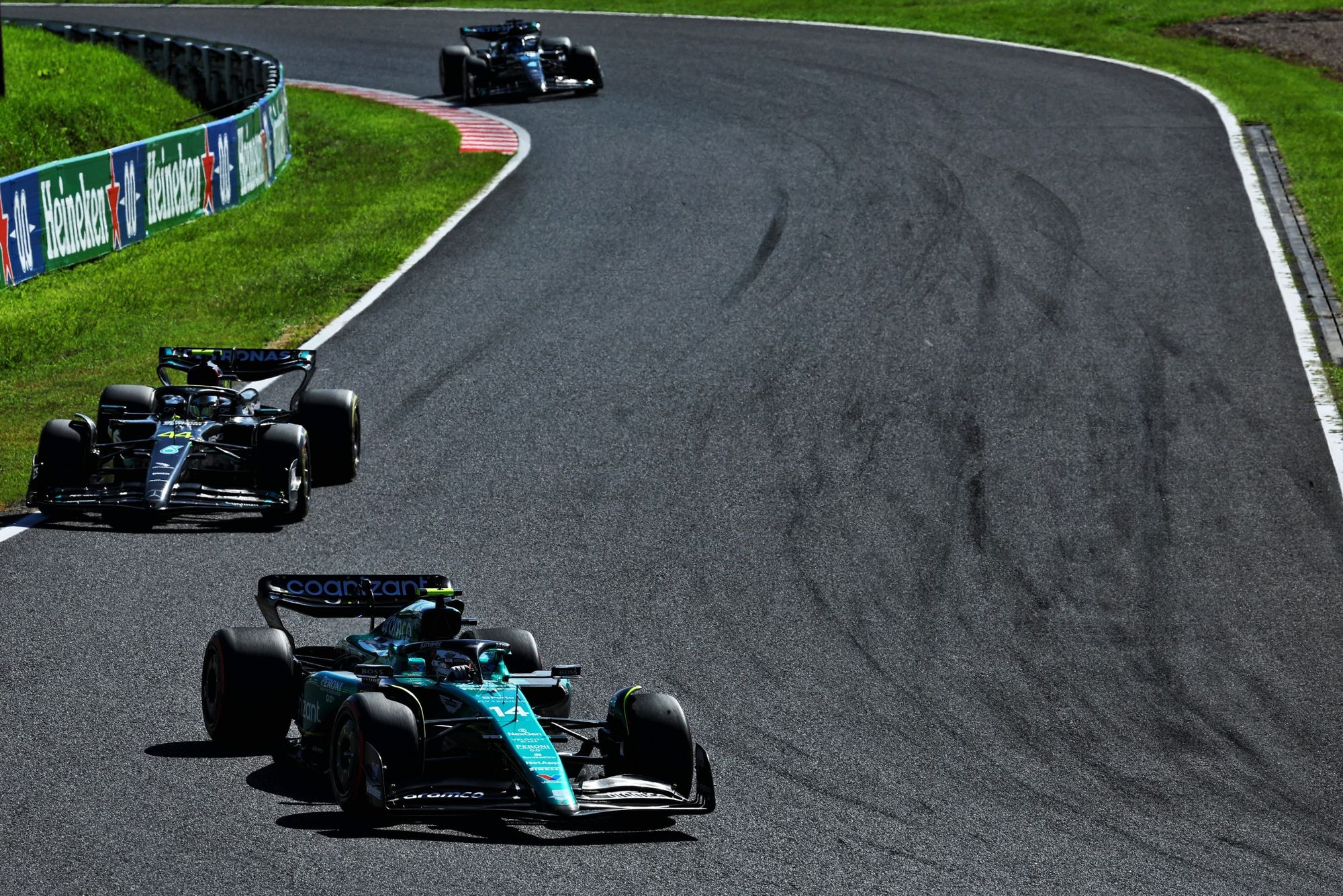 Once Alonso's softs faded and he pitted out the way on the 11th lap, Hamilton and Russell set chase for the Ferraris. But it was asking a lot of the Merc's rear tyres and Hamilton had a bit of a moment out over the kerbs of Degner 2 – and Russell was looking to pounce.
LAP 16/53

The two Mercedes are still squabbling

"Who do we want to fight? Each other, or the others?" asks George Russell over the radio #F1 #JapaneseGP pic.twitter.com/IPiT0myGy9

— Formula 1 (@F1) September 24, 2023
The difference in momentum allowed their dice to continue through to the hairpin, up the following straight, through the kink and into Spoon, where Hamilton's understeering wide forced Russell off track to avoid contact. No holds barred.
Hamilton was brought in on lap 16 to put undercut pressure on Sainz, Russell was left out. As the last of that group, with a big gap to Alonso behind, there was no undercut threat on him and there was nothing to be lost by keeping him out as long as possible and switching to a one-stop. But possibly something to be gained. Had the degradation been just a little less severe he might have used that strategy to beat Sainz and Hamilton at the very least.
Splitting their strategies in this way also got them out of each other's hair and reduced the chances of their coming together, something which didn't look unfeasible.
LAP 22/53

How brave was this?!

Hamilton gets past Alonso down the inside of 130R 💪#F1 #JapaneseGP pic.twitter.com/2yU9y507M4

— Formula 1 (@F1) September 24, 2023
Hamilton had exited back behind Alonso and put a very ballsy pass on the inside through 130R to prevent any repetition of the first stint delay. He really was all-in on this race.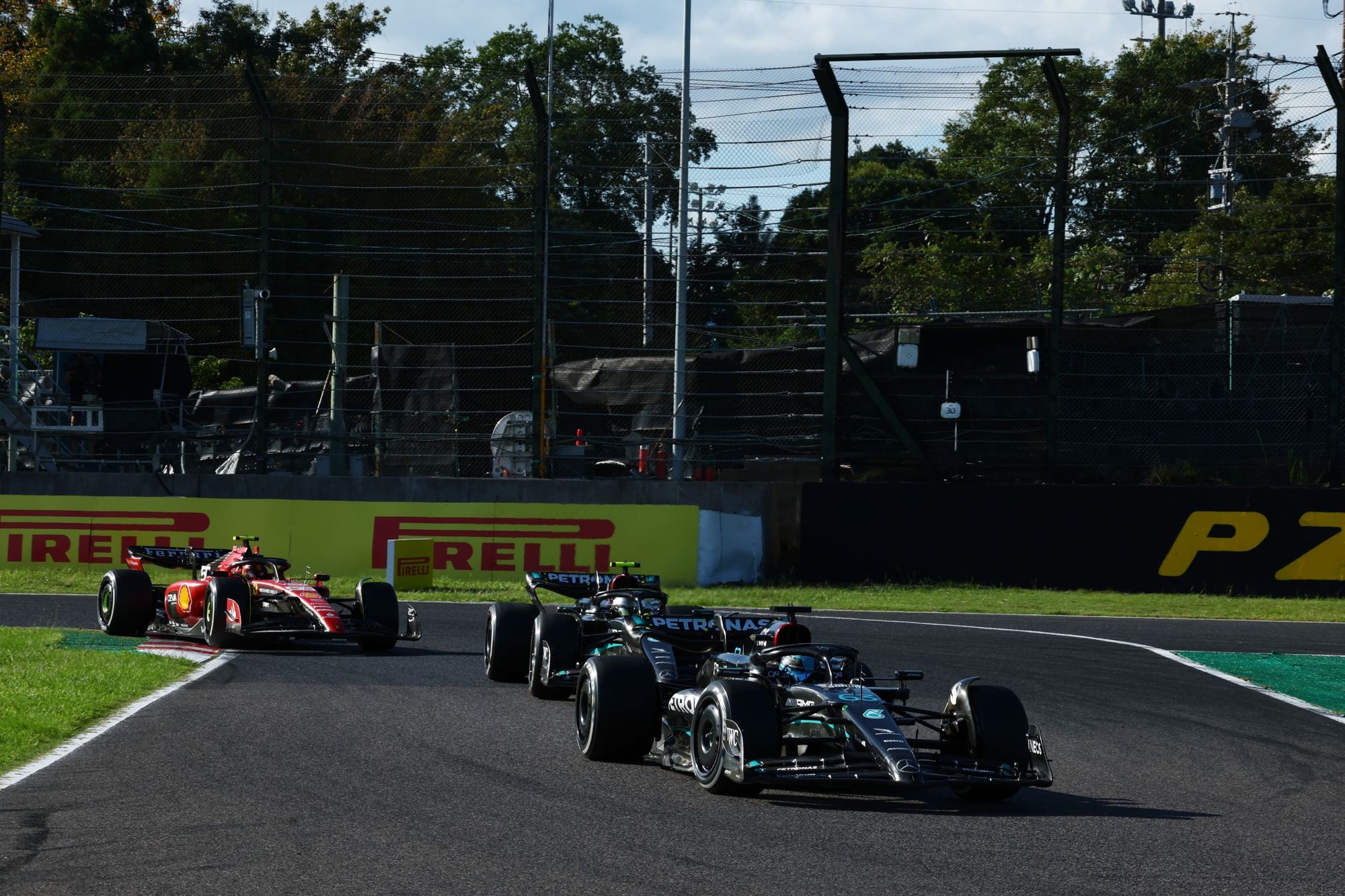 The degradation rate even on Russell's hards was just a little too high to make the one-stop work. This brought Hamilton and Sainz (who had indeed been undercut by Hamilton) advancing towards him in the late stages on much newer tyres. Russell was urging the team to allow him to pull Hamilton along with his DRS. The team didn't feel being restricted to old-tyred Russell pace would have kept Hamilton secure from Sainz regardless of DRS, so Russell – on instruction from on high – was ordered to allow Hamilton through.
Once that had happened Hamilton was trying – under instruction - to position himself to allow Russell to pick up his DRS, but Sainz managed to put the DRS pass on George and pass him anyway. Hence fifth for Hamilton, seventh for Russell, the difference between them probably no more than Hamilton's obstinate, resolute refusal to accept defeat. With the car as it is, Russell is the only guy he can be measured against. He's not just signed for an extra two years to be accepting a support role.
Alpine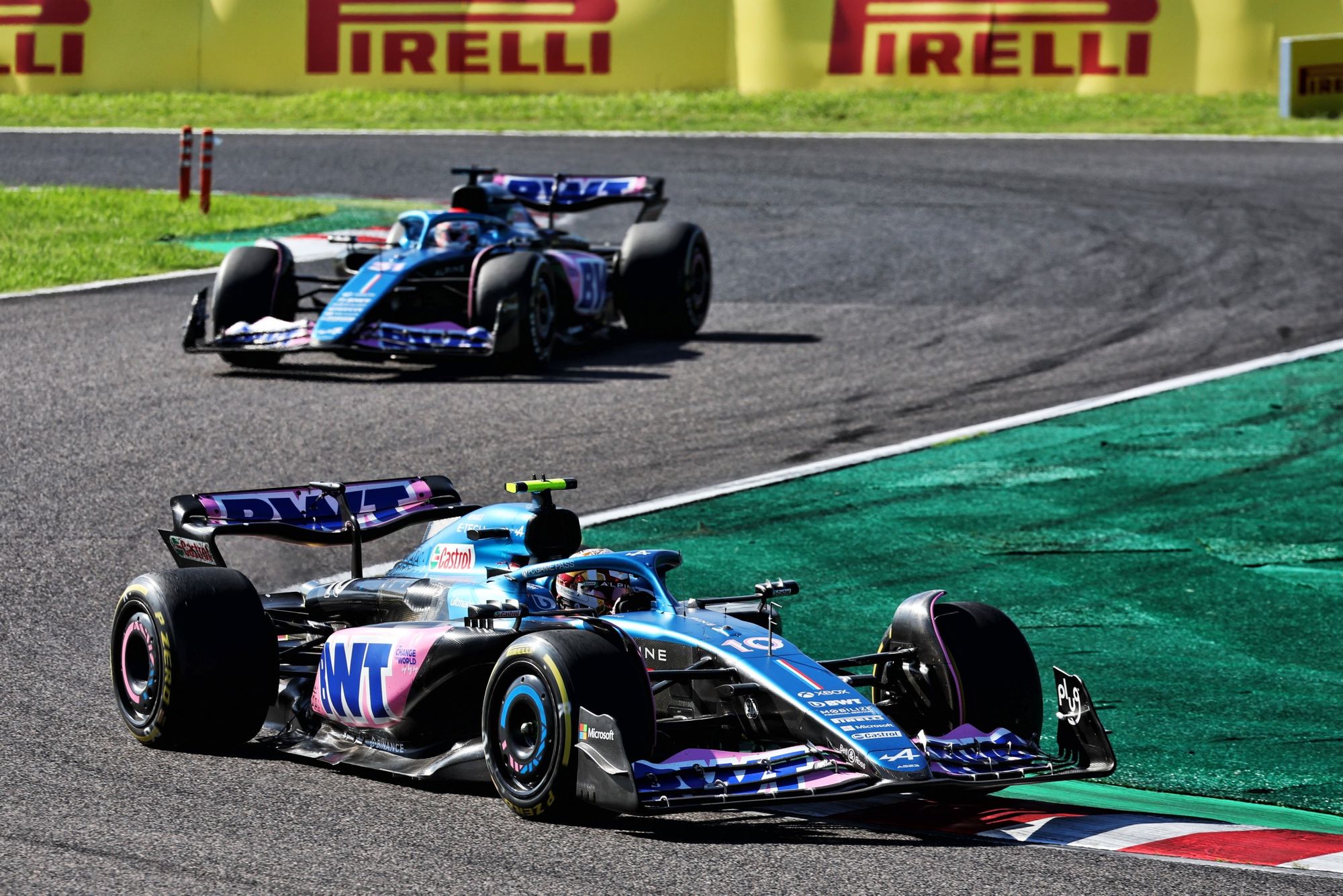 This fight didn't really go wheel-to-wheel, but became heated between Pierre Gasly and the team when it instructed him to allow team-mate Esteban Ocon past on the last lap, for ninth place.
But really the rancour came about through circumstance and poor communication. Gasly had qualified a couple of places ahead and got away to a clean start as Ocon – unbeknown to Gasly – got involved in a Valtteri Bottas/Alex Albon collision which put down debris which punctured one of Ocon's tyres. Pitting for a replacement under the safety car, he was switched to hards and ran what was effectively a one-stop strategy, switching to another set of hards at half-distance.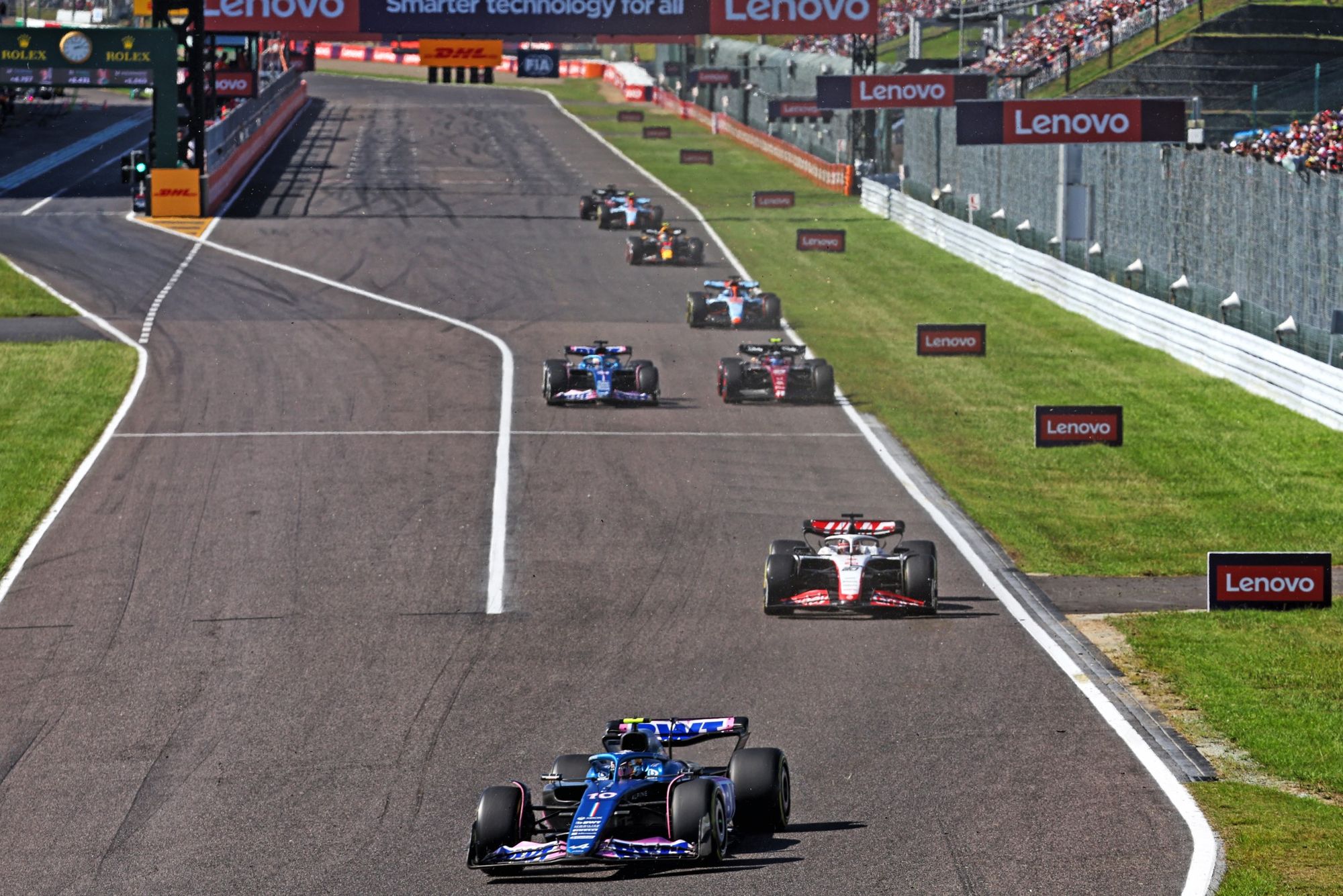 Gasly did a conventional two-stop, coming out from his second stop on lap 34 behind Ocon - who was soon instructed to move aside and did so.
Gasly was seemingly assuming Ocon was on the same two-stop strategy as him and therefore that he had him beaten after being undercut.
The team saw it that Gasly had been allowed past only to allow him to attack Alonso and if that failed, as per usual team protocol, the places would be reverted at the end.
So a furious Gasly made it very obvious that he was allowing Ocon past by almost stopping as they exited the final corner.
AlphaTauri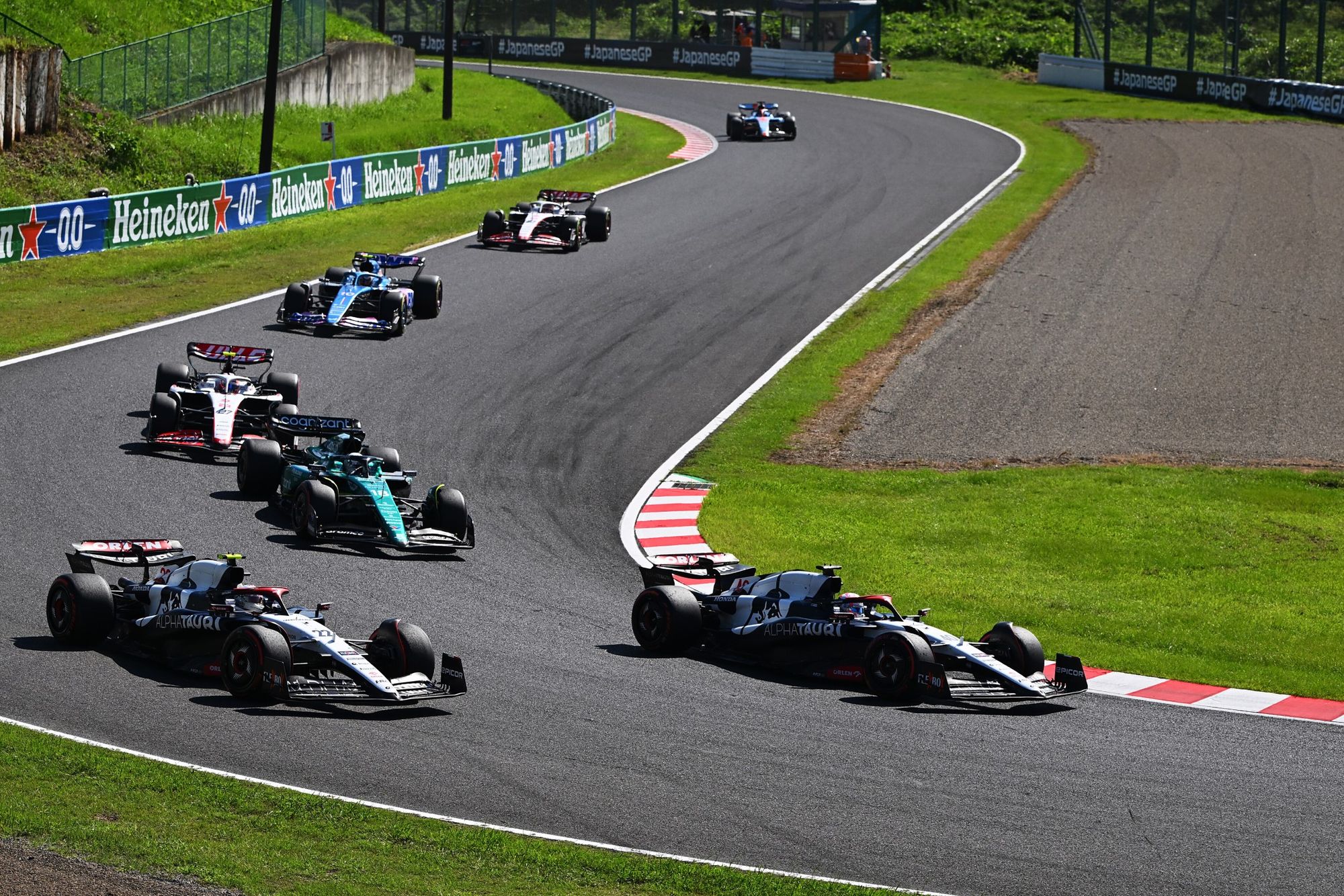 The AlphaTauri's upgrade - introduced in Singapore – had brought a useful gain here and Yuki Tsunoda had made Q3, with Liam Lawson missing out by hundredths and staring two places behind, in 11th.
The stand-in rookie Lawson was exceptional this weekend around a track with which he's very familiar, through Japanese Super Formula.
He passed Tsunoda at Turn 1, the latter retaliated several times around the rest of the lap. It was a ferocious battle but Lawson stayed ahead.
Running soft tyres, they were early pitters, but it was Tsunoda who was brought in first, defending from a possible Lance Stroll undercut. This had the effect of undercutting him past Lawson. To keep things even-handed, Lawson was given priority at the next stops, jumping him back ahead. Tsunoda was kept out to maximise his chances by giving him a five-lap tyre offset. Their battle for 11th ran right to the end, with Lawson claiming the place.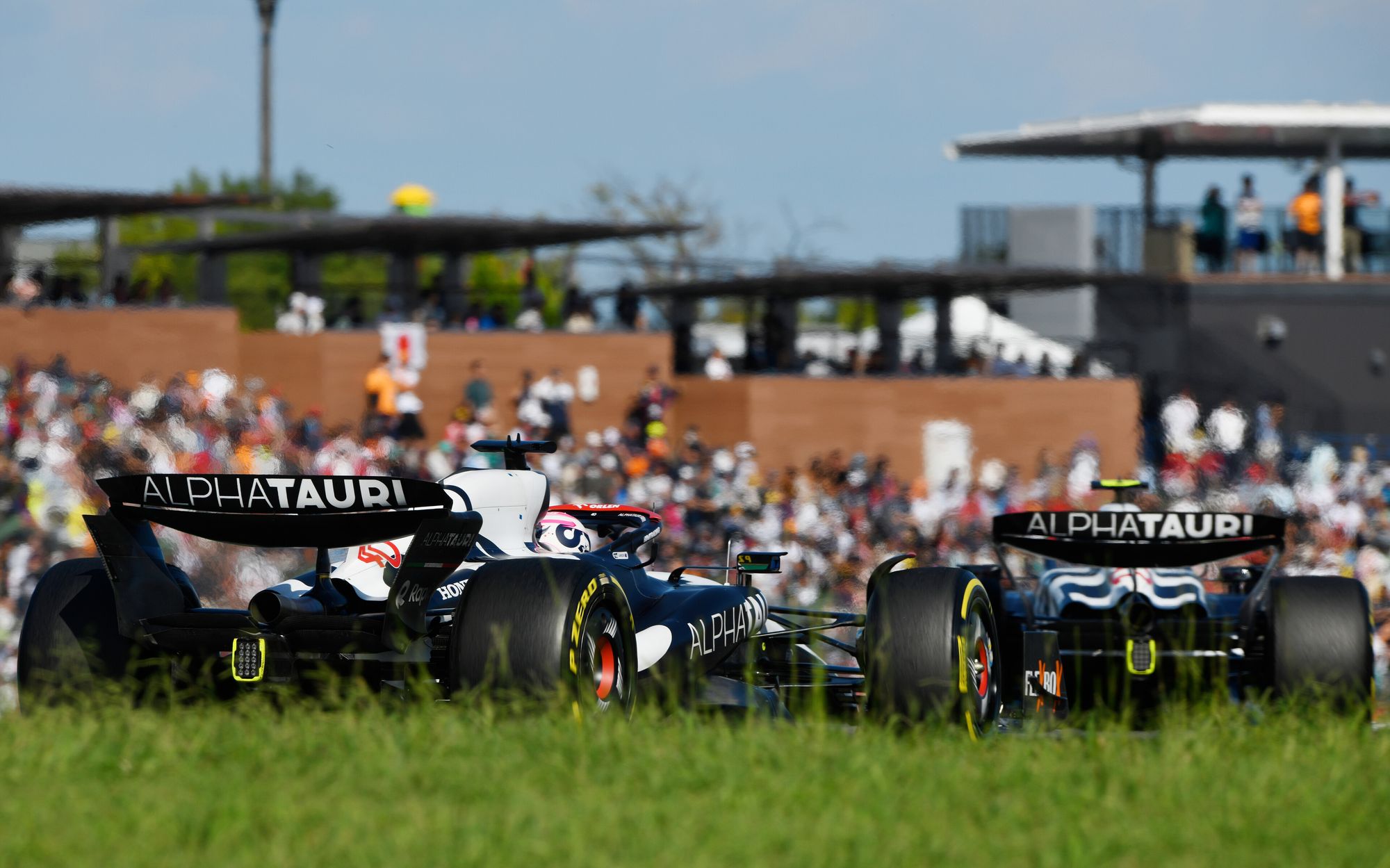 Tsunoda was visibly unhappy with how this had all panned out. Lawson might have been expected to have been upbeat about emerging on top. He dismissed this almost casually before explaining his disappointment at not having the straightline speed to catch and pass the Alpines just in front.
All he can do with this stand-in opportunity is make it look ridiculous if he doesn't have a full-time ride here next year.