Max Verstappen took Red Bull to the 2023 Formula 1 constructors' world championship with six races to spare and brought himself to the brink of the drivers' title too by dominating the Japanese Grand Prix.
He clinched the teams' crown for Red Bull solo too, amid an awful race for team-mate Sergio Perez.
The McLarens had a good crack at getting ahead of Verstappen off the line as they attacked him on either side into Turn 1, with Lando Norris drawing alongside on the outside and nearly making it into the lead mid-corner and in the process gaining second from pinched-to-the-inside team-mate Oscar Piastri.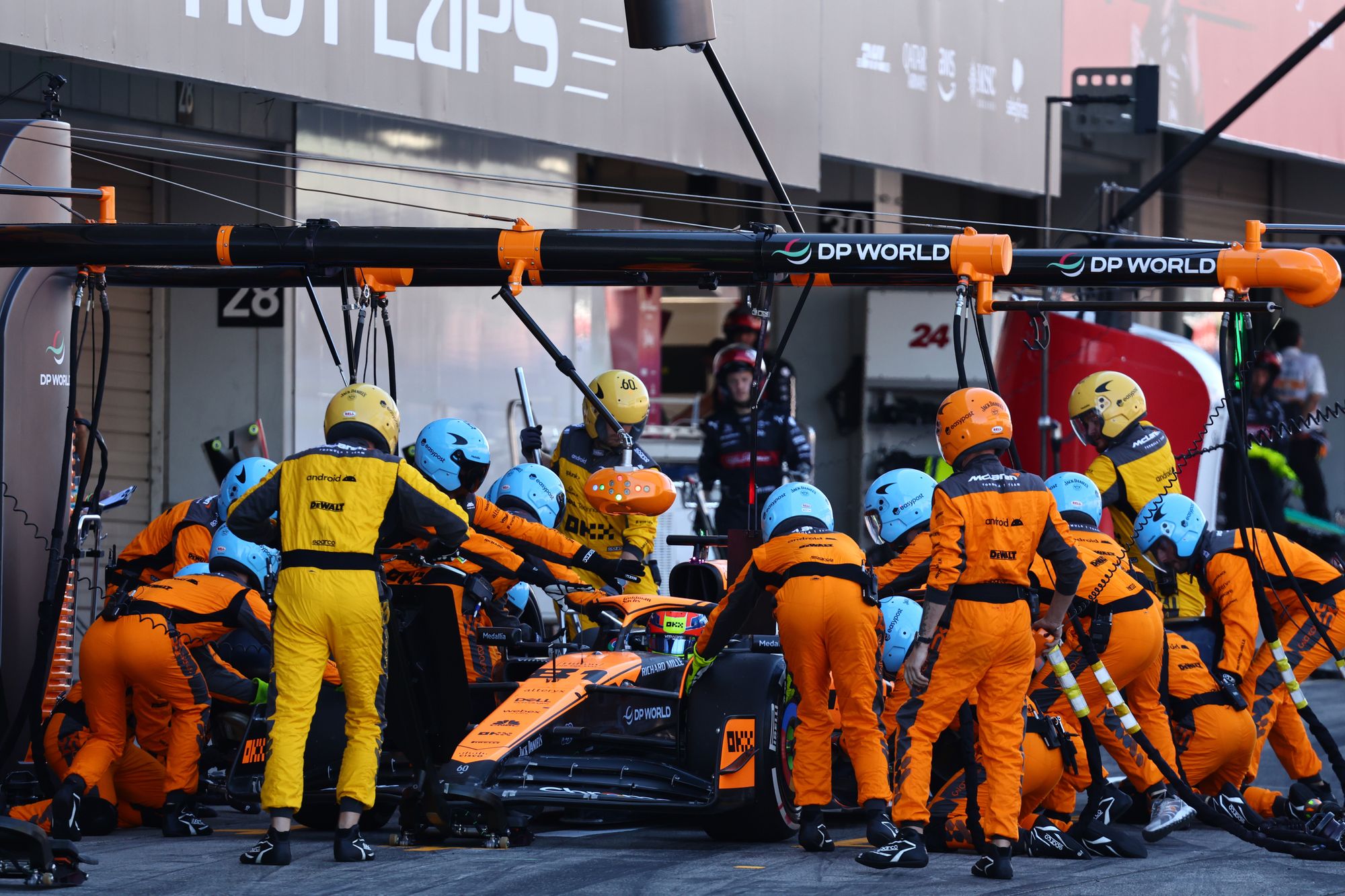 They then spread out in that order, but Piastri got back ahead of Norris by virtue of a virtual safety car being called just as he was making his first pitstop.
Norris quickly caught Piastri again mid-race and there was mild angst on team radio before Piastri let him through.
They had a smooth run to a double podium - Piastri's first in a grand prix - thereafter.
George Russell got as high as third for a spell by running a one-stop strategy, though it left him very vulnerable on old tyres at the end.
Amid some excellent racing, Piastri then Charles Leclerc's Ferrari got back ahead of Russell for third and fourth.
Next to catch Russell was his Mercedes team-mate Lewis Hamilton and last week's winner Carlos Sainz.
There had already been tension between the Mercedes drivers earlier in the race when Hamilton - his car potentially slightly damaged from a first-corner wheel-bang with Perez as they and the two Ferraris ran side by side - went off at Degner 2 then defended firmly as Russell attacked him, with both running wide together at Spoon.
They had also swapped places twice before that when Russell dived past Hamilton into the chicane then Hamilton repassed him on the pit straight.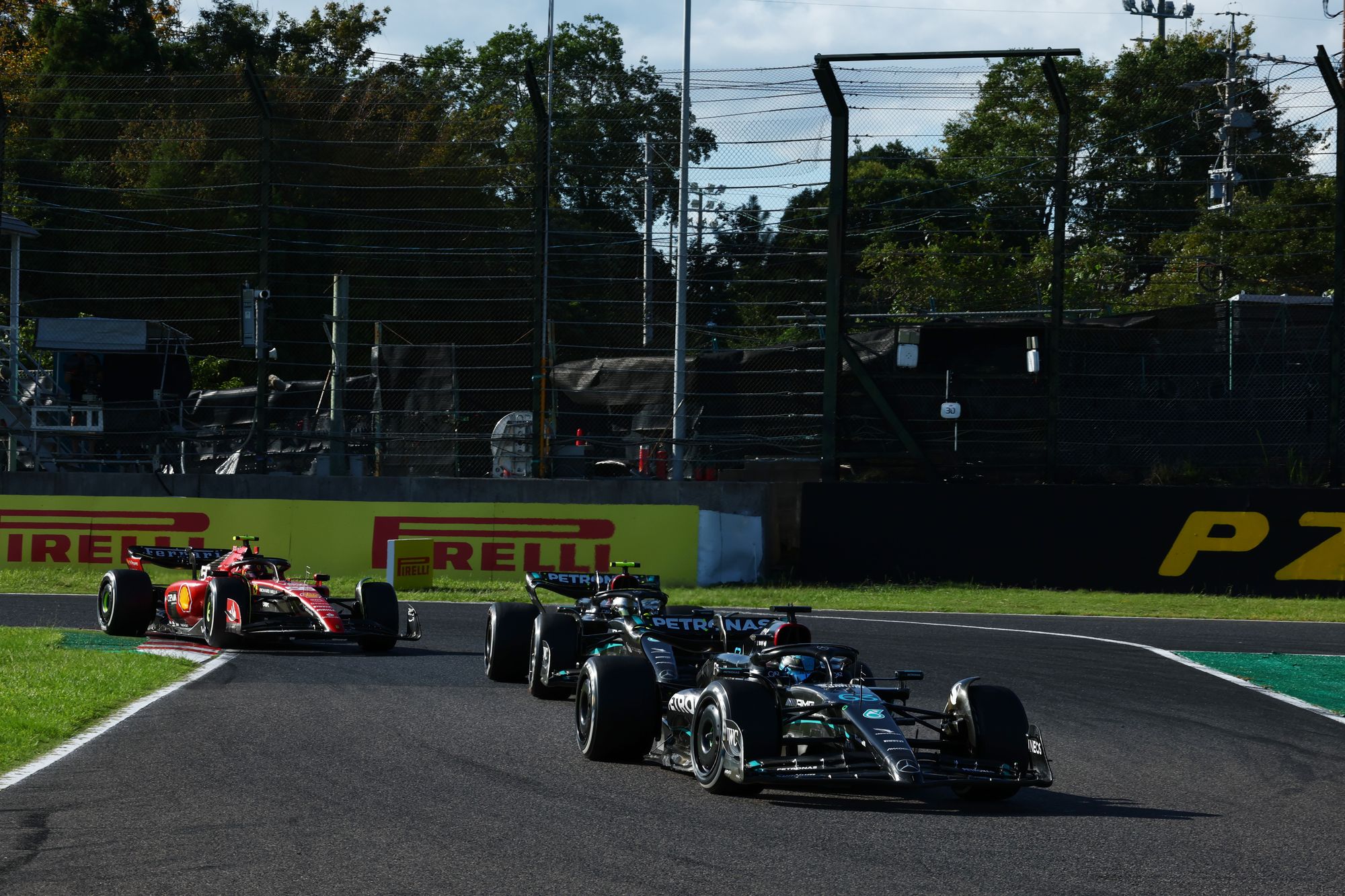 As Mercedes asked Russell to let Hamilton past in the final laps, Russell instead urged the team to keep him in front so Hamilton could use his DRS to stay in front of Sainz, who he'd jumped with an undercut at the second stops.
Mercedes insisted on a place swap and while Hamilton just stayed ahead of Sainz at the flag to take fifth, Russell fell to seventh.
After picking up damage in the Hamilton clash, Perez was given a five-second penalty for overtaking Fernando Alonso before the safety car line while pitting for a new wing under a safety car prompted by debris from that incident and a separate startline clash involving Alex Albon, Esteban Ocon and the Alfa Romeos.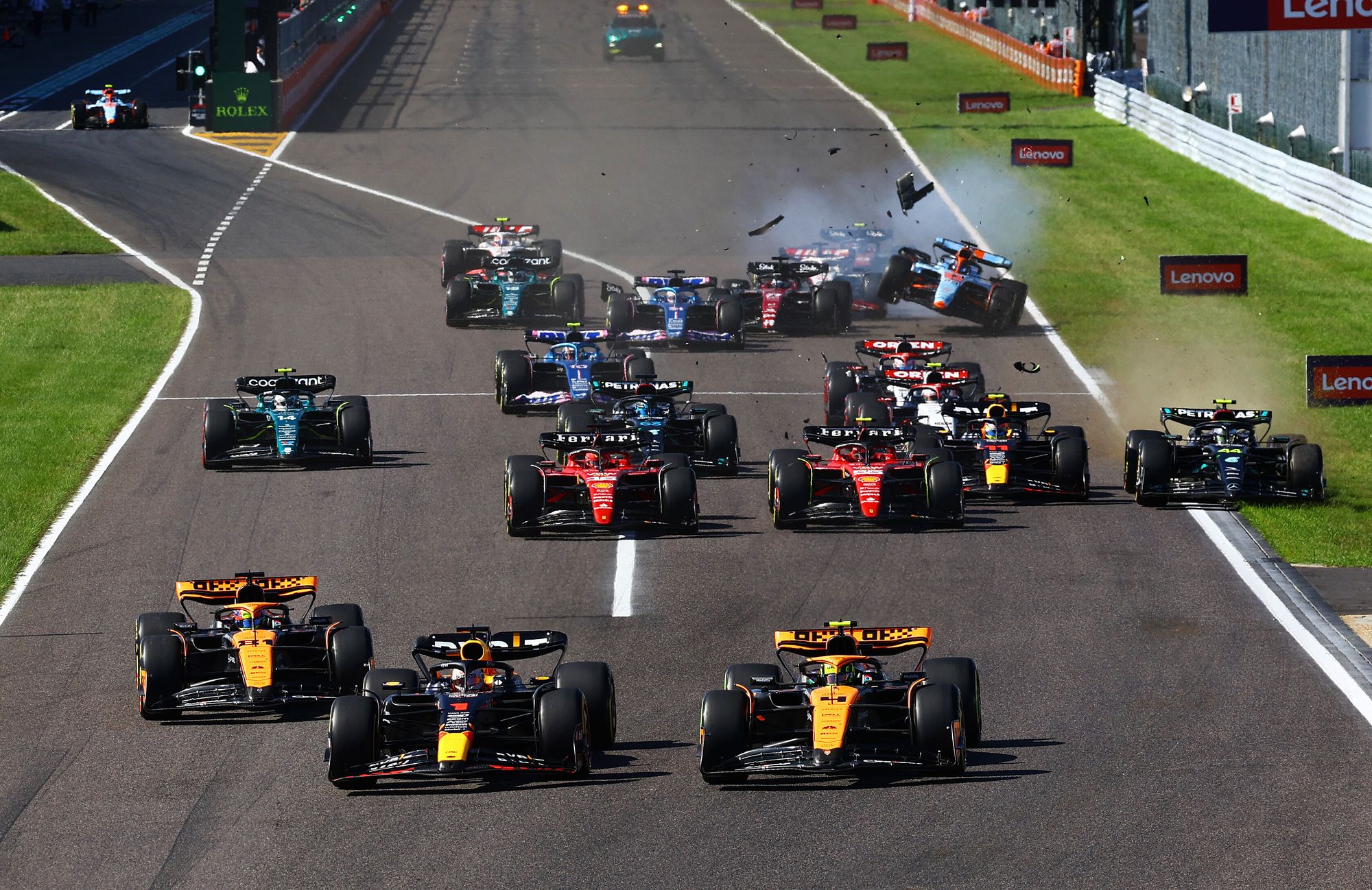 Perez then clumsily shoved Kevin Magnussen into a spin while trying to recover ground from the back. He retired soon after, then was sent back out after 26 laps in the garage just so he could serve the 5s penalty he'd been given for hitting Magnussen in case the stewards turned it into a Qatar GP grid penalty.
Alonso took full advantage of the first-corner mess to jump to sixth on soft tyres at first but faded to eighth after a long spell stuck behind the longer-running Ocon, who took ninth from Alpine team-mate Pierre Gasly on the last lap.
Liam Lawson beat AlphaTauri team-mate Yuki Tsunoda to 11th after running with the Mercedes briefly in the opening laps while on soft tyres.
Logan Sargeant's awful weekend got worse when he clashed with Valtteri Bottas in the opening laps. Bottas was already carrying damage from his first-lap hit with Albon and Ocon, which sent debris into team-mate Zhou Guanyu's car.