Max Verstappen isn't convinced it would've been a valid for his Red Bull team to ask him to back Charles Leclerc towards Sergio Perez in the closing stages of the 2022 season-ending Abu Dhabi Grand Prix.
Perez needed to beat Leclerc to finish second in the championship behind Verstappen, and was reeling in his Ferrari rival on fresher tyres in the final laps.
Last year Perez had mounted a very spirited and very targeted defence against Verstappen's F1 title rival Lewis Hamilton in the Abu Dhabi decider, backing him up to the tune of nearly eight seconds over two laps.
But while Verstappen doing similar to Leclerc – albeit for a second place in the standings rather than the world title – was seemingly discussed on Perez's team radio channel, Red Bull batted it off by suggesting any such approach would simply grant Leclerc DRS and make it easy for him to fend off Perez.
Asked whether there was an instruction to back up Leclerc, Verstappen said: "No, there was not. But also, that is quite a tricky call to make.
"You also don't want to end up… of course you can possibly block, but is that fair racing?
"It's, I think, not the nicest way going out of the season, you know?"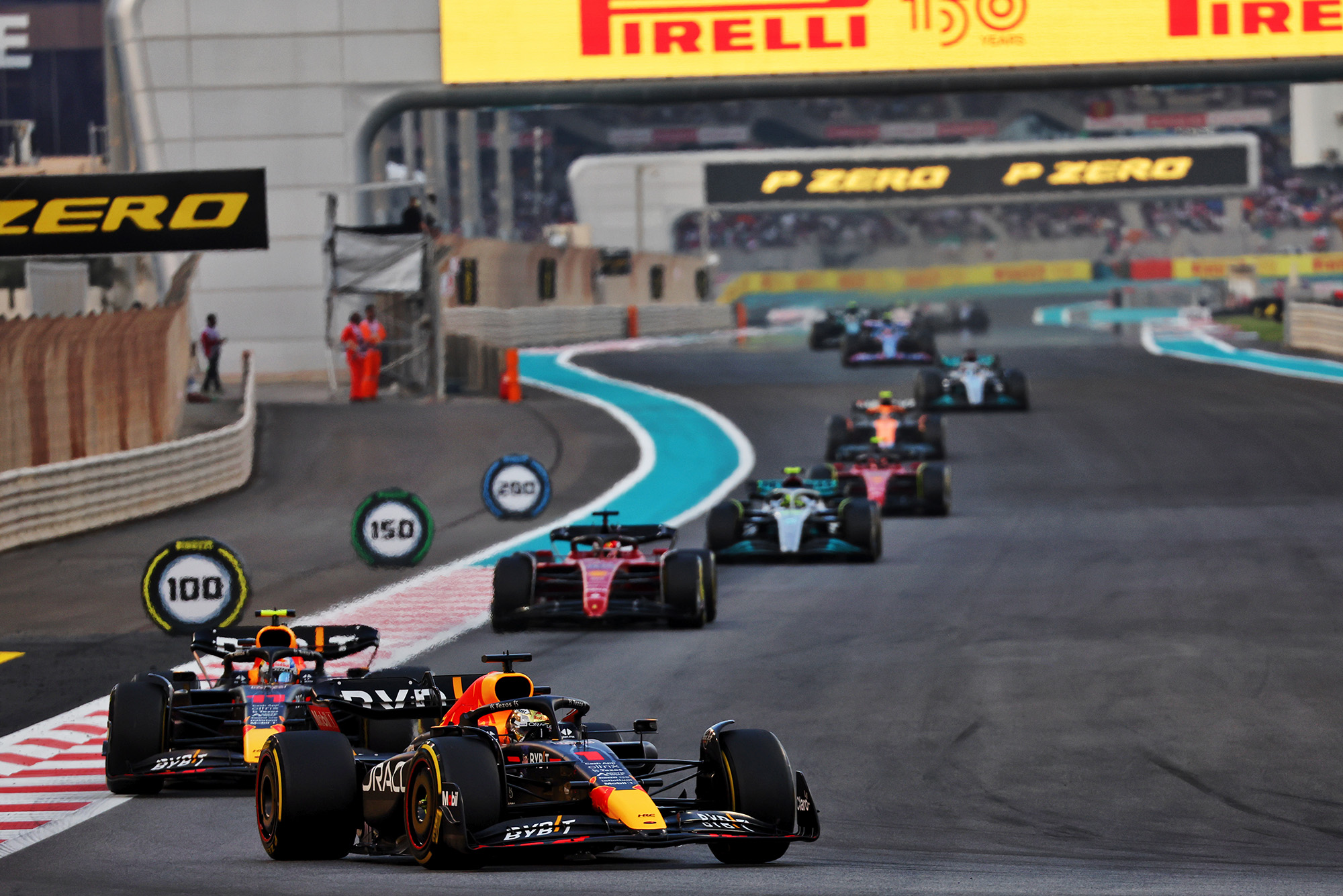 Perez ended up 1.3s short of Leclerc at the chequered flag. He'd lost valuable time battling none other than Hamilton for position, and then seemed considerably impeded by a lap 56 battle between the Williams of Alex Albon and the AlphaTauri of Pierre Gasly (coincidentally, his two predecessors in the Red Bull seat alongside Verstappen) for 13th place.
Gasly held up Perez by trying to attack Albon into Turns 6-7, and then was on the receiving end of some gesticulations from the Red Bull driver as he let Perez by exiting the corner.
"It looked like Checo was catching him enough to try and actually get a move, but then he lost quite a bit of time with that bit of a fuss between, was it Pierre and Alex?," Verstappen continued.
"Yeah, he lost quite a bit of time with that, I was watching the screen."
"Well, I certainly lost a bit, probably a second. Probably more," said Perez, although the timing sheets do not necessarily corroborate that, the Mexican having been a quarter of a second slower than on the previous lap and faster than on the final two laps.
"It was clearly blue flags, but he was in a fight, it's pretty hard to give up the position. I think he was thinking to go for the move [on Albon]. I just ended up being there and thought he left the door open, I went for it and luckily I could brake at the last minute. Otherwise there would've been contact."
There was no investigation or penalty for how Gasly conducted himself. Were he adjudged to be guilty of ignoring blue flags, he would've likely received a single penalty point to his licence, taking him to 11 – which would've left him just one short of the 12 required for a race ban.
"I think in normal conditions that would certainly be a penalty for Pierre, but … it's the last race, I'm just happy to go home, not discuss anything. It's how it goes sometimes," Perez concluded.