In the aftermath, Gary Anderson realised a few things might not have been quite as they seemed.
Even as Michael Schumacher starred for Jordan on that remarkable debut weekend at the 1991 Belgian Grand Prix, the team's technical director Anderson – now a columnist for The Race – noticed that Schumacher seemed particularly peeved that he hadn't quite outqualified the Benetton of Nelson Piquet for sixth on the grid. And after following one of the Yamaha-powered Brabhams, Schumacher made a passing comment about how bleak Jordan's prospects might be if it was running Yamahas in 1992 – a deal not completed at that point.
While Jordan was planning for a future with its shock new superstar, the machinations that would ensure Schumacher only ever started one grand prix with Jordan were well in progress.
Schumacher's amazing start in F1 with Jordan was rightly celebrated around its 30th anniversary last month, but the contractual moves that led to his rapid swap to Benetton immediately afterwards are perhaps an even more incredible story than how he was parachuted into the Jordan for Spa.
After Belgium, team owner Eddie Jordan headed for Japan trying to finalise a deal for free Yamaha engines, which was set up by Bernie Ecclestone, who knew Jordan was in financial trouble.
Meanwhile Jordan commercial man Ian Phillips had a call from Schumacher's manager Willi Weber, who said Jochen Neerpasch from Schumacher's sportscar employer Mercedes would turn up on the following Monday to sign a contract with Jordan on Schumacher's behalf.
However, Weber warned Phillips to "watch Neerpasch".
Jordan waited all day for Neerpasch to arrive, and when he did so it was with famous driver manager Julian Jakobi from IMG. The initial letter of intent tying Schumacher to Jordan had been changed and, as Jordan put it in his book, "was totally unacceptable".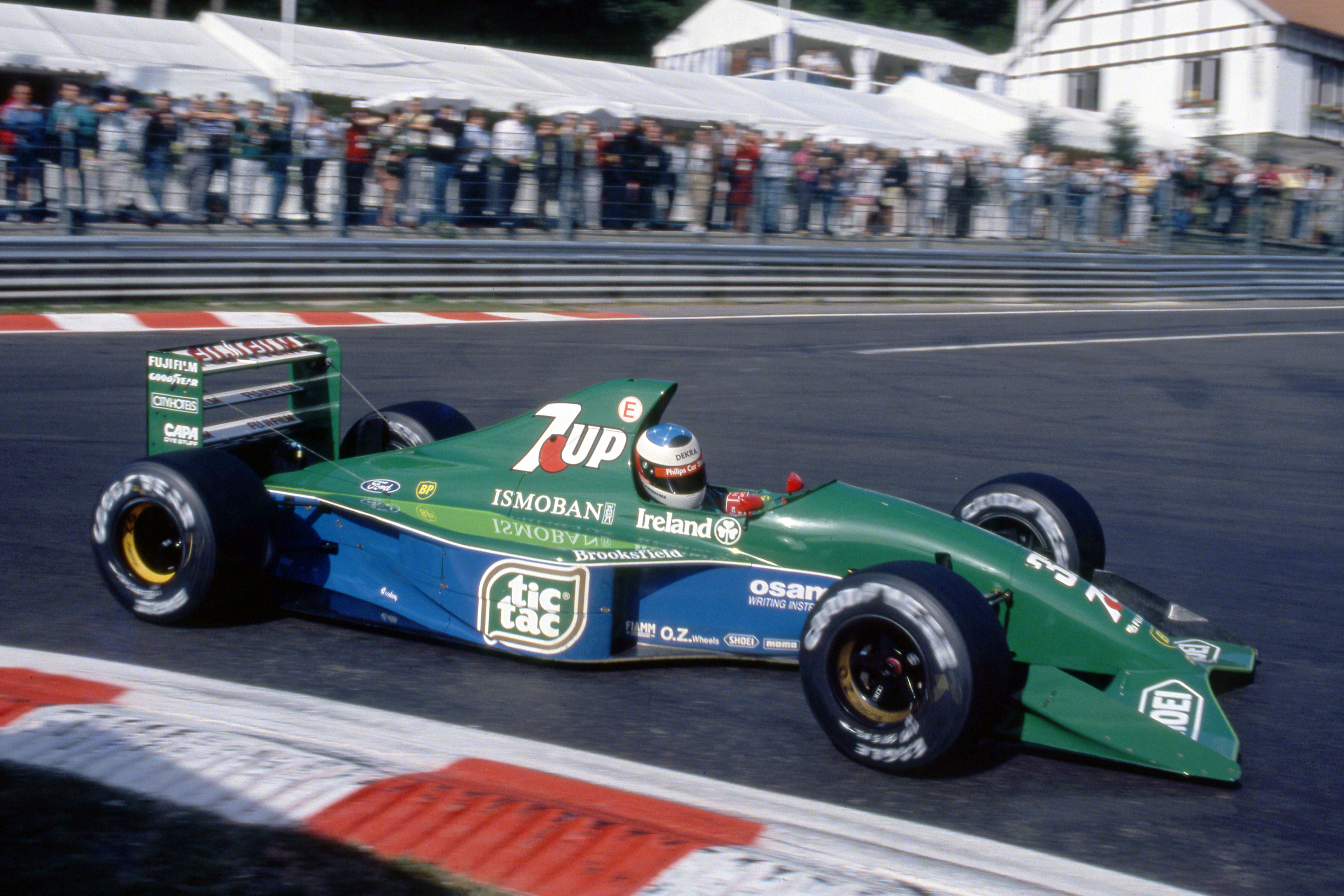 Eddie said Schumacher's camp wanted "all manner of things" for the £3million they'd be paying, including sponsorship rights for the entire car.
Jordan said it needed to be worked on overnight, but he also heard whispers that Schumacher had been to Benetton for a seat-fitting.
Sure enough, the next morning at 10am, he received a one-line fax from Schumacher saying "Dear Eddie, I'm very sorry but I'm not going to be able to drive for your team".
So what had happened? Over the weekend before that Monday meeting at Jordan, Neerpasch had contacted Tom Walkinshaw at Benetton to see if the team would be interested in Schumacher for 1992. Walkinshaw said he thought Schumacher was committed to Jordan, but if that wasn't the case, he'd be interested.
The initial idea was for Schumacher to test the Benetton, and for talks to progress from there.
Then on the Monday night Neerpasch called Walkinshaw to say that they had "failed to reach terms" with Jordan, and ask if Benetton would be interested in taking Schumacher immediately.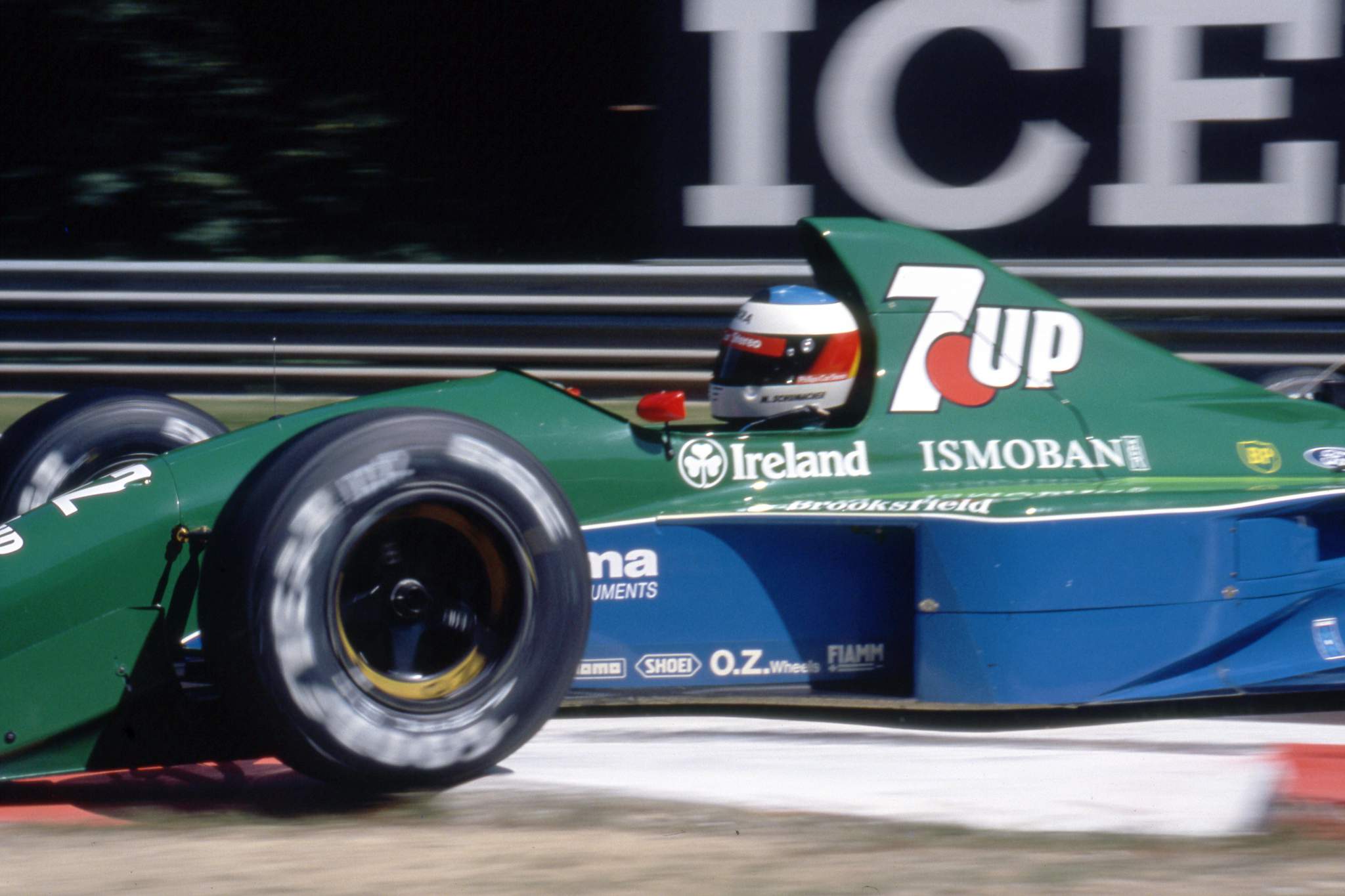 The initial paperwork was drawn up on the Tuesday, in Walkinshaw's words, "subject to the confirmation that Schumacher was free".
Walkinshaw spoke to Jordan on the Tuesday afternoon, and he described Eddie as "a bit excited". But he told Eddie to do whatever he had to do in terms of legal action, as Walkinshaw was of the belief that a big corporation like Mercedes wouldn't tell him Schumacher was contractually available if it wasn't true.
Schumacher tested the Benetton on the Wednesday – across the road from the Jordan factory at Silverstone – the team was happy, and the contract was signed.
Walkinshaw said at the following race at Monza that there was a lot of "nonsense" flying around. He added: "The fact is that Schumacher, for whatever reason, had no contract with Jordan. He was a free agent.
"How anyone can allow a talent like that to be walking around the paddock I don't know. That's their business. When we were informed of that we went about the proper way of securing him."
The reason didn't Jordan have him tied down? It appears to come down to one word in a letter of intent.
This was reported by Motorsport News in the UK back in 2005, when it uncovered the key letter.
The letter was dated August 22nd 1991, which was the Thursday before Spa. The original version said:
---
Dear Eddie,
I confirm that if you enter me in the 1991 Belgian Grand Prix I will sign the driver agreement with you prior to Monza in respect of my services in 1991, 1992, 1993 and subject to Mercedes' first option, 1994. The driver agreement will be substantially in the form of the agreement produced by you with only mutually agreed amendments.
I understand that PP Sauber Ltd will pay you £150,000 per race for 1991.
I also understand that you require 3.5 million dollars for both 1992 and 1993 and if I or my backers are unable to find this money you will be entitled to retain my services in those years.
Yours sincerely
Michael Schumacher
---
But there were key changes made to this letter. 'I will sign the driver agreement' was changed to 'I will sign a driver agreement', and the line about it being substantially the original agreement with only mutually agreed changes was crossed out entirely.
Speaking to MN in 2005, Weber said without the change of 'the contract' to 'a contract', Schumacher would have had to stay at Jordan.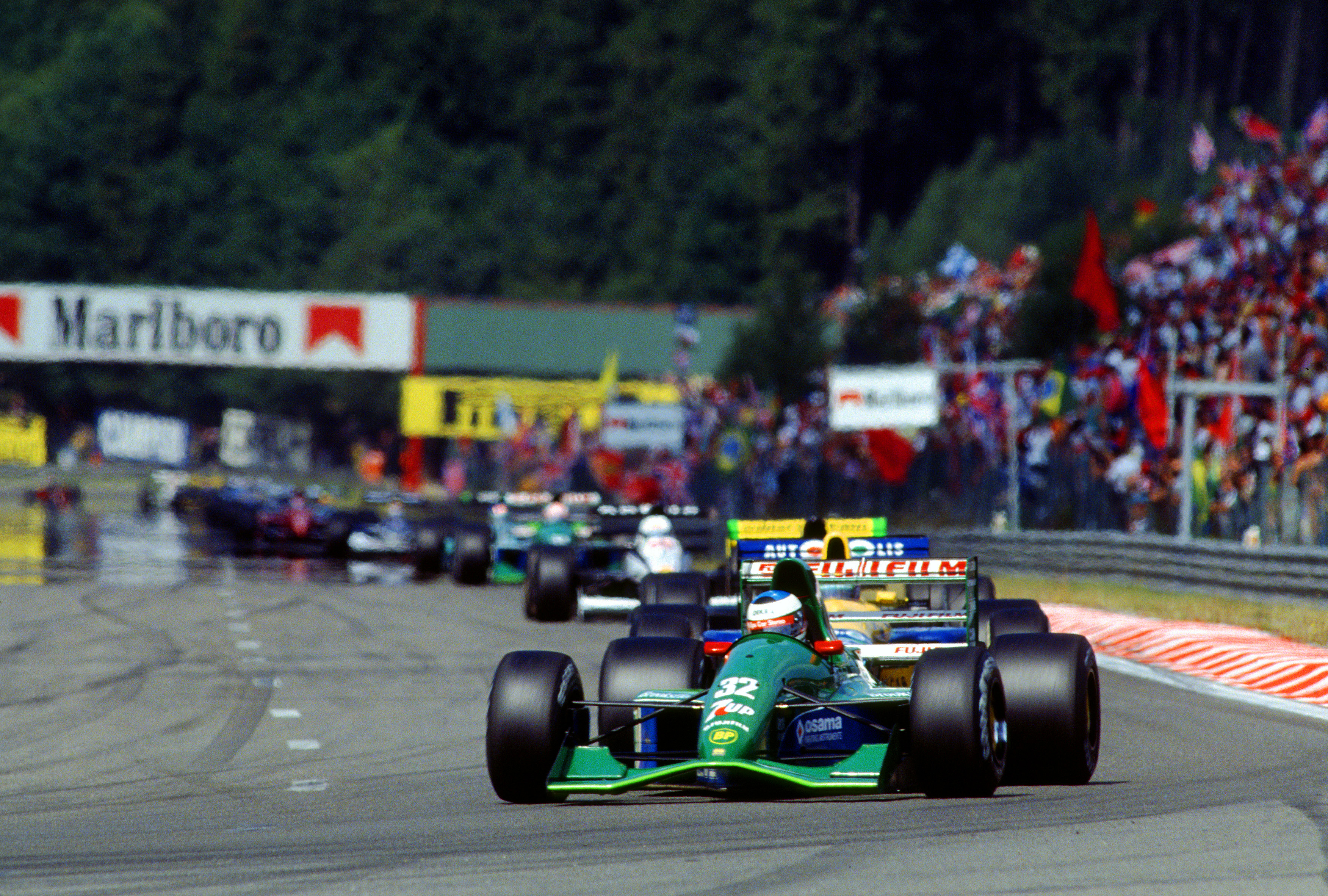 However in the revised form, it meant Schumacher could sign any agreement he liked with Jordan – and the one Weber gave was that he could agree to visit the factory twice a year, and that would count as 'a contract'.
Jordan said he learned a lot about contracts from that, as the change made was clearly deliberate. And he was gutted to lose Schumacher.
He took various attempts at legal action to block the move, but because he didn't have a valid contract with Schumacher, those attempts all got thrown out.
"What happened was not correct, and I thought somebody had to say something." :: Ayrton Senna
But one man who did have some legal power in all this was the man Benetton was preparing to oust for Schumacher: Roberto Moreno.
After Spa, where Moreno had set the fastest lap, Benetton had told him he wouldn't be retained for 1992. But a week later, it was dropping him immediately.
With some advice from Jordan, Moreno managed to get an injunction against Benetton on the eve of the Monza event. Ecclestone, who Jordan says was keen to get Schumacher into a more competitive car to boost F1's profile in Germany, got everyone together at a hotel in Italy to, in Eddie's words, "bang some heads together".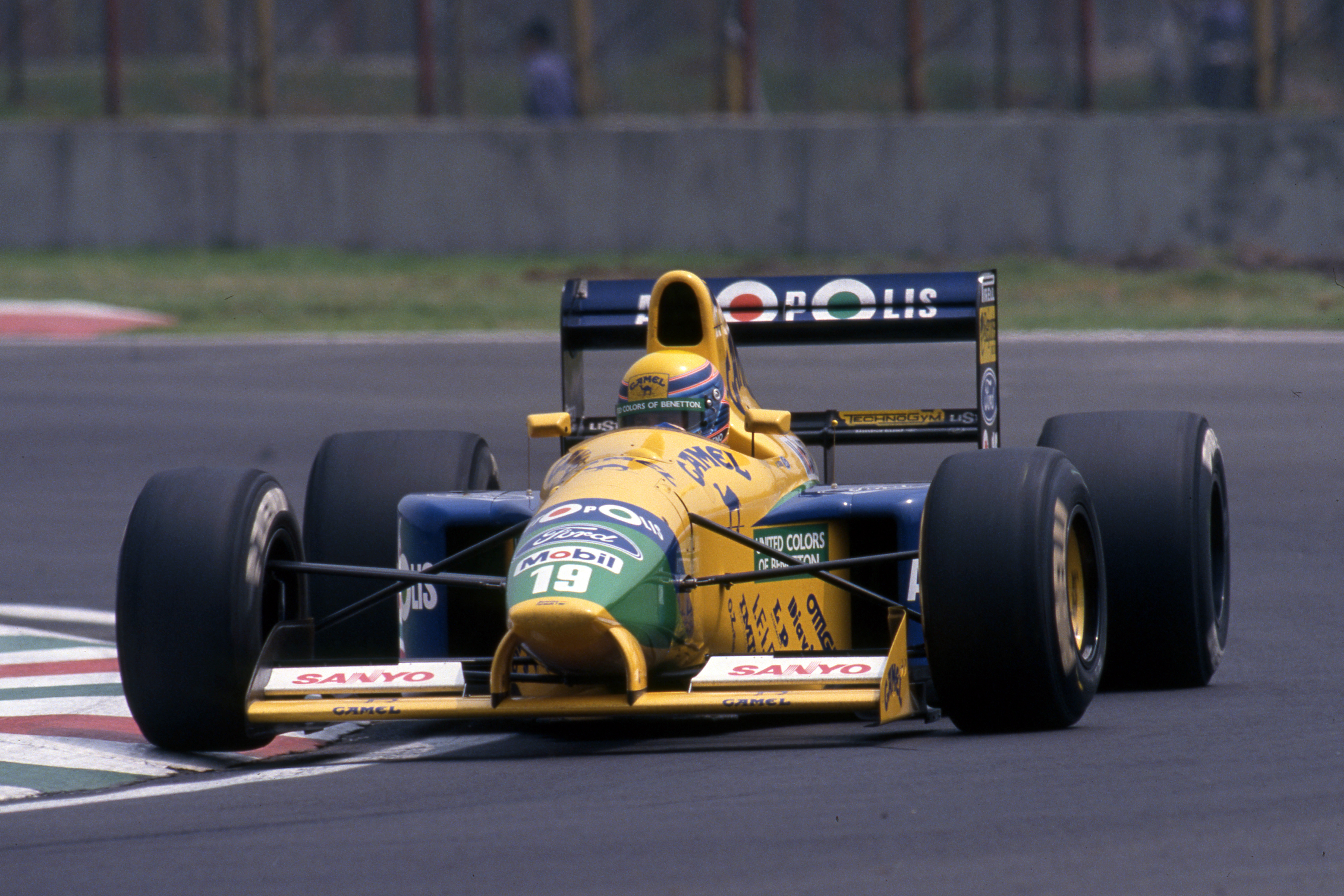 Moreno (pictured above) was being offered half a million dollars to drop the injunction, but Jordan was advising him to hold out for a million.
Briatore admitted in an appearance on the F1 podcast that Moreno's contract was the first one he put together in F1, and he said "It was not a good contract. I put a lot of mistakes, and I remember the lawyer of the team told me I needed to re-do the contract, because it wasn't clear between a chassis and a car."
Flavio says it was then explained to Moreno that his contract only promised him a chassis, but Benetton reserved the right to not give him essentials such as an engine and wheels to make it legally a car.
In the early hours of Friday morning, Moreno gave in, accepting the half a million dollars, which was the remaining value of his contract and what Flavio called a "bonus" to go away.
The treatment of Moreno went down very badly with the other drivers, particularly the Brazilians.
Piquet made his feelings very clear to Briatore, saying Schumacher had done nothing to deserve the drive. According to Briatore, Piquet refused to drive for Benetton at Monza because he'd never seen a team operate like this.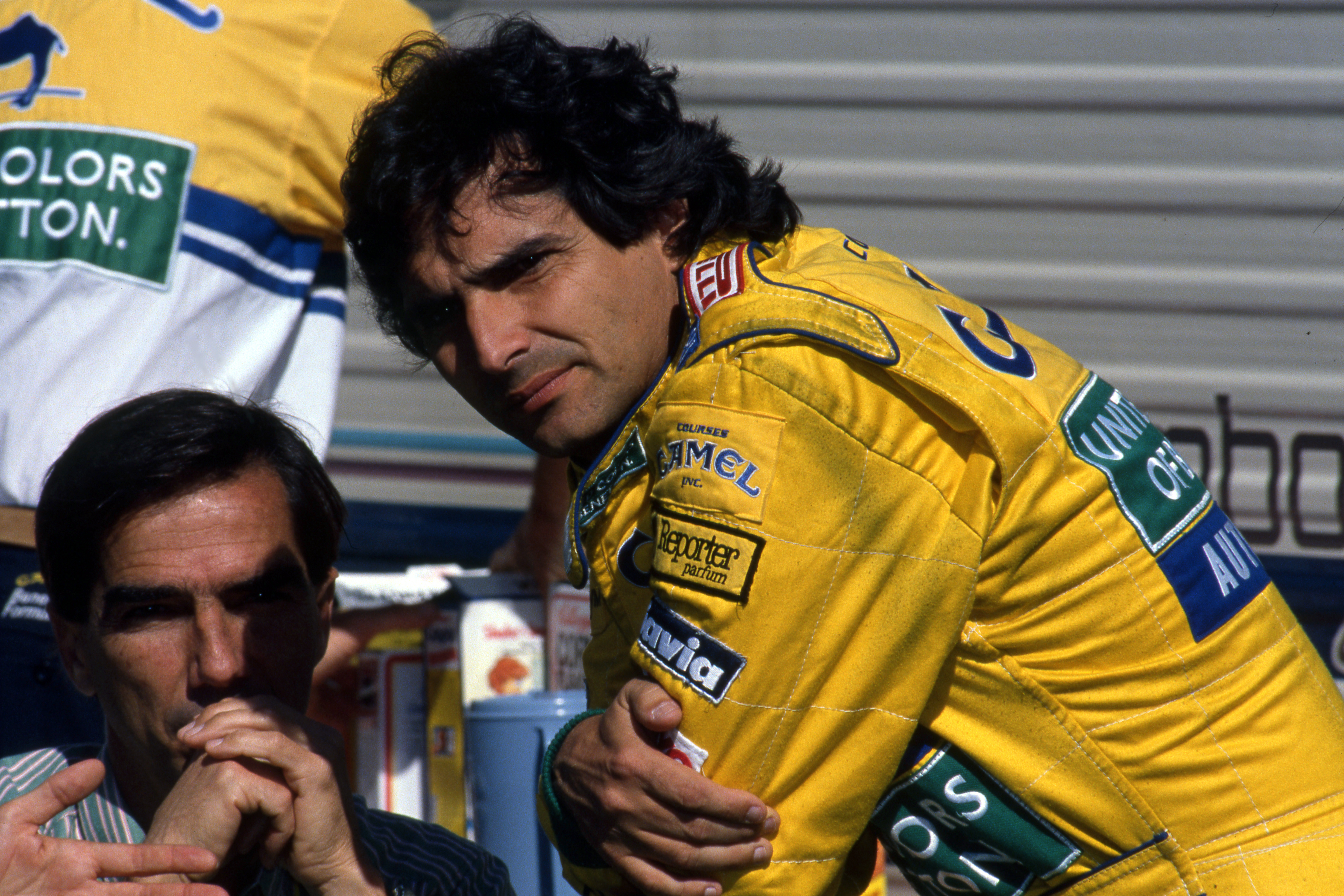 Briatore called his bluff. He asked the team to prepare Formula 3000 driver Alex Zanardi for a seat fit, and Zanardi was told to walk past the Benetton motorhome in full overalls.
When Piquet asked what was going on, Briatore told him Zanardi was replacing him, because Piquet has refused to drive. And at that point, Piquet backed down.
To show how seriously this was being taken by the drivers, this was a rare issue where Piquet and Ayrton Senna were aligned.
Briatore said it was the only time he ever fell out with Senna, and Senna spoke at length about the saga over the Monza weekend.
"What happened was not correct, and I thought somebody had to say something," said Senna at the time.
"It's always the people in the top teams, Alain [Prost], [Jean] Alesi, the two Williams drivers, Gerhard [Berger], Nelson, me, who are written about the most. So I feel that unless one of us speaks about it, something like this just goes by, and people get away with it.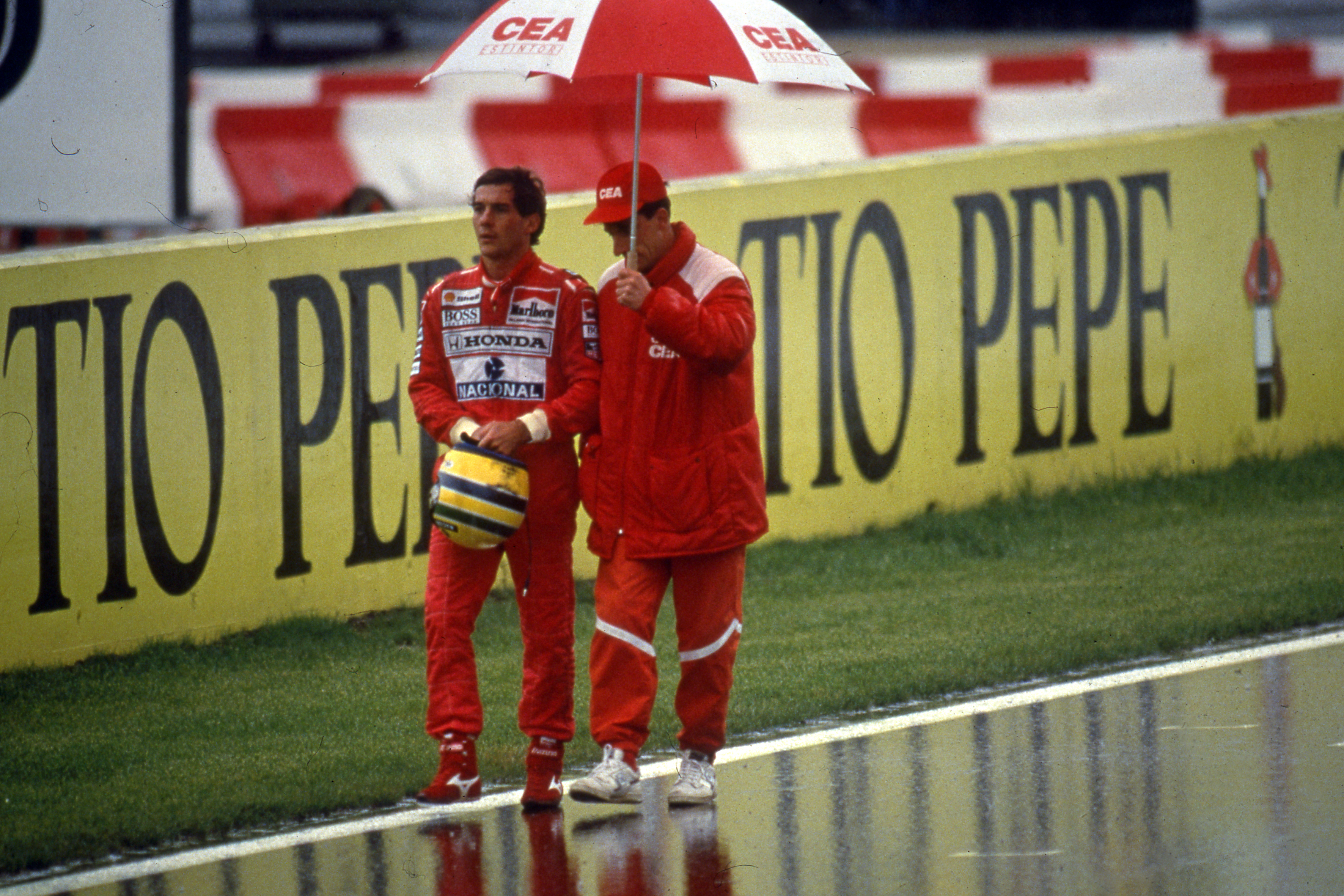 "From the outside I can say I don't think it's a good thing to change drivers in the middle of the season like this, because it starts a precedent, which allows me – or anyone – to say 'OK, I drive for you', if someone turns up with a better car, offering better conditions. You can imagine the mess there might be."
Moreno still ended up driving for Jordan that weekend, as part of Eddie's plan to get him to hold out for as much money as possible was so he could then take a chunk of it from Roberto in exchange for a drive! It proved to be a one-off before he was replaced by Zanardi – who was stressed and perplexed at Monza when he was briefly offered F1 drives by both Jordan and Benetton before ending up with neither.
So why did Schumacher's camp go so cold on Jordan so quickly? Two words: Yamaha engines.
Jordan believed that as part of Ecclestone's scheme to get Schumacher into a better car as quickly as possible, he made Schumacher's management aware of the Yamaha engine deal Ecclestone had set up for Jordan.
Yamaha had just scored its first point in F1 at Spa with Brabham, but the engine was clearly going to be a step backwards from the Cosworth Jordan used in 1991.
Speaking to Motorsport News in 2005, Weber confirmed that when they found out Jordan would have Yamaha engines for 1992, "this was not what we really expected".
That's what prompted the sudden change of contract wording, which Weber said "saved our lives" because it got Schumacher out of being lumbered with a Yamaha powered car for his first full season in F1.
During the Monza weekend, Neerpasch was keen to point out that all Schumacher had in place with Jordan was "an agreement to talk about an agreement".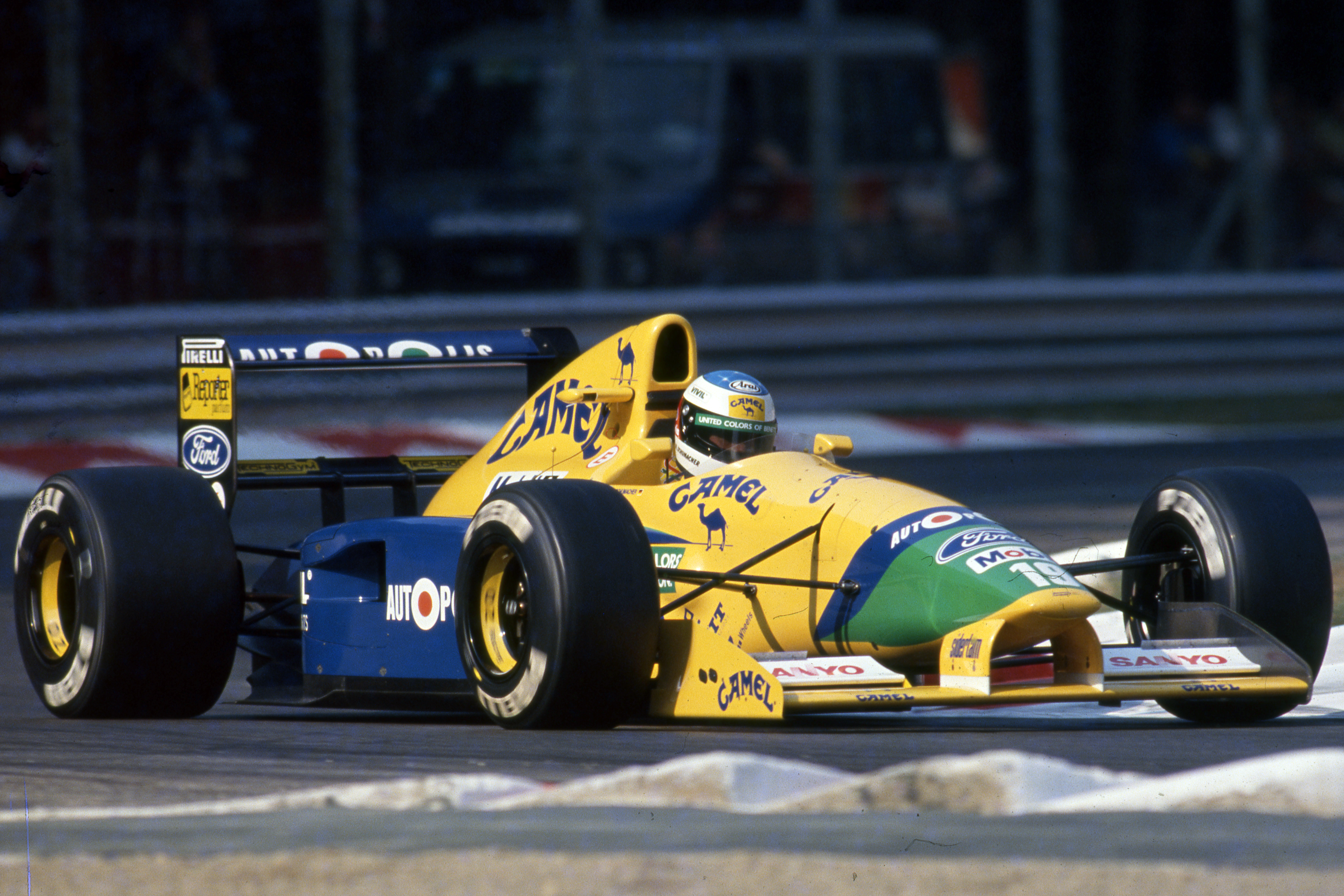 Briatore has also raised another key advantage he had over Jordan – and that's that Benetton was willing to pay Schumacher, rather than ask for him to bring budget.
Flavio said on the F1 podcast: "I said to Weber, I pay you, I don't want the money from the sponsor. Just don't send the money to Eddie!
"Eddie was shouting 'I have a contract' but there was no contract. We never took him from Jordan because he didn't have a contract with Jordan. He did one race."
Interestingly, Jordan said that when it was all kicking off in the hotel in Italy, Ecclestone was orchestrating the whole thing and Briatore was a "puppet" because he was new to F1 and at that time "did not have a clue".
But Briatore counters that, saying that while Ecclestone was pushing for the switch, Benetton was already on the lookout for a young driver because it couldn't afford Senna or Prost. Schumacher had been recommended by Walkinshaw, who had of course seen what he was capable of as a rival in sportscars.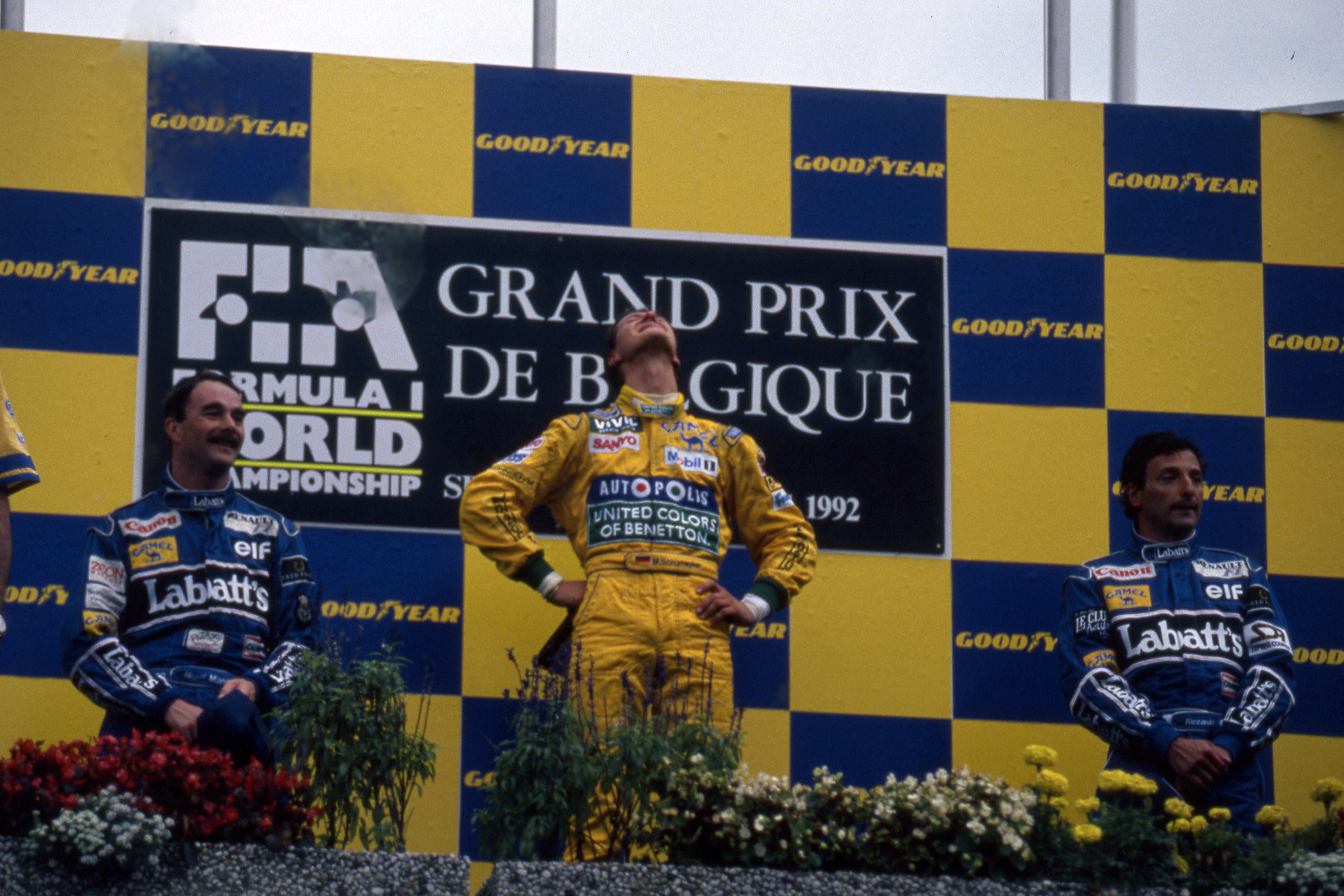 And he was, of course, an inspired choice that launched Benetton from occasional race winner to championship winner within three years.
Schumacher and his management's trepidation about Jordan's prospects with Yamaha in 1992 were well-founded: an awful year with an unreliable and underpowered engine cost it all the momentum of its glorious debut season and it took a switch to Hart power for 1993 to begin getting it back on course.
But Schumacher would surely have got much more out of even a Jordan-Yamaha than the team's 1992 drivers Mauricio Gugelmin and Stefano Modena, and the Ferrari years showed his superiority over Rubens Barrichello and Eddie Irvine – the drivers who were ultimately behind Jordan's podium breakthroughs a few years later.
The question of how much quicker it might've achieved that – or much better – with Schumacher at the wheel will always be a curious 1990s F1 might-have-been.
"We were very naive as a team," Anderson adds. "He had been working with Mercedes, a very big and professional team, and maybe he came to Jordan and saw that we were pretty much a small team relatively.
"Maybe he got a bit of a fright from that."