Lewis Hamilton hopes his new commission will be able to identify the "root causes" of Formula 1's lack of diversity, because "you can't change what you don't know".
The six-time world champion has created The Hamilton Commission, a research initiative in partnership with The Royal Academy of Engineering, that wants to help motorsport create more opportunities for black students in Science, Technology, Engineering and Mathematics subjects and ultimately improve the diversity in grand prix racing.
It is part of Hamilton's escalating activity to improve racial equality, something his Mercedes team has supported him in by changing to a black livery on its F1 car for the 2020 season and pledging a review of the diversity within the team, in which only 3% of the workforce identify as belonging to minority ethnic groups.
Hamilton remains the only black driver in F1 history and there is minimal diversity through the championship's feeder series and in entry-level motorsport too.
"It is a very expensive sport, that's definitely an underlying factor," Hamilton said in a video for Mercedes parent company Daimler's new 'WE CARE WE DO WE MOVE' initiative.
"The truth is that the opportunity is not the same, not only from the drivers' point of view, but with engineers.
"There's so many great jobs and opportunities within our sport. But the opportunity is not the same for minorities to get through.
"That's why I put together this commission, to try to understand why that is the case: why they're not coming through, why they're not finishing university.
"You can't change what you don't know. And I think that's the issue.
"Lots of people have opinions of why there are no other black drivers, why there are not many people of colour within our sport, but no one truly knows what are the root causes.
"That's what the goal is with this commission that I'm trying to put together, which is a lot of work, but I really, really hope that it can have a real positive change."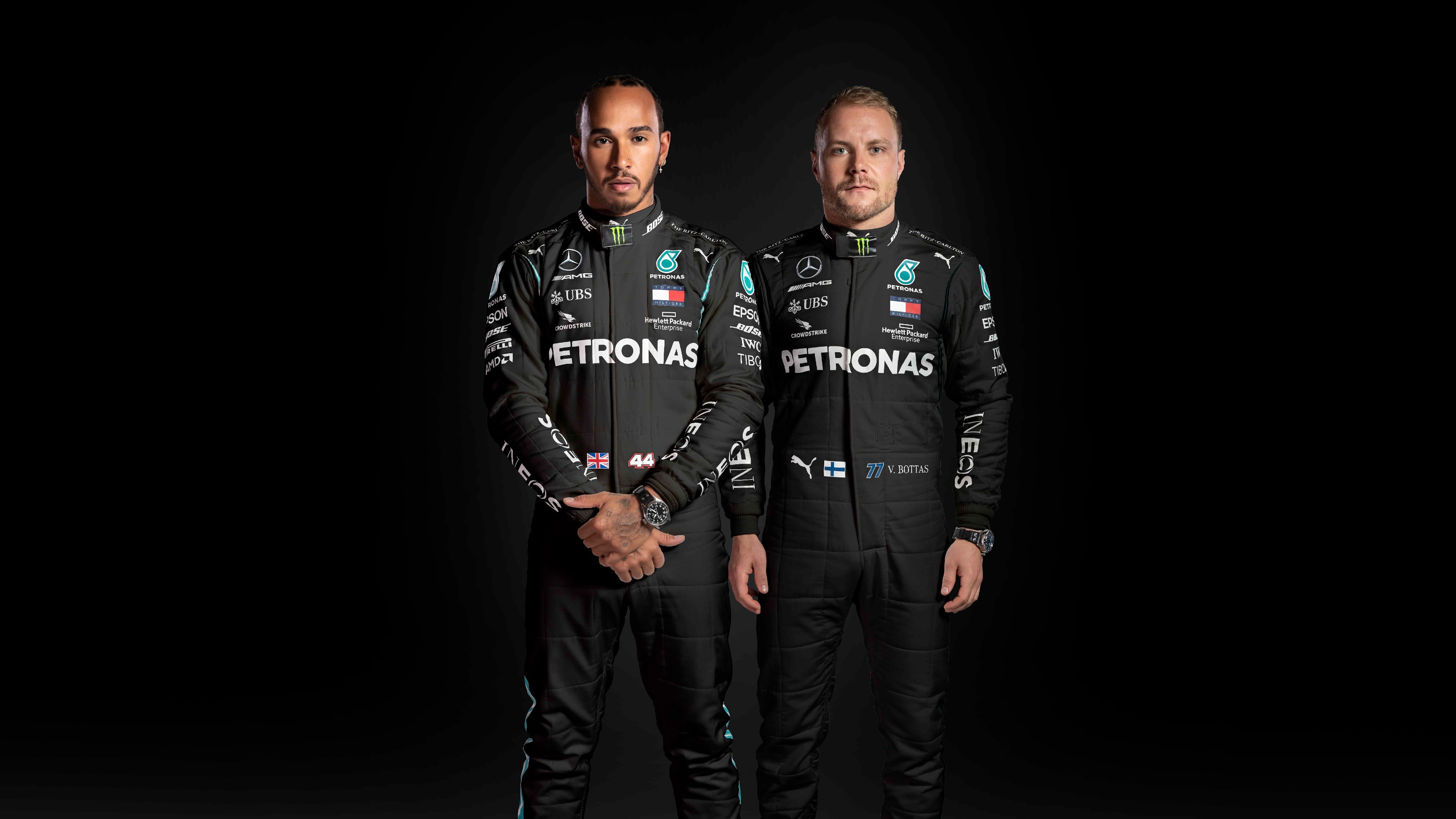 Hamilton (pictured above alongside Valtteri Bottas in Mercedes' new all-black overalls) has developed an increasingly vocal stance on the issue since the killing of George Floyd in the United States of America, which triggered a global response against racism under the Black Lives Matter message.
Since Hamilton criticised the F1 industry of being silent in the days following Floyd's death, drivers have shared their own impassioned anti-racism messages, while F1 has launched a diversity taskforce and set up a foundation to create, primarily, apprenticeships and scholarships for underrepresented groups – backed by $1million of F1 CEO Chase Carey's own money.
Though Hamilton is not taking credit for stirring others into action he has explained the motivation for his original criticism on social media, which included the line: "I see those of you who are staying silent, some of you the biggest stars yet you stay silent in the midst of injustice."
He has since shared messages urging people to be actively "anti-racism".
"People perceived that I was targeting drivers. I really wasn't. It was targeted at the whole industry," Hamilton said.
"And it's been something I've been aware of for a long, long time, and not really seeing anyone doing anything about it.
"In today's world where we all have a platform to be able to utilise our voice, we all have these followings, our voices are very powerful.
"And if you're not a part of trying to encourage people to get out there and understand what this situation is, and why we're in this situation, then for me that's frustrating.
"I think people being silent is something that I've experienced for such a long time. And now is not the time to be silent.
"This is a time to help spread the message, this is the time to pull together. We need as many voices as we can to help push for change."
He added: "So that was really a calling to people within the industry for accountability.
"For all the brands, they need to do more. The sport needs to do more. The FIA need to do more.
"We all need to do more. And so that was really what the message is about."
Hamilton has reflected on his own struggles with discrimination in recent weeks, referencing being subjected to racism throughout his life.
He said that it confused him as a child to be abused in the UK and in Europe while karting, and that emotional connection to the issue is part of why he is so motivated to make a difference.
"When this whole thing kicked off, I was like, 'OK, I've got to come out and help support people'," he said.
"Because I know what it's like to struggle. I know what it's like to be in that position. And I want to be a part of the change, I want to be a part of the solution.
"But as I said, it's difficult to know what the solution is until we know what the root cause of the problem is.
"So that's what we're going to try and do over these next months."