The upcoming Emilia Romagna Grand Prix at Imola is a landmark for the Mercedes Formula 1 team as it introduces a major upgrade package that team principal Toto Wolff says will be its "new baseline".
But given the troubles it has had over the past year or so, can we really be confident it will deliver?
The team has stated that there will be a modified front suspension, new sidepods and a new floor. The aim is to make the car more stable, improve the mechanical platform and therefore be able to run lower consistently – creating more downforce. So what should we expect from the changes?
Mike Elliott, at the time still in the role of technical director, said earlier in the season that this update would require some under-the-bodywork changes. There are also suggestions Mercedes will move towards a more conventional design, but that it won't be a complete change to something similar to what others have got. Not that Mercedes needs to look too far away for inspiration, with Red Bull and Aston Martin nearby.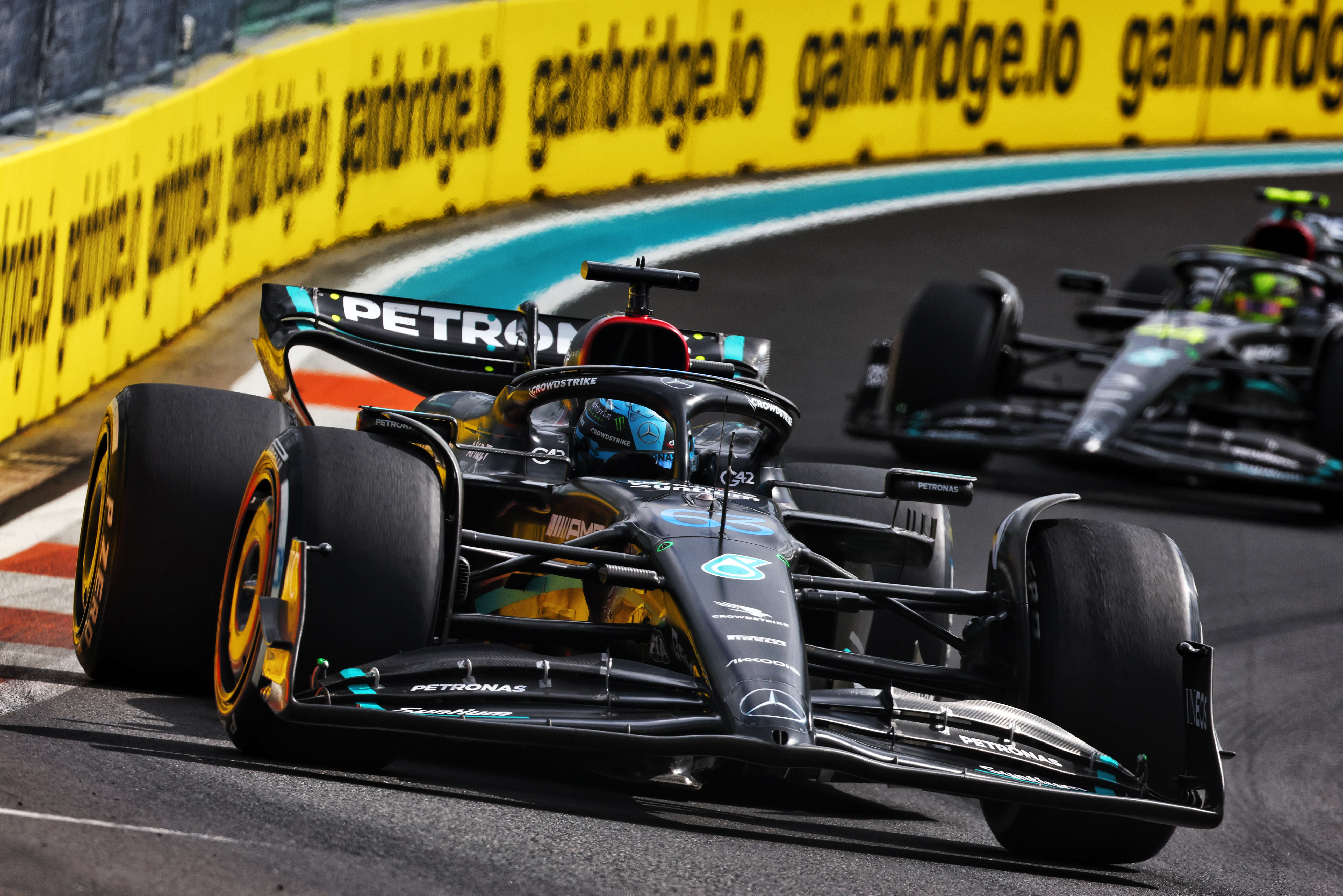 To confuse things even more, Elliott has now been moved sideways into the chief technical officer role and James Allison is back in harness as the TD. It's certainly been a year both of challenges and changes at Mercedes.
Engineering is about finding solutions and there are many ways to achieve the same objective. Each individual will want to plough their own furrow. If you could do it easily from photos and get the detail spot on, copying the Red Bull wouldn't be a bad way to go. But if you copy, you will always be playing catch up. So you need to do more than that.
It's not so much the hardware that brings you success. What matters is the design philosophy and how you create that. Ferrari and Red Bull, as far as single-lap performance is concerned, are nip and tuck most weekends. Visually, their cars are very different so you can achieve similar results with different concepts, but the underlying design philosophy needs to be correct to be able to get the consistency out of any package, particularly over a race distance.
Mercedes' new avenue of development wasn't just started after the Bahrain race weekend. Yes, it was after qualifying that Wolff called for the change of direction, but it was in the works well before that.
The need to improve the mechanical platform has been stressed. Certainly, Mercedes wants to be able to run the car lower like the Red Bull, but the question is whether it can actually have the control to do that. Mercedes can't do much about the rear suspension geometry as the gearbox design is homologated for the season under the current rules, and currently, there has been no talk of a change in that area. That might be something for 2024.
But the interesting, or should I say concerning part, is those at Mercedes keep stressing they are puzzled by things. They seem to get sucked in too easily by the odd good day when the car performs well, but that is what happens with a car when the problem is the consistency of performance.
So to try to understand where Mercedes is, or where those in charge think it is, let's take a close look at what Wolff said in Miami about the car's problems and upcoming changes.
Toto says: "The car is not a nice car, not a good car. I wouldn't be able to point out where the fundamental problem is, it's the basic performance of the car, it's the lack of understanding of the car, it's through the whole span of activities. The performance is just really bad"
I think Toto has taken a leaf out of Alpine CEO Laurent Rossi's book of motivation. No one designs a bad car on purpose and this is bordering on too harsh.
Sometimes, you need to look past what is happening and recognise the reasons for it happening. Mercedes had eight years of championship success, so you can't say it doesn't know how to build a good car. The W14 is far from a "really bad car", it's capable of leading races and earning podium finishes.
Mercedes needs to look closely at the tools it uses to sign off the development direction. These ground effect cars are different beasts to their predecessors and require a different understanding.
The other thing to remember is you learn a lot more when you have to get yourself out of trouble than you do when it's all plain sailing and you have two or three tenths of a second advantage over your nearest opposition.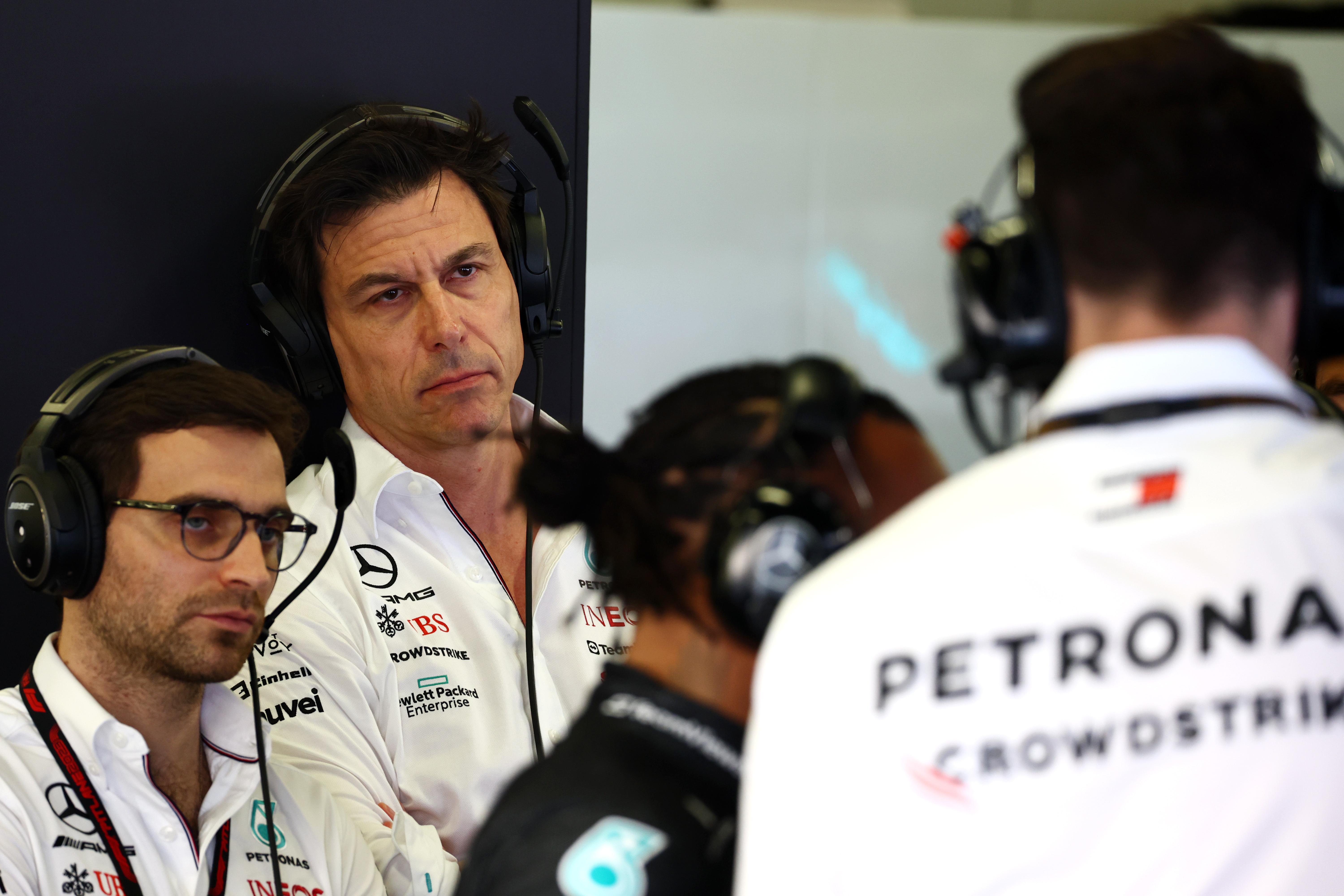 Toto says: "What we're trying to do with the upgrade is to create a new baseline for us to take question marks and variables out of the equation and say 'this is not a problem now that we have gone to a different spec'. And that is for example front suspension.
"We're also looking at bodywork solutions that are more conventional than others. Obviously, that will create a different airflow so for me, it's almost like a reset to do what would have been a good start 12 months ago and then to try and add performance to the car. At the moment, it's just a lack of understanding."
These ground effect cars produce more than 50% of their downforce from the underfloor, leaving the front and rear wings to produce the rest. They probably do that more or less equally, so in simple rounded-up figures, 50% from the underfloor, 25% from the rear wing and 25% from the front wing.
The front wing will be influenced slightly by reduced ride height, especially under braking.
The rear wing being mounted high up is benign to ride height changes, but the underfloor is a completely different beast. The closer to the ground you can get it, the more downforce it will produce. The more you can seal the sides, the more downforce you will get so it's very easy to get super excited about numbers from the windtunnel. But in the real world, you just can't run the car that stiff to get it that low.
To add to that potential problem, I keep hearing that Mercedes wants to be able to run the car lower. It's not about how low you want to run it, it is more about how low you can consistently run it. Reduce the ride height variation without running the car super stiff and you will start to make progress.
If I was involved, I would be looking very closely at the centre of pressure of the underfloor. It wouldn't surprise me if, in the quest for big downforce numbers, the underfloor's centre of pressure is too far forward and moving forward with speed, which is exactly what you don't want to be happening.
If so, with the ground clearance of the underfloor changing with speed it would mean that the centre of pressure of that area would be rushing up and down the car and that can be really confusing and inconsistent for the driver.
It would also be a reason for being slow on the straight. Trying to keep control of that centre of pressure shift forward at speed means that Mercedes needs to run more rear wing downforce to try to get some rear-end stability at high speed and with that downforce comes extra drag.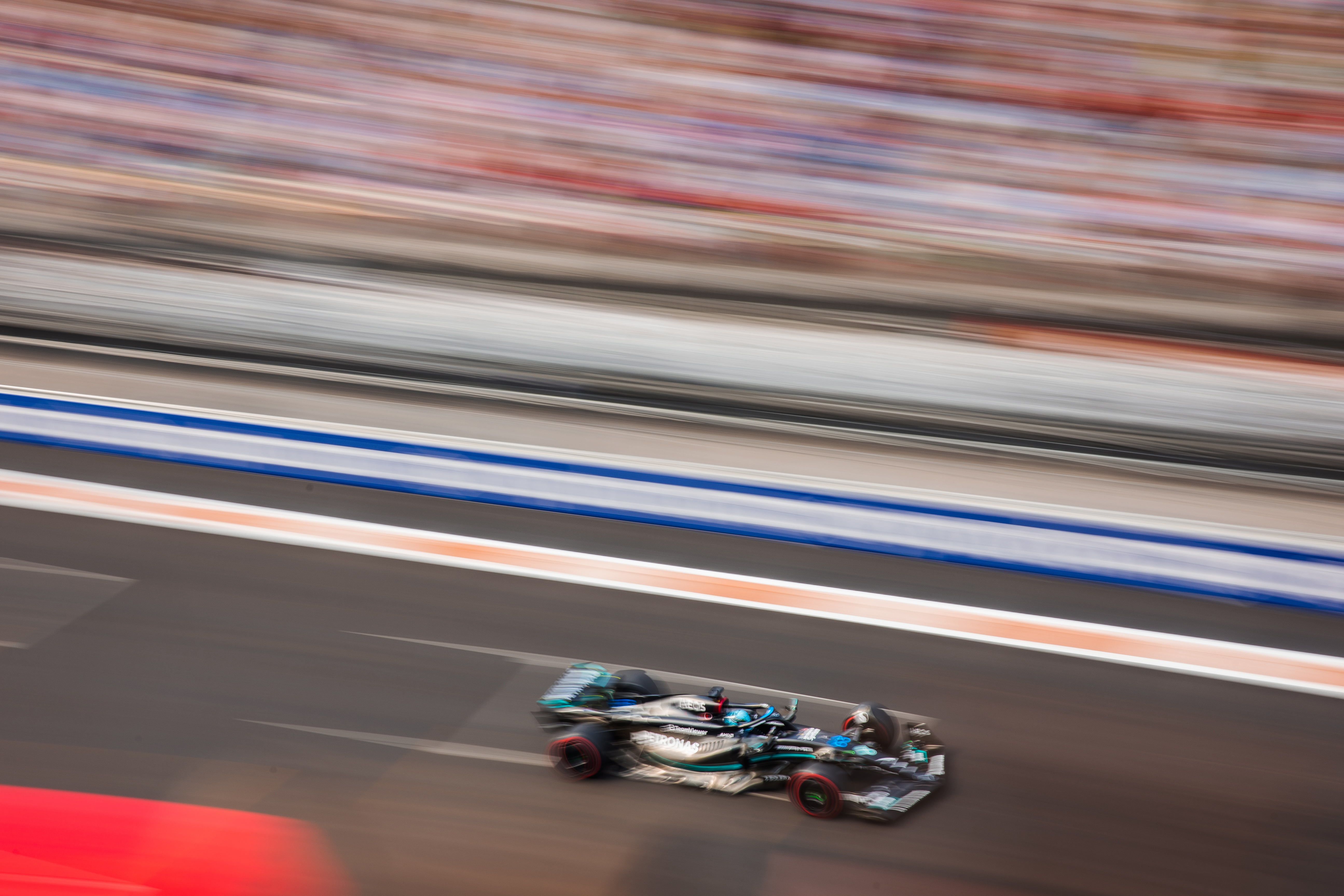 It would also be the reason for Mercedes to be running a more flexible front wing flap assembly than any other team. It obviously passes the FIA deflection tests but it is frustrating when the regulations state that flexible bodywork is a no-no and yet on TV we all watch this flap backing off dramatically.
So to sum up, you need the centre of pressure of the underfloor through the car's ride height range to be as stable as possible. Even moving it a little rearwards with more rake during braking will improve rear-end stability.
If the underfloor's centre of pressure moves forward with speed, that explains why Mercedes needs to run more rear wing downforce, and with that drag, to give the driver confidence. On top of that, there's also the need to back the front wing off to compensate. But there is nothing you can do to change the drag level of the rear wing.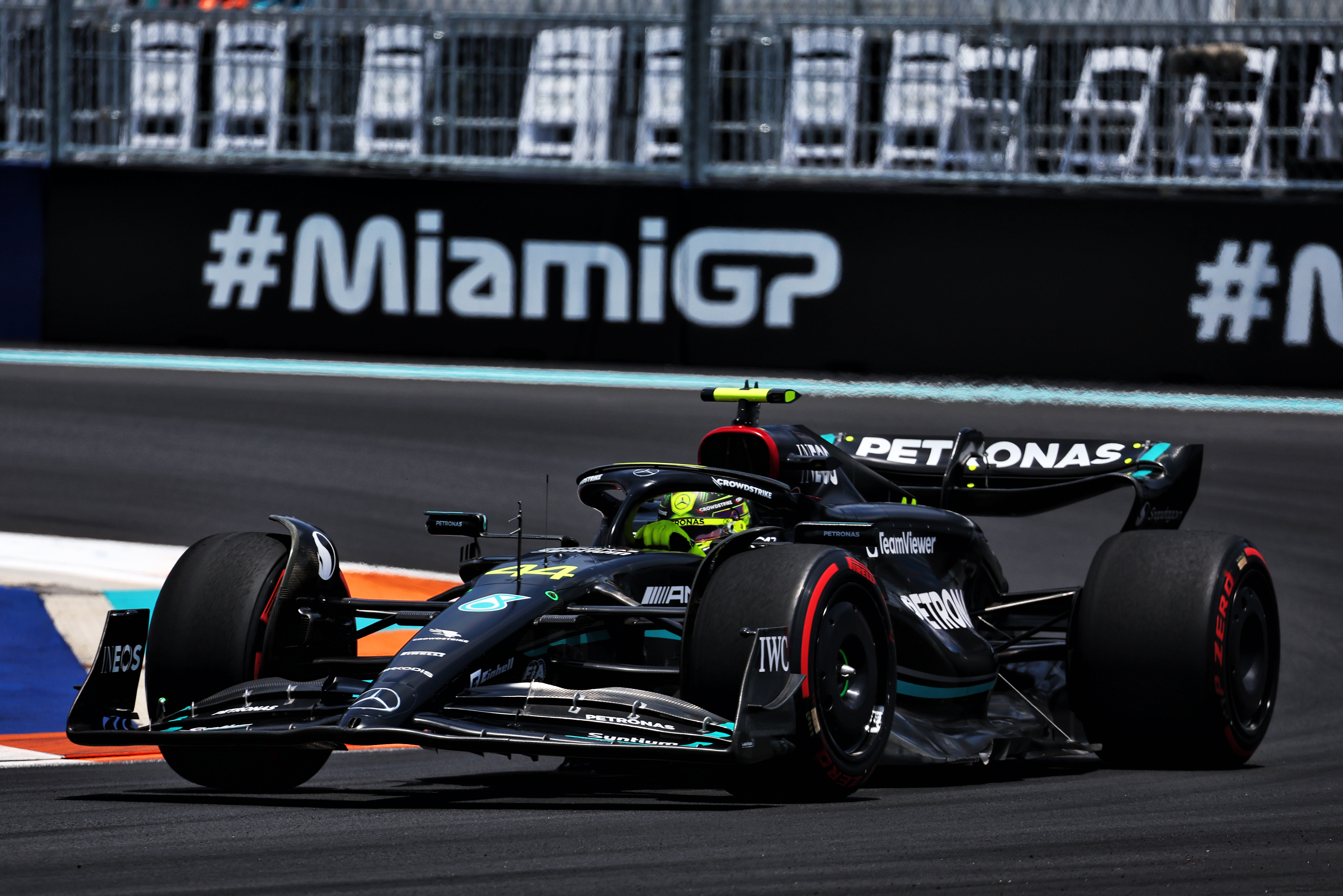 Toto says: "The car should be moving forward immediately. We know what we'll deliver in terms of aerodynamic performance and hopefully also better behaviour of the car."
"Immediately" is a big word, it takes time to optimise the car after introducing developments.
What Mercedes has shown both last season and this season is that the ability to simulate the performance of the base car and add to that any changes in the characteristics of the aerodynamic platform doesn't always relate to what happens at the track. So maximum track running at Imola will be critical.
Toto says: "I don't believe in miracles, but the stability of the car and the predictability for the drivers is just sub-par. If we can sort that out and help by a front suspension redesign then that's definitely a good avenue. This could unlock much more drivability and pace."
Anything that can be done to reduce the car's movement with longitudinal load changes will help the consistency of the underfloor and stabilise its centre of pressure shift.
Adding as much anti-dive as Red Bull has on the front suspension will change the characteristics of the car dramatically under braking. Red Bull also has a high percentage of anti-lift on its rear suspension. The two go hand in hand.
If the rear is still coming up under braking there will be more load transfer onto the front axle and Mercedes will be trying to support that with the anti-dive. It wouldn't surprise me if at Imola we see a Mercedes with smoke coming off the front tyres in the big braking areas.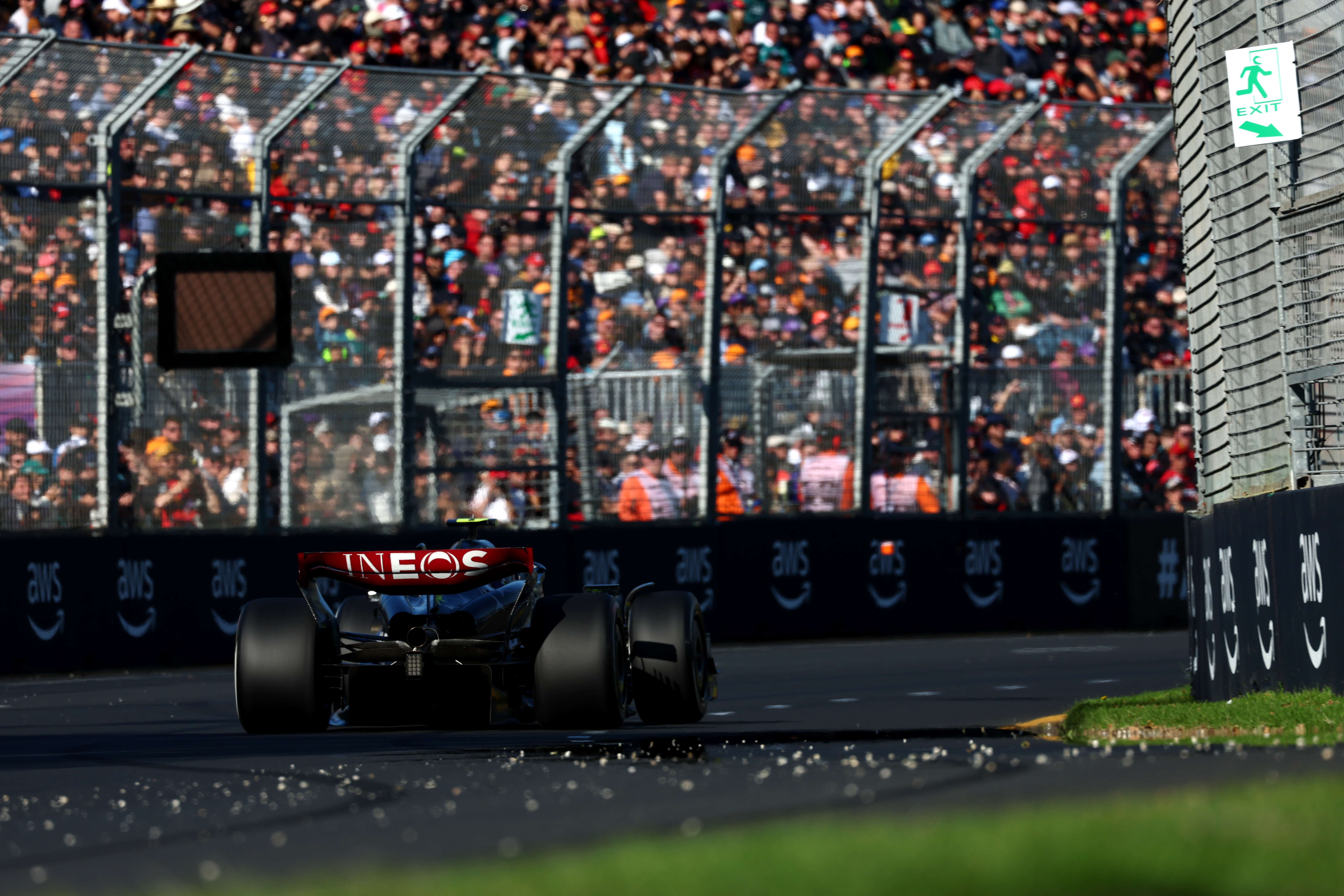 Toto says: "Melbourne is a very front-limited track. In Melbourne, on a good weekend with the current car, I would take no pleasure in a sixth place if the car is still bad. It has such a narrow operating window that when it's good, it can be on the podium, if it's bad you're P13 or P10 realistically in terms of pace."
The answer to some of the inconsistency is in what Toto says. Melbourne is a front-limited track and if the car has the characteristics I described above then it will perform better on front-limited tracks. It's when you need the rear stability on the corner entry that Mercedes runs into problems.
Toto says: "It's worse than I ever thought it would be because we have 12 months on since we were last in Miami. The car is just marginally better, maybe it's not bouncing on the straight but that's the only thing that's better than last year. The car is not fast enough and we haven't got any comprehension of why that is. Our car has been P1/P2 in one session then P6 and P13. Just not acceptable.
The writing has been on the wall since its first outing in 2022. Mercedes spent half a season in shock before realising that the sweet spot just wasn't there. After coming to terms with that, progress was made in the second half of the year, but some of that was probably down to technical directive 39, which was introduced for the Belgian Grand Prix at Spa.
Then came the winter. Mercedes didn't really make any progress, if anything the problems worsened. So again, the tools used to sign developments off are clearly simply not up to spec for these ground effect cars' ride-height characteristics.
It could easily say it was windtunnel correlation but because Aston Martin uses the same windtunnel and its correlation seems pretty good, it wouldn't be a valid excuse.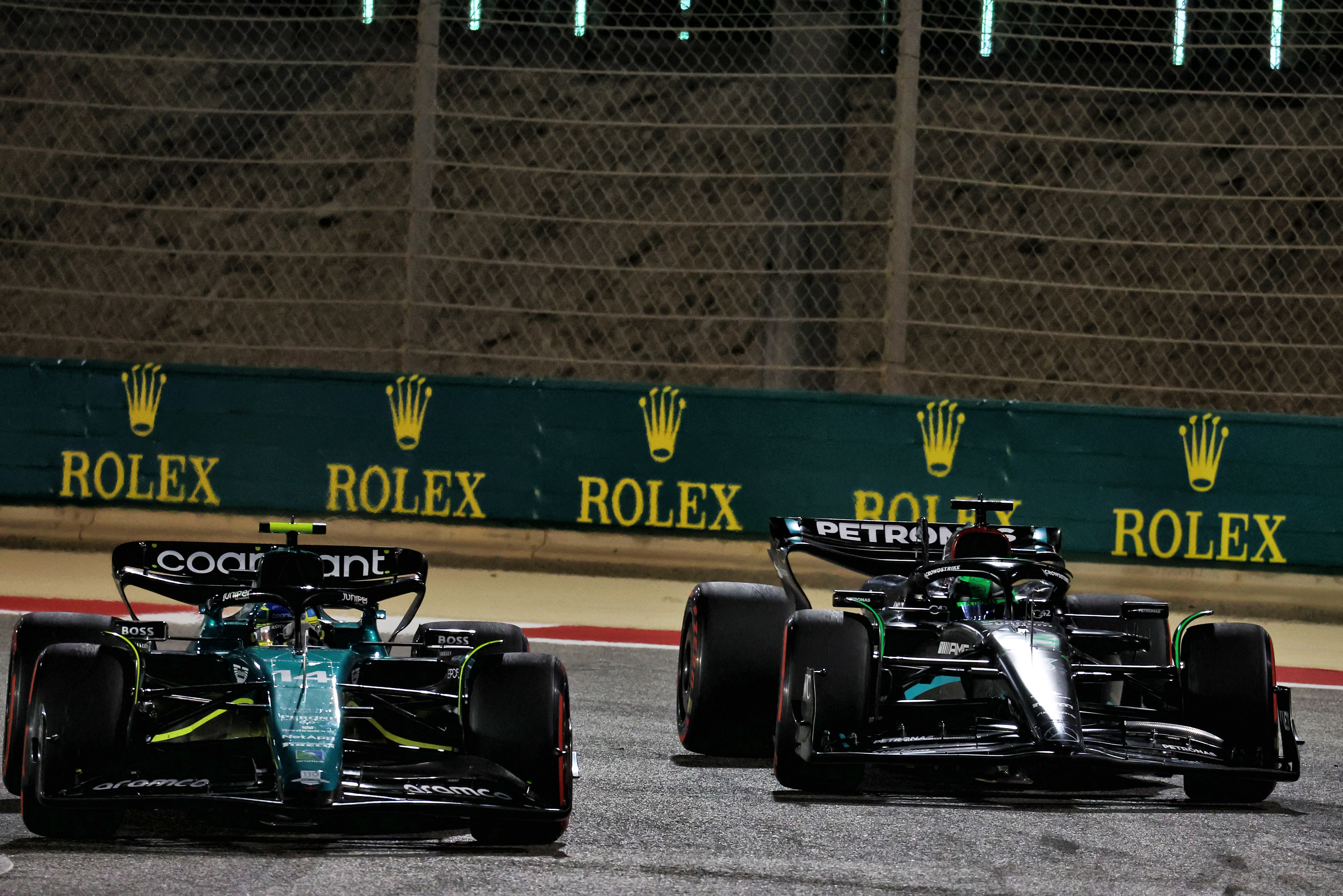 Toto says: "We're looking at it in a conservative way. We're not trying to find the magic bullet that will turn this around and we're all happy. It will provide challenges, there is performance available immediately but for me, the most important is that we're taking variables off the table."
'There is performance available immediately'. Where have I heard that before?
That needs to be proven over a few weekends at different tracks. Progress is not like a light switch, it's more of a dimmer switch that gets brighter every time you run the car.
Mercedes is clearly confident in this change of direction, but let's see what Imola, Monaco and Barcelona bring before we can draw any conclusions about the step that has been made.
After all, Mercedes has been confident before and caught out. Given the struggles of the past 15 months, the priority is to show that the tools being used to drive the development decision-making are now up to the task of getting the right direction for these ground effect cars.