Mercedes Formula 1 boss Toto Wolff has admitted Ferrari driver Charles Leclerc has to be on his team's "long-term" radar but is not of interest in the "short- and medium-term".
Leclerc's Ferrari contract expires at the end of 2024 and he has been linked with Mercedes for several months as a potential option for the team whenever seven-time world champion Lewis Hamilton retires.
Hamilton's Mercedes deal ends this season but he is expected to renew for what has been previously hinted would be another two-year commitment.
At the beginning of the Azerbaijan Grand Prix weekend, Leclerc fielded more questions about potential interest from Mercedes and while insisting there had been no contact he fuelled some intrigue by adding "not yet".
Asked in Azerbaijan by The Race about whether Leclerc needed to be monitored given his contractual status and if there had been any contact with him or his management, Wolff said: "I think nobody doubts Charles' ability. He is a good guy.
"The only time I talked with him was when we discussed where the gate is in Melbourne when we boarded the plane! No contact otherwise.
"I think he's 100%. committed and loyal to Ferrari. And it's his contract. And in the same way we are 100% committed to putting pen to paper with Lewis."
Pushed again on the specific element of whether Leclerc needed to be under consideration if he's available, Wolff said: "Charles is a super guy and for the long-term future, someone you need to always have on your radar. And that's clear.
"But not for the short- and the medium-term."
Speculation over Leclerc's future has intensified in the wake of Ferrari's disappointing start to the season, which follows the capitulation of his championship bid in the first half of 2022.
Ferrari had a change of team boss over the winter with long-time Leclerc supporter Fred Vasseur joining but that has been followed with more turnover, like the departure of head of vehicle concept David Sanchez and the news earlier this week that senior team figure Laurent Mekies will leave to join AlphaTauri.
This apparent instability at the top, coupled with Ferrari's enduring underachievement, raised questions over whether Leclerc can truly fight for a title with Ferrari in the future.
But Vasseur felt that Leclerc's comments on Thursday in Baku "confirmed he is committed to the project and he wants to be world champion with Ferrari".
And after scoring a surprising pole position in Baku on Friday, Leclerc pointed to the Ferrari badge on his race suit in celebration, then called the result a boost for Ferrari in the context of rumours about himself and the team.
"It's part of our job in teams in Formula 1 you need to deal with rumours and pressure," Leclerc said.
"But it's obviously sometimes a bit more difficult to perform under those circumstances and we did really well.
"So, I think it's good for the whole team."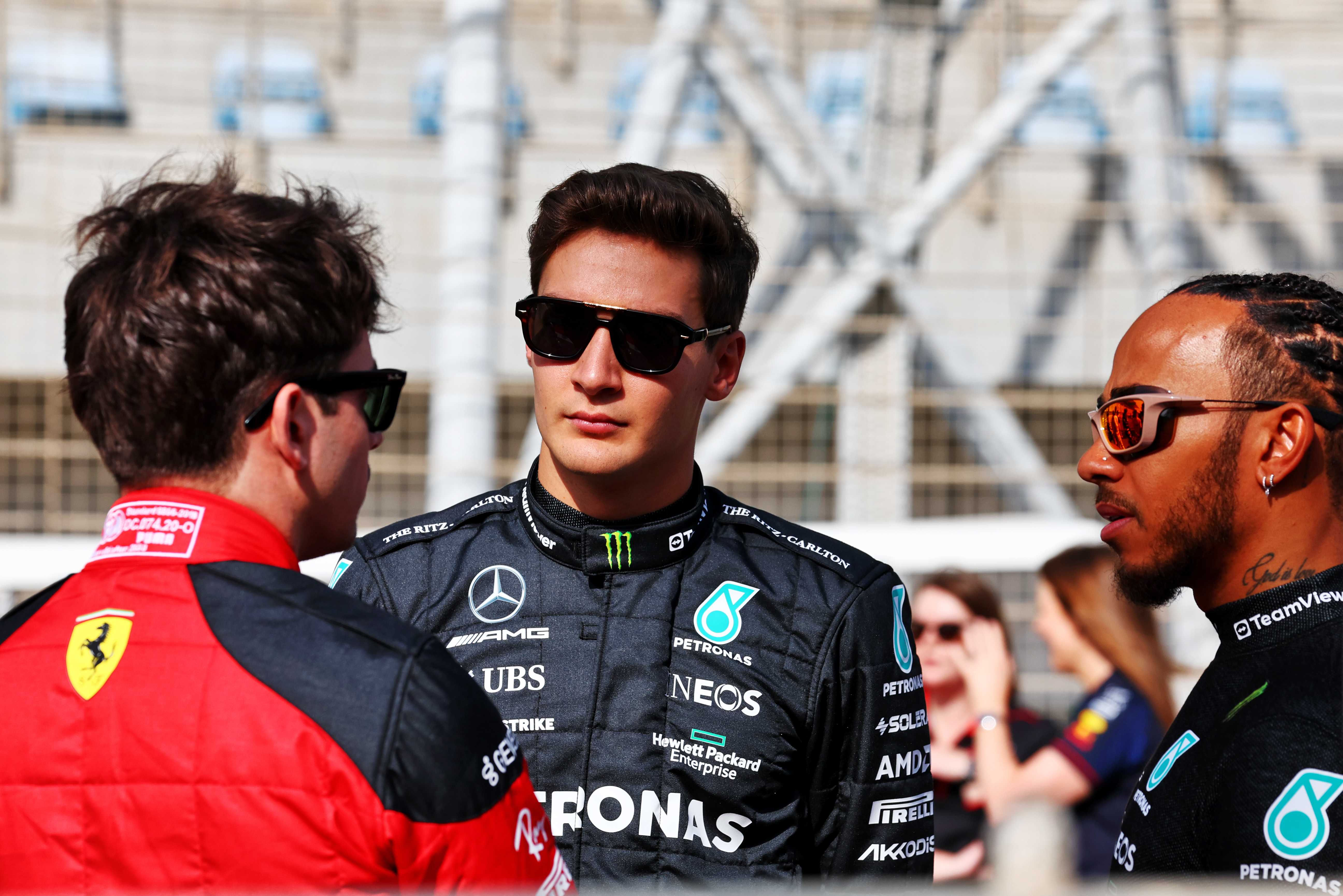 As for Mercedes, the priority is clearly to retain the Hamilton-George Russell line-up that it put together last year and looks like the most evenly matched pairing in F1.
Hamilton has not won a race since the 2021 season that ended in such controversy but he has been on the podium this year already despite Mercedes starting the season on the backfoot again.
Though Hamilton has previously said he does not expect to race until he is 40, a new Mercedes deal is almost certainly going to take him to that milestone.
Regardless of the duration, though, a new contract continues to be treated as a formality.
"He feels very much that he's strong, and we feel the same," said Wolff.
"We are not going to race for a driver's championship this year. That is what it looks like at the moment. And we just need to give him a car that can do that.
"And hopefully we can get our package to a winning package this season and then have something that can bring him his eighth title and I've no doubt that he's motivated to achieve that.
"That's what he loves to do. That is his ability. We have a great relationship, personally myself with him and within the team. It's one of the strong pillars in the last 10 years.
"So, we're in a really good place."