The next grand prix at Imola is going to be a big event for Mercedes and Ferrari. Both will arrive with a raft of developments, and given the pace of the Red Bull so far this season they certainly need something.
This season has been all about Red Bull being out front, with Aston Martin, Mercedes and Ferrari fighting it out behind. So with five weekends in the record books, it's the right time to evaluate their performance, and that of their drivers.
As far as speed is concerned, the Ferrari SF-23 is not too far away in qualifying trim, but it does look like a tricky car to drive. That means when you are on the limit, it leads to mistakes. We see that with Charles Leclerc, who is always pushing, whereas Carlos Sainz seems to drive more within the car. This doesn't mean he is slow, he is just running more at the car's natural pace than Leclerc.
Mercedes is a different kettle of fish. Sometimes, the Mercedes W14 is fast and the team doesn't really know why, while most of the time it is slower than expected and there's still no explanation. What everyone at Mercedes needs to realise is that F1 is very competitive and if you don't get more of the car right than the others then it can be hard work. You need to dig deep, identify the causes of your problems and when, and only when, you have done that, put measures in place to rectify them.
Although we are not that far into the season, five races gives us enough data to see the general trend. And, to be honest, other than for Aston Martin, which substantially revised its car concept during last season by way of a fresh start, you could say we are 27 races into the cycle for these designs.
Red Bull has the speed and with that speed the winning strategy is easier to come up with, which is proved by four one-two finishes. Aston Martin has a decent car and the consistency to deliver regular results, but effectively benefits from Mercedes and Ferrari lacking ultimate performance. On a given weekend, Mercedes and Ferrari can get a good result, but race day is usually about either recovery after a bad qualifying or hanging on to a strong position from Saturday.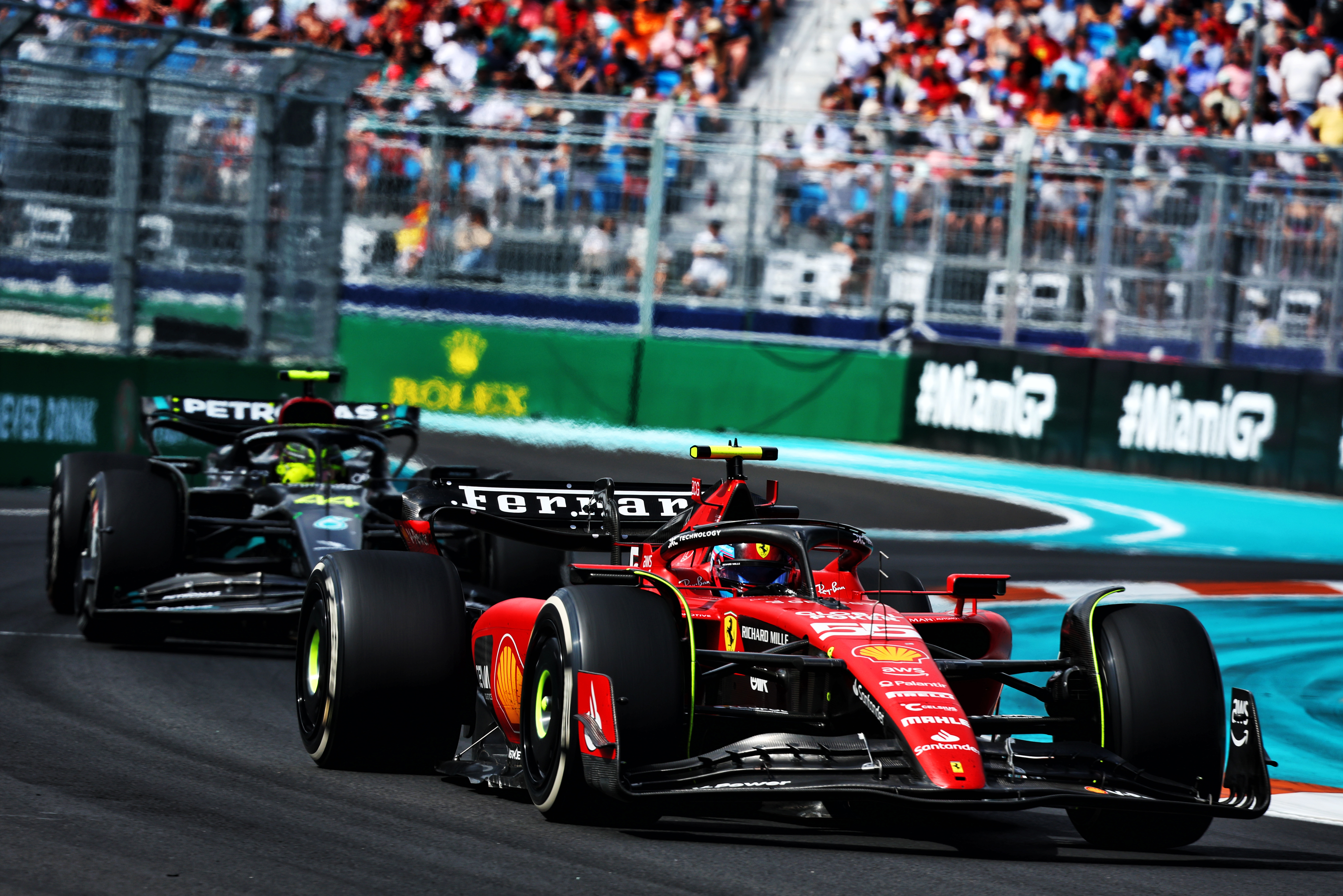 Using our supertimes methodology, we can take a closer look at the performance trend. Firstly, here's what we see when comparing the drivers in the top four teams.
The percentage column is the average performance from the fastest lap by each driver turned into a percentage of the fastest lap, meaning 100% would equal fastest at all five events. The closer to that you are the nearer to perfection you are. The other column is each driver's difference compared to their team-mate.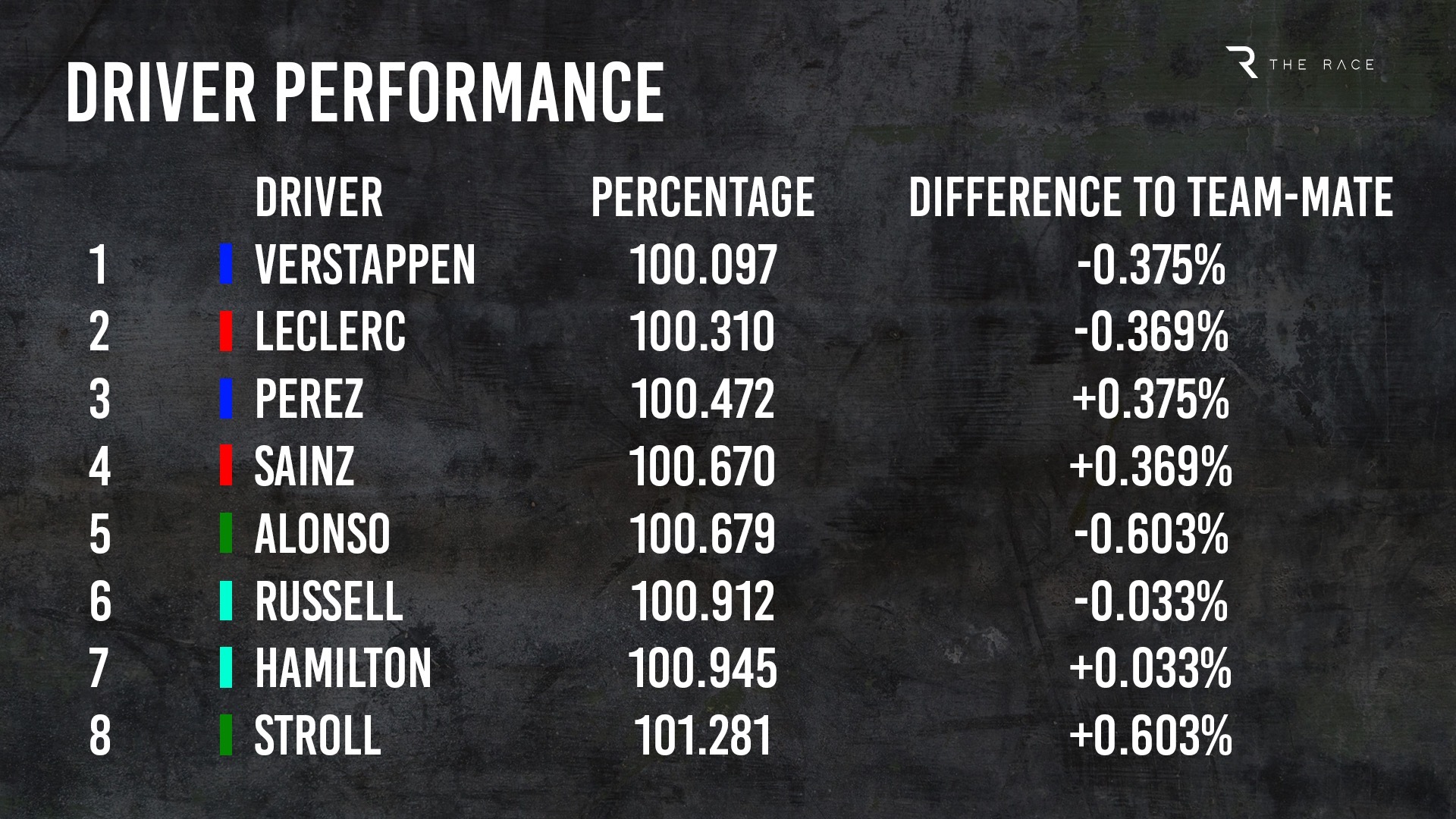 As we can see from this table, the Mercedes drivers are clearly the most closely matched. That can be great when you have a quick car, as both drivers will bag big points for the constructors' championship, but it can also be difficult when it comes to who gets priority for the drivers' championship.
There are always a lot of comments on whether single-lap performance is deceptive and whether car 'x' looks after its tyres better on race day. To try to see through the fog as far as that is concerned, this is the points position post-race five (Miami), not counting any sprint race points or fastest lap points.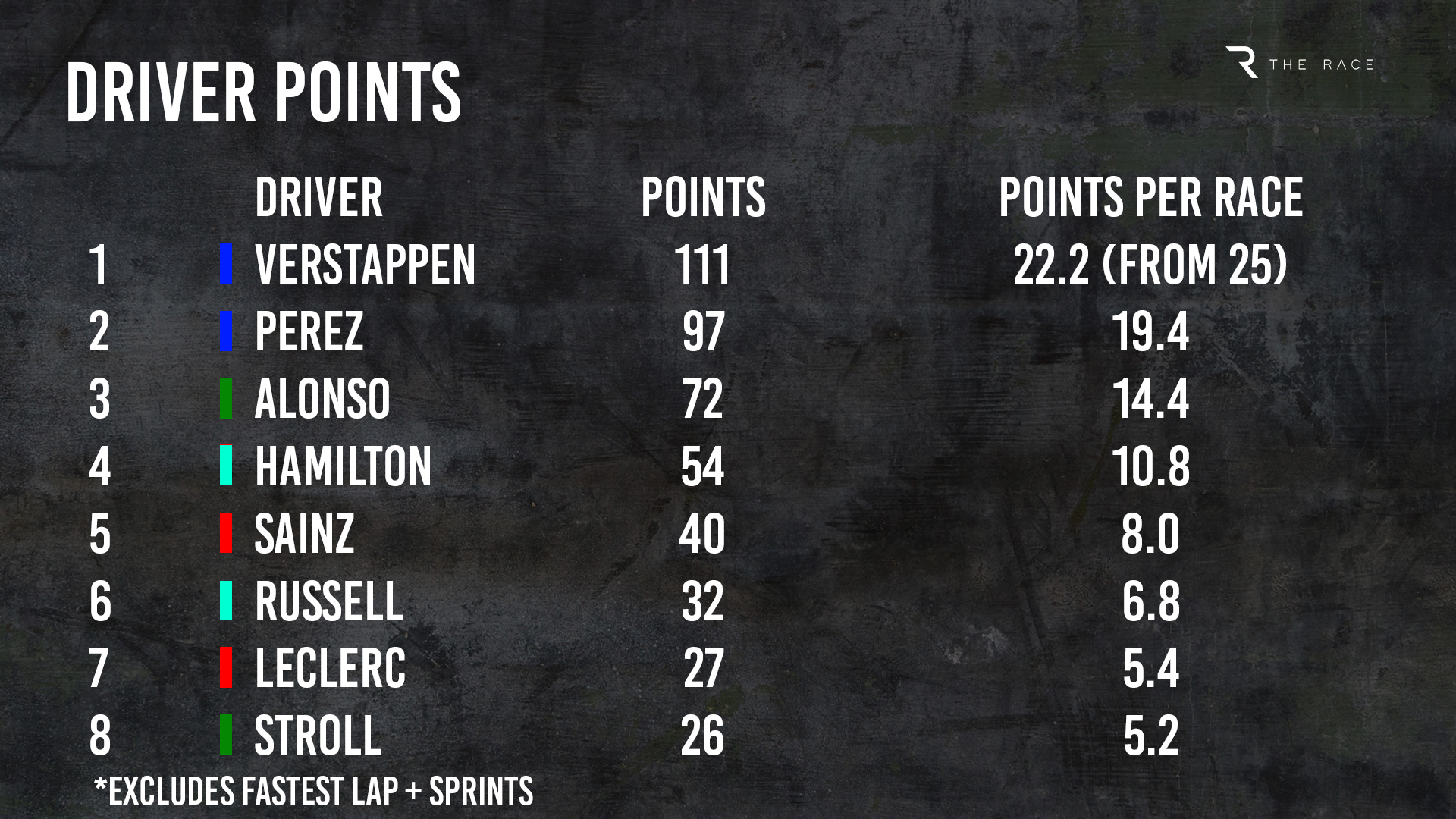 We can also look at the constructors' championship performance, again not counting the sprint or fastest lap points.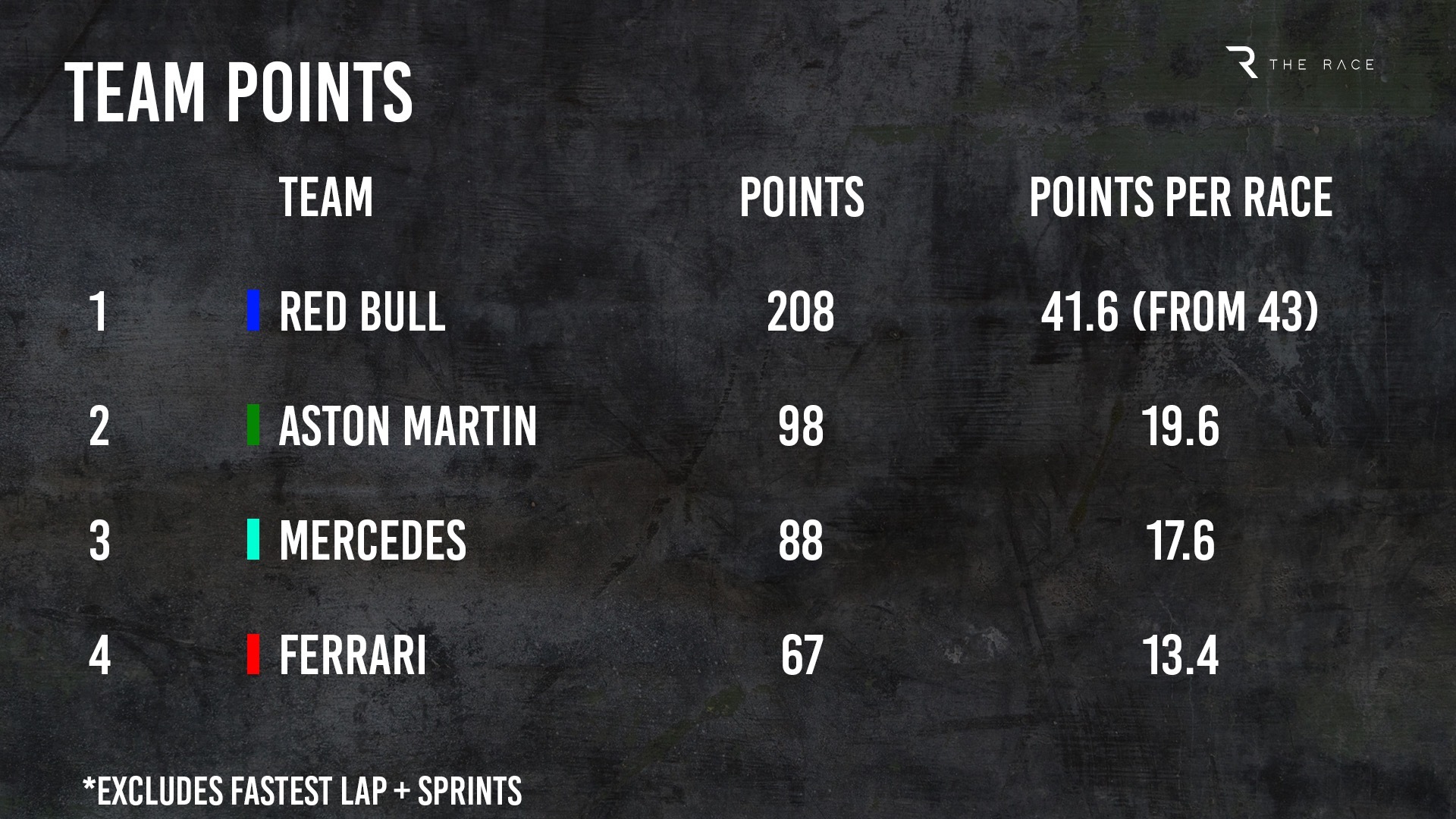 Taking the average qualifying position, grid position and race finish gives us another set of data. This is listed in qualifying order, as that's what forms the starting point for races.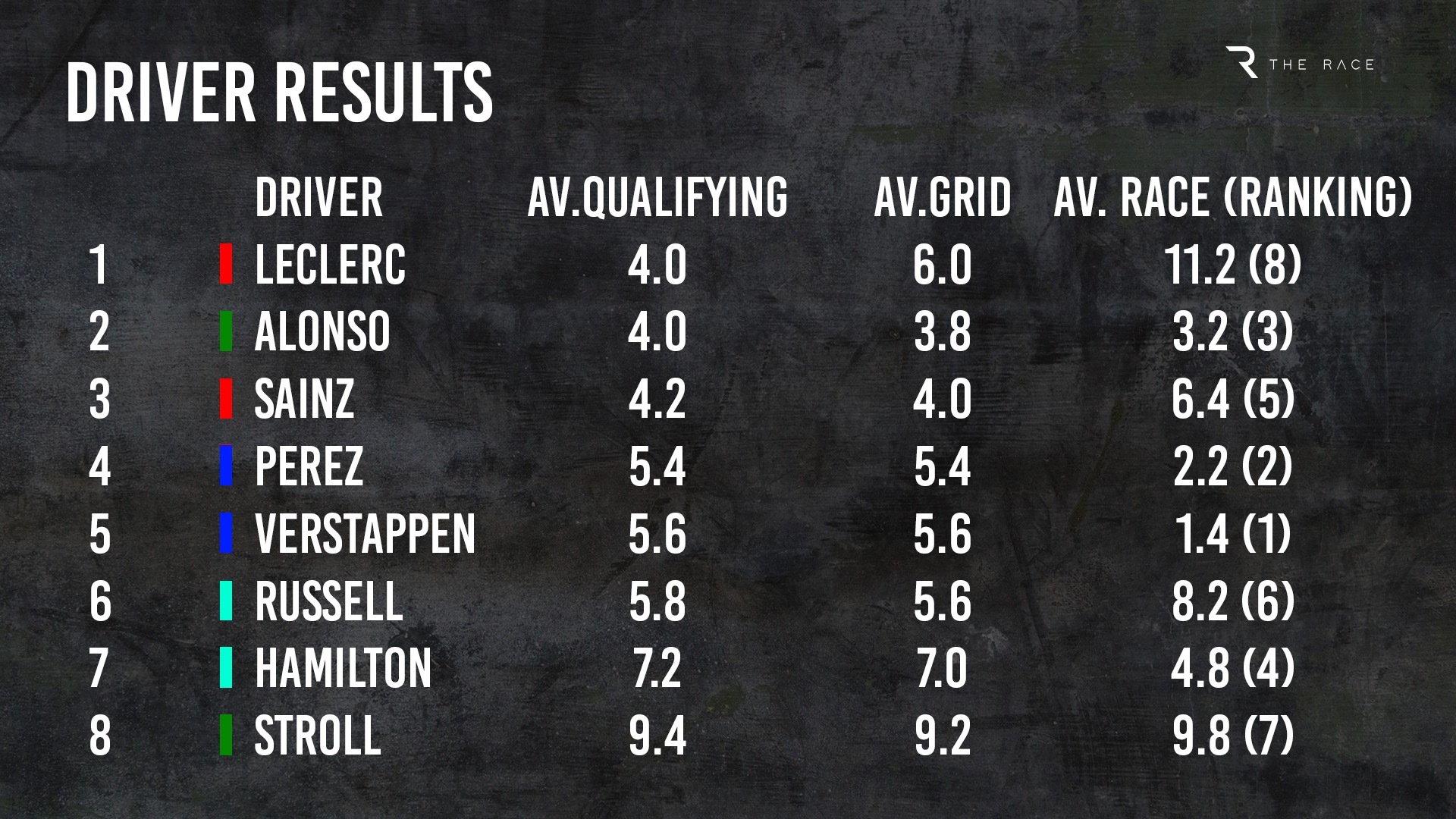 We can also look at the same thing for the teams.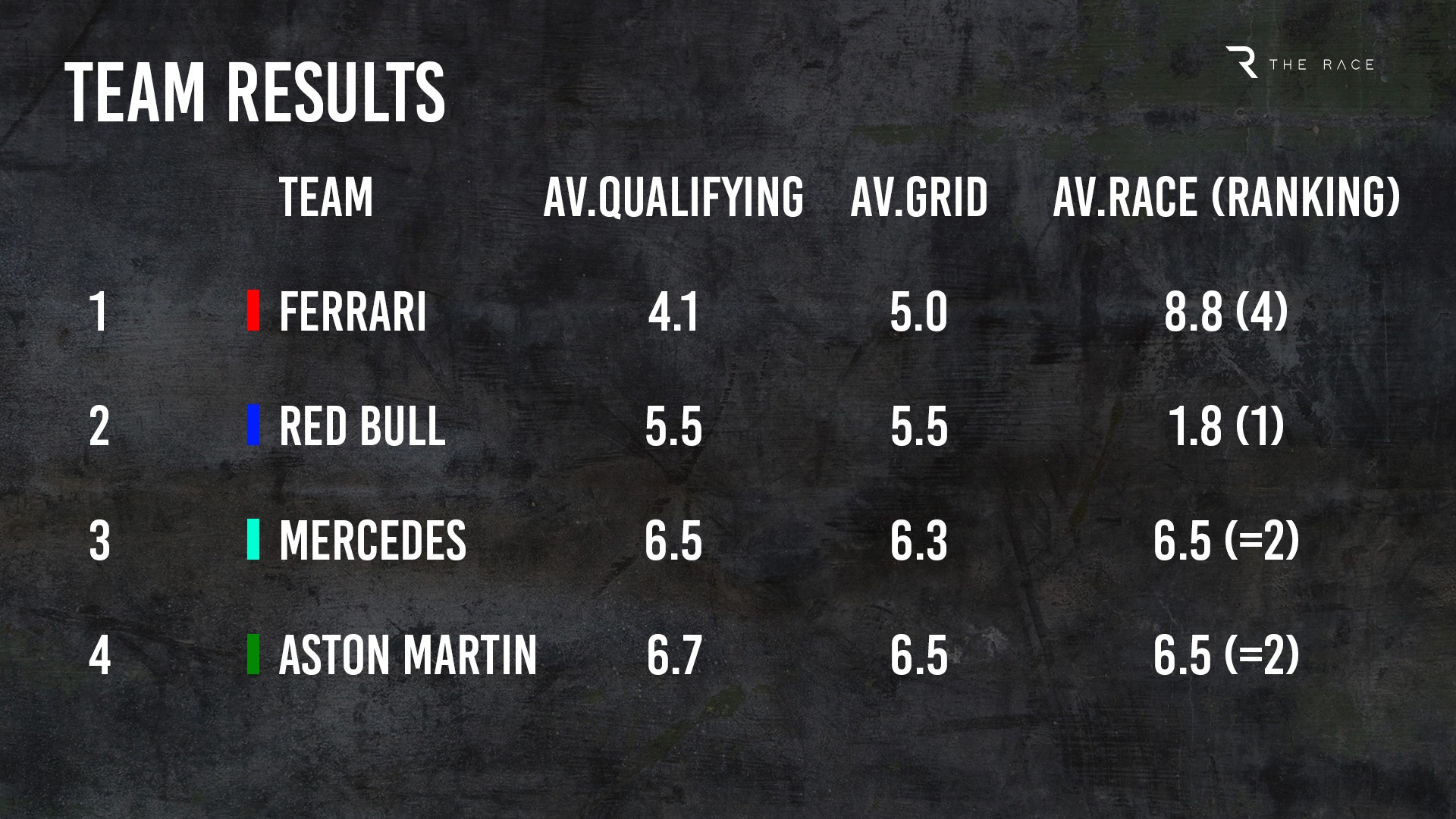 Again, we can see Red Bull is miles ahead when it comes to the average race finish. Although Max Verstappen has had three pole positions so far this year, his 15th in Saudi Arabia and ninth in Miami has a big effect on his average. But come race day, and mainly because Red Bull has the fastest car overall (including that very powerful DRS), both he and Sergio Perez bring home the big points.
So what does this all mean? It shows you need a car for all occasions in terms of outright performance and race performance, which go hand in hand.
It also underlines the importance of having drivers who take the best from what they have got. Lewis Hamilton and George Russell are the most effective in those terms and it shows that if Mercedes can give them the tools to do the job, they could start to take big points away from the dominant Red Bull team very quickly.
The question is whether Mercedes really can do that given the troubles of the past 12 months.