Alfa Romeo started the 2023 Formula 1 season as it ended F1 2022: doing everything in its power to ensure a key rival didn't score all the points it could – even if it meant being a little unconventional and perhaps a touch sneaky.
Its Bahrain Grand Prix strategy wasn't just spoiler tactics, though. This time it was also impressively quick and scored four points on merit too.
Despite going from a great start last year to a dearth of late-season points due to reliability problems and a pace slump, Alfa Romeo still held off Aston Martin for sixth in the constructors' championship on countback.
And it made very sure of that in the Abu Dhabi finale with a strategy of maximum "interaction" with the Aston Martins.
"It was not so much about performing to achieve the points," said head of track engineering Xevi Pujolar Alfa Romeo's gameplan at Yas Marina last year.
"Our target was 'OK, if points are possible, yes', but priority number one was to make sure that they lose time behind us."
That meant Valtteri Bottas and Zhou Guanyu's stint lengths and strategies that day were all done with the aim of parking them ahead of Sebastian Vettel and Lance Stroll whenever possible, regardless of where the Alfa Romeos ended up at the end of the race as a consequence. Stroll still got eighth, but Vettel ran out of time to try to pass Daniel Ricciardo for ninth thanks to earlier Alfa Romeo roadblocks. Job done.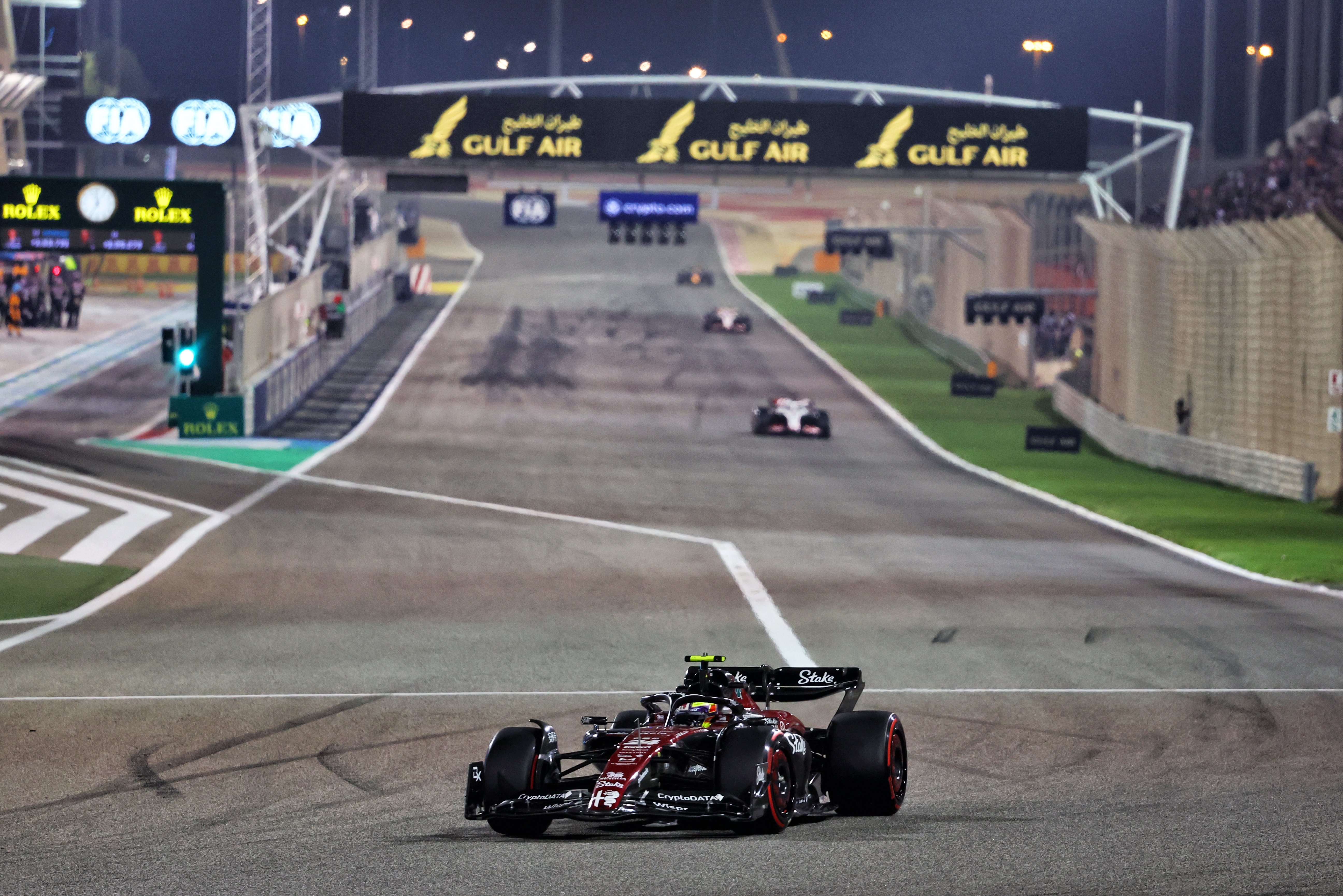 In Bahrain last weekend there was no need for Alfa Romeo to cause any traffic jams. This time it achieved its aim by deploying its pace at the right moment.
It identified McLaren and Alpine as its 2023 opposition. McLaren took care of itself with its reliability problems. Esteban Ocon took care of one Alpine with a near-comedic sequence of penalties.
But Pierre Gasly's Alpine flew through the order from last on the grid to ninth. Bottas was able to hold him off for eighth, but Gasly's pace on fresh softs after a late final pitstop during the virtual safety car for Charles Leclerc's retirement meant he grabbed what was then the fastest race lap – his 1m35.068s a second clear of what anyone else had done all race.
Alfa Romeo decided it couldn't afford to let him keep it. So Zhou, who was running a distant 13th after a poor start and being wrong-footed by others pitting under the VSC, was brought in with three laps left.
If you're going to take fastest lap, you might as well do it in style. #BahrainGP | #F1 pic.twitter.com/pxS4E0JXzi

— The Race (@wearetherace) March 7, 2023
Though Alfa only had used softs to give him, the very rubbered-in track plus very light fuel load by then meant he was able to scorch round in 1m33.996s and smash Gasly's mark.
It meant he only finished 16th and, being outside the top 10, didn't get the fastest lap bonus point for himself. But it prevented Gasly and Alpine from taking it.
"He did a great job to achieve the fastest lap, and then we removed that point from Alpine, who are at the moment our competitors," said Pujolar.
It's not quite nefarious dark arts territory, and really it's something any team in the pitlane would probably do. But Alfa Romeo's openness about it – and how effective it's been at doing this sort of thing lately – stands out. It's not pretty. But it's quite admirable. And necessary in a midfield this tight.
Alfa Romeo's four points for Bottas's eighth means it left Sakhir fifth in the constructors' standings.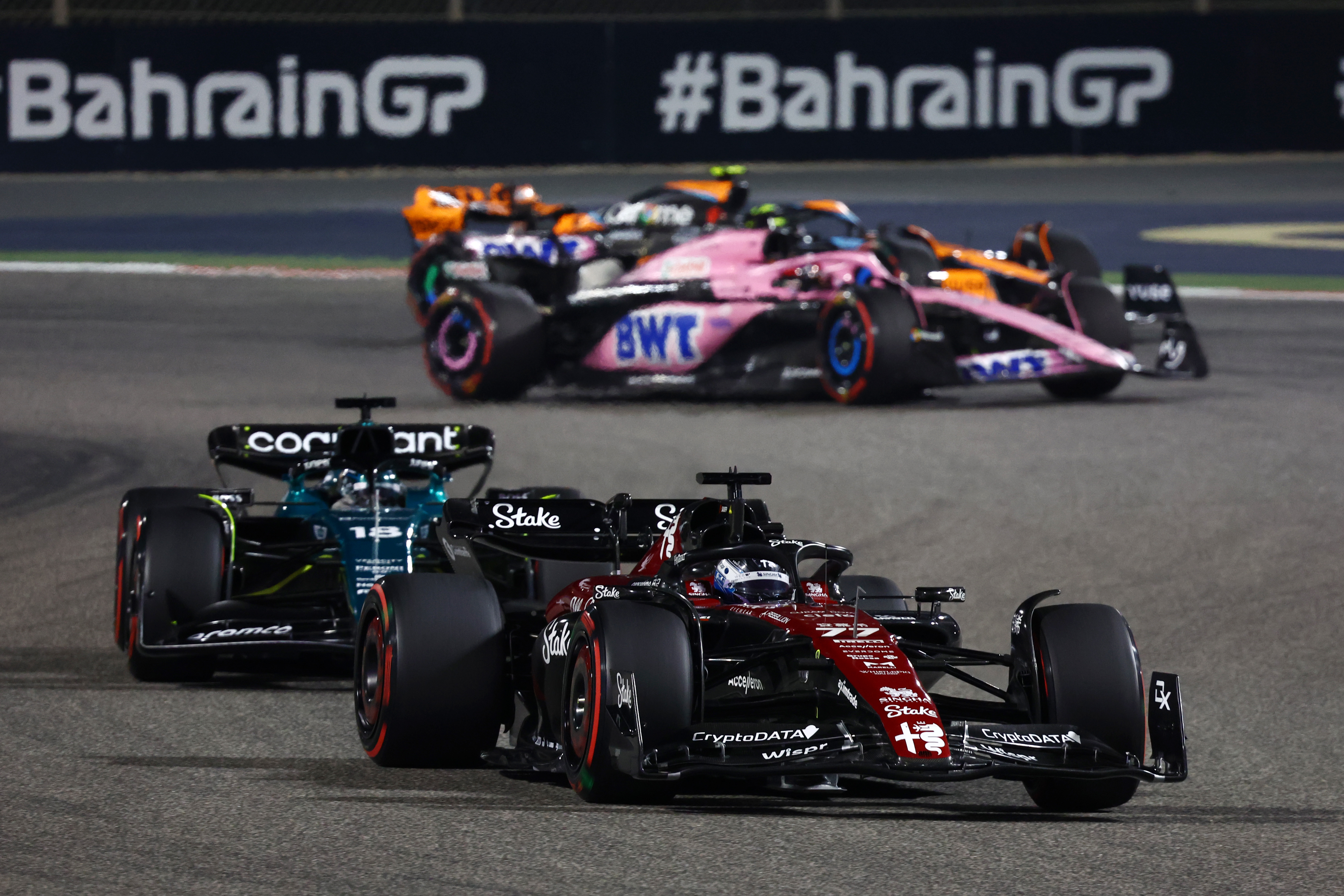 That was a hard-earned result, Bottas converting 12th on the grid via a punchy first lap (not always his strength) and early pitstops and resulting undercuts that got him among the Aston Martins and Mercedes, even leapfrogging eventual podium finisher Fernando Alonso during the first pit sequence.
Bottas didn't have the pace to stay there, and it feels like Alfa Romeo's old rival Aston Martin is going to be out of its league this year. But fifth-best behind the old big three and their new opponent would be an excellent season-long achievement for Alfa Romeo.
"I don't think there was much more to get today, all the cars that were ahead of us were clearly faster," said a pretty satisfied Bottas.
After last year, the question Alfa Romeo has to answer is whether it can move forward through a season rather than slipping backwards.
Pujolar's sure it can.
"Already the car from testing has been very good," he said.
"We've got a very good baseline and we've got some development in the pipeline at the factory.
"We want to keep up fighting with the top of the midfield, that's our target. We think we should be able to do that."
And we can be sure it won't let any chance to tilt that fight in its favour slip, either.