Declarations of a Formula 1 driver's career-best performance are usually hard to conclusively agree with. Zhou Guanyu was right to laud his Spanish Grand Prix drive as one of his better ones.
One of F1's less self-promoting drivers, even Zhou was comfortable talking up his feisty drive to ninth after a great opening lap and almost flawless race thereafter: "I think so," he said when asked by The Race if that was indeed his best drive in F1.
"I would say that's definitely one or two on the table."
Points have been at a premium for the Sauber-run Alfa Romeo team this year, which has been particularly unfortunate for Zhou as he looked to build on a trend of improvement through his rookie season.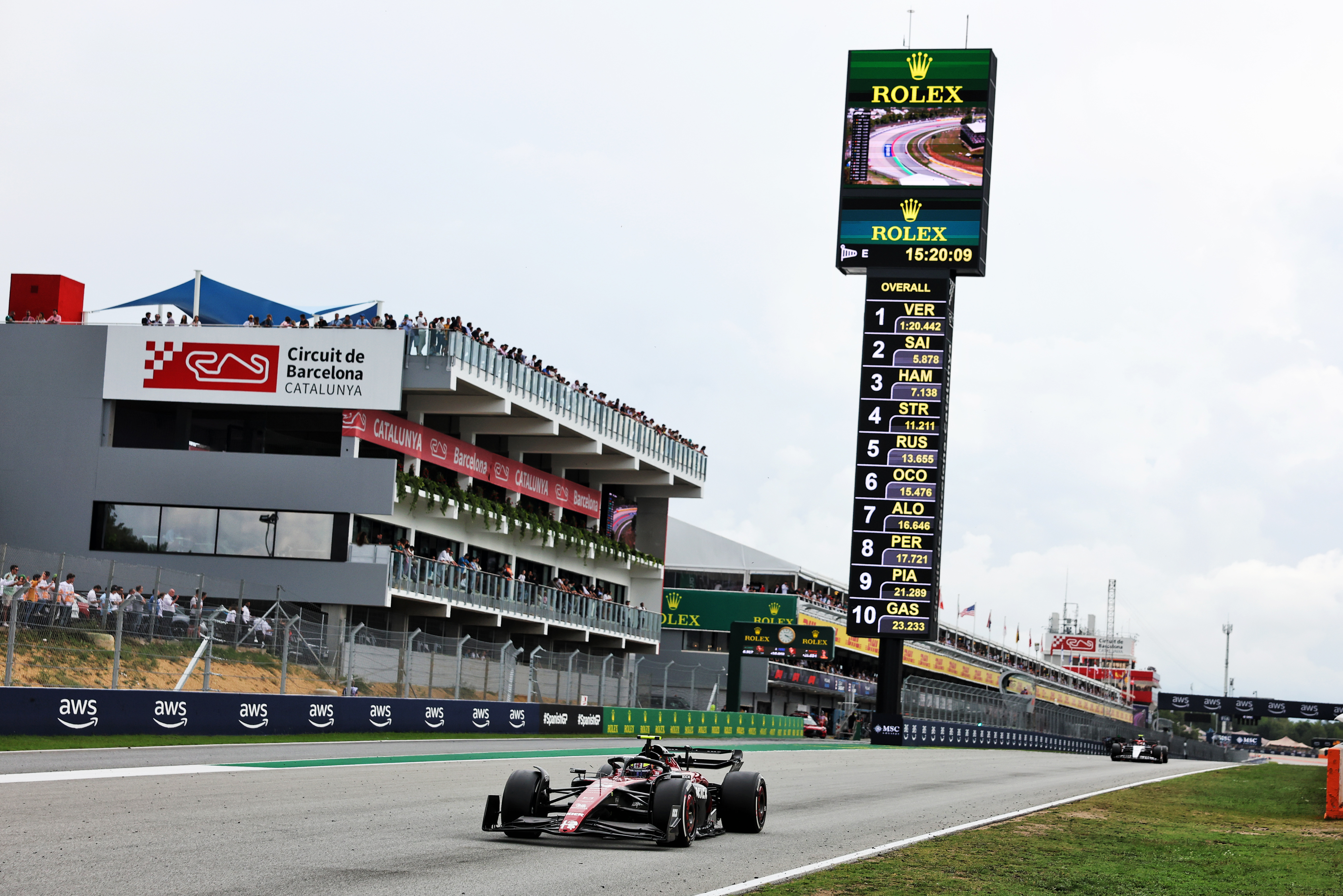 Zhou has compared very well to Valtteri Bottas, an established benchmark and one of F1's best qualifiers, with a notable step in his one-lap pace versus last season, but this car has allowed for little more than the occasional qualifying highlight and a slightly fortunate points finish in Australia.
There was a clear uptick in performance in Spain, though. A major update package – including the engine cover and floor plus further aerodynamic revisions – was brought to the car in Monaco but Barcelona was the first chance to really evaluate it.
On this evidence, Zhou and Bottas have something much more competitive to play with. They were a top 10 threat throughout practice and it was Zhou who did the better job in qualifying with Bottas surprisingly out in Q1.
Zhou was disheartened to only qualify 13th and fail to make Q3, as he thought that was on the cards, but had to use an extra set of softs in Q1 because of a red flag so missed the benefit of the new tyre in Q2. "We're more happy than before, that's for sure," he said.
That pace hinted that a competitive Sunday was possible and Zhou set himself up for exactly that with a superb first lap. He gained four places (including passing Sergio Perez's Red Bull), and the only freebie he got was Lando Norris pitting after breaking his front wing.
Zhou looked very comfortable very early in that opening stint. He was immediately pressuring Nico Hulkenberg and the body language of the two cars could not have been more different. Zhou had bags of grip and the confidence to attack corners with wide or tight lines, knowing the front would bite and the rear would follow – "We're clearly quicker," he observed while following a Haas that was already moving around quite a lot.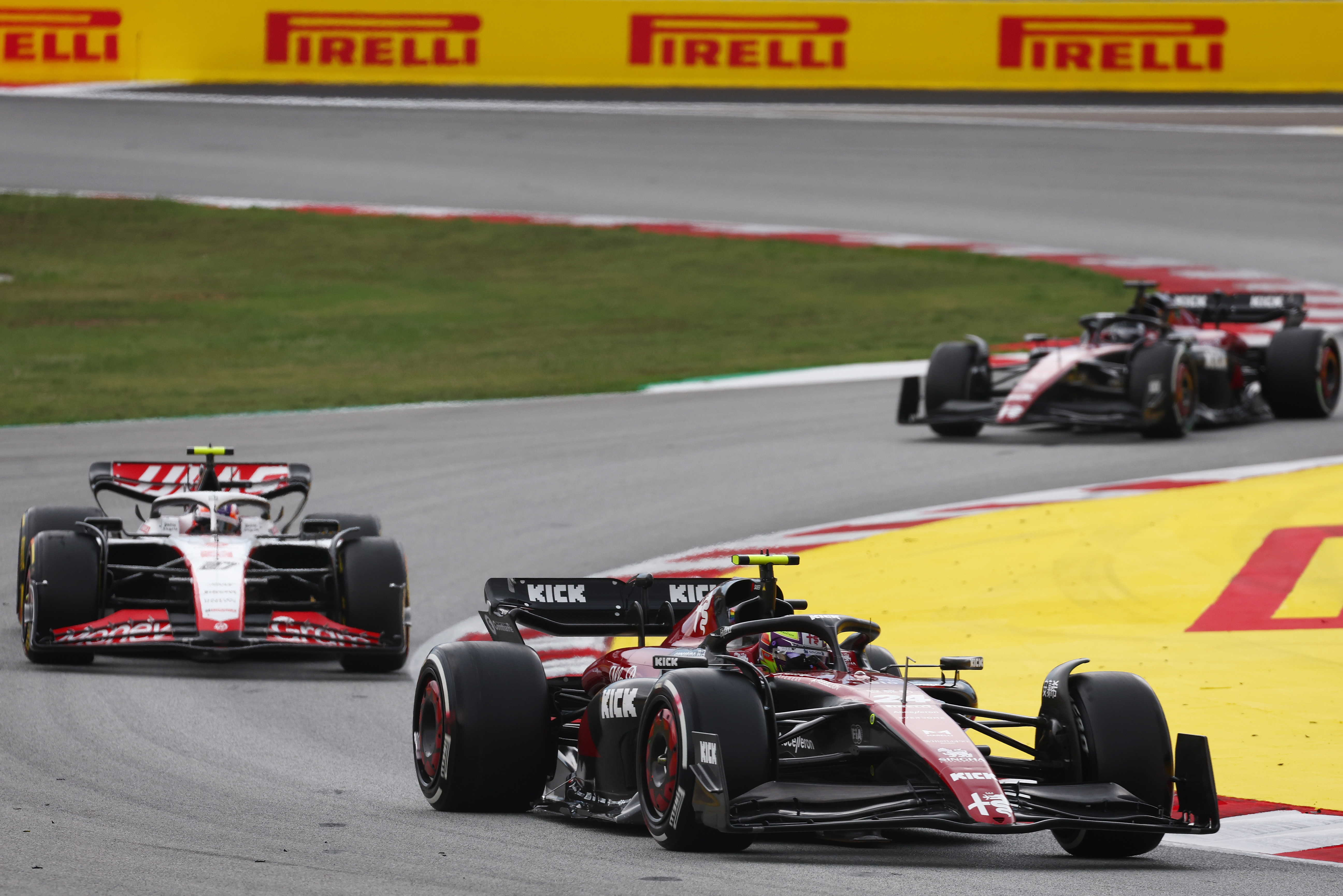 It took just four laps to clear Hulkenberg, drafting past on the start/finish straight to run eighth. Even more impressive is that Perez took a while to come back past – Zhou kept him at bay until lap nine then dived into the pits at the end of the lap.
That was a really early stop, to (unsuccessfully) cover Hulkenberg who pitted the lap before, and it was a little slow too. That could have seriously complicated Zhou's race as it gave him more work to do to manage his stint lengths and cost him track position.
The combination of the undercut plus taking medium tyres meant Hulkenberg was able to close in and attack, passing Zhou into Turn 1 as Zhou had to deal with that attack right as Yuki Tsunoda was exiting the pitlane in front of him. Tsunoda was then extremely quick and came past soon after his pitstop, again taking advantage of a little Zhou hesitancy, this time as Zhou tried to get back past Hulkenberg when Hulkenberg was baulked by an Alpine exiting the pits.
This tricky spell, which was largely down to awkward timing and positioning rather than any egregious lack of racecraft, meant Zhou went from finishing the first stint ninth to running a net 11th at the start of his second stint. To his credit, apart from a bit of frustration that he seemed to be lacking a bit of straightline speed, he didn't panic.
"It is about if you can survive with the tyre management," Zhou said.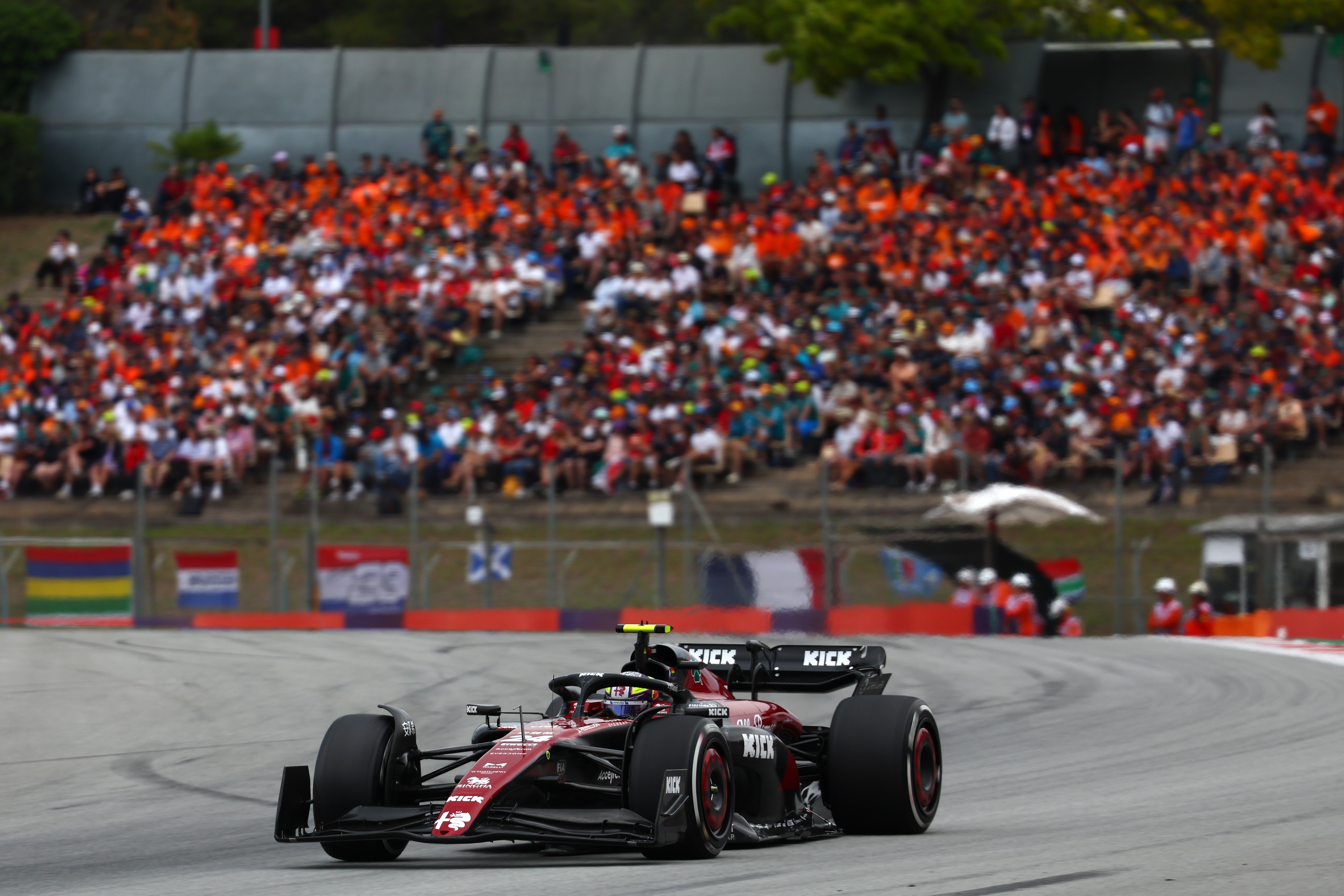 "When I had the hard tyre, Nico was on the medium tyres so he had so much more grip, so I was really struggling with that.
"It's all about being under control, which I was. Maybe I lost the position, but then the moment I saw they're struggling I took my chance to move forward.
"In general it was a well-executed one from my side, and also the team was telling me the right info at the right time. We were able just to pick off the Haas and then catch up with the AlphaTauri."
When Zhou had repassed Hulkenberg with a nice move into Turn 1 and got back into 10th, Tsunoda was only a couple of seconds ahead. He was encouraged to catch and pass him but the AlphaTauri was by far the faster car at this stage of the race and instead the gap grew to nearly eight seconds.
It was looking more and more like keeping 10th was Zhou's best prospect, especially with faster cars like Pierre Gasly's Alpine and Charles Leclerc's Ferrari still recovering behind.
But Zhou had another set of hard tyres to use for his third and final stint, and this one was a lot more competitive whereas Tsunoda had to nurse a set of mediums for more than 30 laps.
That allowed Zhou to end the race on the attack, rather than stressing about Gasly and Leclerc getting closer behind, and slash the gap to nothing. Though an attempted move on Tsunoda on the outside of Turn 1 failed – Zhou took to the escape road in avoidance – it did ultimately win him ninth place as Tsunoda was punished for forcing Zhou off the track.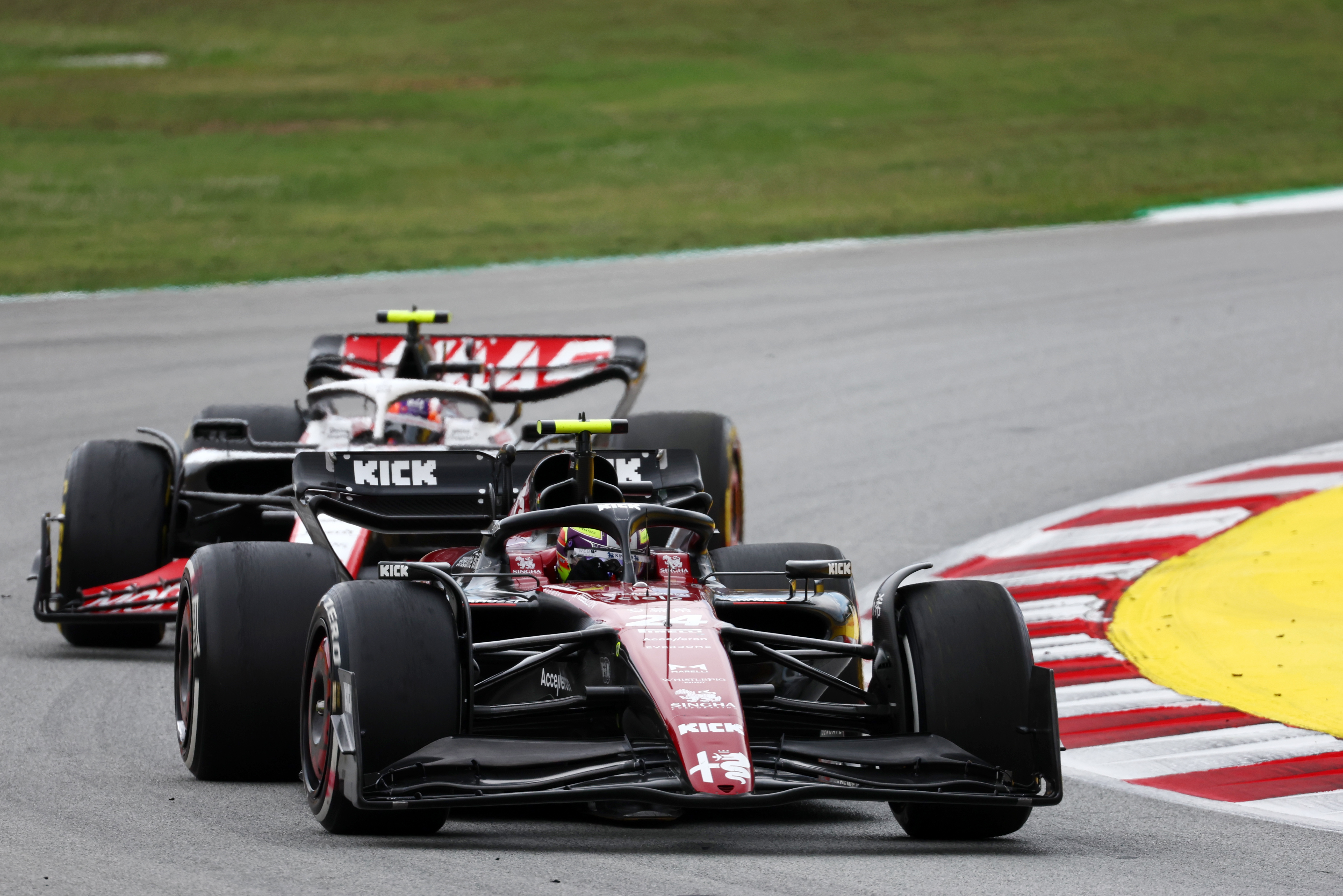 Harsh as the five-second penalty may have been on Tsunoda, the fact Zhou benefitted from it meant ninth place went to a worthy recipient.
Zhou has worked hard for very little this year and two points were a timely boost for him and his team. He looks more and more assured in F1 – Zhou's now level with Bottas on four points this season – and this performance was extremely composed and underpinned by good pace.
"It feels massive relief for us, for the team here and also back in Hinwil," Zhou said.
"It's been so tricky, the start of the season. We finally get some points we deserve.
"The car was mega. And I was feeling comfortable out there taking the right chance when I had opportunities.
"So yeah, it was a well-executed race."