Lewis Hamilton's victory in the Russian Grand Prix marks his 100th race win in Formula 1, making him the first driver in history to reach a centenary of triumphs.
Hamilton was a winner in his first F1 season in 2007 with McLaren and he's added at least one victory in every single one of his seasons since.
With plenty of contenders to choose from, our writers pick the most memorable Hamilton victories of his 281-race F1 career:
Canadian GP 2007 – You can't beat his first
Gary Anderson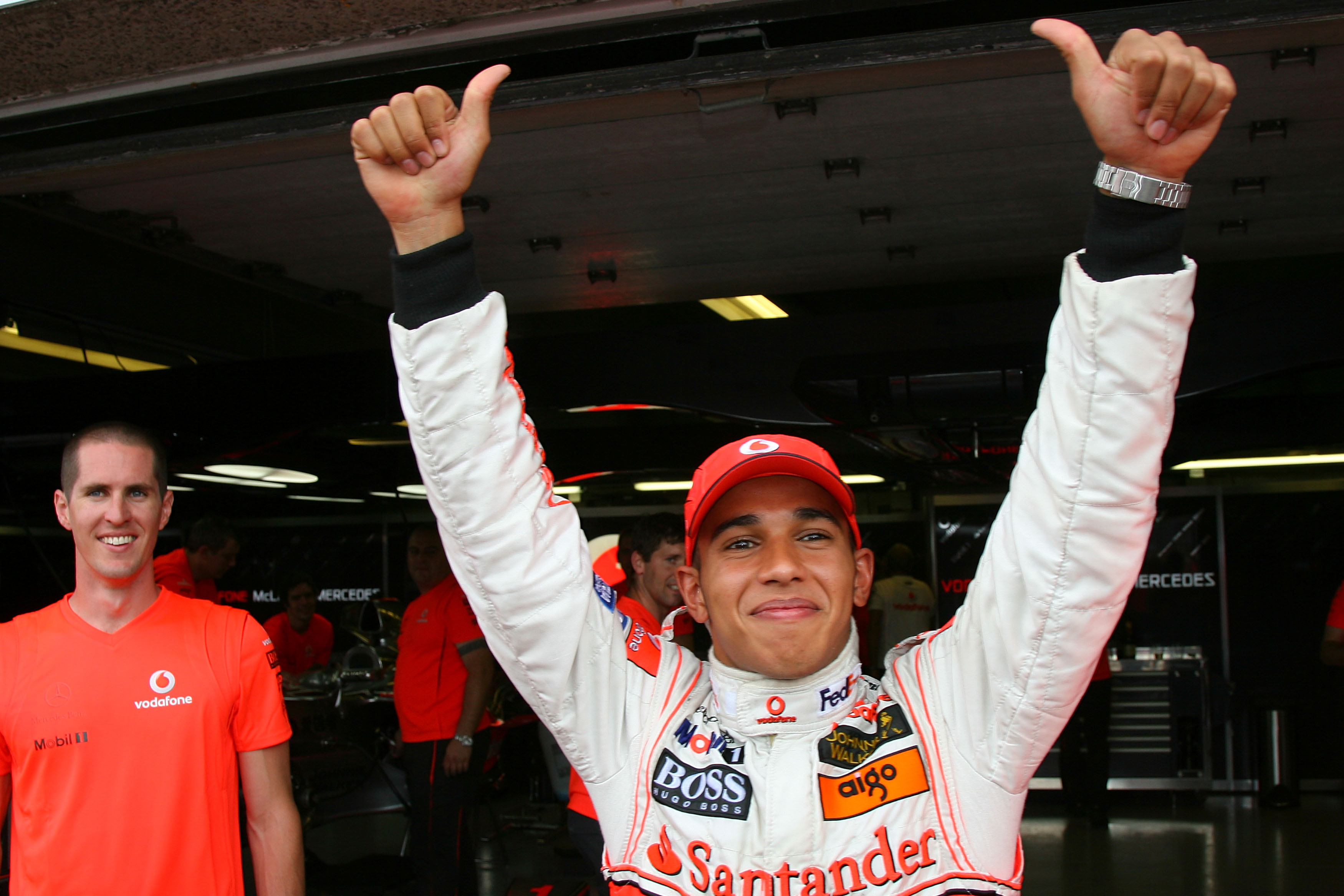 No matter how many wins you get, the most important and the sweetest has to be the first one. And although Hamilton won on only his sixth start in the 2007 Canadian Grand Prix, a day after taking his first pole position, it almost felt overdue given he had a third place and four seconds in his first five races in F1.
It was Hamilton's first outing in Montreal but it was well suited to his attacking style and he was great on the brakes, allowing him to take pole position ahead of McLaren team-mate Fernando Alonso by 0.456s.
Alonso was always the biggest threat and he did briefly get ahead around the outside into the first corner, only to run off the track and pick up a little damage while rejoining in third. From there, it was a straightforward drive to victory for Hamilton.
In reality, it's never easy when it's your first win but Hamilton didn't put a foot wrong to take the first of his 100 wins, showing that he was able to control a race from the front even as a young rookie. And it wasn't straightforward as there were two safety car periods, one for Robert Kubica's massive accident.
To back that up with a repeat performance, winning from pole position at Indianapolis a week later in a straight fight with Alonso, was just confirmation that Hamilton was at the start of something great.
Monaco GP 2008 – Overcomes a puncture to win
Mark Hughes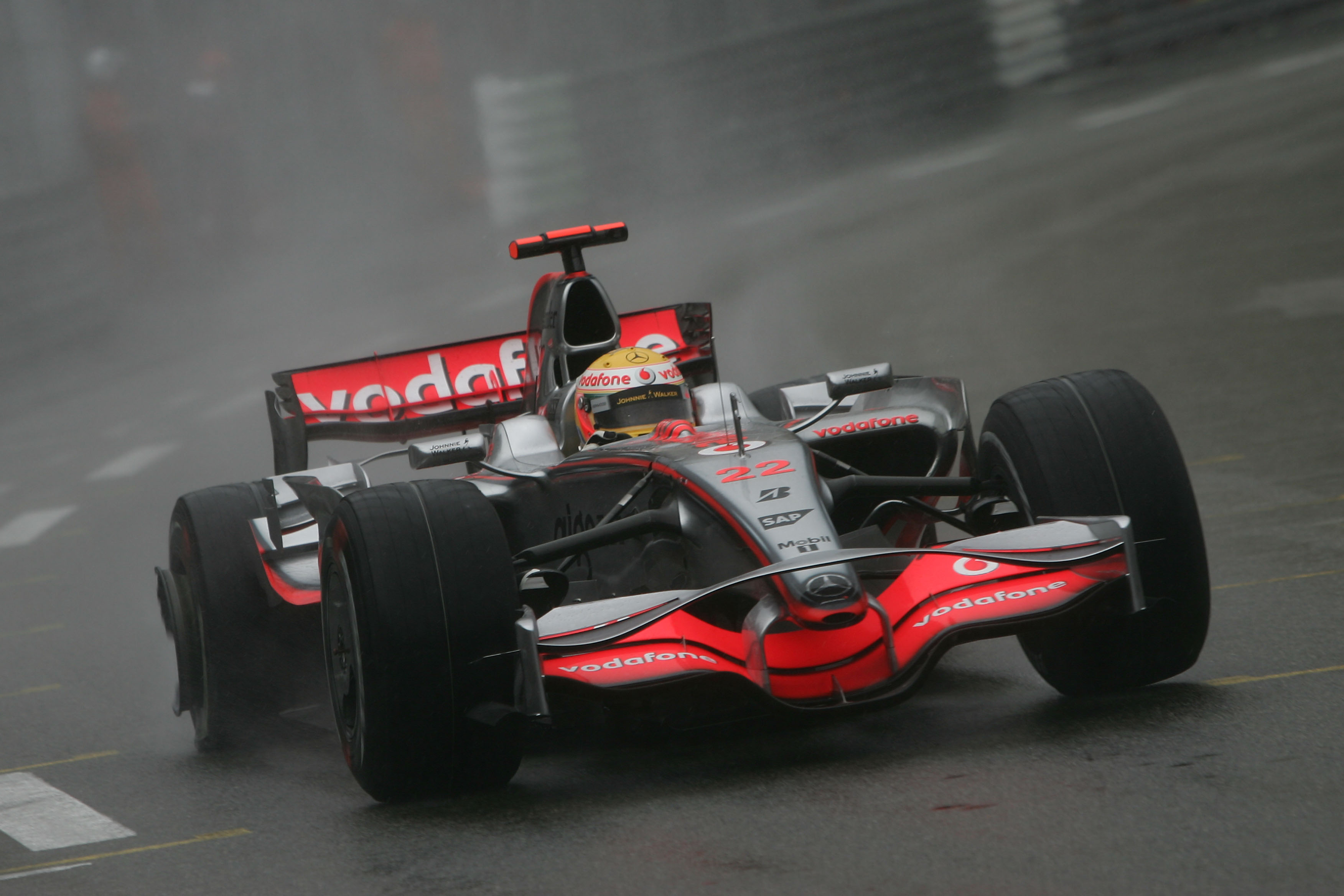 Monaco 2008 was memorable because it had all the drama and brilliance typical of Hamilton in that early stage of his career.
The race began wet and Hamilton was running an early second to Felipe Massa's Ferrari, but felt he could run faster. He was actually backing off to reduce the spray into his visor when he ran wide through Tabac and glanced the exit barrier with his right rear, puncturing the tyre (pictured above).
It looked like he'd just lost any chance of victory. He crawled back to the pits for new tyres and the team took the opportunity to fuel him long to the second stop and he rejoined fifth.
He climbed back up to third as Massa continued to lead, now from Kubica's BMW. A lock-up from Massa into Sainte Devote put Kubica into the lead, but the BMW was fuelled very light and would be forced to stop many laps earlier than Massa, who was able to jump past again.
Hamilton's enforced early stop and refuel gave him 21 laps longer than Massa on a drying track. His relentless pace during this phase of the race, combined with the strategic advantage he had inadvertently bought himself with the accident was enough to allow him to pit and still be leading when he exited. Hamilton could often rescue victory from the jaws of defeat, and this was perhaps the most memorable example.
British GP 2008 – A wet-weather masterclass
Edd Straw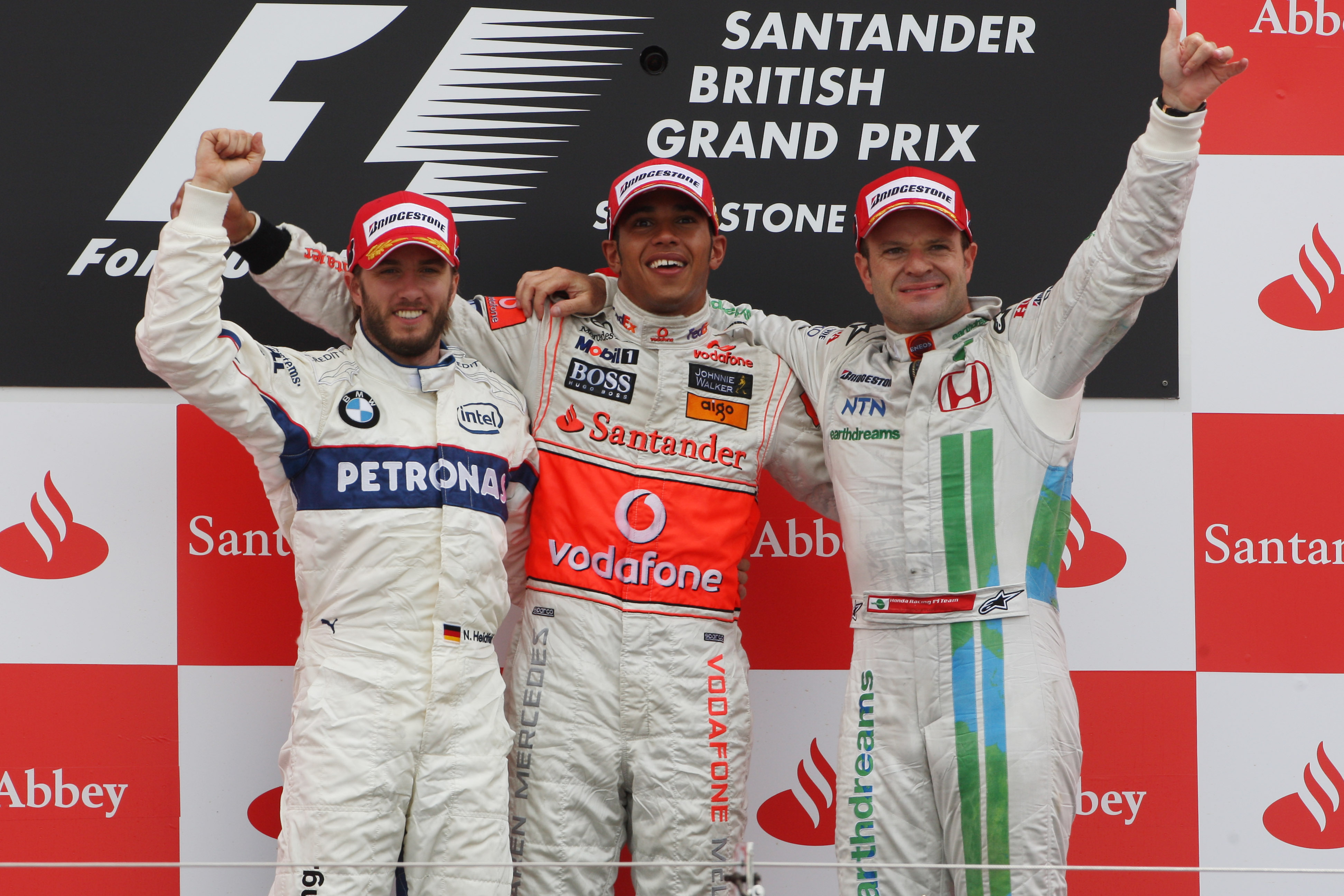 Lewis Hamilton's victory in the 2008 British Grand Prix stands out for his sheer, pulverising supremacy.
He started fourth, the result of a mistake that led to him taking a bit of the gravel in the dry qualifying session. But he cleared Ferrari's Kimi Raikkonen and Red Bull's Mark Webber before Copse corner and then attacked his McLaren-Mercedes team-mate Heikki Kovalainen but was forced to settle into second after a brush of wheels.
It didn't take him long to take the lead, with a tidy move at Stowe on lap five and he was never seen again, finishing a massive 68.557s clear of runner-up Nick Heidfeld.
On a day when many very accomplished drivers binned it, Hamilton was utterly dominant on his way to what still stands as the largest winning margin in an F1 race in the last quarter-of-a-century.
It was so memorable because it stands as one of the great wet-weather drives with Hamilton often seconds faster than his pursuers, and remains a strong candidate to be Hamilton's greatest win.
Hungarian GP 2013 – His first Mercedes win
Rob Hansford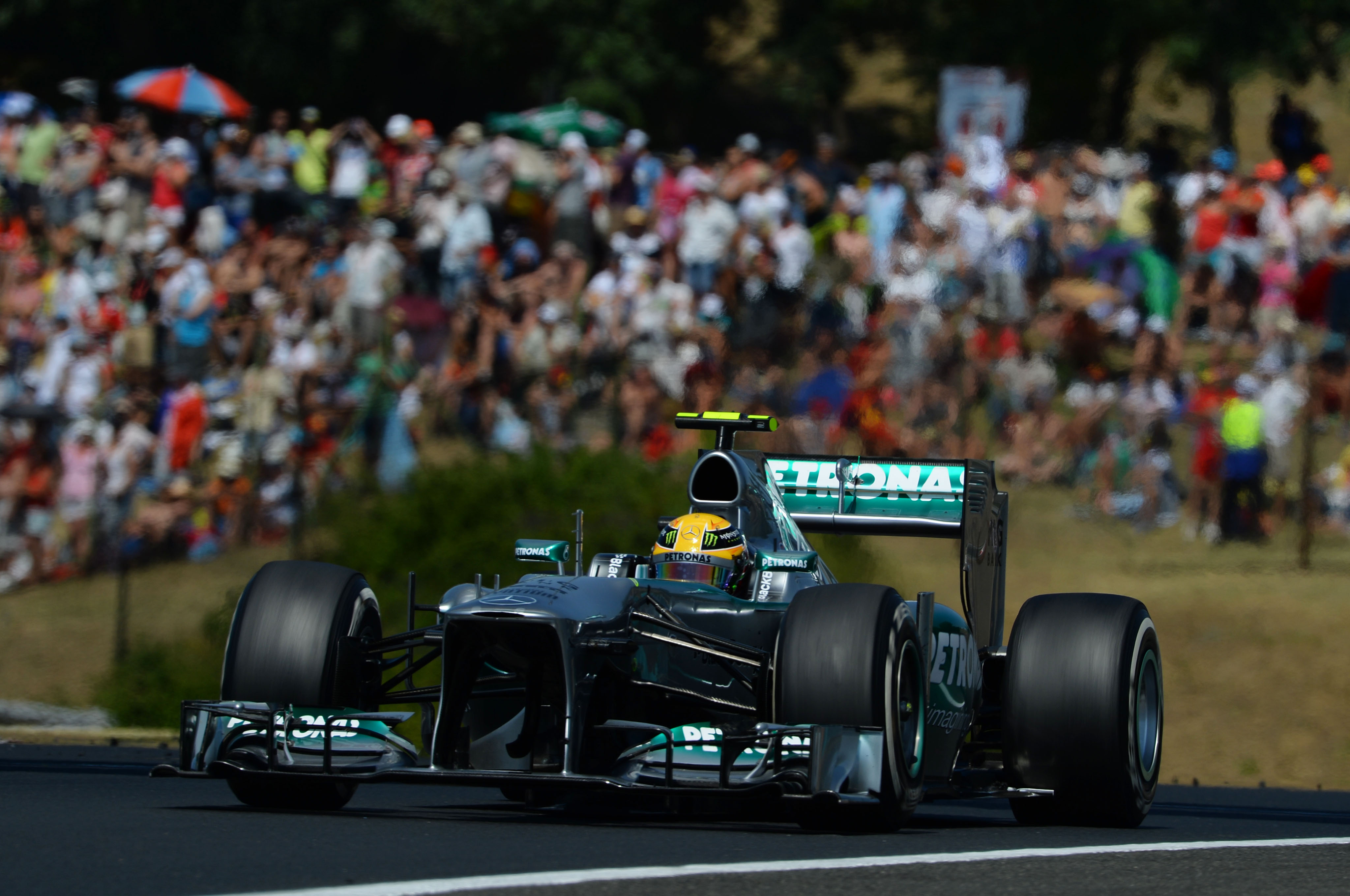 It may not necessarily be considered one of Hamilton's greatest victories, but winning the 2013 Hungarian GP, his first victory with Mercedes, was very much a sign for things to come.
Hamilton started the race from pole – the fourth time he had started from that grid position that season – but with the Mercedes struggling to keep tyre wear under control in hot temperatures, he fully expected to struggle with excessive degradation compared to his rivals during the race.
Fortunately for Hamilton, Mercedes managed to get on top of the degradation issues during the race, and Hamilton's quick deposition of his old McLaren team-mate Jenson Button during the pit window proved to be the move that secured the victory, with the fast-charging Sebastian Vettel failing to follow suit, spending a number of laps tucked up behind the McLaren's gearbox.
It meant Hamilton went on to comfortably win the race, securing not only the first of his 79 wins for Mercedes, but also a record-equalling fourth win at the Hungaroring.
And although he wouldn't win again that season, the victory was a clear indication of what both he and Mercedes could achieve together, and it was the first big step towards the total domination that followed in 2014.
Bahrain GP 2014 – A statement to Rosberg
Josh Suttill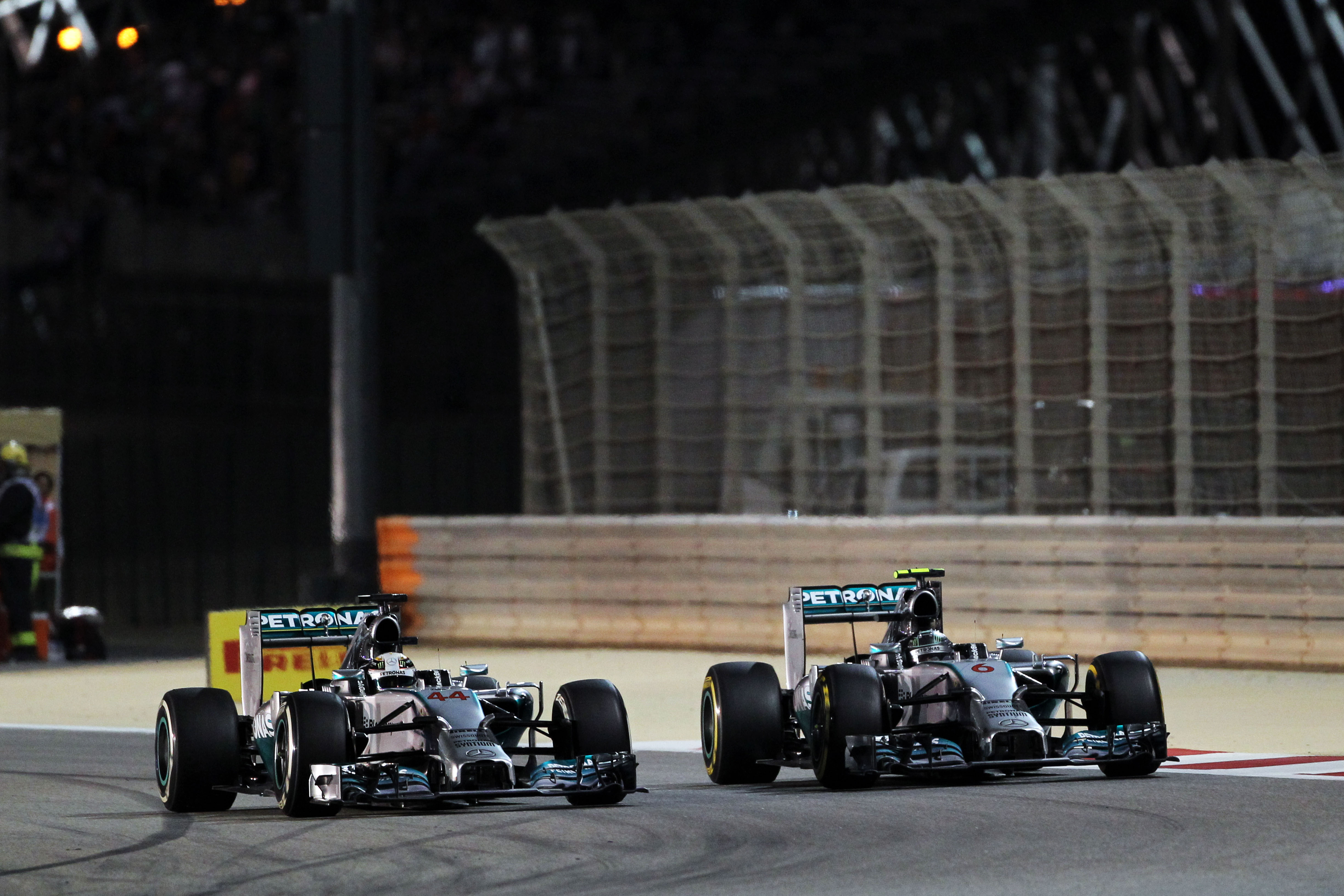 While I don't think the 2014 Bahrain Grand Prix was Hamilton's greatest F1 win, what made it so memorable was the statement Hamilton made in fending off multiple attacks from Nico Rosberg, without ever going over the line of what was fair.
Hamilton was hit by a technical failure in Australia and cruised to a comfortable victory at Malaysia but he was firmly on the backfoot at the end of the race in Bahrain.
The race turned into a 10-lap sprint after Pastor Maldonado sent Esteban Gutierrez's Sauber into a roll, handing the advantage to second-place Rosberg who was on softer tyres compared to Hamilton.
Rosberg launched several attacks into the Turn 4 right-hander, but Hamilton hung onto the race lead after every attempt – exactly as he had done earlier in the race.
It was a superb defensive drive and he solidified his superior racecraft to Rosberg, a theme that would be revived later in the year with their collision at Spa, Rosberg's capitulation at Monza and Hamilton sweeping around the outside of Rosberg at the opening turn of a wet Suzuka race.
It also produced one of the best races of the turbo-hybrid era to date, and one of the best battles for the race lead Hamilton has been a part of since he joined F1.
Abu Dhabi GP 2016 – a clever bid for the title
Valentin Khorounzhiy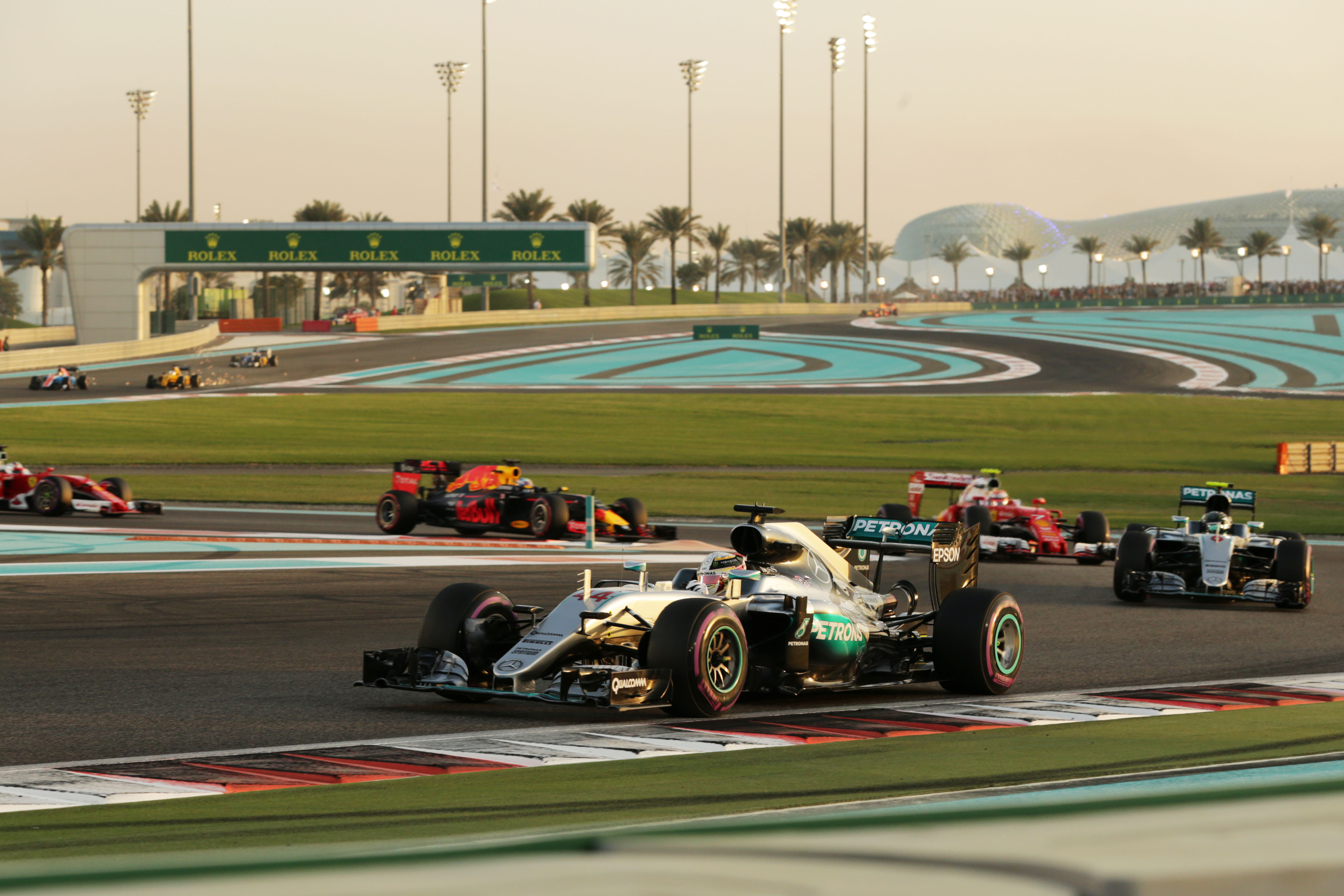 Abu Dhabi 2016 wasn't Hamilton's best win, nor his most entertaining one, nor his most meaningful one. But it was potentially the most ruthless – in a good way – and the most psychologically fascinating.
The win itself was of course secondary. The primary storyline was Hamilton's bid to pry the 2016 title away from Rosberg by backing him into Vettel, despite the team's repeated instructions to the contrary.
Hamilton came in for some criticism in the aftermath, but I never got that in the least. The constructors' title was in the bag, and the drivers' title race had swung on a Sepang engine blowout that Hamilton was blameless for. He was well within his right to have a go, and never took it too far.
The bid failed, but I appreciated the boldness – the audacity – of the attempt.
Italian GP 2018 – One of his most robust wins
Scott Mitchell
I've added my own criteria to this: I'm picking from the victories I've reported on, and it's the race that I consider most memorable.
For example, Turkey 2020 stands out as that was a brilliant drive and a fitting way to become world champion. And the controversial circumstances of the 2021 British Grand Prix – an incident that could come to define this championship battle – means his Silverstone victory this year will live long in infamy. But I wasn't on-site, so both are disqualified anyway.
I'm going Monza 2018. There have been some impressive tyre-management drives and some crushingly dominant ones but I love a victory that's earned in a more robust manner. Hamilton overcoming a Ferrari one-two at its home race fits that description nicely.
First, he toughed it out round the outside of his title rival Vettel into the chicane, judging the move just right as Vettel ran deep, hit the Mercedes and spun.
Hamilton and poleman Kimi Raikkonen then went wheel-to-wheel a few laps later, Hamilton getting ahead into the first chicane before Raikkonen repassed him down to the second.
Raikkonen led the rest of the first stint and stopped earlier than Hamilton which gave him a buffer, but Hamilton ate into it. Eventually, the pressure – and the damage Raikkonen did stressing the rears in the early laps of his stint – told and with eight laps left Hamilton passed him at the first chicane.
It was a victory set up in the first few seconds of the race but took almost the entire grand prix to pull off. And it was a defining moment in Hamilton shattering Ferrari's challenge in the title fight.