Sunday's Japanese Grand Prix was definitely not without drama or tough, marginal decisions for race control to make.
The race got underway on slick tyres but with rain falling on the Motegi circuit, an immediate flag-to-flag swap for wet Michelin rubber was necessitated only one lap into the race.
From there on in, the chaos only intensified before proceedings were first brought to a halt, and then finally declared a final result at half distance.
It means that race direction, the grid's teams, and the FIM MotoGP stewards had as busy a day as the riders, with rule books getting exercised and with plenty of strong opinions in the aftermath of what seemed at the time to be organised chaos at times.
Should the race have started when it did?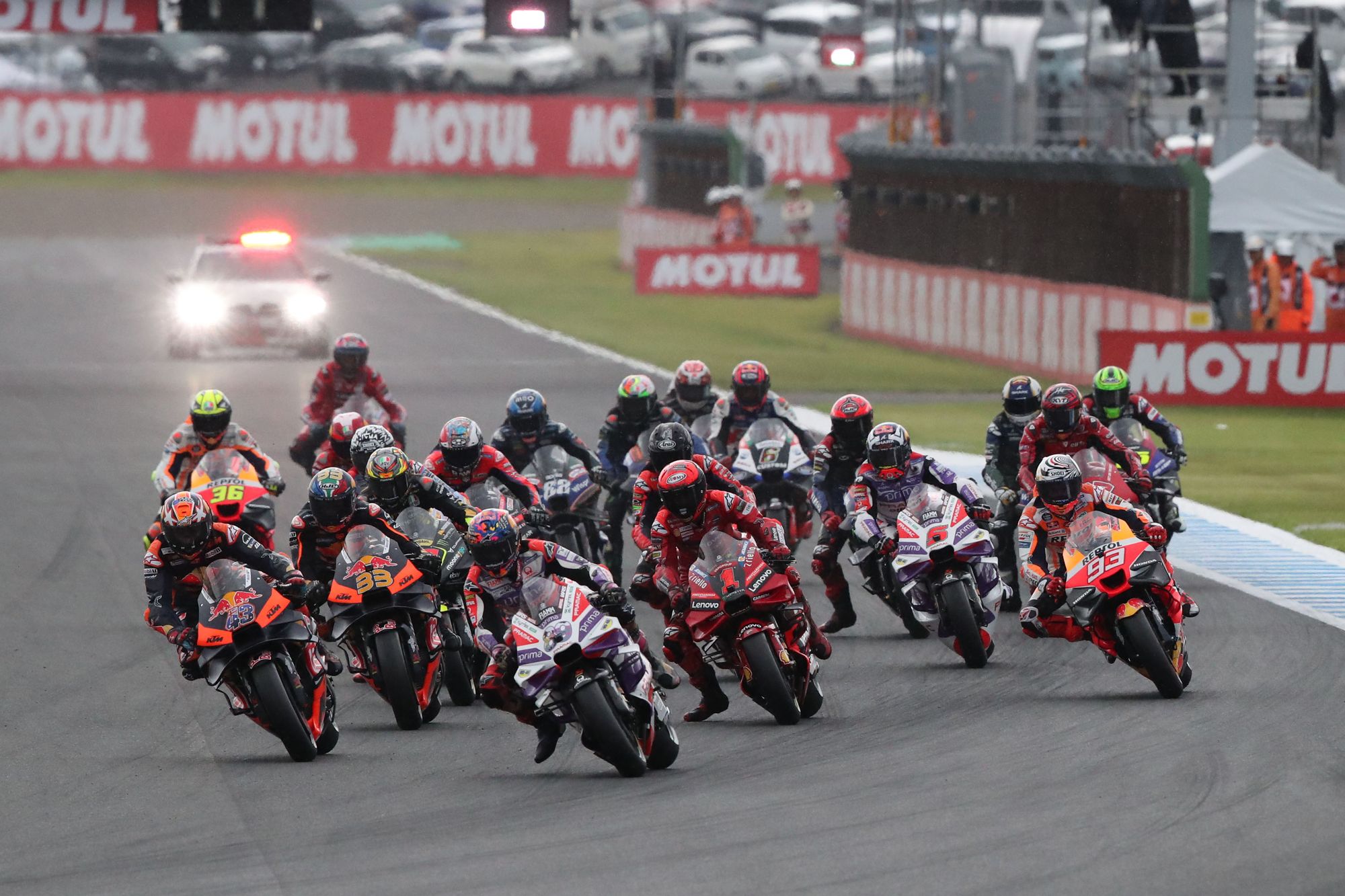 There's an argument that, with rain already falling lightly as the grid completed their warm-up lap, the lights should have never gone out in the first place and that riders should have been allowed to stop and switch to wet tyres - especially with the weather radar showing quite clearly that heavy rain was inbound only moments later.
However the reason that we jumped instead straight into a flag-to-flag situation is relatively obvious: time. Without any wet practice sessions over the whole weekend at Motegi, declaring the race wet would have meant adding an additional wet practice session, a procedure likely to delay the start by at least 45 minutes.
And with the race already starting late at 3pm local time, only two hours before sunset, it means that it had to go when it did if there was to be any flexibility for a later event - which, in the end, wasn't that big a drama according to Honda test rider Stefan Bradl, one of the handful who gambled with staying out on slicks beyond the end of lap one.
"I think it was the right choice to start," he told The Race afterwards. "It was tricky, and then you're thinking about the hard front tyre, that you need to brake and to bring heat into the tyre but can't because of the track conditions - but that's not just this track, that's everywhere.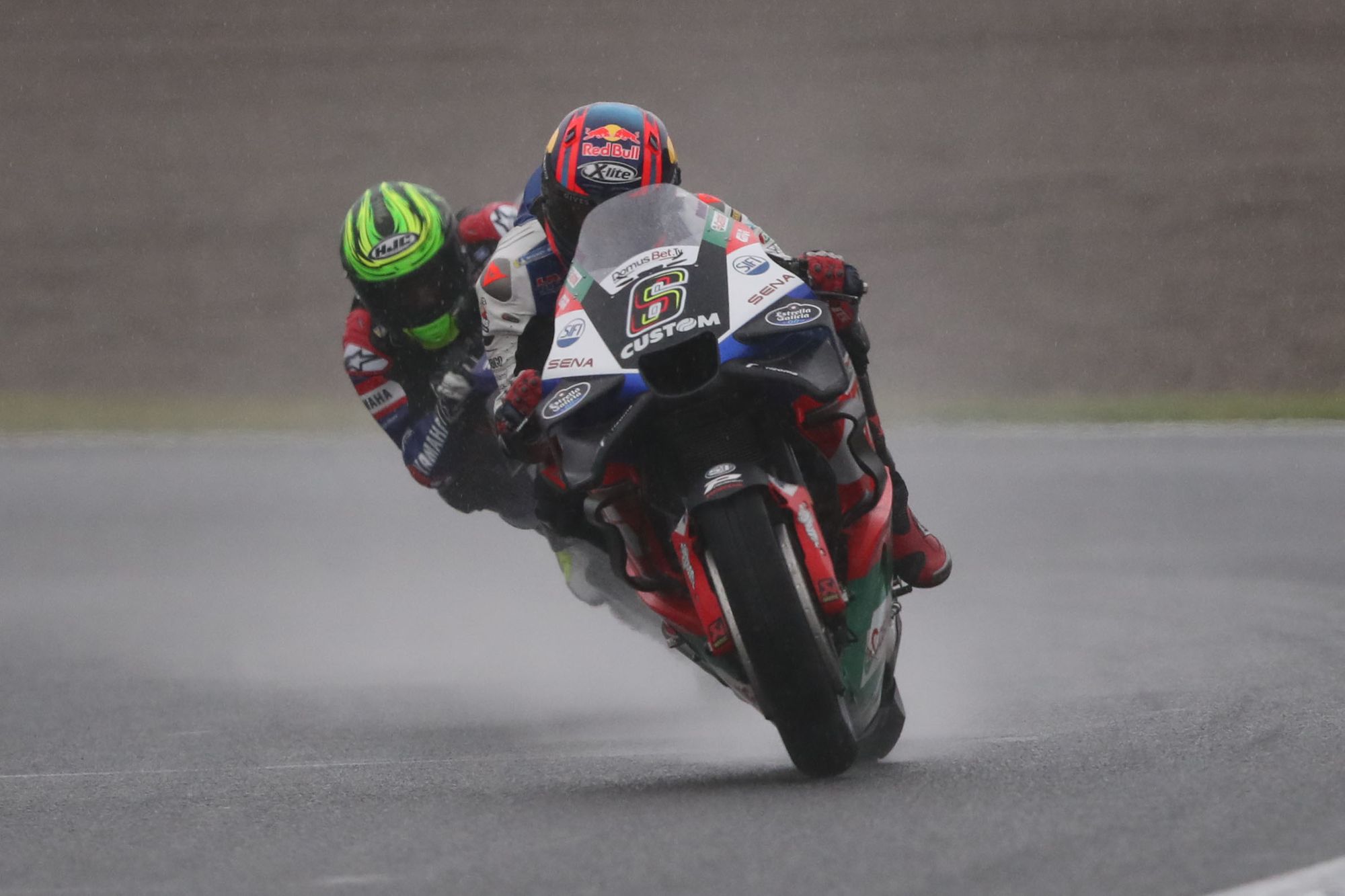 "It only works when you load it, and with all the devices, they only work when you load the bike. You can't be sensitive or the thing isn't working any more.
"Our sport is really entertaining, but it's also really challenging."
However Red Bull KTM team boss Francesco Guidotti didn't agree with that assessment, with the Italian believing that Jack Miller and Brad Binder would have had a better race had things started under more normal circumstances.
"A strange Sunday," he admitted afterwards. "Having a flag-to-flag after one lap meant that a delayed start might have been a better decision but it is like it is. No wet practice during the weekend meant we were quite conservative with our settings and electronics.
"It's a shame."
Should it have been red-flagged sooner?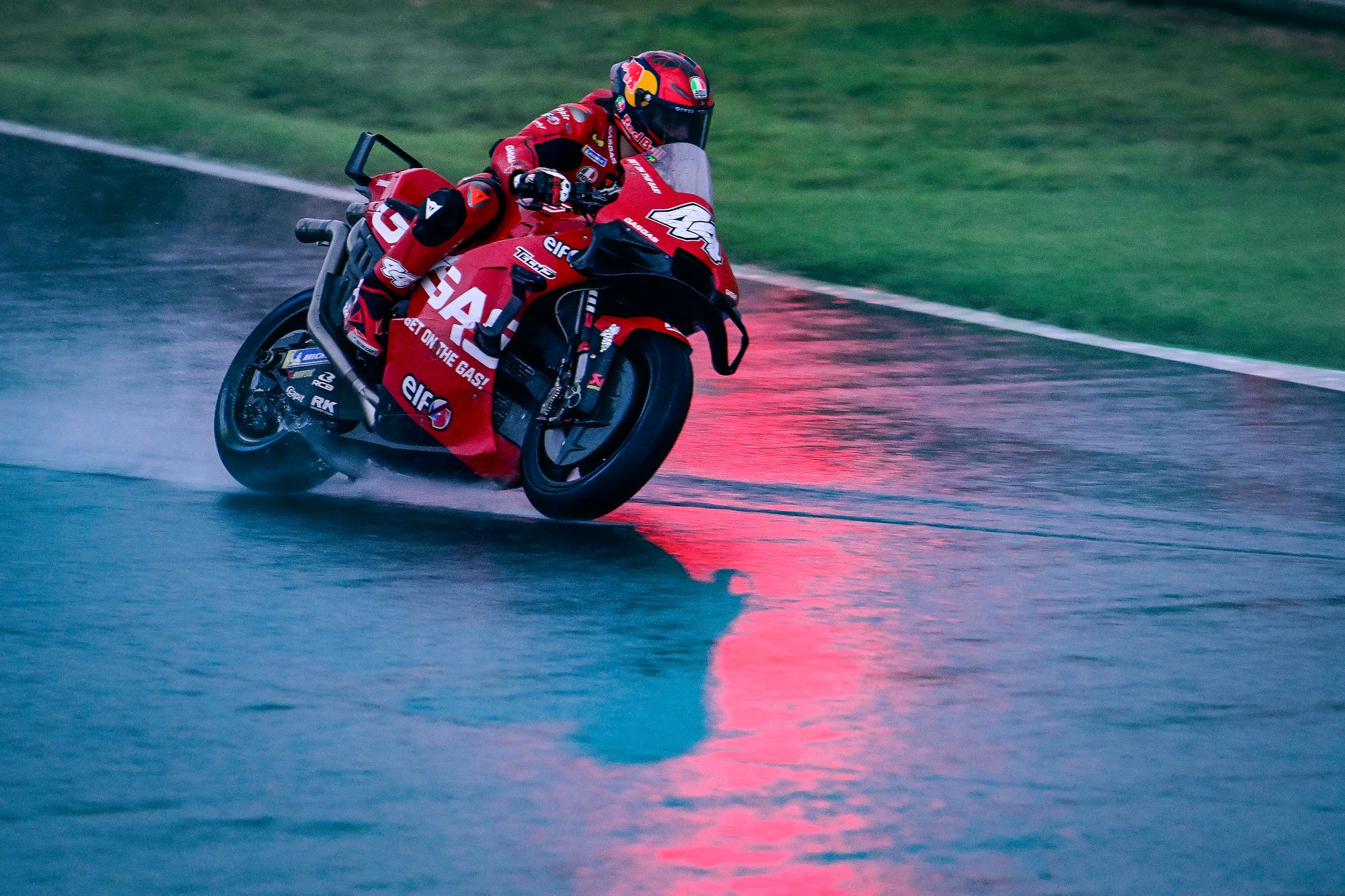 However, when the rain did come as the race progressed, it really came down, flooding the track in places and leaving riders like Johann Zarco to crash out as they aquaplaned off the circuit.
And with Michelin's wet tyres pumping an incredible volume of water into the air behind every bike, it means that those wet patches become even harder to see. It led to Miguel Oliveira pulling into the pits even before the race was brought to a halt at half-distance. He was quite adamant afterwards that the conditions were already too dangerous long before it was brought to a halt.
"Three laps before I retired," he explained, "I started to struggle to see. I couldn't see anything. I couldn't even see where I was going to put my wheels. There was so much water I was already telling myself not to quit, not to quit, please don't quit, be calm.
"I couldn't see, literally. It's never happened to me. On the straights, on the braking into corners, even staying out of the spray. It was really frustrating.
"Yes, yes, sure," he replied when asked by The Race if it should have been stopped sooner. "We can't repeat today, that's it."
Were pit penalties fair?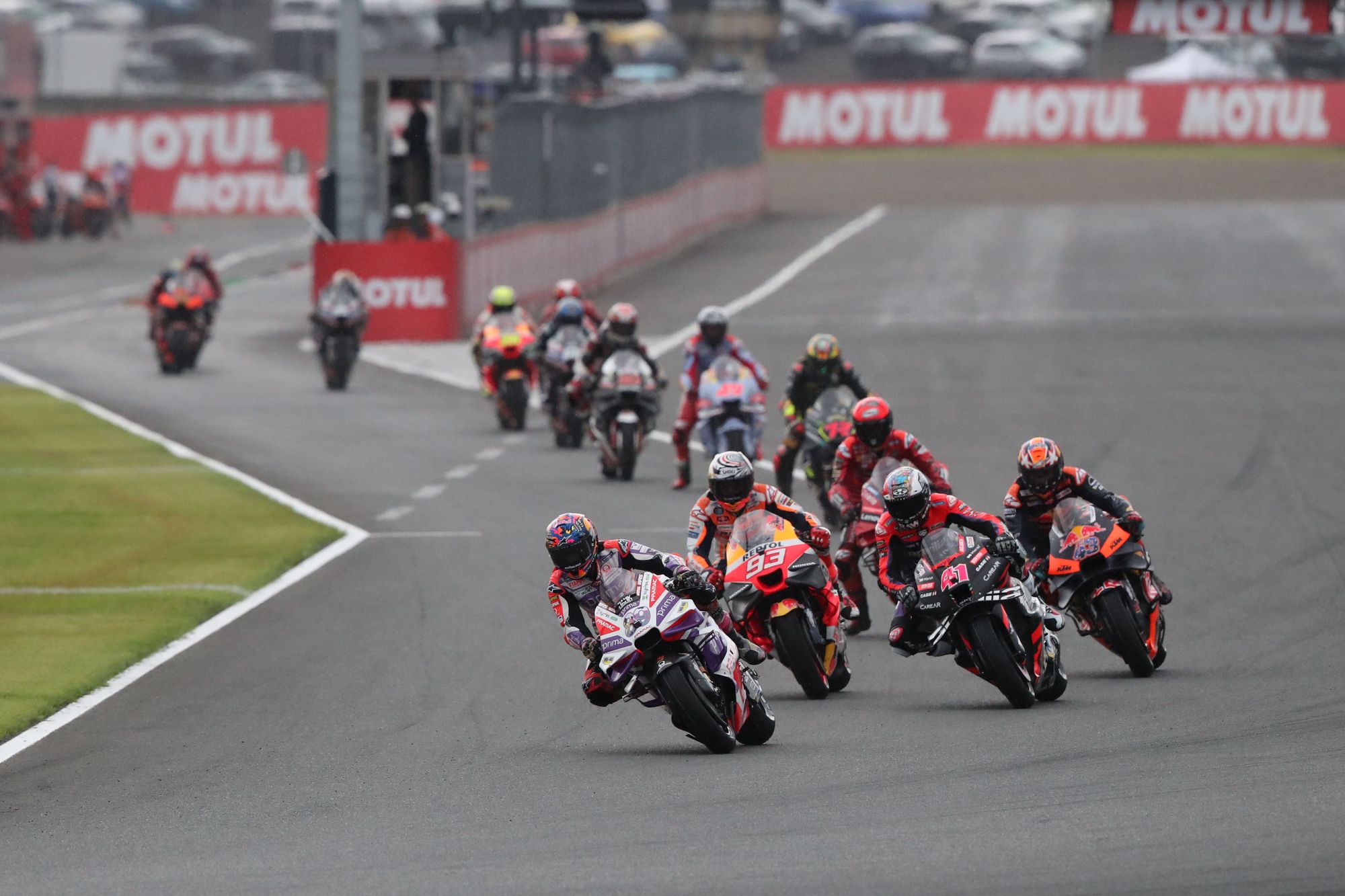 The next drama in the race came as first Aprilia racer Maverick Vinales and Yamaha wildcard Cal Crutchlow, and then later RNF Aprilia rider Raul Fernandez were each handed a long lap for an 'incorrect bike change' when entering the pits early on in the race - something that prompted an outraged Fernandez to blast race direction.
Riders are supposed to cross into their own garages only once past a small sign in the pitlane bearing their number, in order to help deconflict situations exactly like Sunday's.
Both Crutchlow and Fernandez missed theirs - because, according to Crutchlow, the mass of mechanics standing out to spot their own racers meant he couldn't see where the low-sitting marker was located.
That in turn promoted fury from Fernandez, with the young Spaniard seeing what could have been his best-ever MotoGP finish and a chance to be, for the first time, the top Aprilia slip away from him.
"We're in the best championship, and the rules that we have are sometimes a joke," he fumed. "A joke. We need to improve the f***ing penalties. You can kill one rider and you have a warning, but if you close the line one pitbox before yours, you have a long lap. This is a joke.
"OK, if you do it the first time and to have a long lap? This is a stupid thing. I'm really happy with the work we did during the weekend, fighting for top six, but the penalty wasn't the correct thing. We are in the f***ing MotoGP championship and sometimes we look like children. When you have more than 20 people behind you, they can't destroy your race."
Were the right riders classified?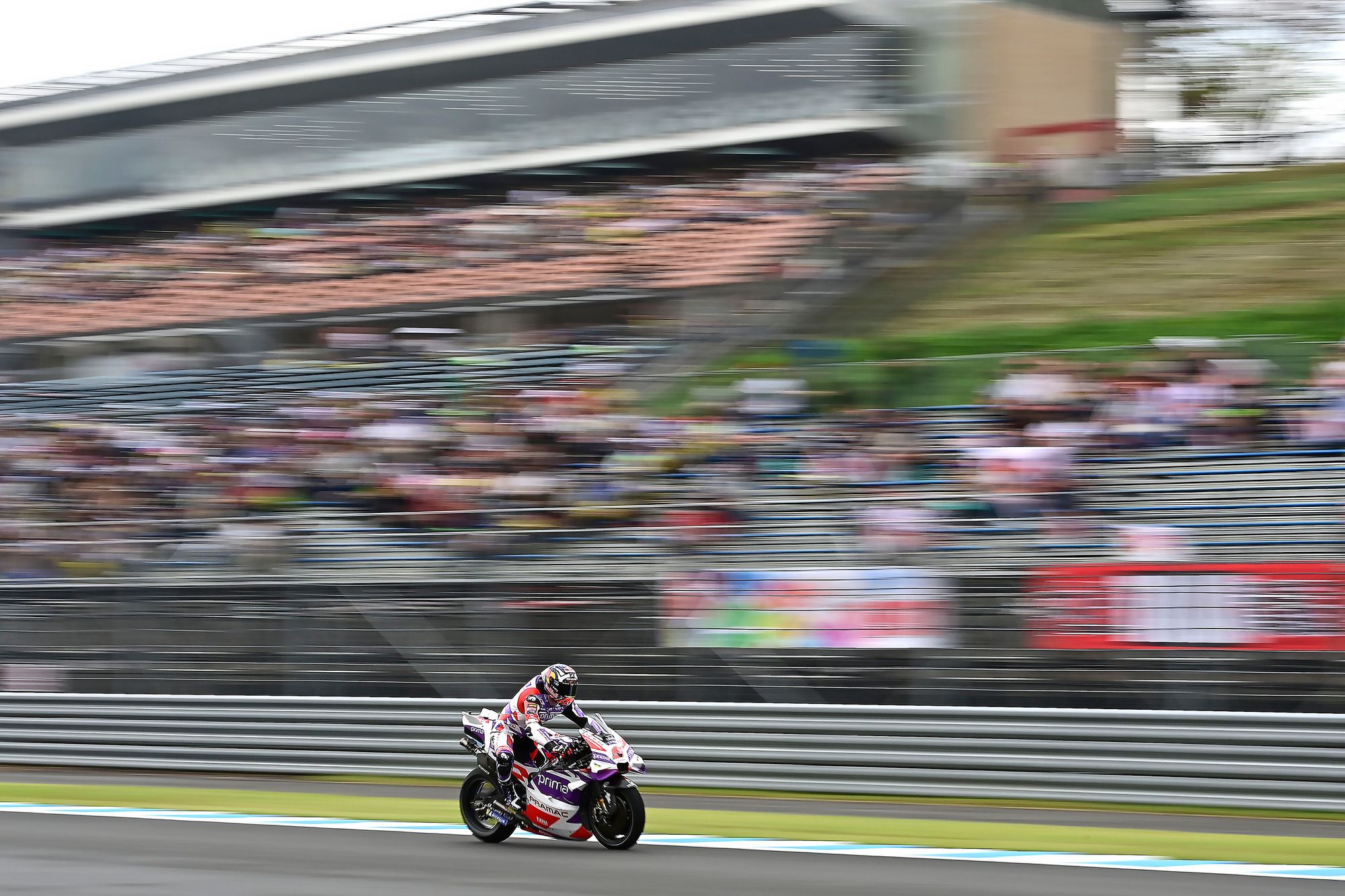 When the red flags did eventually come out (later than Oliveria would have liked) there were only three of the race starters not still on track. Brad Binder was an early faller, and wasn't expecting to rejoin - but, with Johann Zarco tumbling out of the race only seconds before it was stopped, the Frenchman immediately set off to get his badly damaged Pramac Ducati back to the pits, given that he should have started again in sixth.
In the end, though, the Pramac rider didn't just have his starting position stripped from him but also lost out in the final results when the restart was scrapped - not, it seems, because of the rule book per se but rather due to a navigational error as he pushed his Ducati back.
Falling at Turn 11, he was able to push the bike the half a kilometre or so back to pitlane in impressive time, getting back well within the five-minute cutoff rule that riders must meet to be counted - only to then be told, he said afterwards, that he was going to be excluded anyway, not because of when but rather where he came back into the pits.
"I crashed just because of the red flag because of aquaplaning," he said after the race. "I tried to bring back my bike, I did it, but they didn't count it so I'm not even finishing in sixth position. I should have crossed the two-metre wide line where the 60kph area of pit lane starts, but because I was five metres to the side [on the asphalt runoff] they didn't count it."
Despite already being in pit lane at the time of the red flag, Oliveira was allowed to line up for the restart - albeit not on the grid but rather in pitlane alongside Vinales thanks to the pair both being counted as a lap down at the time of the stoppage.
Was the attempted restart a good idea?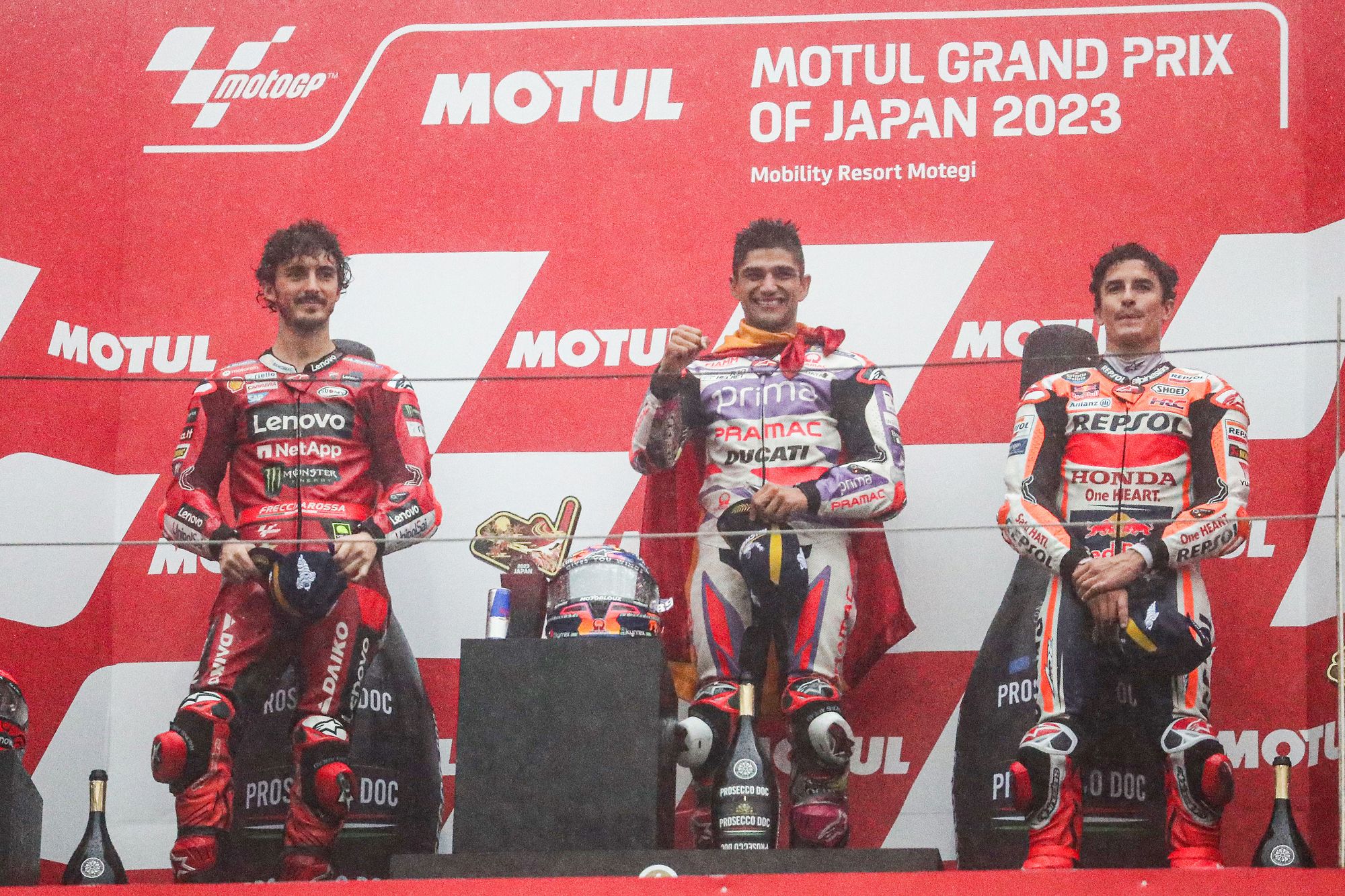 Despite the red flag halting the race at half distance, however, there was still one more piece of theatre for the grid to complete: an attempted restart that was clearly never really a feasible idea considering that track conditions had not improved and that riders had explicitly told race control only seconds before they weren't prepared to race in.
"I was really surprised," race winner Jorge Martin told The Race in the press conference afterwards.
"Two minutes before, I spoke to [sporting director] Carlos [Ezpeleta] and I said 'now is super difficult.' As soon as I spoke with him, we went out [on a sighting and formation lap]. The conditions were the same but with less light. It was difficult and I was surprised."