The main fixation of Pramac Ducati rider Johann Zarco after MotoGP's curtailed Japanese Grand Prix was a loss of 10 points through what he had felt was a senseless technicality.
Zarco crashed on the 13th lap of the flag-to-flag race as rain intensified, his fast off at the fast Turn 12 seemingly the impetus - or at least one of them - for the race being red-flagged.
After an unsuccessful attempt by MotoGP to restart the race, the results were confirmed as final, having been rolled back to the end of lap 12 - which Zarco had finished sixth. But he had taken no part in that failed restart, deemed ineligible after he dragged his very busted Ducati Desmosedici to the pits via a service road - meaning he did not cross the pit entry line.
"For this reason, I'm quite angry," said Zarco, and he does largely have a point.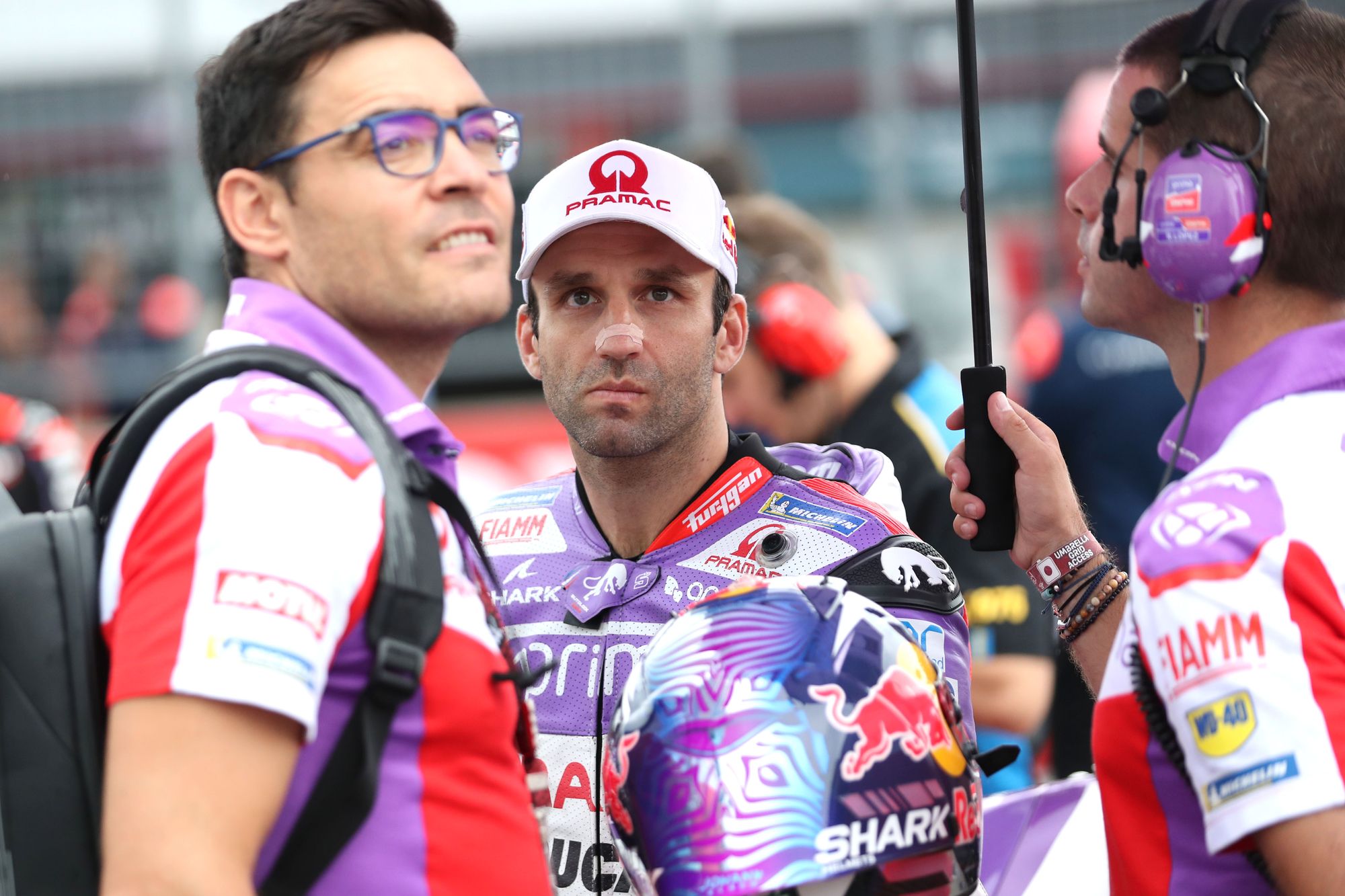 He contravened the exact rule wording, yes, and also arguably the spirit of the rule - which clearly intends for riders to ride their bike back to the pits to be eligible for the restart. Zarco's bike was too obviously wrecked for that (it sounds like the marshals didn't quite let him rejoin the track), so even though he would have been able to use his spare for a restart, there were good grounds to keep him out.
But Miguel Oliveira was permitted to take the restart-that-never-was despite having retired almost a full lap earlier, and the results were rolled back anyway so the restart may as well not have happened. Both of those things suggest the rules didn't quite work as intended, and if Zarco is being punished for the crash it feels harsh given the red flag effectively serves as an admission that the track was no longer race-able.
But while the 10 points may very well matter for the championship position post-Valencia - which, given we're talking about a Ducati-contracted rider, may well impact a salary bonus, and certainly pride - there is a very clear argument that Zarco was actually robbed of 25.
Zarco was 20th and nearly double-digit seconds off the back of the main group coming out of the race's first sector. On lap 12, he was running sixth. The underlying numbers behind his ride suggest that in the wet he had more pace than anybody else.
---
Zarco's Japanese GP performance
Fastest laps
Johann Zarco, 1m55.903s
Augusto Fernandez, +0.551s
Miguel Oliveira, +0.634s
Joan Mir, +0.785s
Marco Bezzecchi, +1.153s
Fastest race time (lap 3-lap 12)
Johann Zarco, 19m41.387s
Jorge Martin, +5.213s
Pecco Bagnaia, +6.285s
Marco Bezzecchi, +6.896s
Marc Marquez, +6.900s
---
Yes, pace in the wet tends to fluctuate massively, especially when you're talking about different levels of rain, which certainly was the case for the Motegi race. And yes, for most of the 12-lap race Zarco's pace was simply comparable with eventual race winner and team-mate Jorge Martin rather than being overwhelmingly better, with Martin hampered by one major error of his own and having to serve as the reference point out front.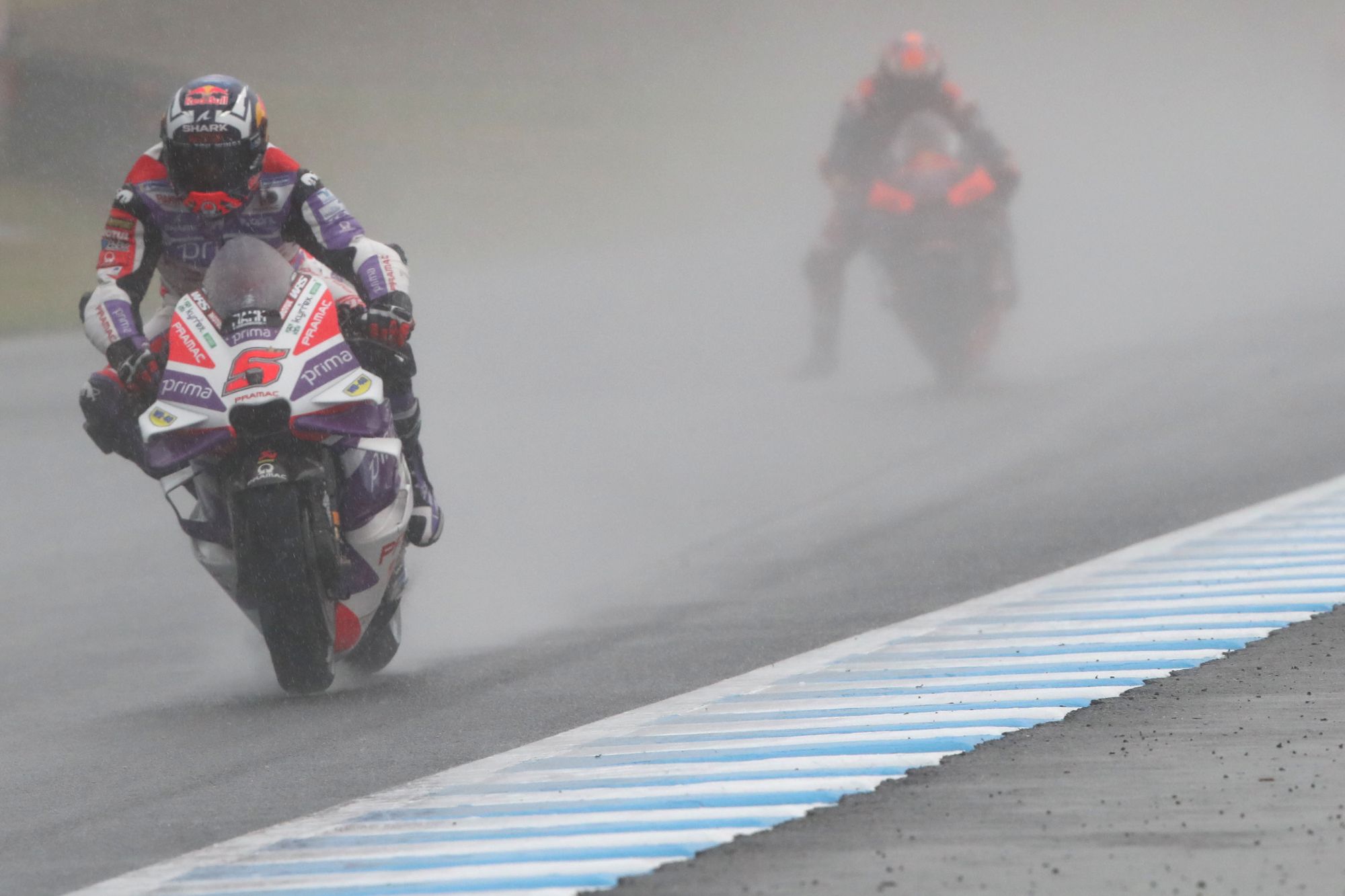 At the same time, though, it's true Zarco will have been compromised by having to work his way through traffic. And his performance does fit quite well his established pattern of being able to find an extra gear in wet races, particularly when it's not quite full-wet conditions.
Had he been in the lead group or anywhere near after the bike swaps, the possibility looks quite strong that he would've been leading the way at the 12-lap mark. Certainly, it would've been an entirely different race situation, which probably would've meant no crash.
So why wasn't Zarco in that lead group? Because he got sent to the gravel at Turn 1, and the rider who was to blame completely got away with it.
In a three-bike incident that leaves virtually no doubt as to who the guilty party was, Zarco's race was compromised and Maverick Vinales' race was outright ruined (below). Neither of them are culpable at all.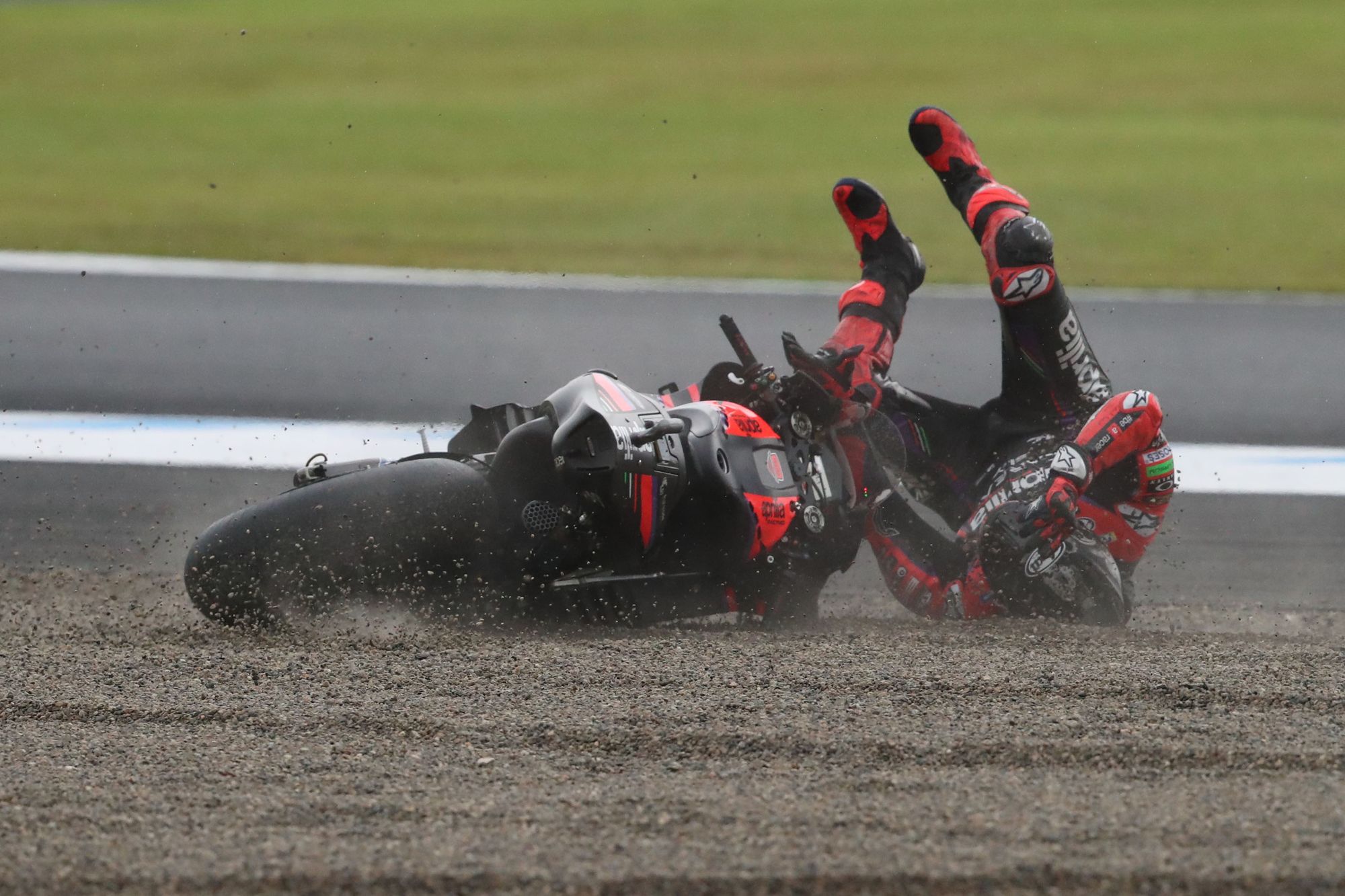 The culprit is obviously Bezzecchi. He arrives into the corner quite fast, with two bikes in front of him, and ends up having to abandon all designs at reaching the corner apex or taking any kind of normal line.
Whether he picks up the bike because he's coming in too hot or because he suspects he might be about to spear into Pecco Bagnaia cutting across (Bagnaia does ultimately leave enough room), the outcome should be a multi-bike crash.
But it isn't quite. Vinales reacts quickly, picking up his own bike, contacting with Zarco on the outside, sending both of them to the gravel - where Zarco stays on but Vinales does not.
There would be no penalty coming Bezzecchi's way, and he went on to take fourth place. Under the current MotoGP stewarding paradigm, the question of 'how?' is an inevitable one. It seems virtually indisputable that Bezzecchi getting Turn 1 wrong directly caused Vinales to crash. So it's a real head-scratcher, especially when you think back to, say, the penalty for "overly ambitious" riding that Alex Marquez had incurred at Le Mans.
Did the absolution come simply from Vinales being quick enough to react to avoid actual contact with Bezzecchi? That shouldn't be the case. Did Bezzecchi get away with one because he himself has been on the receiving end of Turn 1 nonsense multiple times this season? That can't possibly be the case.
Zarco, for his part, had not yet seen a replay by the time he spoke to the media, and was only aware that Vinales had sent him wide and that it probably hadn't originated with Vinales.
That'll change, so we'll know next time out in Indonesia how Zarco feels about what went on at Turn 1. But, given what could've been, he should feel absolutely livid - much more livid than about the 10 lost points.