Ducati's two most obvious MotoGP spearheads - tech genius Gigi Dall'Igna and reigning champion rider Pecco Bagnaia - both seem to be rolling out the welcome carpet for the seismic arrival of Marc Marquez at the satellite Gresini team for the 2024 season.
Marquez himself has continued to be guarded over making any concrete proclamations about his 2024 plans - wholly unsurprising given the Japanese Grand Prix staged this weekend, which marked Marquez's first Sunday podium of the season, is Honda's home race.
His approach to the matter during the Motegi weekend can be interpreted in two ways: either he is still to reach a final decision (or at least work out its exact mechanics), or his mind is made up that he will join Gresini Ducati but revealing this to the media during Honda's home race has been accepted by all involved as being wildly inappropriate.
But if so, both Dall'Igna and Bagnaia may have said more than Marquez will have liked them to - not just in publicly discussing his potential Ducati move, but in making it fairly clear (Dall'Igna more so than Bagnaia) that both expected it to happen.
Dall'Igna's revealing interview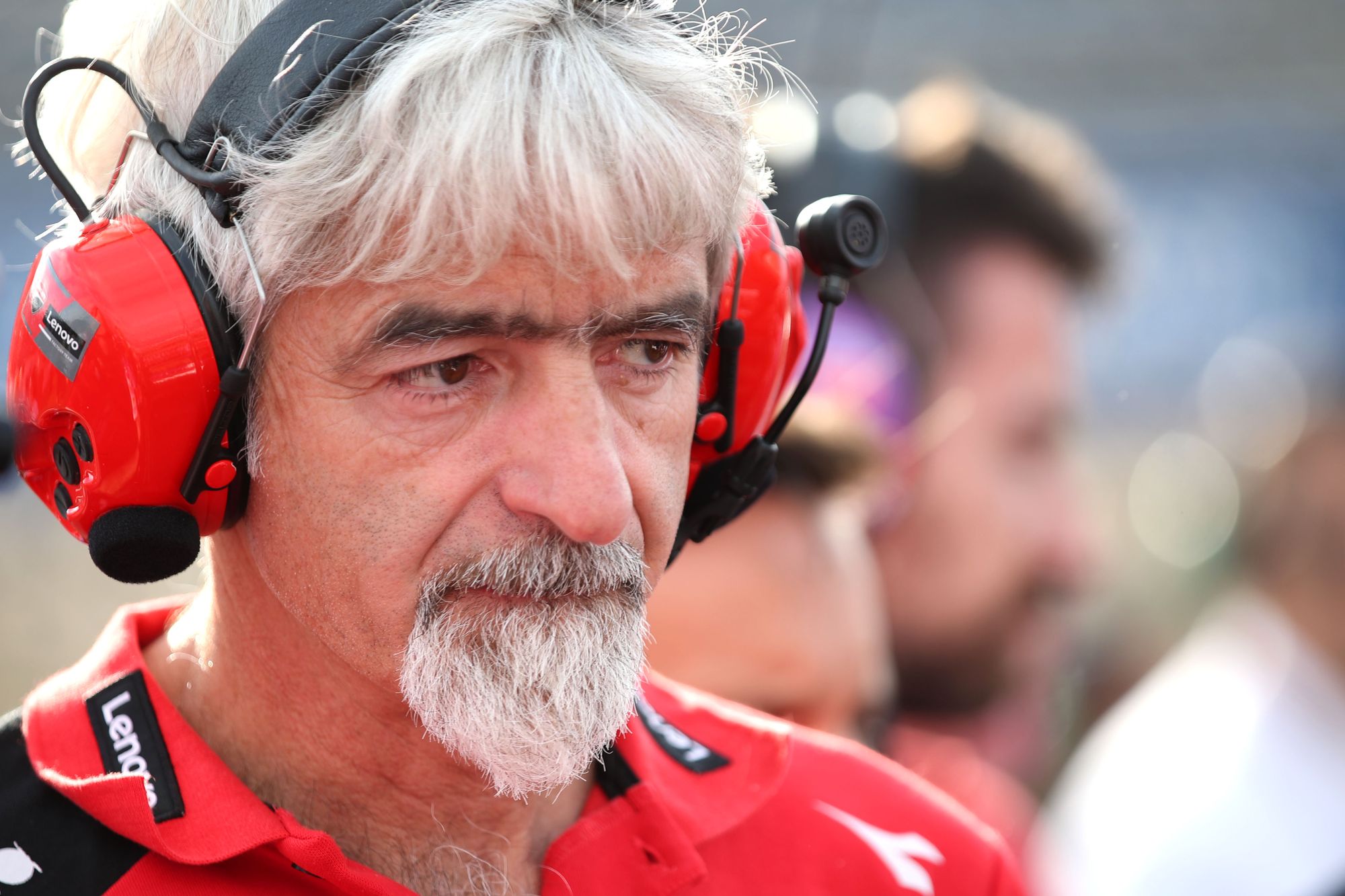 Speaking to Italian broadcaster Sky's reporter Antonio Boselli in the aftermath of a Japanese GP in which Marquez followed home Ducati duo Jorge Martin and Bagnaia, Dall'Igna raised many an eyebrow by claiming that Marquez "strongly wants to get on a Ducati" and that he has decided to leave Honda.
Dall'Igna moved to clarify later in the interview that he was only going off the "declarations" - it is unclear whether public or private - that Marquez himself had made about the Ducati, that nothing was yet official and that the contract with Honda, a four-year deal that only expires at the end of 2024, remains "complicated" to get out of.
But Dall'Igna never suggested any doubt about the move happening - and, indeed, if Marquez's desire is as Dall'Igna has stated, various Honda higher-ups have long been on record saying they wouldn't stand in Marquez's way.
Dall'Igna also admitted Marquez could be an "unwieldy" fit in terms of how he impacts Ducati's current line-up "equilibrium". But he added: "this, however, is part of the game - and it'd be up to us to manage it well."
Bagnaia's 'kiss goodbye' quip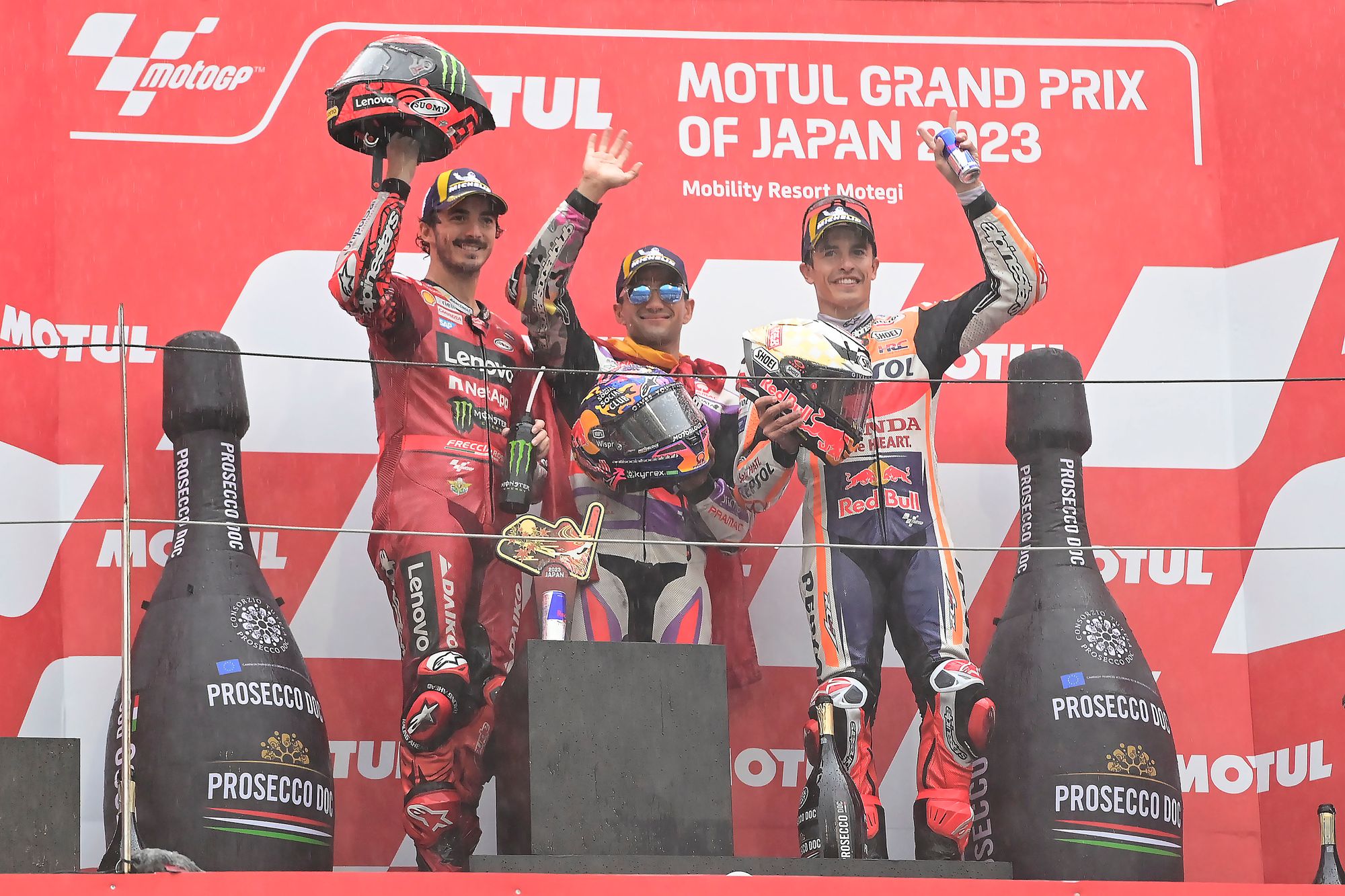 All of this came just as Marquez continued his very deliberate 'will he or won't he' media routine.
Asked by The Race in the post-race press conference whether his podium moved the needle in terms of his 2024 decision, Marquez responded in the negative, saying this was also the case for individual results at the preceding rounds at Barcelona, Misano and Buddh.
"I mean, I have a clever [clear] mentality, and I know what needs to happen, everything, to go one way or the other one," he said.
"But we can say today's podium is a very romantic podium. Was very nice."
A pause of several seconds followed - and Bagnaia, in the same press conference having finished second, couldn't resist.
"Bye-bye, Honda," he quipped.
Marquez turned to him immediately and said "no, why?" before Bagnaia made the universally recognised head shake of 'I'm just messing with you' and Marquez started laughing.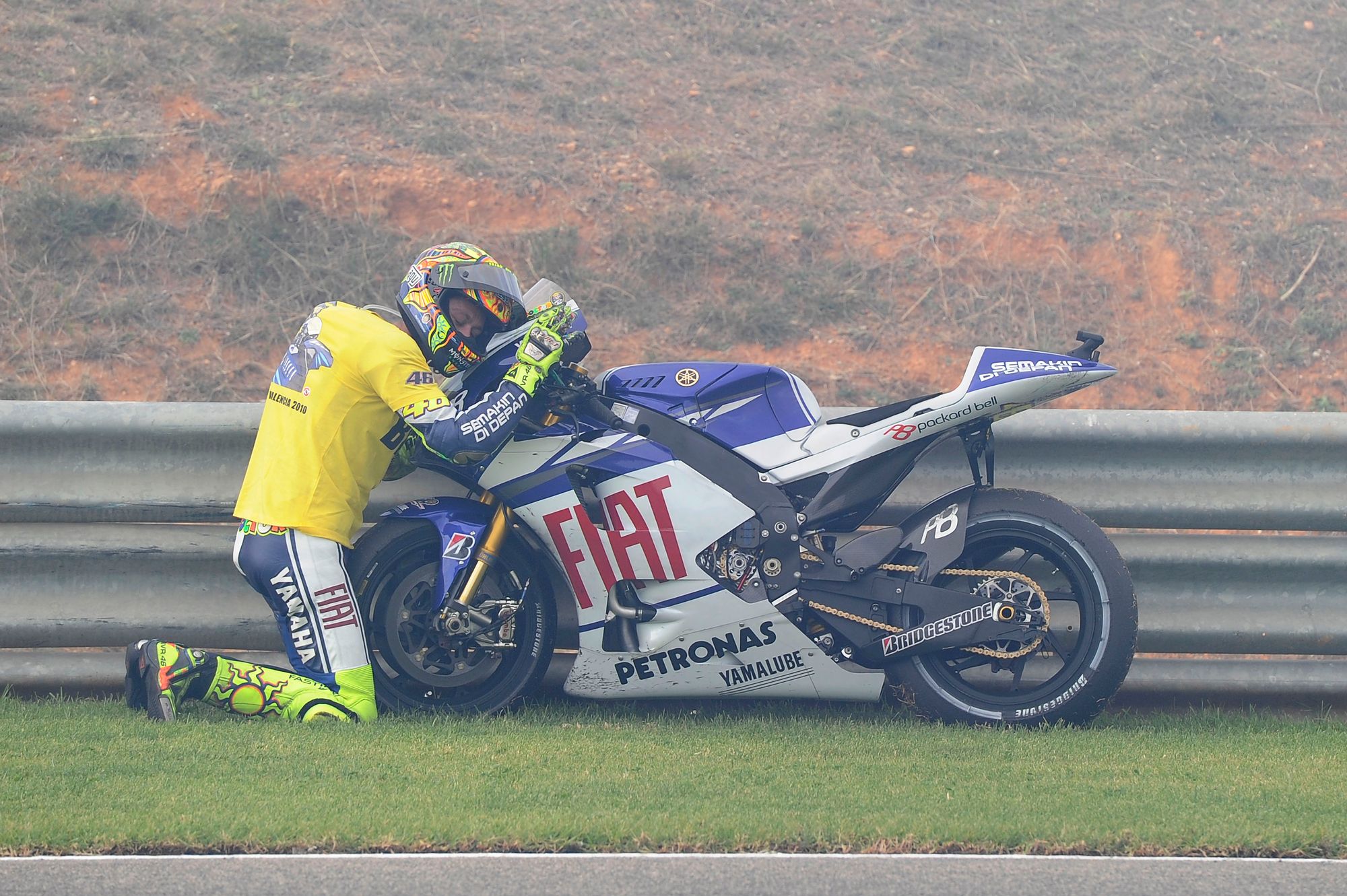 Then, however, Bagnaia mentioned "the kiss of Valentino" - referencing when his mentor (and Marquez's arch-rival) Valentino Rossi pulled over and kissed his Yamaha M1 after the 2010 Valencia finale ahead of his move to Ducati, in a callback to how he'd celebrated his first win with Yamaha back in 2004.
More hints from Marquez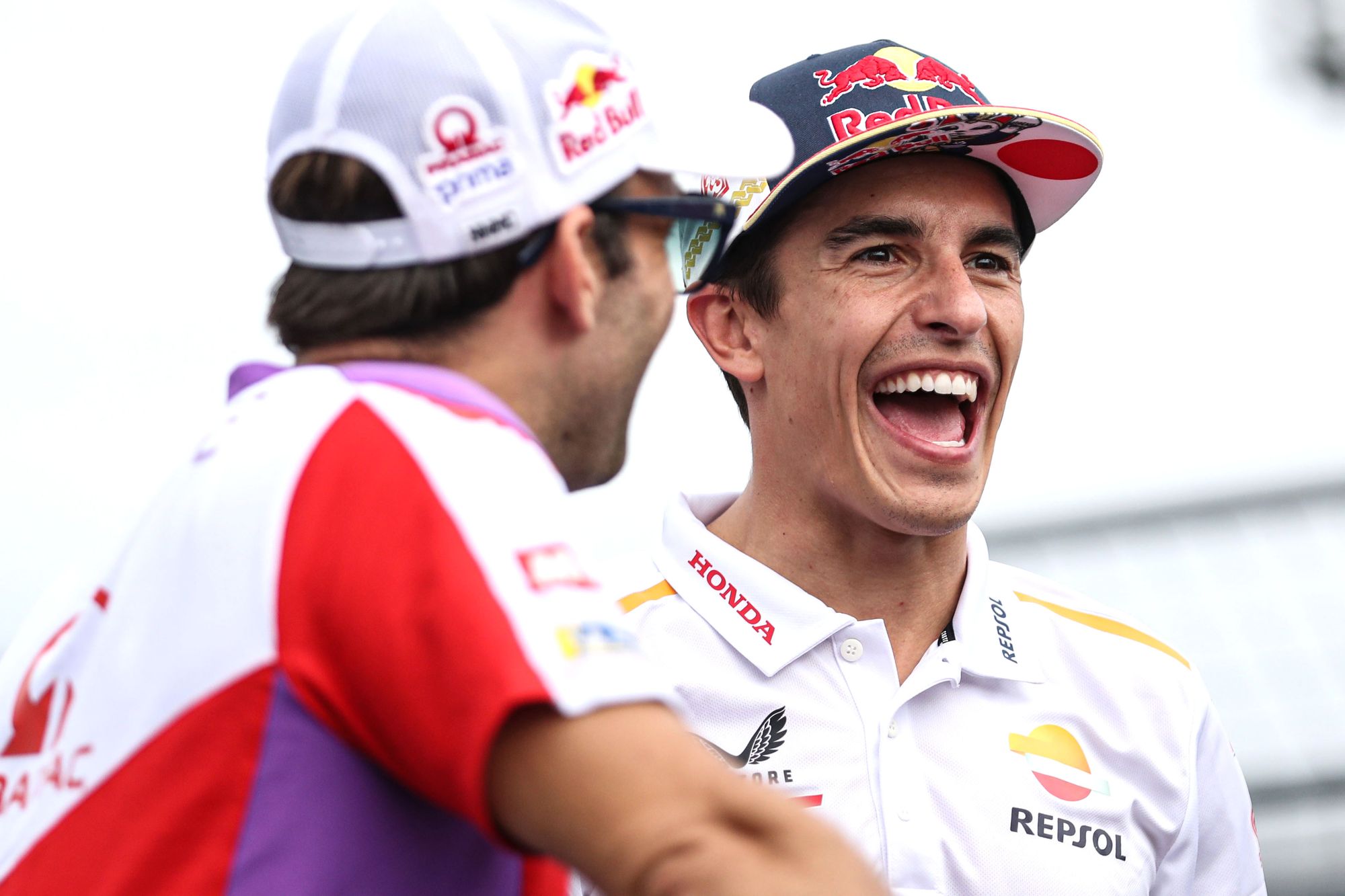 The fact Marquez hadn't just left Bagnaia's joke unanswered is pretty easy to interpret - whatever decision he takes (or seemingly has already taken) for 2024, he wants it to be known on his own terms, and silence could have been met as tacit approval of Bagnaia's interpretation.
But Bagnaia's interpretation - and Dall'Igna's interpretation - is increasingly the common one. And, even outside of what they personally may know from private discussions within the camp - how could it not be?
If Marquez had already decided to stay at Honda, what better place would there have been than Motegi to announce it? Instead, he'd made it clear already coming into the weekend that there would be no confirmation one way or the other.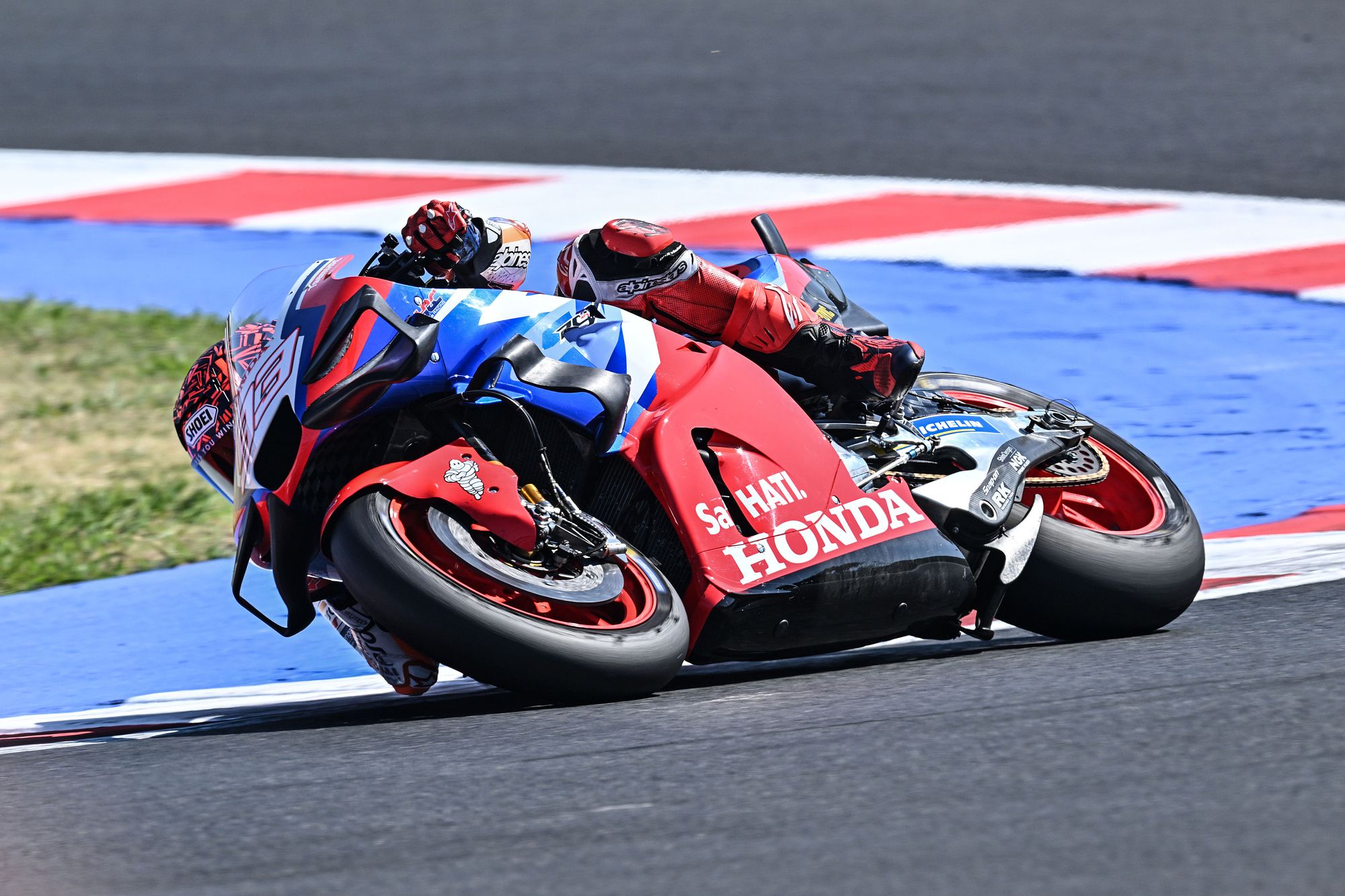 He'd been disappointed by Honda's 2024 prototype chassis - but was fairly positive about the news that filtered out during the weekend, that Honda tech chief Shinichi Kokubu was stepping away from the MotoGP project, replaced in an internal promotion by Shin Sato.
"In the end, in a big brand, Honda, HRC or another manufacturer or another brand - when the results aren't coming, you must change something," said Marquez. "You must change the riders or the technicians or the bike, whatever.
"Looks like they are chasing big names inside the project. And they chose another persons. But this is not my responsibility. It's the responsibility of Honda.
"And with time - because when you change people, those people need time to understand the situation, to bring the new ideas. And it's there where we will try to manage for the future that timing, as short as possible, to be competitive."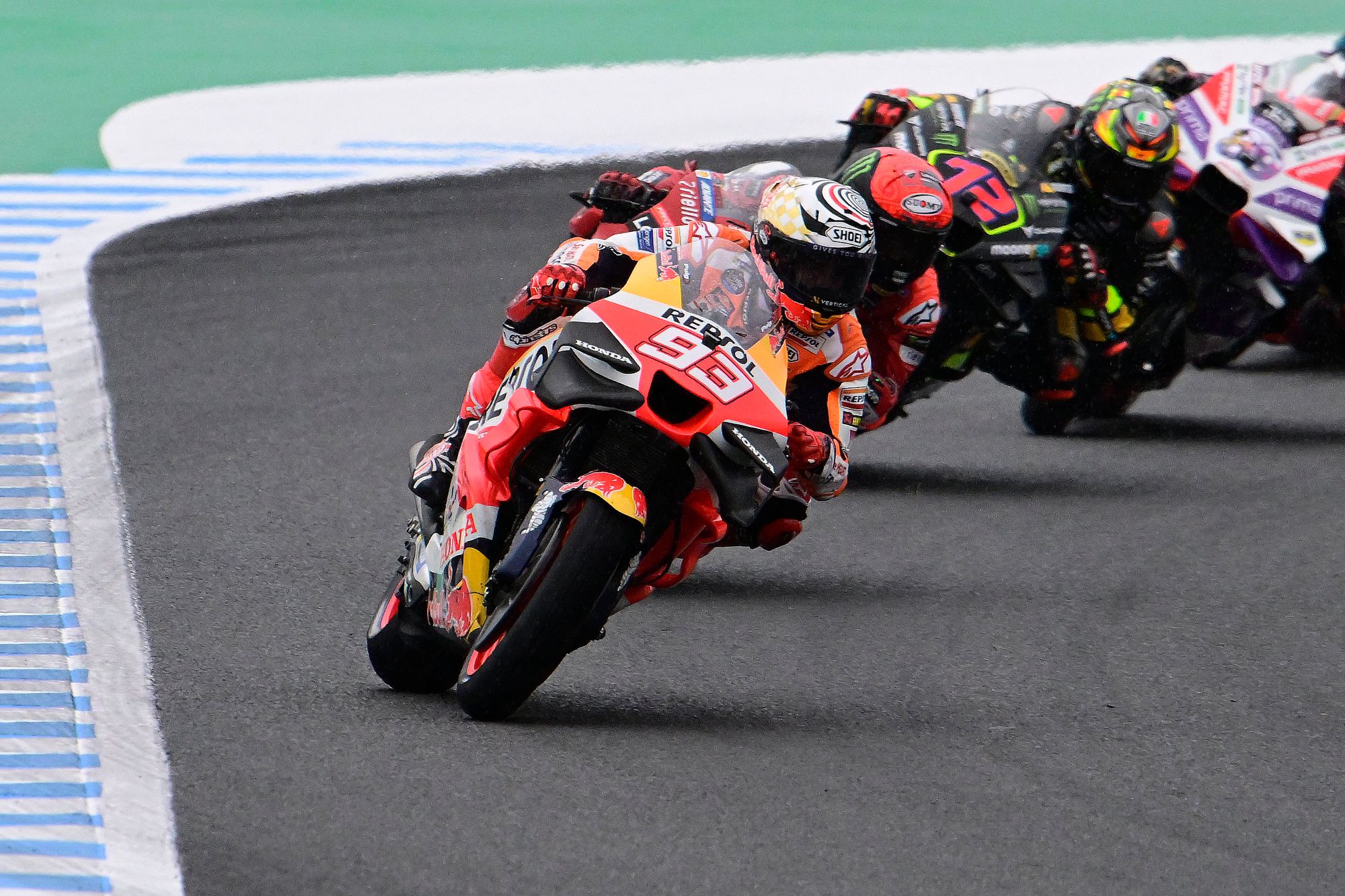 If you're of the mindset Marquez is staying at Honda, that "we" can be seen as corroboration. At the same time, Marquez stressing that any changes will take time to have effect - time he clearly is anxious about spending in competitive limbo - is telling. Likewise, in talking to MotoGP.com about Honda's reshuffle and saying he "wishes the best", he (perhaps intentionally, maybe not) used phrasing that you'd normally associate with someone moving on to pastures anew.
Podium doesn't change much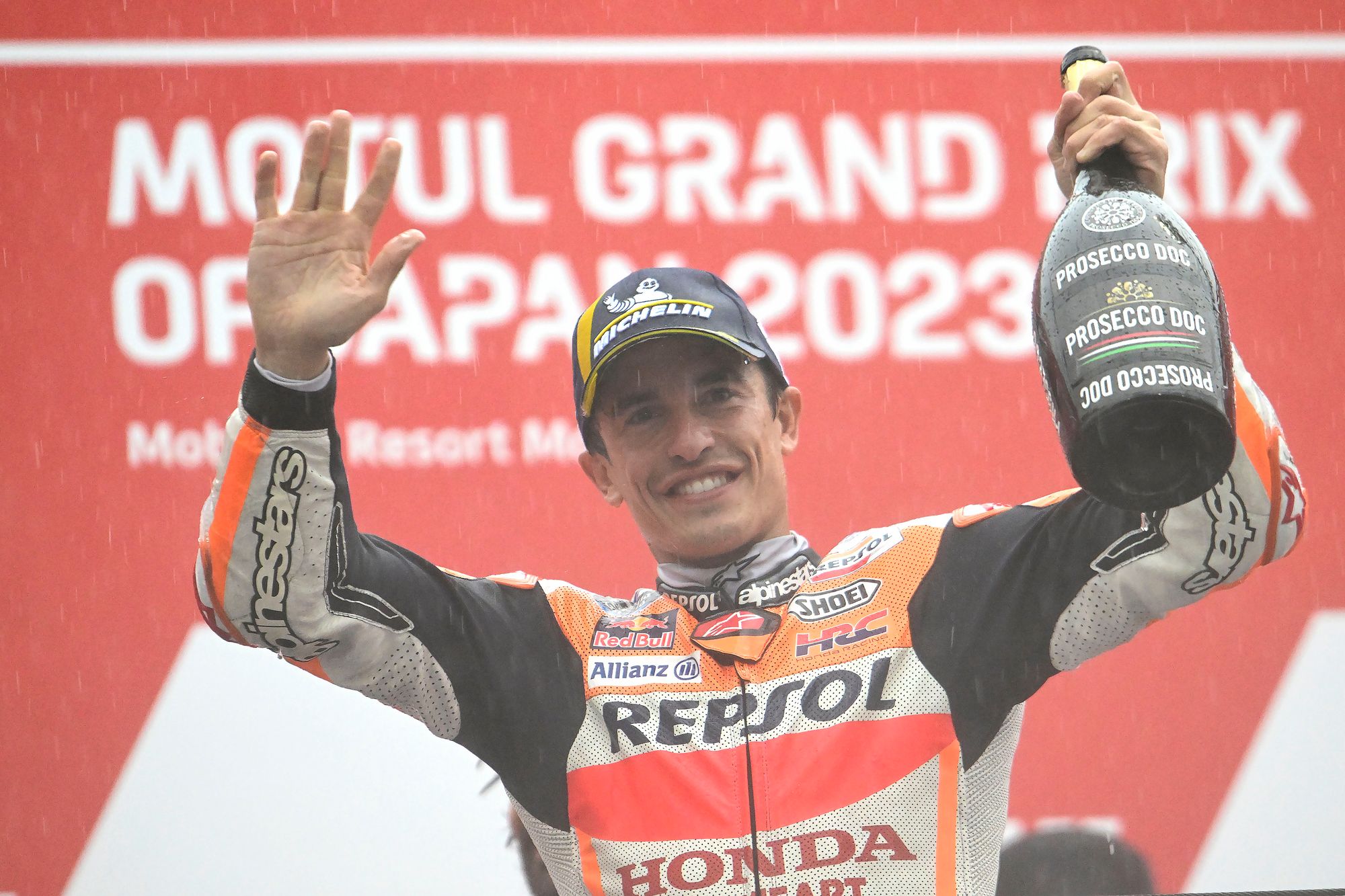 Certainly, the Motegi result doesn't sound like it changes the competitive outlook. Why should it?
"India, here, it's stop-and-go corners," mused Marquez. "It's there where I can take a risk in the braking points, turn and make a massive pick-up to have good accelerations.
"We will arrive in Mandalika and there it's a few corners that you need to use the banking, you need to use the edge grip, the traction, and it's there where we are losing a lot. And you cannot do anything, because you just [wheel]spin."
And even at Motegi, already in the dry in the sprint he was going backwards in the latter stages - something that he thought foreshadowed a considerably more difficult Sunday before rain had changed everything.
Ducati relishes the challenge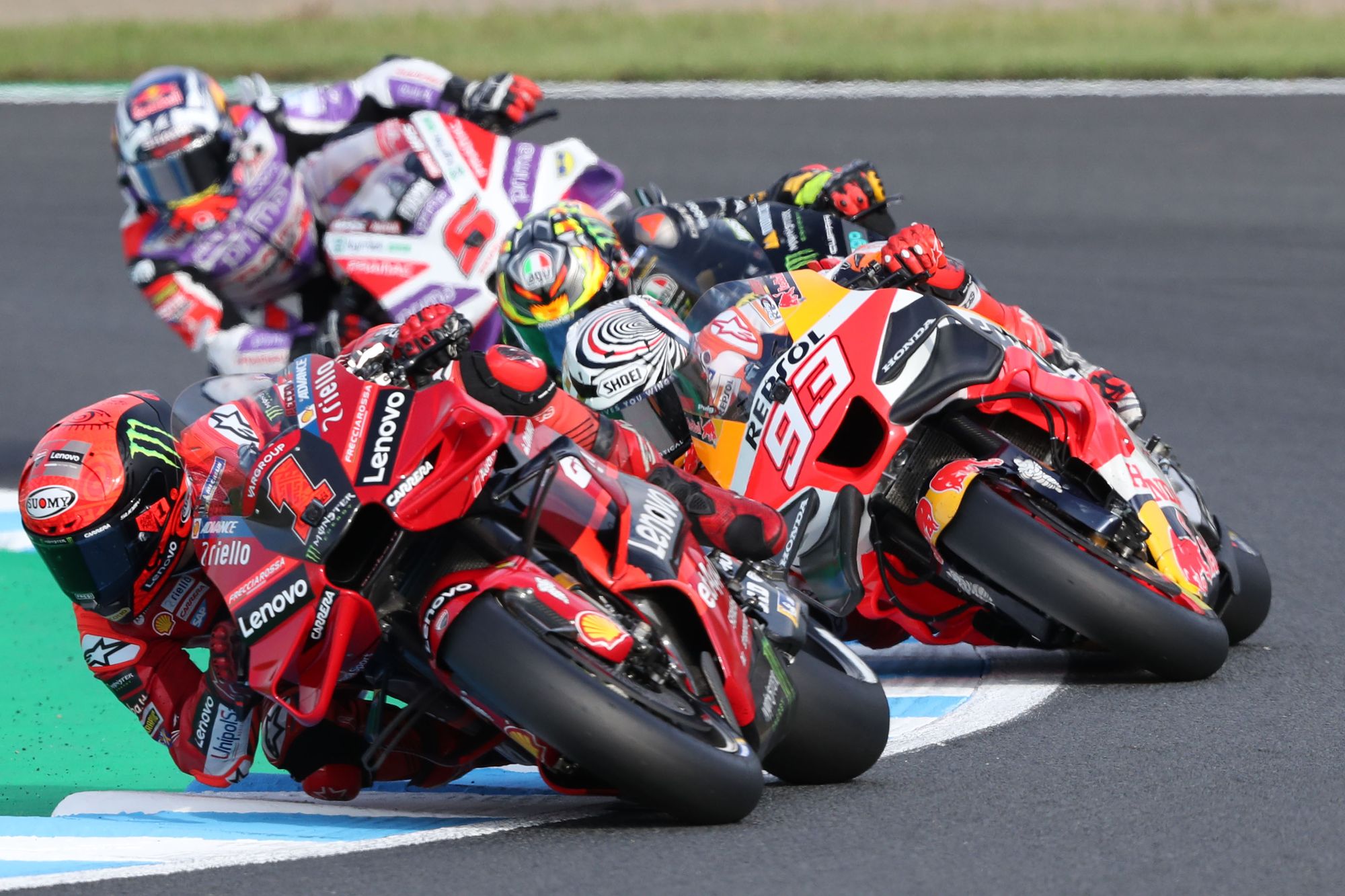 If there's one thing that was reinforced by the public comments, more even than the prospect of Marquez leaving, is that Dall'Igna and Bagnaia don't seem to mind the prospect of seeing the #93 on a Desmosedici.
Dall'Igna is clearly fond of Ducati's current rider set-up, and has been a huge admirer of Bagnaia's even before he came good in MotoGP, but he's also an engineering mind who is clearly at least a little flattered by the idea of the greatest rider of the current MotoGP era making financial and status sacrifices to ride one of his bikes.
And Bagnaia's whole 'bring it on' attitude, as already expressed before, appears genuine, too.
The Italian currently has his hands busy fighting off a Martin championship surge, but it does feel like his status as the franchise rider at MotoGP's strongest factory right now is weighing on his mind in terms of public perception, of how much of a 'leg up' he has from his bike when it comes to what's now his third title battle.
That doesn't mean he isn't a MotoGP star and already well on his way to becoming a true great of this current era - but given he's already champion, it's legend status Bagnaia is after.
And what better way to shortcut to that status than by welcoming a fellow legend, one of MotoGP's most important riders ever, into your house and taking him on in a straight title fight?