When rain arrives for MotoGP, it normally means that you can flip the form book upside down, because all pre-race favourite scenarios go out of the window.
That was even more likely at the Thai Grand Prix, given the complete lack of wet track time before the grid lined up for the race.
Yet in the end, it was largely the same familiar faces who rode to the top, albeit plus the usual suspects from the rain, with Indonesian Grand Prix first and second placed finishers Miguel Oliveira and Jack Miller replicating April's wet race result.
Behind them, Pecco Bagnaia buried his rain demons – but a complete disaster for reigning champion Fabio Quartararo means the championship fight is closer than ever with only three races remaining before the season comes to a close.
So there's plenty to go on when it comes to rating the performances of Sunday's 24 contenders.
Our MotoGP ranking system is simple: the riders who we believe performed the best in every race are at the top, and the ones who underperformed are at the bottom and scored appropriately.
It isn't just about the end result though, with pre-race expectation and form going into a race and a weekend heavily influencing their eventual score, not just the points they scored every Sunday afternoon.
Pecco Bagnaia – 9.5
Started 3rd Finished 3rd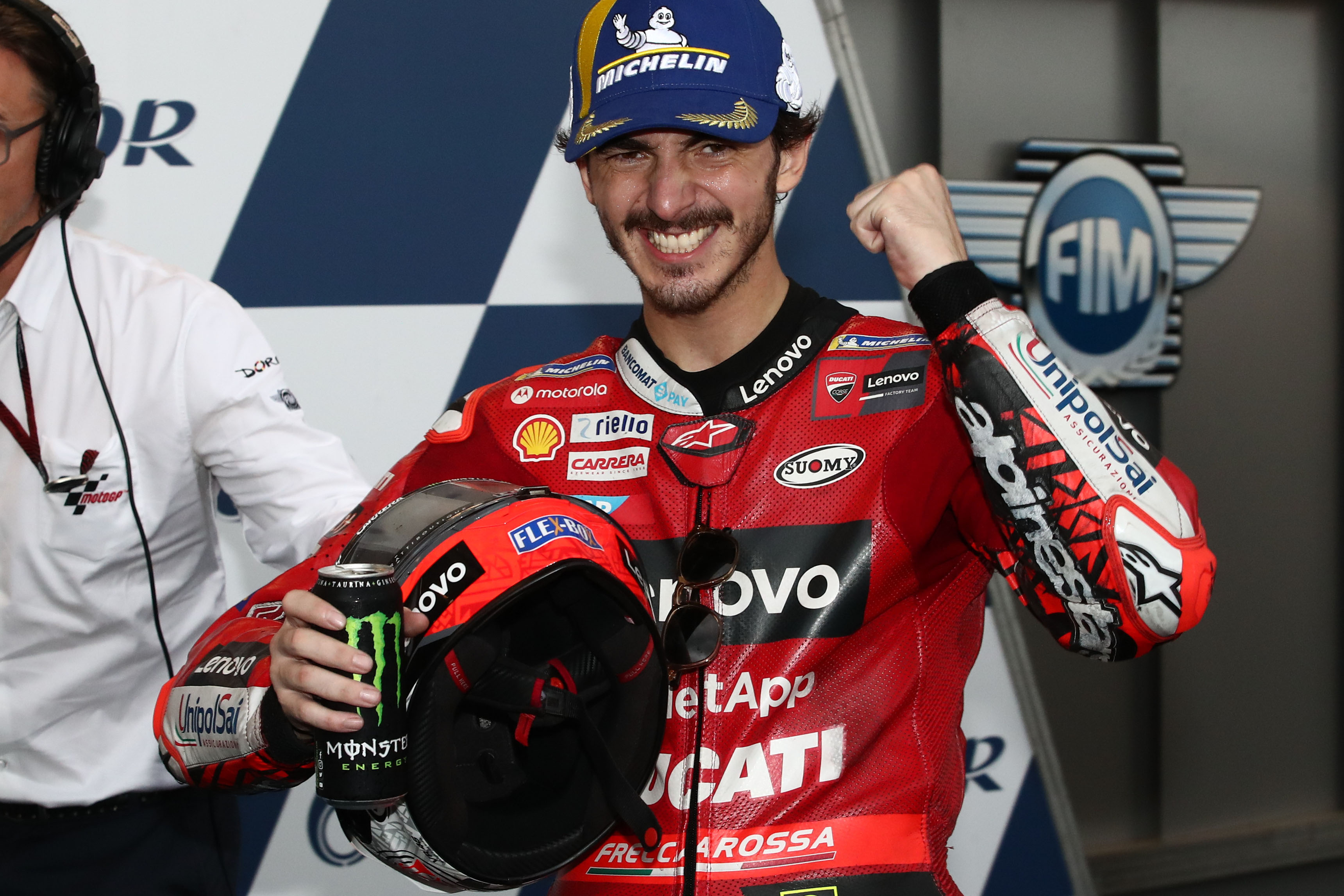 For someone who had an absolutely disastrous performance both in a wet qualifying session just a week earlier and in the last properly wet race back in April, to suddenly be fighting for the podium is a complete about-face for Bagnaia.
And, with the championship coming to a head and only 75 points left on the board, it couldn't have come at a better time. Beyond that, he also buried some of the demons of crashing out last time at Motegi.
If he wins the title, this will have been the weekend that sealed the deal.
Miguel Oliveira – 9
Started 11th Finished 1st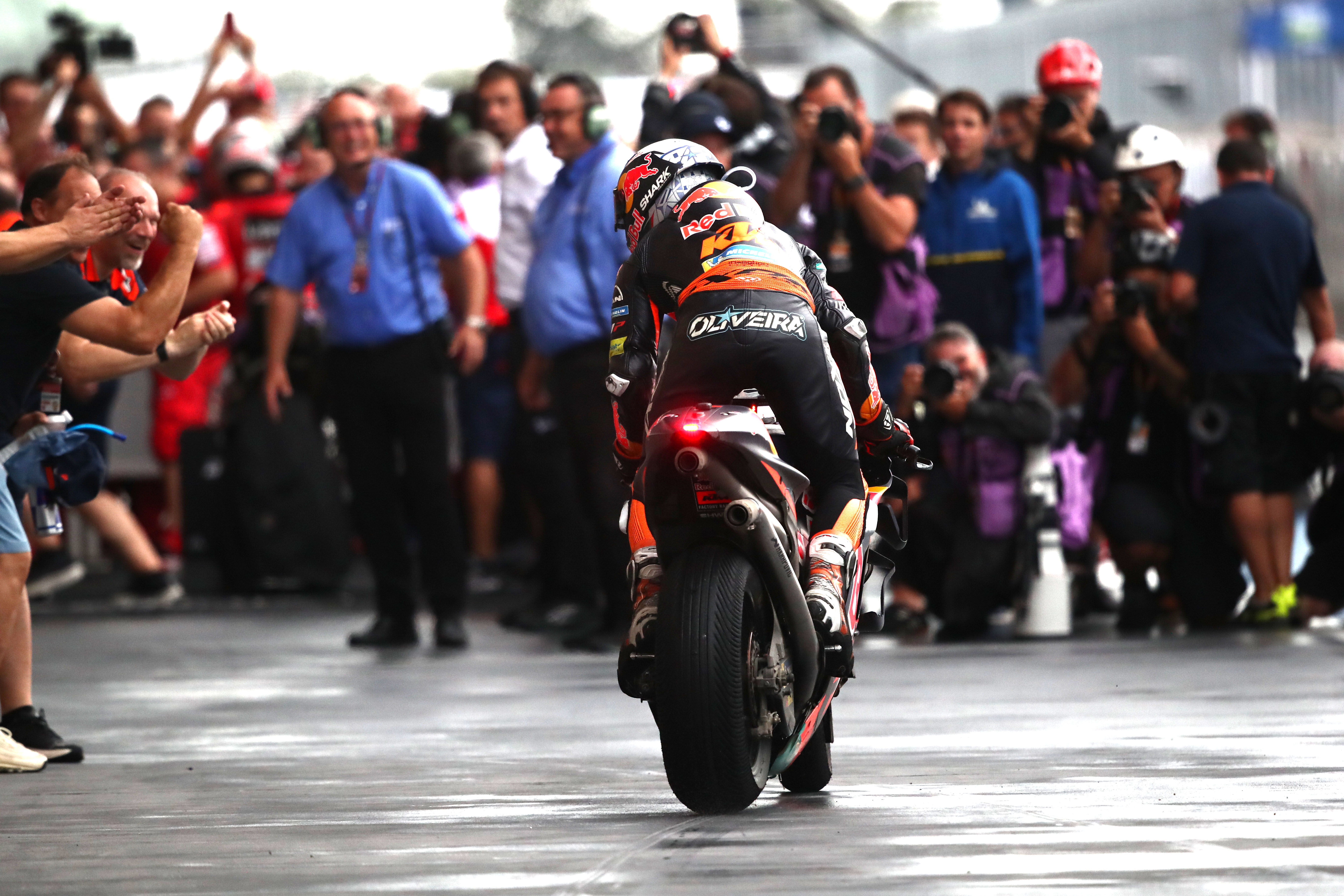 From very early on in Sunday's race, there was something of an inevitability about Miguel Oliveira's charge through the pack, and in the end we weren't disappointed by it.
Showing shades of his equally impressive Indonesian win earlier in the year again, he never put a foot wrong en route to firmly establishing himself as the series' undisputed new rain master.
Johann Zarco – 8.5
Started 5th Finished 4th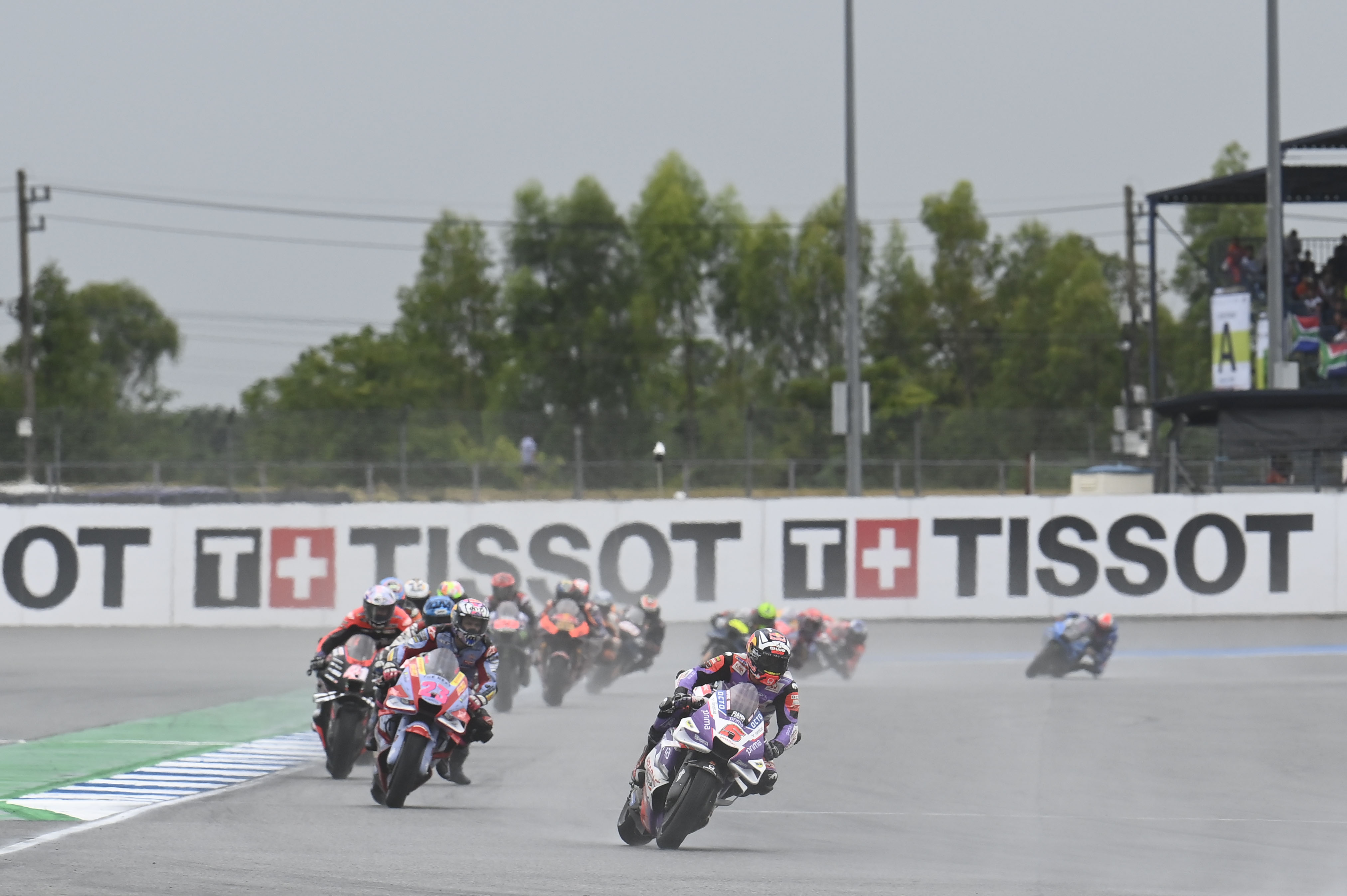 There's a lot to decode from Johann Zarco's race. Definitely one of his stronger rides of late, the way in which he got the Pramac Ducati moving as the track started to dry out was very impressive indeed.
There was more on offer, though, with a podium finish there for the taking – had he been up against anyone but Bagnaia.
Instead he decided to go for the safe team order approach and not risk anything passing Ducati's championship contender. It's a shame given his pace earlier in the race.
Jack Miller – 8
Started 7th Finished 2nd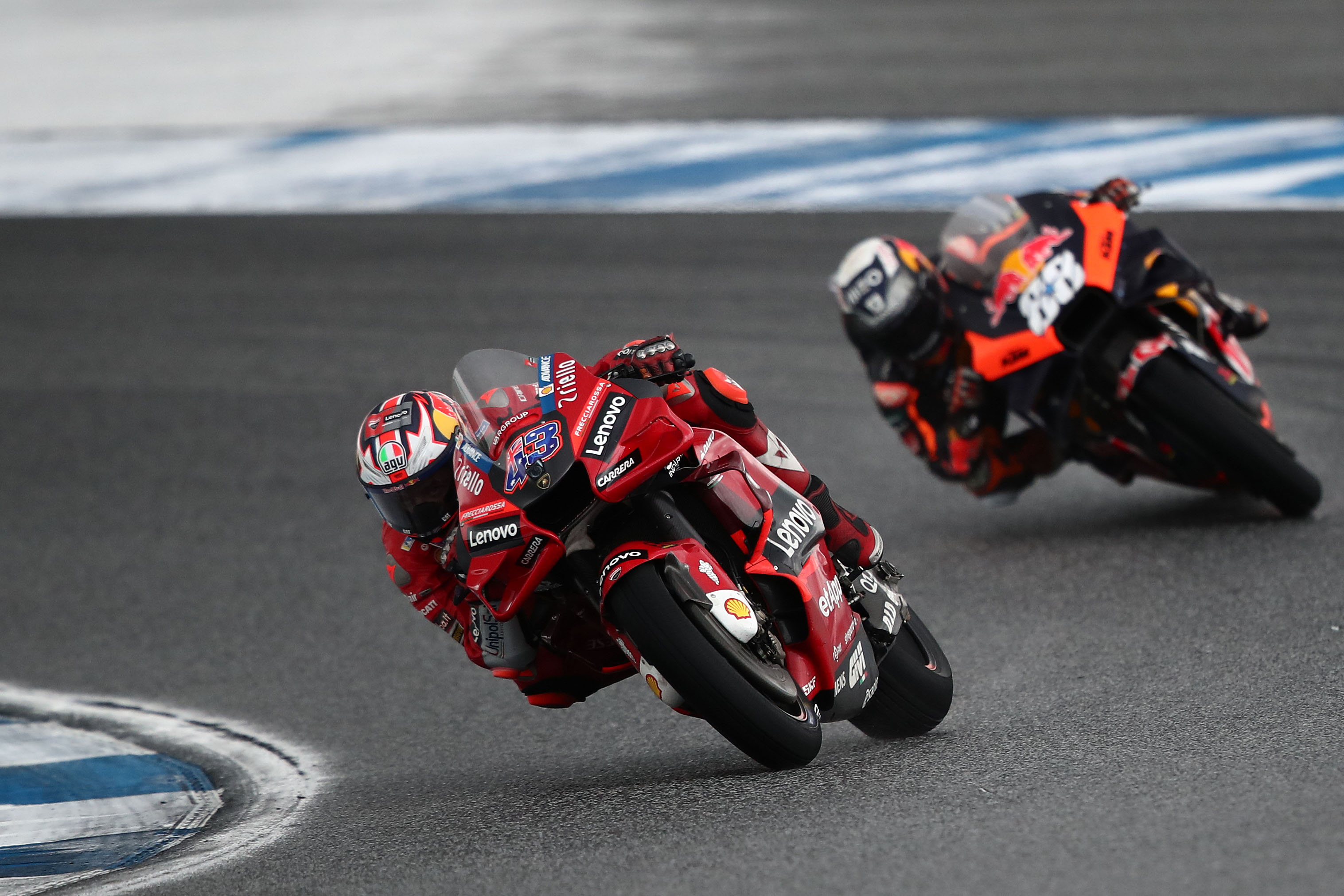 Jack Miller's MotoGP's appointed rain guy (at least until Oliveira came along), so seeing him fighting for the podium on Sunday was no surprise.
However, unfortunately for him, just like in Mandalika earlier this year, Oliveira found a little bit more that Miller just couldn't match, meaning that he was again forced to settle for second best.
Marc Marquez – 8
Started 8th Finished 5th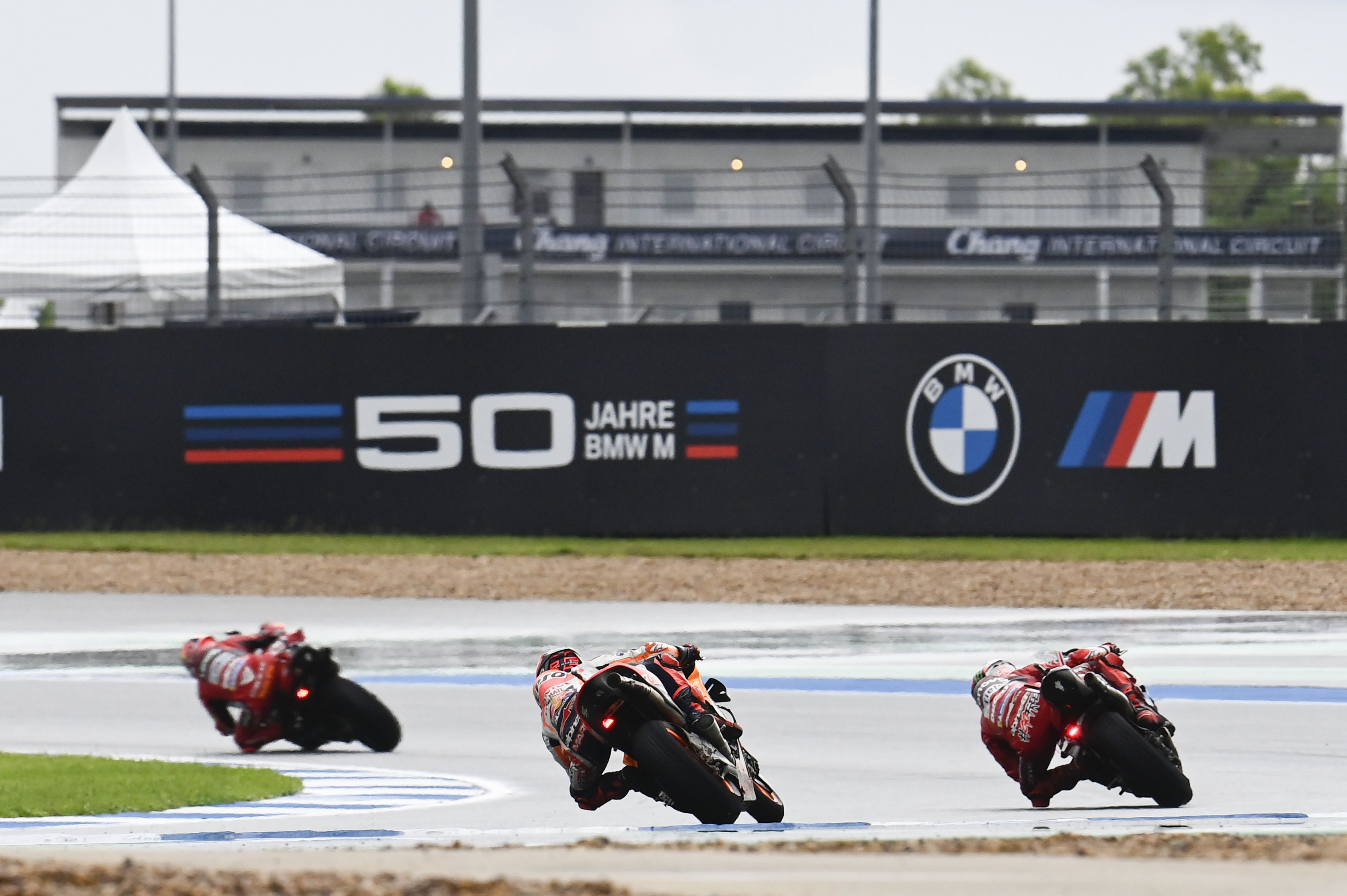 There was a time when Marc Marquez ending a wet race happy with fifth would have been almost unbelievable – but it's testament more than anything else to his ongoing recovery that he was at least content with Sunday's result.
He looked for a while towards the end of it like he might have something more to give. In the end that wasn't the case – but as it's only his third race back and they've come across three straight weekends, he's clearly on the right track towards full recovery at long last.
Alex Marquez – 8
Started 20th Finished 8th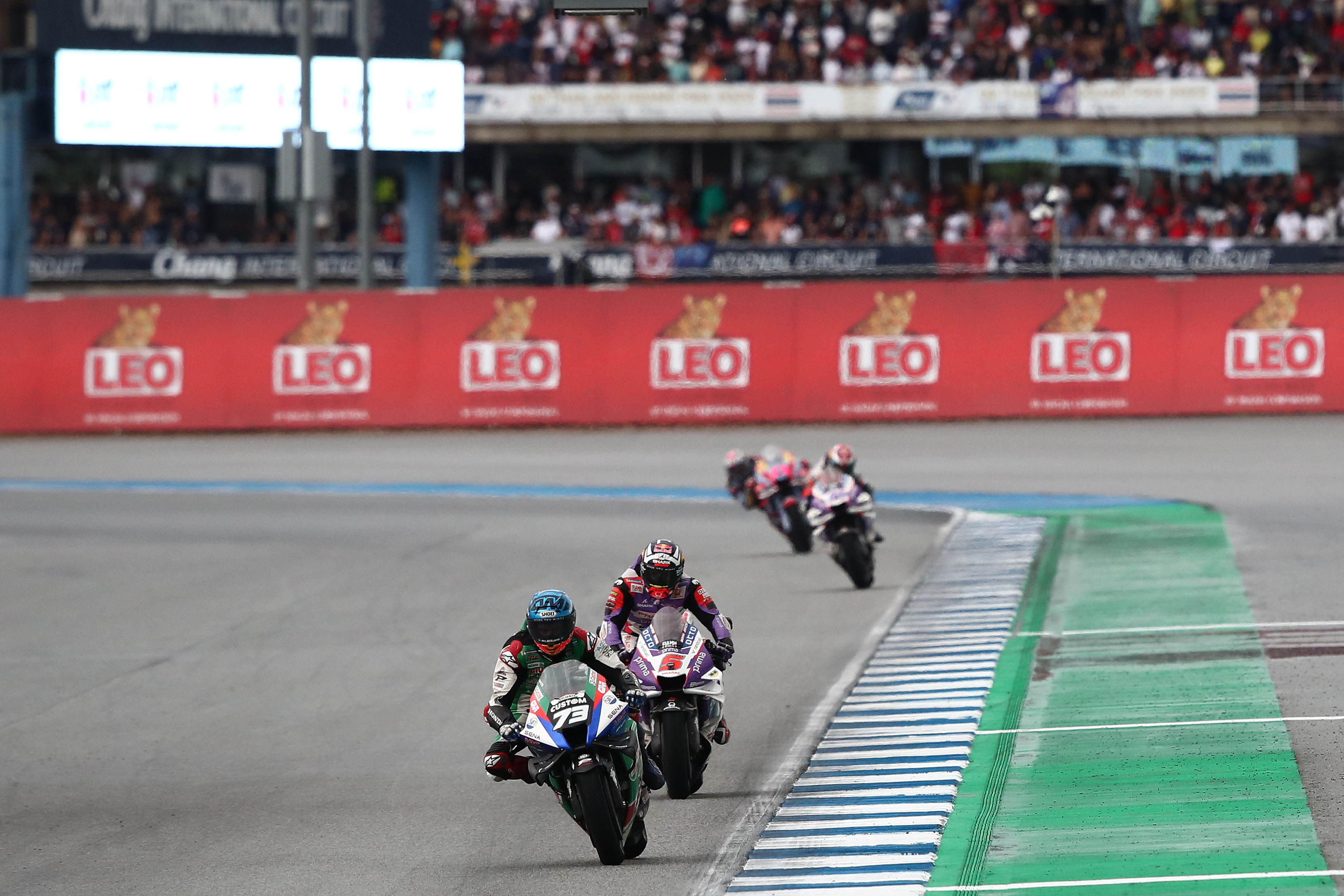 A few laps into Sunday's race, it very much looked like Alex Marquez was on course for yet another impressive wet podium finish, such was his pace.
But that pace started to fade with the rain, and from a high of fifth he sunk back a little to eighth. Nonetheless, still a competent result for him after what has been a tough year so far.
Maverick Vinales – 7.5
Started 17th Finished 7th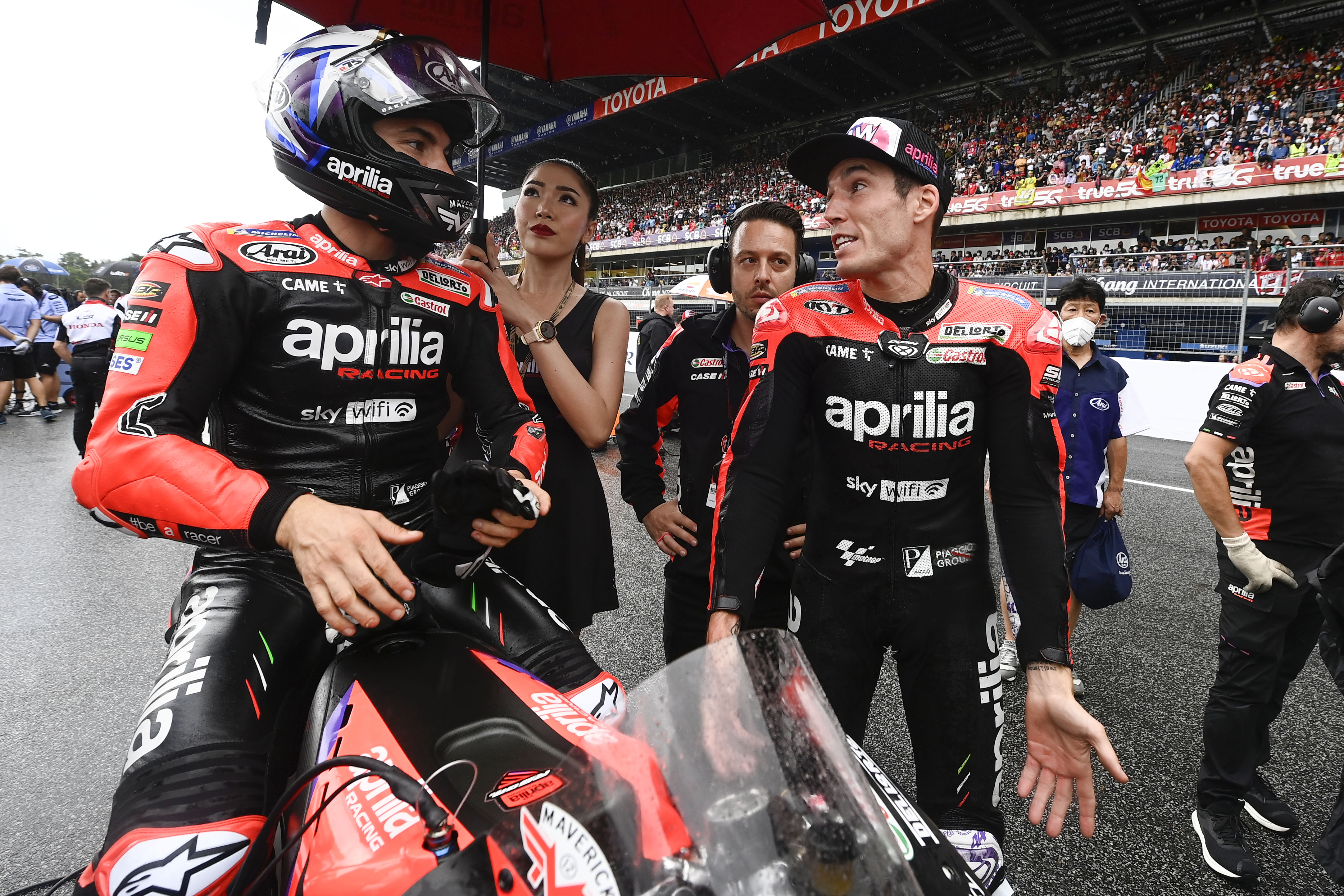 No one really expected Maverick Vinales to be fighting for the top eight in wet or dry once they saw his practice performances at Buriram.
So it's testament to him that he was able to turn around his weekend so successfully and end up with a decent result (even if it wasn't the win that he came into the weekend expecting).
Danilo Petrucci – 7
Started 24th Finished 20th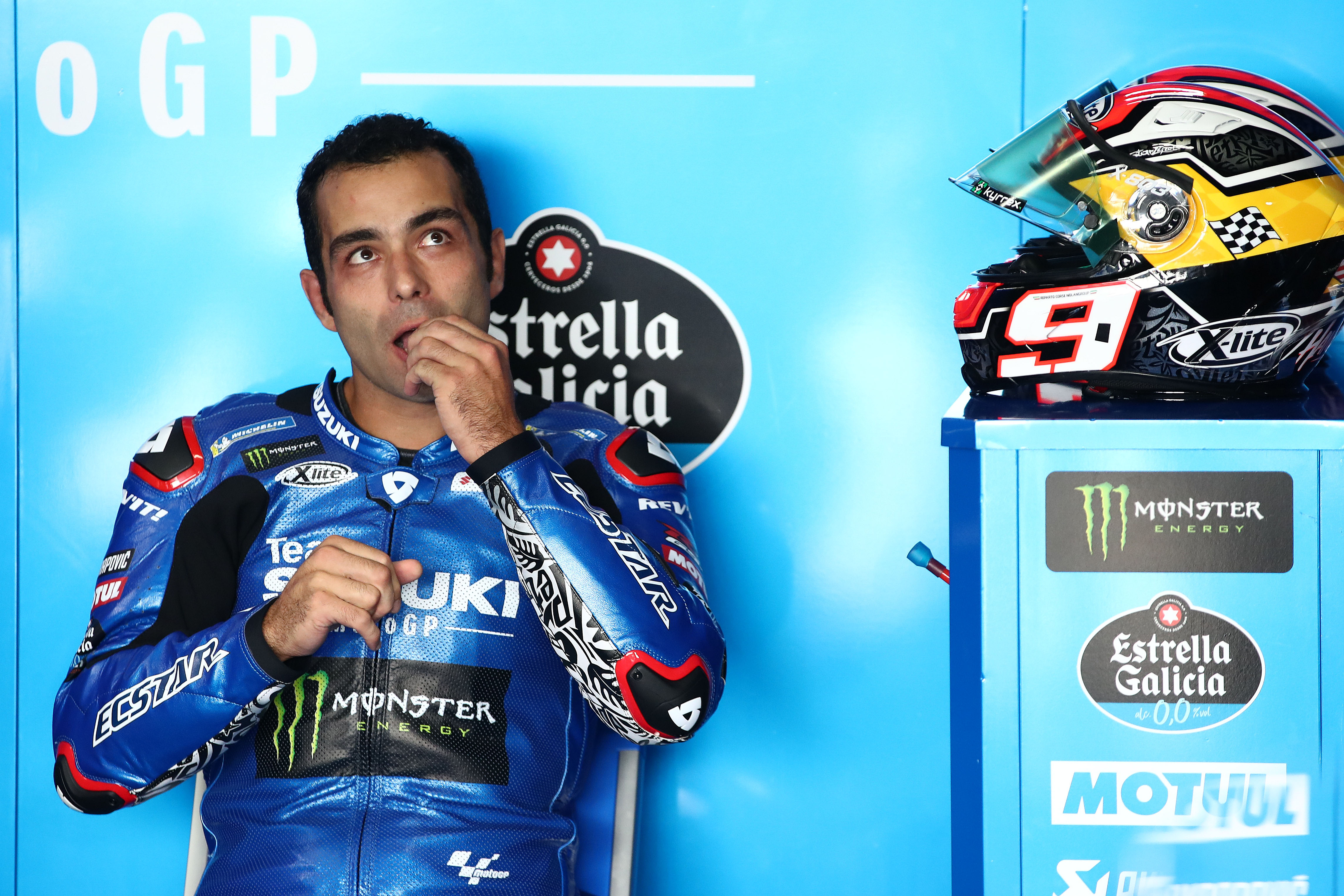 It was always going to be a tough weekend for Danilo Petrucci, getting thrown onto the MotoGP grid against guys who've been riding the same bikes all season.
He didn't embarrass himself at all. The predicted Petrucci wet weather surge didn't come in the end, but with zero track time in those conditions before rolling out for the race, perhaps that was to be expected.
Maybe his last MotoGP ride, it wasn't one that ended in too much disappointment for the Dakar stage winner and MotoAmerica runner-up.
Enea Bastianini – 7
Started 6th Finished 6th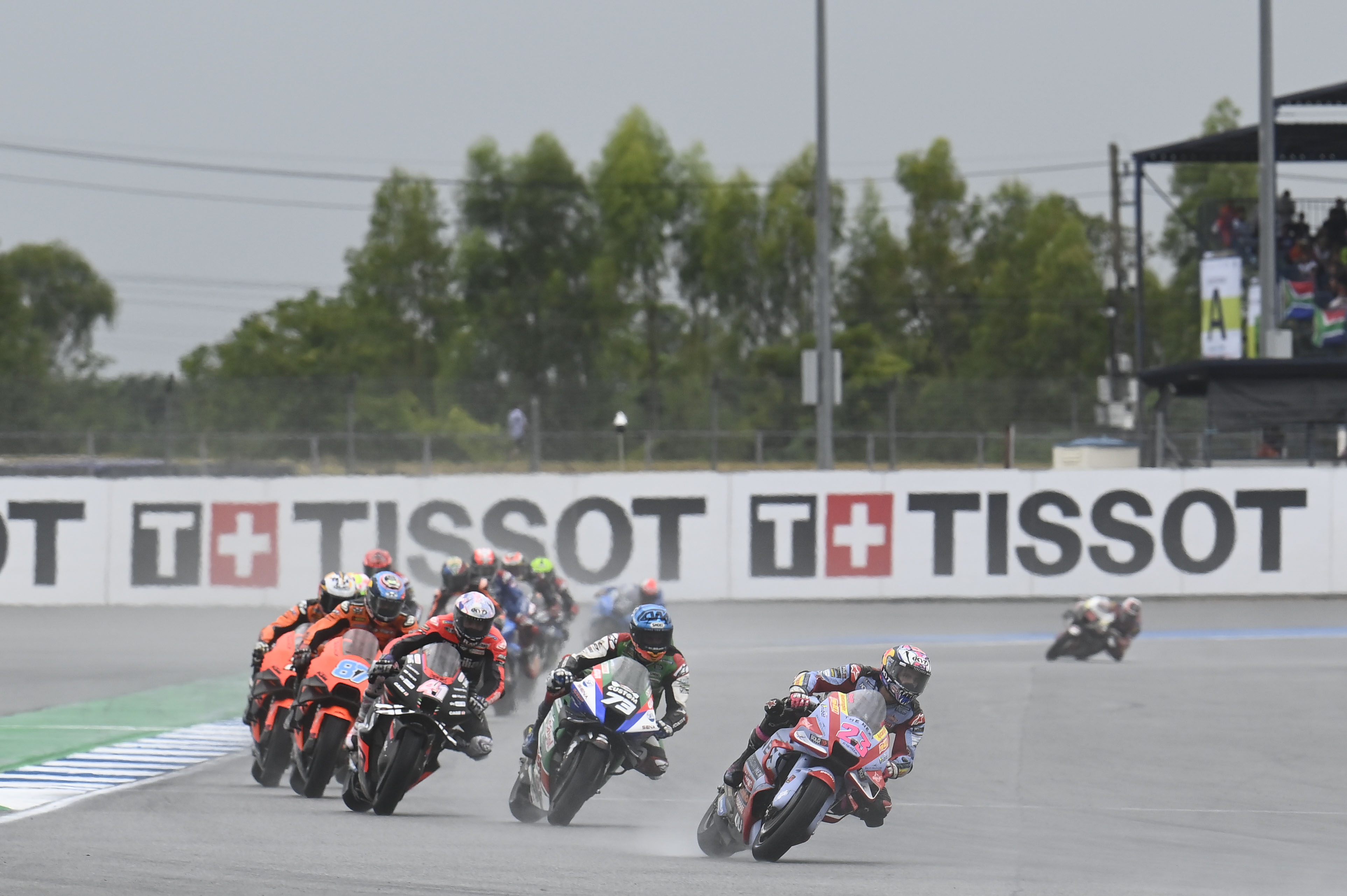 Never really showing too much pace all weekend long in any condition – at least not compared to his own high 2022 standards – Enea Bastianini conceded after the race that sixth was probably the best on offer in any conditions.
At least helping him to close the points gap to Aleix Espargaro and Fabio Quartararo, it's an average result that theoretically keeps him in the title fight.
Raul Fernandez – 7
Started 16th Finished 15th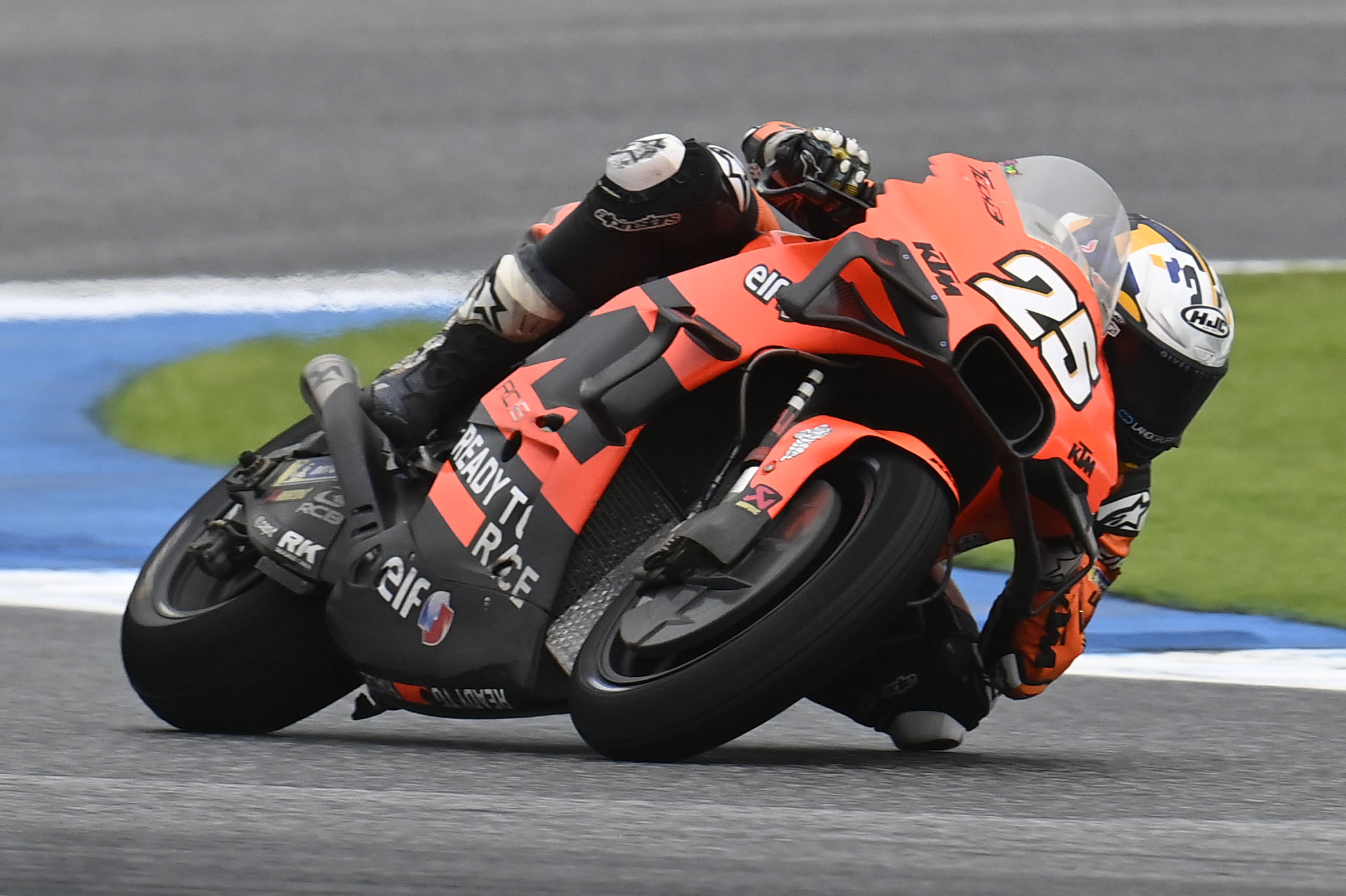 Given the tough weekend that Raul Fernandez had faced leading up to the start of Sunday's race, a point wasn't a bad reward at all, and he was suitably pleased with it.
Struck down early in the weekend by food poisoning and still very weak on Sunday, he was saved somewhat by a wet race that required less energy. But he still had to ride the bike, and he managed that in style.
Franco Morbidelli – 6.5
Started 14th Finished 13th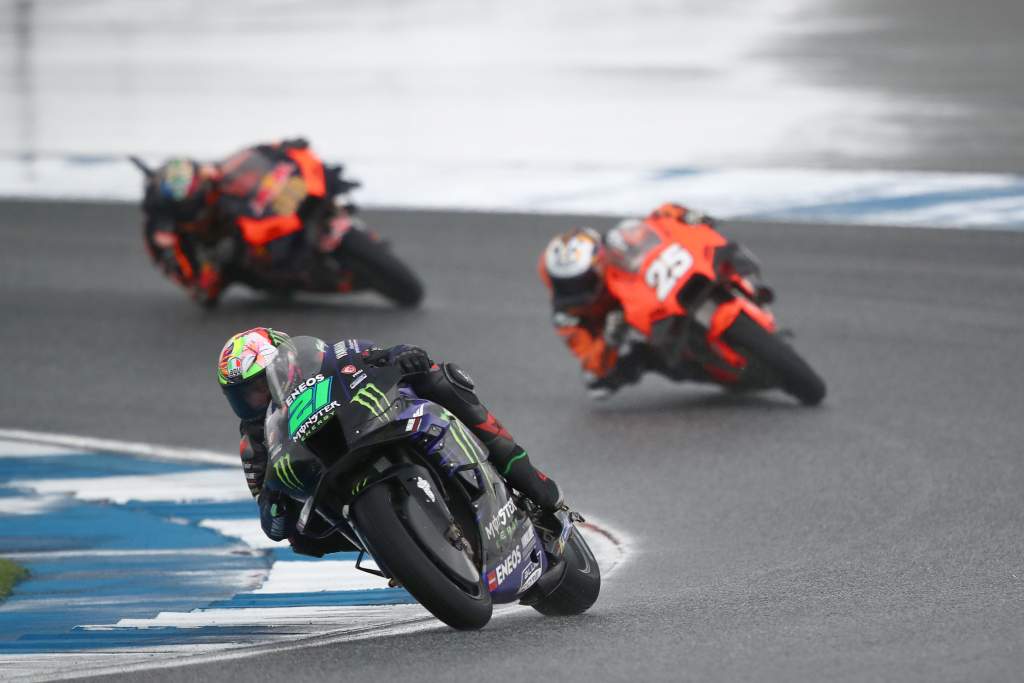 It seems like every time that Franco Morbidelli gets some speed, something happens to prevent him from showing it, and on Sunday it was definitely the rain.
Struggling to find some clear track in the spray chaos early on, when he did he was able to make slow but steady progress, even if the Yamaha overtaking issues neutered his efforts a little.
Still, it's a long time since Morbidelli was able to claim the title of top Yamaha, so at least there's that.
Aleix Espargaro – 6.5
Started 13th Finished 11th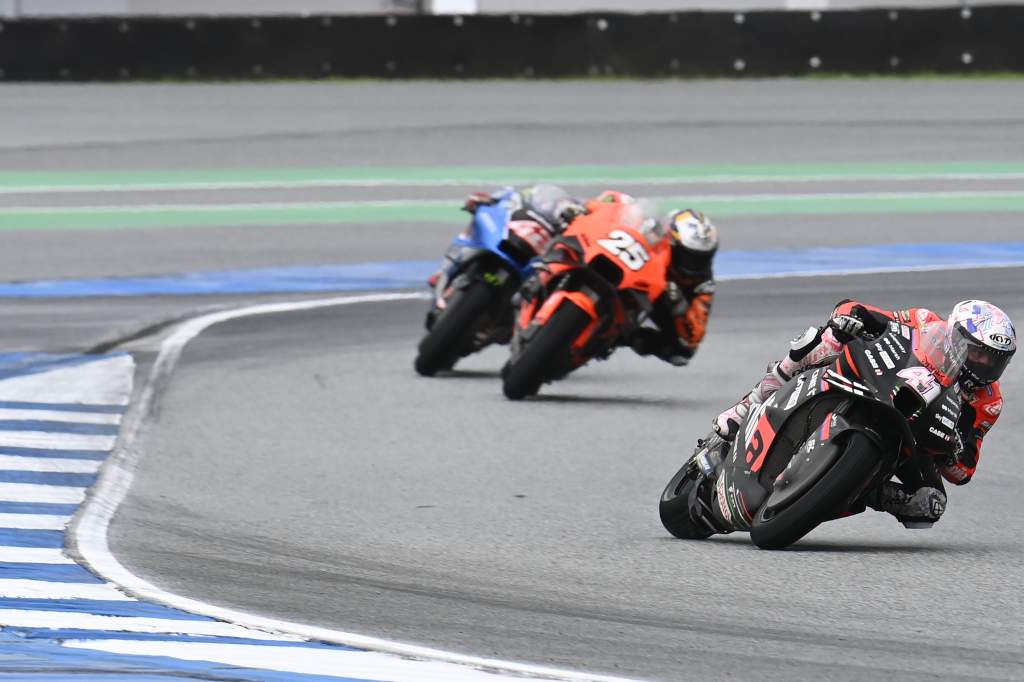 A complicated race for the title contender. Starting well despite a poor qualifying, it looked like he might be able to salvage valuable points over rival Quartararo – but contact with Brad Binder and a subsequent long lap penalty put paid to that.
The best thing to be said about the rest of Espargaro's race is that his pace was good, something that might stand him in good stead if we're faced with more rain in the final three races of the year.
Jorge Martin – 6
Started 2nd Finished 9th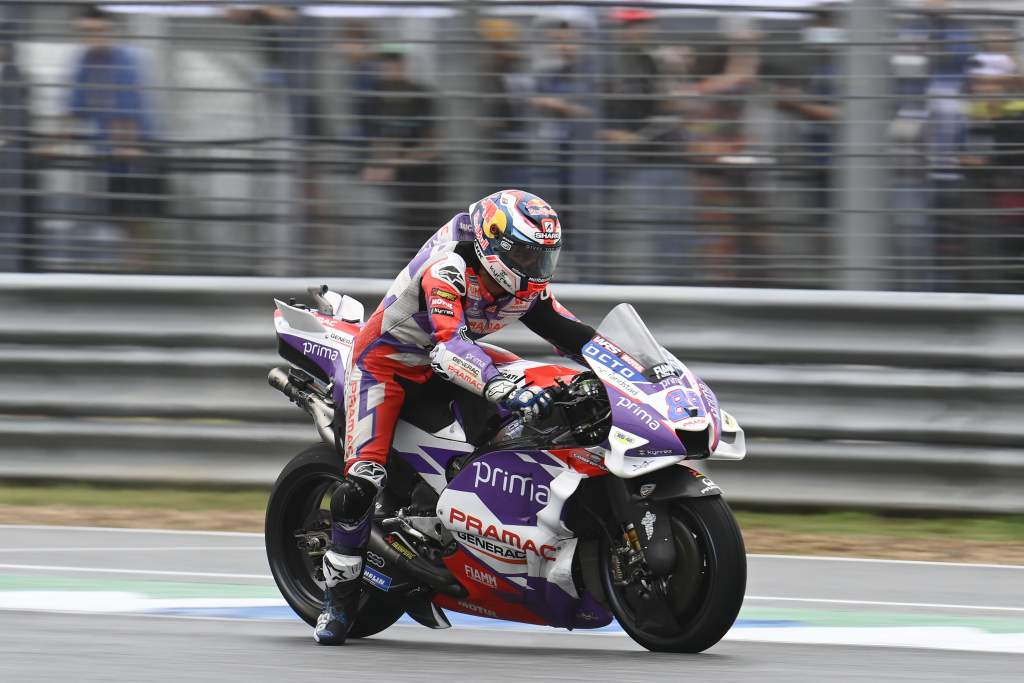 Caught up in contact with fellow Ducati rider Marco Bezzecchi before the pair even made it to the first turn, it would be easy to explain away Martin's subsequent race as simply a result of the tussle between the pair that left him very wide and on the back foot from Turn 2 onwards.
However, it's also worth noting that Martin was the instigator of not one but two impacts on the VR46 Ducati. His aggressiveness was the prime cause of his downfall in the race.
Brad Binder – 6
Started 12th Finished 10th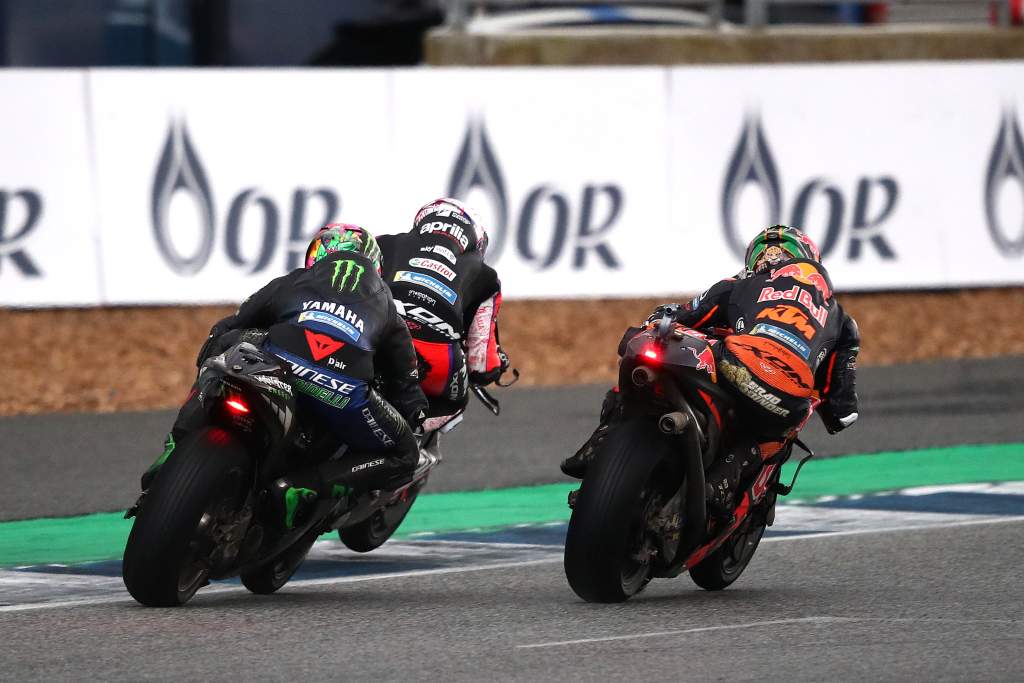 Looking quite strong early on, Brad Binder's race came to a virtual end after contact with Aleix Espargaro that left the Aprilia rider in the long lap loop.
However, while Binder might have been demoted back into the pack (with all the visibility issues that brings) the fact Espargaro was able to hunt him down and finish just behind him after serving his penalty hints that his ultimate pace wasn't there for the win anyway.
Marco Bezzecchi – 5.5
Started 1st Finished 16th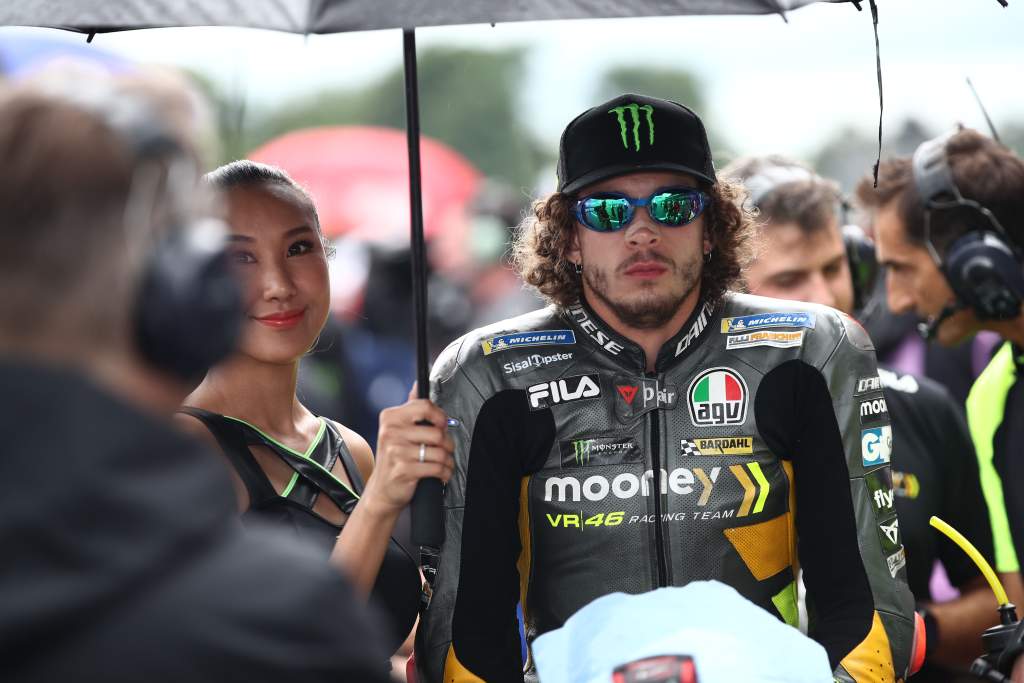 The sudden arrival of the rain was always going to be a big challenge for a rookie first-time polesitter.
Despite an impressive showing early on, until a penalty came his way forcing him to drop a place, Marco Bezzecchi admitted afterwards that his eventual finishing position probably wasn't impacted by that stewards' decision.
Simply struggling on a wet set-up that he conceded was as much guesswork as experience, it was a disappointing end to a good weekend, and one that most likely wouldn't have happened in the dry.
Fabio Di Giannantonio – 5
Started 21st Finished 18th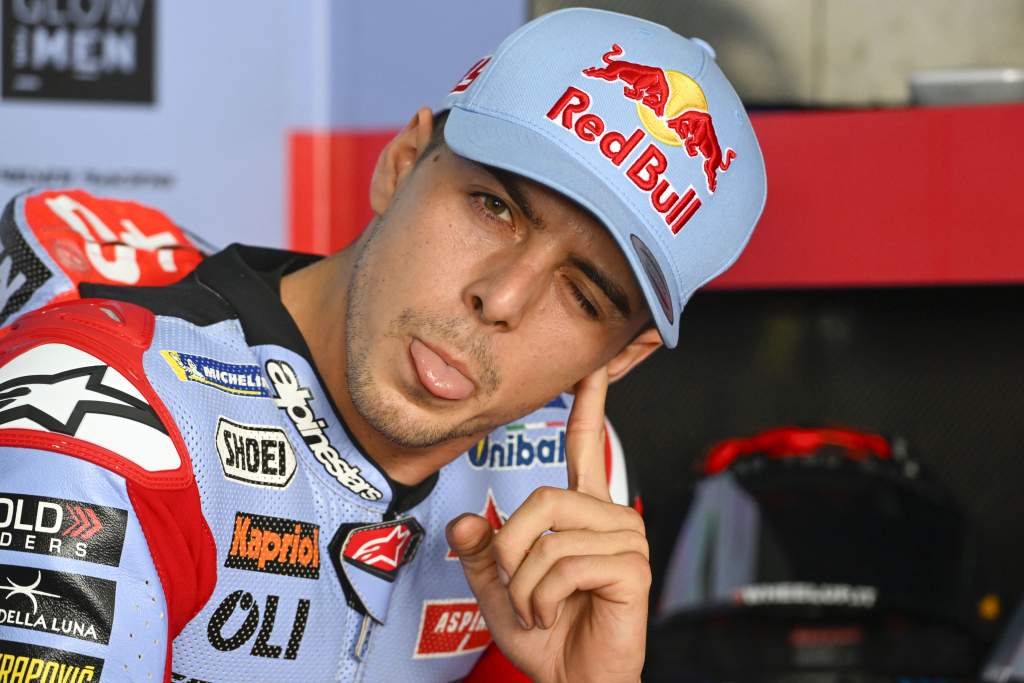 The same situation as all the other struggling rookies – Fabio di Giannantonio had to guess at a set-up for the rain and, with very limited knowledge of fully wet conditions to go on, went in the wrong direction.
As a result, he never had much of a chance of being competitive. Nonetheless, he made up some positions on his starting spot to save something from the weekend.
Cal Crutchlow – 5
Started 15th Finished 19th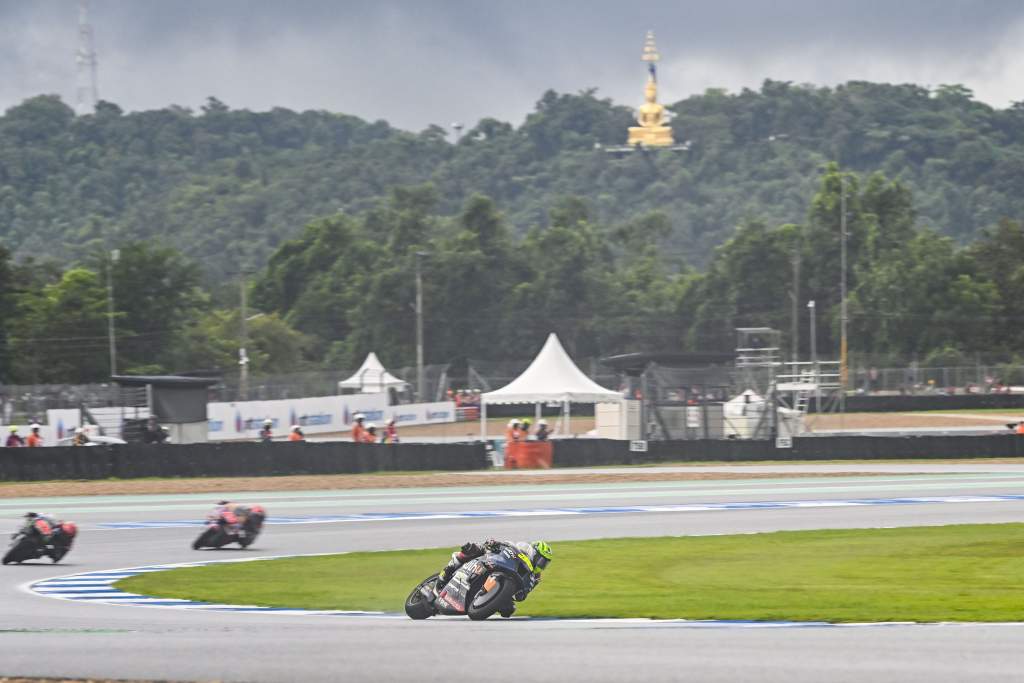 It's not easy jumping back into racing after a year out – and even harder when you're in the middle of the pack, being blinded by spray in a rainy race, and with no time on the bike on wet tyres all weekend.
Cal Crutchlow would have been hoping for better than 19th, but with the same tyre pressure issues as RNF team-mate Darryn Binder, there wasn't an awful lot more that he could have done.
Tetsuta Nagashima – 5
Started 22nd Finished 22nd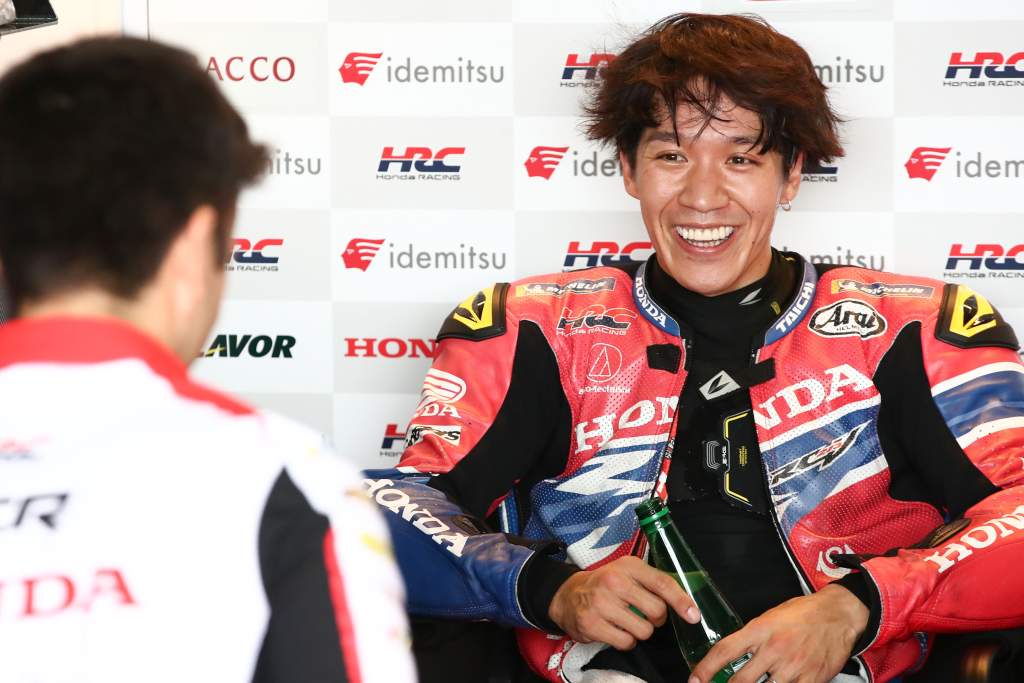 Making up for last weekend's crash at home in Japan when racing a wildcard works Honda, Taka Nakagami stand-in Tetsuta Nagashima did exactly what he should have been doing at Motegi at Buriram and completed a full race distance.
He was there as much to learn more about racing MotoGP machinery for his role as a test rider as he was to replace his fellow Japanese racer. Honda bosses are likely to be considerably happier about Sunday's result despite the final position.
Darryn Binder – 5
Started 23rd Finished 21st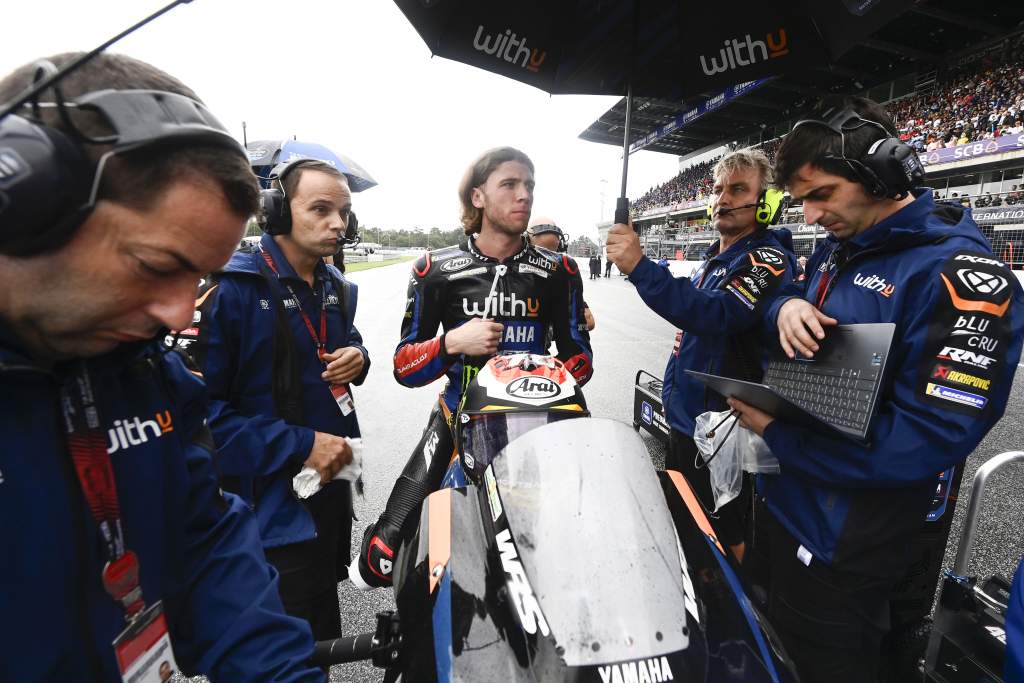 One of the rookies caught short by a lack of wet track time and a lack of experience, it seems like his biggest issue in the race was that the team was left having to take a punt on what pressure to put in the front tyre – something that's become as much art as science of late.
After making an excellent start, he got caught up in the pack while running inside the top 10 and, as pressures went up, his pace went down – Binder falling quickly through the field to a rather disappointing finish.
Luca Marini – 4.5
Started 9th Finished 23rd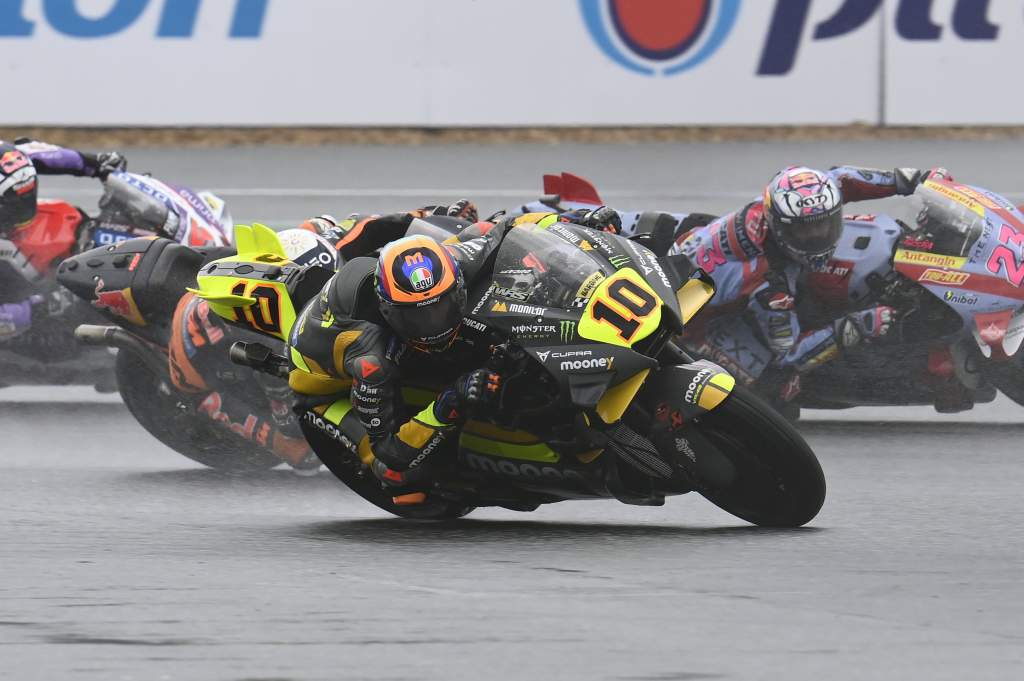 A Luca Marini crash in a race isn't just a rare thing – it's such a rare thing that the Italian's decision to remount and come home in last place means that he protects his flawless record of at least finishing every single race of his MotoGP career.
The crash was a pity, though, given that it very much looked like a first podium might have been on the cards until he made the rare error.
Remy Gardner – 3.5
Started 18th Finished DNF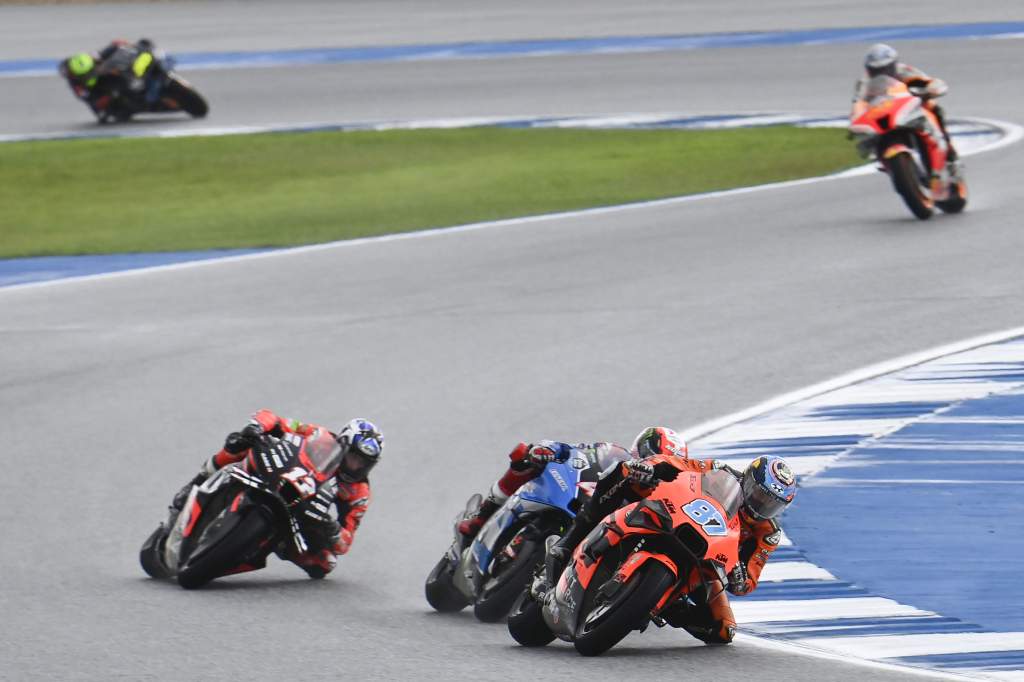 There was a lot on offer for Remy Gardner on Sunday. He looked at one point like he wasn't just on for his best ever premier class performance but like he might just break through into the top 10, such was his strength.
However, he was another who struggled as the bike changed under him, and he ended up crashing out, bringing a disappointing end to a promising race.
Alex Rins – 3
Started 10th Finished 12th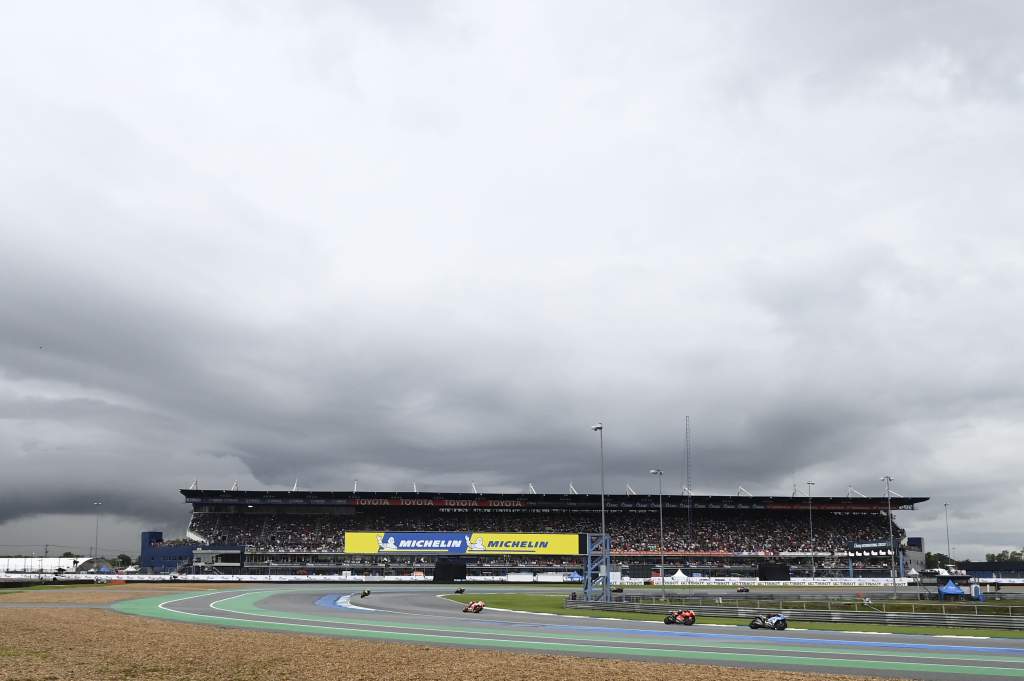 On one hand, Alex Rins was happy enough with his race after using it to get back into his rhythm in the wet.
But on the other hand, settling for a finish outside the top 10 isn't what we'd have ever expected of a Suzuki rider even as recently as last season.
A disappointing end for him, but given that disappointment has kind of been a hallmark of the 2022 season for the departing team, that's perhaps not a surprise.
Fabio Quartararo – 2
Started 4th Finished 17th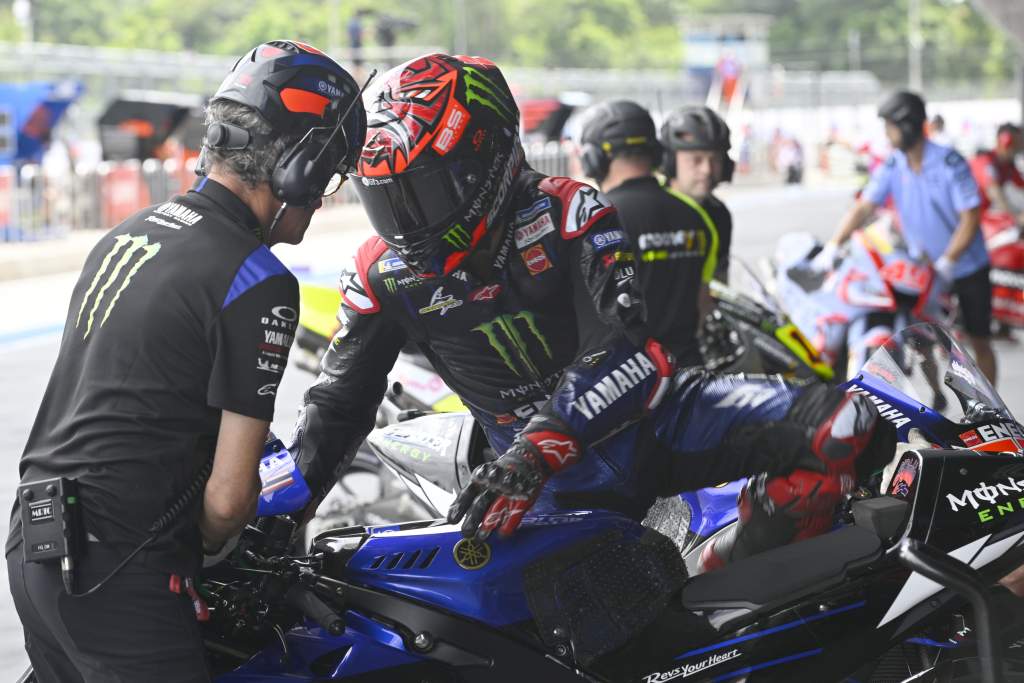 It might be harsh to put it so bluntly, but: championships are lost when you can't finish inside the points in all conditions, and points leader Quartararo's frankly embarrassing result might well mark Thailand as the race that finally tips the balance against his favour.
Sure, he was an unlucky victim of contact early on with Miller, but others (like title rival Aleix Espargaro) came back from worse.
It's quite telling of Quartararo's rain performance that it's the first race this year where team-mate Morbidelli has outperformed him.
Pol Espargaro – 2
Started 19th Finished 14th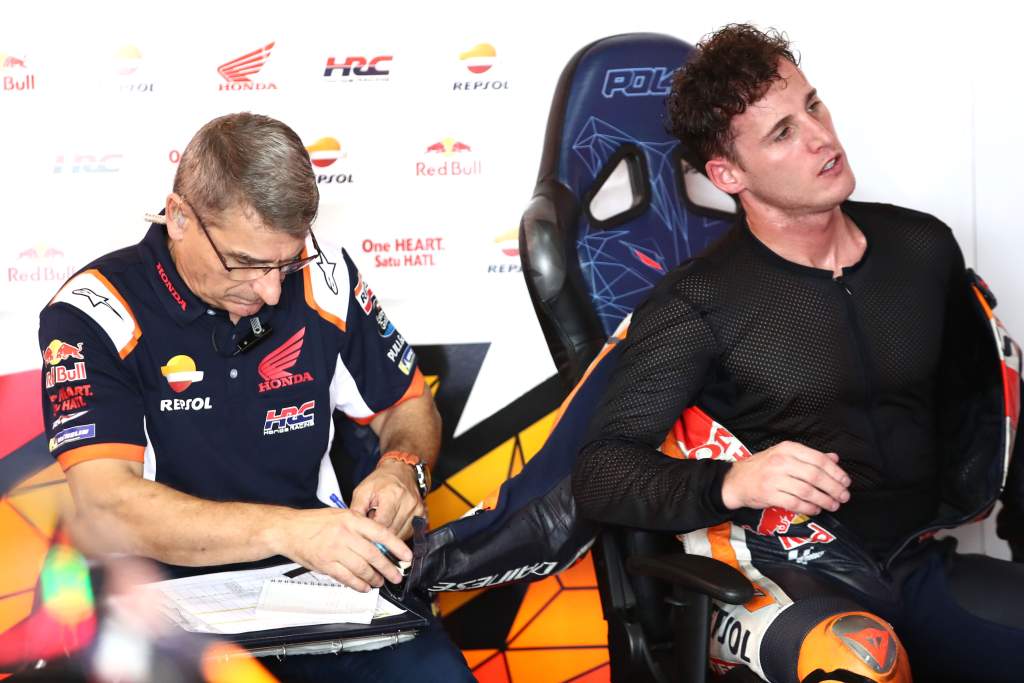 Completely and utterly anonymous all weekend long, and again shown up by the extra potential that not only team-mate Marc Marquez but satellite racer Alex Marquez were both able to extract from the RC213V.
It's wild to hear a Repsol Honda rider admit that they're simply content to have scored two points. The end of year switch back to KTM can't come soon enough for Pol Espargaro.