Both Thai Grand Prix pole-sitter Marco Bezzecchi and 2022 MotoGP championship contender Aleix Espargaro have been left deeply unhappy with the actions of the MotoGP stewards following penalties for the pair in Sunday's race at Buriram.
Bezzecchi made a strong start from his first-ever premier-class pole position and looked set to be the first into Turn 1 as well – but made contact with fellow Ducati rider Jorge Martin while still in a straight line, as the two braked for the corner.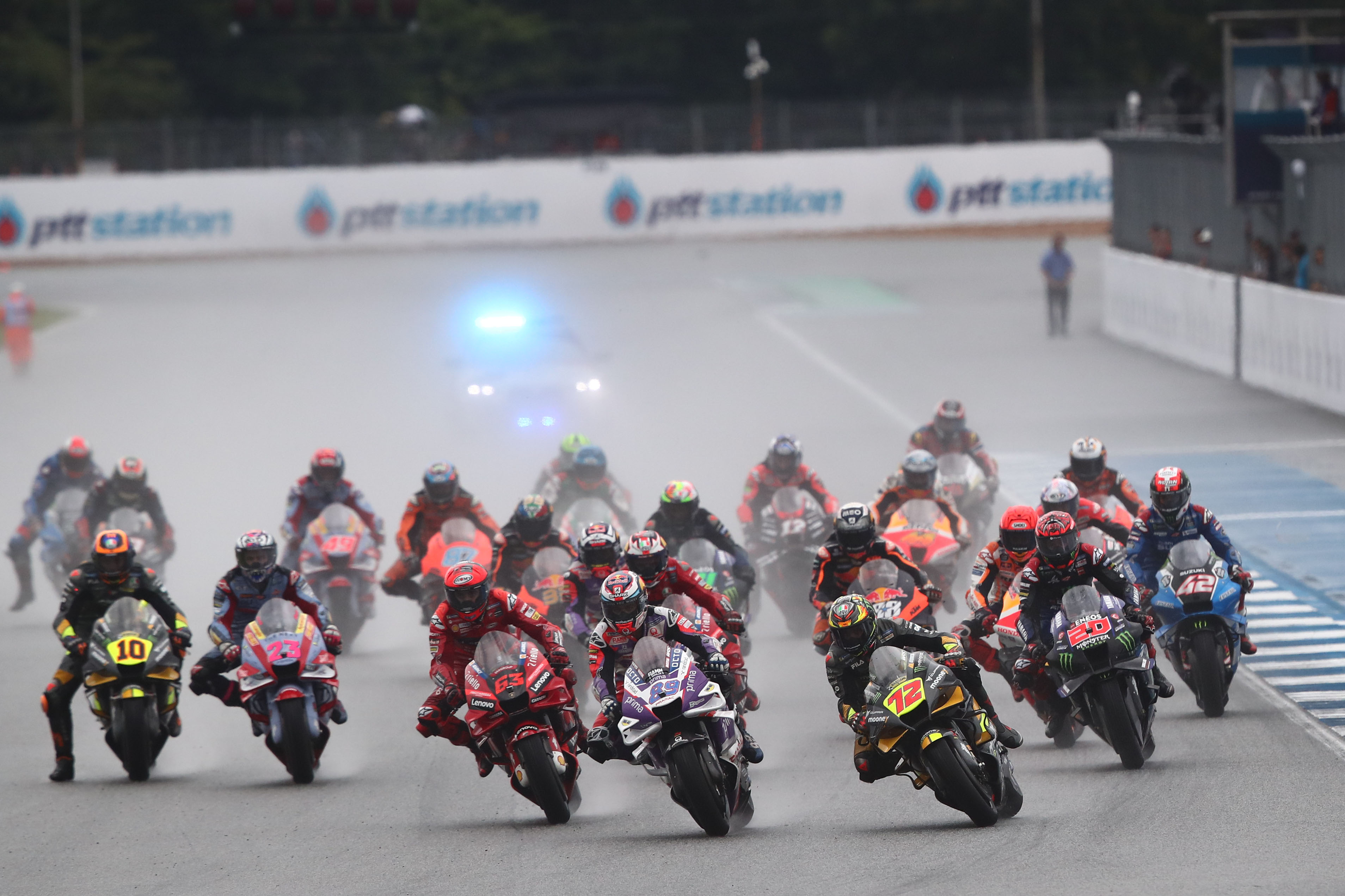 More apparent contact followed as they turned in with Bezzecchi on the outside, this pushing them both of them wide, off the track and across the asphalt runoff thanks to the treacherous wet conditions.
🚦 WATCH THE LIGHTS! WE ARE GO IN THAILAND! 🚦

Bezzecchi drops it over the nose of @88jorgemartin to lead! 🚀#ThaiGP 🇹🇭 pic.twitter.com/i9cyUJQbQp

— MotoGP™🏁 (@MotoGP) October 2, 2022
However, Bezzecchi was then hit with a sanction to drop one place, forcing him to allow eventual podium finisher Jack Miller to come through.
With this having been undoubtedly assessed because he was judged to have gained an advantage over second place in the move, it's still somewhat understandable why the VR46 Ducati rider was left perplexed given both the penalty handed to him and the lack of one for Martin (who went from second to fifth after running wide).
"I made a good start," he explained afterwards, "but Martin came to me twice before the first corner and I had to go outside. Then they give me this penalty, and honestly it's really impossible to understand, because he went on the green [paint off-track] the same as me.
"He hit me on the straight and he hit me in the corner, and they gave me the penalty. For me this from race direction, whoever gave this penalty have probably never saw a MotoGP race before. It's hard to understand."
Bezzecchi acknowledged the penalty was ultimately irrelevant to his race, the Italian badly losing pace as the track began to dry and dropping out of the points.
Espargaro's penalty was more clear cut, following contact between himself and Brad Binder that sent the South African wide – something that the Aprilia rider conceded when asked about it by The Race afterwards.
Handed a long-lap penalty around one of the longest penalty loops of the entire season (despite Buriram having one of the shorter laptimes), he didn't necessarily disagree with the punishment.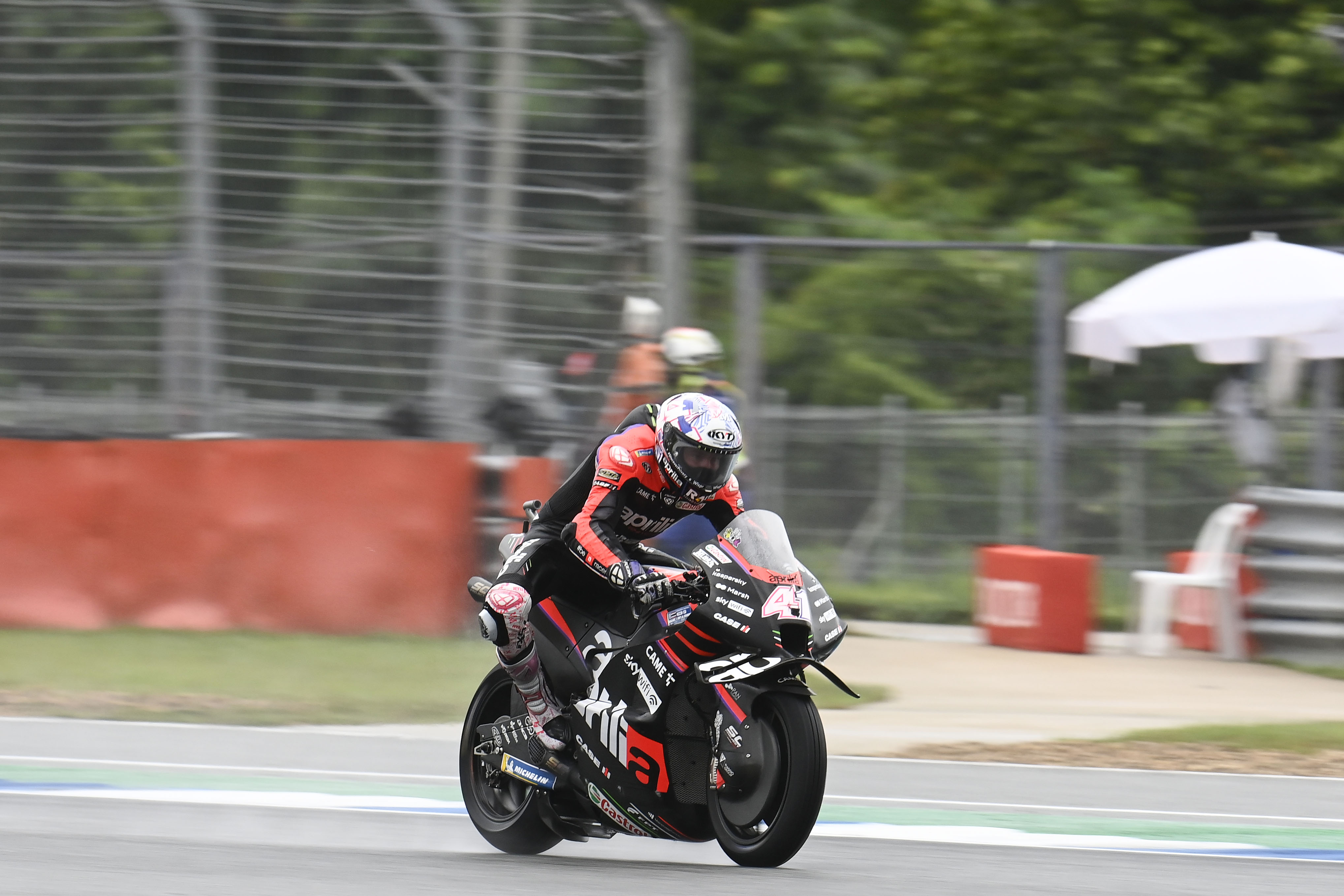 However, with both himself and others around him the victims of more aggressive overtakes throughout the race, his complaint was instead an old one about the stewards: a lack of consistency in their decision-making, given who was penalised and who wasn't.
"It's a shame for the contact with Brad because I did a long, long, long long-lap penalty and I lost a lot of time. If you see the images just in the corner, then yes, it was really on the limit.
"But the thing is, on the straight I was alongside him, we braked together, and he released the brakes from the outside.
"It's typical contact. He released brakes, I couldn't avoid him, and we touched each other.
It's not just @FabioQ20 that's having an eventful time! 👀@AleixEspargaro make contact with @BradBinder33 💥#ThaiGP 🇹🇭 pic.twitter.com/0DfVZZUqb3

— MotoGP™🏁 (@MotoGP) October 2, 2022
"But the thing is, with the visibility in the wet, if we start to do this [hand out penalties like this] with how difficult it is to overtake, then if we do this then I don't know.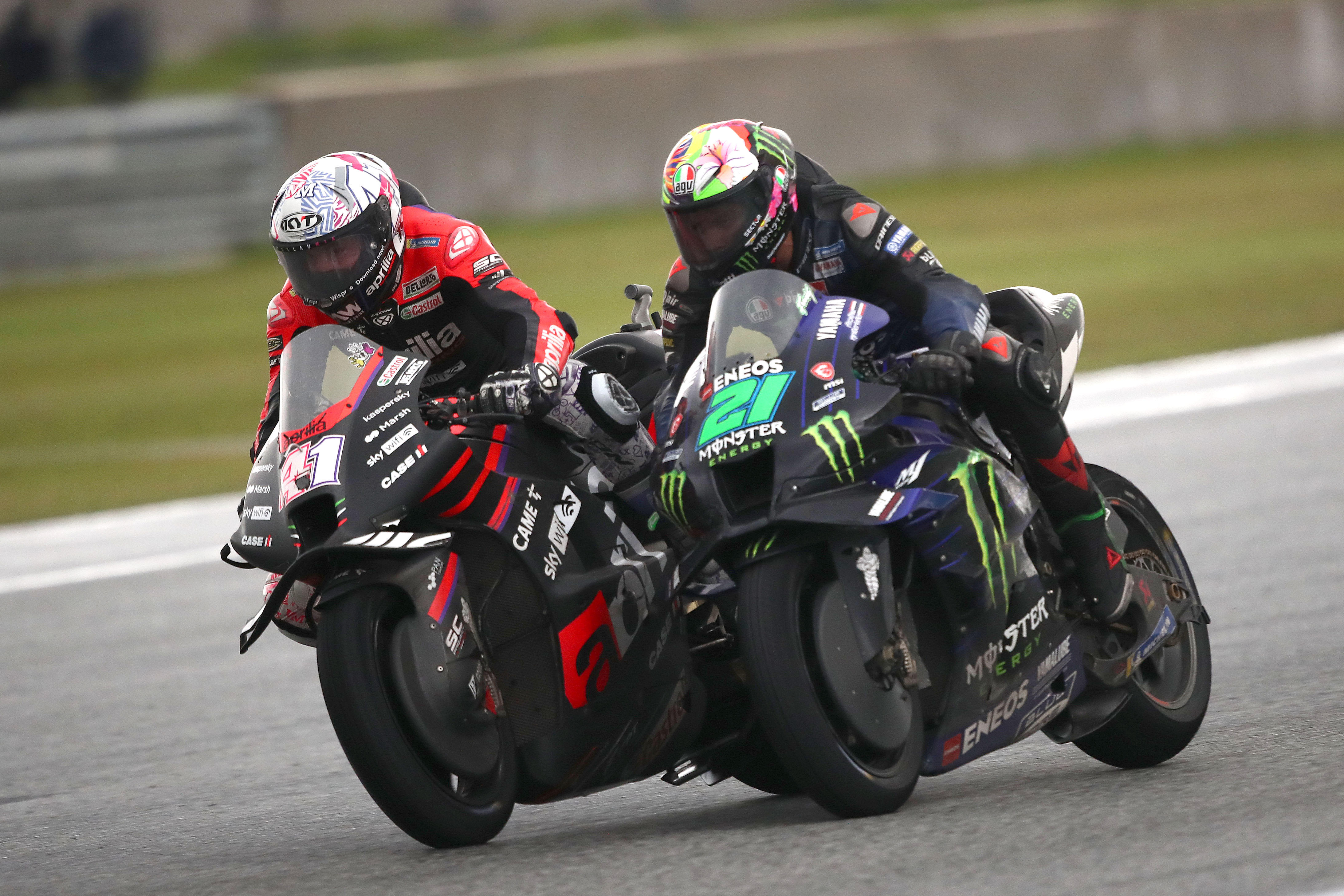 "[Franco] Morbidelli hit me twice in the last laps. He was, I don't know, looking for a contract for next year [with Yamaha, whose lead rider Fabio Quartararo is a title rival of Espargaro's] or something, and he hit me twice.
"It's incredible. I didn't really understand it. He didn't get a long-lap penalty, which is OK, this is racing. I accept it but it wasn't really a thing, because I saw other overtakings with Martin and Bezzecchi, some with [Marc] Marquez and Bezzecchi, that were on the limit.
"But it's difficult, and this is MotoGP. I didn't really understand it."