Bradley Smith says he's confident that his transition from MotoGP test rider back to racer is going smoothly, after completing over 200 laps of the Misano circuit this week during a three-day test with the Aprilia squad.
Joining teammate Aleix Espargaro at Misano as the duo prepare for the delayed opening rounds of the 2020 MotoGP season at Jerez next month, Smith has received an eleventh-hour call-up to the team when it became clear that Andrea Iannone's appeal against a doping suspension would not be heard this side of the opening rounds.
And while Smith has only been confirmed for the opening two races so far, he says that the three-day test was the perfect opportunity to start reprogramming his brain after 18 months in a test rider role.
"I feel like it was a good test, especially for me as a rider," Smith said. "Transferring from test rider to race rider, there's a switch that you need to make both mentally and physically, especially when it comes to pushing for a laptime.
"I was able to arrive quite quickly at my time on day one, and it took a while to break through that wall. On the final day, I was able to understand where the limit of the bike is, although unfortunately I found the limit in the fastest corner possible!
"We're starting to find some things with the bike that improve the feeling and the handling, but from the start of the project the base setting of the bike was already pretty good. When we rolled it out in Sepang and Qatar it was there already, but since then I've been working to make it my own instead of just copying the racers."
In what was the first test of Aprilia's all-new RS-GP 2020 bike since Qatar in March, Smith was pleased with the progress that the firm's engineers have made, too. The new RS-GP retained only a handful of parts from the 2019 machine and looks to have made a significant step forward, and Smith says that the progress Aprilia has made is slowly but steadily becoming apparent.
"We have knowledge now, and that's the most important thing when you're starting a new project. Maybe we don't have the ultimate speed right now, but we know what is helping me and helping the bike, and in a tight weekend where you don't have time to try many things we've got an advantage.
"Our pyramid is growing more and more, and I'm looking forward to starting the season with everyone on the grid together. We know what Aleix, Pol [Espargaro] and [Miguel] Olivera were doing and this is the top 10 area.
"There's still half a second to find if we want to be there, but that's for me to find and it's already better than the 1.2 seconds it was in Sepang. The gap is getting smaller but it's still there so [there's] still work to do."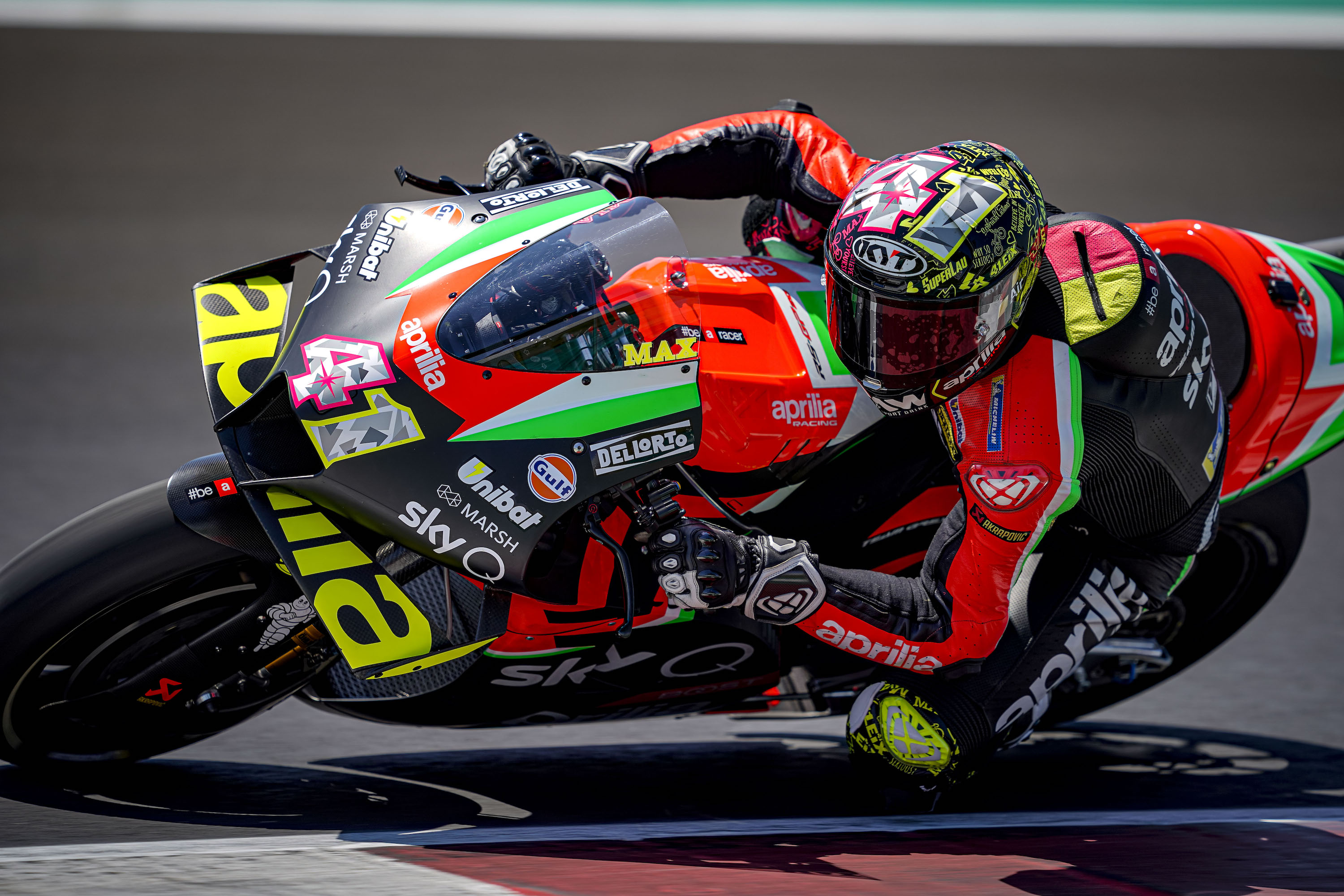 Team technical boss Romano Albesiano echoed Smith's praise of the new bike and of the hard work completed by him, Espargaro (pictured above) and test rider Lorenzo Salvadori, sounding confident that the team is going into the season better-prepared than ever before.
"These were important tests to define the starting point of our championship," Albesiano said. "We assessed the various chassis, engine and electronics solutions, in addition to breaking in a team that is brand new in many aspects. The riders needed this test as well to get back into the rhythm after such a long stop, and I must say that I saw them improving day after day. The decisions in view of Jerez have been taken.
"Many of the new features we had prepared worked well and I am rather pleased with the overall level of the bike. In any case, there is still a lot of work to do on the details, especially to increase overall reliability.
"We say it every year, but it isn't wrong to do so: the level of the championship has gone up even farther and that pushes us to make an even greater effort."